Love farmhouse decor and furnishings? I just can not get enough of this look, but am discovering that some of the most awesome farmhouse looks are actually DIY ideas you can easily make yourself. From distressed pallet wall art to whitewashed furniture, these step by step tutorials will show you how to get the farm house style of your dreams! Add vintage charm to your bedroom, bathroom, living room and even your patio with these cool crafts and do it yourself ideas for farmhouse style home decor. We love all of them and just know you will, too. I love this super popular look for home decor. Just because it is trendy, does not mean your home will look at all like everyone else's. Each piece you make looks vintage and handcrafted, retaining an original charm that can not be replicated. Add custom quotes and art to your pieces, too, to create some statement pieces worth talking about. You are sure to fall in love with these creative DIY home decor ideas, we are having a hard time deciding which one to make next. Happy decorating with these awesome DIY rustic ideas, do it yourself style From rustic bedroom decor ideas to rustic art for your living room walls, you are sure to find more than a few things to make this weekend!
DIY Farmhouse Decor Ideas
1. Entryway Gallery Wall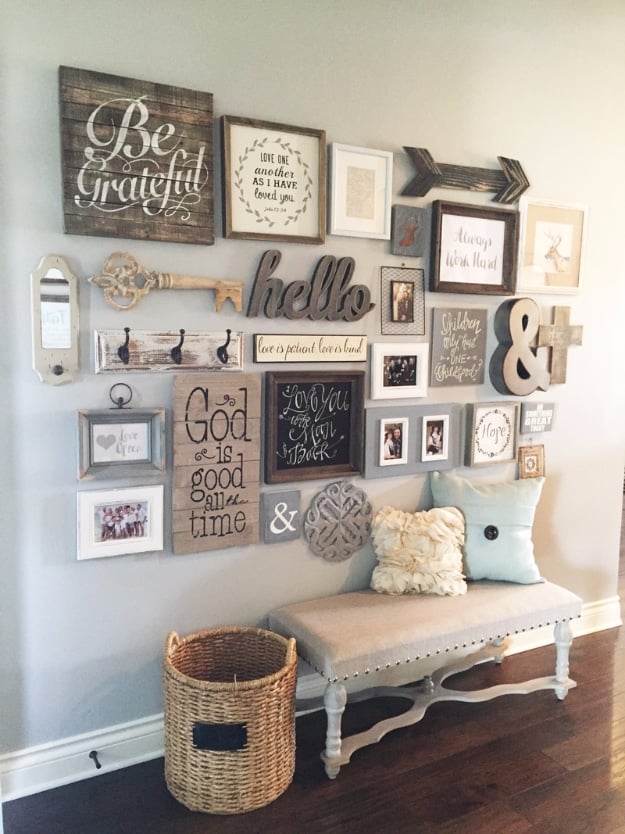 You've probably seen these amazing looking gallery walls in magazines but figured you had to be certified in interior decor to get one that looks half as good as this. Think again. This DIY gallery wall looks amazing and is sure to be the perfect accent for the room you just were not sure what to do with. This DIY living room idea looks super in an entryway or at the top of your stairs, but can pretty much go anywhere in the house. Pallet signs, quotes, old antique looking items all come together to make a charming vintage statement for your walls. DIY Farm house project ideas at its best, this DIY gallery wall idea showcases all sorts of cute, vintage items.
Fabric Covered Pots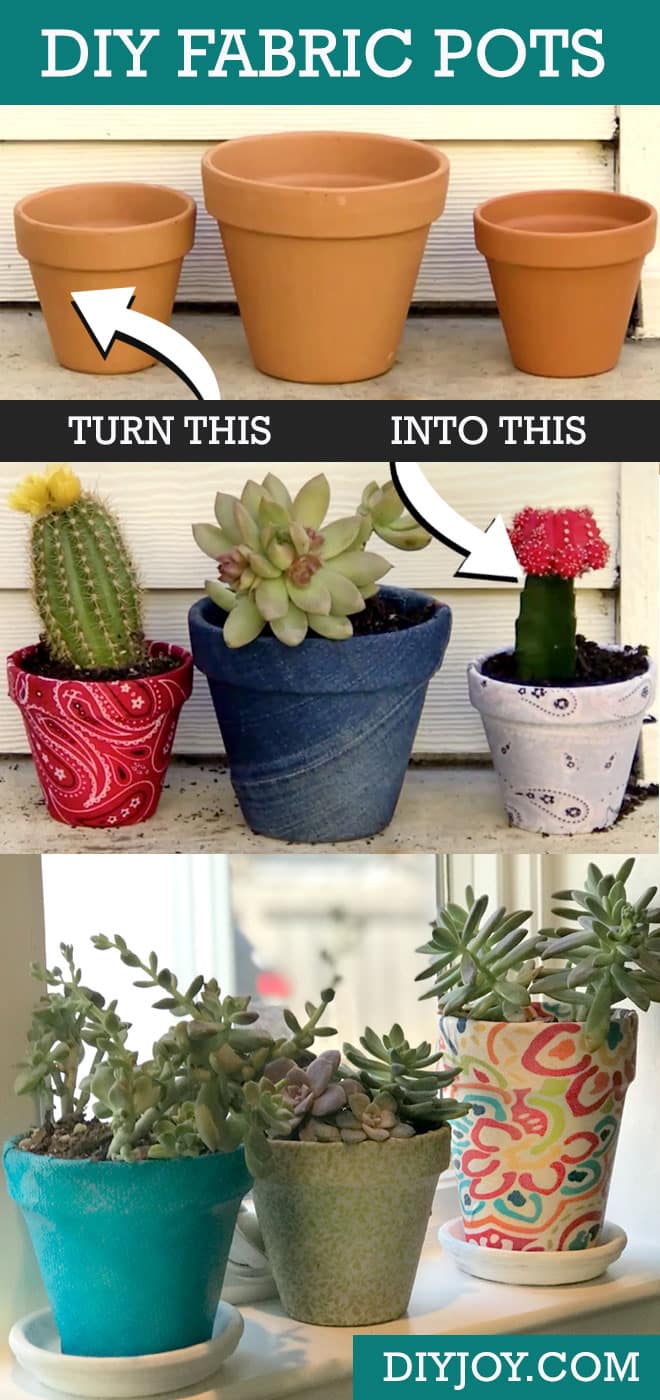 Watch and learn how to make this cool DIY idea. All you need is fabric, Mod Podge and terra cotta clay pots. This farmhouse style craft is super cute with bandanas or denim. I made one with an old pair of jeans and put it outdoors over a year ago and it still looks fantastic. Inside or outdoors, these creative fabric covered pots are one of my favorite easy crafts to ever make.
2. DIY Farmhouse Rustic Wooden Frame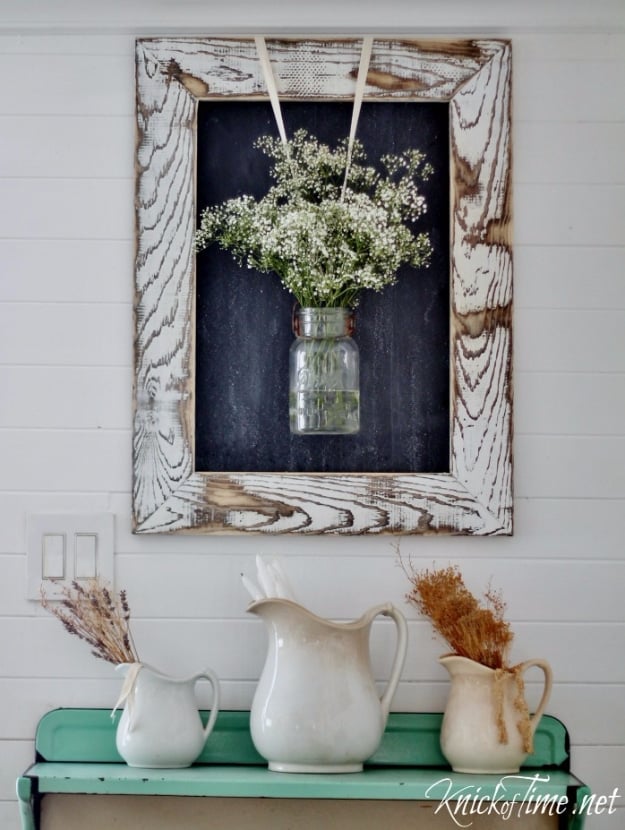 If you love mason jars, this DIY is for you. So incredibly easy for what you get. Simply hang a mason jar with dried flowers in front of a chalkboard panel lined with whitewashed distressed wood. You need this in your farmhouse kitchen now.
3. Arrow Art With Paint Markers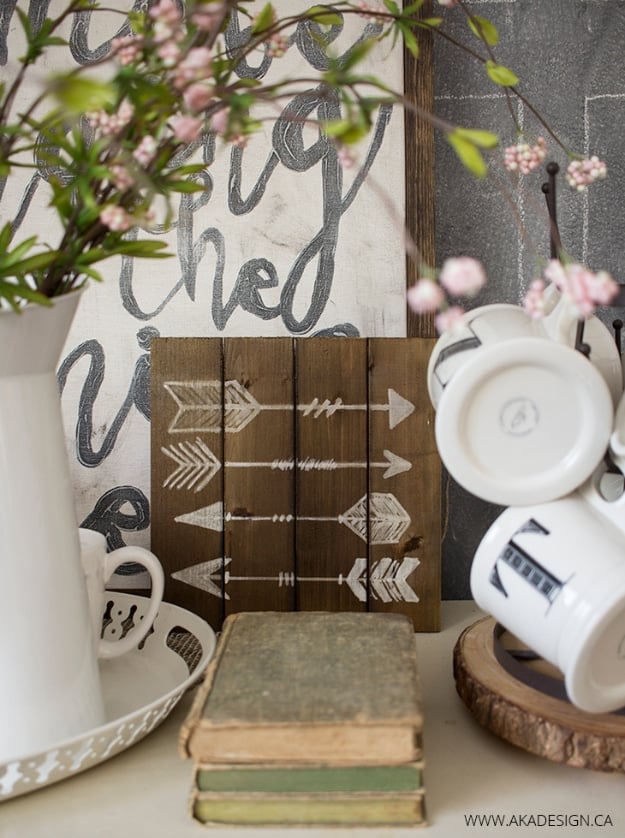 This little DIY farm house idea is so simple and super charming. If you need an easy vintage looking DIY, this step by step tutorial for arrow wall art is a must-try DIY project. Done with paint markers and distressed wood, the arrows look like old chalk. Cute in any kitchen, bedroom, bathroom or living room, this is a versatile idea that works well with any farmhouse style decor. This is a cute decorating ideas for teen rooms, your guest room or pretty much any bedroom unless it is super modern. This easy DIY pallet sign is one of my favorite ideas to style a bookcase display or corner in the kitchen where you need to add a little extra something of the DYI variety.
4. Simple Rustic Crate Centerpiece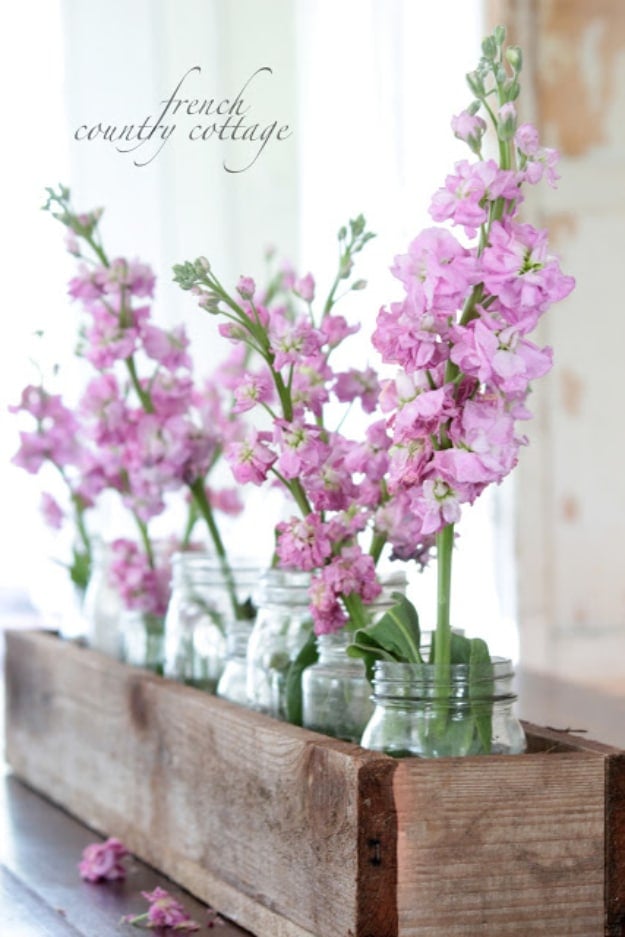 Ooooh. More mason jar loveliness, and this time, it makes the perfect mason jar table centerpiece (but also looks great in bathrooms and on entry tables) Make this charming rustic box and fill it with different size vintage mason jars and colorful flowers to complete the look. I made this for my mom on Mother's Day and she tells me every time I talk to her how much she loves it.
Easy DIY Bandana Wall Art
Learn how to make some quick and easy wall art with bandanas or even leftover fabric scraps. Match your decor or go patriotic! Watch and learn how. Bandana crafts and wall art are always welcome with country home decor.
5. DIY Wood Framed Mirror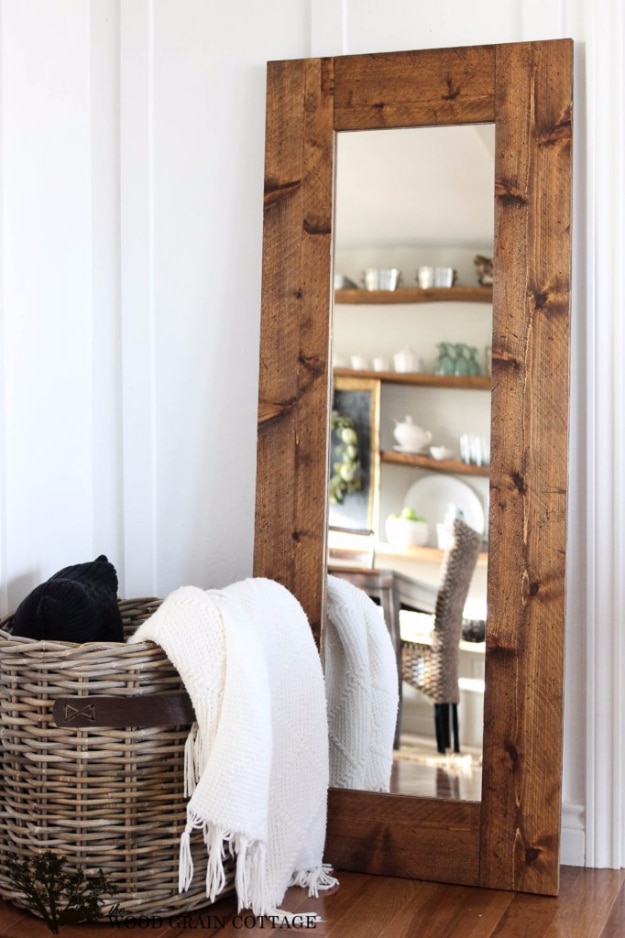 Mirrors are not always the first thing I think of buying or making when it comes to home decor, and yet they are one of the best pieces around to decorate with. Finding old vintage mirrors to use can be time-consuming and tricky, so make this one instead. Super easy rustic furniture tutorial shows you exactly how to make this awesome mirror. DIY mirrors like this floor-length one in wood are so much nicer than the ones you find for sale in stores (unless you have over a thousand dollars to spend on such furniture for your room)
Loving these rustic rustic DIY decor ideas? Watch a slideshow of all of them and then head over to the DIY sites of our favorite craft and decor blogs to see the full scoop with photos, step by step tutorials and instructions. Be sure to tell them thanks while there, too. So creative, I just love every single one of these farmhouse crafts and rustic furniture ideas you can do yourself.
6. Laundry Room Farmhouse Light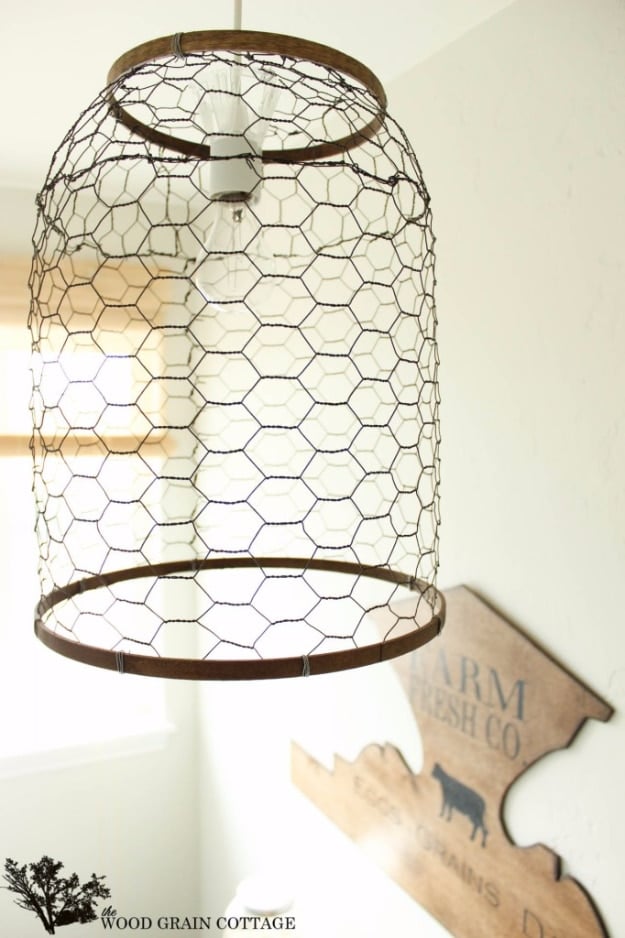 I love farmhouse decor, but the closest I can get to a farmhouse is to used rustic decorative elements in my city apartment. I saw this DIY farmhouse light using chicken wire on Pinterest and I would be lying if I told you that I'm not completely obsessed with it. Especially since I've seen versions on the internet for way more than I spent on this. I had a few requirements for the laundry room light. I wanted it to be unique, include wood tones, and look farmhouse vintage. I think it's perfect! Originally, we had a cheap $10 Ikea light in there. It worked perfectly, but I always had the intention of switching it out later. With this light, I was able to reuse most of it, and just removed the previous plastic shade. For a cheap DIY lighting idea to go with farm style decor, we love this do it yourself idea with chicken wire.
7. DIY Plug In Sconce From Pendant Lights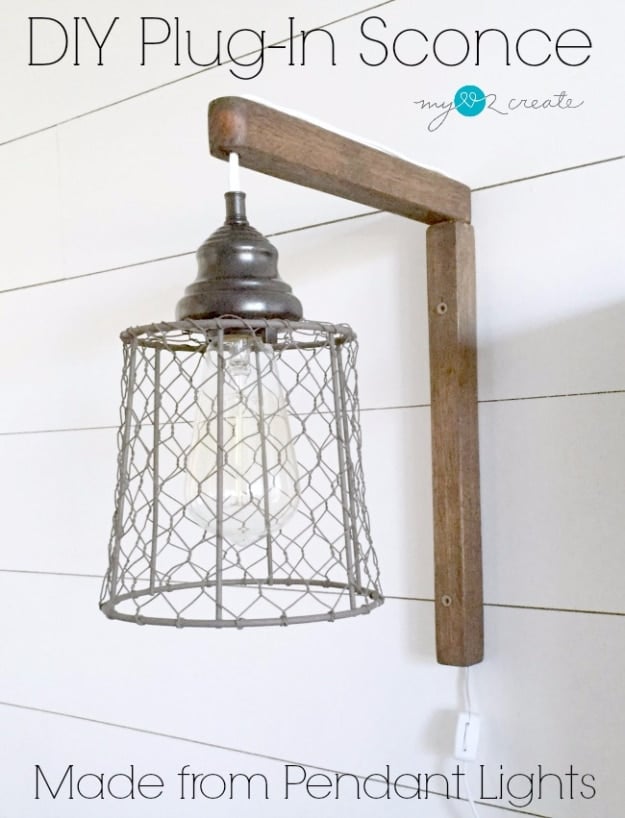 I had been wanting some bedside sconces ever since I moved to the countryside, but I wasn't sure how to do it since I couldn't hardwire them to the wall. My next option was to use some type of plug-in lights. Being the indecisive person that I am I kept putting it off because I couldn't decide on what I liked. I have been going back and forth for months on different options and probably still would be if I had not seen this DIY that enabled me to make a decision and get it done! So what did I do? I went to Habitat For Humanity and boy did I score! I got these two pendant lights for $1 each! I followed the tutorial and it was a breeze, they look amazing!
8. Custom Vintage Farmhouse Style Sign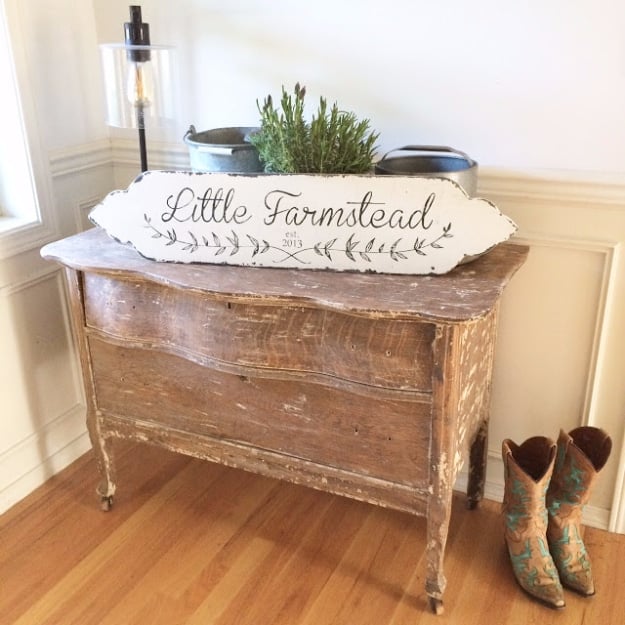 Before Christmas, I won a sign of my choice on a giveaway over at Erskin House bed and breakfast in Shulemberg, Texas (So fun, right?!) Having a custom-made sign was one of the choices. I asked the sign maker if he could make us a sign for our home, which we call our "Little Farmstead." I also asked if she could include the year that we moved in when it was "established." Since we moved here two years ago, I have pictured a sign, just like this, above the coat closet in our entryway. I love the distressed detail Pathe sign maker gave the sign. It truly looks like a vintage, time-worn sign. I love making DIY signs for walls, since they add a creative touch to any room.
Easy String Art Ideas
For easy farmhouse wall art, we love the look you can do with only string, wood and nails. Learn how to make these easy string art ideas and decorate for a few dollars.
9. DIY Industrial Farmhouse Bathroom Sign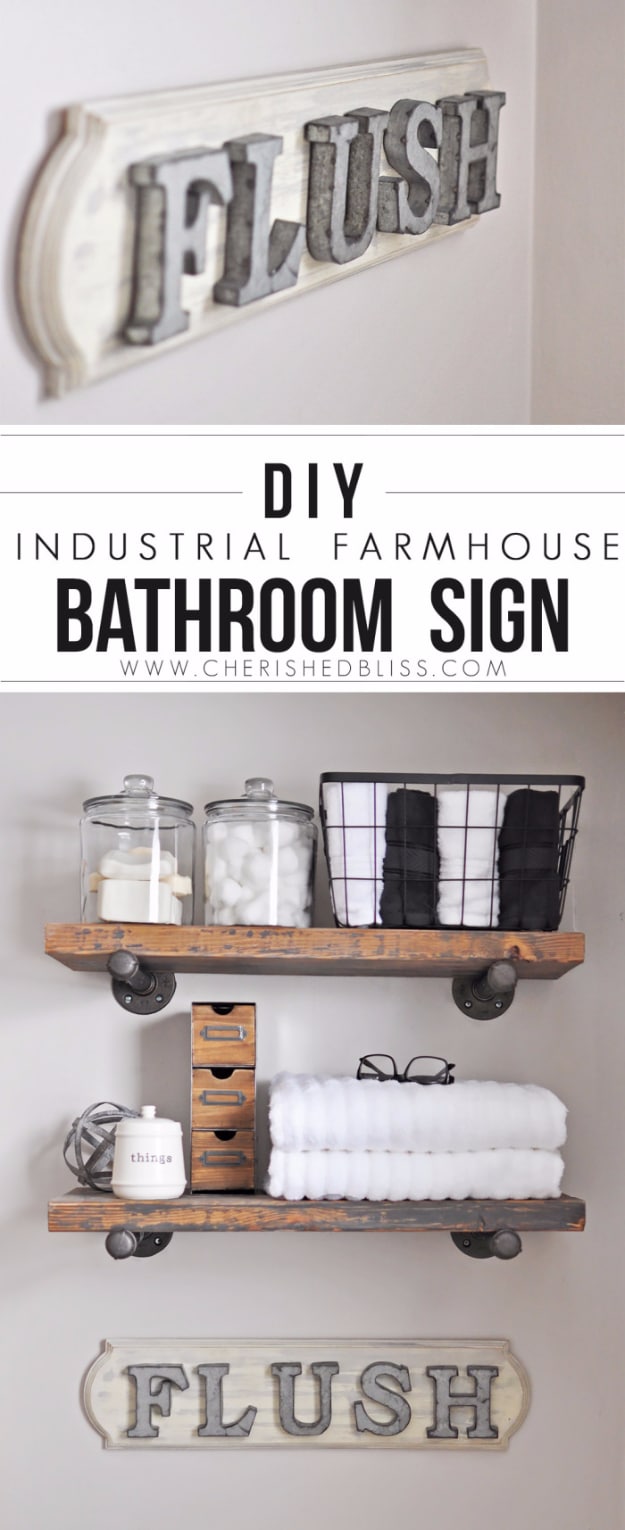 I think my husband's biggest pet peeve is when one of the kids don't flush the toilet. And when I say one of the kids I may or may not be guilty of that too. I mean in all fairness generally, it's because I can't even go to the restroom without having to jump up and run somewhere, so basically what I'm saying is I have a legit reason for occasionally forgetting to flush. Given our problem it only made sense to make a sign to remind us all how to fix it. The style I am going for is Industrial Farmhouse – and how I was planning to achieve this look. This sign was something I saw just the other day so it wasn't in the original plans, but it filled a gap I had just perfectly! DIY bathroom decor is so much more creative than what they offer for sale in stores, and I love making things to make what is usually a somewhat boring and overlooked room a creative space.
10. French Farmhouse Bath Decor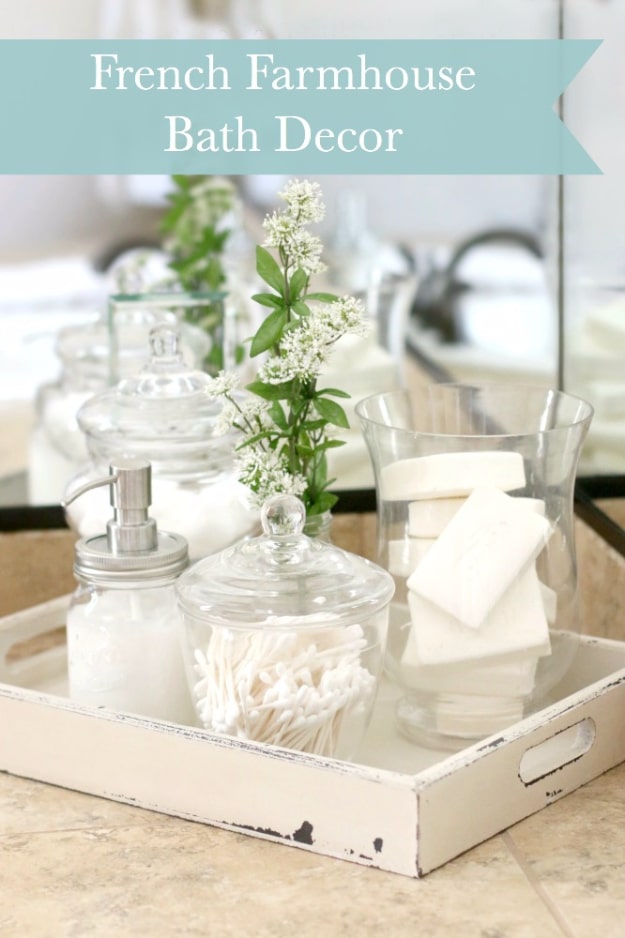 This rustic DIY French farmhouse toiletry tray is so lovely. You can start with any wooden tray and follow the whitewash tutorial in the link. I like to place vintage apothecary glass jars on these trays and fill them with cotton buds and such, just stunning! One of the best home decor projects Pinterest has to offer, you made need to make more than one of these shabby chic DIY ideas.
11. Farmhouse Reading Nook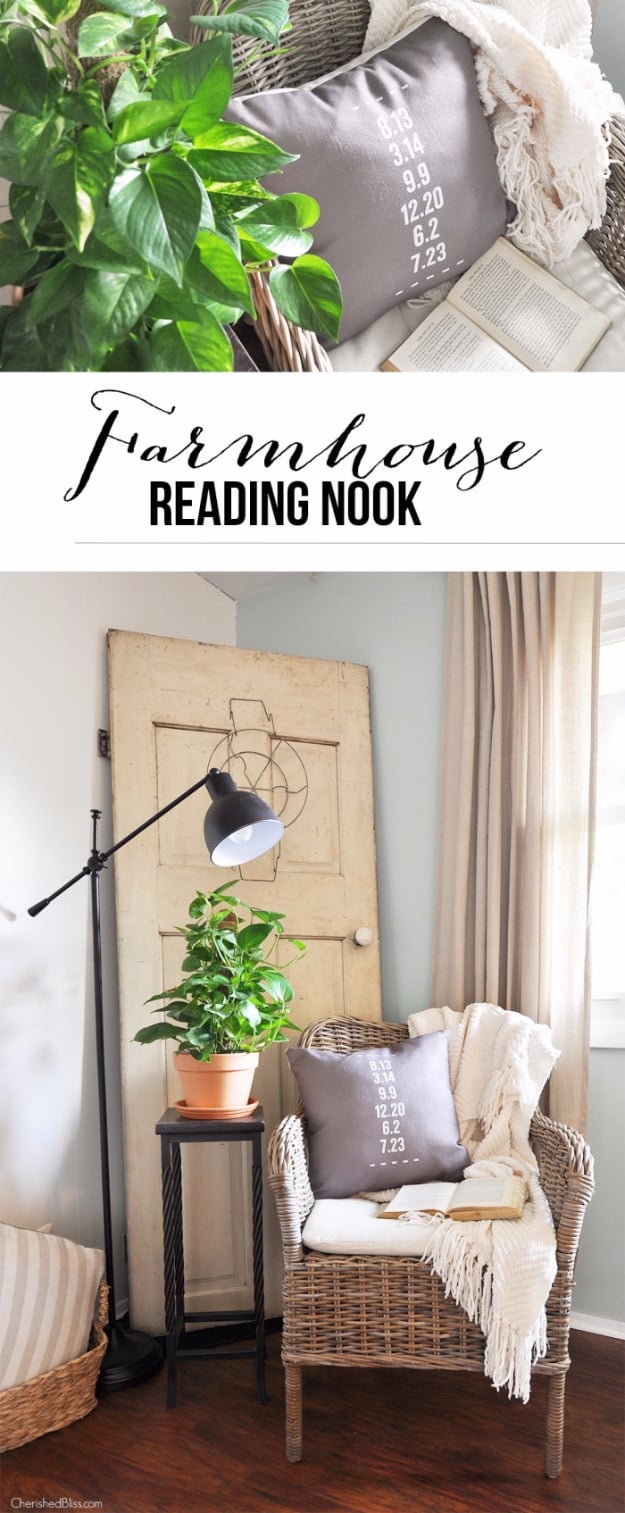 Old houses are so charming but their floorplans can be a bit strange. We have been in this house for two years. In that two years, I have remodeled our kitchen twice, painted a lot of walls and ignored some spaces too. One of the weirdest things about this house was that for the square footage the "dining room" was sized for about two people. But off the dining room is technically this "family room", which is also like the world's smallest family room, so I combined both these spaces into a very long dining room. We have a long table, so this works, but the space was still a bit awkward. The wall opposite the kitchen was just weird and empty so I added my new little reading nook. I just arranged an antique door with my favorite wicker chair, added a plant stand and reading lamp, so adorable. I love spending my evenings here.
12. Pallet Coffee Cup Holder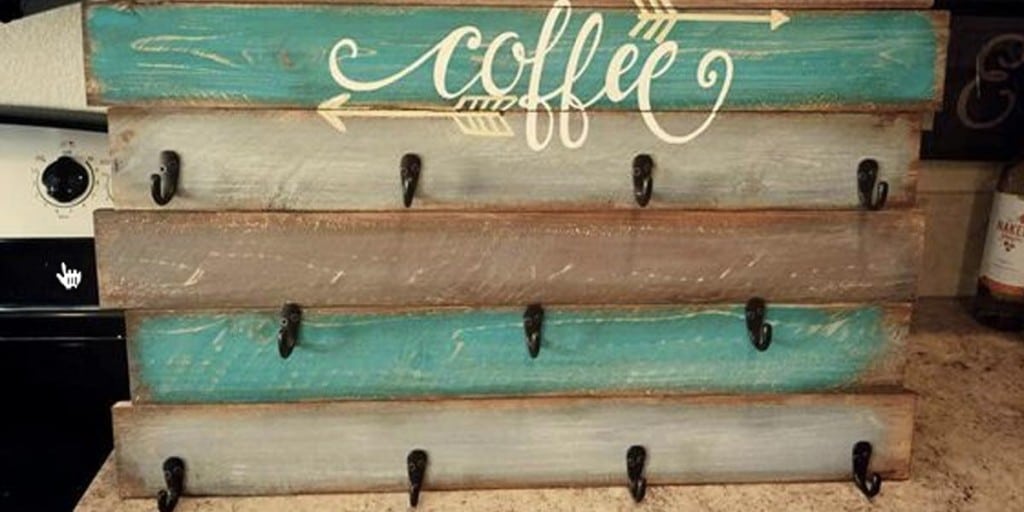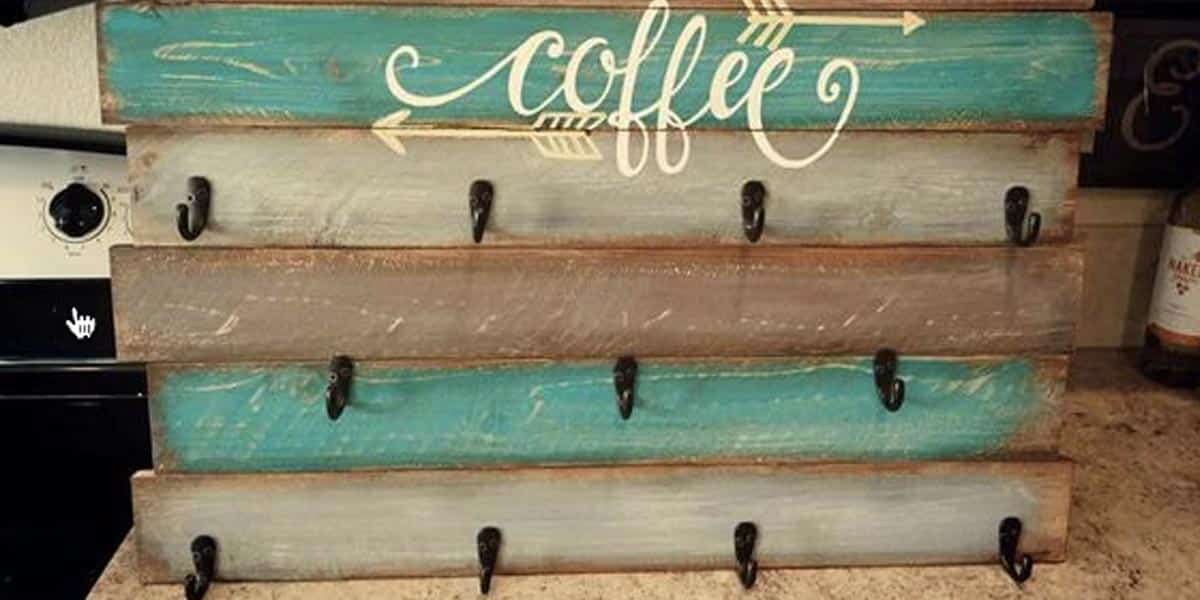 I don't know about you, but I collect some really cool coffee mugs and got tired of hiding them on a cabinet shelf! I've got all my favorite cups hanging on my new coffee cup holder now and I love it! Since I love coffee so much, I've developed a coffee mug addiction and trying to find my favs is a pain in the rear, so this solved that problem! It always feels like there isn't sufficient storage within your cabinets for everything you might have. Fortunately, you will save quite a bit of space with this vintage style coffee mug rack! Makes me so happy! DIY projects for coffee lovers are always a favorite of mine, as I can't ever get enough of my caffeine-infused java, morning, noon or night.
13. DIY Apple Wreath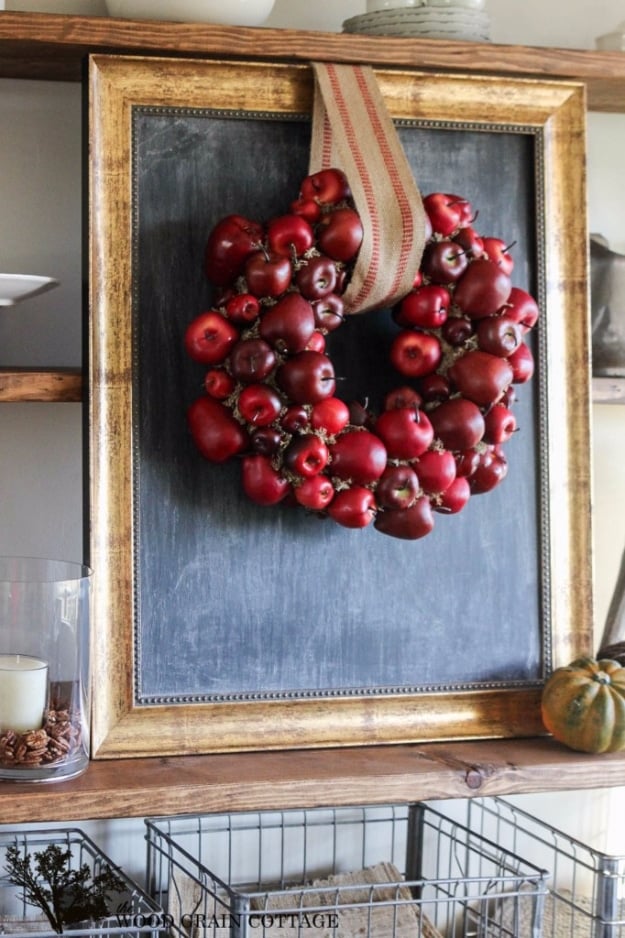 14. Farmhouse Style Staircase Gallery Wall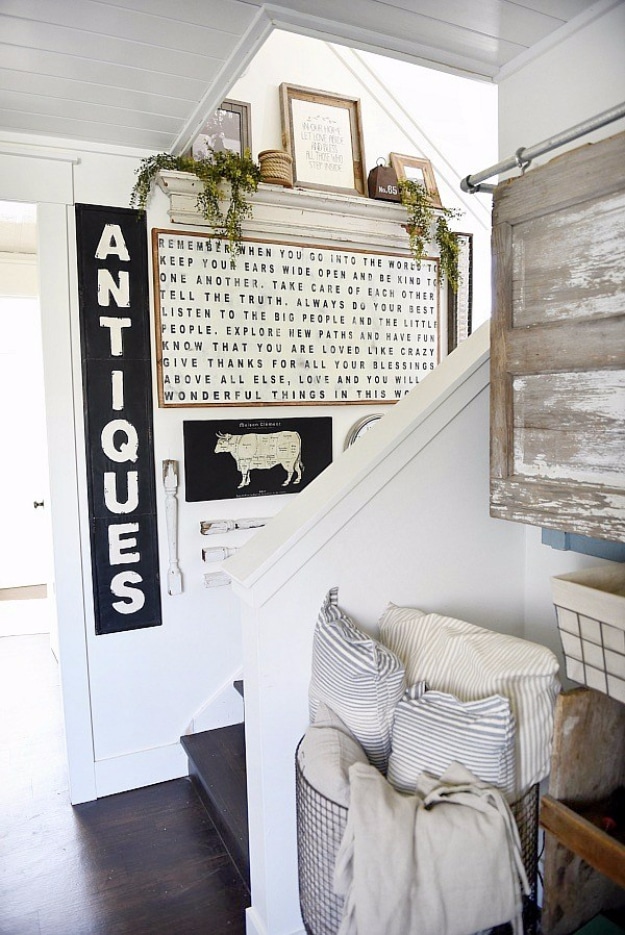 Everything in our home it's bound to not look the same for any long period of time. I have slowly made some changes to this gallery wall over the past couple of months so I wanted to update my look. I understand that our houses are always in progress, always changing, and most of the time always improving. Your home is better designed when done over time & decorated with items with meaning that you love. Here is a farmhouse style gallery wall that really exemplifies eclectic movement and change.
15. Be Grateful Pallet Wall Art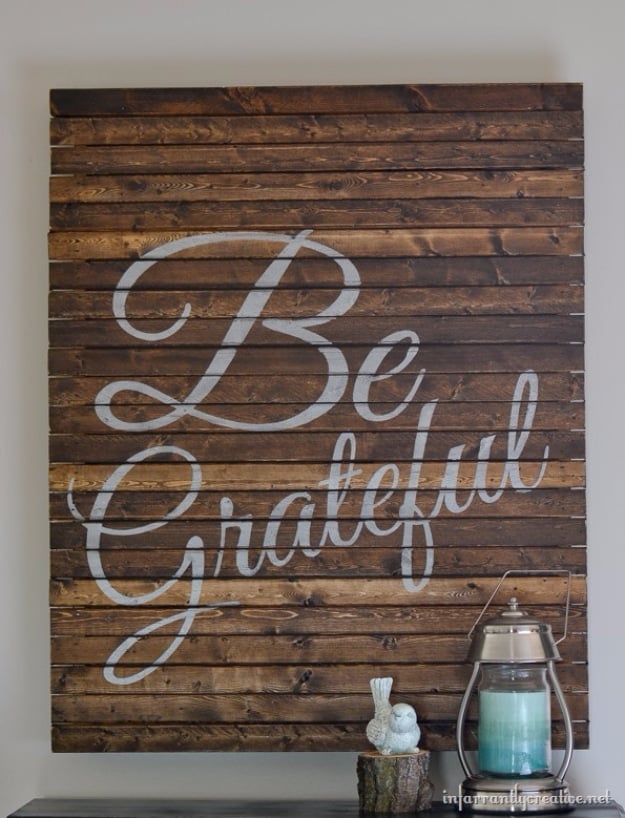 Since the colors were in the scheme of my current living room pallet I have left it up all year round. I decided to tackle a project and give it a little Thanksgiving spin with the words "Be Grateful." I never want to be limited by the holiday decor so I made it without any leaves or autumn colors. This project is really easy and cost less than $10!