Love rustic farmhouse decor? We do, too. DIY farmhouse decor is the best, though. Have you seen some of the knockoffs of the things you see on Pinterest at your local craft store or Target? So sad, the way they print things that looks much better when hand painted and handmade. We think you should never ever buy any of these, and always make them instead. Want to make some extra cash on the side, too?
Well, we chose the best DIY farmhouse decor ideas to make and sell on Etsy and at local craft fairs. Make some money online by creating these easy but awesome farmhouse crafts. Follow the step by step tutorials to learn how.
DIY Farmhouse Crafts to Make and Sell
1. Easy DIY No Sew Farmhouse Wall Pocket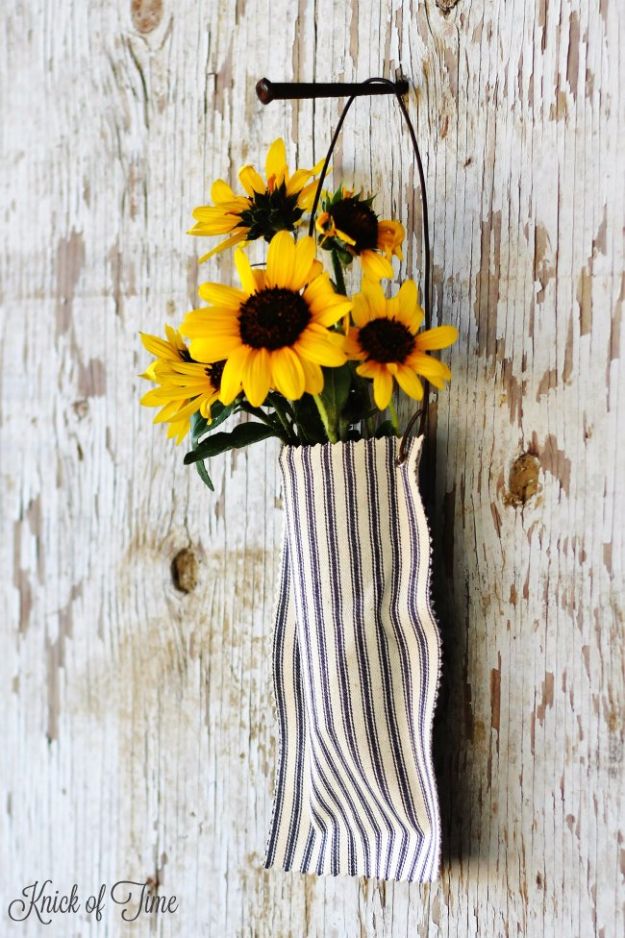 There's nothing we like more than repurposing something functional and cute from recycled materials! Take this Easy DIY No Sew Farmhouse Wall Pocket from Knick of Time. It's a farmhouse wall pocket that can be made from a scrap piece of fabric, but it's no-sew and is inexpensive to make. What a creative idea! I'm definitely putting this on my weekend project list especially that I have a lot of scrap materials lying around.
2. Customizable Chevron Arrow Wall Decor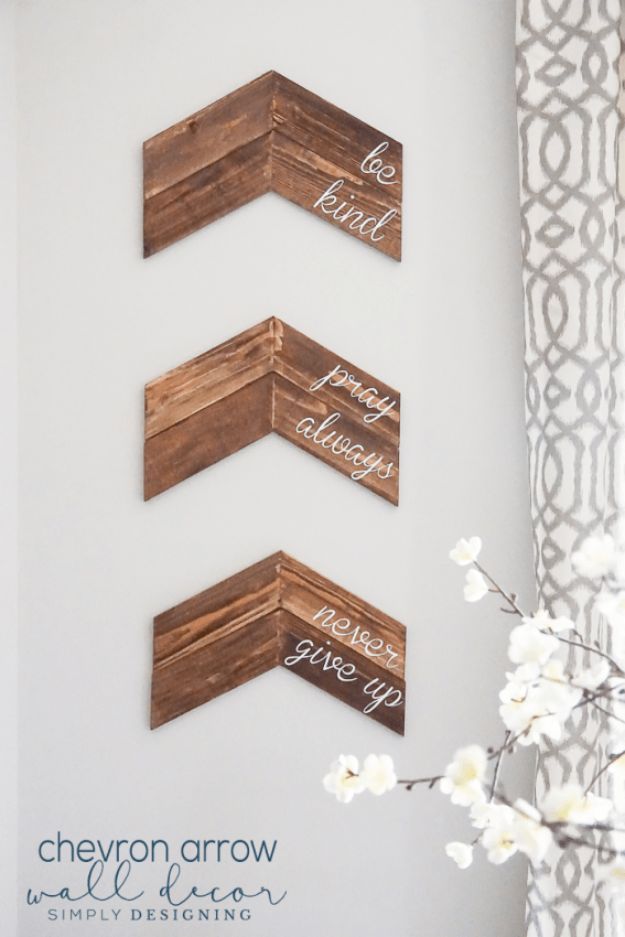 This is a really simple home project and a great way to add a custom sign to your farmhouse style home. What makes this project so incredibly easy? These cute arrows are preassembled and ready to go. Then, just follow along with the complete and easy tutorial from Simply Designing and you are on your way to customizing your own chevron arrow wall décor.
3. DIY Rustic Farmhouse Mason Jar Planter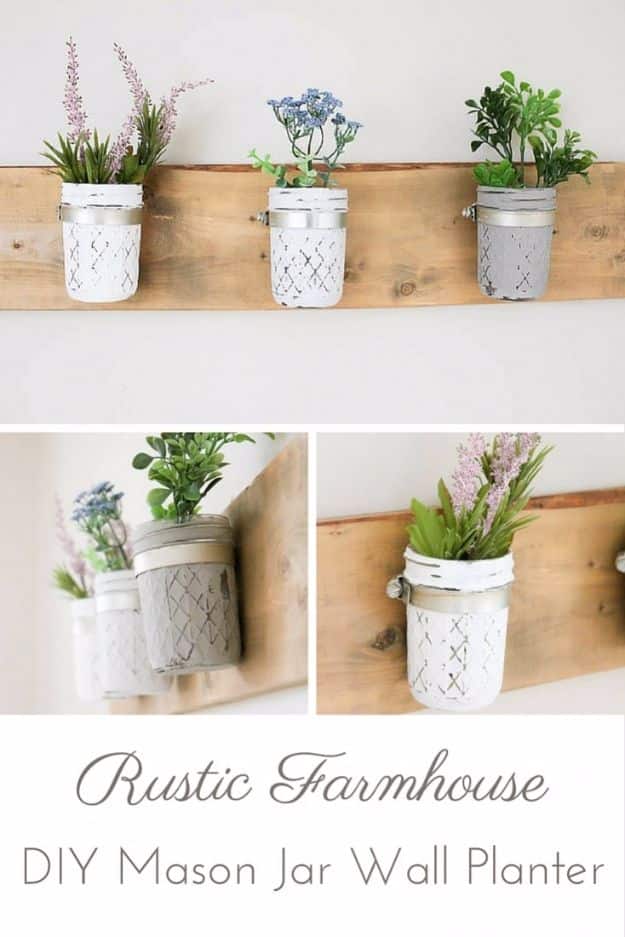 Looking for an adorable farmhouse DIY project perfect for spring or anytime of the year? You will never go wrong with this DIY Rustic Farmhouse Mason Jar Planter from Making It In The Mountains. This is really a cute way to display some greenery and/or flowers. I am all about bringing as much spring into the house as early as possible, and this is the perfect way to do it!
4. DIY Rustic Wood Lanterns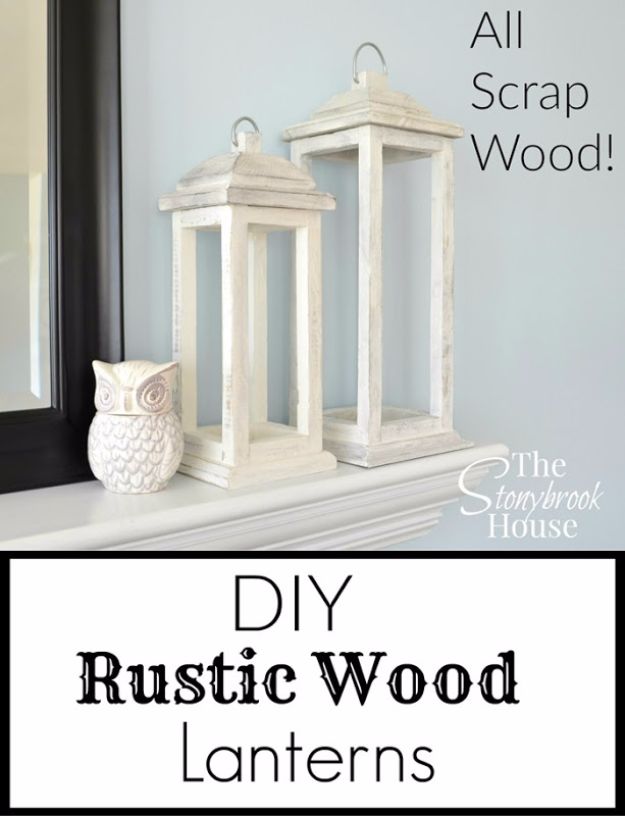 Build your own rustic wood lanterns from scratch using this simple tutorial from The Stony Brook House. They're gorgeous as is or can be dressed up for any season. These rustic lanterns look beautiful on either side of the door, and they are so inexpensive to make. This is really inspiring especially when you look at the expensive stores and you see beautiful but simple wooden outdoor lanterns. Now I can make one without actually breaking the bank!
5. Old Farmhouse Gate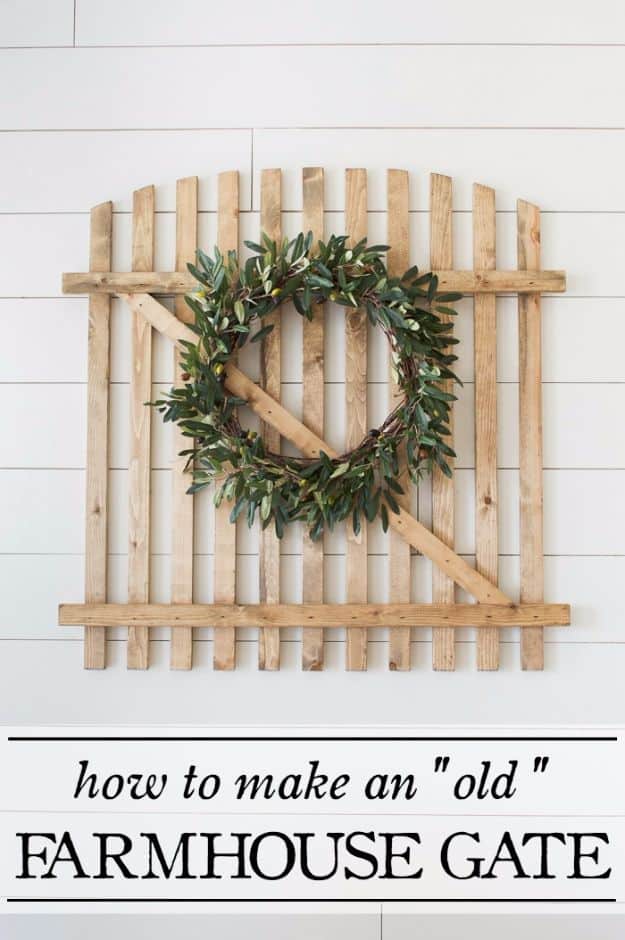 Add farmhouse charm to your home with this budget friendly and easy to assemble "old" farmhouse gate. I am 100% obsesses about this Old Farmhouse Gate DIY from Littered Brick House. I need something different over my fireplace and I think I just found the right thing. I can't wait to make one of my own!
DIY Farmhouse Decor for Home
41 rustic ideas for your entire house. The full step by step tutorials and instructions for these projects can be found here, DIY Farmhouse Home Decor Ideas.
6. Farmhouse Hanging Lantern Display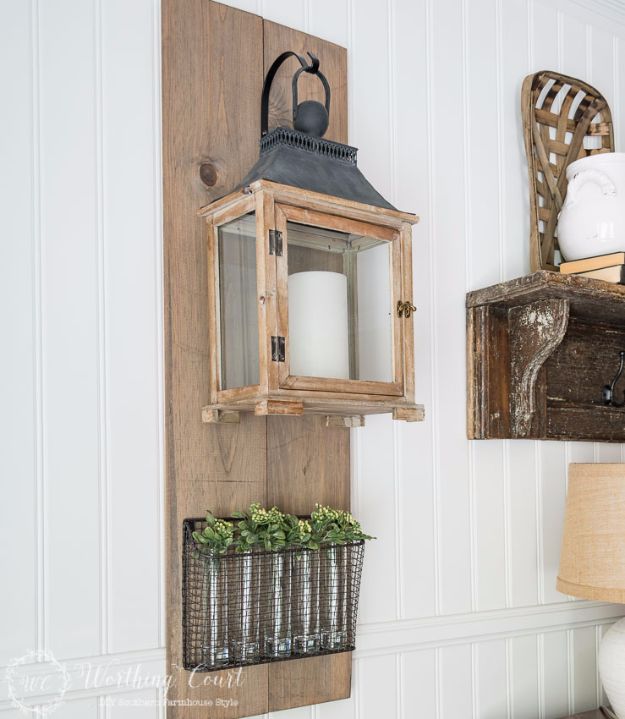 What a beautiful addition to the walls! I love lanterns and snatch them up from garage sales whether I have place for them or not. This is so stunning and unique and definitely a conversation starter. I also love the idea of hanging a basket underneath it so you can change the contents to match the season. I think this will be my project this weekend.
7. DIY Pizza Board Kitchen Decor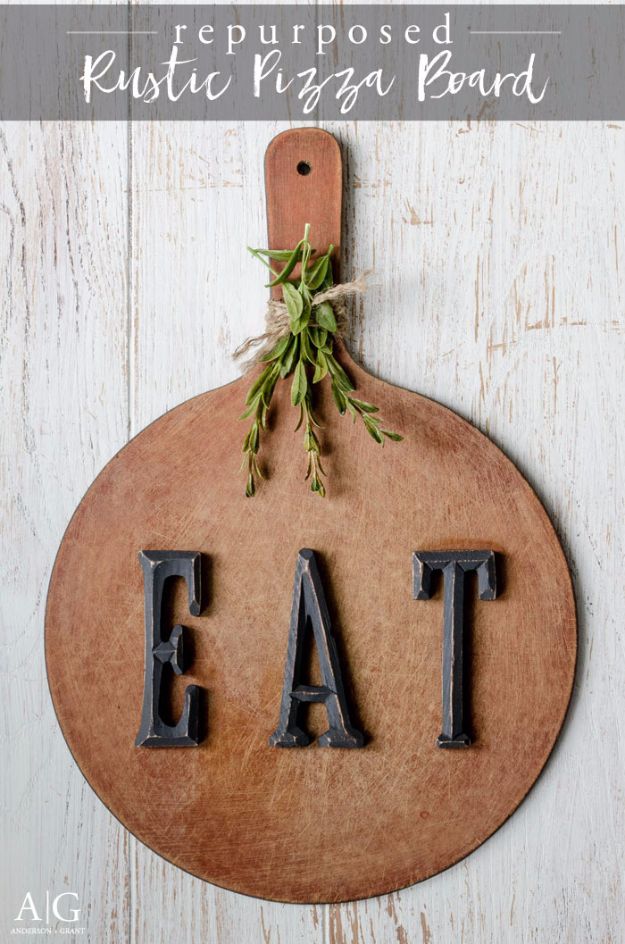 Check out this DIY Pizza Board Kitchen Décor tutorial from Anderson and Grant. With all of the repurposing projects out there, it is sometimes hard to recreate exactly what you see. You'd be surprised by how charming the results can be. It is so simple, but creates a unique piece of decor for your kitchen. The pizza board can then be hung on the wall or placed on a shelf with some other farmhouse style finds.
8. DIY Oversized Wood Dice

I just love beautiful wooden pieces of art! And isn't it awesome when you take ideas from the store and turn them into your own masterpieces at home? Follow along with the DIY tutorial from Thrifty and Chic so you can start recreating your own DIY Oversized Wood Dice. This will definitely go to my weekend to-do project list.
Best Crafts to Make and Sell? We have them here…

https://diyjoy.com/crafts-to-make-and-sell/
Farmhouse Crafts to Sell on Etsy
9. DIY Birch Bark Candle Holder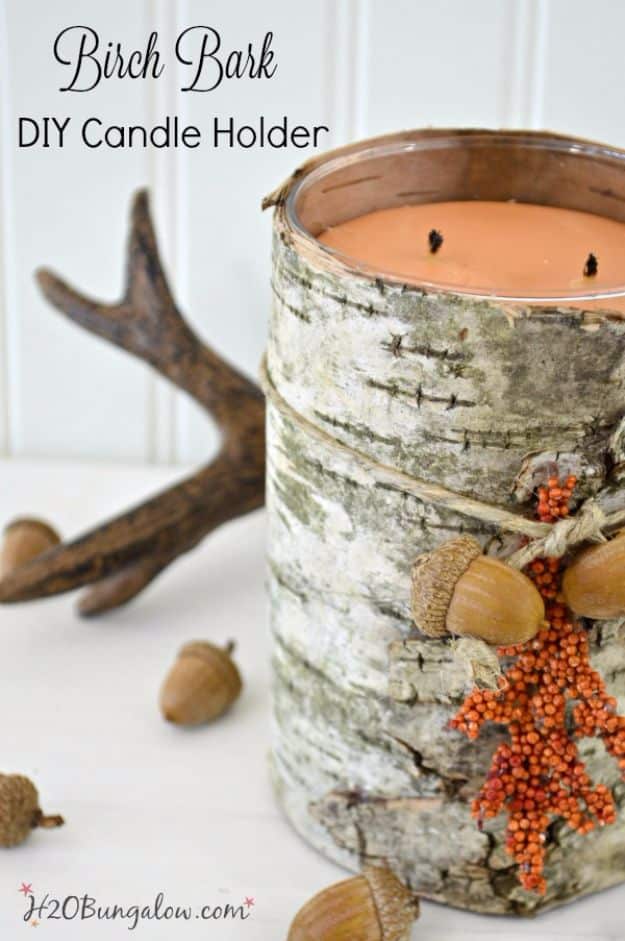 Love the raw, natural look of birch candleholders? This DIY Birch Bark Candle Holder is perfect for any time of year and pretty inexpensive to make. I just love the rich earthly mixes of neutral whites, browns and textures. If you're looking for bark, be sure to use only what's naturally shedding on a live tree or what you find on a tree that has already died.
10. Recipe Card Holders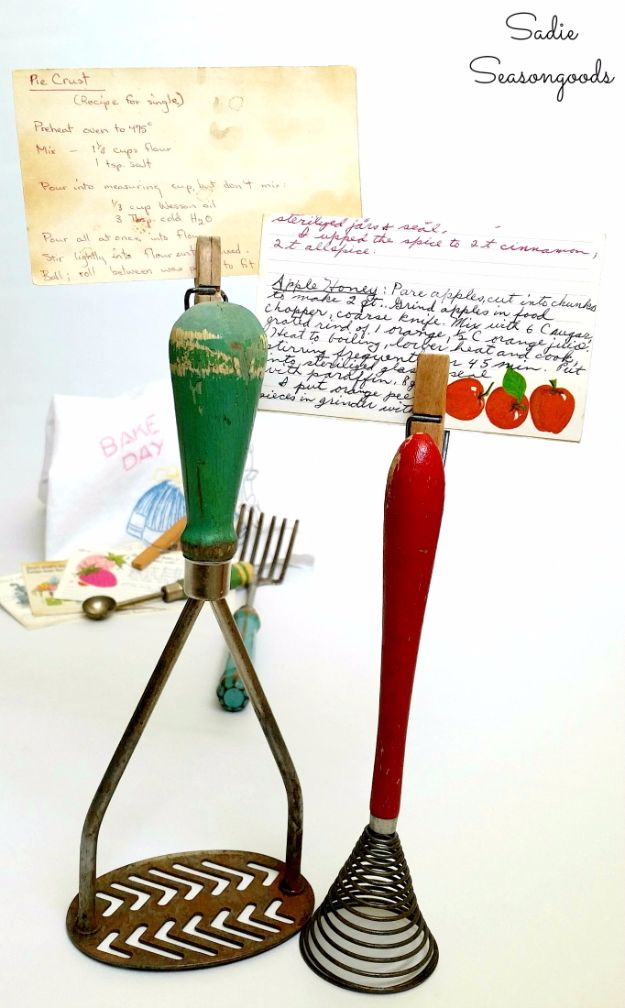 Are you a fan of old kitchen gadgets? I certainly am and I thought wouldn't it be nice to upcycle an old kitchen gadget to be recipe holders. Gladly, I found the inspiration from Sadie Seasongoods. Functional and cute, vintage kitchen tools are so common at antique malls, and clothespins are easy to come by- so you'll be able to make your own recipe holder from upcycled vintage kitchen tools in no time!