Looking for some easy ways to make extra cash on the side? If you love making things like we do, then selling crafts is the best way to go, ever! We are always looking for unique ideas that allow us  to put our crafting skills to good use and get paid for it, and we decided to put together a list of the most awesome projects we could find.  From colorful and creative home decor ideas to fashionable accessories to easy DIY gifts that make super items to sell at holiday time, these simple craft projects all come with step by step tutorials and easy to follow instructions. Check out our list of easy DIY crafts to make and sell so you can get started selling your crafts on Etsy or at craft fairs. Easy enough for even the beginning DIY crafter to make, these project ideas will have you making and saving extra cash in no time.

DIY Made Simple
When it comes to easy DIY ideas, not all are exactly simple. I can't tell you how many Pinterest craft ideas I've come across that touted being easy, but took hours, cost tons of money for craft supplies and were not destined to turn out looking anything like the cute project in the picture. Think Pinterest fail, and think again. No thank you to having to go to the craft store and spend money on difficult projects that may not be winners. Crafting is fun when it is easy, so we say make the easy crafts. Whether you are a beginning DIYer or a serious die-hard crafter with the glue gun burns to prove it, we have 50 easy craft projects you are sure to love making. These easy crafts to make and sell are also perfect for making DIY Christmas gifts, last minute homemade presents for Mom or that DIY birthday gift idea for Dad. No matter what the occasion, you are sure to enjoy these crafty ideas.
Easy DIY Crafts
1. Colorful Clothespin Trivets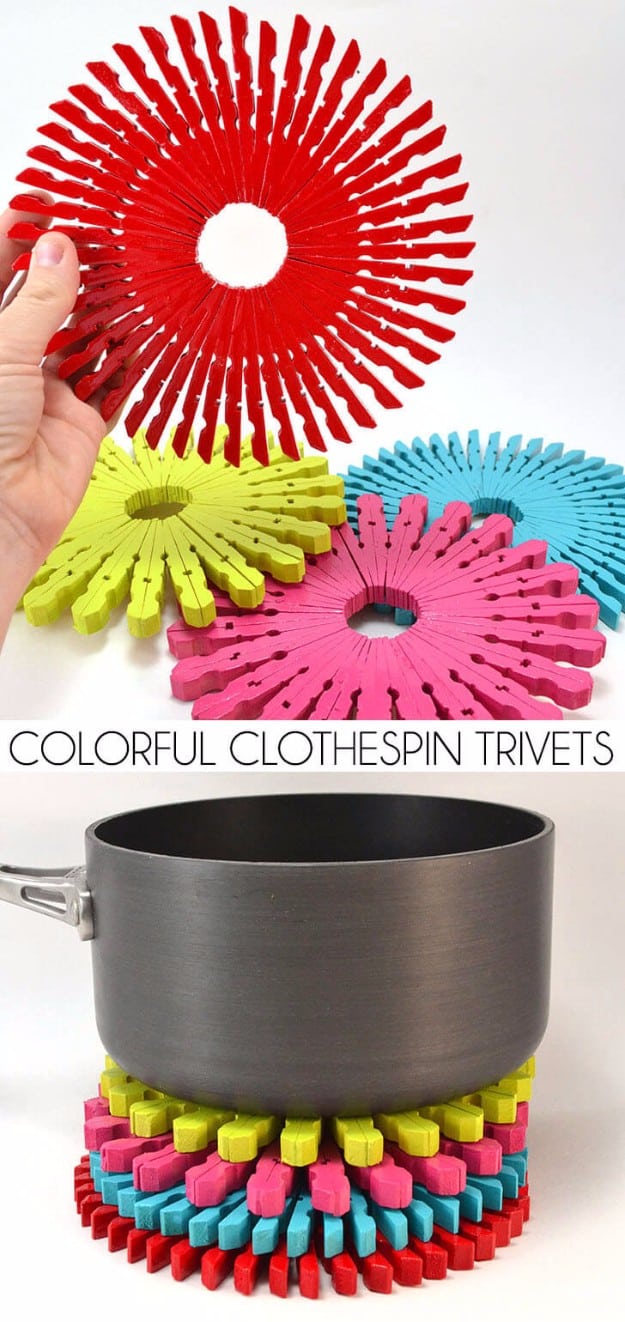 Can you believe this are made from clothespins? I had to do a double take when I saw that, and think this crafty idea is genius. An easy way to make something creative and expensive looking while being budget friendly, those are my favorite projects! If you are looking for some simple ideas for craft projects you can not only enjoy making, but also sell at online market places like Etsy and Ebay or at your local craft shows and fairs? When it comes to crafts to make and sell, we think sometimes the simplest ideas are the best, and they certainly make things quick, easy and foolproof. No artistic talent required for making these colorful DIY trivets, yet they look some artistic and will fit well in even the hottest designer kitchen. These take less than an hour to make, too, so you can have lots of things to sell on hand in no time. Paint them different colors for fun flair, then package them in sets ready for gift giving. I recommend doing some in muted colors to go with kitchens done in the super popular farmhouse style decor, and then also some colorful accents like the ones pictured above.
2. Rustic Wood Arrows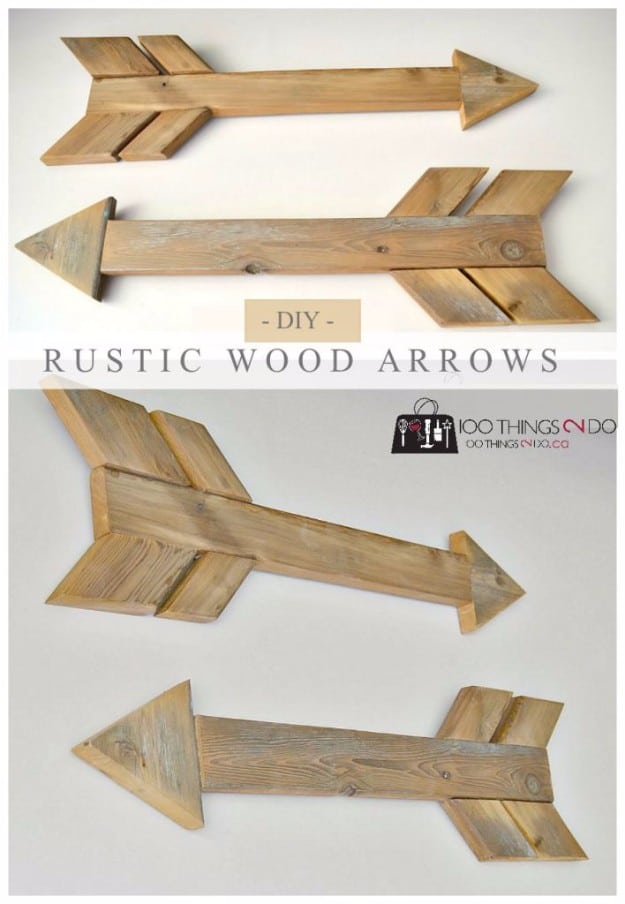 3. Frame Pin Cushion
4. Mini Succulent Planters

5. Cute Yarn Balls