How to Make Decoupage Fabric Pots
Looking for a craft idea that is easy, cheap and quick but looks nothing of the sort? These are always my favorite types of DIY, the enjoyable one that look amazing but don't take serious artistic talent or making 10 of them before you know even really know how to make the thing. Check out this tutorial video for making decoupage pots with only fabric and mod podge matte glue with the terra cotta pot of your choice. A perfect quick DIY gift idea, we've given these to teachers, friends and even Mom. Add flowers, a plant, a succulent or even a mix of candy.
My sister in law wanted an easy project for her regular girls night out where they always make a different little something. Since she knows I make all sorts of things, she came asking for some suggestions. I already thought this DIY was stellar, but when she and 10 friends tried this, they voted it "Best Craft Ever" and they have tried lots. This one is super for those who were not born with lots of artistic skill, but super for those who were. All of them turn out cute, too! Pretty amazing.
I have some in my kitchen window and they make me smile every time I see them. Learn how to make some of these cool DIY planters for yourself.
If you happen to have cute fabric scraps laying around, this craft project is practically free. Old denim jeans and bandanas look great, too. Let your creativity go wild on this one when it comes to cool fabric ideas. The project itself is super simple but very rewarding.
Supplies Needed for DIY Fabric Pots:
Terra Cotta Pots
(all sizes will work if you have the fabric to cover them)
Fabric Scraps long enough to go around each pot with 2 inch longer than top and bottom) *Lightweight fabrics work best, fat quarters are great, but you can even use thin denim, especially the stretchy kind
Mod Podge Matte
Scissors
Foam Brush For Glue
Step 1
Start by cutting your fabric. Lay the fabric out, then the pot. Wrap fabric around, making sure you have at least two inches over the top and an inch longer than the bottom, with an additional 2 inches allowed for seam. It is ok if the fabric is slightly larger than this, but not smaller. Cut to size.
Step 2
Get one terra cotta pot and paint entire outside and bottom with glue. Do not paint inside. Allow to dry for 2 min. Place fabric vertically along pot from top to bottom and press in place. Continue wrapping fabric around pot, stretching slightly while going around pot until you get back to the side where you started gluing.
Step 3
Now, trim the fabric on the bottom of the pot. You want to leave about ¾ of an inch all the way around, but the measurement does not have to be precise. After trimming, snip notches into the fabric along bottom at every inch, but do not cut all the way to the bottom of the pot. You want to leave about ¼ inch of each snipped notch uncut when it gets close to the bottom pot edge. You should end up with small flaps all the way around the bottom of the pot. Now, coat these fabric pieces with your brush covered in glue and then press them down until they stick to the pot and each other.
Love this idea? Pin and save to Pinterest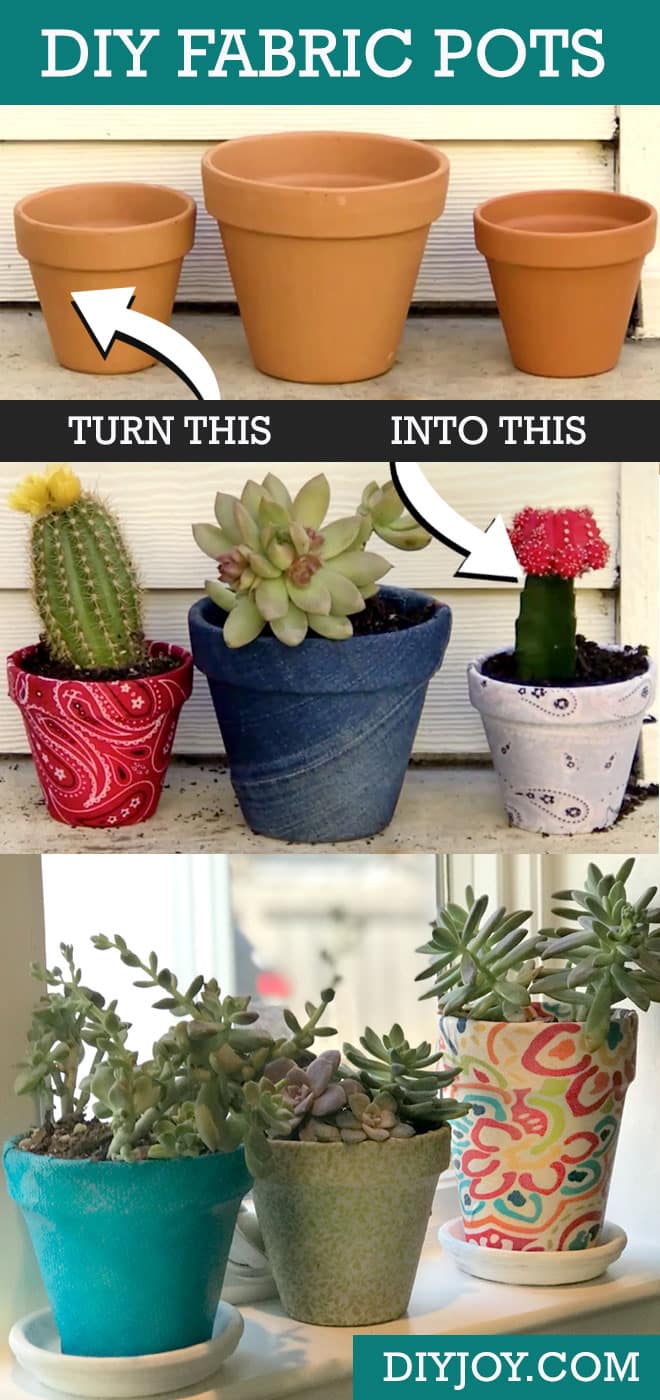 Step 4
Coat this bottom portion as well as the sides of the pot covered in fabric with another later of Mod Podge. You should soak the fabric thoroughly with glue but not have large drips of the Mod Podge. Allow to dry for at least a few minutes.
Step 5
For the top of the top, you should still have the loose fabric along the edge. Trim this so that you have about a 1 ½ inches all the way around, perhaps a bit less if your pot is a tiny one. Cut notches into the fabric using the same method you did on the bottom, cutting in but not all the way to the edge of the pot. Once all of your flaps cut along the top edge are cut, you may glue them in place. Coat the back of the fabric with glue all the way around, then press them in place. Coat the inside edge with a layer of Mod Podge.
Step 6
Allow to dry, then add your plants.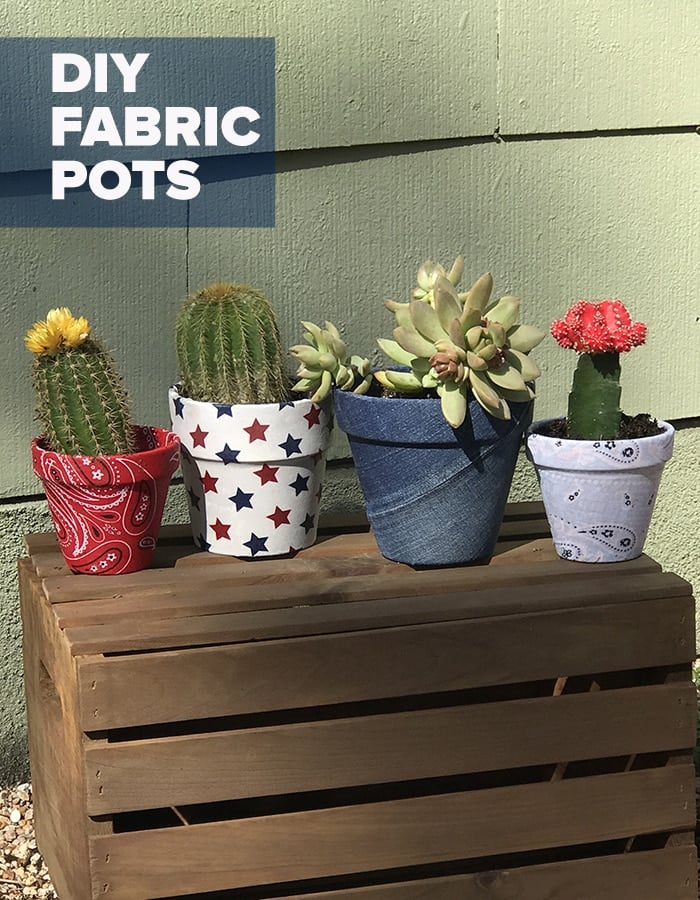 The full step by step tutorials and instructions for these projects can be found here, DIY Farmhouse Decor Ideas