Looking for some cool DIY bathroom decor ideas, ones that fit your budget? When it comes to creative bathroom ideas, there is no need to spend a ton of money on decorations and bath accessories. Turns out some of the best looking bathroom decor items are DIYs. This is proven by the fact that Target, WalMart and the craft supply stores all all selling DIY replicas right now, some of the most popular items off of Pinterest. The real deal is a much better look, and you can get this decor on the cheap. Whether you have farmhouse style decor going on or something more classic and modern, we have the projects you want to make for your bathroom. From storage and containers for makeup and toiletries to wall art to update those blank walls, the best DIY bathroom decor is yours for the making. Check out the easy to follow step by step tutorials to learn how to get these cool crafts for yourself.
DIY Bathroom Decor Ideas
1. Candle Jar Cotton Ball Holder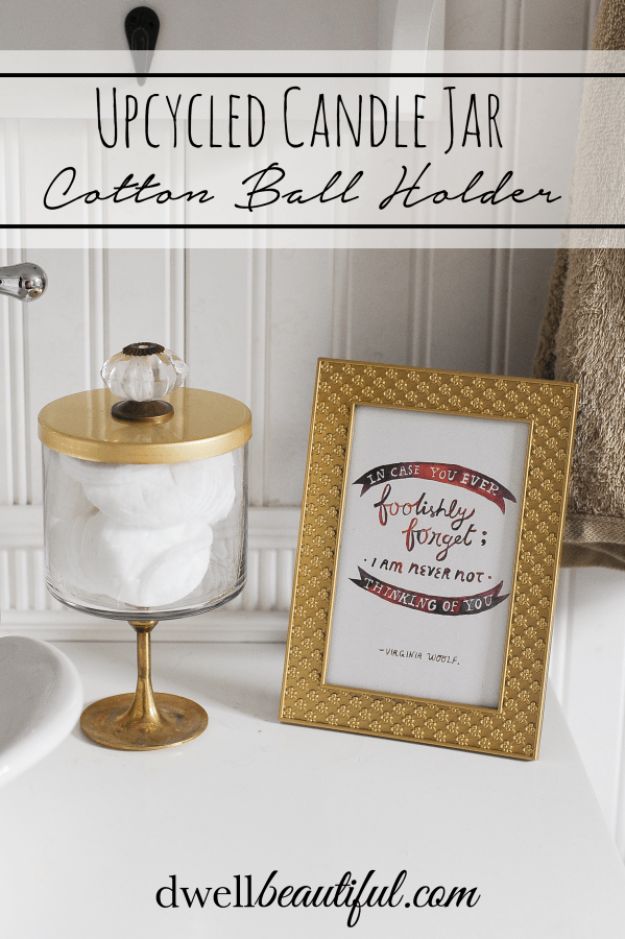 What a creative idea! These jars were really dressed up and turned into a beautiful way to display cotton balls. Follow along with the super easy-peasy tutorial from Dwell Beautiful to make your own. I might give this a try this weekend.
2. DIY Air Freshener Decoration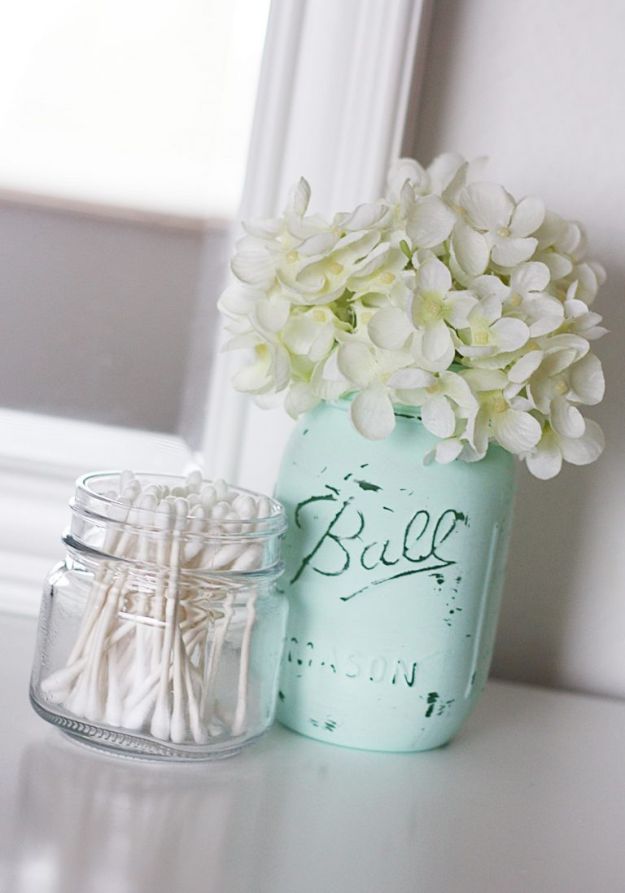 Oh, this is just brilliant! I am going to have to do this for my guest bathroom. I really love this idea and that it doesn't look like the run of the mill air fresheners, is just too awesome. Snag the full details of the tutorial from Eighteen 25.
3. Organise your Bathroom with Farmhouse Bathroom Labels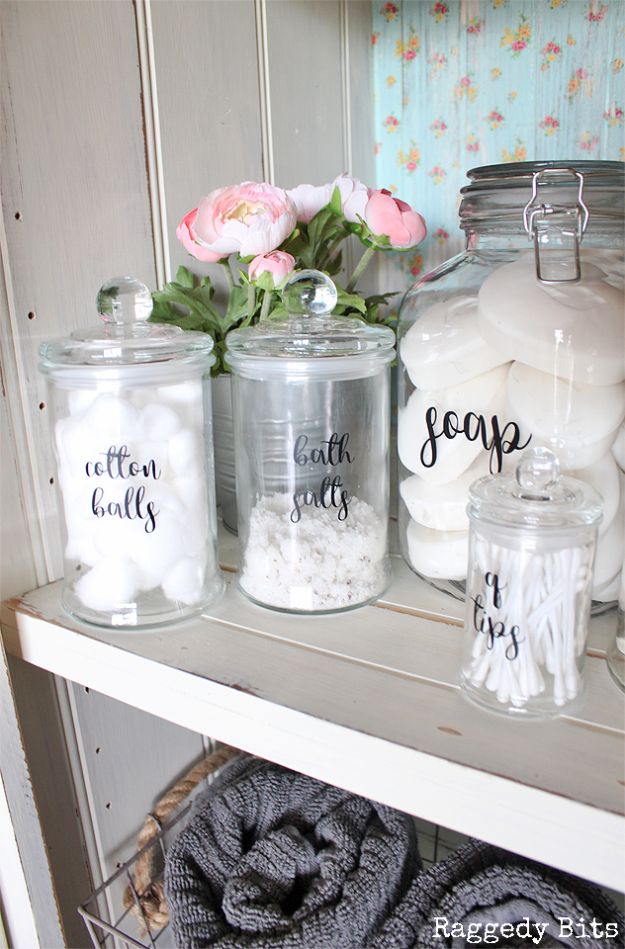 Start getting your bathroom organized with these Farmhouse Bathroon Labels tutorial from Raggedy Bits. . I've always wanted a space to put up fun jars in the bathroom, they make such lovely decor too.
4. DIY Fabric Toilet Paper Holder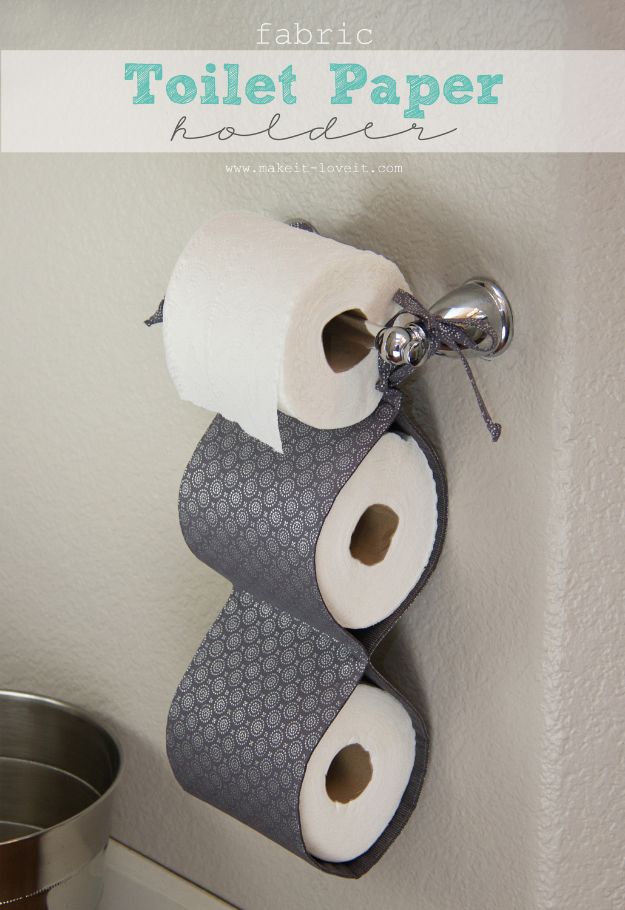 Make your own fabric toilet paper holder by following these helpful step-by-step instructions from Make It Love It. I would definitely love to have this! I have tried so many different ways to keep extra rolls in my tiny bathroom and now I have the perfect storage solution.
5. Wire Basket Bathroom Towel Storage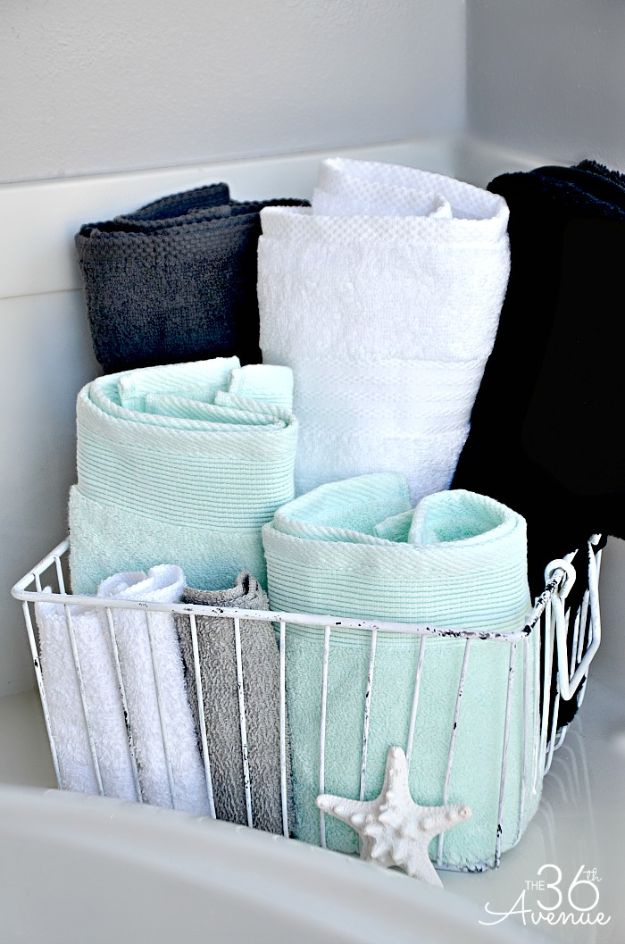 Talk about practical and beautiful! I love to decorate with items that are useful and this Wire Basket Bathroom Towel Storage embodies this sentiment. I super love this simple storage and might head over to Target to buy me some.
6. DIY House Shelving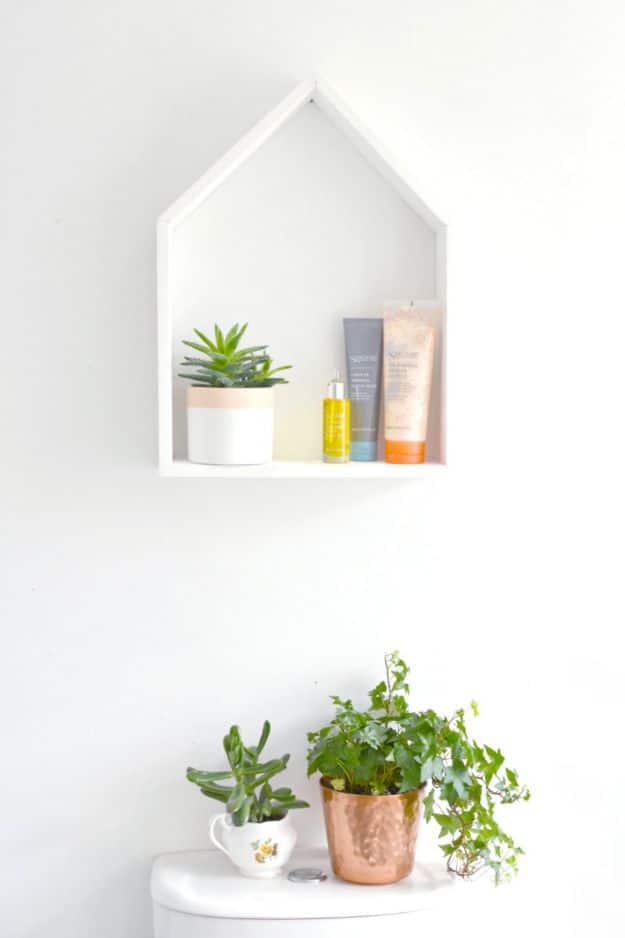 Want a cute and practical solution for bathroom storage that can double as a pretty decor? This DIY House Shelving is so aesthetically pleasing to the eye. It's quite perfect for housing little things.
7. DIY Bathtub Tray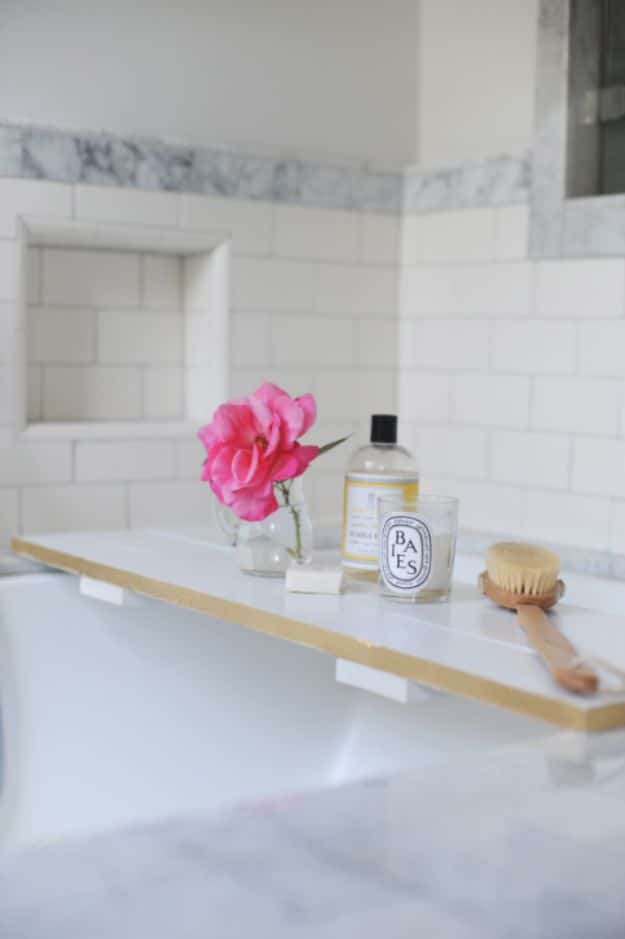 I've always enjoyed the look of a bathtub tray. I wanted one that looked simple, but elegant enough to fit in with the rest of the bathroom decor, while corralling some of my favorite items like my books because I read a lot. And this DIY Bathtub Tray looks perfect for me.
8. DIY Typography Signs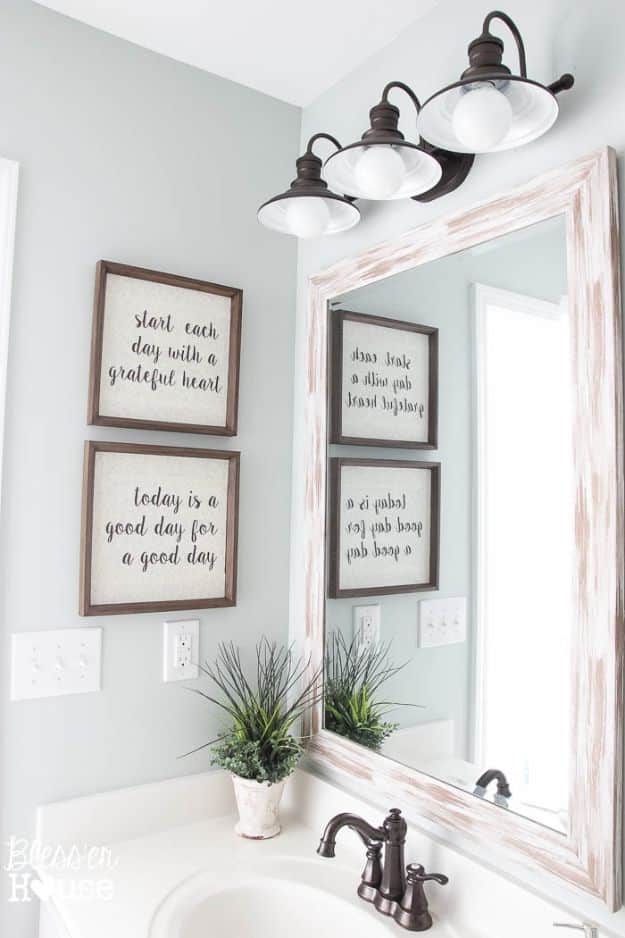 Very cute, inexpensive, quick update to dated artwork – love it! What a great reminder every morning. This is an idea that I'm definitely going to replicate in my own bathroom. I'm a sign and graphic lover so these are right up my alley.
9. DIY Bathroom Mirror Upgrade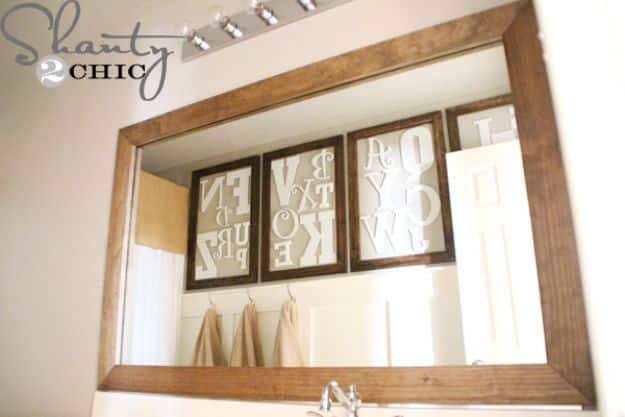 This updated mirror certainly has a ton of character in it. I also learned a cool staining technique from reading the instructions on Shanty 2 Chic. It's called water popping and it gives a very nice and smooth finish to your stain. Just dip a clean cloth in a bowl of water and wring it out.
10. DIY Stamped Hand Towels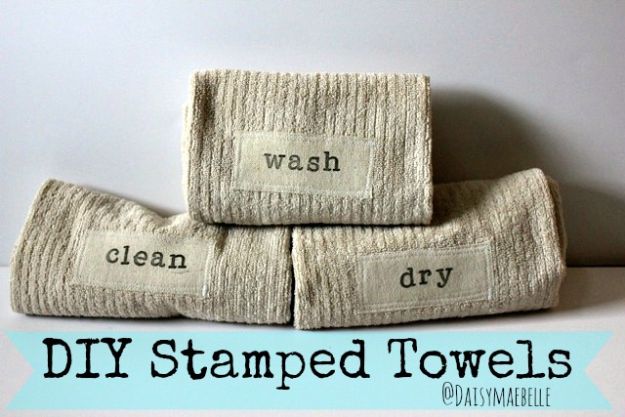 What a great idea! I love how they turned out. So simple but those extra details really help pull a redo together. Such a cute and fun way to dress up towels. I would be making myself a set for our bathroom.
11. Ikea Cart Bathroom Organizer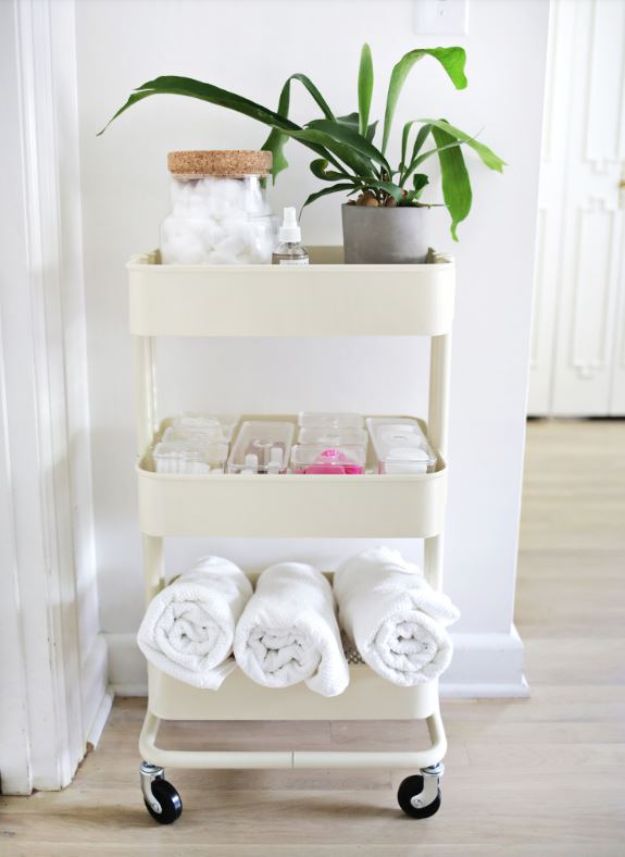 13. DIY Farmhouse Bathroom Vanity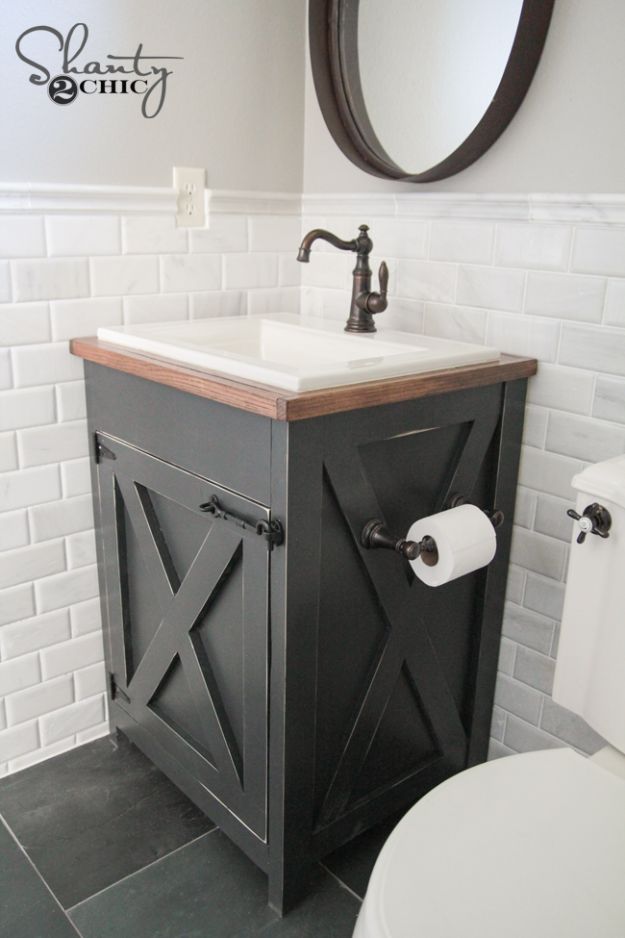 14. DIY Farmhouse Bathroom Vanity Light Fixture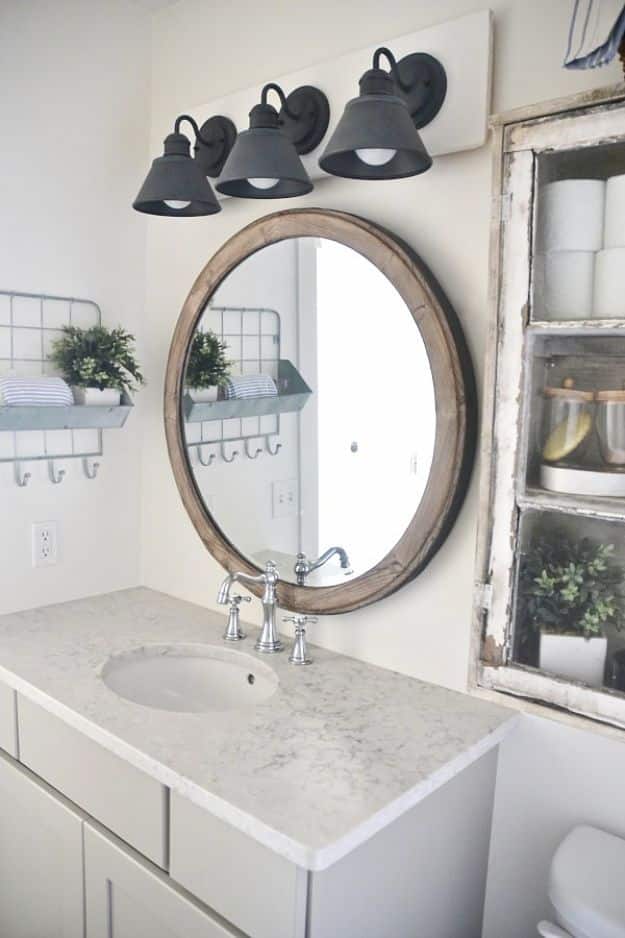 15. Weathered Newport Beach Sign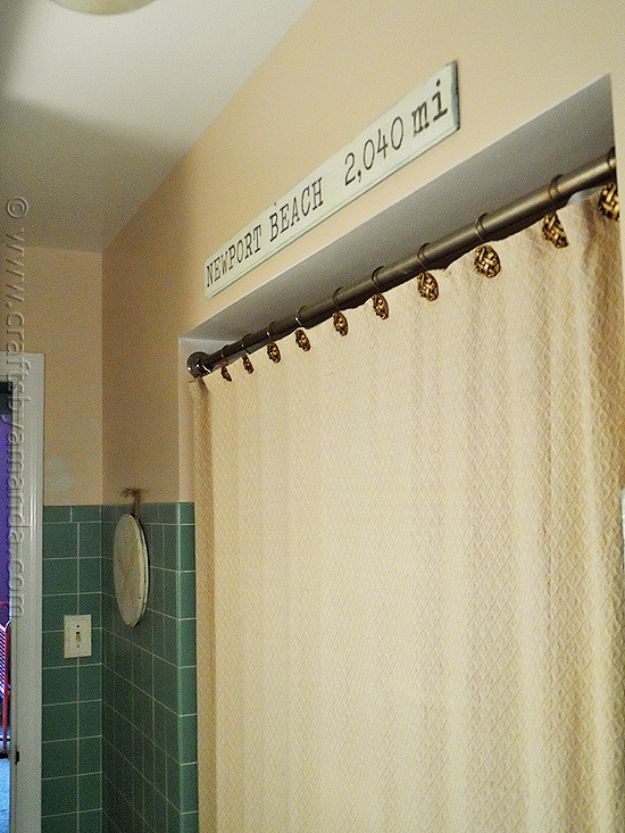 16. Tissue Box Cover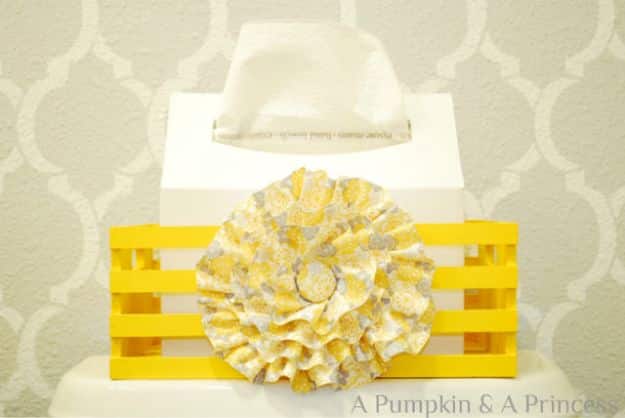 17. Leather + Copper Cup Organizer DIY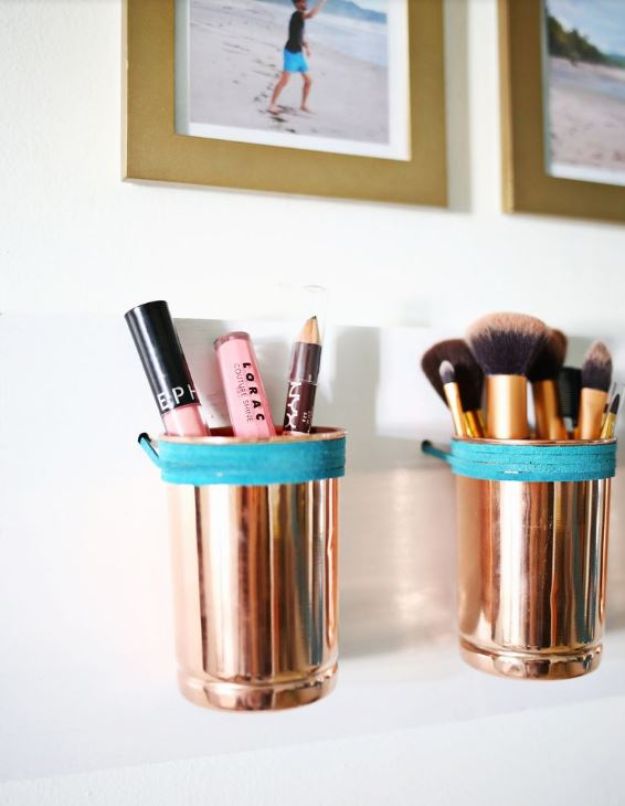 18. DIY Towel Rack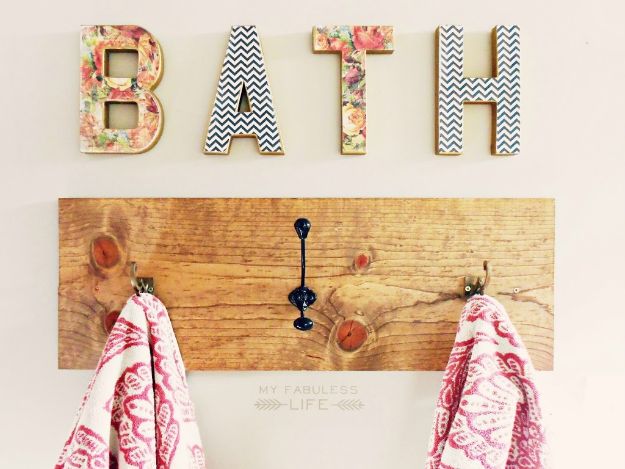 19. Farmhouse Wood Tote DIY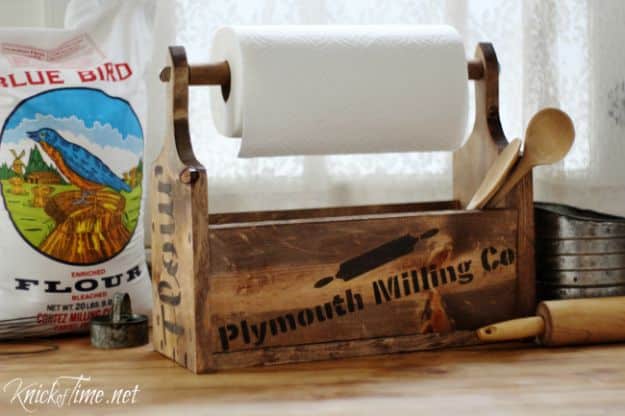 20. Shower Pocket Organizer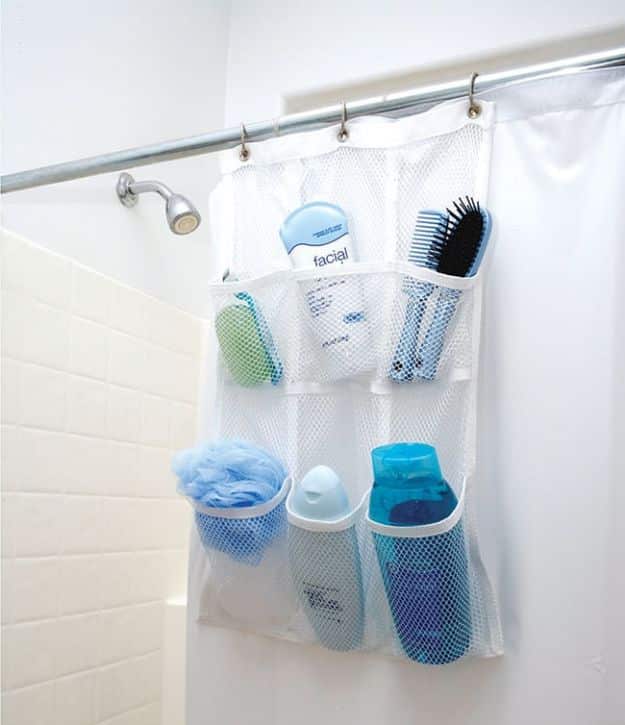 21. Plastic Bins Bathroom Organizer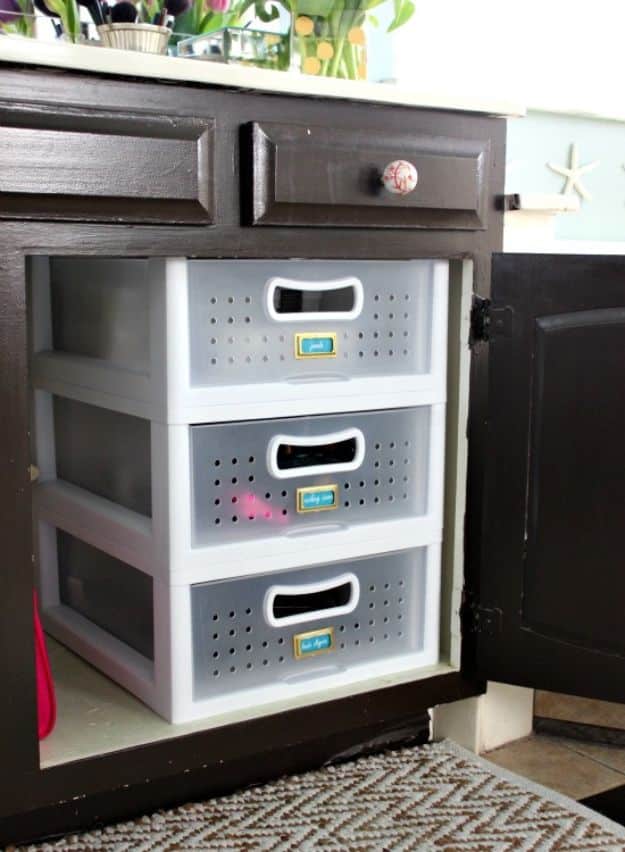 22. Faux Roman Shade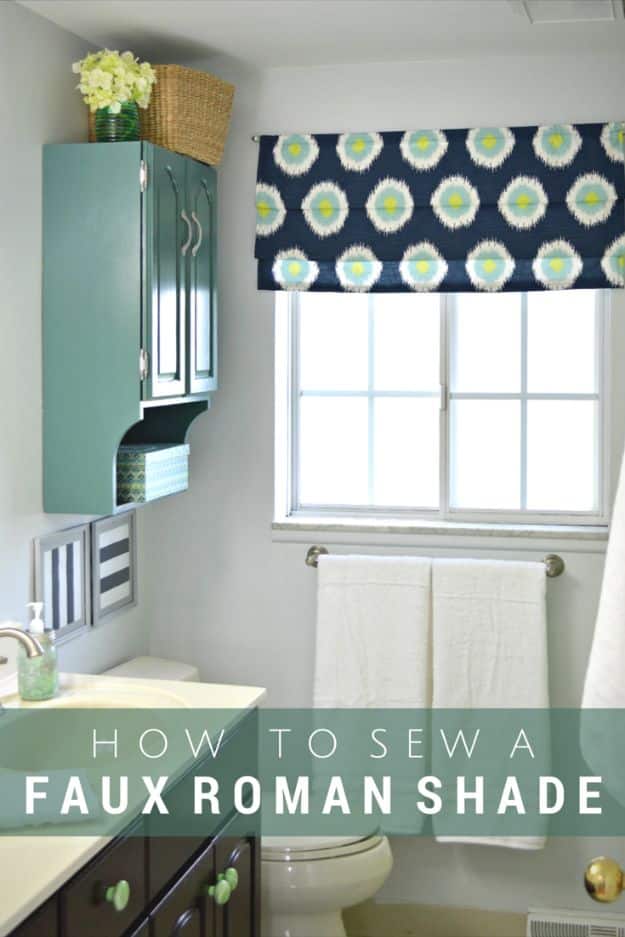 23. Crate Shelving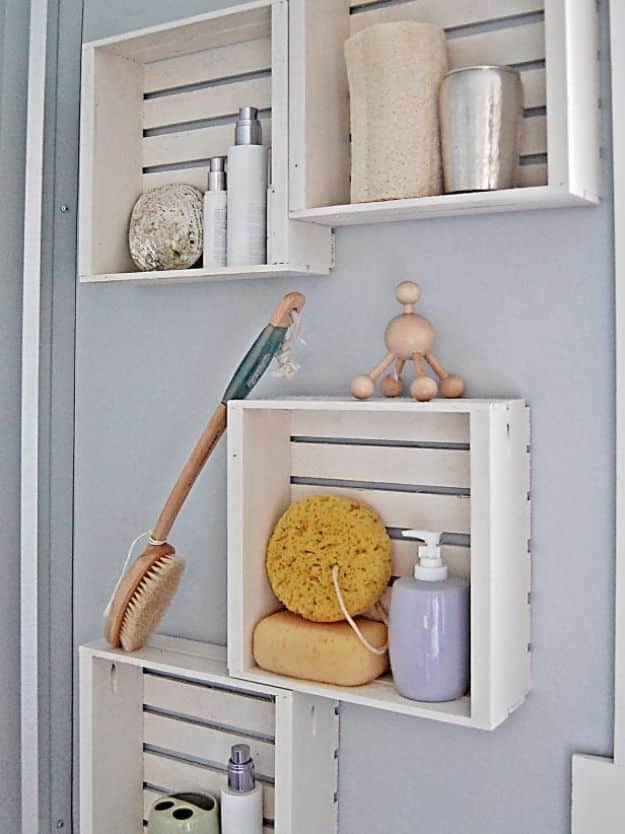 24. Thrift Store Towel Hanger Revamp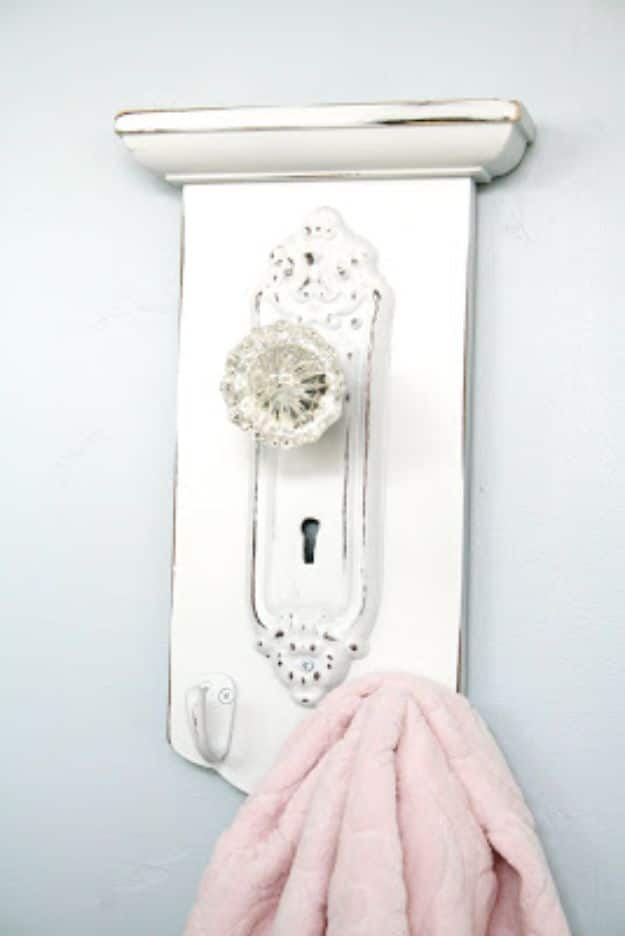 25. Under The Bathroom Sink Organizer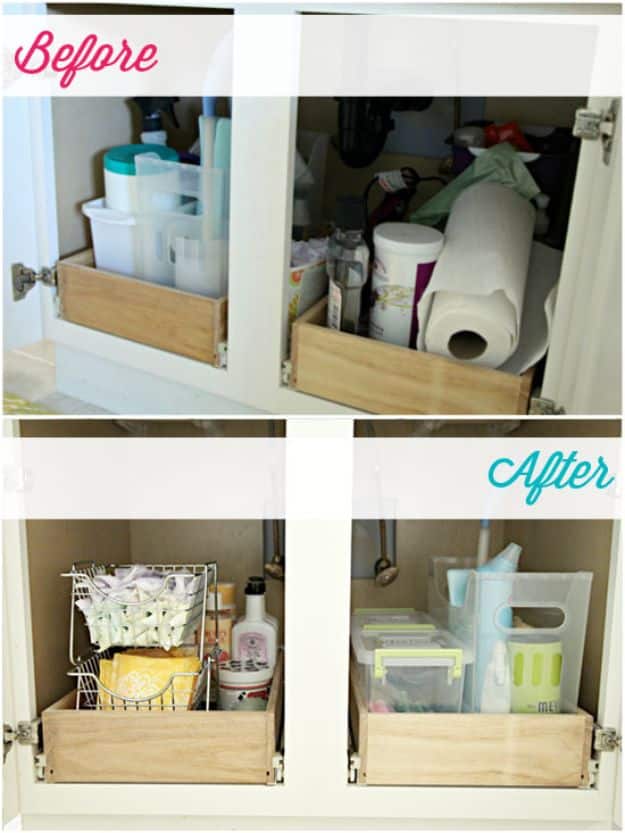 26. Wall Full of Baskets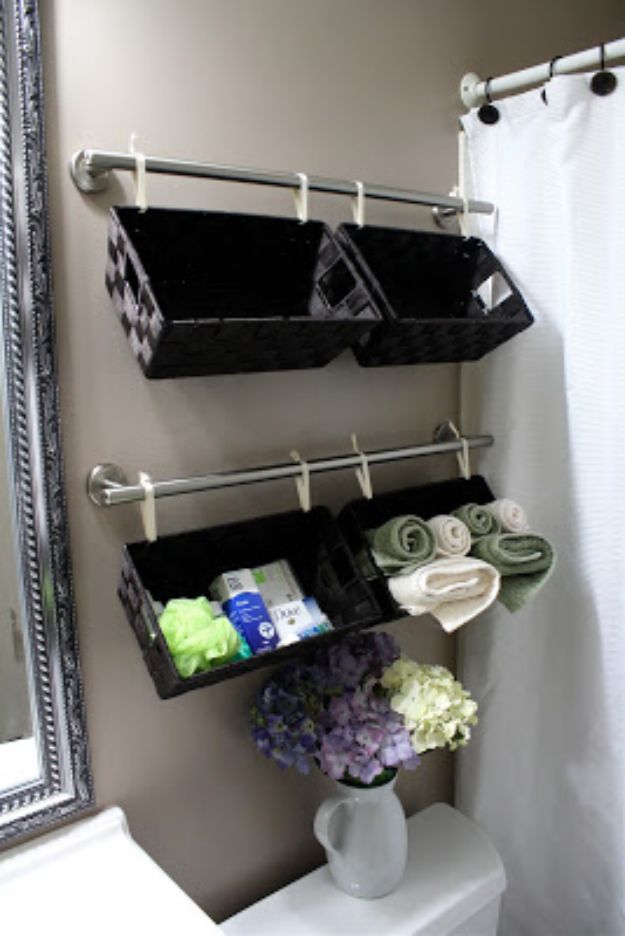 27. Dinosaur Toilet Paper Holder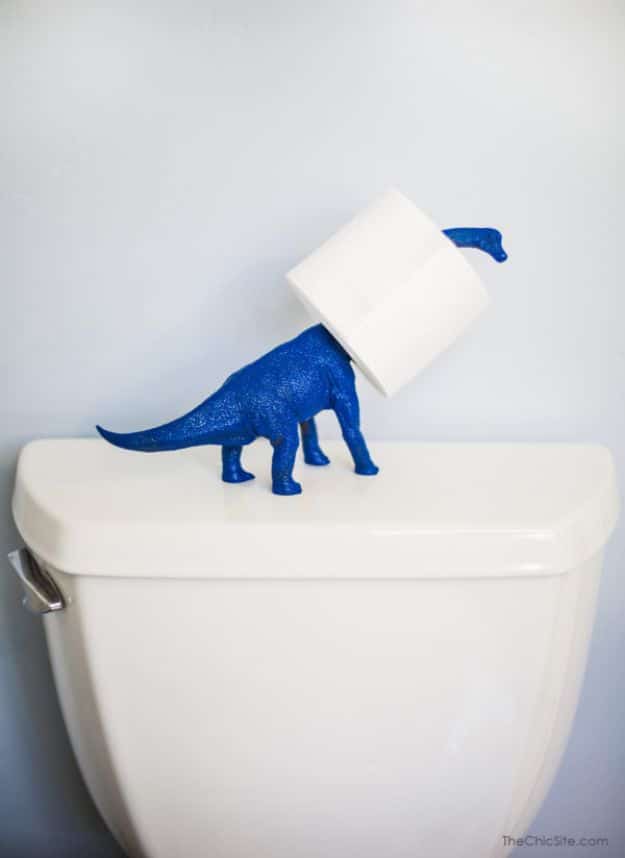 28. Vintage Step Ladder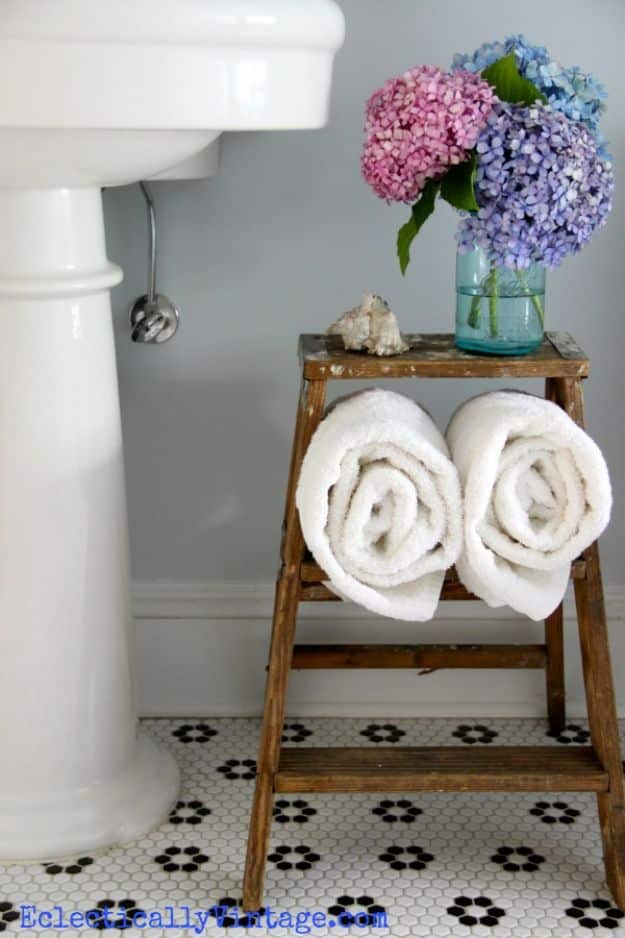 29. Dollar Store Bathroom Drawer Organization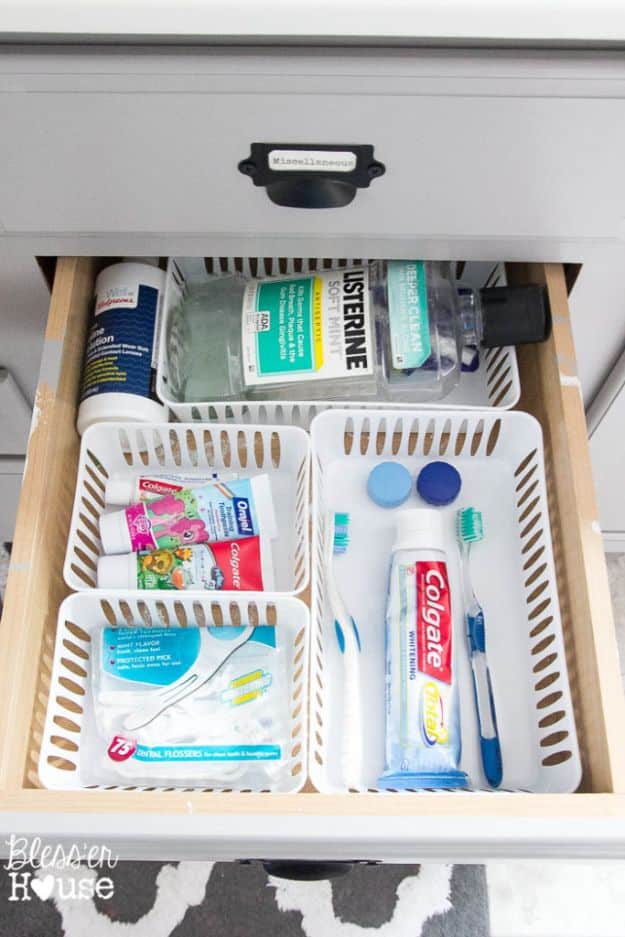 30. Gold Animal Jar DIY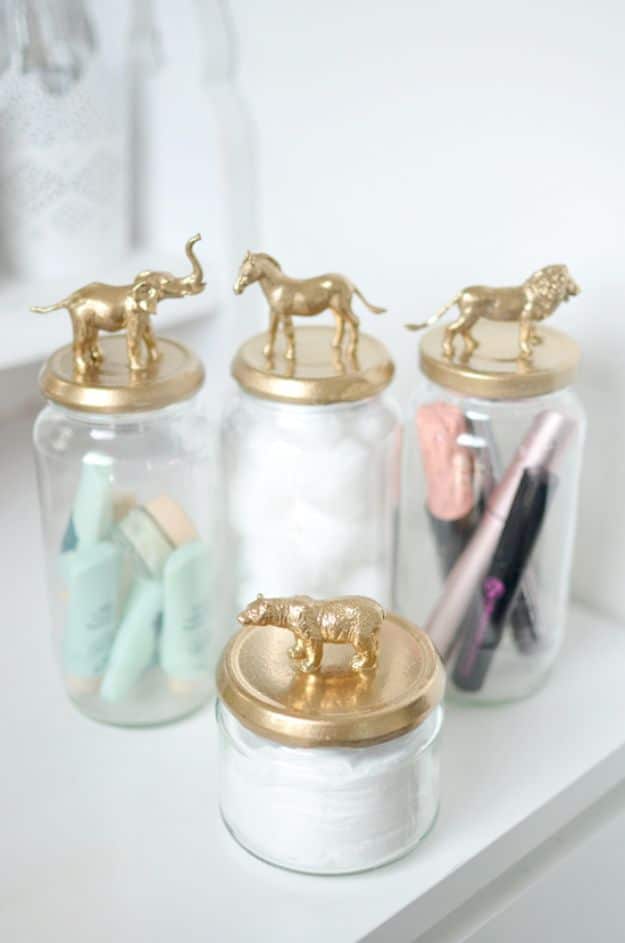 31. DIY Mason Jar Bathroom Set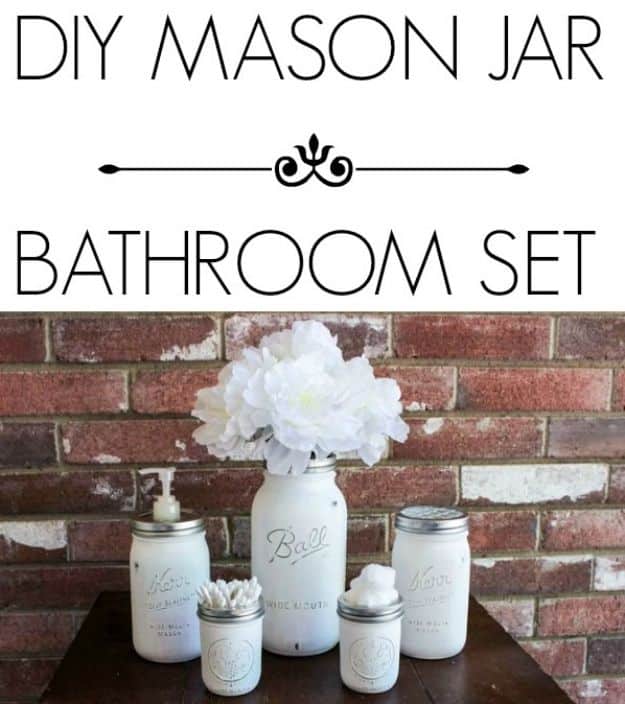 32. Rustic DIY Bathroom Shelving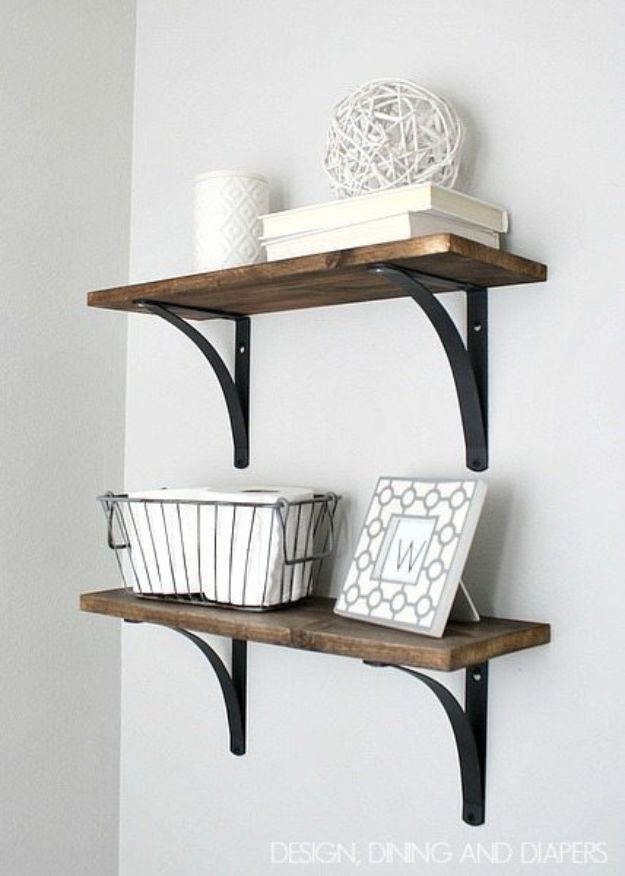 33. Beachy Bathroom Sign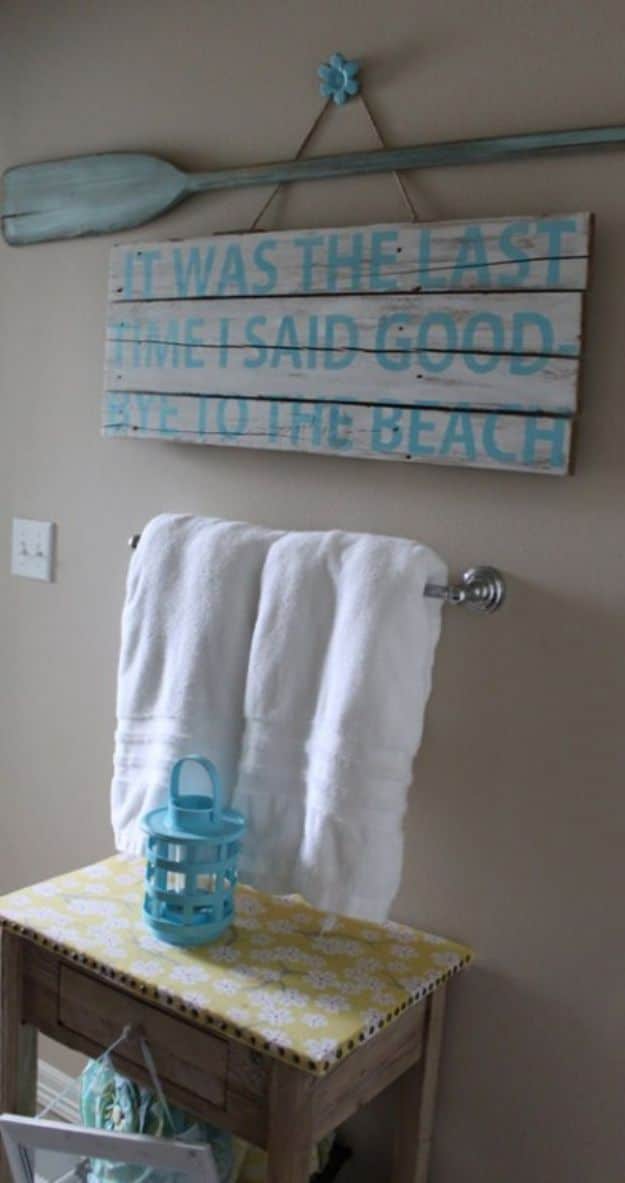 34. Ruffled Shower Curtain