Does your living room need some decor to go with your obligatory sofa and TV? When I realized my living room was the most important room in the house and had so few furnishing compared to other rooms, I got to work. Looking for ideas, rather. I was not sure what I should put with what I had, or even what was in style these days. I wanted something modern but also rustic and love super creative ideas. I put together this awesome list of 38 DIY ideas for your living room, and some of them are simply brilliant. From awesome wall art to coffee tables to lamps to benches for extra seating, you are sure to find some cool ideas you want to make this weekend. All are complete with easy to follow step by step tutorials, so for DIY furniture and accents that get noticed, these brilliant ideas are some of the best around. Some of my favorite projects for the most important room in the house are actually simple, easy DIY living room decor ideas that just take a few minutes to make but add maximum impact and style.
DIY Living Room Decor Projects
1. Rustic Wood Shim Vase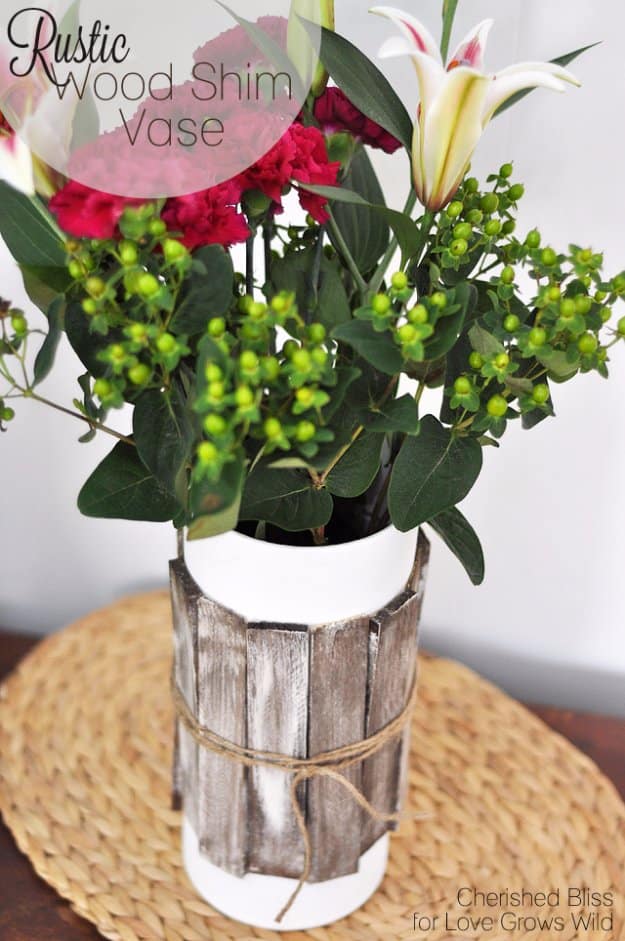 Do you love the trendy look of a vintage farmhouse? If you need DIY decor ideas for your vintage-inspired decor, try adding this inexpensive DIY vase to your coffee table, mantle or dining table. I made one last weekend and it looks fantastic, plus it inspired my boyfriend to bring home roses! When it comes to DIY living room decor, it is often the little details that get noticed. This is one to try out yourself.
2. DIY Crate Coffee Table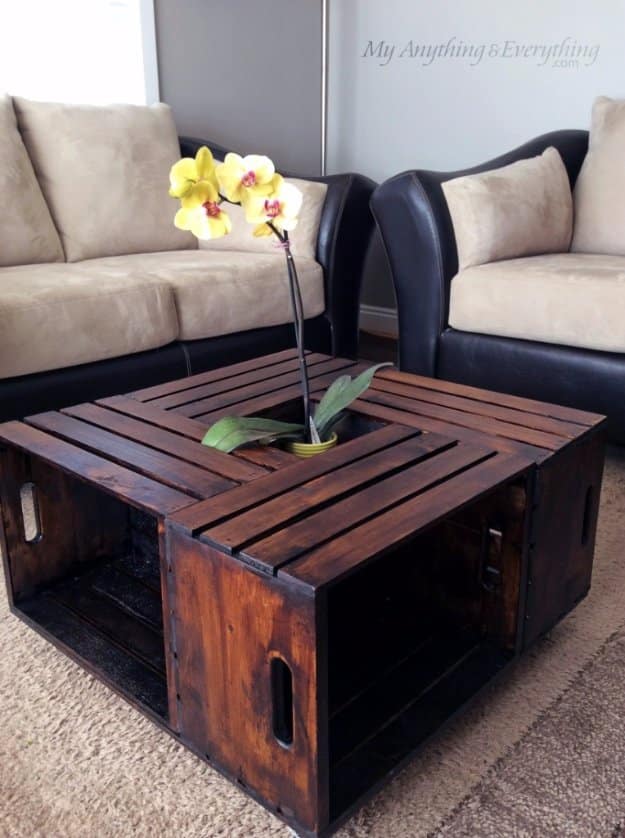 If you are looking to upgrade your living room decor, we suggest you start with this cool DIY coffee table idea, as it has plenty of built in storage for books and other stuff, plus it is cheap to make. Crafted from crates you can hopefully find free or pick up at the local craft store, if not, this quick and easy DIY furniture project can be yours in a few hours. Don't let your budget limit you when it comes to home decor, you can make this plus lots of other cool DIYs and will find your house looks just as good as some you see in magazines. Try this easy coffee table idea with step by step tutorial today.
3. DIY Colorful 3D Geometric Wall Art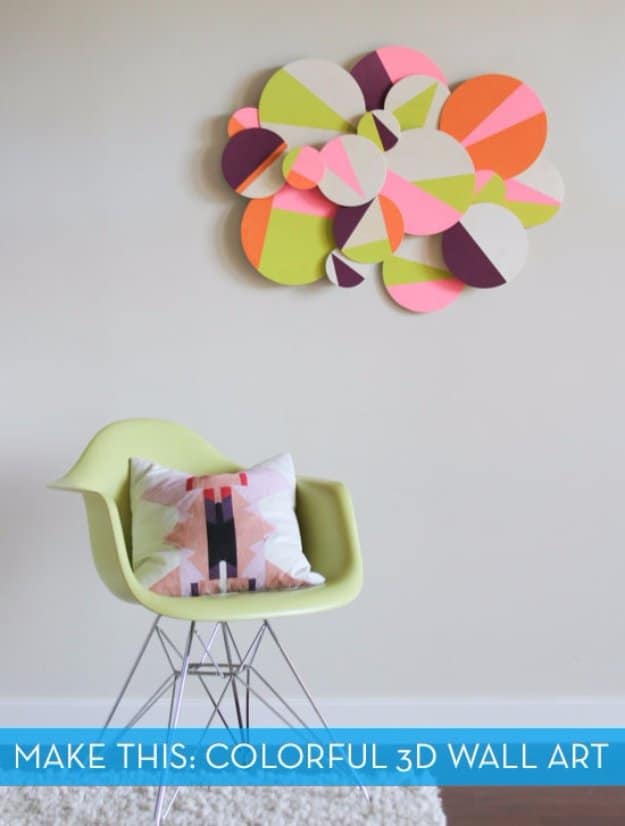 Little accents make for the best living room decor, DIY or other. When you make your own wall art, you are assured to have special accents that no one else does, so of course, we love this colorful 3D wall art for that reason. After I recently moved, I ended up with lots more empty wall space in my living areas. However, the walls generally only had small spaces for pieces of art, nothing too big. Since I already have lots of painted canvases, I wanted to find some wall art ideas for the living room that were not square or rectangular. Mix it up a bit, you know? This geometric, modern art was exactly the idea I had been looking for. Easy to make, my DIY version turned out exactly like the one in the photos. Budget friendly, this fun idea would make a super DIY Christmas gift for a teen, a college student, and anyone who wants to add a little fun flair to the living room.
Rustic Living Room Decor Ideas
5. DIY Rustic Photo Ladder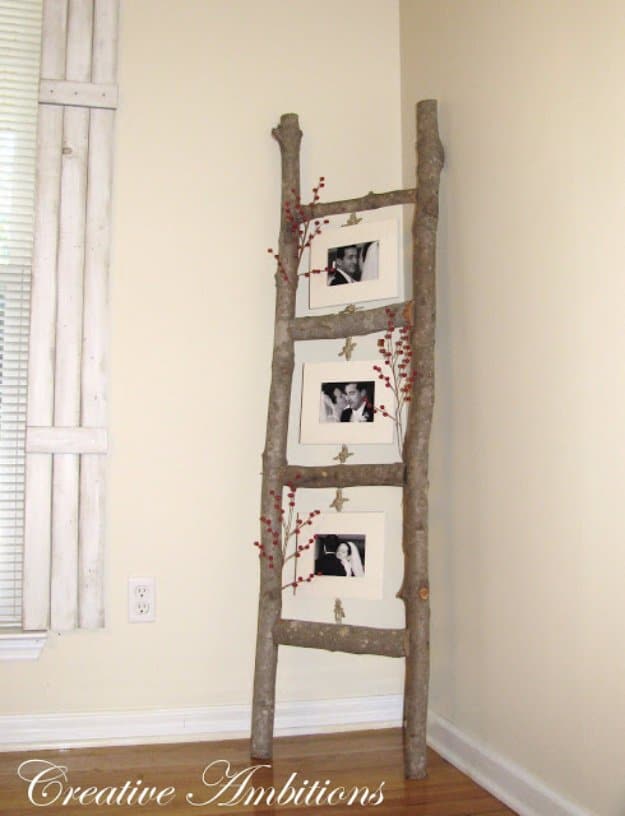 I can't get enough of the trendy rustic farmhouse look, and if you saw my home right now, you would see how very true that is. However, things were not always this way. After some budget setbacks last year, then a move we did not plan for, I found myself with a home that so badly needed updated furniture I could not afford. I got into DIYing things, though, and found that the DIY farmhouse look I loved was really pretty cheap to make. Often made from repurposed and reclaimed wood, many projects like this only require a few inexpensive supplies from the hardware store. A stand out in all the DIY living room decor ideas we've seen, this creative DIY photo ladder is quick to make and can be yours in no time at all.
6. DIY Pallet Wood Lamp

Looking for a rustic DIY lighting idea for your home? Vintage decor need not be expensive, at least not when you make it yourself. We just love this particular homemade lighting project made from wood pallets, as it is not too difficult, super inexpensive, and the results are pretty spectacular. Check out this awesome YouTube video to learn how to make a wooden lamp from pallets.
7. DIY Rope Rug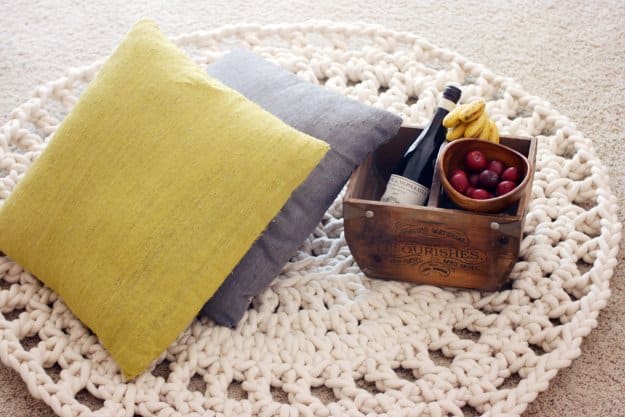 Dress up your entryway with these durable and easy-to-make rope rug. Adding fun to your front door area is so easy peasy with this DIY coiled rope rug. Here's a guide from Wholly Kao to making your own quick and easy rope rug.
Easy Living Room Decor Projects
8. DIY Letters on Wall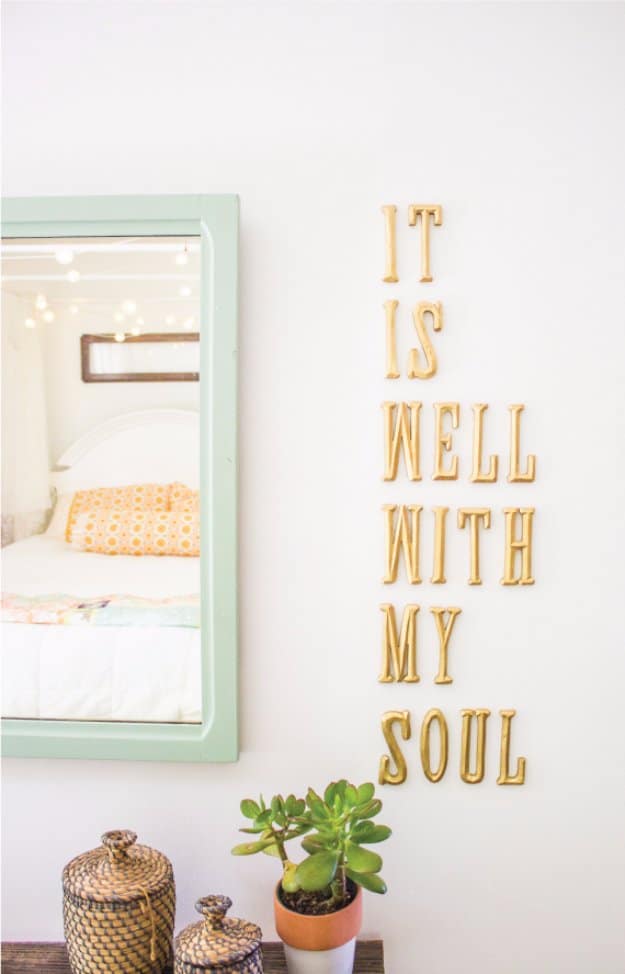 That hymn is near and dear to my heart. I love the style of the lettering for that little DIY project. My husband and I are going to be homeowners soon so I am constantly looking for little inexpensive ways to spruce up our future home. This DIY project tutorial from Going Home To Roost is just the perfect thing that I need.
9. DIY Barnwood Shutters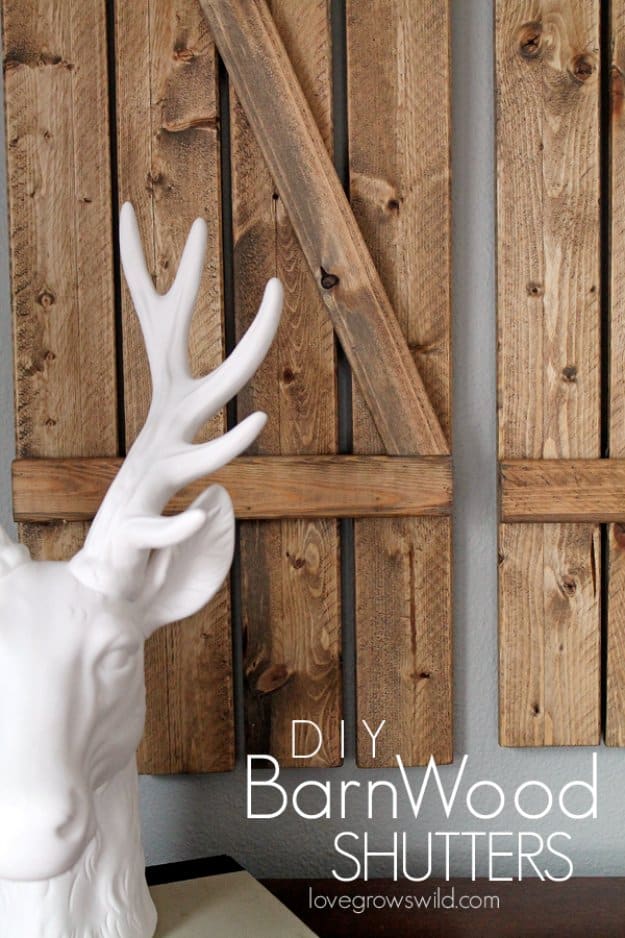 Do you crave the rust appeal of barn wood, but lack the barn? Come see how to make your own barn wood shutters from repurposed pallets in this DIY tutorial. Check out this tutorial to make this gorgeous DIY Barnwood Shutters with a step by step tutorial at Love Grows Wild.
10. DIY Rustic Shutter Bench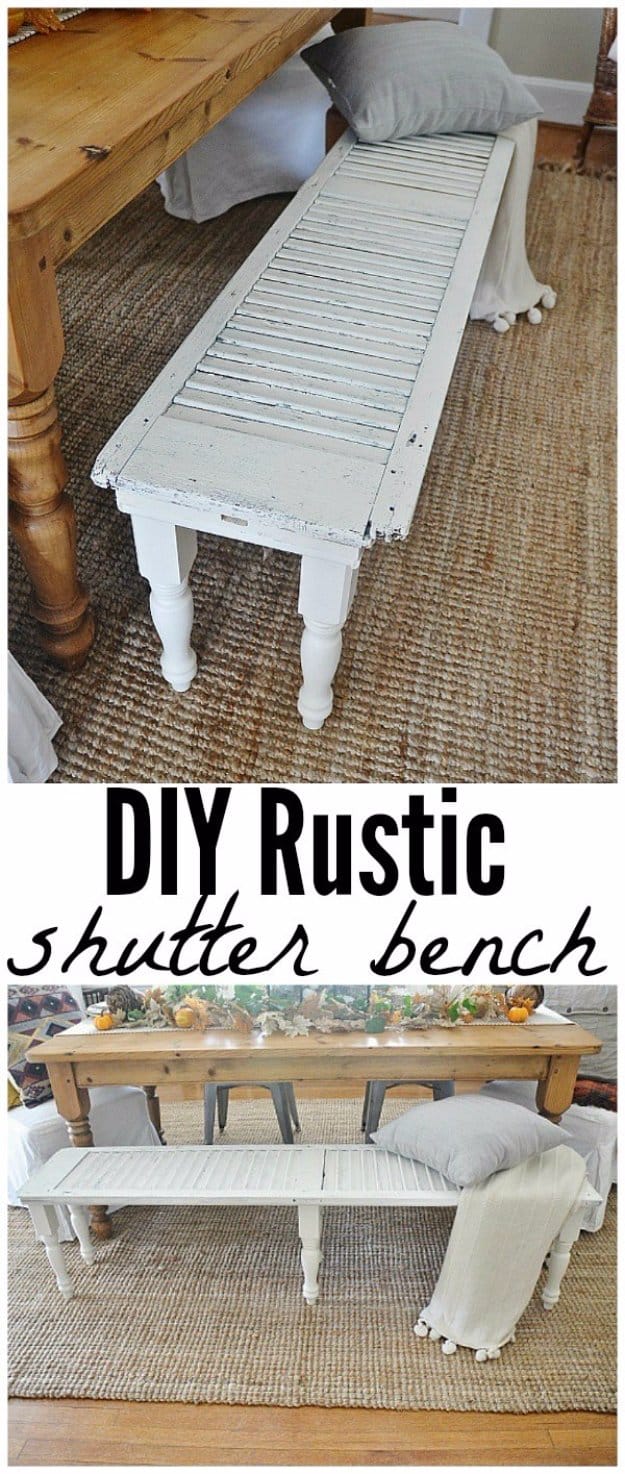 Ignite your rustic style and fall in love with this DIY Rustic Shutter Bench project tutorial from Liz Marie Blog. I like how the shutter was left chippy and distressed for more rustic charm. They look both rustic and fancy at the same time so they fit with a wide range of decorating styles.