Need some cool decor ideas for your blank walls? If you are tired of blank boring walls but don't exactly have time to create one or more masterpieces today, why not try printing some of the awesome and easy wall art ideas to add some instant WOW to your bedroom, living room, and kitchen. We found 75 of the best free printable art ideas around for you to instantly decorate with ease. Check out the awesome options and get busy making your home or apartment more incredible than ever. These cheap wall art ideas look anything but cheap. When I was recently in IKEA looking for some art for my bedroom walls, I realized how silly it was to pay them to print things out for me. I did pick up a few cheap frames there, but went home and chose my own free art to put in them. So whether you need cool art ideas for your living room, bedroom, bathroom, hall or dining room, perhaps even all of the above, you are sure to find some free printable art ideas here for those blank walls. There is no longer an excuse for those plain, bare walls, people. Start printing out these cool but completely free printable works of art for instant decor. After you choose a few, if you really think you'd like to make your own work of art, check out our cool and easy canvas painting ideas or our big list of DIY wall art ideas.
Free Printable Wall Art
1. Free Printables for Art – Gratitude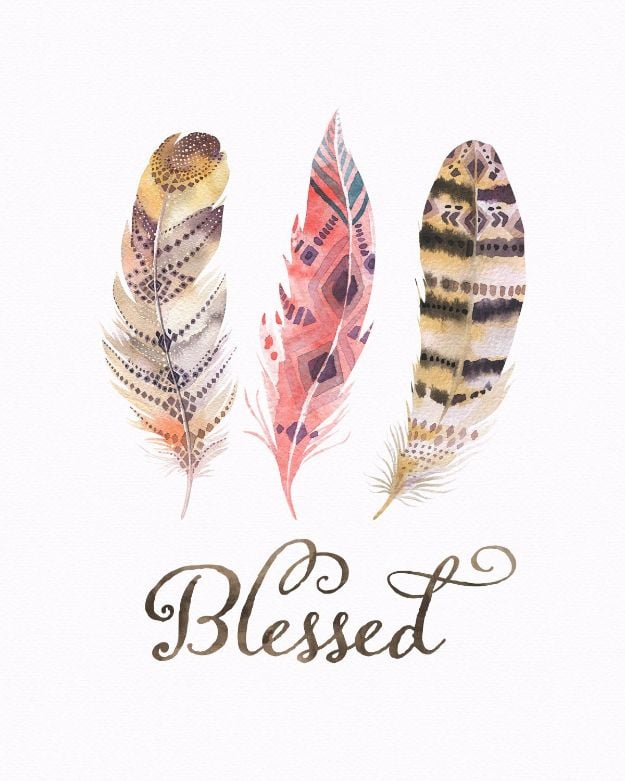 If you love having wall art that inspires and makes you happy every morning when you wake up, this awesome free printable idea helps you remember to feel grateful, reminding you that you are blessed. Hang this DIY printable over your bed, in your kitchen or anywhere you want to add this special little reminder. I put one over the crib in the nursery because it is just so cute. Where will you put yours? I made this free printable for the nursey when I needed a DIY baby gift idea for my friend's baby shower and it was quite the hit. She loved it and put this framed art over her son's changing table.
2. Watercolor Flower Printable Art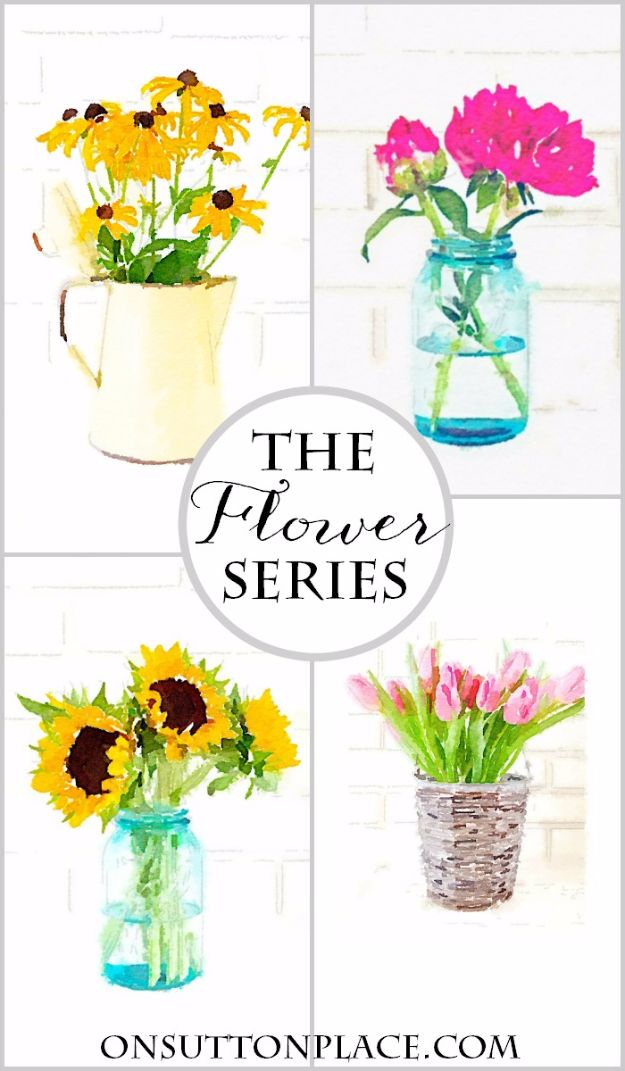 I was recently trying to choose some art for my dining room, and I always seem to want to put flowers there. They remind me of my Mom and our kitchen when I was growing up, I guess. If pretty flowers are your thing, then these lovely printable floral wall art ideas belong in your home, whether it be the living room, bedroom or dining room. With only your home printer and some paper, you can have a whole set for free. I was so happy I printed these out because I get so many compliments, they really bring my entire room statement into focus. If you love flowers and are not quite up for learning how to paint flowers yourself yet, print this art idea with gorgeous free flower printables and enjoy someone else's creativity.
3. Be A Flamingo Free Printable Wall Art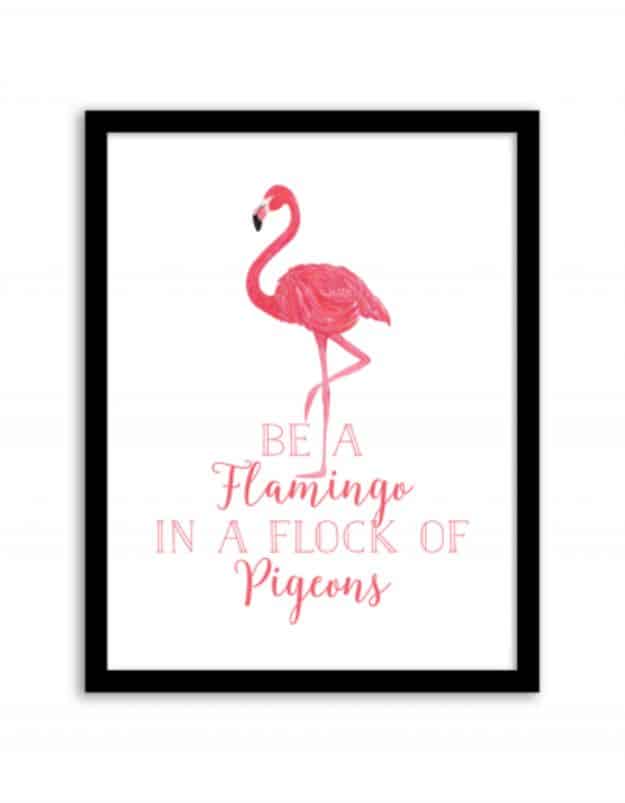 Be a flamingo in a flock of pigeons is such an inspiring quote and inspiring quotes are some of my favorite things to hang on the walls. Whether you are decorating an apartment, house or dorm room, this cool flamingo quote will look great in your room. You will not be disappointed in the outcome of this simple and cheap DIY craft. I love this idea for teen room decor or DIY dorm room decor, but it can be cute anywhere you want to add a fun, motivational quote while adding free printable art to your blank bedroom or living room walls.
Free Printable Art Ideas
4. Oh Happy Day Free Printable Idea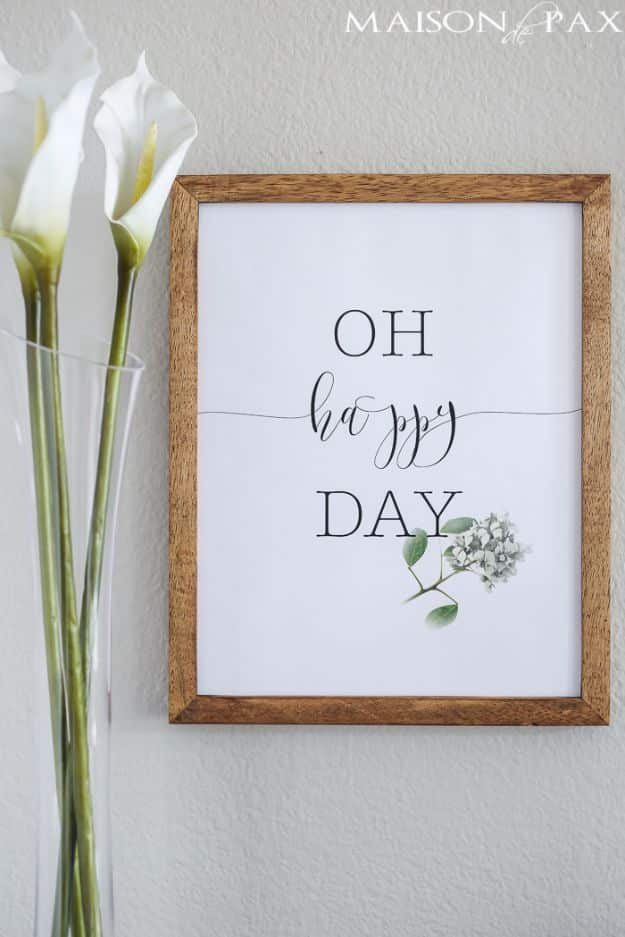 These DIY printables make decorating so easy and fun. I'm a neutral tone lover so I knew this DIY printable was going to look fabulous over my Grandmother's buffet in my neutral-toned dining room. I found some cheap vintage frames at a thrift shop and the gold in them really made my DIY free printable wall art pop. This cool artwork idea is a nice choice when you are looking for printable office or desk decor. Start your day off with this positive quote, it always makes things nicer. That, and lots of coffee.
5. Corkscrew Free Wall Art Printables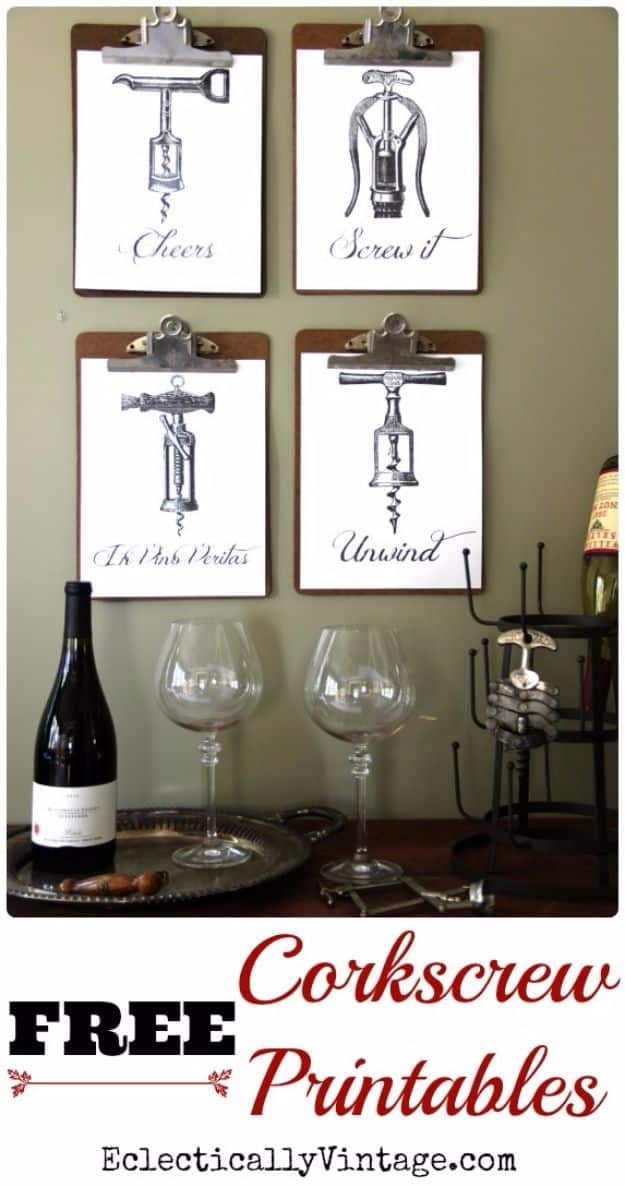 I'm in an autumn state of mind. That means out with margaritas (I'll miss you!) and in with the vino (hello, old friend). It's time to snuggle up near a roaring fire, invite friends and family over for an elastic waistband wearing dinner and raise a glass in a toast. Cheers my friends – here are some fun, free DIY wine printables to print, gift, frame … This art make cool printable DIY kitchen decor, and definitely looks nice around the bar area. Once you've saved time on the art for the bar walls, make some wine bottle crafts and cool things with wine corks.
Free Printable Art
6. I Am Loved Free Printable for Walls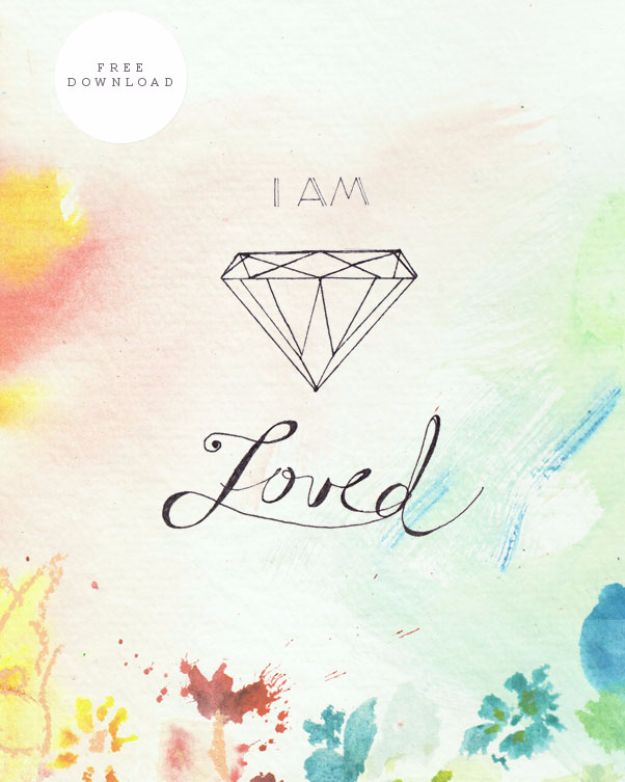 This DIY printable work of art has all the right elements for the lovers of French Impressionist Painters like Degas, Renoir, and my very personal favorite Claude Monet. It has the subtle tones of the elegant water lilies he painted depicting his beloved garden. Now you take all that and add an inspirational message and you have got a winning combination.
7. Clipboard Wall Art Free Printables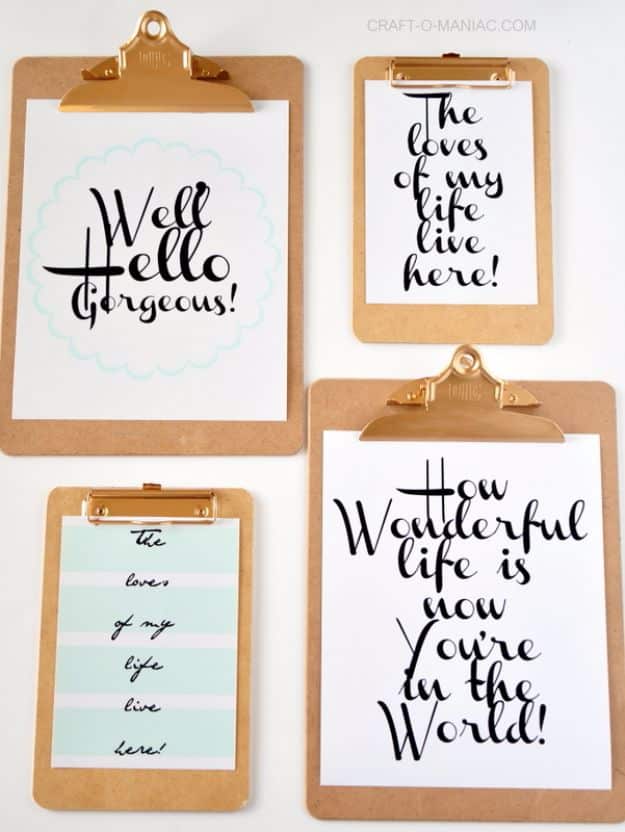 If you want to create a gallery wall, and that is what almost every wall in my house is and you need something new to pull it off. These DIY printables are perfect for this clipboard idea. Some of the printables are song lyric printables, as well as a couple cute sayings. They are all a little bit different, adding a scalloped circle to one, a designer like rectangle to another, and thick stripes to even another. That way they aren't just all black and white! I hope you guys like them. You can print them all out as 8 x 7 and there are a couple that can be printed as both 8 x 7 and 5 x 7. The larger clip boards were found at Staples, and the smaller ones that both come small and large were found at Walmart.
8. Watercolor Hydrangea Free Wall Decor Idea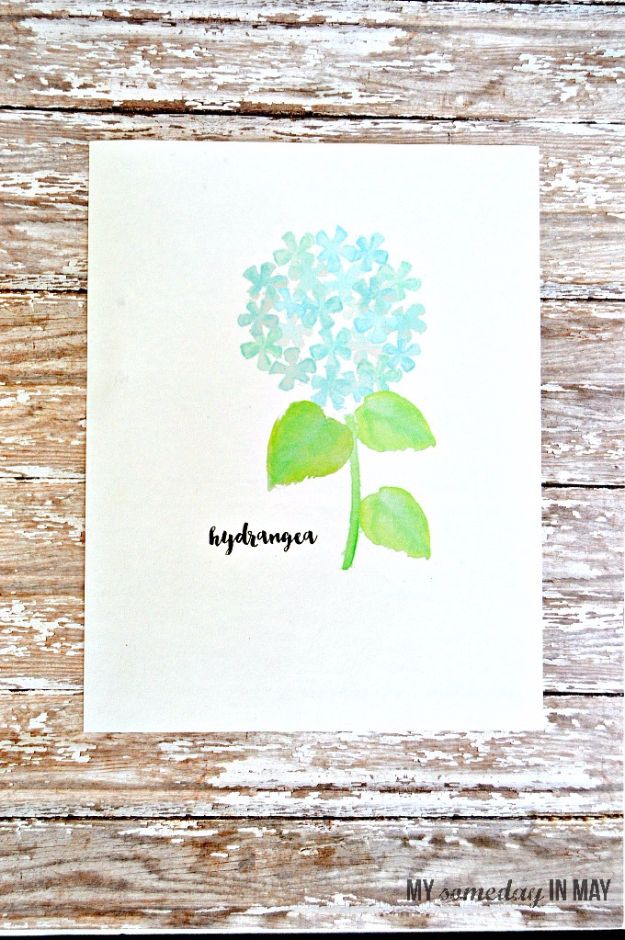 I love art, all art! My favorite art in the world are the masterpieces from the French Impressionists, Monet especially. This gorgeous DIY hydrangea printable is so reminiscent of those lovely water lilies and garden watercolors Monet did all those years ago.
DIY Wall Art Printable Idea
9. Free Printable Birch Tree Art Prints With Custom Carved Initials
My favorite song in the whole world is "Danke Schoen" by Wayne Newton. There's a line in it that sings, "You can see hearts carved on a tree" it just brings tears to my eyes! So when I saw this DIY printable I knew it had to go in my bedroom. These works of art are personal and elegant.
Free Farmhouse Printables
10. Free Floral Bicycle Printables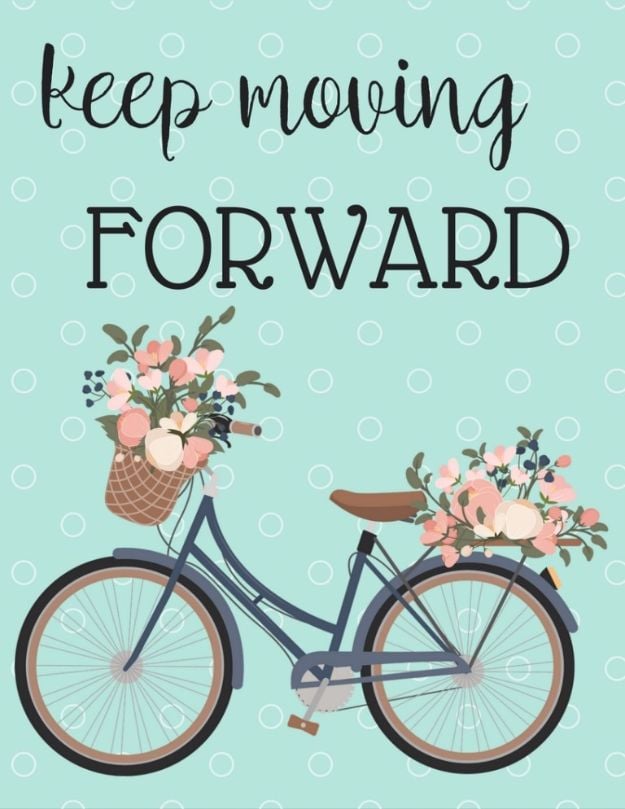 Free DIY printable art makes for some of the best easy home decor ideas. These floral bicycle prints are pretty and uplifting and will look great in any room! I love putting together inspiring quotes with pretty pictures. Floral bicycle graphics are currently my very favorite designs, so when an online shop had a deal on a cute graphics pack, I was all over it! I've wanted some bicycle prints in my home, and I've finally designed them. These can look great in almost any place in the house. I'm excited to hang some in the office and some in the nursery. Cute with your DIY farmhouse decor or pretty much any look that lends itself to creative, fun art like this, I adore this bicycle wall art you can print at home.
11. Pineapple Wall Art Free Printable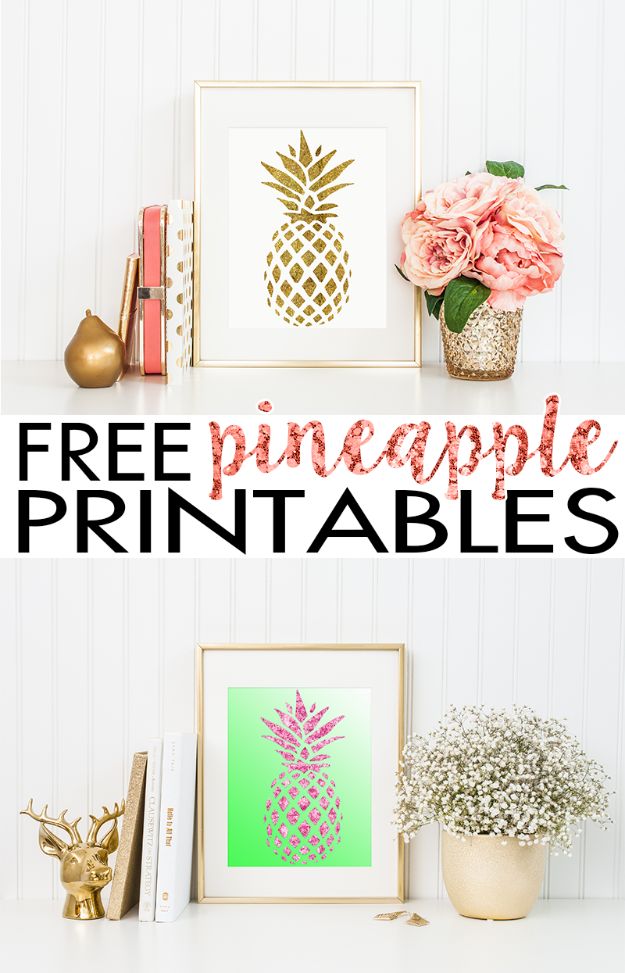 Pineapples are so in when it comes to home decor right now, but you don't have to be an artist to enjoy pineapple art on your walls. This pretty free printable wall art idea features a pink pineapple and looks great framed in gold or another contrasting bright color. I still am amazed by the difference one piece of colorful frames art can make to a display on a console table or bookcase.
12. Flock Yeah Printable Wall Art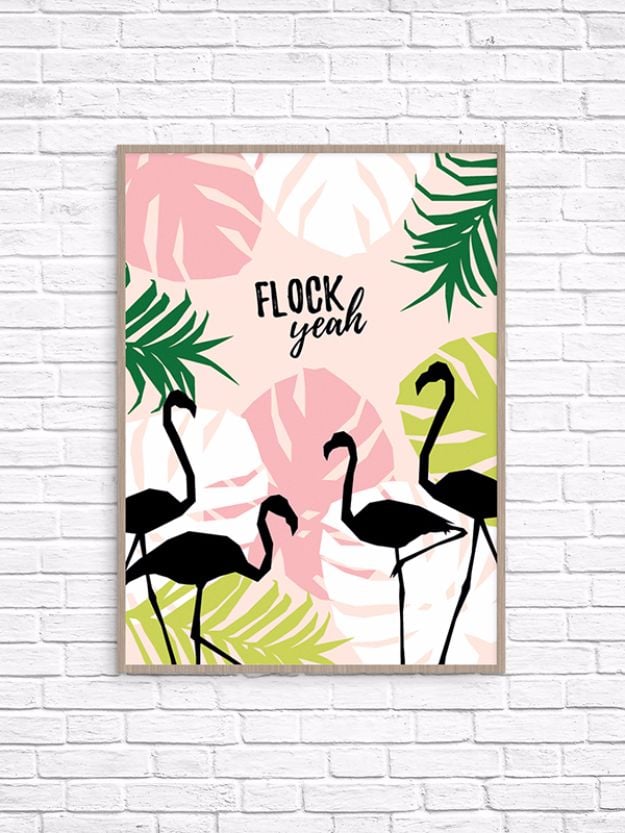 Don't you just love the colors and the overall design of this flamingo wall art printable? The muted pinks and greens are some of my favorite colors to use in wall art and home decor right now, so I was thrilled when I found this free printable for living room decor. Print it big for a bold statement that looks great over a couch or chair in your reading nook.
13. Geometric Spring Prints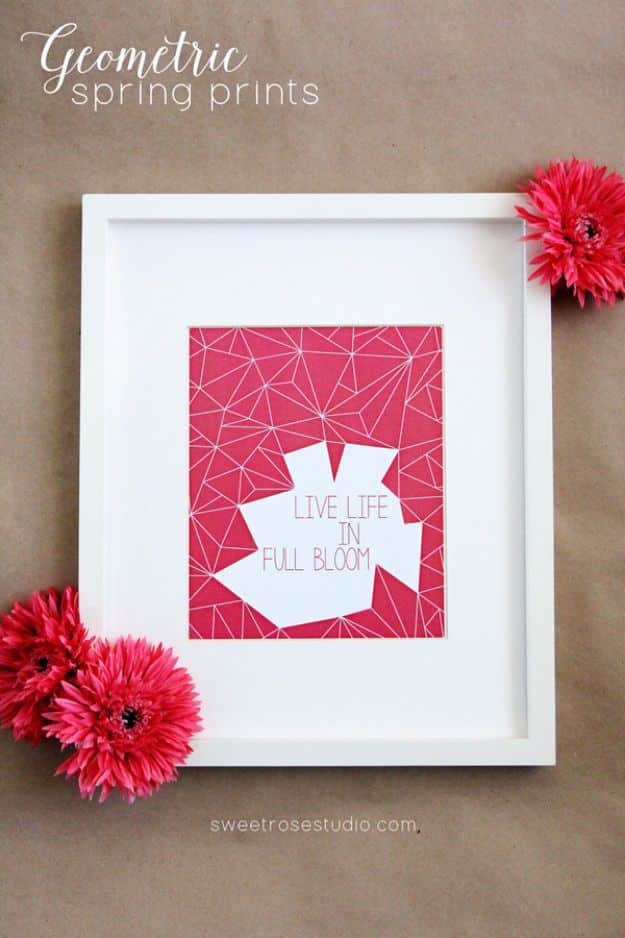 14. It Is Well With My Soul Free Printable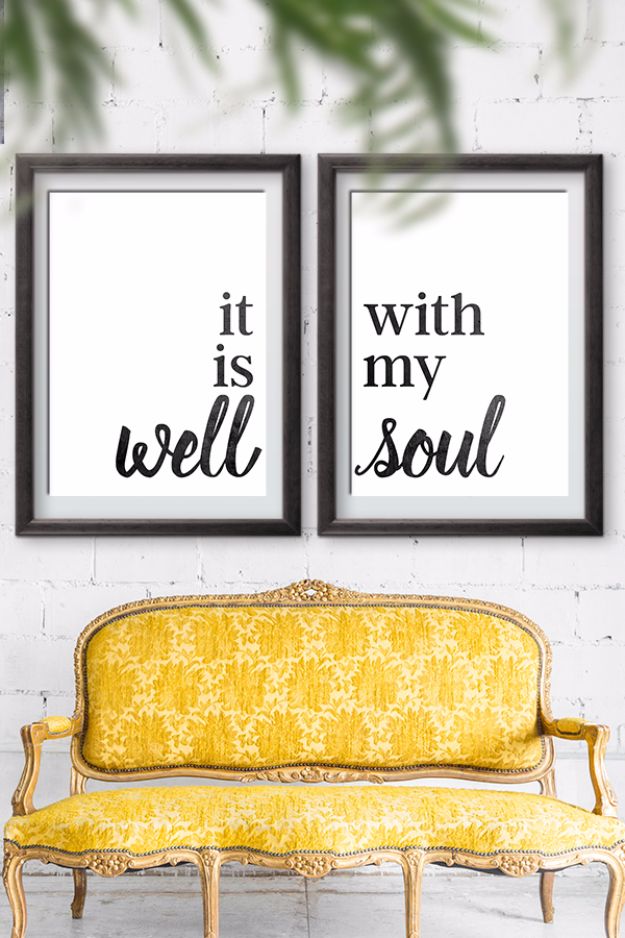 15. Family Rules Free Printable