You may not believe me, but anyone can paint flowers with the right tutorials and techniques. You will have to see to believe, but that is easy with these 35 step by step tutorials for flower painting. Learn how to paint easy roses, expert daisies, swirly modern flowers, fun and funky florals, plus lots of other lovely, flowery ideas. Decorate your crafts and product stand alone artwork that makes an awesome DIY gift. Create to your heart's content after you master these super-simple techniques. Learn how to paint flowers like these today! My favorite things about these painting tutorials is that many net you a cool piece or art to hang on the way in addition to honing your painting skills. Whether you want to make something for yourself or you need a DIY gift idea, you can learn flower painting while making something cool. From roses to daisies, realistic to modern, simple to ornate, these flower painting tutorials will show you how to paint a flower lots of different ways. Don't worry if you are a beginner, either. From learning how to draw a flower and then paint it with easy to follow step by step instructions to basic shading and brush strokes, you will be on your way to learning flower painting once you practice with a few of these easy tutorials for beginners. Once you learn, you can use these techniques on furniture, crafts and other decor to add an extra touch of creative flair and color to your DIY projects.
How To Paint Flowers
1. Painted Flower Picture Frame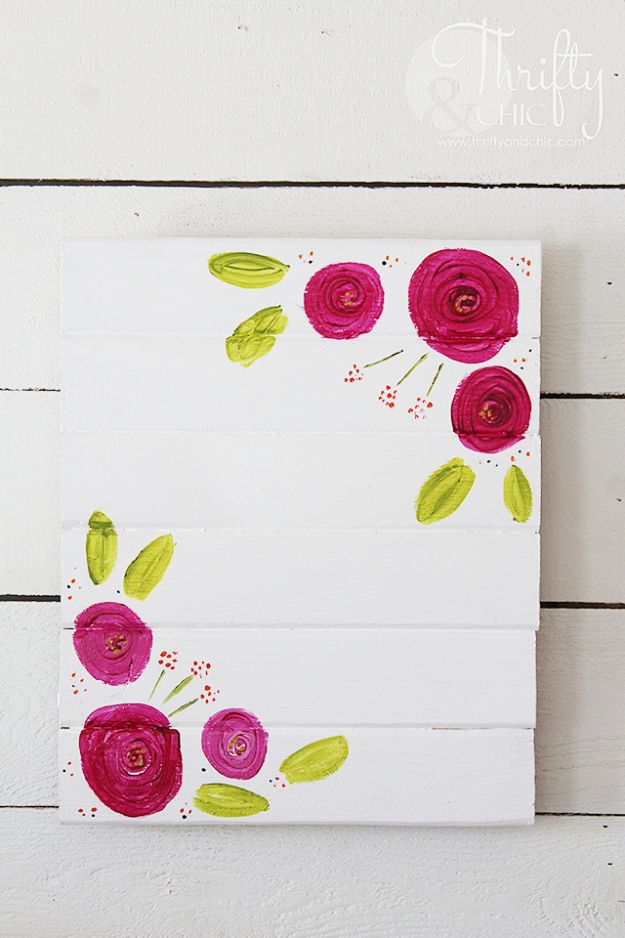 Learn how to paint easy flowers with this fun DIY project that will look great on your bedroom wall. When it comes to DIY arts and crafts projects, wall art is some of the most rewarding, as you get to admire your work on a daily basis, and for me, it motivates me to do more with my creativity. This particular project is so colorful and happy, I really want to make a larger version of this to hang over my vanity so I can look at it every morning when I get ready for work.
2. Hand Painted Floral Pumpkin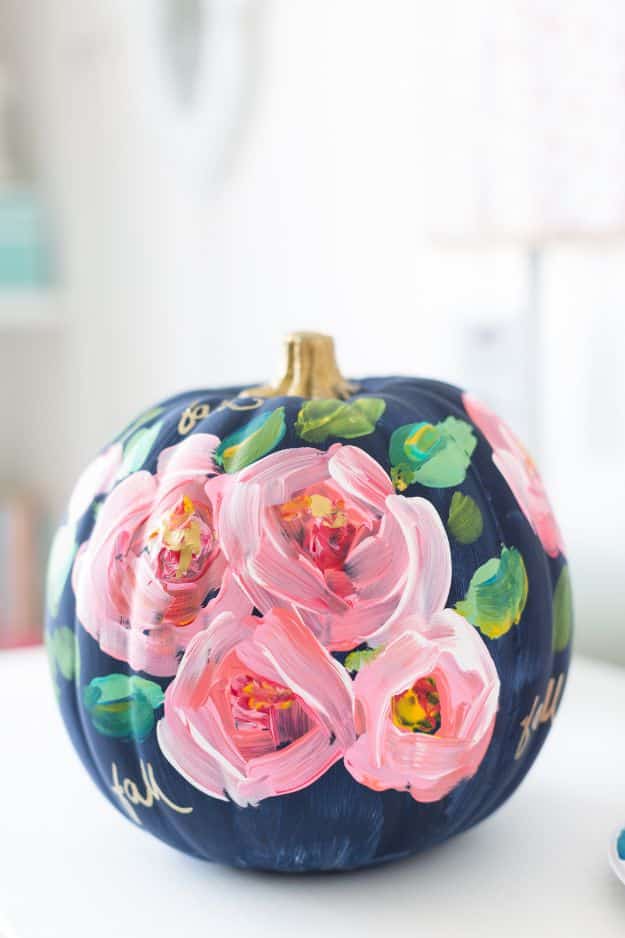 For flower painting easy fun, look no further than your nearest pumpkin come fall. This gorgeous work of art can grace your doorstep come autumn when you learn how to paint roses like this. Handpainted DIY pumpkins are my favorite way to decorate in the fall, and I go all out with them, just ask my friends and neighbors. Always looking for new pumpkin painting ideas and this one is certainly a winner. If you are looking for the best fall crafts, be sure to add this pretty pumpkin with hand painted roses to the list.
3. Make Bubble Paint Flower Hydrangea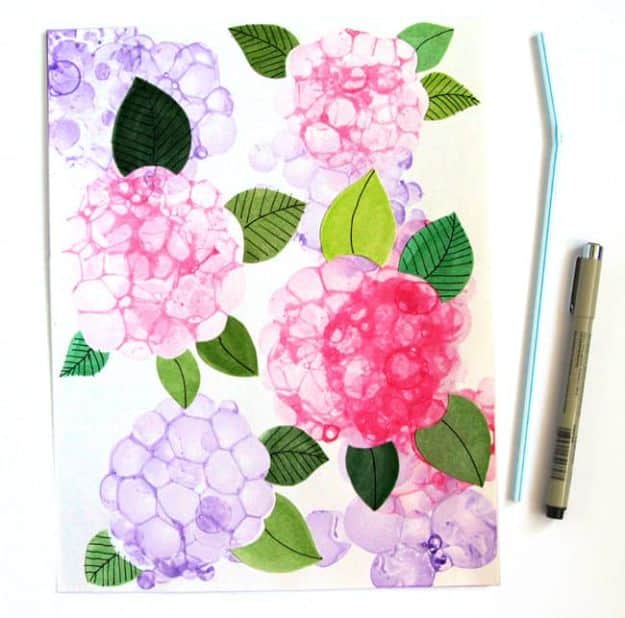 Simple flower painting tutorial that nets you pretty hydrangeas with this bubble flower technique you are going to love painting. For DIY wall art that is sure to impress, try making this to hang up on the wall. a super cute DIY kitchen decor idea, this painting will look good with most all decor styles.
4. Puppy Paw Print Flowers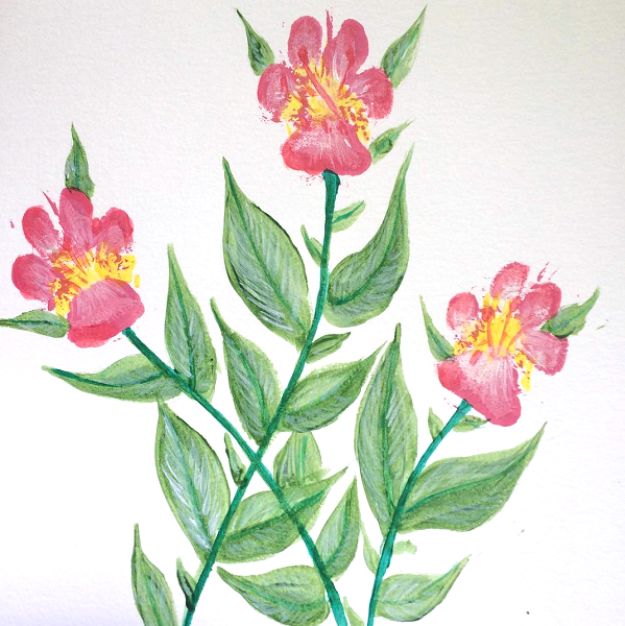 Here is a DIY pet idea your cat or dog can not only help with, you need them to. If you want to make memories with your special animal, this pawprint art creates an original work or art with pawprint flowers.
Easy Flower Painting DIY
5. Hand Paint A Simple Daisy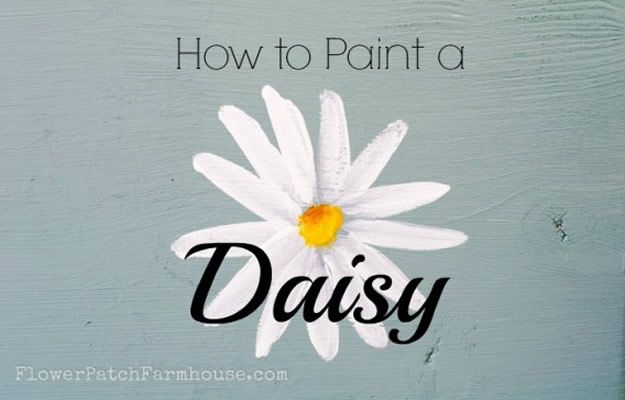 I love this DIY project for beginning artists and painters, because it allows you to learn how easy it is to create something really beautiful once you just follow the steps. Watch with amazement when you, too can easily learn how to paint flowers like this sweet daisy. Add these to notebooks, DIY bags, boxes, furniture, frame borders and pretty much anything you can think of. Fill your entire world with hand painted daisies if you like.
6. Retro Painted Flowers Tutorial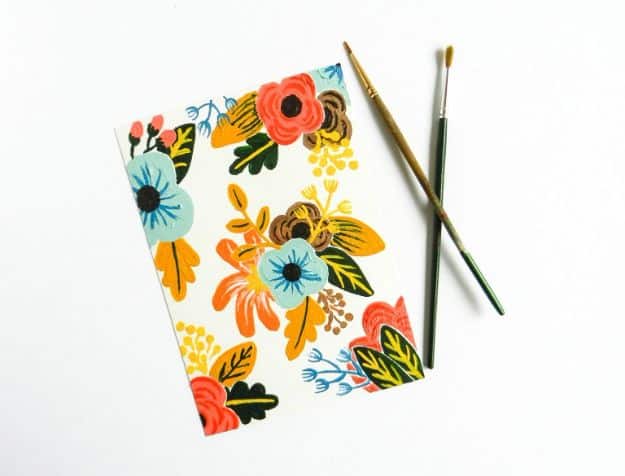 7. Painted Daisy Mason Jars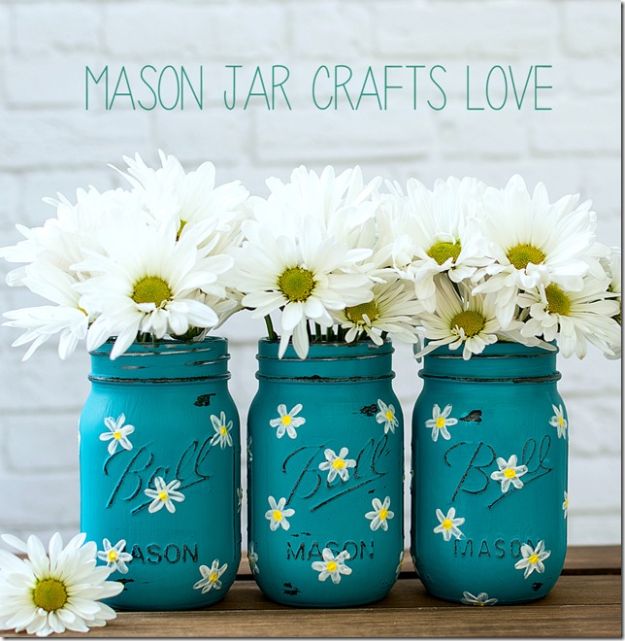 Some of my favorite mason jar crafts showcase flowers, and this simple idea is one of my top picks. Even if you are not super artistic, you can learn how to paint easy flowers like these daisies. The imperfections actually add to instead of taking away from the charm. Trust me, they do. Learn how to paint daisies while making something adorable to put real daisies in. Cute, right?
8. Painting Swirly Flowers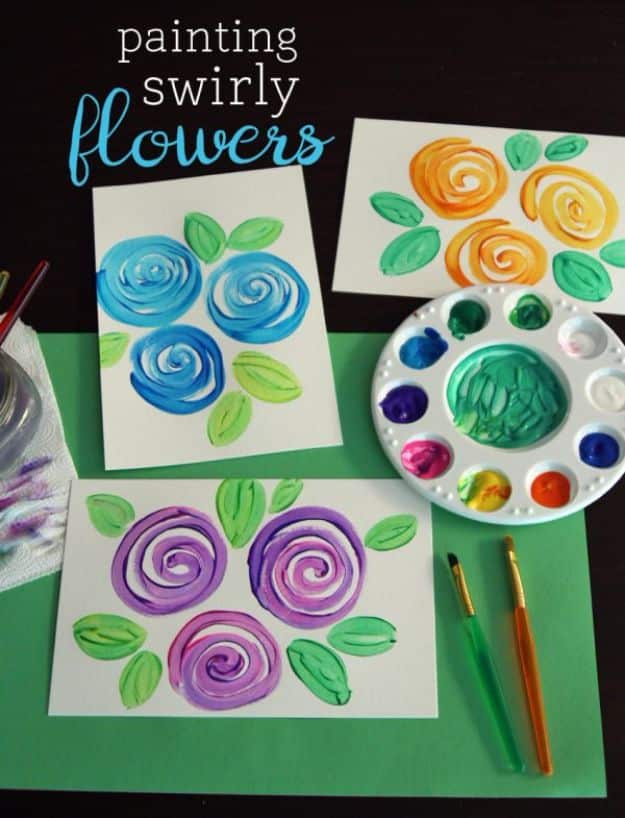 9. Let Your Paint Splatters Bloom Into Flower Gardens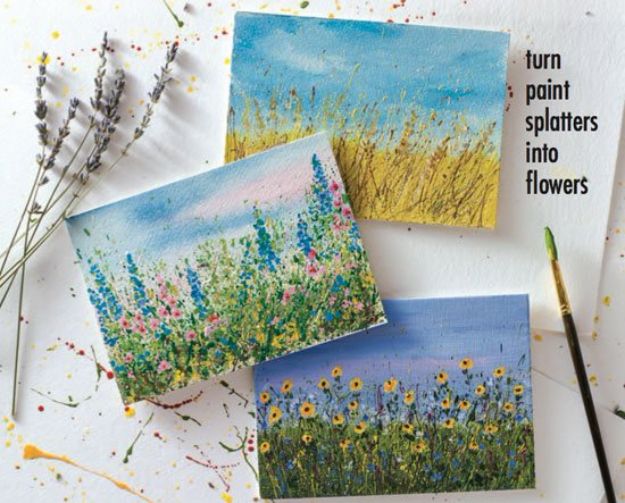 10. Black Glue Rose Watercolor Resist Art Project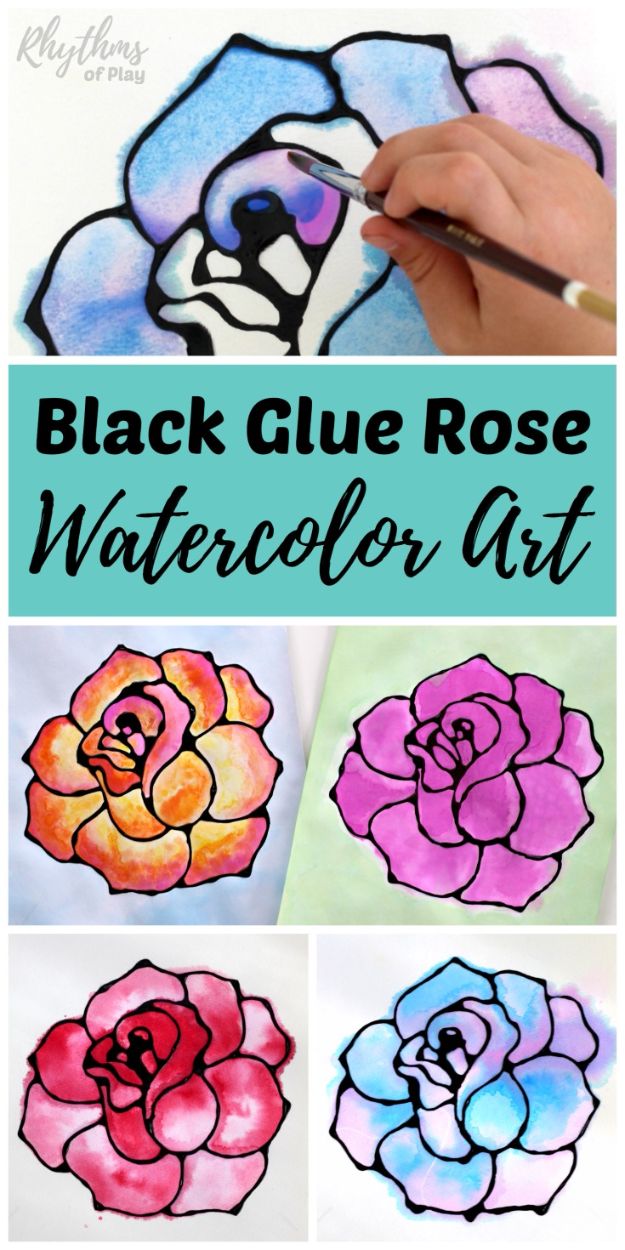 11. Painting Hydrangeas In A Basket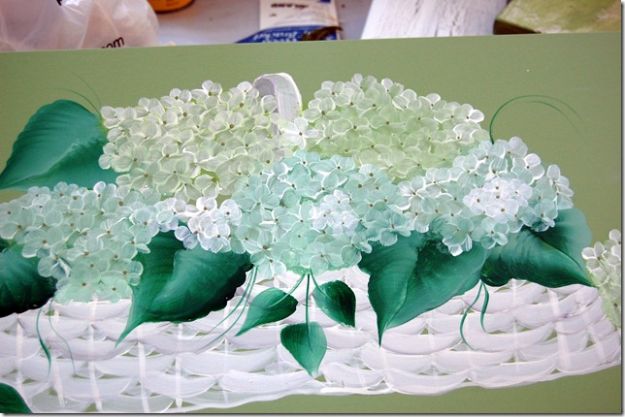 12. Red Daylily Flower Painted Wine Glass Tutorial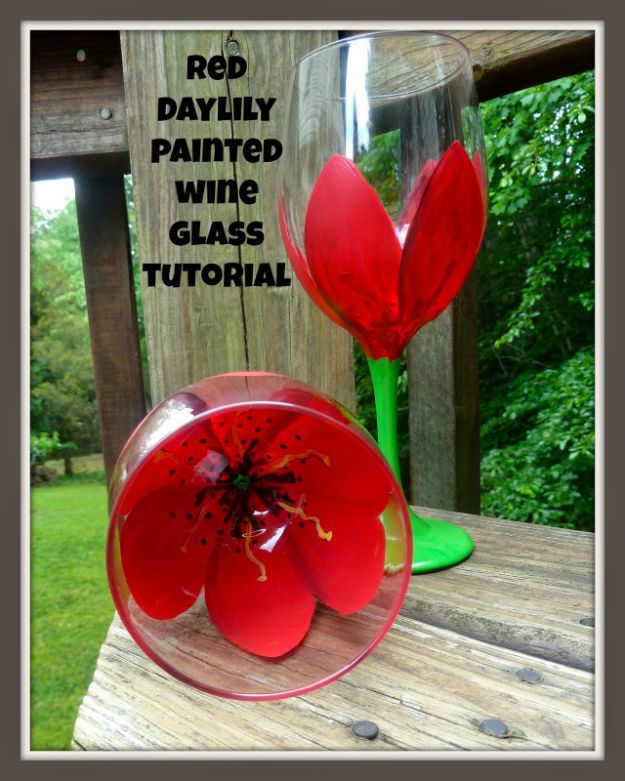 13. Painted Dried Flowers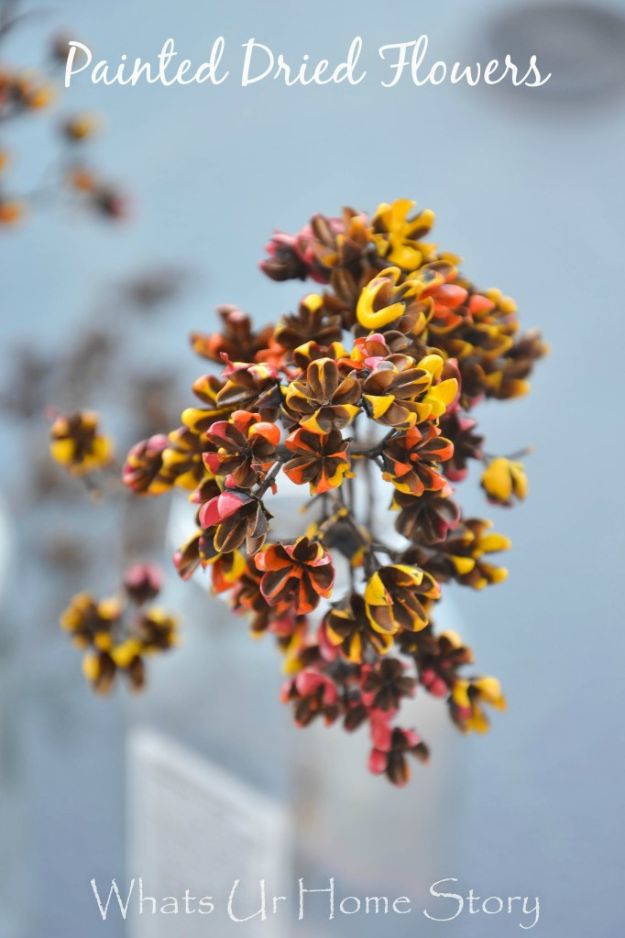 14. Craspedia Flower DIY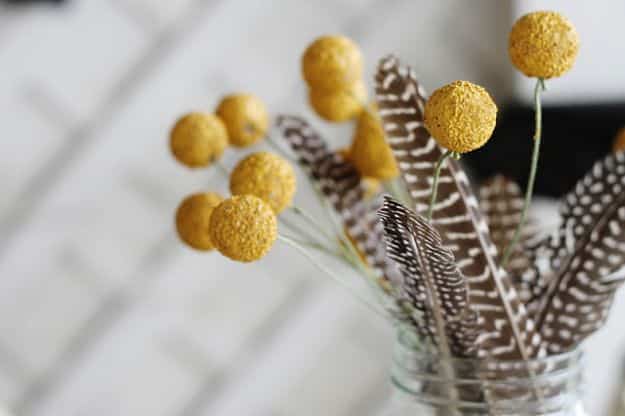 15. How To Paint A Folkart One Stroke Sunflower