Have some old, empty wine bottles laying around and just hate to throw them all away? Why not make some DIY wine bottle crafts with them, instead? You can make lovely homemade gifts, home decor and even some neat DIY lighting with those old wine bottles. From creative outdoor bottle trees and garden edging to vases and serving platters made from flattened wine bottles, we have some awesome DIYs you have to see. You will probably want to add one of more to your weekend projects list. I must admit my favorite ones are the tiki torches, and I am making some for my next outdoor barbecue. What a cool way to upcycle and decorate your backyard at the same time!
Once you check out these DIY ideas with wine bottles, don't forget about the wine corks you have leftover! We have lots of cool wine cork crafts like these: 50 Wine Cork Crafts to Fall In Love With
37 Cool Wine Bottle Crafts
1. Melted Wine Bottle Serving Platter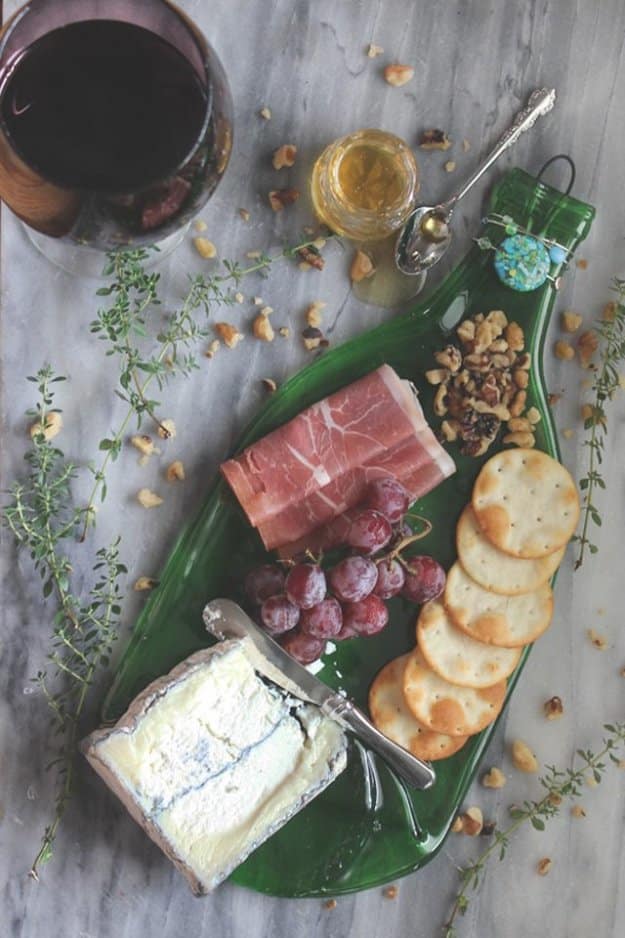 Wine bottle crafts are all the rage these days, and for good reason. How cute is this pressed bottle serving tray? You get to melt glass, too, which is just as much fun as it looks. If you want a cool idea to make from a wine bottle, this is a winner. Complete with step by step tutorial, you are guaranteed to get what you see.
2. DIY Wine Bottle Edging For Your Garden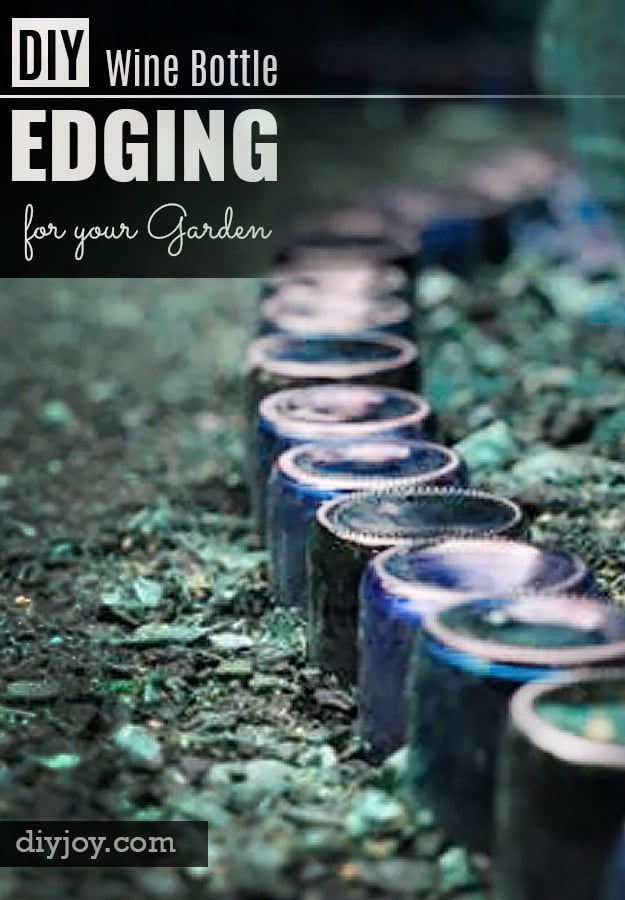 Pretty wine bottle edging can be yours for free. You may have seen this look in magazines or at a local business. Turns out, it is not hard to make an edging out of wine bottles. Create a backyard border from bottles this weekend. Check out the video tutorial to learn how.
3. Wine Bottle Tree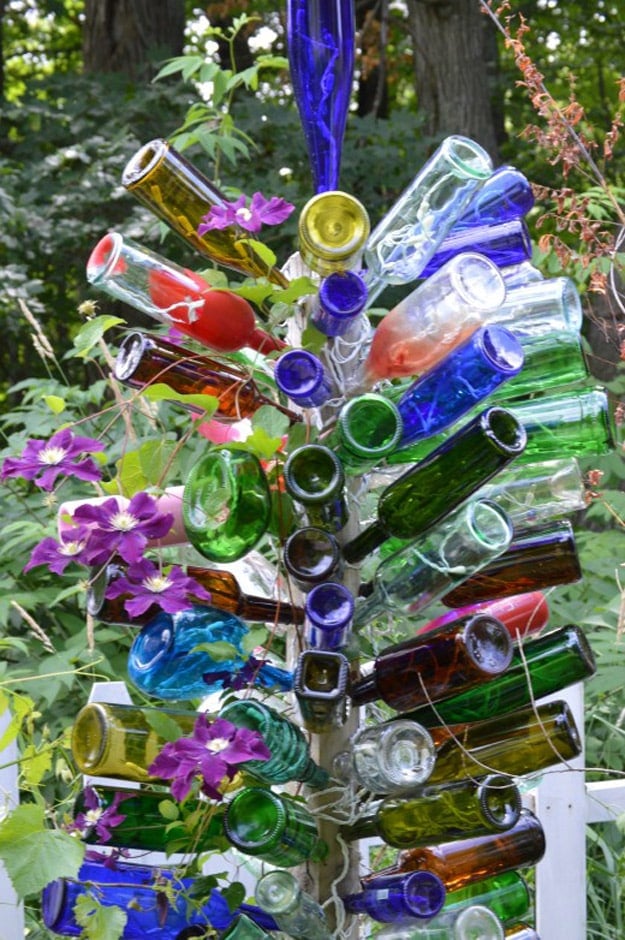 A bottle tree is a type of recycled glass sculpture that is popular with gardeners. Its origins lay in Egypt, where bottles were used to capture spirits. I just love the bottle tree right in the entrance! This article from Hubpages will show you how to make a bottle tree for your garden. It's not hard, and it looks beautiful, especially once your garden starts to grow around it.
4. Wine Bottle Tiki Torch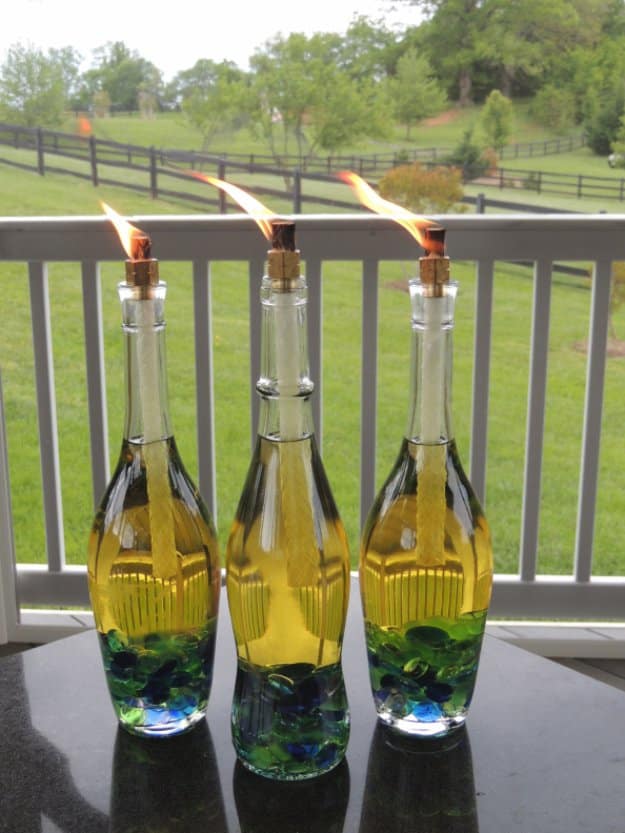 Save money and put those empty wine bottles to good use by upcycling them into tiki torches. For as little as $4, you can convert your old wine bottles into decorative and eco-friendly tiki torches. Tiki torches have been turning boring backyards into tropical paradises for years. They're a great source of background light and when filled with Citronella oil, they're also pretty good at keeping pesky mosquitoes away.
5. DIY Modern Herb Garden From Recycled Wine Bottles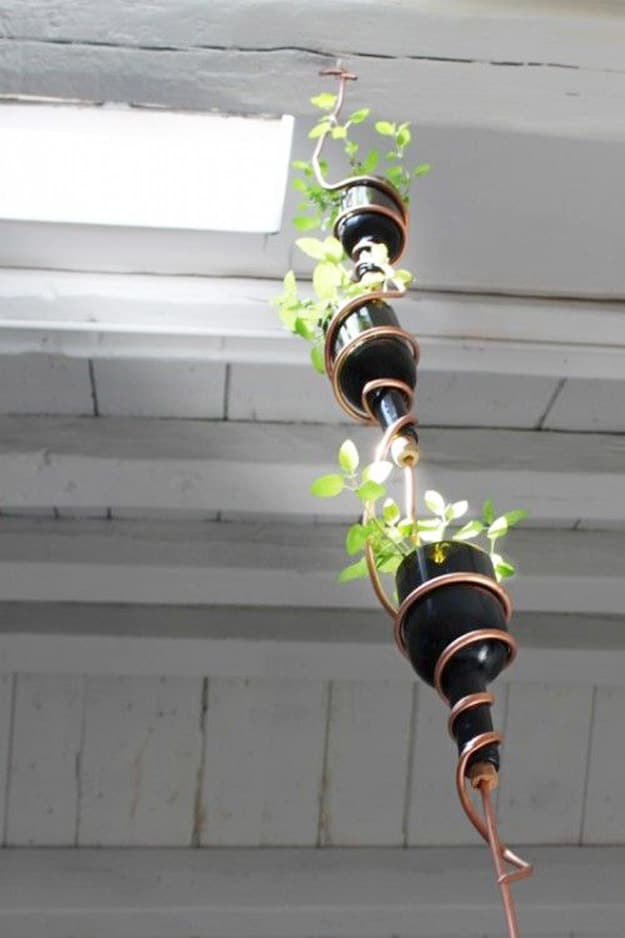 Looking for a fun weekend project that will infuse your home a breath of fresh air? This tutorial from Inhabitat shows you how to make a hanging herb garden out of wine bottles and copper tubing. The entire thing can be made for less than $30 in a single afternoon. Seriously, this is so cool! Another project to add to my weekend to-do list.