Have some old, empty wine bottles laying around and just hate to throw them all away? Why not make some DIY wine bottle crafts with them, instead? You can make lovely homemade gifts, home decor and even some neat DIY lighting with those old wine bottles. From creative outdoor bottle trees and garden edging to vases and serving platters made from flattened wine bottles, we have some awesome DIYs you have to see. You will probably want to add one of more to your weekend projects list. I must admit my favorite ones are the tiki torches, and I am making some for my next outdoor barbecue. What a cool way to upcycle and decorate your backyard at the same time!
Once you check out these DIY ideas with wine bottles, don't forget about the wine corks you have leftover! We have lots of cool wine cork crafts like these: 50 Wine Cork Crafts to Fall In Love With
37 Cool Wine Bottle Crafts
1. Melted Wine Bottle Serving Platter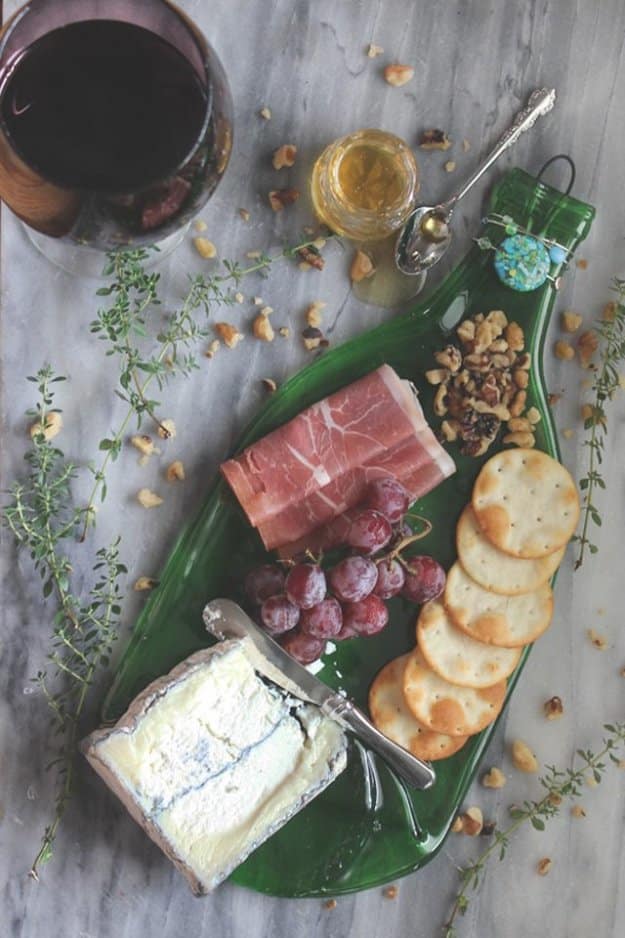 Wine bottle crafts are all the rage these days, and for good reason. How cute is this pressed bottle serving tray? You get to melt glass, too, which is just as much fun as it looks. If you want a cool idea to make from a wine bottle, this is a winner. Complete with step by step tutorial, you are guaranteed to get what you see.
2. DIY Wine Bottle Edging For Your Garden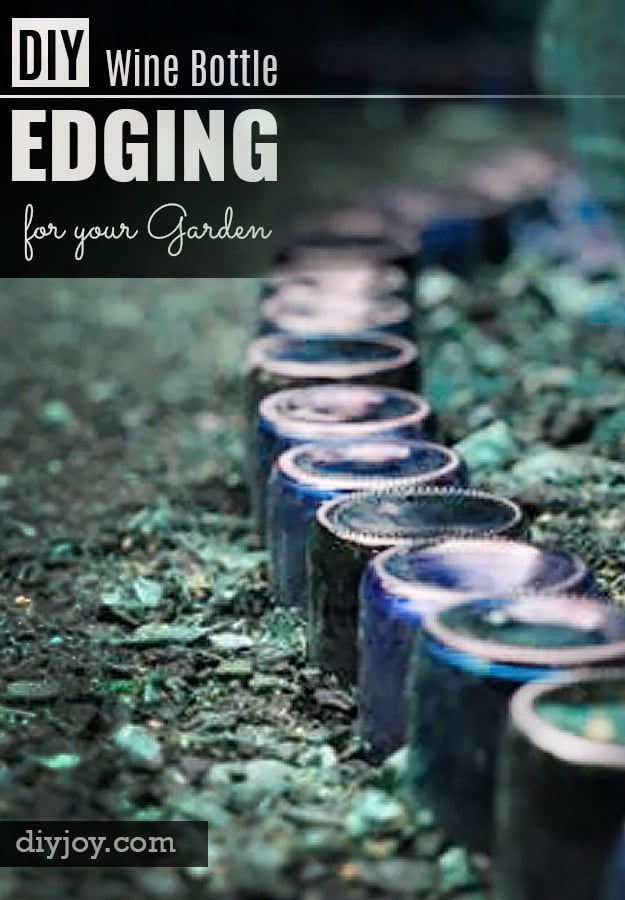 Pretty wine bottle edging can be yours for free. You may have seen this look in magazines or at a local business. Turns out, it is not hard to make an edging out of wine bottles. Create a backyard border from bottles this weekend. Check out the video tutorial to learn how.
3. Wine Bottle Tree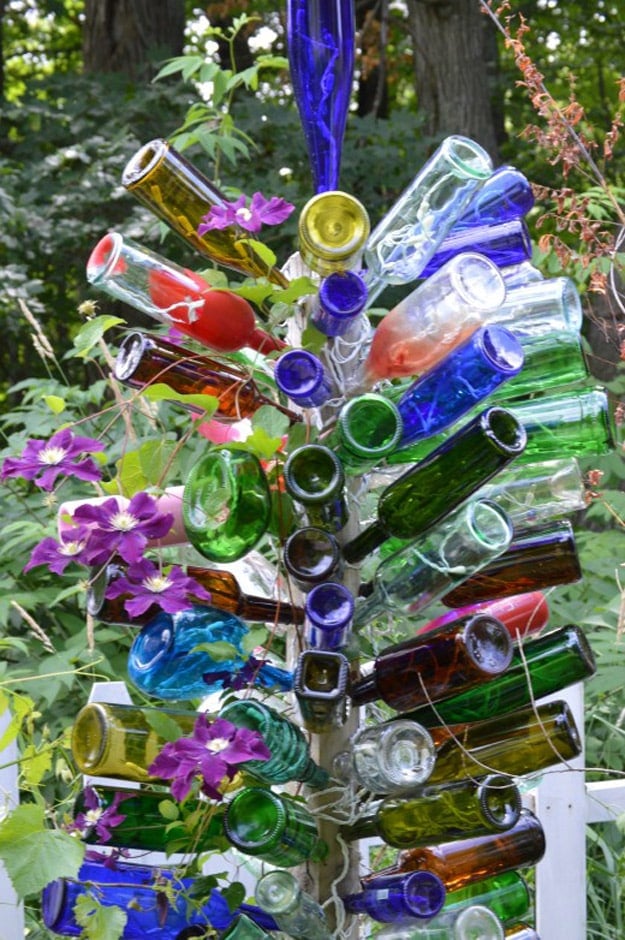 A bottle tree is a type of recycled glass sculpture that is popular with gardeners. Its origins lay in Egypt, where bottles were used to capture spirits. I just love the bottle tree right in the entrance! This article from Hubpages will show you how to make a bottle tree for your garden. It's not hard, and it looks beautiful, especially once your garden starts to grow around it.
4. Wine Bottle Tiki Torch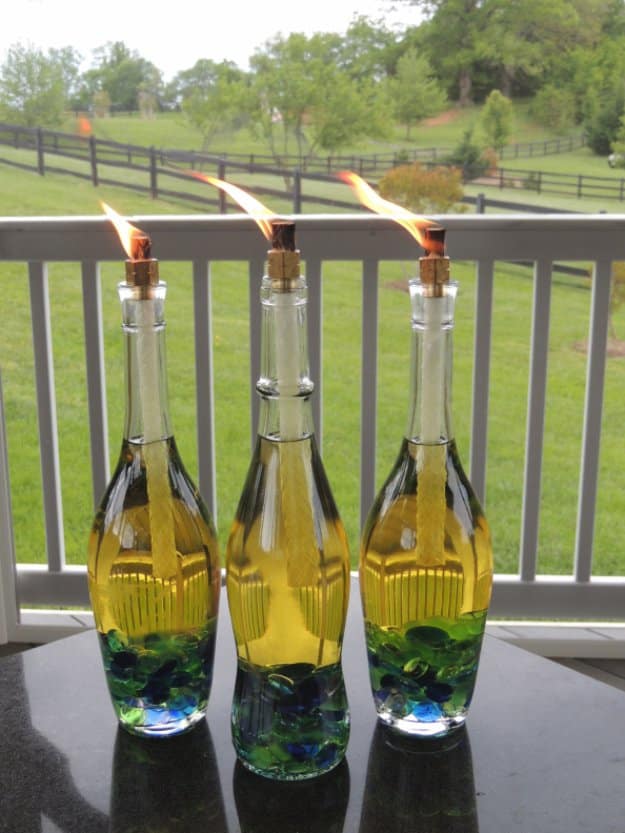 Save money and put those empty wine bottles to good use by upcycling them into tiki torches. For as little as $4, you can convert your old wine bottles into decorative and eco-friendly tiki torches. Tiki torches have been turning boring backyards into tropical paradises for years. They're a great source of background light and when filled with Citronella oil, they're also pretty good at keeping pesky mosquitoes away.
5. DIY Modern Herb Garden From Recycled Wine Bottles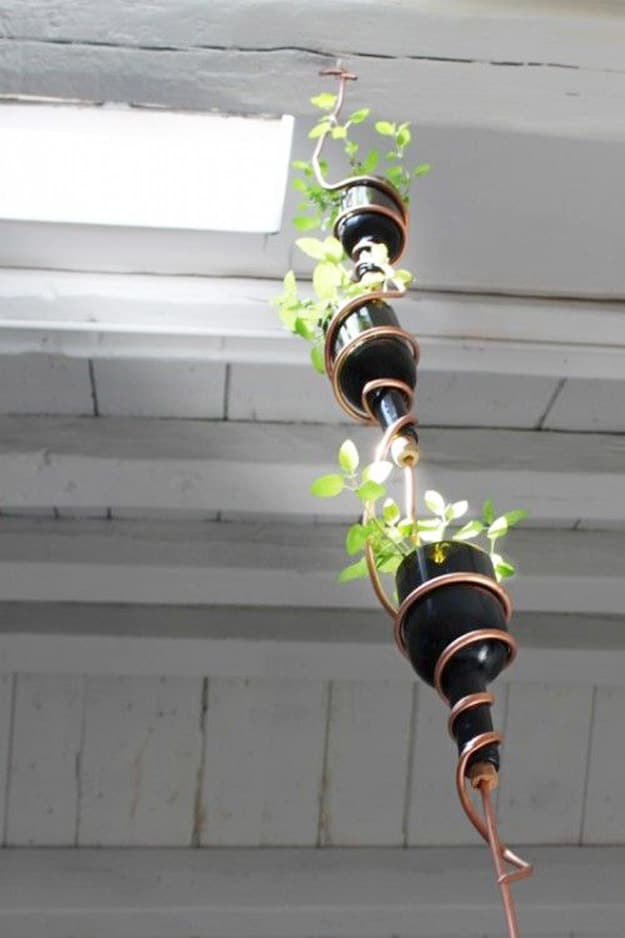 Looking for a fun weekend project that will infuse your home a breath of fresh air? This tutorial from Inhabitat shows you how to make a hanging herb garden out of wine bottles and copper tubing. The entire thing can be made for less than $30 in a single afternoon. Seriously, this is so cool! Another project to add to my weekend to-do list.
6. Stenciled Wine Bottle Glitter Vase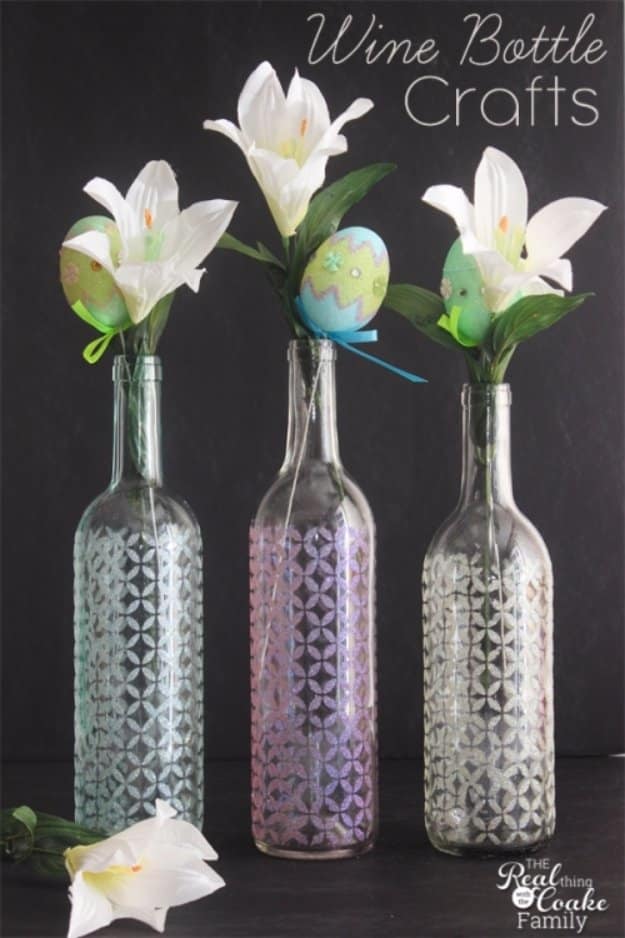 Oh, how I love stencils! When your hands are a little shaky or when you're not feeling particularly creative or artsy, a great stencil can save the day (and your craft) by doing all the hard work for you. I absolutely love the patterns that were used in this blog by Real Coake. They turned out really pretty! I'm adding this to my list of things to do this spring!
7. Decoupaged Wine Bottle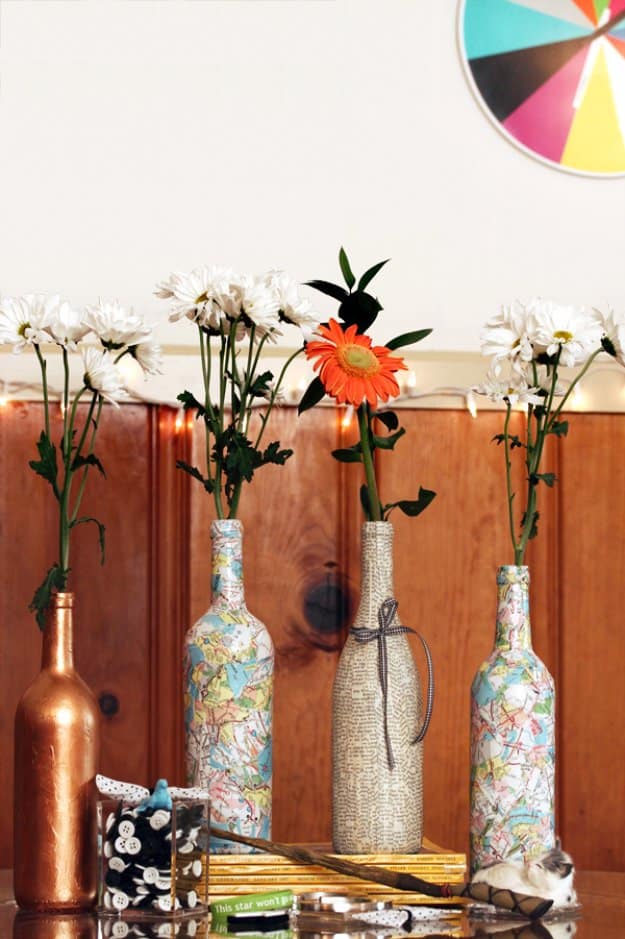 Recycle your wine bottles and make beautiful decoupaged wine bottles to decorate your home or office with. I really think it's a lot of fun creating decorative bottles. This post from Kare Kavett is really inspiring – collaging the maps in this way makes for a really interesting and beautiful texture. There's even a video tutorial so you can get started easily.
8. Wine Bottle Glasses with Etching Tutorial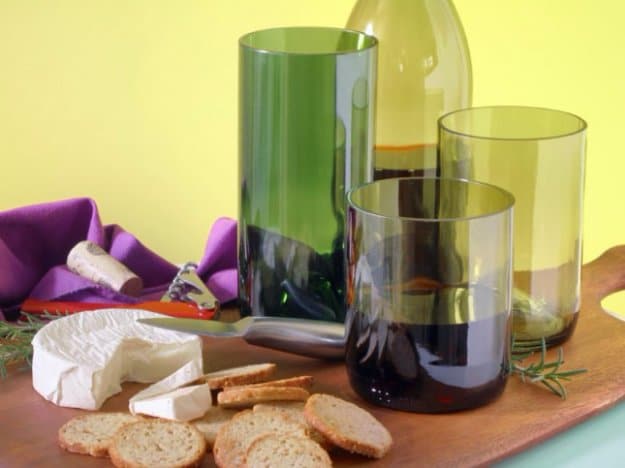 With this tutorial from Brit Co, you can turn old wine bottles into gorgeous new tumblers. They make a great gift for the holidays and are an instant conversation piece. As long as you follow the steps you can definitely make it happen. So, recycle those empty wine bottles into something useful–a glass to help you drink that next bottle.
9. DIY Wine Bottle Chandelier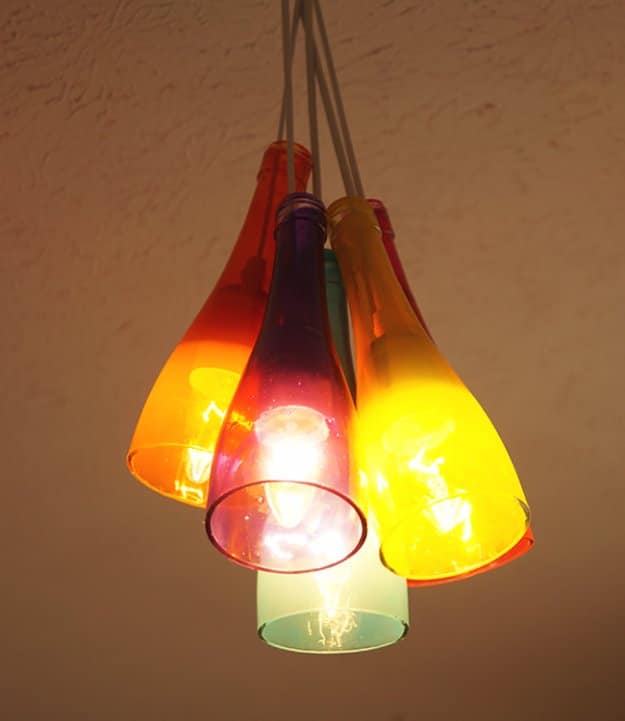 Add color and illuminate any spacy with this DIY Wine Bottle Chandelier. Get your rainbow on with this wine bottle chandelier or match it to your style. The project involves cutting wine bottles, which is easier than you may think, so let's get started with this fun and easy tutorial from Saved by Love Creations.
10. Wine Bottle Bird Feeder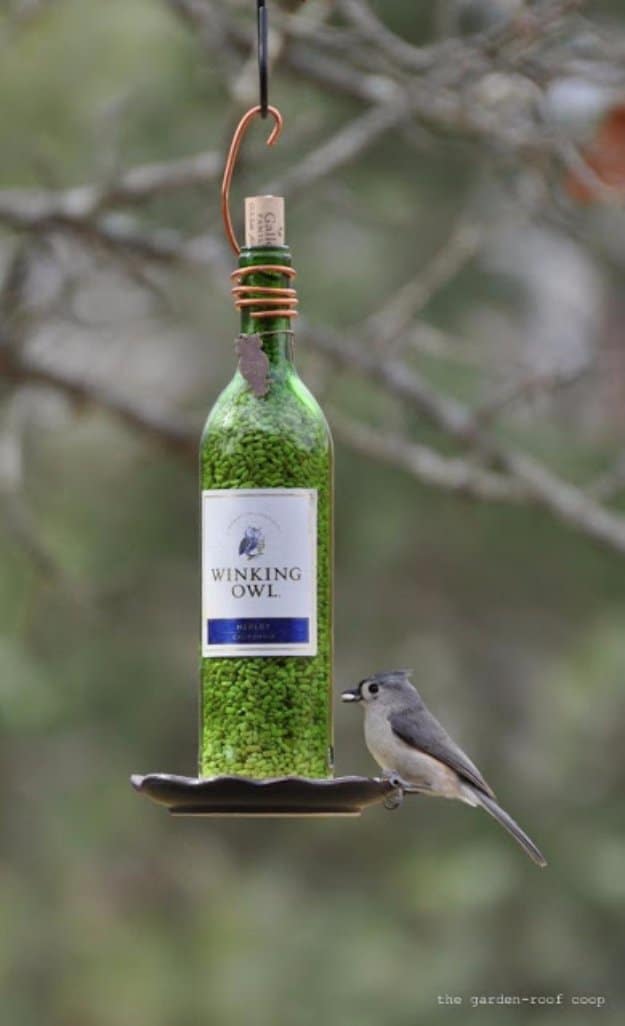 The neighborhood birds will all be flocking to your house to take a peek at your homemade wine bottle bird feeder. Make the garden more bird-friendly keeping a well-built bird feeder from The Garden-roof Coop. I've been making bird feeders out of old plates, vases, candle holders, chandeliers and the like for the last week and making them out of wine bottle is sure an exciting way to spend a weekend!
11. DIY Frosted Ombre Wine Bottle

Check out how you can create this ombre frosted glass look on an empty wine bottle from the easy to follow DIY tutorial from Saved by Love Creations. The frost paint is super fun to work with, and I am loving the look. This is perfect for a beach themed living room décor. Definitely a great way to recycle an empty wine bottle to a gorgeous item that can be a centerpiece in your house.
12. Wine Bottle Pendant Lamps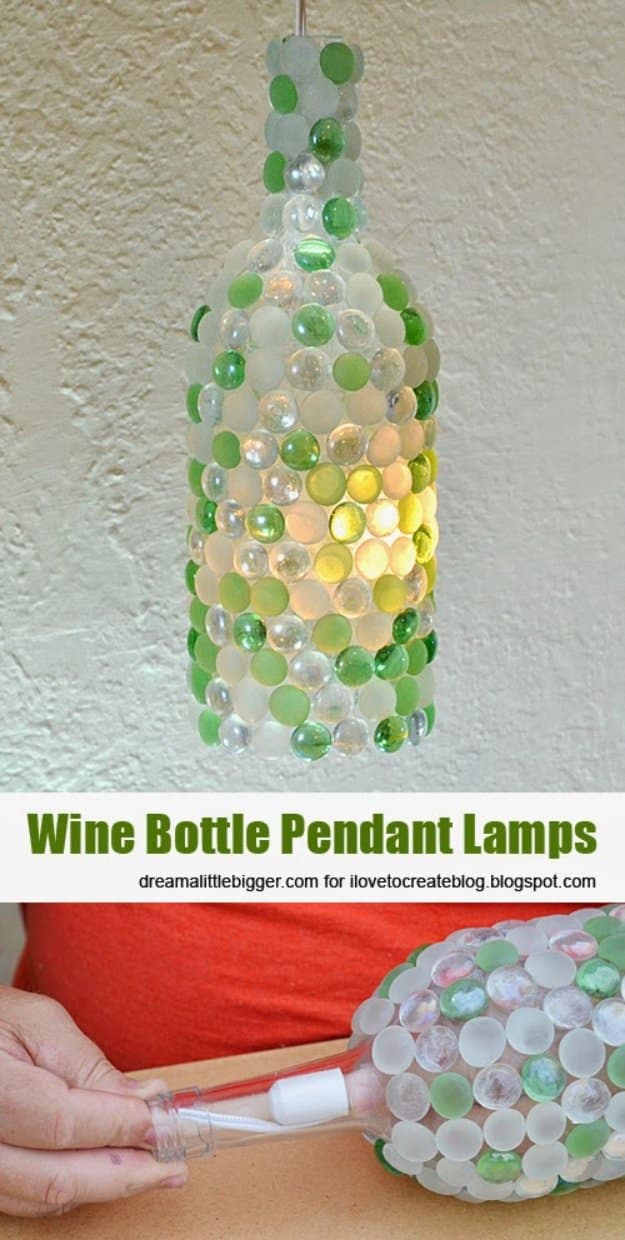 This is such a fun pendant light idea! You can make it from a recycled glass bottle. The project is from I Love to Create Blog and is one of those Pinterest projects that every wife seems to love and every husband insists he can make but doesn't. So, here's the tutorial that you need right now so you can get started.
13. Wine Bottle Rope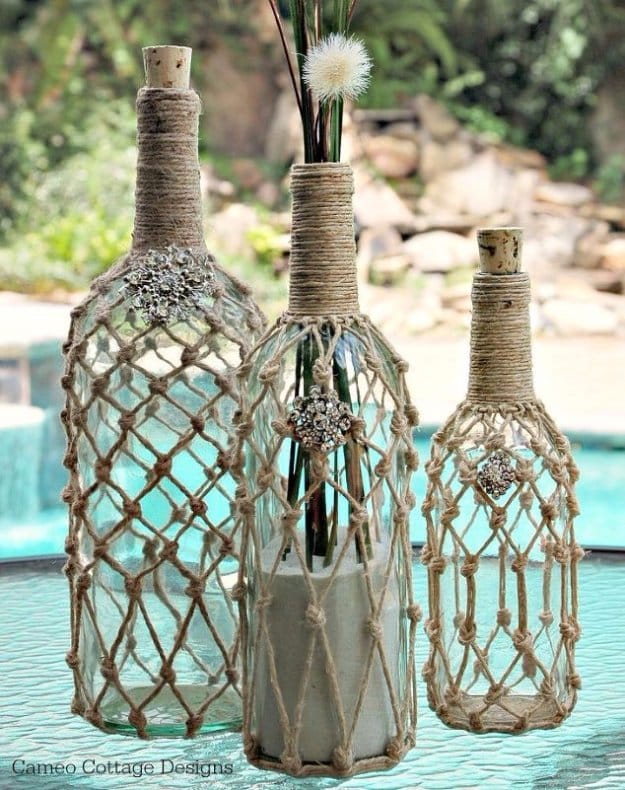 14. DIY Wine Bottle Shelf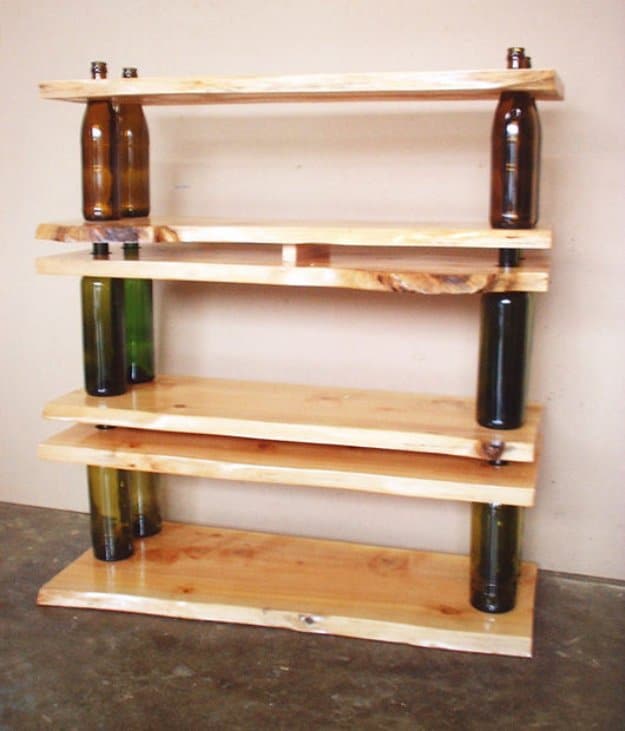 15. DIY Wine Bottle Citronella Candles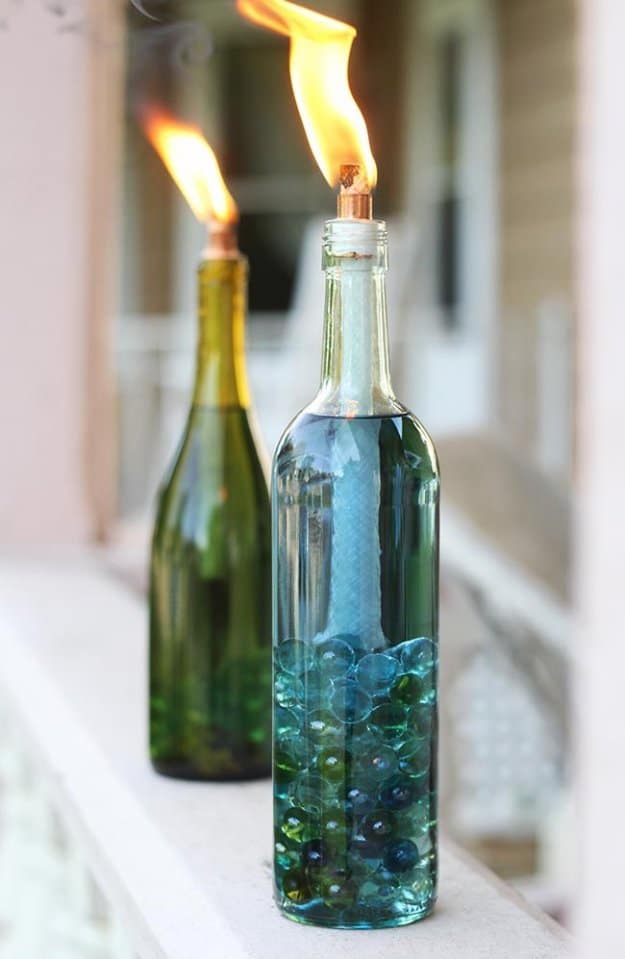 16. Twine Wrapped Wine Bottles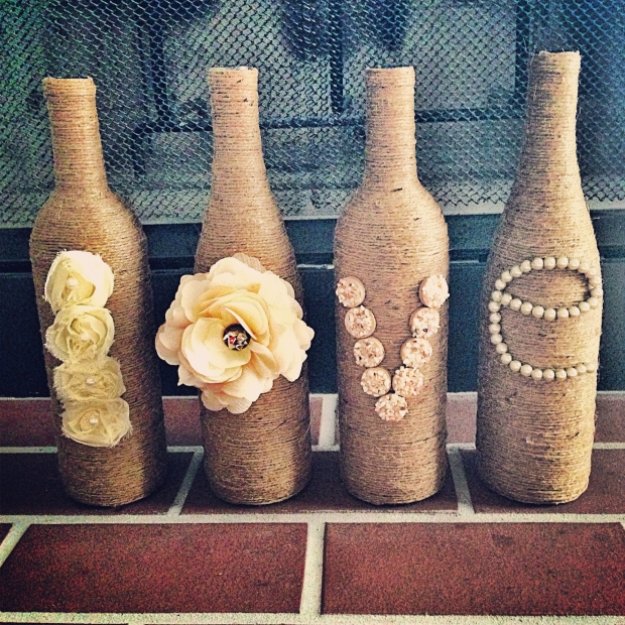 17. DIY Wine Bottle Art with Chalkboard Paint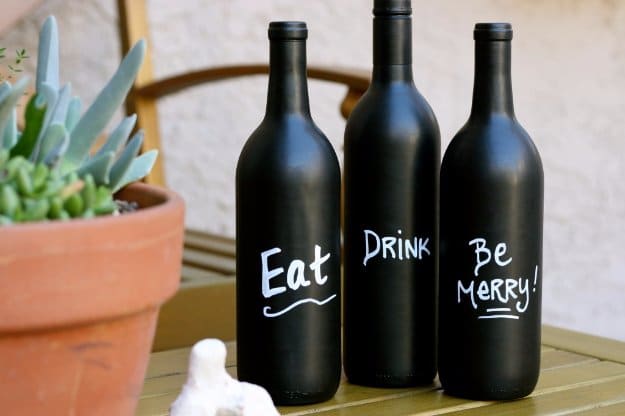 18. Decorating Wine Bottles with Washi Tape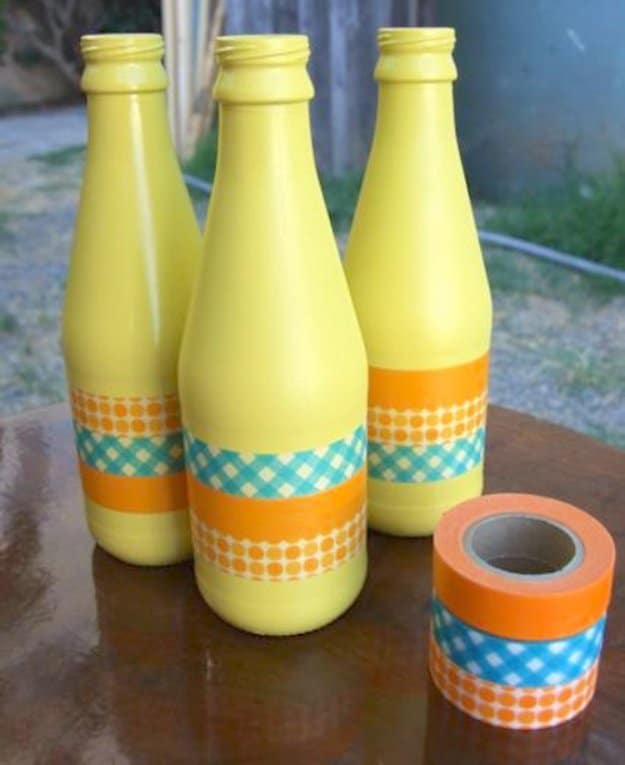 19. Self Watering Wine Bottle Planters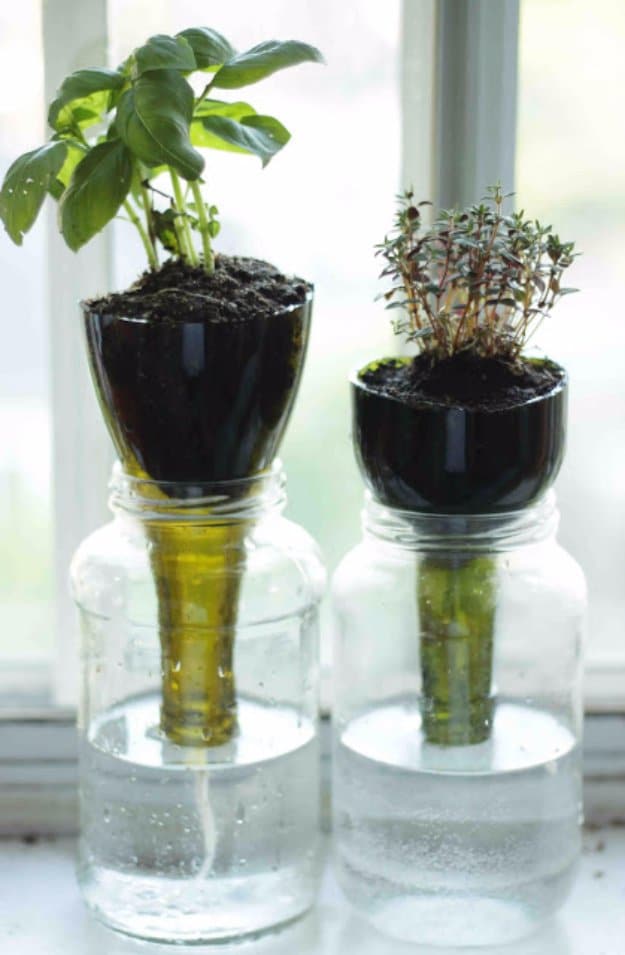 20. DIY Etched Wine Bottle Dish Soap Dispenser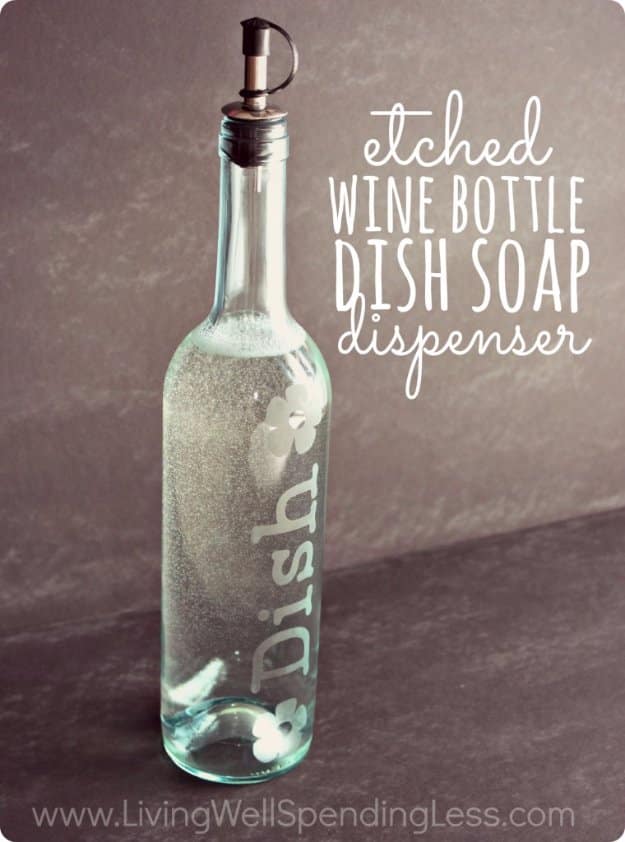 21. Laced Wine Bottle Vases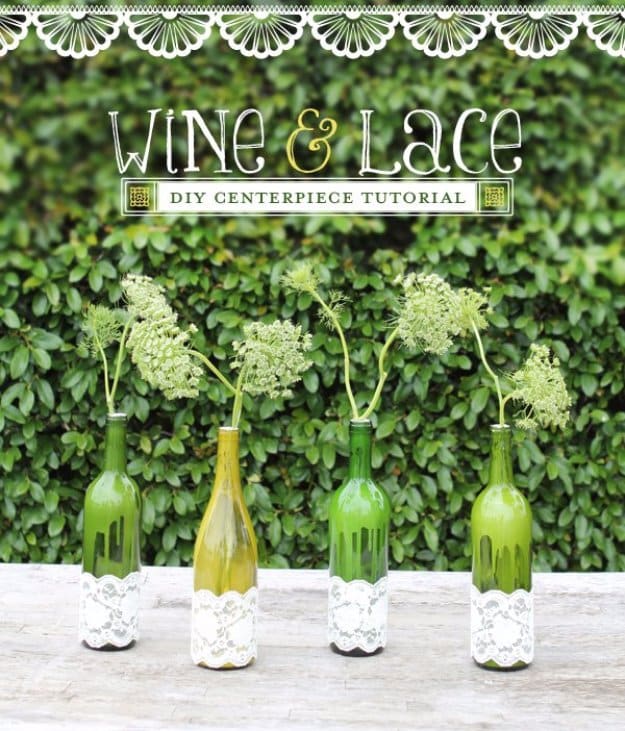 22. Chair Made From Wine Bottles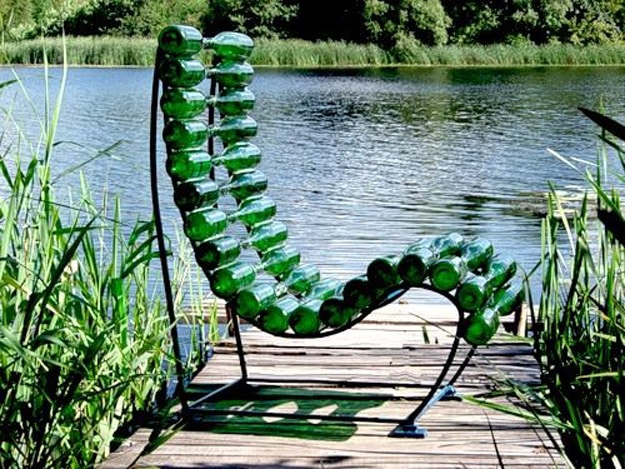 23. DIY Photo Collage Wine Bottle Label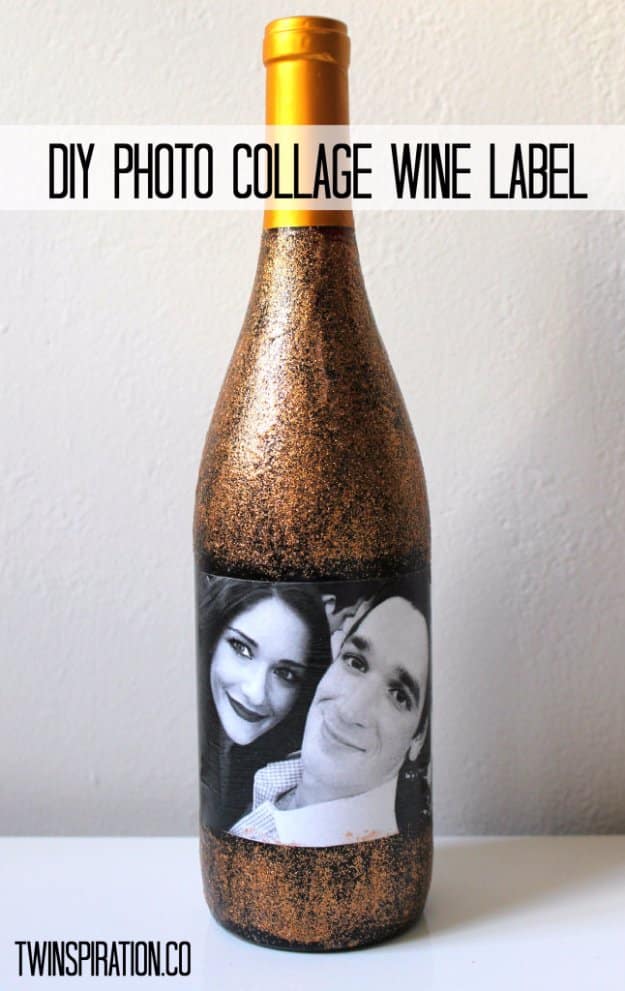 24. DIY Wine Bottle Succulent Planters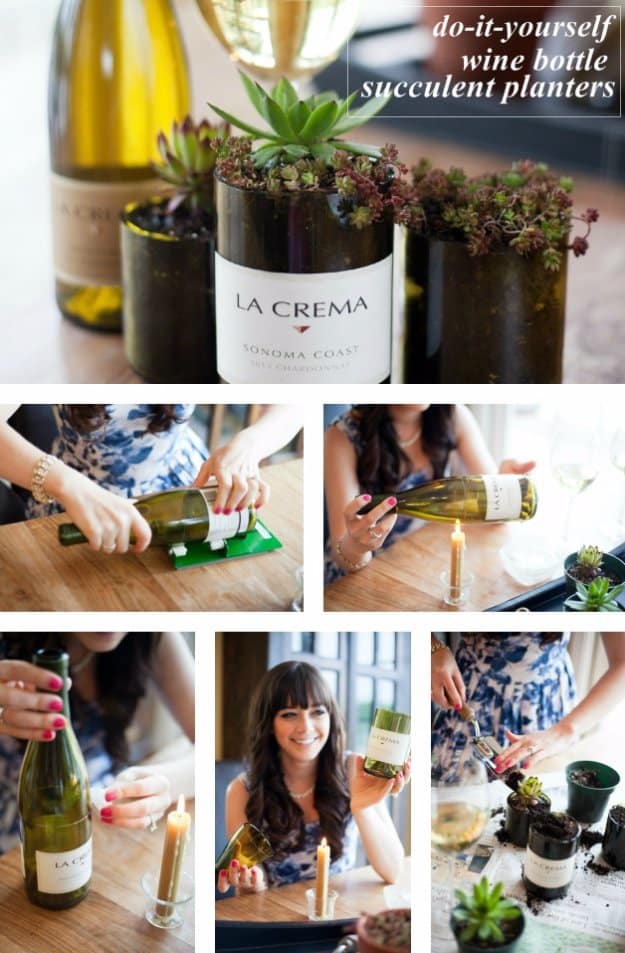 25. Gold Painted Wine Bottle Vases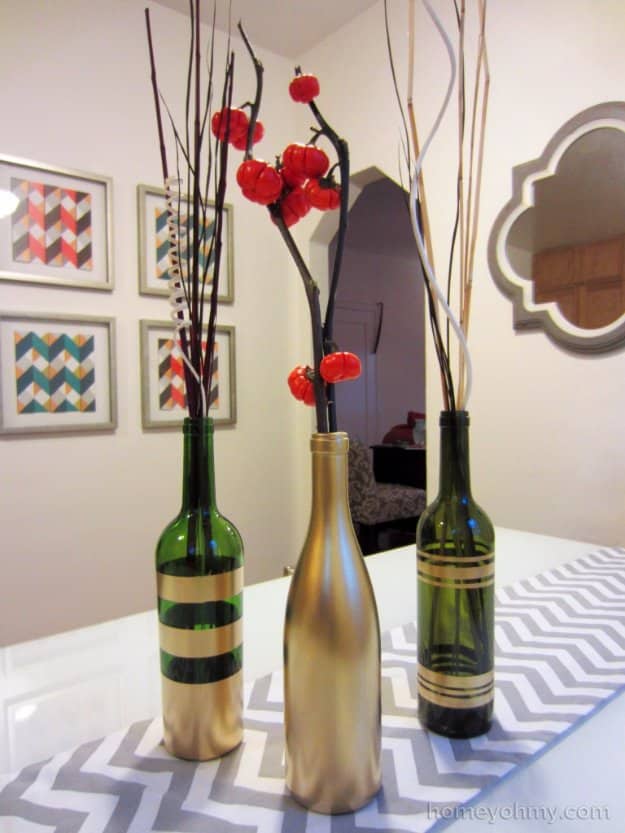 26. Water Fountain Wine Bottles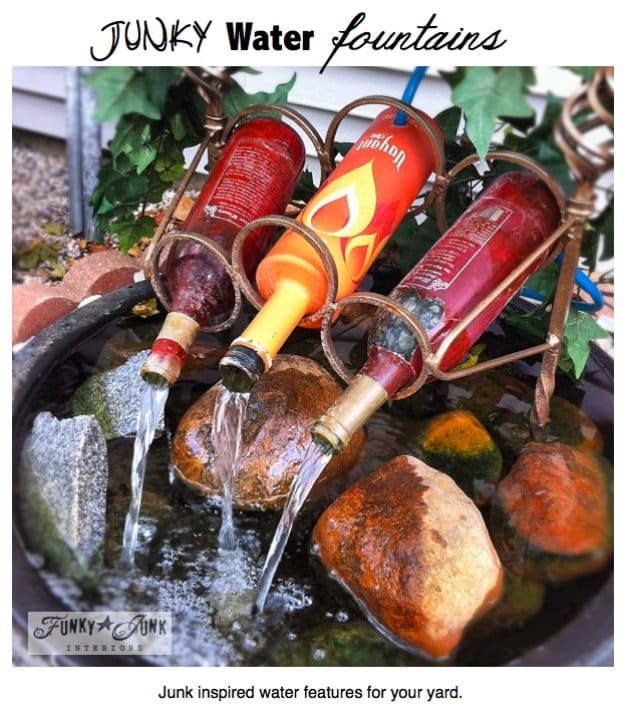 27. DIY Z Gallerie Inspired Mercury Wine Bottles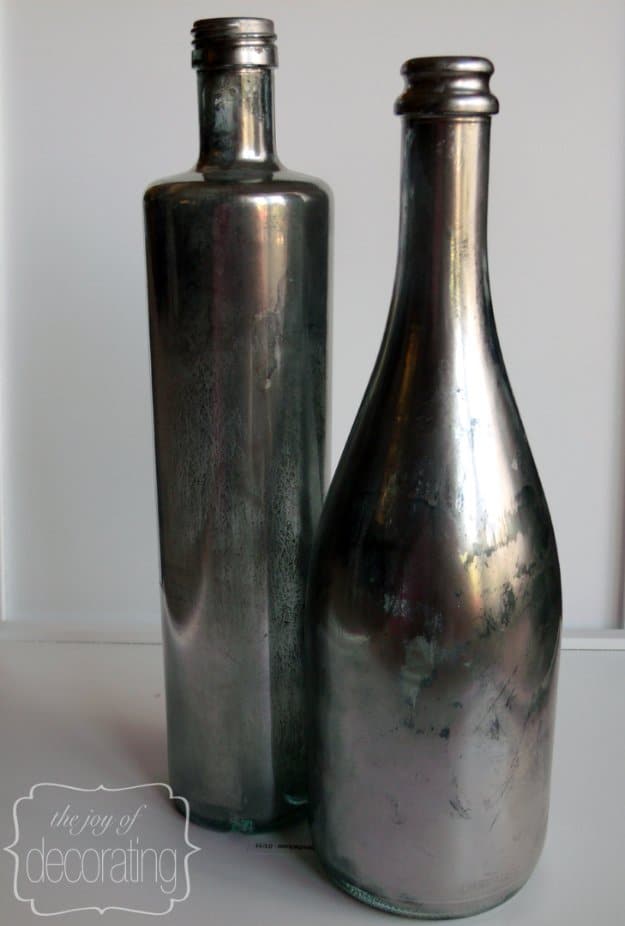 28. Spot Painted Wine Bottles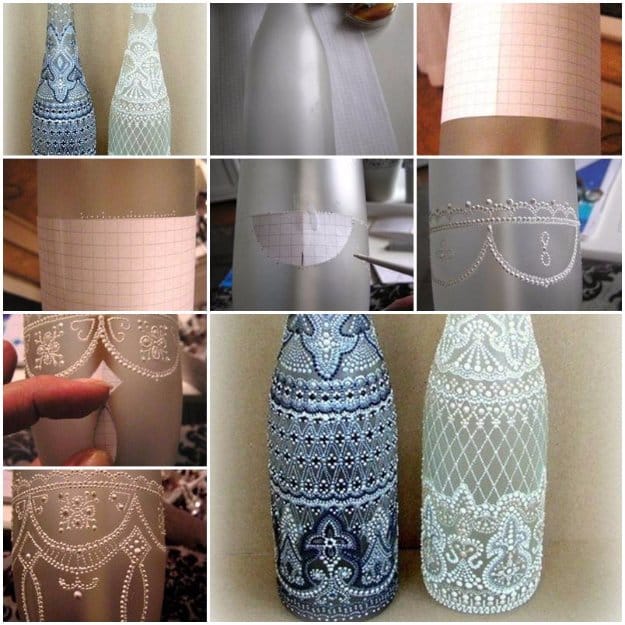 29. String Light Wine Bottle Lamp

30. Rhinestone Wine Bottle Picture Frame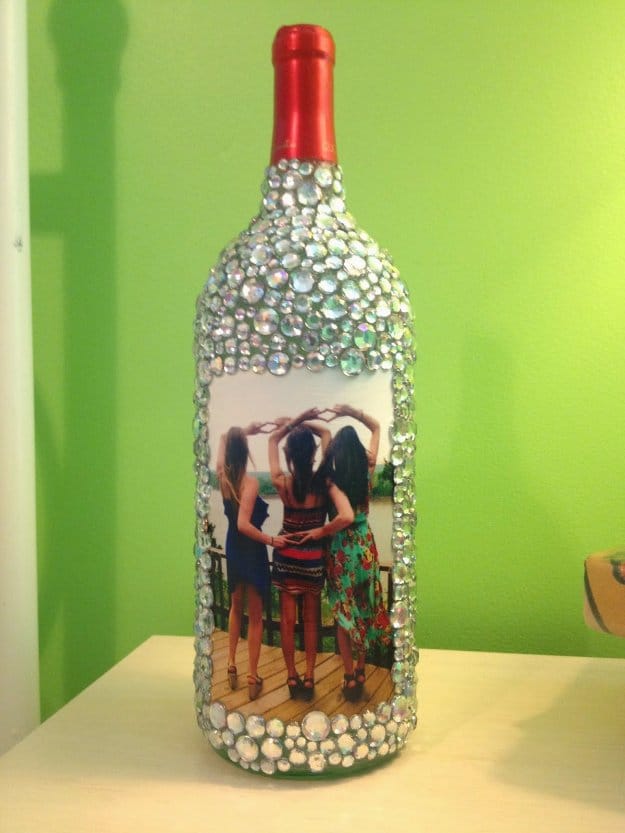 31. Wine Bottle Lamp Series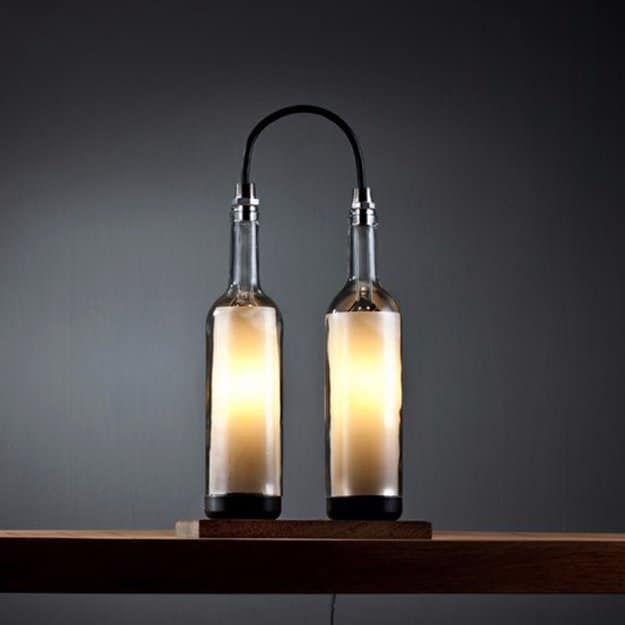 32. Heart Wine bottle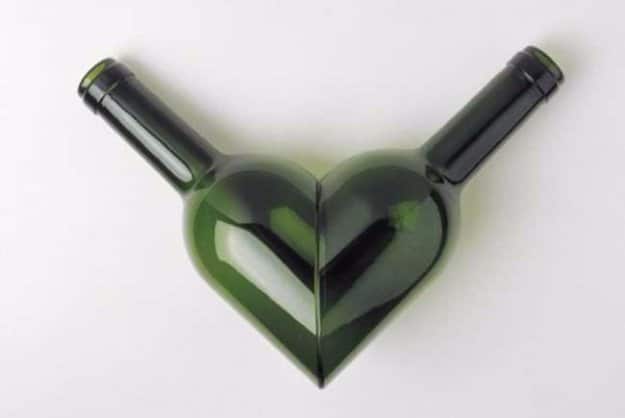 33. Puff Paint Wine Bottle Project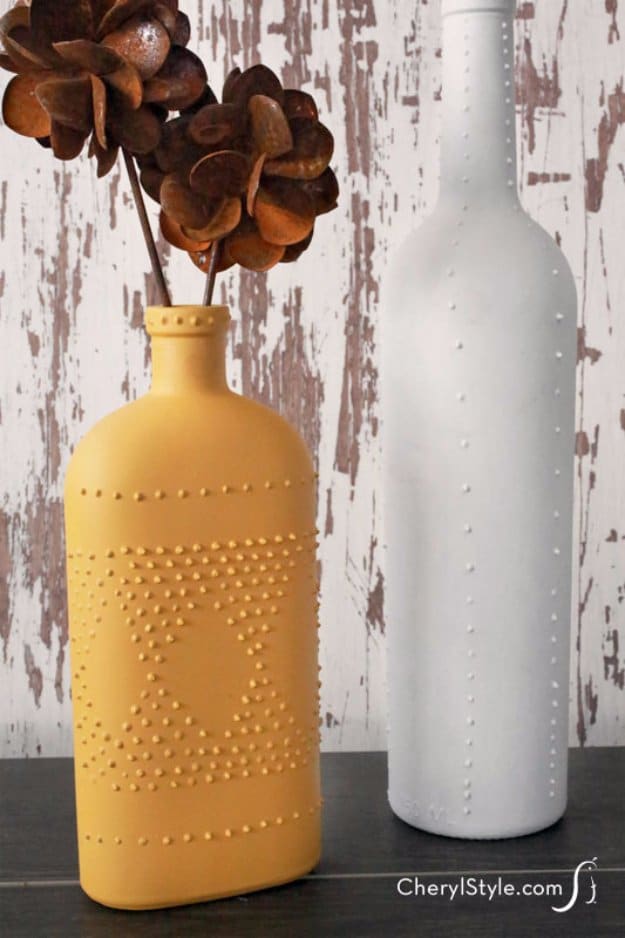 34. Boho Wine Bottle Vases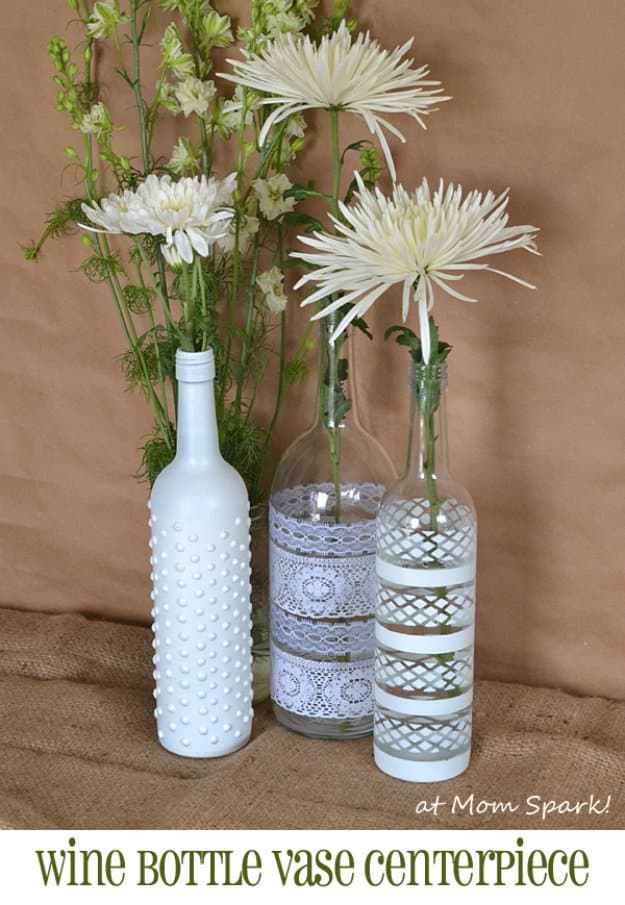 35. Glittery Ribbon Wine Bottle Craft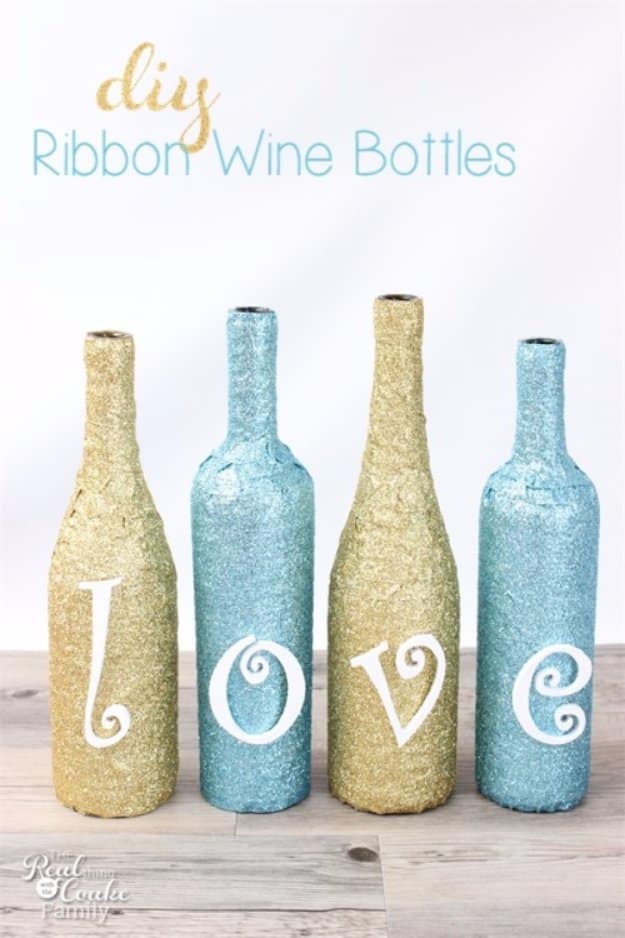 36. DIY Wine Bottle Pendant Lights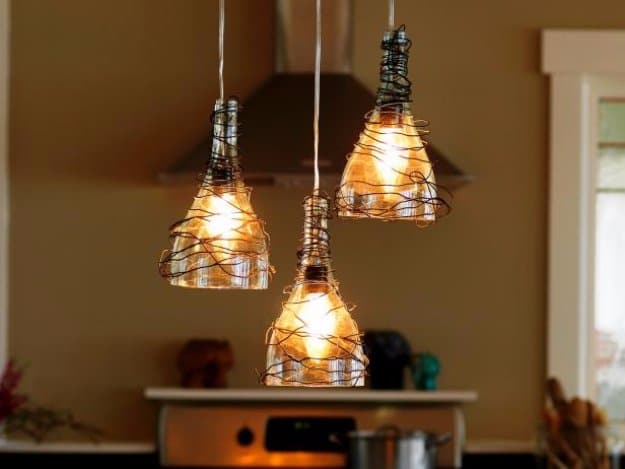 37. DIY Paint Dipped Wine Bottle Vases