Getting married this year and not sure how you are going to ever afford the decor, much less the honeymoon? Well, fortunately, some of the best wedding decor is DIY, plus you get to show off your crafting skills with special things you made. Whether you have an indoor or outdoor wedding, summer, winter or spring, we have the best centerpieces you can make for your special wedding day. Whether you are looking for ideas for a summer wedding, something formal or casual, indoor or out, these creative wedding centerpiece ideas are sure to inspire you on your wedding planning adventure. Make spend a lot of money when you can make these easy DIY wedding centerpieces yourself? Spend the money you save on a fabulous honeymoon instead.
DIY Wedding Centerpieces
1. Plaster Dipped Flower Votives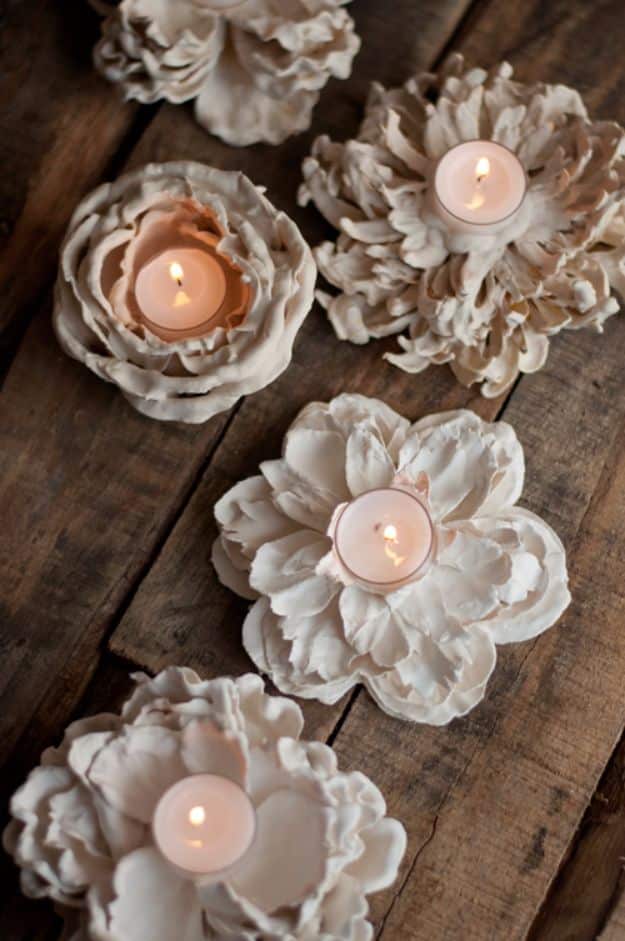 When I first laid eyes upon these stunning flower votives, I thought they were made of porcelain – but it turns out you can easily make them with plaster no less. These plaster-dipped flowers look like expensive wedding décor purchased from a high-end store, but you can totally DIY it. I was just going to throw some faux flowers out but now I think I will do this instead. Head on over to Design Mom to learn the complete details. I love this project if you are looking for outdoor wedding ideas or going with a more minimal theme without much color aka all white.
2. DIY Whimsical Wedding Centerpiece

Staying within your wedding budget is no easy task. Flowers are such an important part of a wedding, but they don't have to break the bank. If you're looking for DIY wedding centerpieces on a budget, you'll be happy to know, there are a lot of options! Learn how to create a whimsical wedding centerpiece with this simply how-to video from Afloral. They look perfect for a summer wedding! If you want to have creative DIY wedding flowers, here's the perfect idea for you.
3. DIY Flower And Sand Centerpiece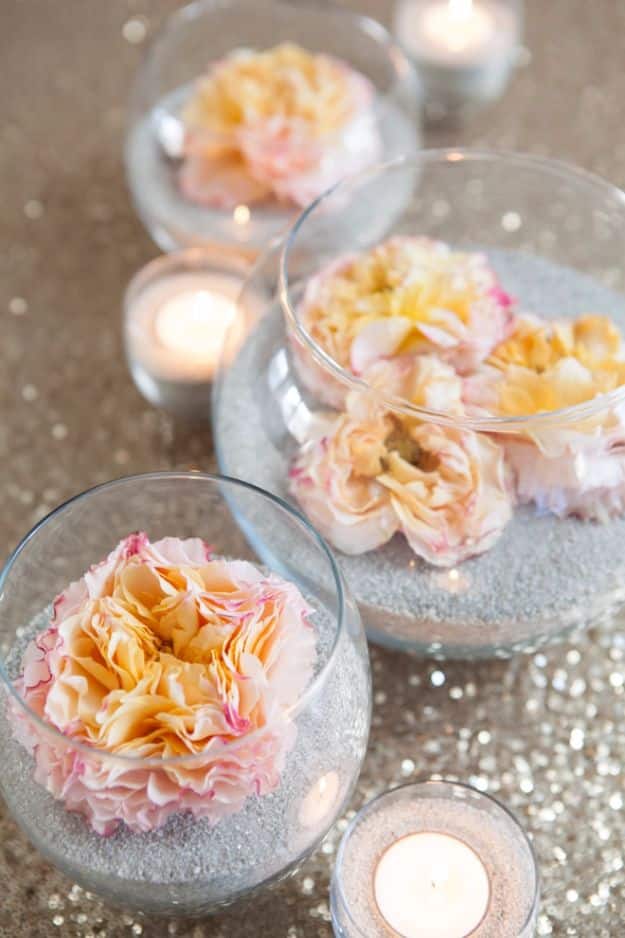 Check out this beautiful DIY Flower & Sand Wedding Centerpieces that will totally set the mood for an enchanted event that is your wedding! So easy and so beautiful, it looks like these flowers are just sitting on the sand, but they aren't. This is a wonderful idea for a beach-chic event of any kind whether it's your bridal shower or your wedding.
4. DIY Silk Flower Centerpiece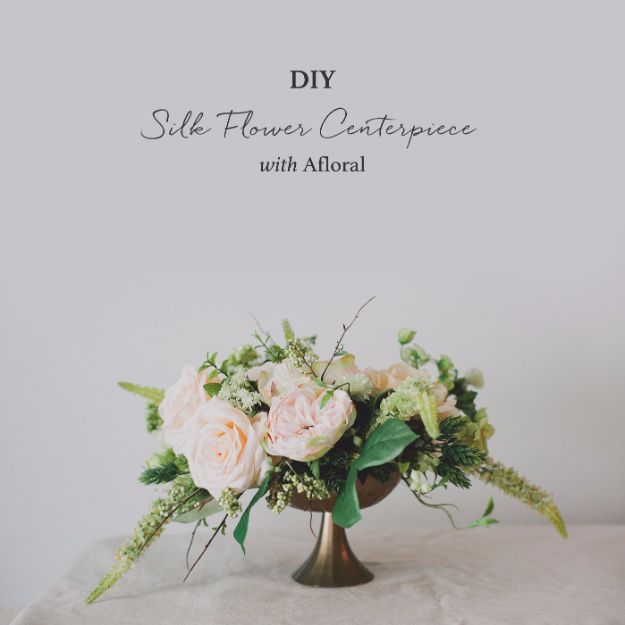 Create your own beautiful and affordable DIY flower arrangements this spring, whether a simple centerpiece or impressive installation. And yep, this one is made of all silk flowers! Silk flowers can add beauty and elegance to your wedding centerpiece, without the hassle that real flowers create.
5. DIY Glitter Vases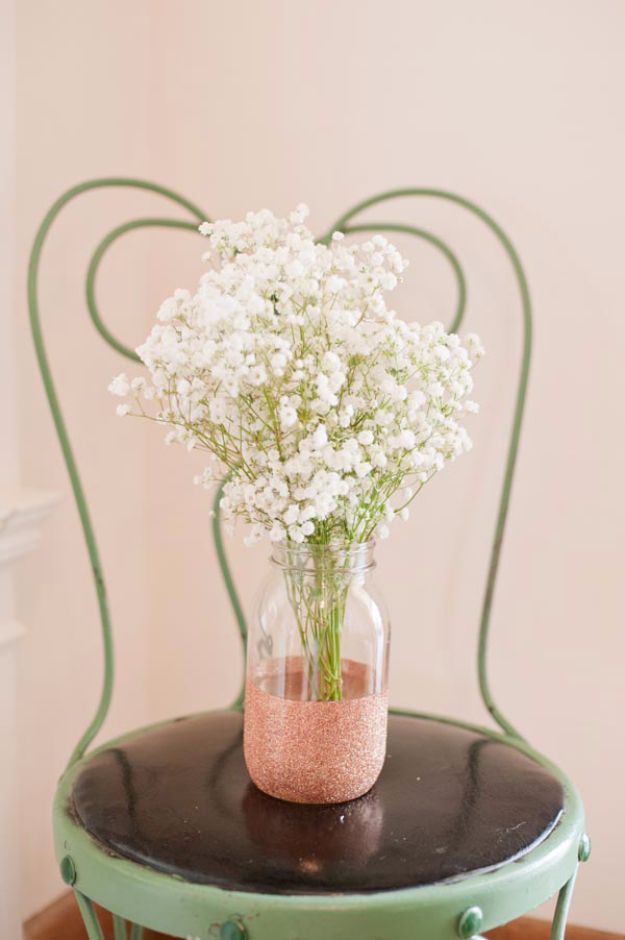 Glitter vases are simple to make using dollar store vases! Easy and inexpensive centerpiece glass vase tutorial perfect for a wedding. This is such a great and easy way to add a little shimmer to your big day! I would love to try this project and keep these vases around my home. They are so cute and it's simple too! I am in love with the wintermint color.
6. DIY Paper Lantern Vase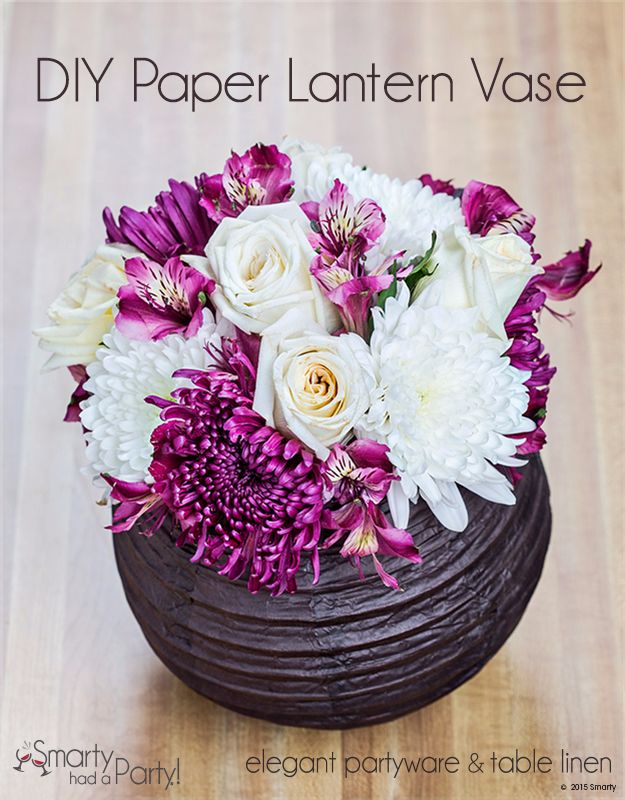 Paper lanterns are fun and vibrant party accessories, but Smarty Had A Party is taking them to the next level with this creative centerpiece idea! You can easily turn lanterns into a DIY Paper Lantern Vase and turn them into a focal piece in a wedding tables cape. When filled with flowers, a paper lantern vase makes for such an elegant presentation, sure to wow the wedding guests! We love how creative our favorite DIY wedding bloggers get with Dollar Tree wedding ideas, and this paper lantern vase is a super example of DIY wedding decor made from dollar store supplies.
7. Paint Stick Basket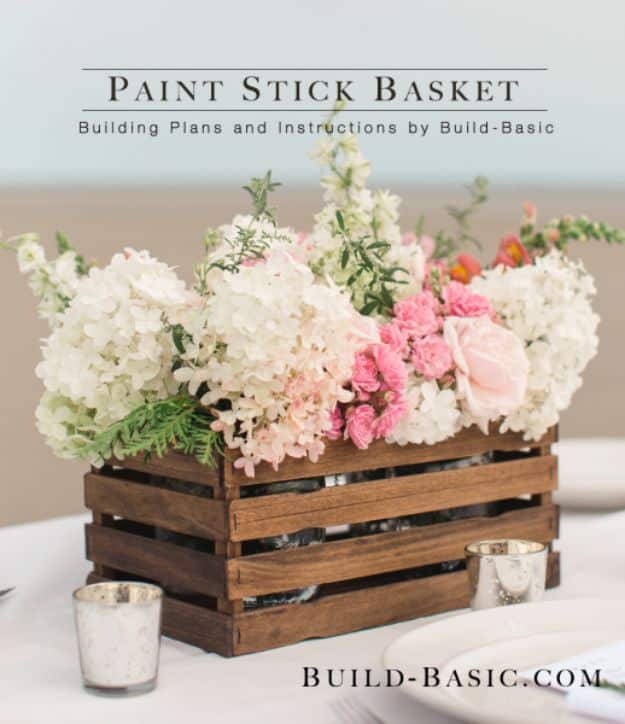 Building things with paint sticks is really fun. Did you know you can use paint sticks to build a DIY Paint Stick basket that can double as an elegant wedding centerpiece? The best part is that it's so inexpensive to make it only costs around $3! Use it as a decorative centerpiece, or as stylish storage on a shelf. No matter the use, you'll be amazed by how quick and easy it is to assemble.
Cheap DIY Wedding Centerpiece Ideas
8. Cake Stand Wedding Centerpieces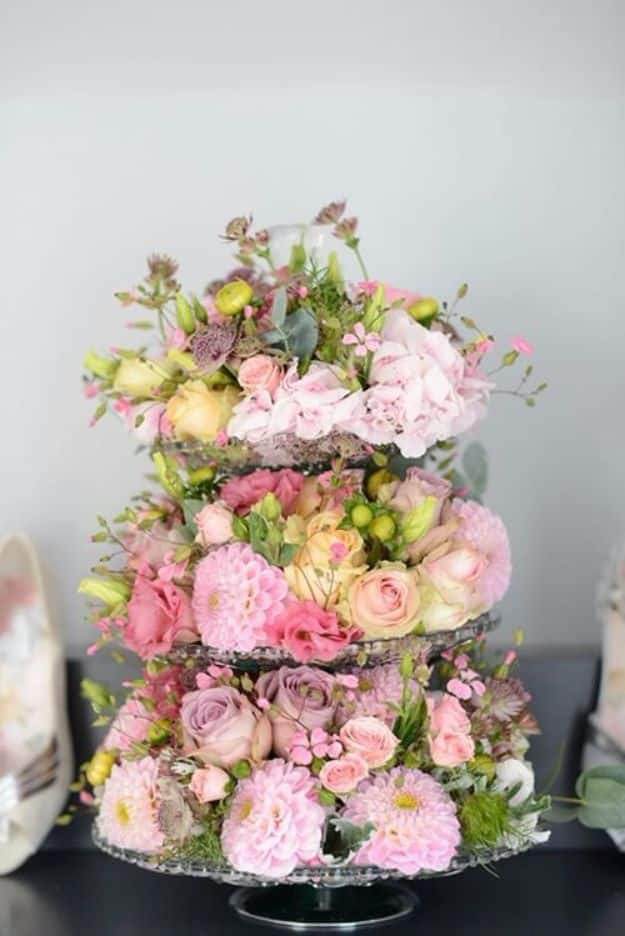 Check out this gorgeous idea for a wedding centerpiece! Who knew you can use cake stands for flower arrangements? That's pretty ingenious. The cake stand wedding centerpiece in the photo is so pretty, yet it was created very simply by combining pomander flower arrangements which was then simply placed on cake stands. For this cheerful decoration, follow along with the DIY project tutorial from Super Weddings. For dollar store wedding ideas, this floral arrangement looks amazing, doesn't it?
9. Wine Bottle Succulent Garden Centerpiece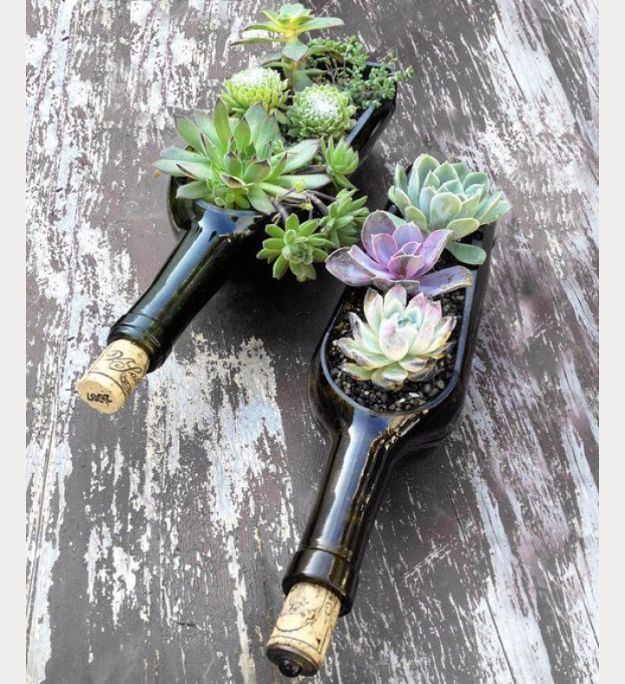 Are you tired of the usual floral wedding centerpiece? Display gorgeous greenery in your wedding table by repurposing an old wine bottle into a succulent planter. These Wine Bottle Succulent Planters are one such DIY and they look wonderful and elegant too.
10. DIY Easy Wedding Centerpiece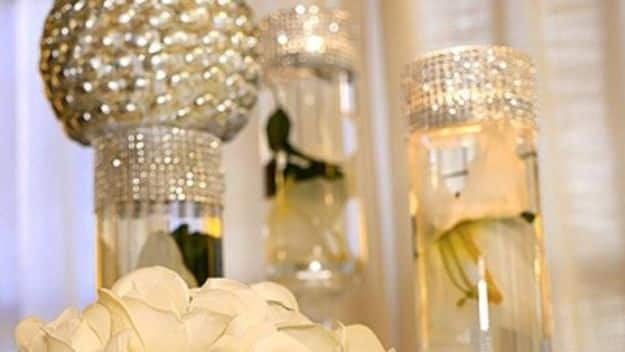 If budget plays a role in your upcoming wedding, consider cutting costs with these centerpiece styling tips. Best of all, these gorgeous arrangements look anything but cheap, so go ahead and save big—without sacrificing style. These tall and abundant arrangements are as simple as they are beautiful. Clear glass, candles and a little bling can create a huge sensation for an evening wedding.
11. DIY Mercury Glass Centerpiece Vases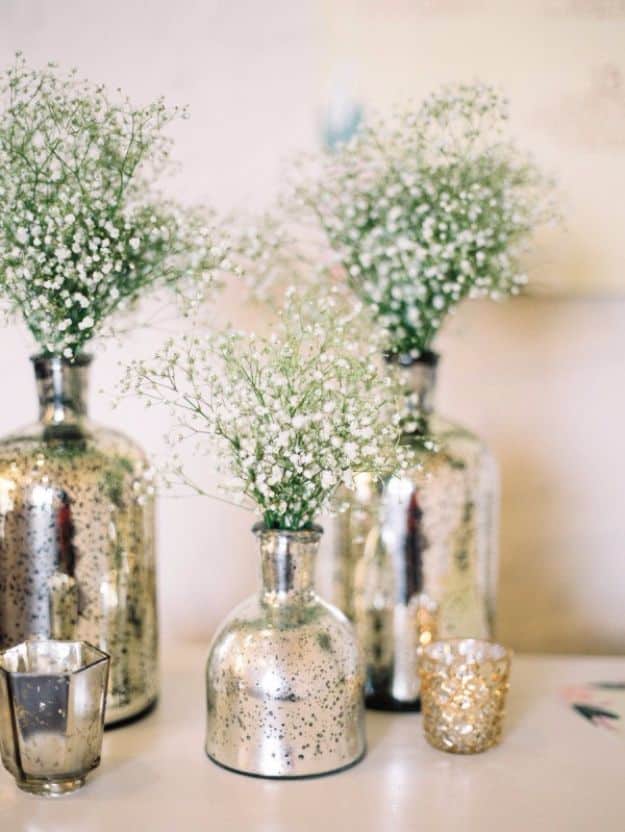 12. Colorful DIY Mosaic Skull Wedding Centerpiece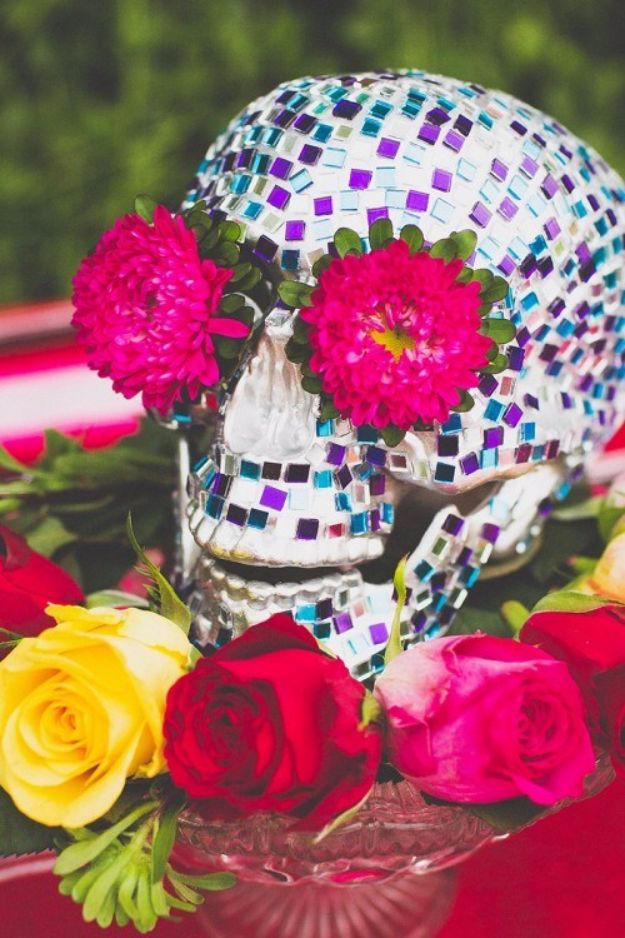 13. Quick Floral DIY Wedding Centerpieces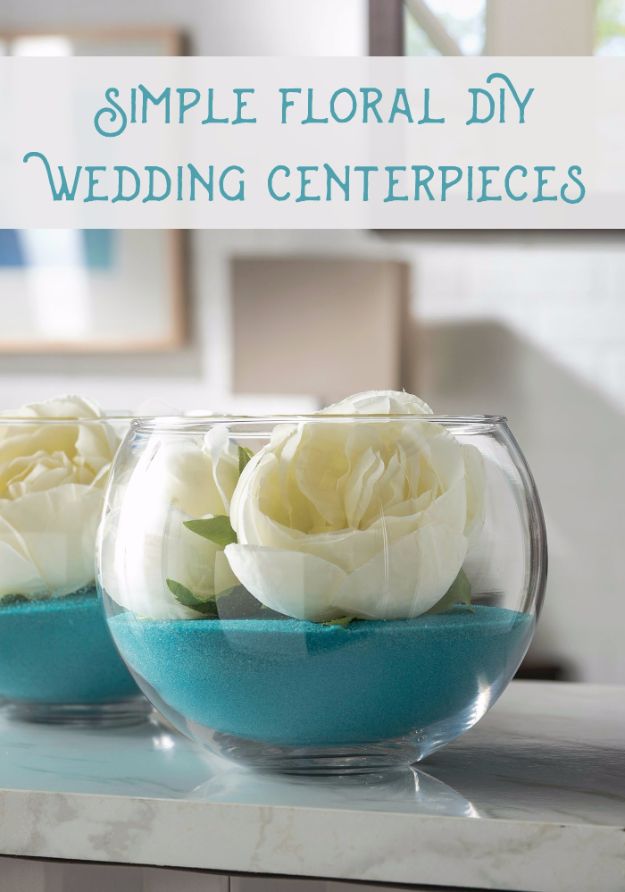 14. Beach Inspired Mason Jar Centerpiece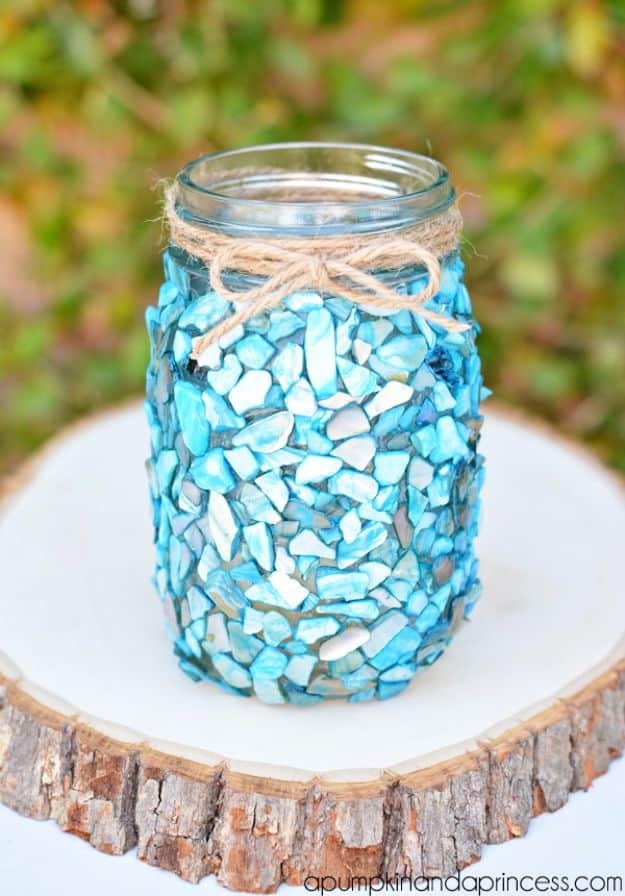 15. LOVE Tin Pail Flower Arrangement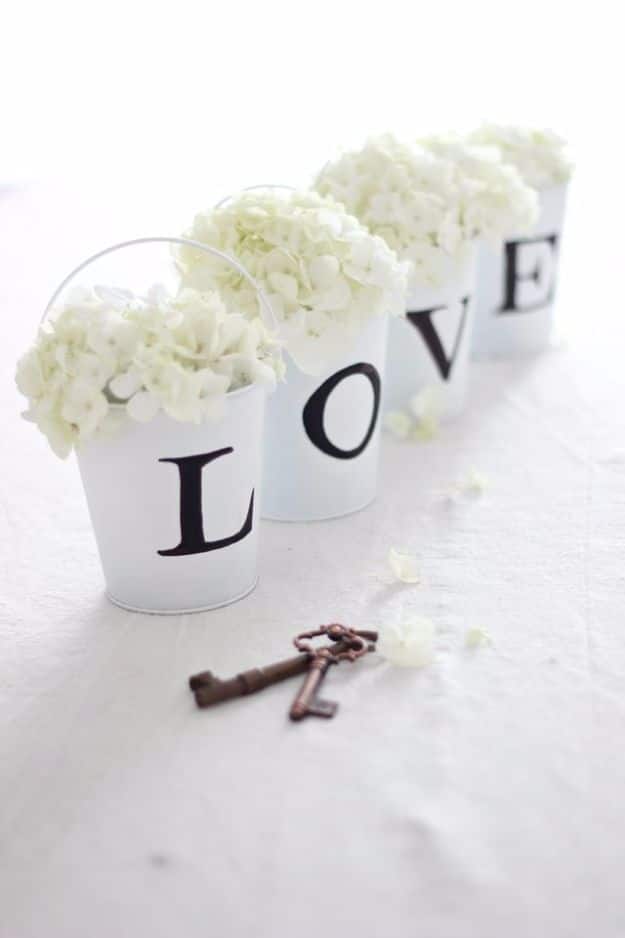 16. Easy Terrarium Centerpiece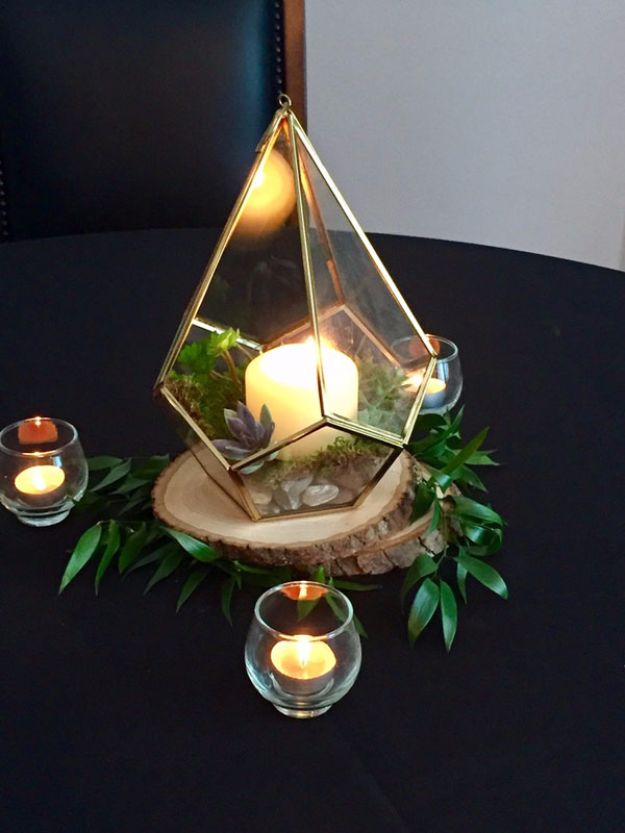 17. DIY Elegant Dollar Store Centerpiece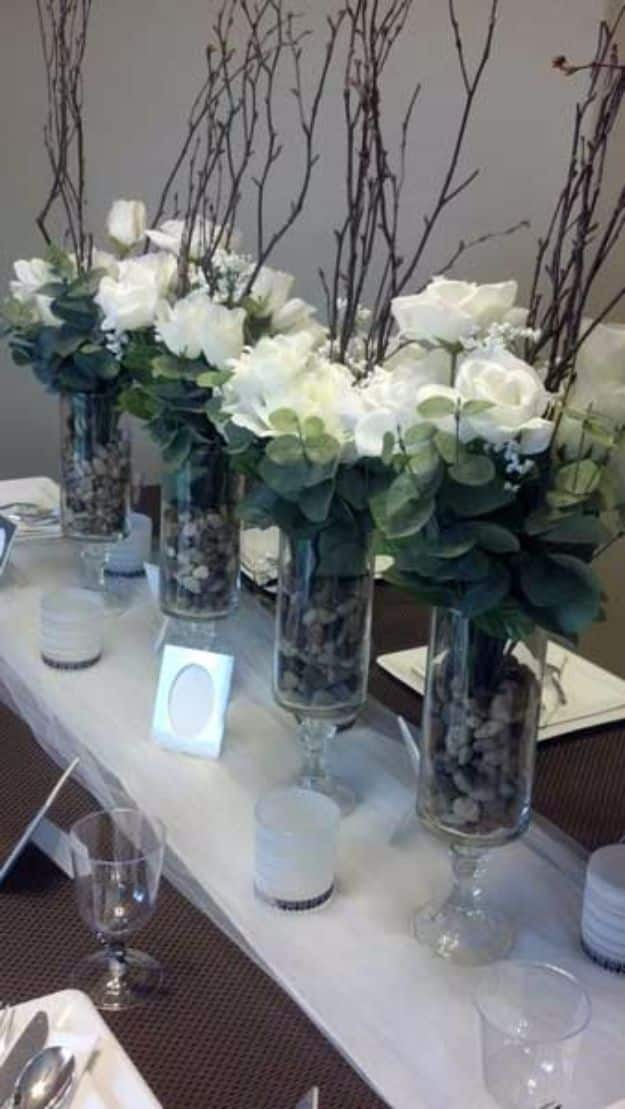 18. DIY Ombre Colored Sand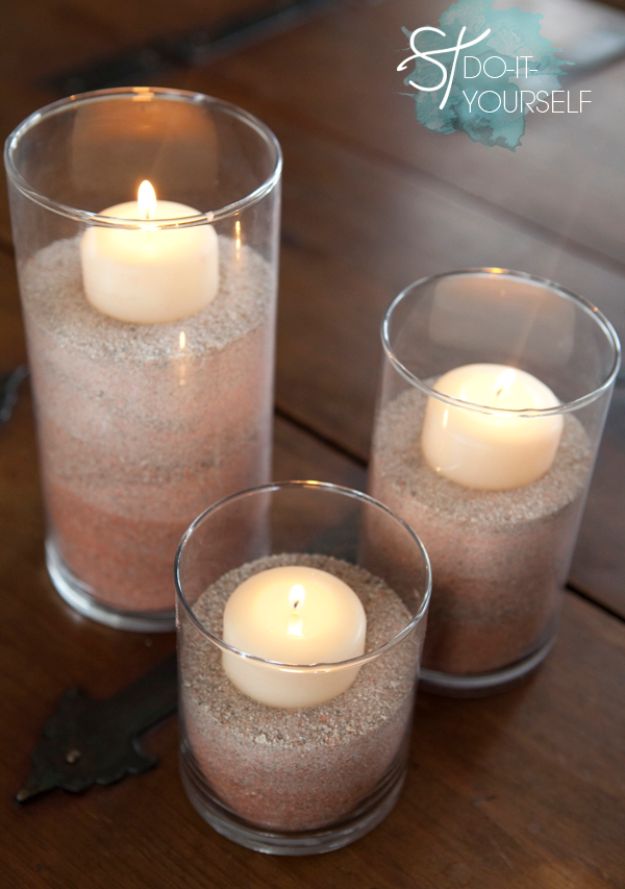 19. Upside Down Wine Glass Wedding Centerpiece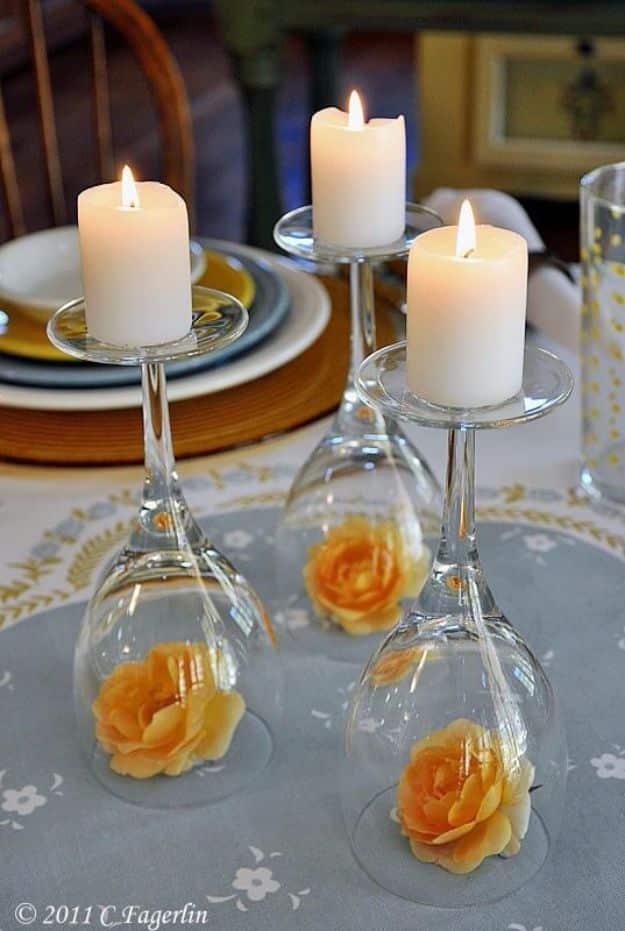 20. Submerged Flower Centerpiece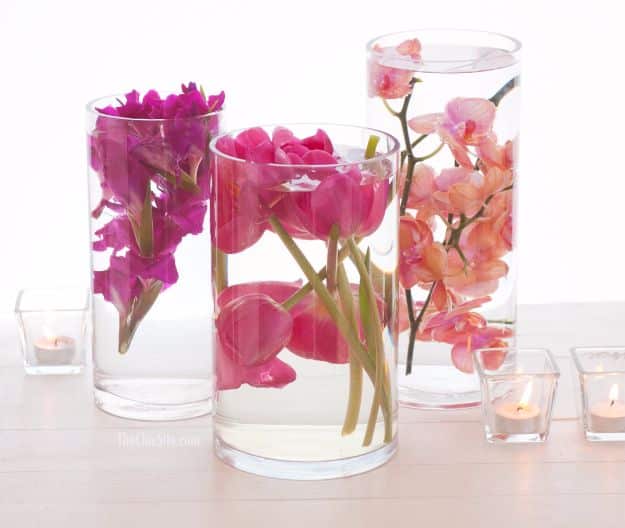 21. Tulips In Glass Vases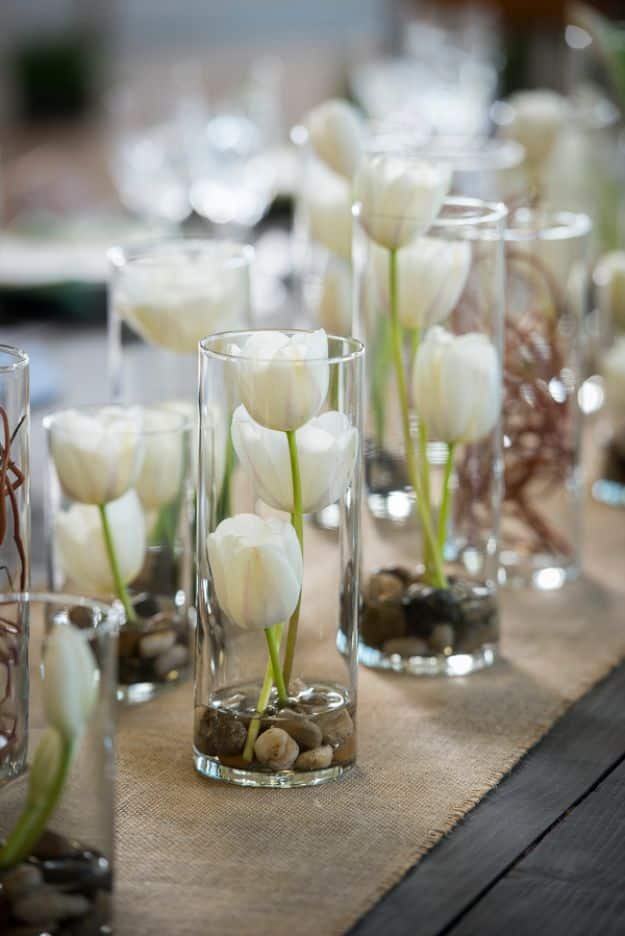 22. DIY Nautical Wedding Centerpiece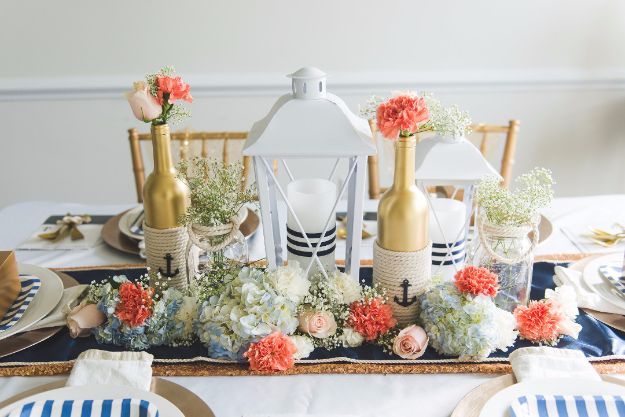 23. DIY Nautical Rope Vase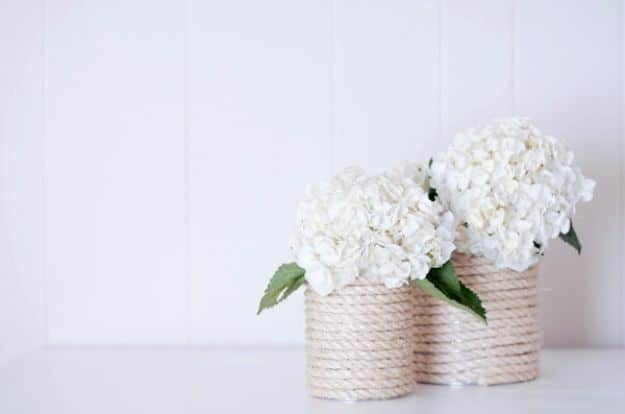 24. DIY Flower And Sand Wedding Centerpiece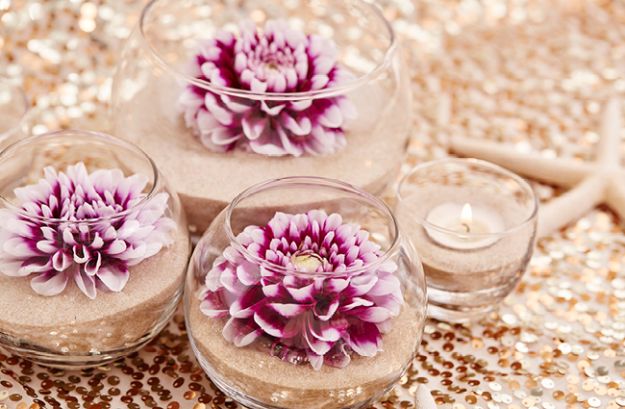 25. Crystals And Chains Centerpiece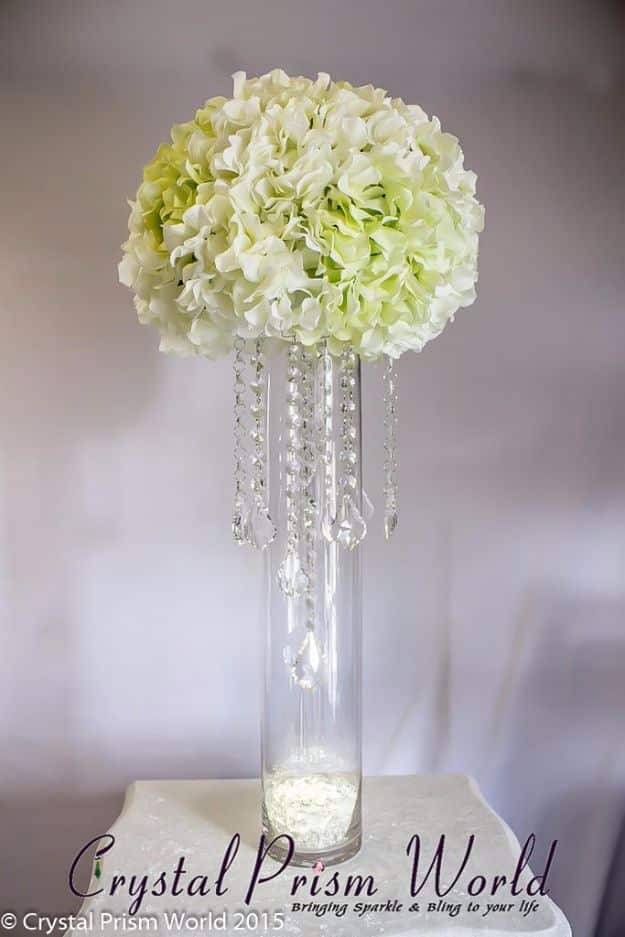 26. DIY Lace Votives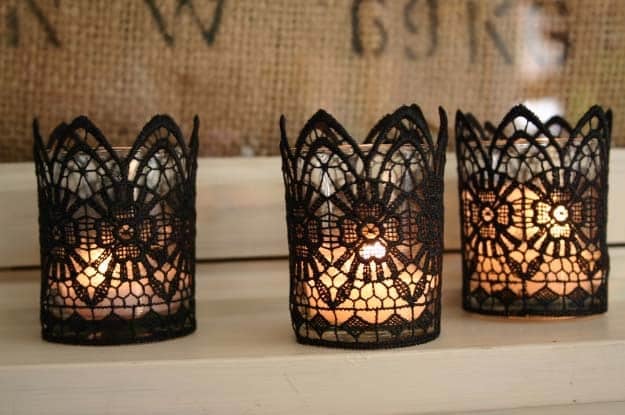 27. Glass Bead Vase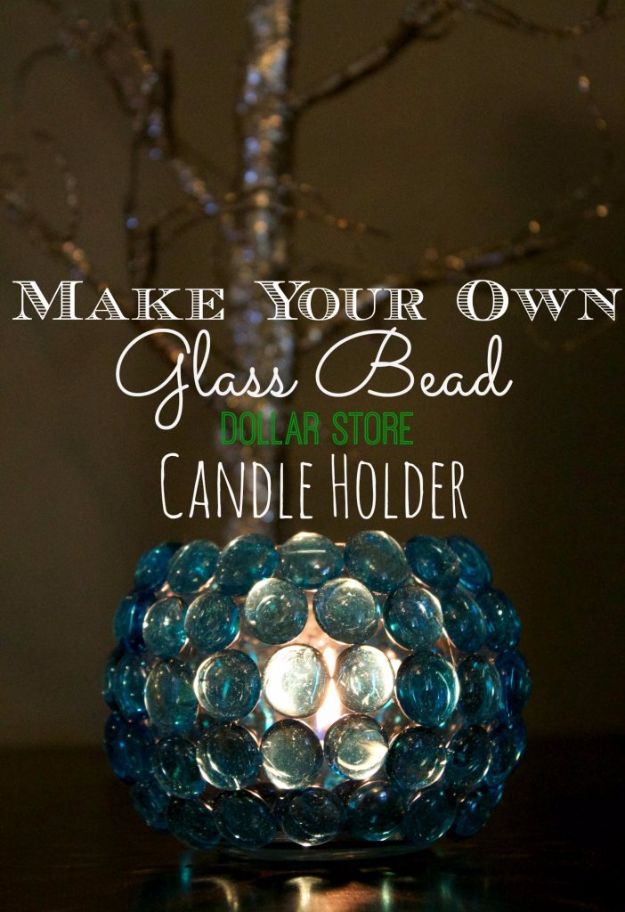 28. Baby's Breath Centerpiece

29. DIY Bed Of Roses Floating Candle Centerpiece

30. Table Number Centerpiece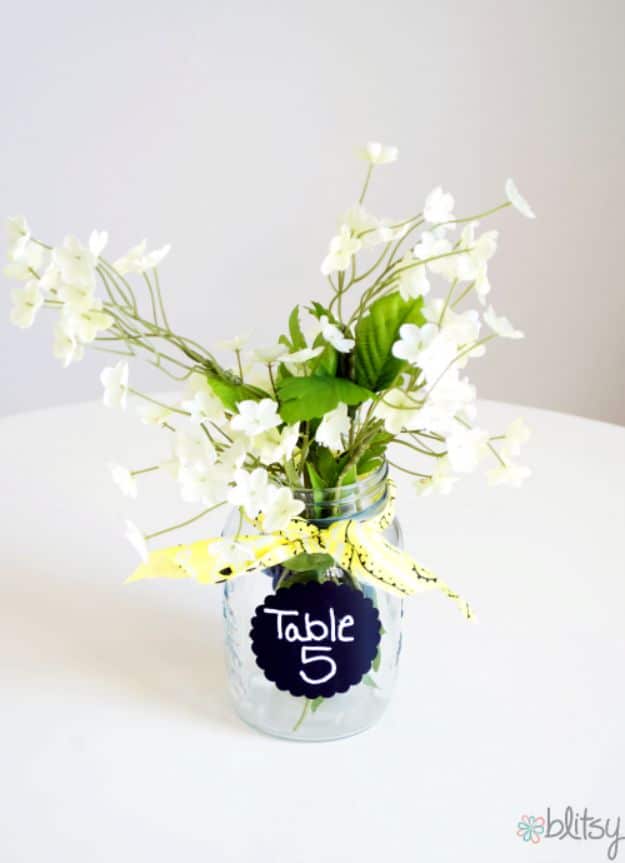 31. Rustic Blue Mason Jar Wedding Centerpiece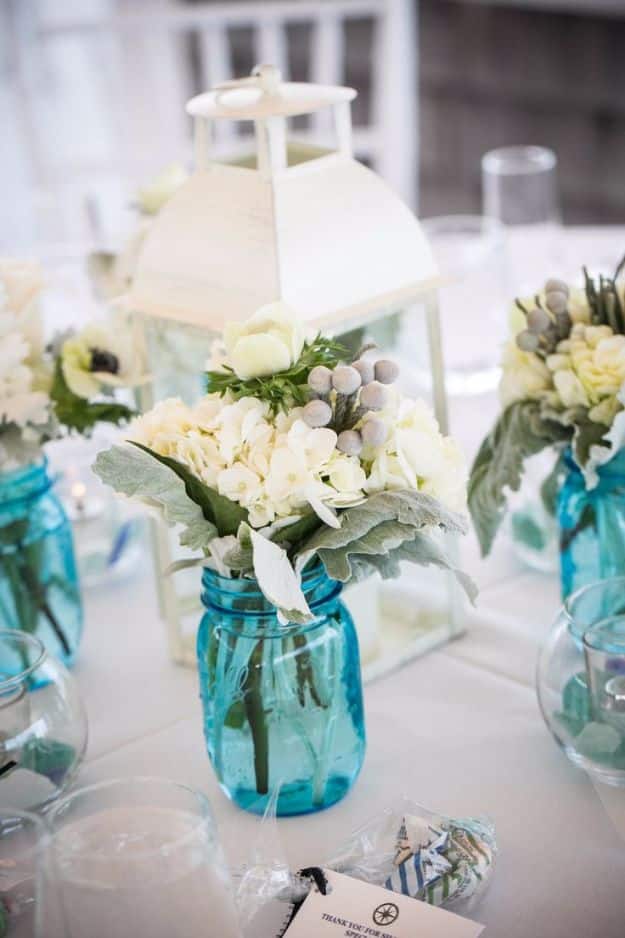 32. Rustic Glam Wedding Centerpiece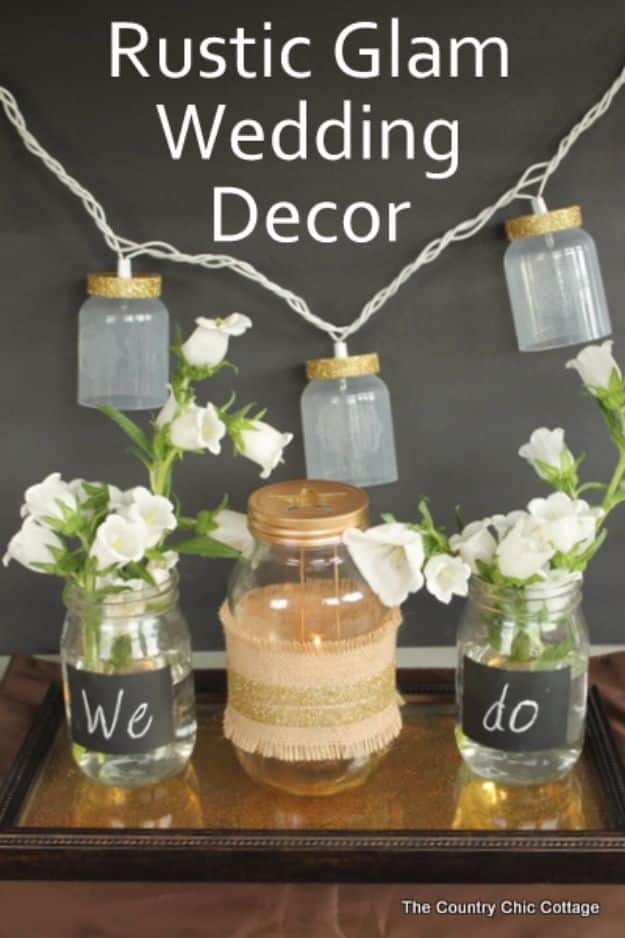 33. Pomander Flower Ball