Excited about getting married but starting to get a little bit worried about the budget now that you have realized how much it costs to plan that wedding of your dreams? My daughter just got married, and we thought that since vintage, rustic decor was in, that it would be a low-cost thing. Turns out, no matter what you choose for decor, unless you do it yourself, you are pretty much in for sticker shock and a huge bill. We quickly went looking for some budget-friendly and cheap versions of the things my caterer and wedding planner were suggesting we use, and were we ever happy to find some of these on Pinterest. From centerpieces to place cards to guest book ideas and even flowers, we found a little bit of everything and ended up making over half of the decor ourselves. With enough time, we could have done all of it! I wish you could have been there, the entire event was amazing because the decor was so creative. Make your wedding day spectacular by making your own DIY wedding decor and even save money by doing it. Everything from mason jars to floating candles to cool ideas for displaying photos, we have lots of creatively crafty ideas here. Check out these tutorials from our favorite DIY bloggers and create the wedding of your dreams.
DIY Wedding Decor Ideas
1. Embellished Mason Jar Vase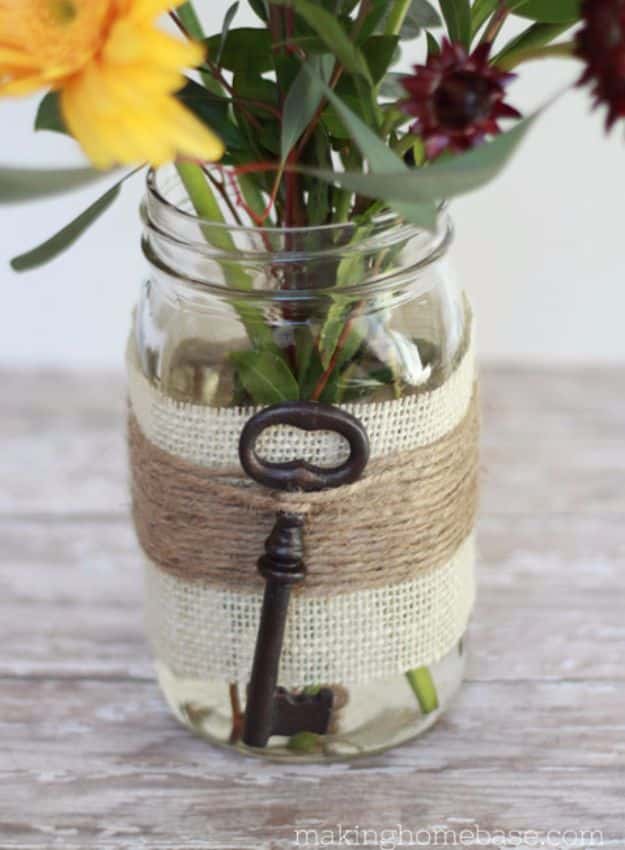 For DIY wedding ideas that get noticed, add this burlap wrapped mason jar vase to the mix. A perfect way to creatively decorate the tables at your wedding reception on a budget, this DIY mason jar craft makes a cheap centerpiece idea for the bride on a budget. Recruit some friends to help you make these and make a party of it. We kept a few ofn these from my best friend's wedding and still use them on the patio tables when we have cookouts. A nice reminder from one of the most beautiful ceremonies I've been to lately, as it was all done with DIY wedding decor.
2. Cascading Chandelier Flower Garland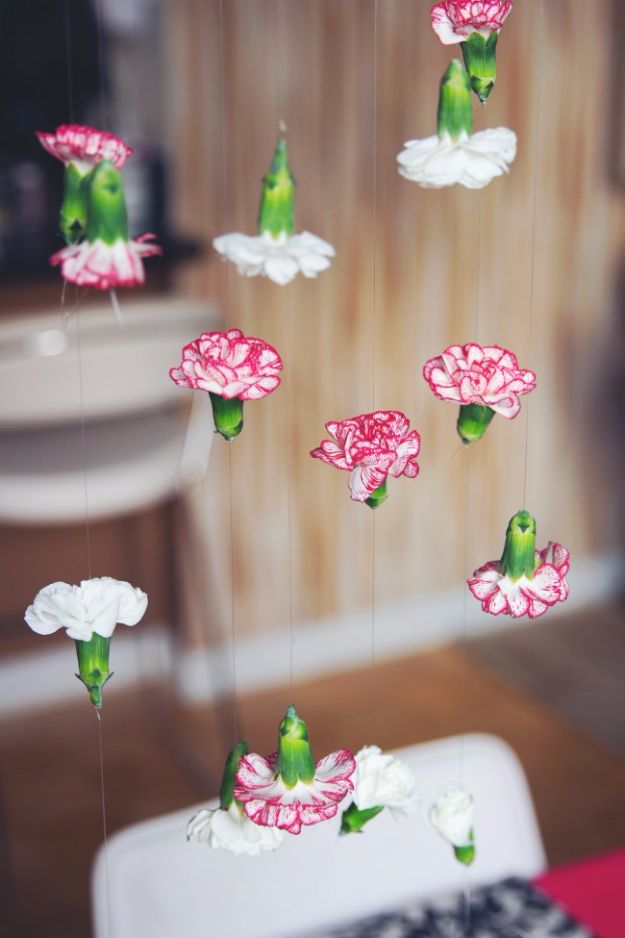 Floating flowers like this cascading garland add a romantic touch to any wedding, and this DIY wedding decor idea is not one you will see everywhere. Easy to make with carnations or other flowers, you can get the look of a designer florist while still being mindful of your budget. For DIY wedding flowers that look amazing in photos, on Instagram and just in general, try making these for your reception or wedding service. Recently, I went to a wedding where my friend circled the back of the cake table, and the effect was really magical.
3. DIY Wedding Photo Backdrop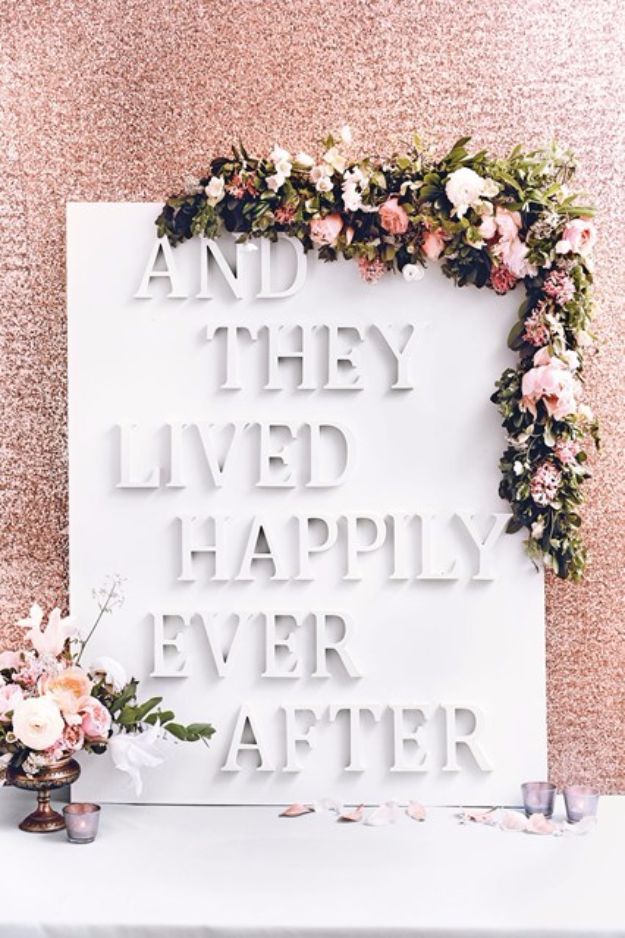 Make sure all of your wedding guests take a photo to commemorate your special day. Custom crafted homemade signs add just the right backdrop for the best Instagram photos from your wedding, a pretty place for your photographer to shoot photos of guests, and a cool sign to hang onto for many years, displayed in your home or perhaps on the back porch. My husband and I made this one together and still have it out on our covered patio. What a fun reminder of our wedding day.
4. LED Mason Jar Lights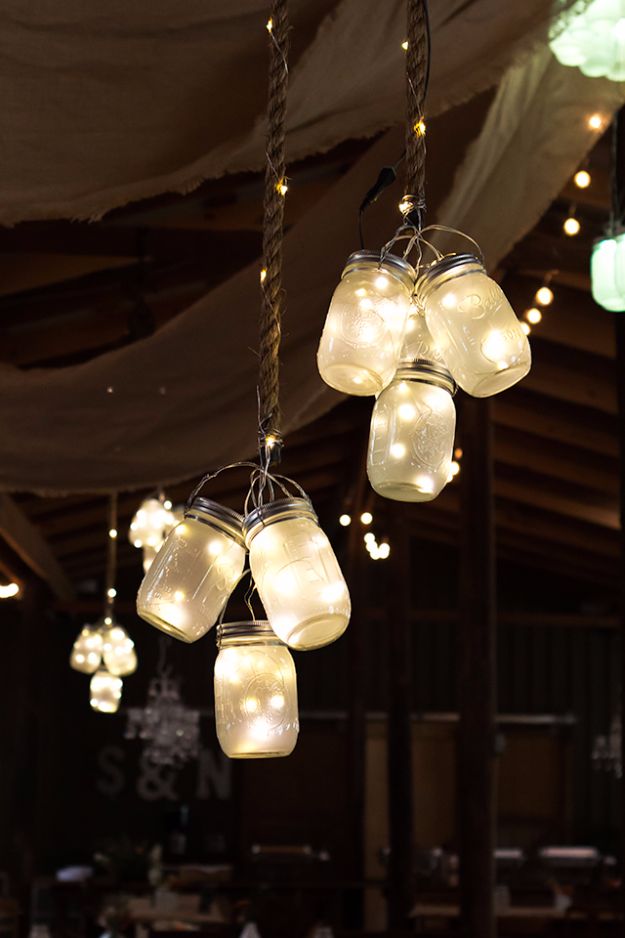 Of all the cheap DIY wedding decoration ideas I've seen, these magical mason jar lights are some of the most dreamy, romantic things I've seen. When you want to add subtle lighting to your wedding reception, these firefly mason jars made with LED string lights will light up the room over the dance floor or dining area with just the right amount of light.
5. DIY Paint Stir Stick Flower Box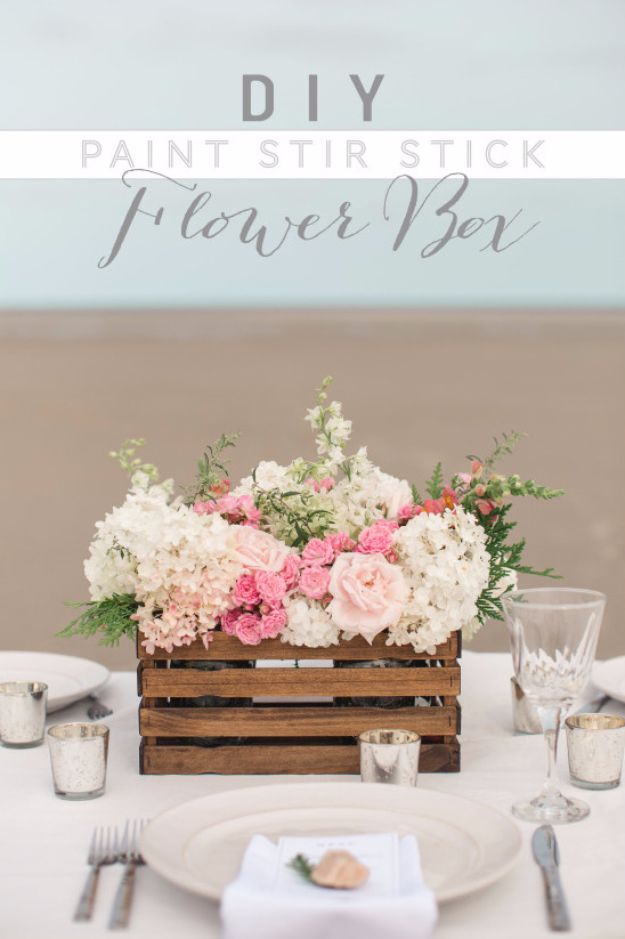 Need some vintage-inspired decor ideas for a rustic outdoor wedding? Whether you are getting married in the winter, summer, spring or fall, this paint stir stick flower wedding centerpiece belongs on your tables. Free to make, you simply need to pick up some paint stir sticks at the local hardware store and then craft these adorable boxes yourself. I like that you can make these DIY wedding centerpieces way in advance, then just add flowers in mason jars when the big day arrives. When you get married, you want everything to look perfect, even when you don't have money for the decor you see on Pinterest and in bridal magazines. When you get creative, though, you can find ways to make your wedding decor without spending money. This paint stick project is a great example of free decor ideas that look like you spent a ton of money on them.
6. DIY Chair Wedding Garland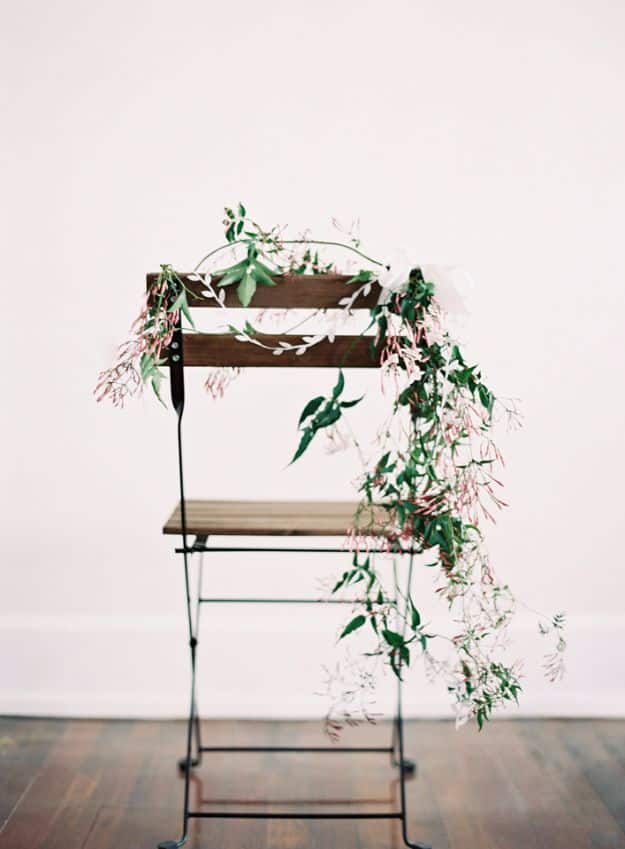 No bride on a budget should spend a third of the money she has for the wedding on flowers from a florist. Unfortunately, wedding florists just cost a crazy amount of money. Fresh flowers are not cheap to begin with, but then the arranging of them on top of that adds up really quickly. When I was planning my wedding, I ended up realiziing that I could afford only a few flowers from the florist, but I was better off making the rest, if I had them at all. I saw florals decorating the chairs in a magazine and really wanted to have this look, but the florist quoted me $1500 to decorate the chairs at the wedding with flowers. No thank you. We made these DIY garlands for the seating at the wedding and they looked fabulous. I highly recommend trying this out on a chair at home and you will see how easy it is to make these for your wedding. For another winner when it comes to cheap DIY wedding decor ideas, try this DIY flower garland.
7. DIY Tissue Paper Flowers

Learn how to make paper wedding flowers with this easy tissue paper garland tutorial. Match the paper flowers to your wedding colors for an effect that guests love, and these decorations look amazing in photos. Your photographer will thank you for making their job all the easier when you provide DIY decor ideas like this backdrop of hanging tissue paper flowers. You can also make the round tissue paper flowers for wedding centerpieces. Make both for enchanting wedding decor that looks like you paid an expensive wedding stylist to create it.
8. Custom Monogram Letter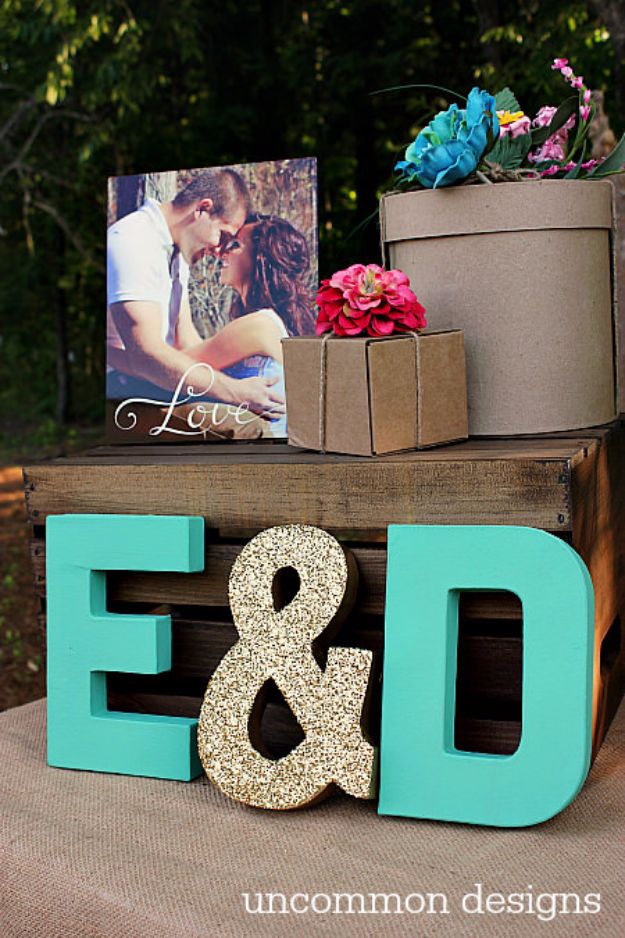 9. Greenery Table Garland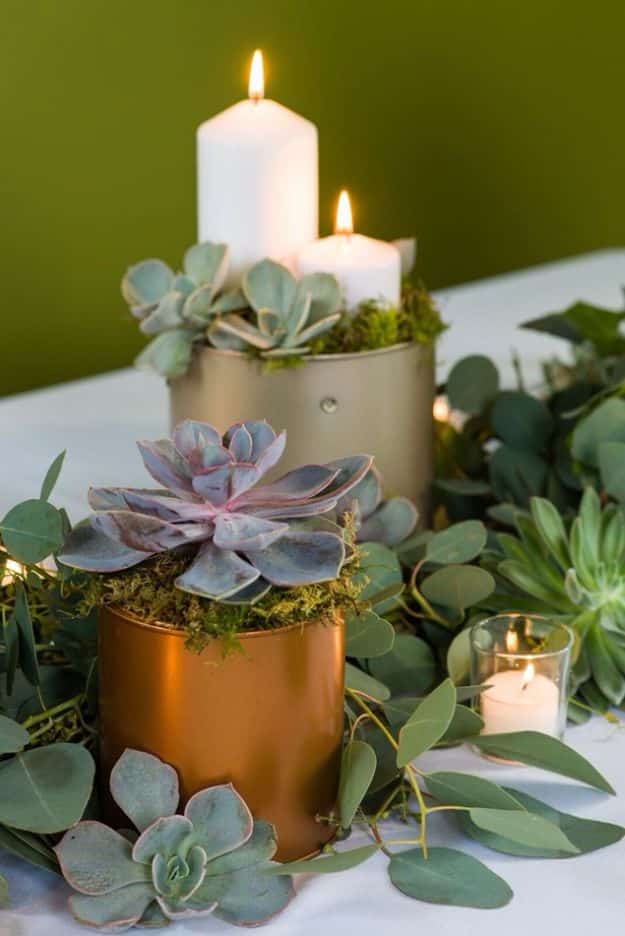 10. Burlap And Paper Wedding Banners