Need some cheap and easy ideas for decorating your blank walls? Think simple and quick DIY wall art and canvas painting ideas, then check out these 36 awesome ideas to learn how. From artistic modern canvases to rustic chic looks for your vintage farmhouse style, you are sure to find one or more cool projects to add to your weekend "to make" list. Don't worry if you are not Bob Ross or Picasso, no special artistic talent is required for most of these, so even beginners can pull off impressively beautiful creations, ones you will be proud to sign your name to and proudly tell people you made them.
Some of these easy canvas paintings can be done in under an hour, and many of them are cheap, too. Having no time or no money as an excuse simply will not do. Check out the easy to follow step by step tutorials with instructions and photos to learn exactly how to make these cool artwork ideas for your walls. Decorate your bedroom, living room, bathroom, kitchen, all those blank walls in your house that have been begging you to add some artistic flair to them.
Cool and Easy Canvas Painting Ideas
1. DIY Canvas Painting Anyone Can Make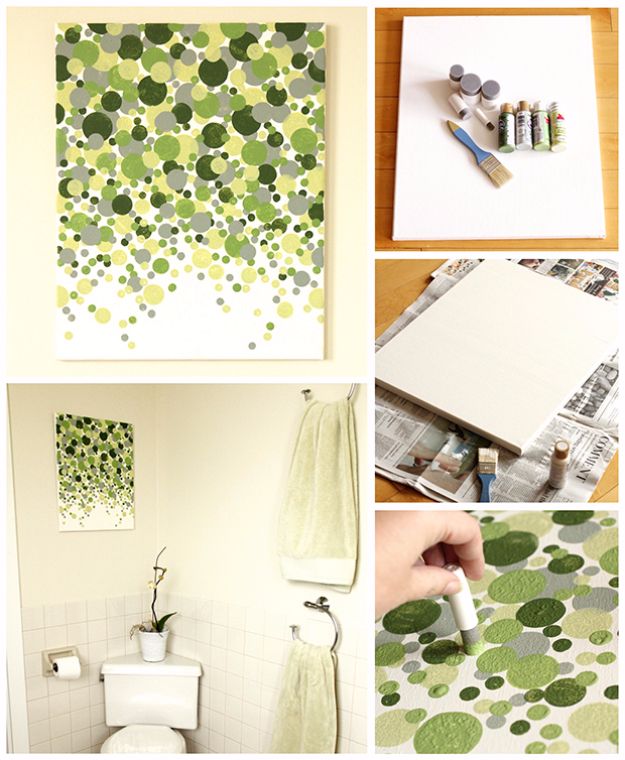 I love this geometric dot wall art, as it fits in just about any room in the house. Created with large and small dots in the colors of your choice, this DIY wall art idea is sure to match your decor. Make it with a few friends and have a party. No artistic talent required, so beginners are welcome. For easy painting ideas that don't require previous art training, make this cool canvas art idea for your bathroom, bedroom, kitchen or living room. Make a set to hang over your bed, even. Match your decor with complimentary colors. No one will ever know you did not spend tons of money on these.
2. Easy DIY Art Idea For Your Room – Hi

Cute, right? Make a statement with this cute and easy canvas painting idea. Paint the word hi or your favorite word over and over. They are sure not to miss the message. I think this is a cute Valentine's Day gift idea with the word "love" or something for Mom. Speaking of, the word "mom" would be cute for Mother's Day. If you need a cute DIY gift idea, we think this is it. Of all the cool painting ideas I've seen this year, this one is probably my favorite.
3. Canvas Painting With Abstract Flowers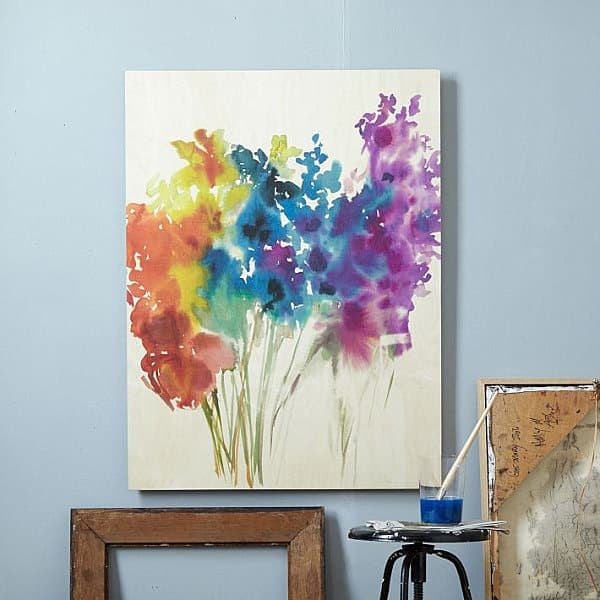 Colorful, pretty, easy and inexpensive, how could you not love this creative canvas painting project. Perfect for your apartment, dorm room, bedroom or hall, these pretty painted flowers melt into one another in the most dreamy fashion. If you love florals and abstracts, here is your weekend DIY project.
4. Song Lyric Wall Art Idea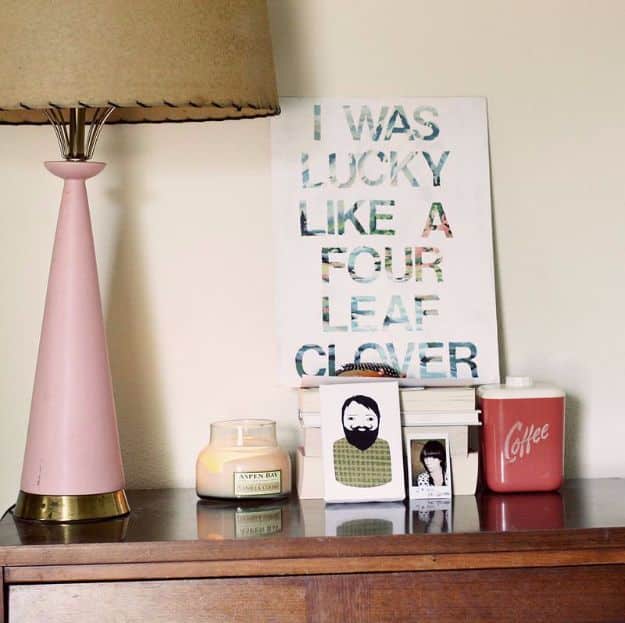 Music lyrics make some of the coolest wall art around, or at least we think so. Fortunately, our friends at A Beautiful Mess think so, too. Paint your favorite words and song lyrics using this cool step by step tutorial and how to. Make a few for Christmas gifts using the words of their favorite songs. You will be amazing how much people love these and think this is probably one of the best inexpensvie homemade holiday gifts you could make. This canvas can hang against a wall or sit tabletop. Makes a cute display on the bookshelf, too.
5. DIY Beach Scene – Easy Painting Idea

When I went looking for easy canvas painting ideas and saw this cool DIY beach painting, I knew it belonged on my living room wall above the couch. Born near the ocean, I've grown up around the water and just the sight of it pleases me and gives me this calm, happy feeling. It looks like an expert painted it, but I can assure you this cool canvas painting tutorial works for beginners.
I bought a set of canvases on sale at Michaels crafts, so this was super inexpensive to make, too. Create an ocean for your walls with this quick and easy wall art idea.
6. Acrylic Birch Tree Canvas Painting DIY

One of my favorite DIY canvas painting ideas ever, this do it yourself wall art is so much fun to make, you are going to want to make more than one. A fun project to make alone or with a friend or two, my boyfriend and I created one of these cool canvas paintings for our living room. People talk about it every time we have guests, the initials in the tree could not be any cuter. No special artistic talent required, and you will get what you see in this step by step tutorial. I love this acrylic painting tutorial, it makes a difficult looking piece of art totally doable.
Acrylic Painting Projects
7. DIY Herringbone Canvas Art

Here's a painting idea for easy wall decor that is fun to make and looks great, even if you don't have any artistic talent. Avoid another Pinterest fail with this simple painting idea for adults or even kids to help make. Complete with step by step tutorial and instructions, what you see is what you get. When it comes to simple wall art ideas you can paint yourself, this one is fast, pretty and very cool. The geometric, bold designs and textures will probably never get old. Learn how to paint one for your room today!
8. DIY Abstract Heart Painting

9. 15 Minute DIY Ocean Painting

For quick wall art ideas to cover your blank walls or to make a last-minute DIY gift idea that looks like you spent a long time making, try this pretty beach painting tutorial that you really can paint in yes – 15 minutes! So easy and definitely one of my favorite easy canvas painting ideas.
10. Quote Canvas Art

What inspires you? Sometimes I need to be reminded why I am doing what I do and what I love. This simple DIY wall art idea with a quote is pretty and a happy reminder, too. This is colorful, easy to make art that looks very professional. If you need some DIY Christmas gift ideas to make, this could go on your list.
11. DIY Mandala Painting

I love mandalas, they are always captivating, calming and just pretty to look at. Here is a creative way to decorate your room with this DIY mandala art. The tutorial and video show you how to make it. Learning how to paint and make art isn't hard, you just have to see how it's done first.
Check out all of these DIY canvas ideas on YouTube.
Then, come back to visit out favorite DIY blogs to see the complete step by step tutorials.