When it comes to birthdays, do you think the card matters as much as the gift? We do, and never want to be without the perfect handmade birthday card with a personal message. DIY birthday cards are one of the things people often keep longer than the gift, so we always want to make sure to give cards that are extra special and thoughtful. What better way to get a card like this than to make one? Well, this was my thought, anyway. However, when I went looking on Google and Pinterest for handmade DIY birthday card ideas, I did not find exactly what I was looking for. There were lots of free printables from big sites like Greeting Island, Blue Mountain, and even American Greetings, but those lacked the homemade touch I was going for. See, I make lots of my gifts, so adding a cheap-looking printed card just won't do. I was looking for inspiration and step by step tutorials for cute cards to make at home, ones I could be proud of. After the free cards, I came across more tutorials than I could count from sites trying to sell me scrapbook supplies and die-cut templates. I understand you have to make money, DIY people, but please, don't try to sell me stuff to make a simple greeting card, or at least show me I can make one without it. Not nice when you just want some birthday cards you can actually make! I was not looking for some frilly thing that came off looking like a scrapbook, anyway, thank you.

So…if you are also looking to make some cool handmade birthday cards from supplies you already have at home and want to go a step beyond the basic home printer greeting card, I put together a list of cards for you. Cute handmade cards for your husband or wife, DIY birthday cards for kids, best cards to make for adults, teens, neighbors and friends. Don't forget Mom and Dad, either, I found super thoughtful special cards for them.
Check out these 30 creative DIY cards and you will definitely want to be making several of these for your upcoming birthdays. With easy watercolor projects, cute paper cutting ideas and easy cards the kids can help make, even beginners can do to simple but artistic ideas that are also perfect for the DIY novice, anyone can make these amazing gift cards. Most of these are simple but fun and stylish with plenty of room inside to write all kinds of special things, exactly the thing I was going for in a birthday card.
DIY Birthday Cards
1. Scrapbook Birthday Card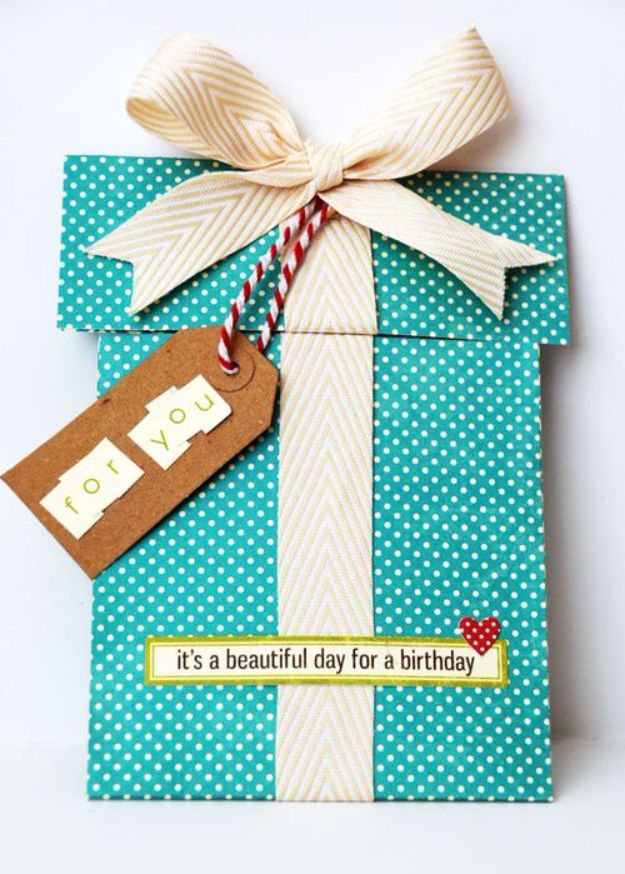 So I end of giving lots of cards each year, namely handmade DIY birthday cards, but there is one card I make that has to be the most special of all. My Mom's birthday is in the summer, and by spring, I am always on the lookout for the best birthday card to make for Mom. Usually, I look for a creative idea with lots of handmade details, one she is sure to appreciate and be able to proudly display so all her friends can see it. This adorable gift box card was my top pick to make for my mother, and it did not disappoint. I have to admit, mine actually turned out cuter than the picture. I used a plaid paper and red ribbon, and it was so colorful and cute, I wanted to keep it for myself. Say Happy Birthday to your favorite special person with this do it yourself birthday card project.
2. Free Printable Birthday Card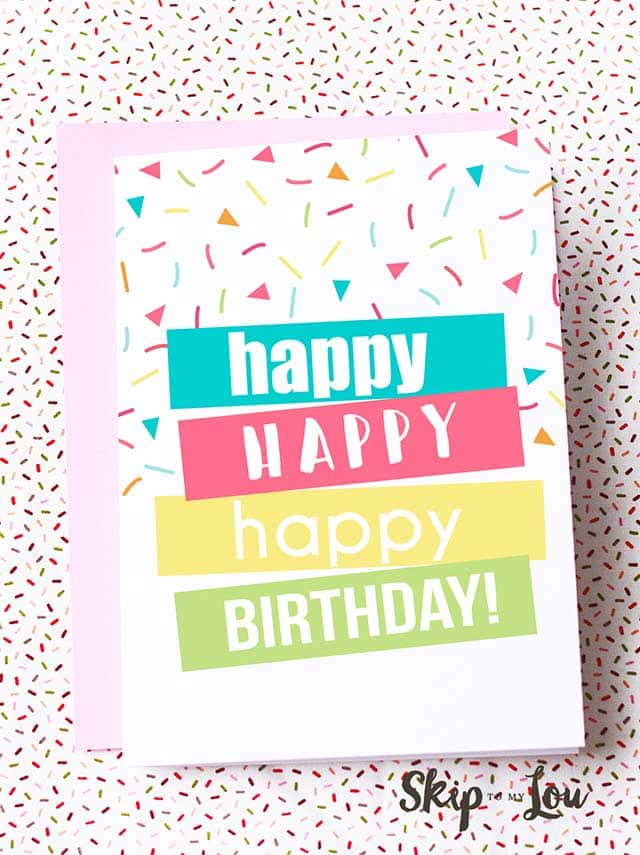 This cute free printable birthday card is adorable, and this DIY blog has several more free birthday cards to print, too. Last week, when I needed a last minute birthday card idea, I came across this site and I used this free printable to quickly make a gift card holder. I was out the door minutes later! I love this easy card idea that works for adults, kids or teens, pretty much anyone you need to give a card to. There is also a really cute unicorn birthday card, too. Don't stop at the DIY Happy Birthday cards, be sure to check out all of her cute designs and the unique washi tapes and paper she has for sale. Ready to celebrate? Don't forget about the birthday cake. We pulled together the best recipes for making a homemade birthday cake. Check out these birthday cake recipe ideas so you can make the perfect dessert for the celebration.
3. Washi Tape Birthday Card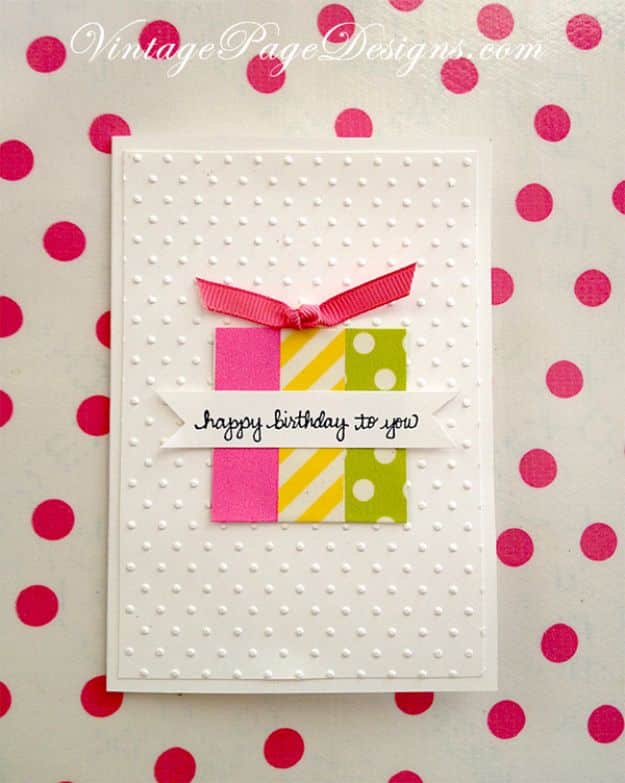 Need a quick last minute birthday card you can make at home? This is often the case around my house… I spend days crafting the perfect DIY gift idea, and then the birthday card itself end up being an afterthought. Have you ever ended up purchasing an ugly store-bought greeting card because you ran out of time to make one for that awesome handmade gift you made? I certainly have. Now, though, I just keep a few rolls of washi tape in with my wrapping paper, along with some pretty white embossed paper. I found this cute handmade birthday card idea on Pinterest, and it has become my go to. Whip one up in minutes, but no one will ever know you did not spend hours making their card.
4. Free Birthday Cards Printable Ideas for Kids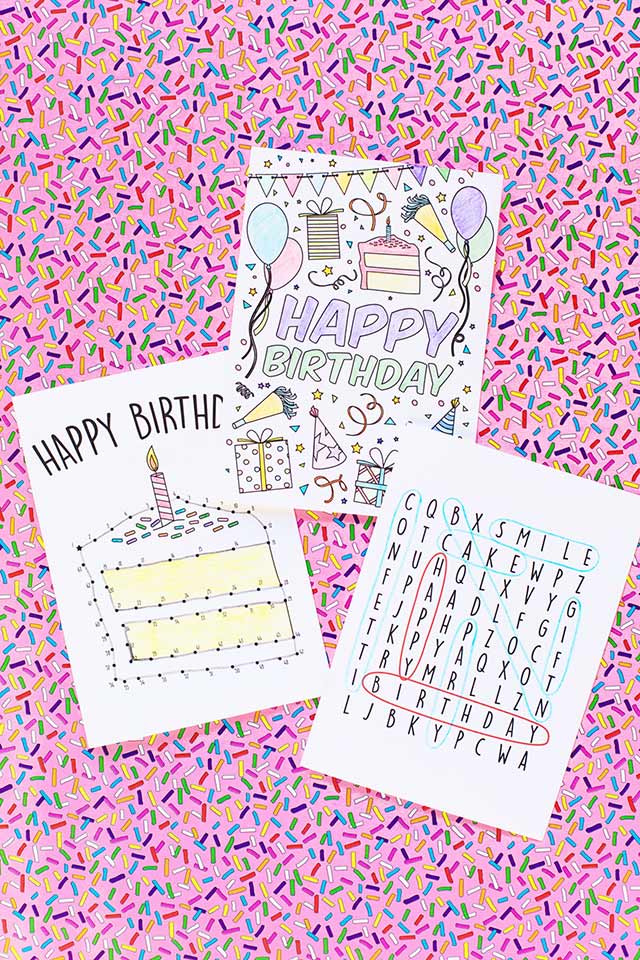 Need some easy free printable birthday cards for kids? These adorable free printables for kids by our friends at Studio DIY will not disappoint. With cute dot to dot cake, a coloring book card with all kinds of fun birthday art and my favorite, a birthday word search that is just the cutest kids birthday idea ever. Whether you need a cute card to make for girls or boys, this easy free printable birthday card is sure to bring on the big smiles. Each free birthday cards printable is super cute to make and color.
5. Rainbow Birthday Cake Card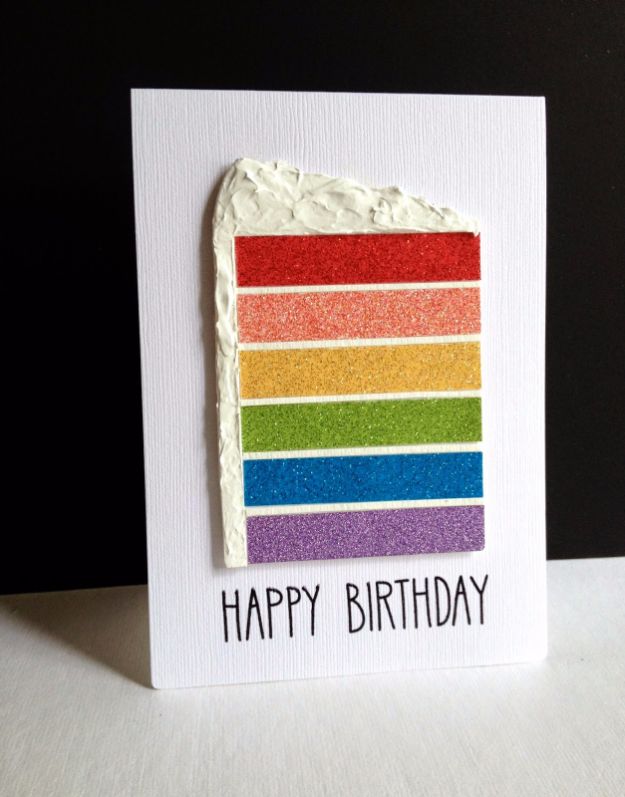 This creative, artistic card requires no previous art skills. Simply learn how to make this rainbow birthday cake card and have your gift recipient be wowed by your thoughtfulness and artistic abilities. A cute handmade card for him or her, I made one of these for my father's birthday, and he still has it on his desk almost a year later. When you need an impressive DIY birthday card idea, this crafty card is a winner. If you need a homemade birthday card idea that looks fabulous but does not take hours to make, try this fun Happy Birthday greeting.
6. Free Printable Birthday Cards for Adults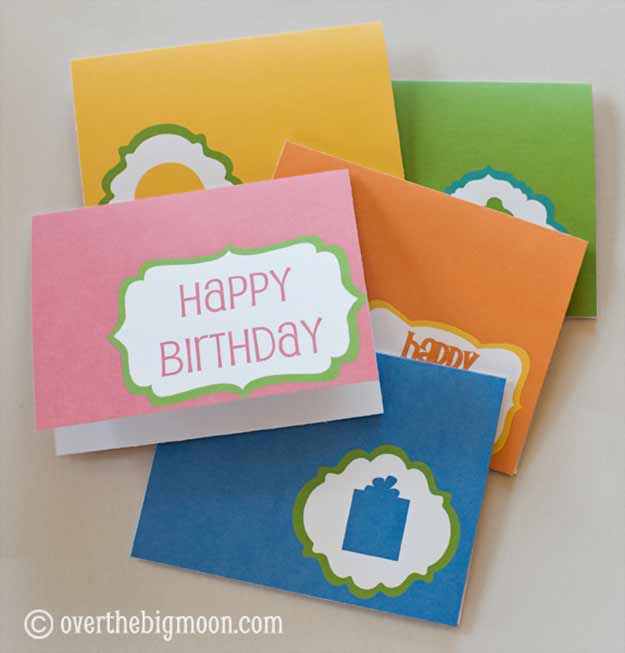 So I mentioned that I went looking for free printable birthday cards for adults and was disappointed in the selection. However, when I found these classy and cool birthday cards to print at home, I knew I was in luck. Simple and understated, while also elegant, these cards make me happy when I look at them. How about you. These are absolutely free to print on your home printer, no strings attached, no e-mail required, no supplies to buy, no nothing. I promise, I checked! Print out a slew of them and stock up, keep them with the wrapping paper. Quit paying Hallmark $5 per card when you don't have to. Pick a birthday card design for free and spend your money on that DIY birthday gift idea and things that matter.
7. DIY Pop Up Greeting Card Idea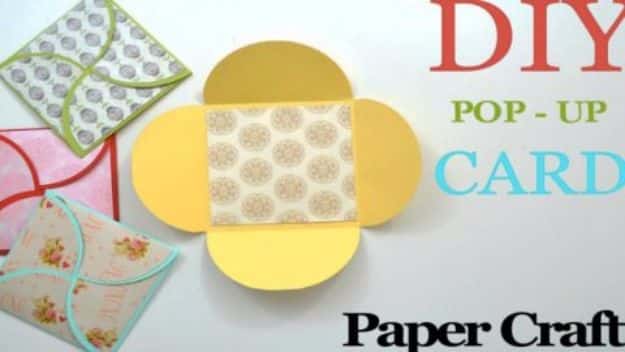 Pop up greeting card tutorials are my favorite thing in the world right now. I think I probably watched 75 Youtube birthday card making tutorials this year. So cute and fun to open over and over again, greeting card popups are the best. Blowing out the birthday candles is fun, but opening a popup card like this is also super nice. Learn how to make this awesome DIY birthday card and keep a few extras on hand for last minute DIY gift giving ideas.
8. Birthday Bunting Card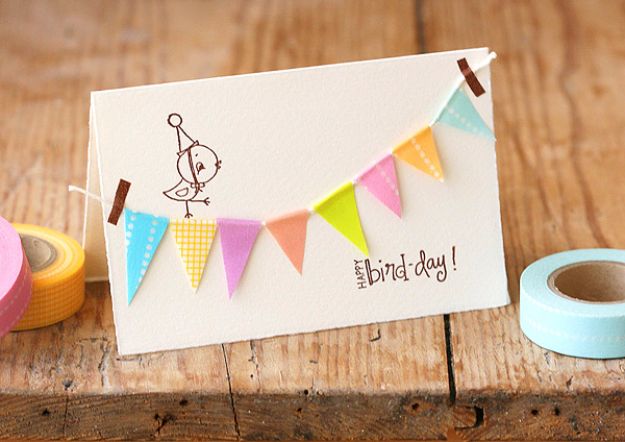 Sweet and thoughtful, this is an adorable B-day card to make for her. Whether you need an easy birthday card to make for your wife, sister, mom or BFF. With a cute homespun banner made from string and craft paper or fabric, this card is sure to be proudly displayed. Write a custom message inside and help make your favorite person's birthday extra special.
9. Simple Birthday Cards With Washi Tape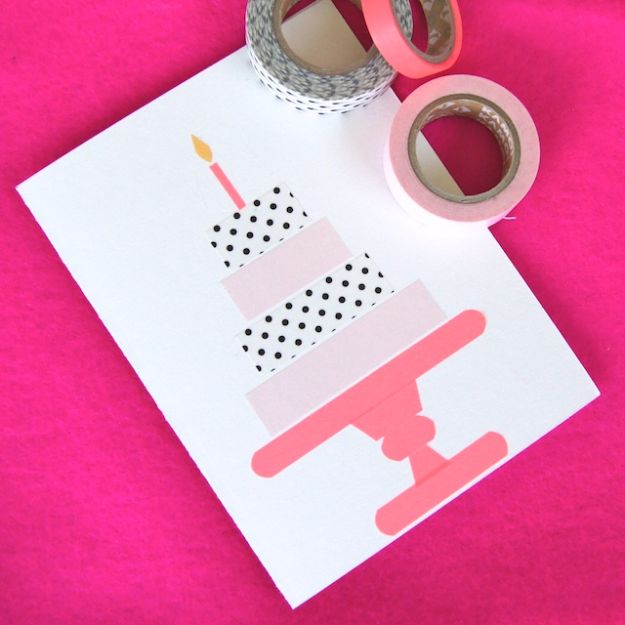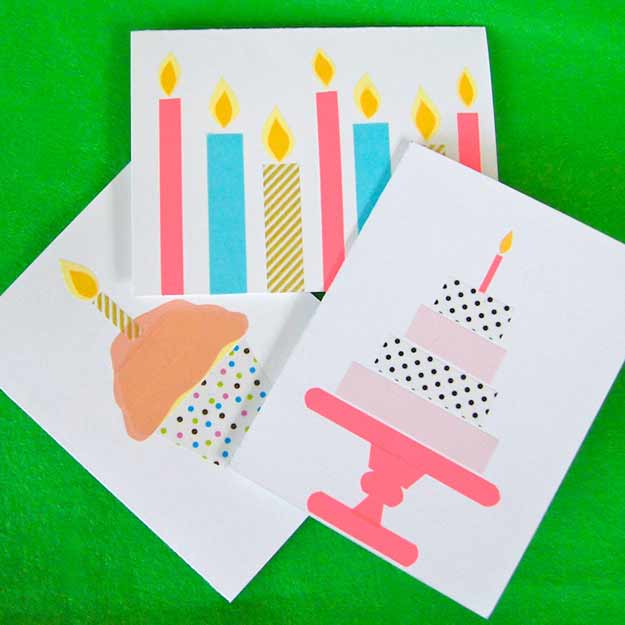 The designs from Omiyage are always some of my favorites, simple but stylish statements. By no surprise, these cute washi tape birthday cards were created by a designer, but are free as your inspiration. She has lots of cute birthday card ideas with washit tape that are simple to recreate at home and also lots of other fun things to look at. Paper crafts and washi tape crafts are her specialty, so if you have a little extra free time, be sure to poke around her site for more cool easy DIY ideas.
10. DIY Birthday Bear Card

Want to make a cute card for kids, that special boy or girl you know. Whether you need a card for your son or daughter, niece, nephew or friend's child, this adorable bear is sure to make them grin. With an easy to follow step by step tutorial, you are sure to end up with a cute bear of your own that looks just like this. I had my other kids help make this for their brother, and all of us just love looking at it in the kitchen. Color and decorate him with personalized messages and wish that special kid a Happy Birthday.
After you check out the homemade Happy Birthday cards, if you still need some cool ideas for DIY gifts we have lots here. We have awesome DIY Gifts for Dad, super thoughtful sure to be appreciated DIY Gifts for Mom, easy and inexpensive DIY Gifts for Friends and Neighbors, Gifts in a Jar for the mason jar lovers and then my favorite, easy but quick last minute gifts to make for Christmas but also birthdays and other special occasions. We also love cake, so if you need some of the best homemade birthday cake ideas, try these.
11. Woven Wishes Birthday Card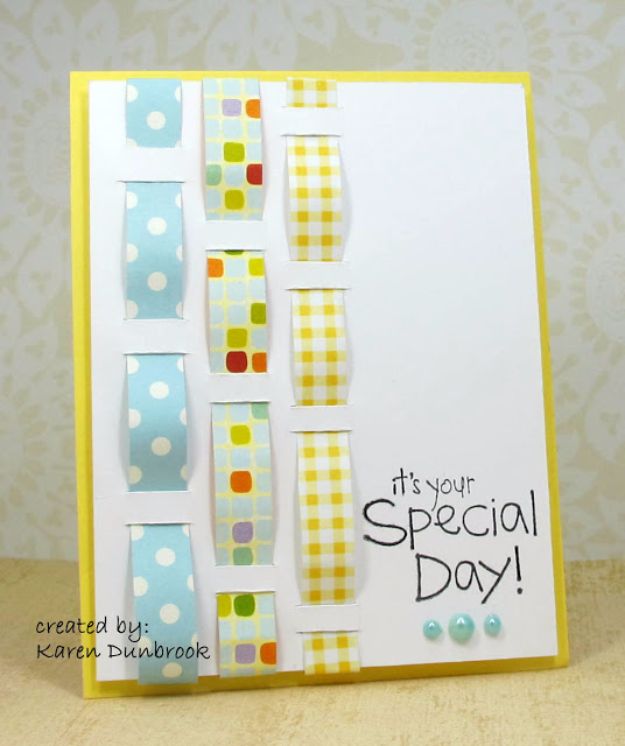 Another cute and simple washi tape birthday card to make at home, this quick DIY card project uses colorful washi tape in whatever colors you have on hand, then pasted to cardstock so you can weave it through you greeting card. Write a special message and embellish with pretty craft notions, if you like. Pearls, buttons, glitter dots, rhinestones, you name it. Time to get crafty here. Another great project when you need homemade gift card ideas at the last minute. Inexpensvie but adorable, we just love this card.
12. Make A Simple Birthday Card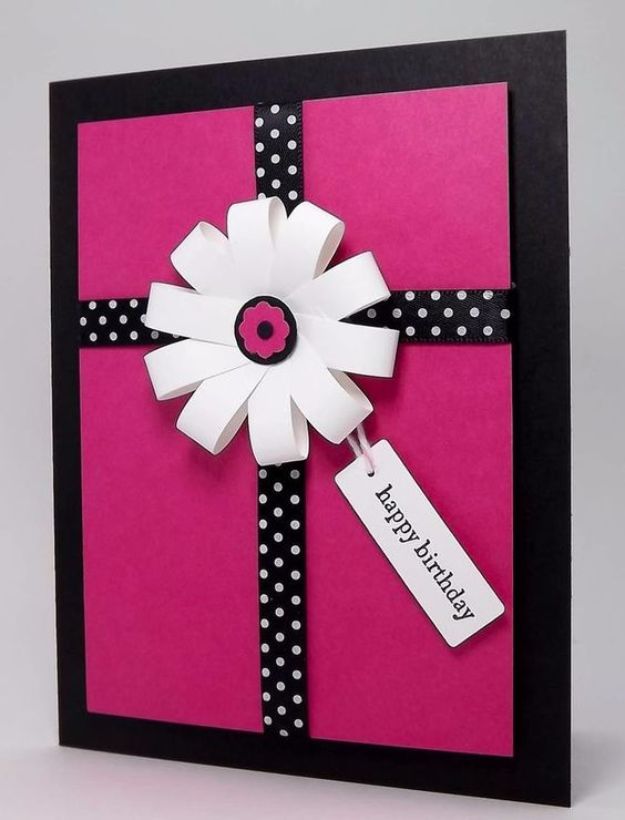 This tutorial shows you how to make a simple birthday card from scratch. It is pretty basic, but includes adding important elements to the card like thoughtful messages and words, personalized greetings and even photos. Add your own creative elements to create a homemade birthday card that screams "I made this just for you because you are special to me." Don't leave any doubt in their minds how much they mean to you. Make a card like this to show them.
13. Make A Wish Birthday Card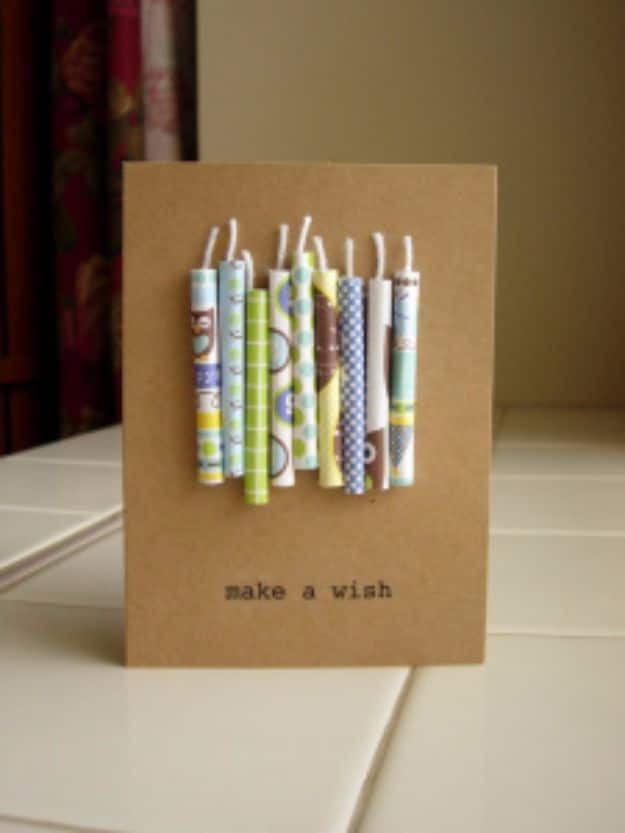 Blow out the candles and make a wish. When there is no birthday cake around, or even when there is, this cute handmade birthday card holds it own. Made from real birthday cake candles covered in rolled wrapping paper, it is simple but super special. Another card that is easy to make at the last minute, you can create these quickly for those last minute gifts.
14. Adding The Age Birthday Card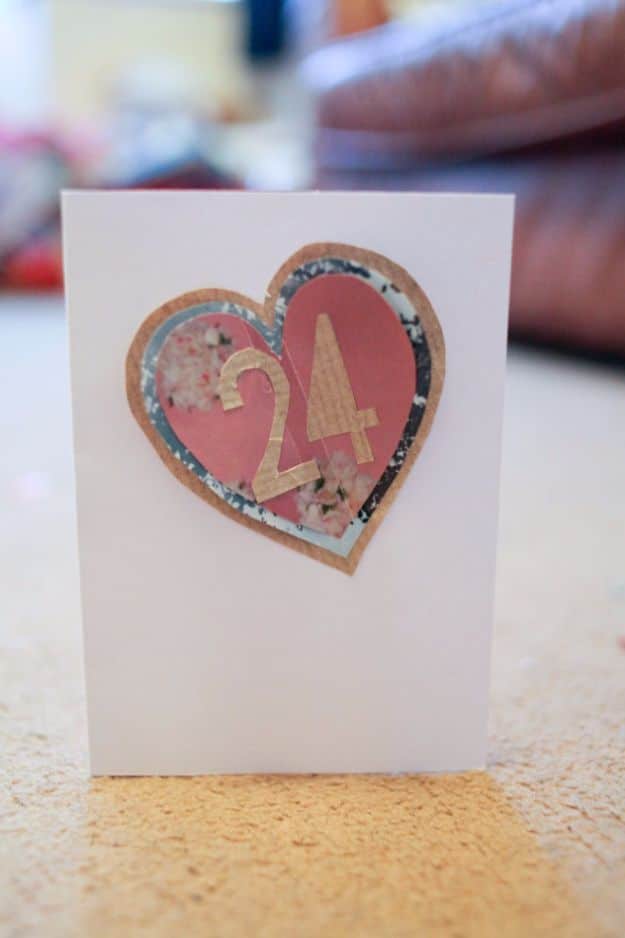 Wrapping paper, scissors and perhaps some other pretty paper will be all you need to create this custom, personalized birthday card with the number of years on it. Make yours in the favorite colors and papers and add a special personalized birthday message inside.
15. Birthday Card For Kids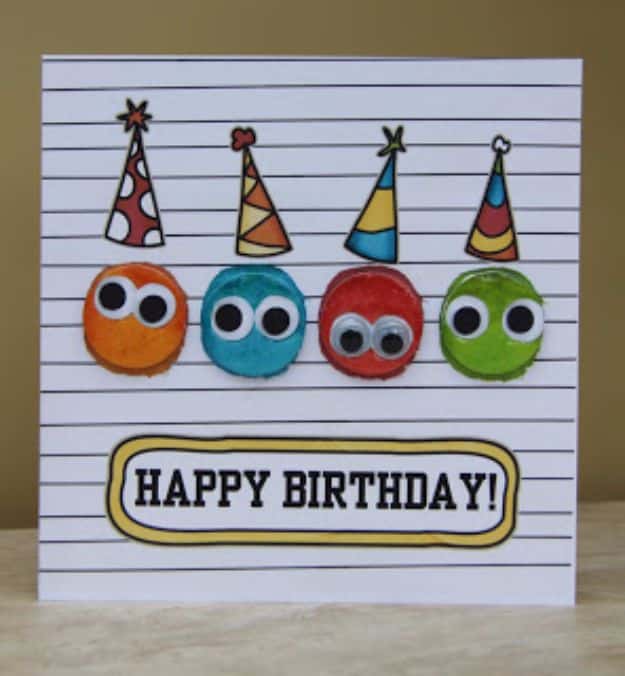 A cute homemade birthday card for kids, your little ones can help you make this one. Anything that involves gluing google eyes is always fun!
16. Easy DIY Birthday Card Using Minimal Supplies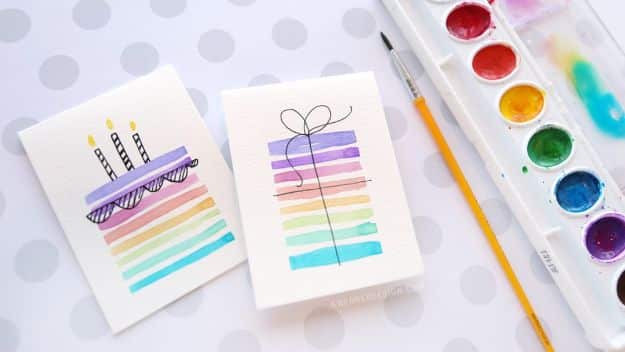 17. Easy Pop Up Birthday Card DIY

18. DIY Washi Tape Aperture Greeting Card

19. Pretty Printable Floral Greeting Cards

20. 3D Cat Card DIY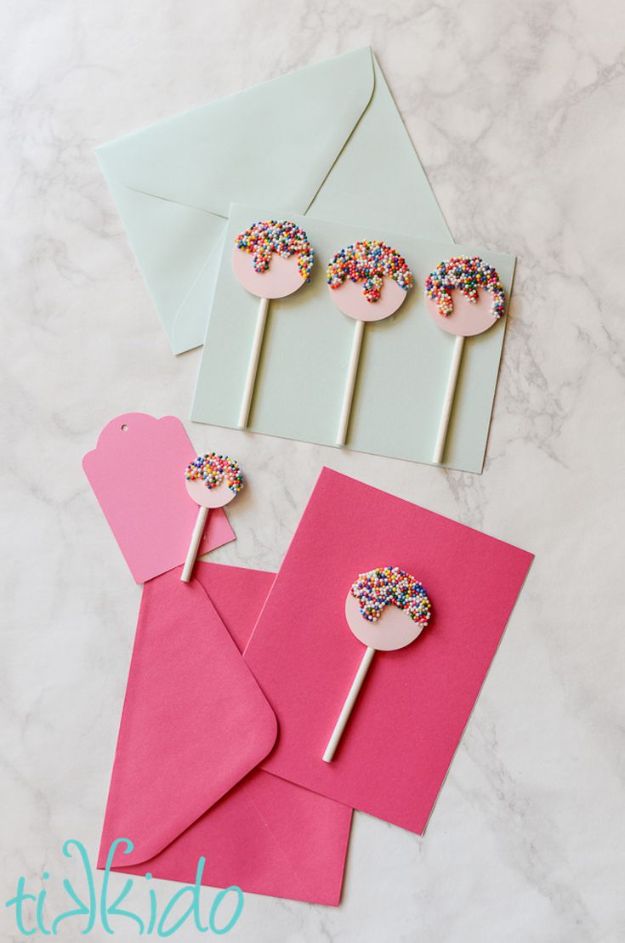 22. Letterboard DIY Birthday Cards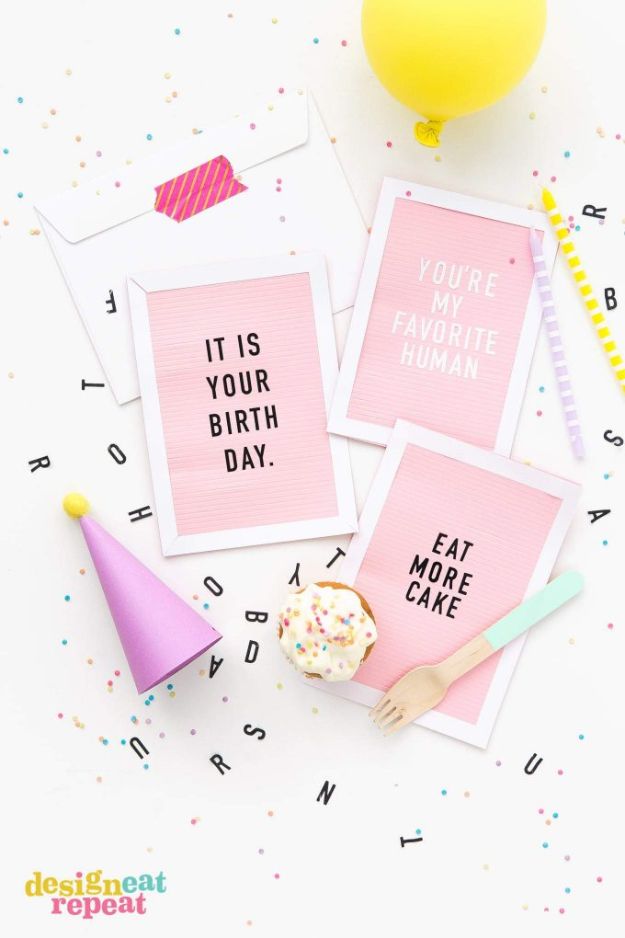 23. Pom Pom Ice Cream Birthday Cards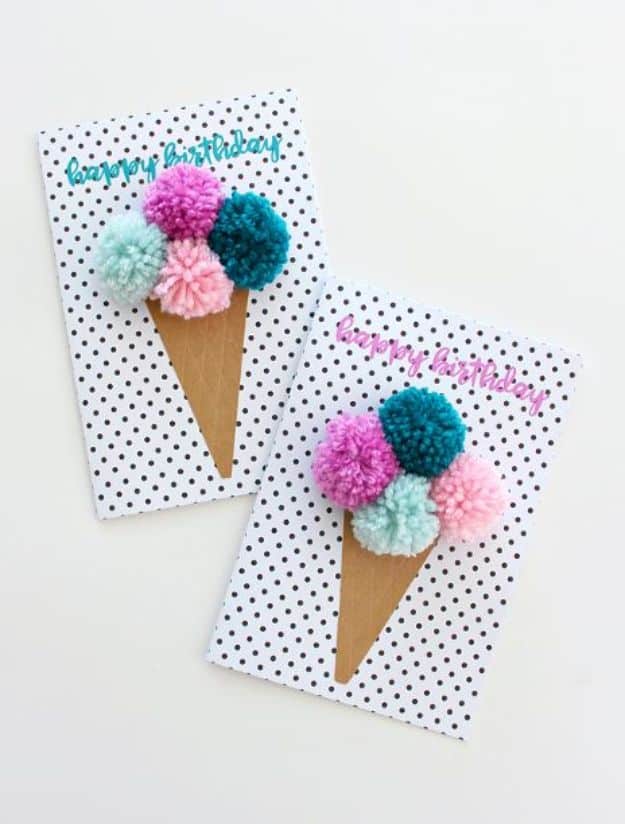 24. DIY Embroidered Card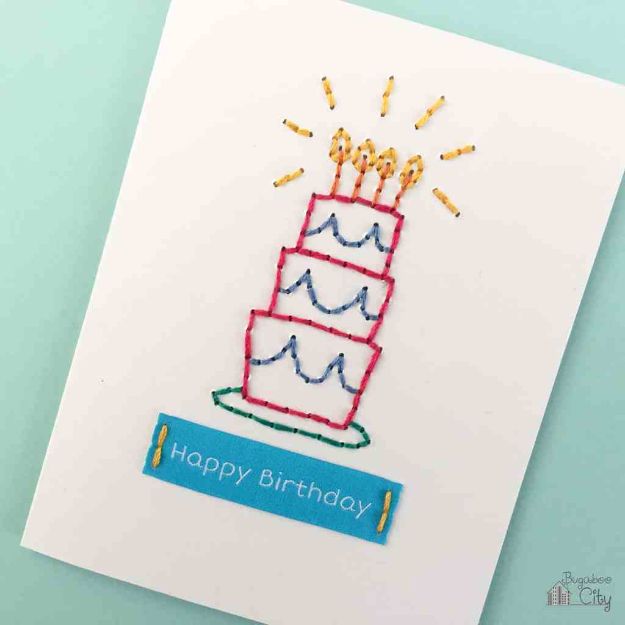 25. DIY Cute Card From Recycled Papers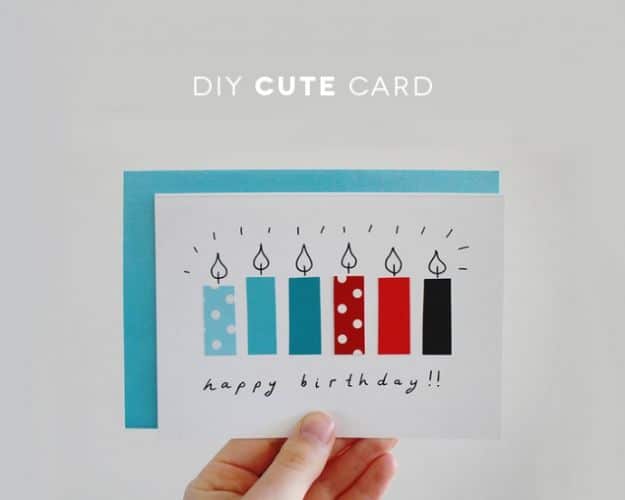 26. Dad's 80th Birthday Card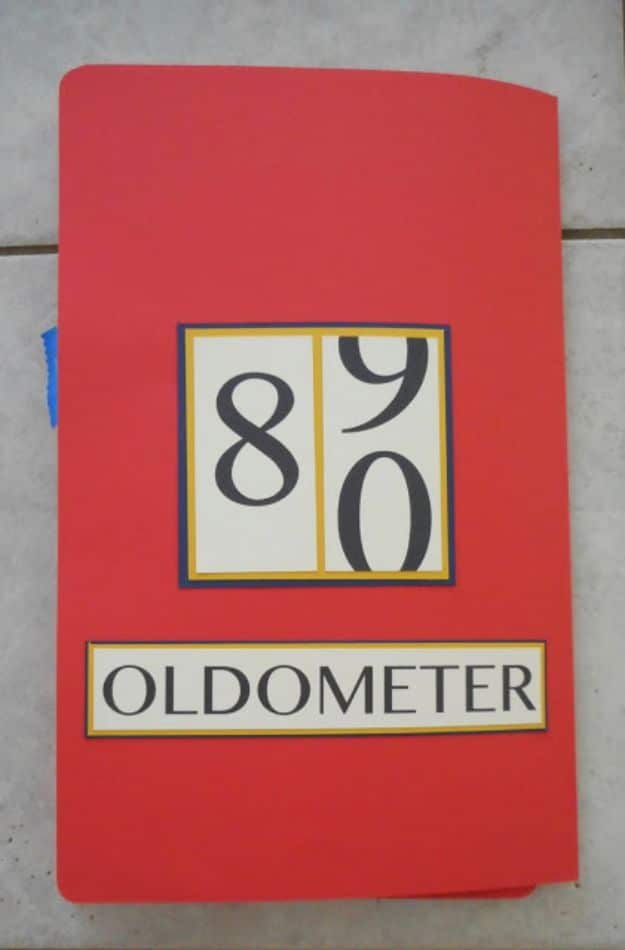 27. Leafy Homemade Birthday Card

28. Patterned Paper Banner Birthday Card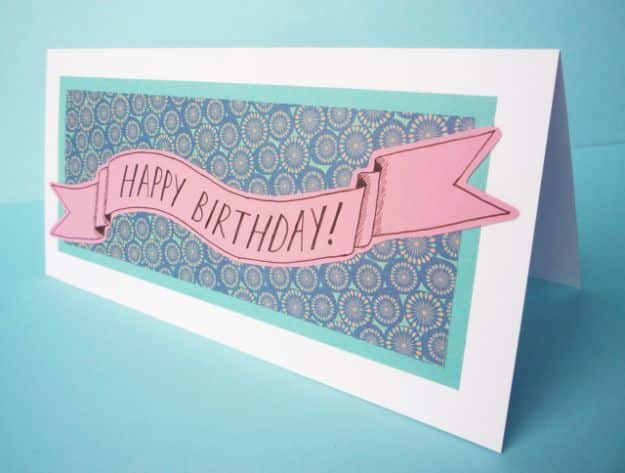 29. Birthday Card Accordion

30. Mini Birthday Album In A Box