The holidays are coming up faster than I thought they would, and my budget does not always accommodate all the people I need to give gifts to. By the time Christmas gets closer, I find myself needing to get creating with quick, easy and cheap DIY gift ideas. I probably end up making at least 20 things every year the week before Christmas, so many that my friends call me the Craft Queen. Should be last Minute Gift Queen, though. I have a secret stash of DIY ideas that I use as my go to when it comes to cute DIY gifts on a budget, 50 of them. This year, I decided to share it with all you guys so you can also share the gift-giving love.
Cheap Last Minute DIY Gifts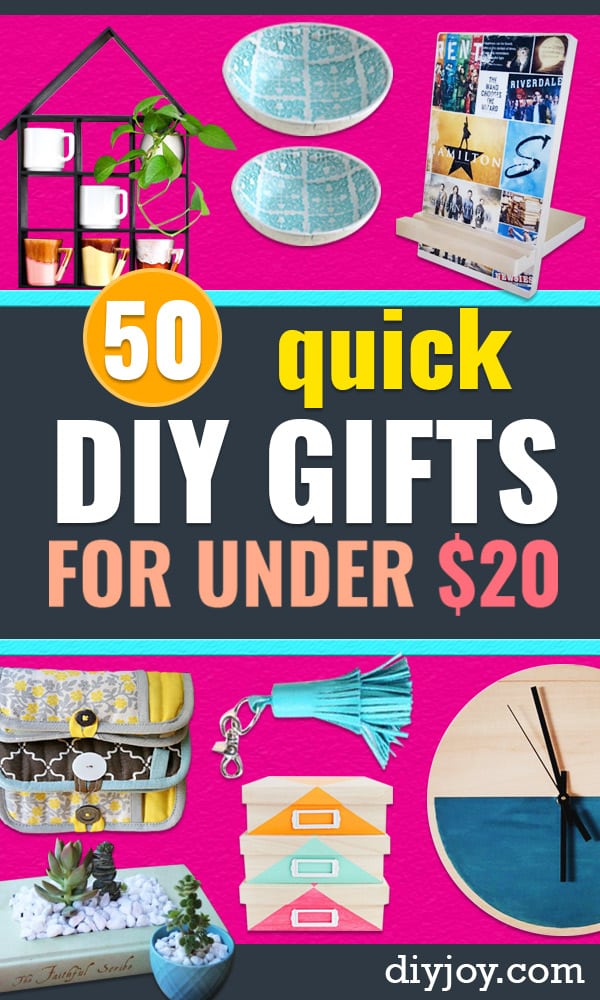 1. Dip Dyed Rope Bowls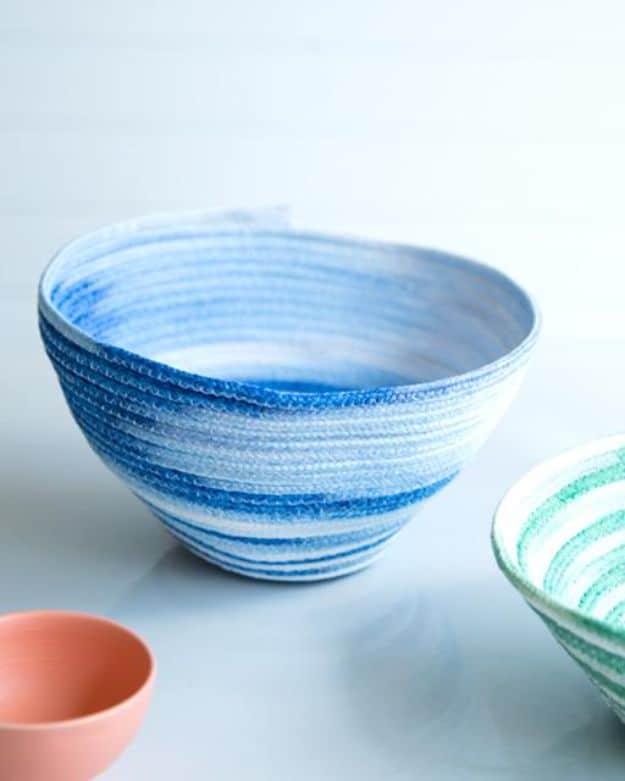 If you need a quick DIY gift in a pinch, you will love these rope bowls for any gift giving occasion. This tutorial calls for fabric dye for the rope but any rope will do. Also, remember a glue gun will hold it together beautifully if you do not want to sew it. I made five in one hour for all the tellers at my credit union, they loved them.
2. DIY Sugar Scrub Sand Art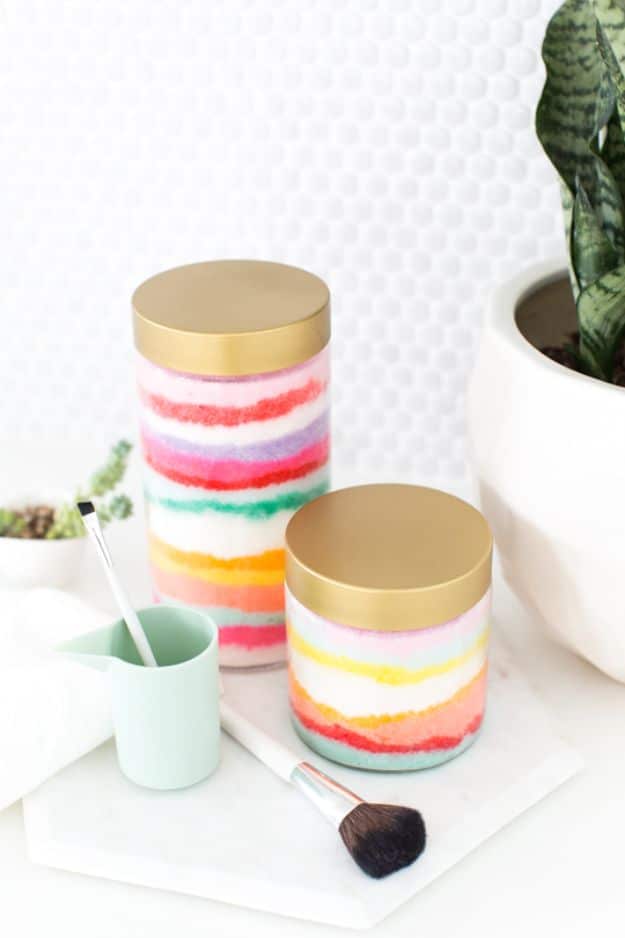 I am definitely no stranger to whipping up my own bath products here and there, so when I decided to create colorful eye candy based around some cool new body washes I found at the health food store, I naturally had to spruce up my favorite homemade shower must-have Sugar Scrub! I may be just a teeny, tiny bit obsessed with this DIY sugar scrub sand art inspired by their colorful new line and its the perfect DIY gift for everyone young or old.
Easy DIY Nail Polish Paintings
Learn how to make quick works of art, no artistic skills required. All you need is nail polish, water and a blank canvas. Check out the video to learn how to make some for yourself. Creative art always make a thoughtful present, and people seem to love getting unique things, especially when a friend or child made them. These painted canvases turn out really great, all of them. I've seen about 100 now since we made this project with some teens in art class. No artistic talent required to make this quick DIY gift idea.
3. DIY Watercolor Cloth Napkins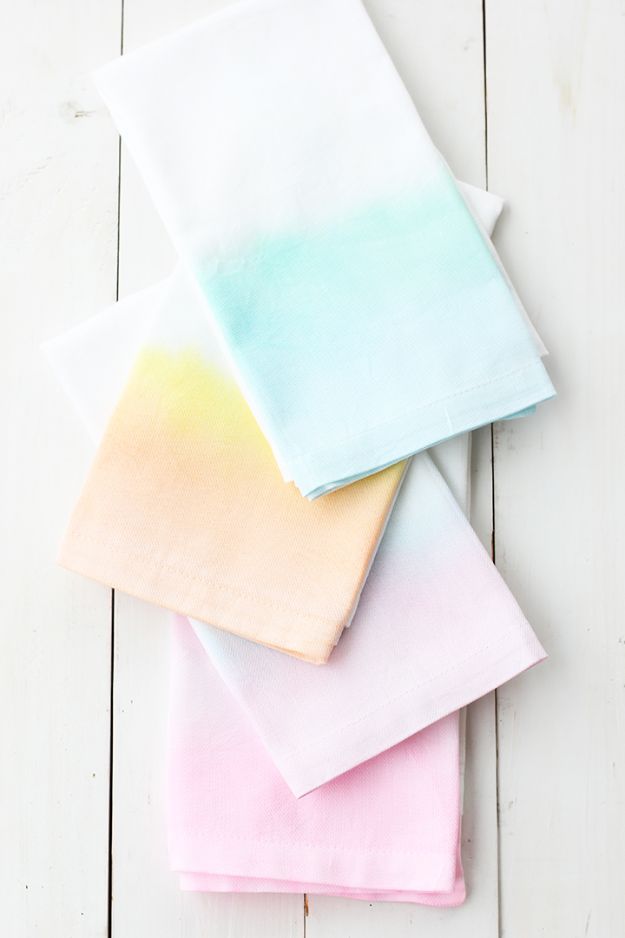 I love a hand-dyed cloth and this DIY project turns out so beautiful and is so incredibly easy! These hand-painted watercolor cloth napkins would be perfect for a summer brunch or bridal shower. Or even a lovely hostess gift. You just need some plain white cloth napkins, fabric paint, and brushes then you are ready for this DIY craft project. You might just fall in love with designing your own fabric. These make a nice and easy DIY Christmas gift for Mom, a quick birthday gift for a girlfriend, even a creative wedding shower gift to make without spending too much money.
4. DIY Decoupage Trinket Tray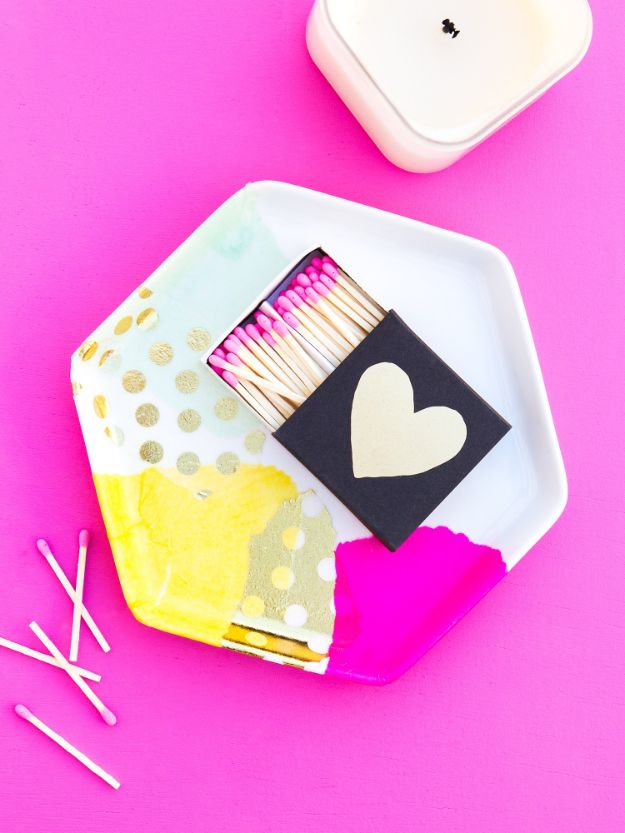 So, I think this might be my favorite DIY to date. It's just so practical and pretty! A few friends and I decided we would get together once a month for an all-day craft day to create some beautiful DIY Christmas presents for our friends and family. We had been wanting to try out gold leaf for a while now. And we thought these DIY decoupage trinket trays would be a perfect application. Our intent was to use them as jewelry dishes. We used white porcelain trays, craft paint, and modpodge to make the DIY trinket trays. We used the gold leaf as in the DIY tutorial, but craft paint does very nicely as well. This is a very rewarding project and will not disappoint on any level.
5. DIY Essential Oil Home Reed Diffuser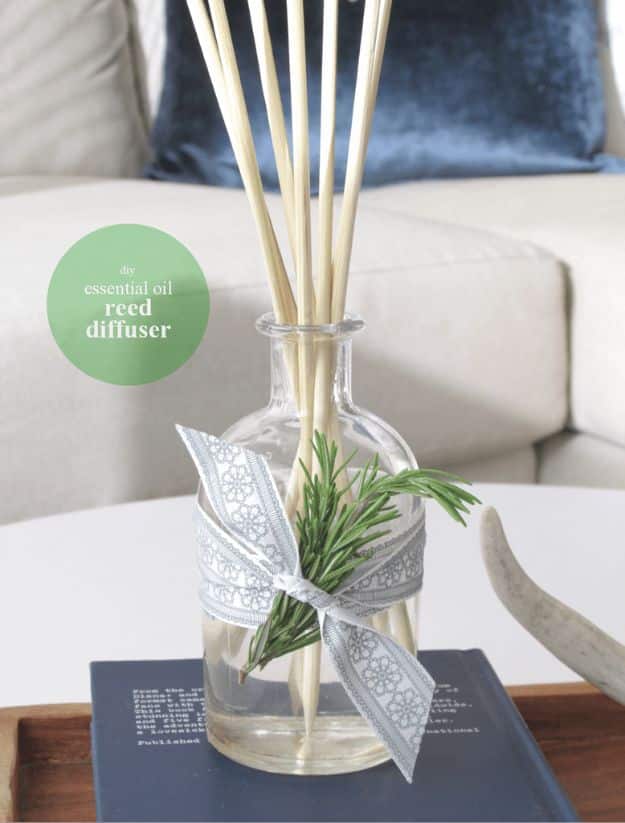 I needed to make my home smell good again after some new construction work on our kitchen and I found this excellent idea on Pinterest. I love adding fragrance to our home with essential oils. They're all natural, non-toxic, and give off a light, unassuming scent. Make one for your home or several as hostess gifts this year with materials you may already have at home. This DIY idea is perfect for holiday fragrances at Christmas time.
6. Pressed Flower Candle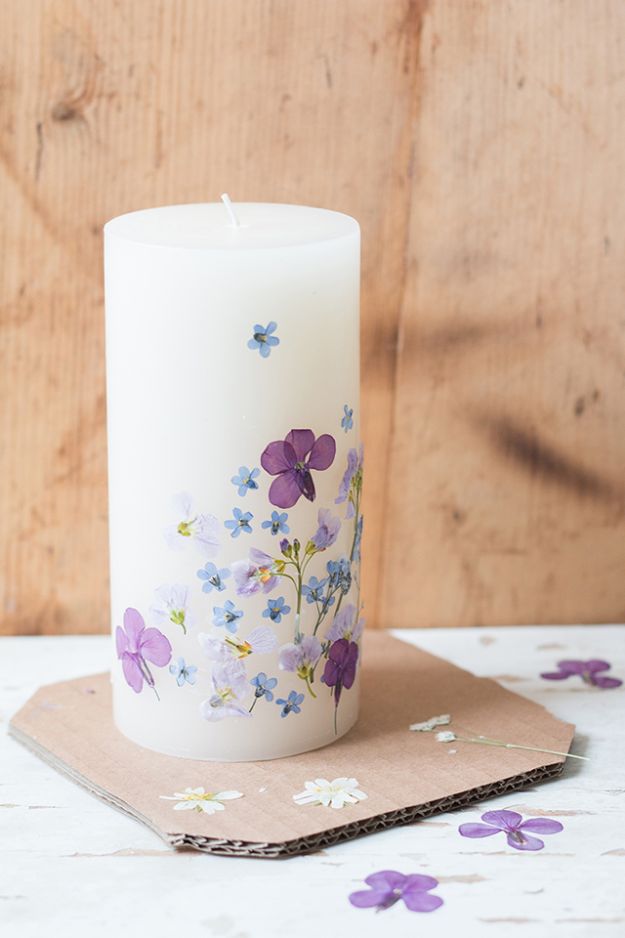 Last week I spent a sunny afternoon picking a few wildflowers from the hedgerow whilst out walking, I brought them home and pressed them using my Laura Ashley flower press. Between each layer of parchment paper, I laid out the petals in different positions in order to get a variety of different shapes before tightening up the butterfly screws and waiting a week before revealing the little gems pressed inside. I was thrilled with the result, the wildflowers I chose worked really well. I decided the petals would look lovely arranged on a pillar candle as a gift. It's a super easy DIY project to make, you just need flowers, flower press or books, a pillar candle, tea-light candle, matches, and tweezers. You simply dip your pressed flowers into the hot wax and stick them to your pillar candle. This is a very impressive DIY gift, everyone will love it.
7. Leather Tassel Keychains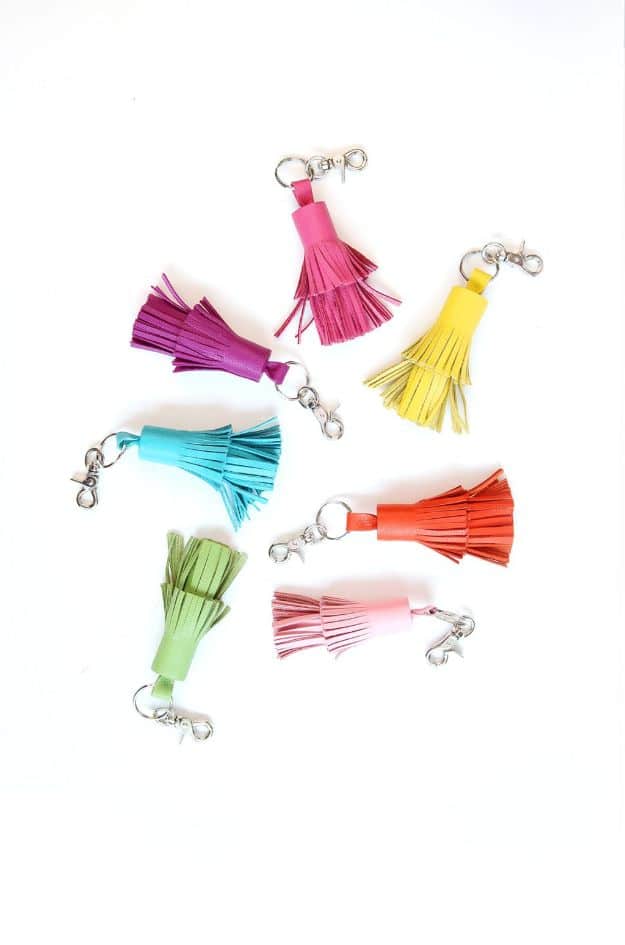 This is such an easy, quick and rewarding DIY it will make your head spin. If you are like me you have lots of scraps of leather and fabric lying around your craft room. This little tassel keychain DIY idea will help you upcycle all those stray bits in one fell swoop. All you need are staples and glue for these tassels, I use leather weld for the leather ones and liquid stitch if I'm using fabric. I have made so many of these to keep on hand when you need a quick gift.
8. DIY Rice Heat Pack

I'm a big fan of heat therapy, this DIY heat pack is made of fabric and rice. You create channels in it so it is very supple and conforms to the curvature of your body. It has a nice weight that is especially comforting to blocked hurting sinuses and it provides a steady mild heat. It's much more comfortable than an electric heating pad. You can also put the DIY rice pack in the freezer for cool therapy, its way nicer than ice in a bag. Try this one for sure, you will not be disappointed.
9. Graphic Print Memo Board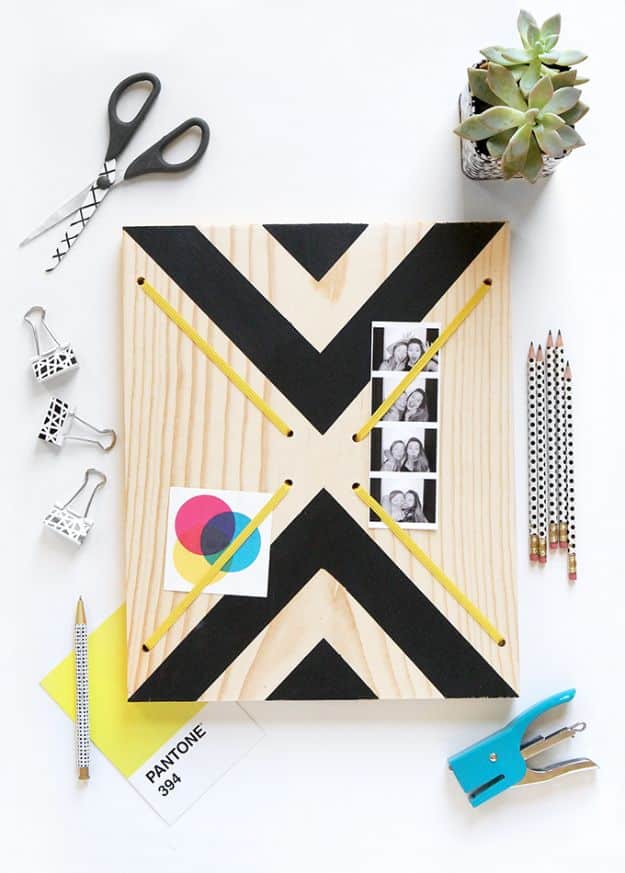 I wanted to create a wooden DIY memo board with a graphic design combined with a pop of color using elastic shoelaces to hold all my papers in place. Since the supplies are so basic, this is where you can really get creative with color and patterns that complement your workspace. Also, I have been wanting to try out some color strains for while now and used the daffodil hue to add some accents around the edge, the yellow was brilliantly bright, and I can't wait to cover more surfaces asap (they mix the color for you at the paint counter at the hardware store, just ask!)
10. Ginkgo Leaf Earrings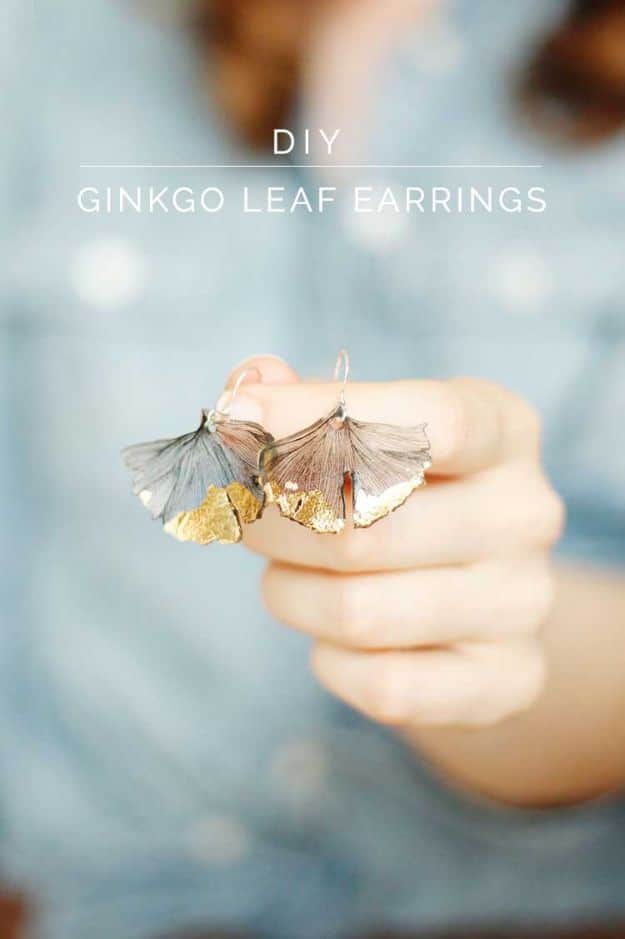 I love doing DIY projects involving nature. These DIY ginko earrings just spoke to my inner voice when I saw them. You use shrinky and gold leaf, they turn out extraordinary. You can also use flowers or other leaves, the sky is the limit here. I always have trouble finding nice stocking stuffer ideas for my teen girls. Christmas gifts were so much easier to make and buy when they were younger! These earrings made it to my "must make" list of DIY stocking stuffers that I knew would be quick and inexpensive to make. My daughters love these and actually wear them. Learn how to make some with the step by step tutorial and instructions.
11. Front Door Flower Basket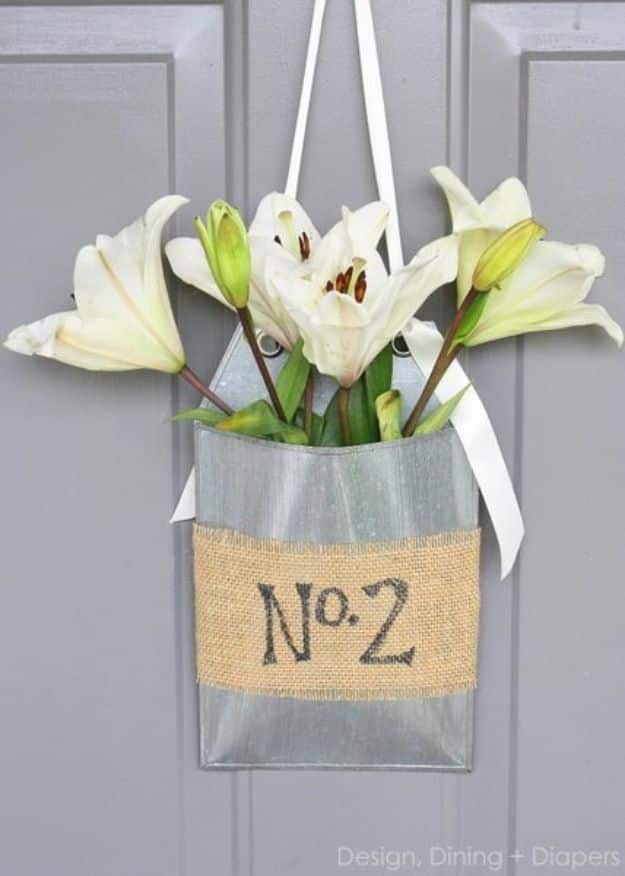 For a cheap last minute DIY gift to give neighbors, friends or your Mom, this crafty and creative front door basket is something she can show off so all can see and admire your handiwork. Fill this inexpensive quick DIY gift with fresh flowers, bonus points if you know her favorite and get those. This project only takes a few minutes to make, so it is a great thing to keep supplies on hand for making. Not just for Christmas, I love making these for thank you gifts, housewarming and a sweet, thoughtful birthday present for my girlfriends.
12. DIY Color Block Clock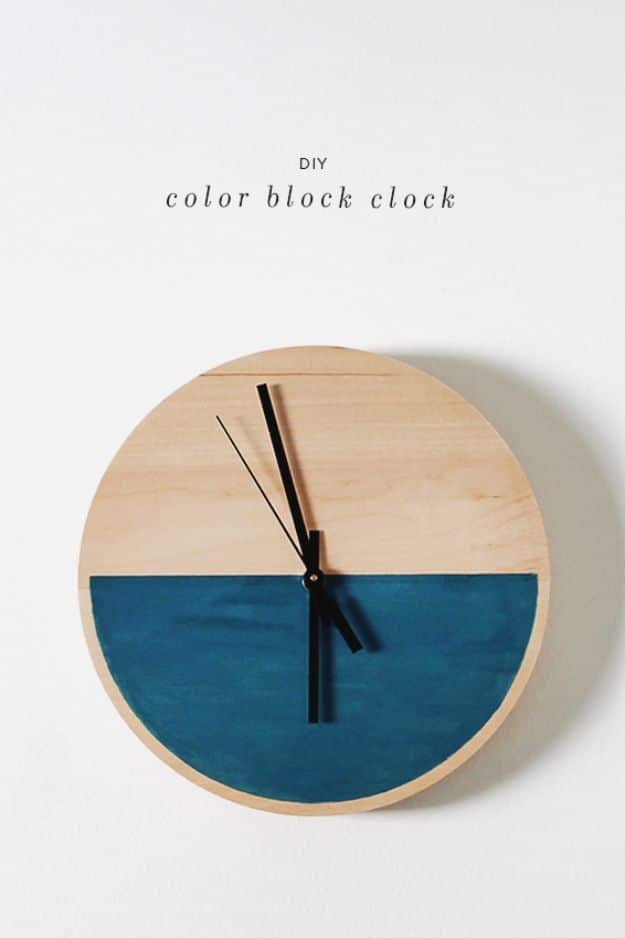 13. DIY Stamped Washer Necklaces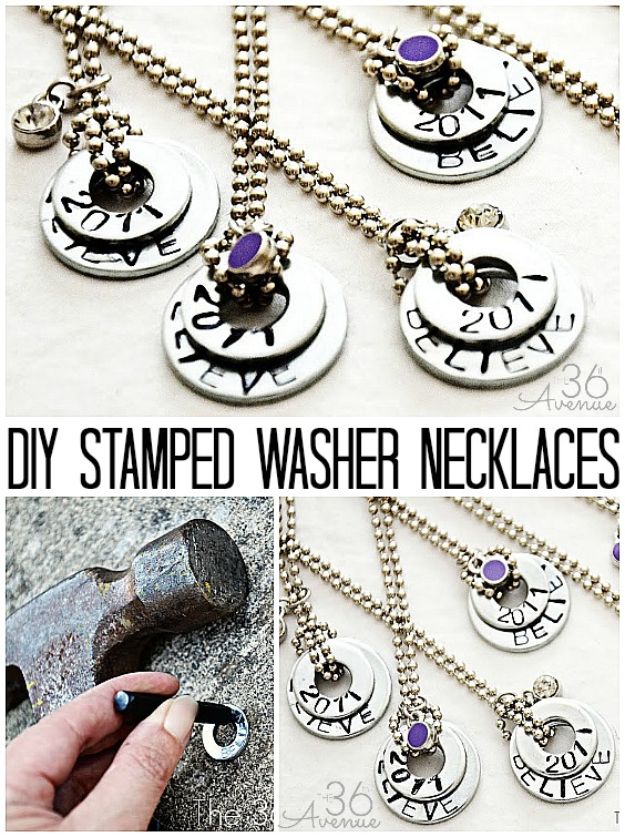 14. Rustic Industrial Chalkboard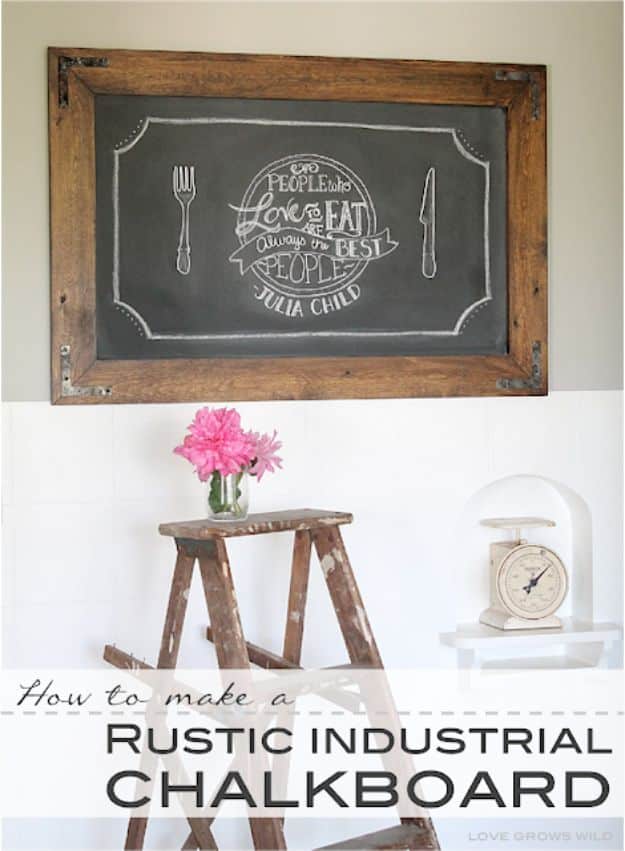 15. DIY Metallic Print Glassware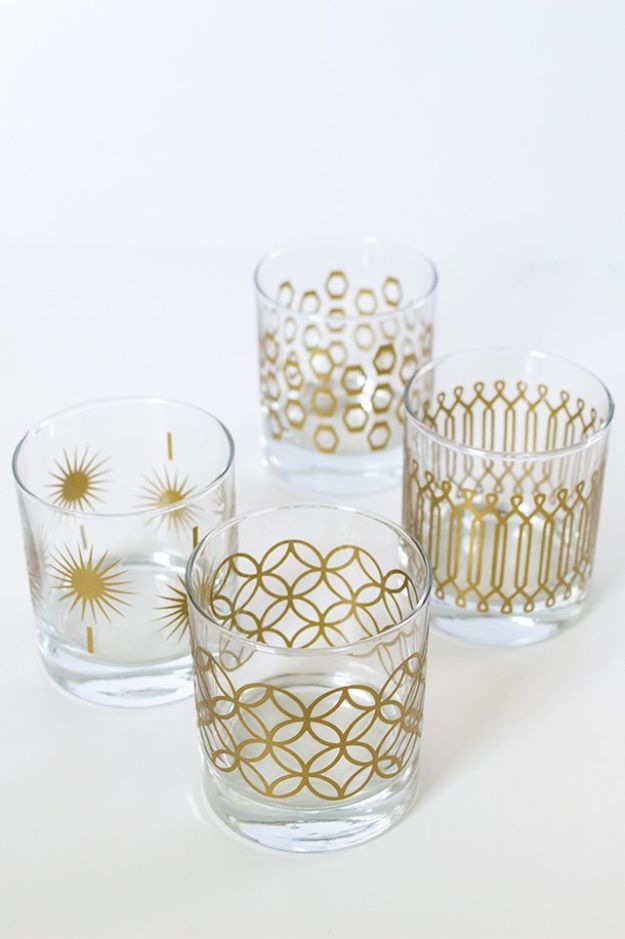 16. DIY Zen Garden