These inexpensive DIY gifts will fool anyone into thinking that you spent a hunk of your paycheck on these easy craft projects that look amazing. Culled from the best DIY gift ideas on Pinterest and homemade gifts from do it yourself blogs we love, your are sure to find the handmade gift ideas you are looking for – him or her, Mom or Dad, housewarming and hostess gift ideas, even the person who has everything. I've made variations of these cute, cheap DIY gifts for friends and family (they've come to expect only my latest DIY projects and crafts as what they'll get for birthdays and Christmas). Of course, just because it is homemade does not mean that you want it to look that way. Make these cute inexpensive gifts that no one will ever know are your DIY creations! Make some of these awesome homemade presents for all your friends and family this year. The only problem will be deciding what to make first. So many cool DIY gift ideas you can make, deciding is tough.
If you don't see what you want here, or just want to see more awesome DIY gift ideas, check out our new post, 27 Cheap DIY Presents on Pinterest
Cheap DIY Gift Ideas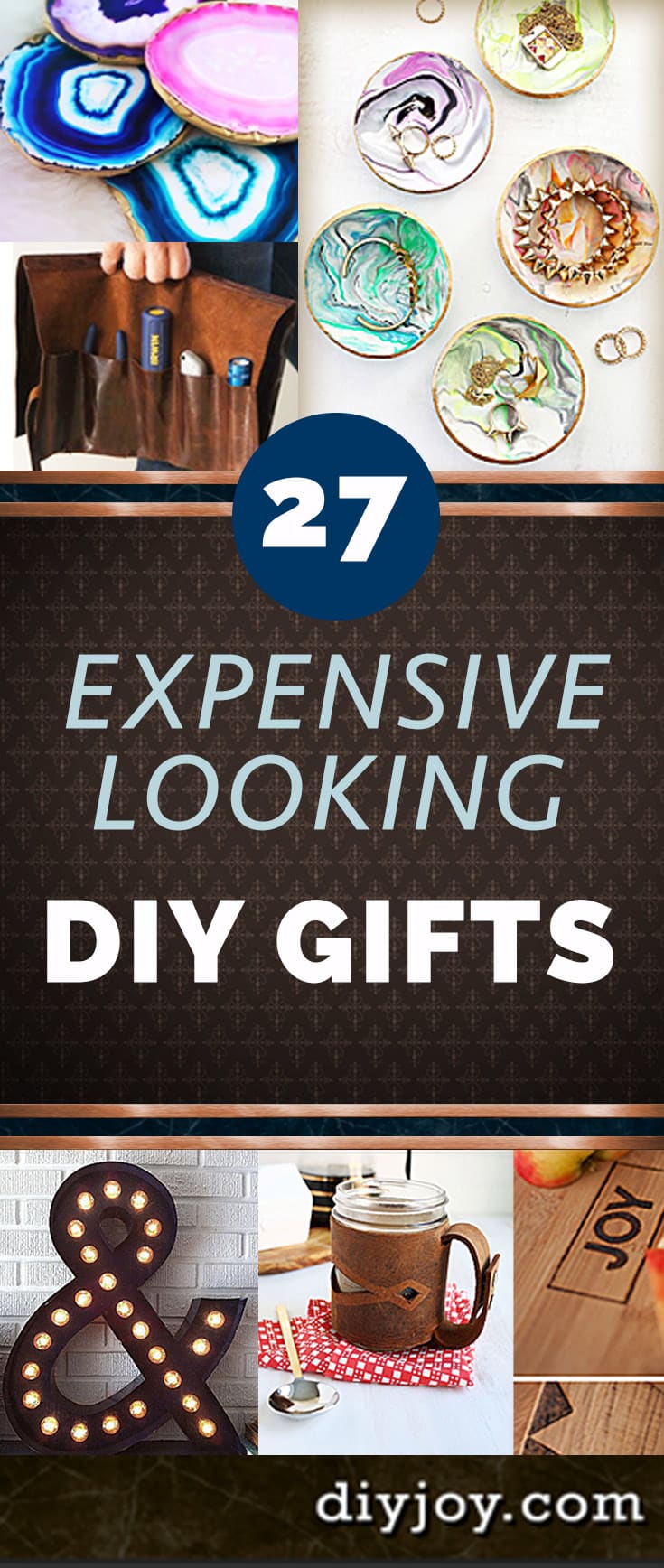 1. Homemade Sugar Scrub Sand Art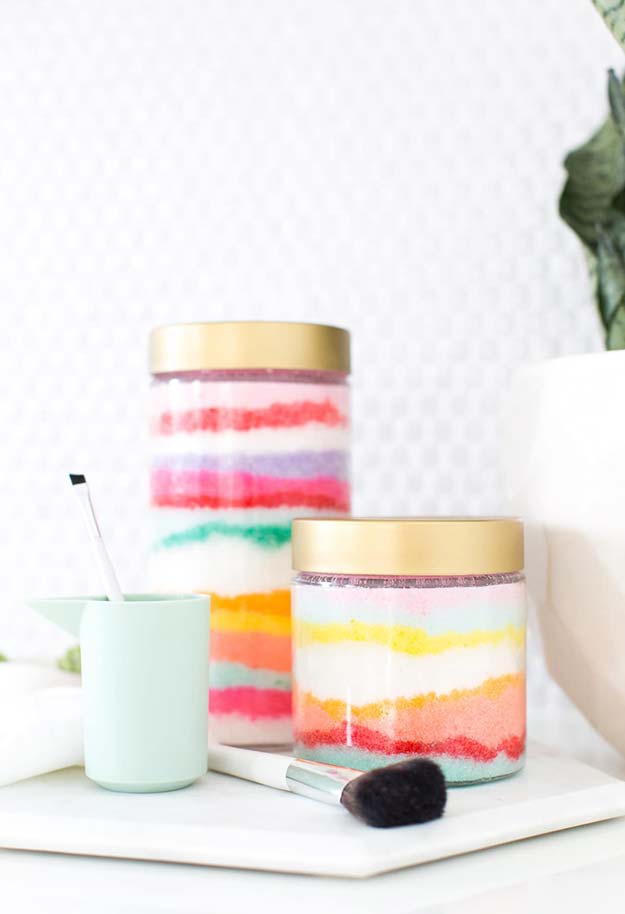 What a fun project idea. so, I've spent many, many years looking for cool DIY ideas on Pinterest, and I've love the blog by Sugar and Cloth, too. However, this is the coolest project I've seen in a long time, because it meets the criteria for the things that make some of the best craft projects ever, it is easy, almost fool proof (aka no Pinterest fails here) inexpensive to make, creative and different, then fun to make while not taking up too much time. This gift idea may need to belong to you, but I am thinking this is going to be my go to Christmas gift idea to make for friends this year. LOVE! Check out the step by step tutorial for making this homemade sugar scrub recipe at the blog link above, and be sure to look at all of her other cool inexpensive crafts, too. There are lots of them I still want to make.
2. DIY Colorblocked Wood Vases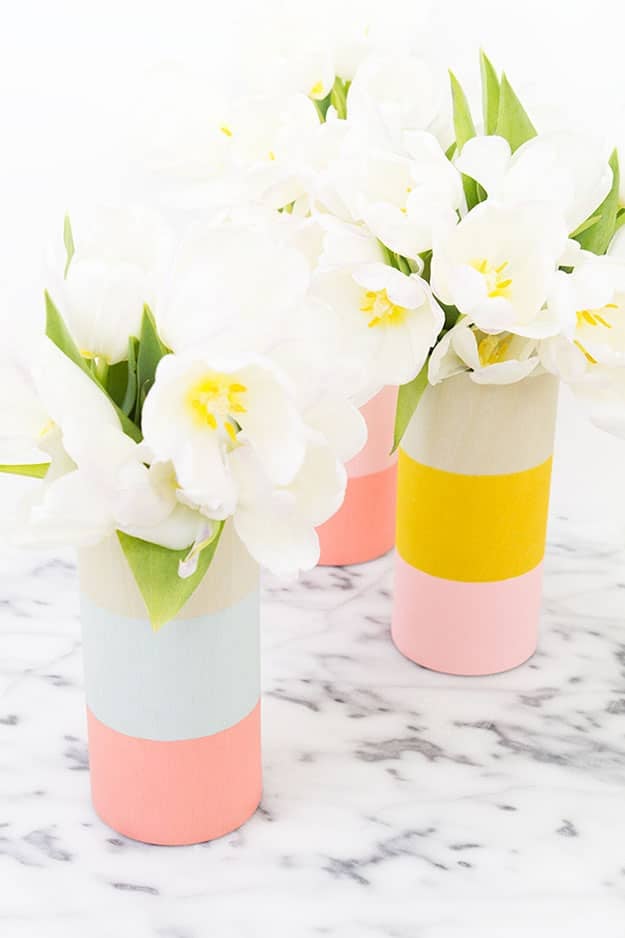 This is one of those easy gifts for friends that requires only a couple of supplies and knowledge of their favorite colors and flowers. That makes this one of the best last minute gifts to make in a rush. I like to make these for friends after they redecorate – it adds a personal touch to DIY home decor! Use ordinary glass vases and then apply one of the most awesome new DIY craft materials I have used lately, Wood Adhesive Sheets These inexpensive cool wood stick-on panels let you quickly and easily transform items into classy looking wooden decor. Paint yours in the colors of your choice to customize or even stain them for a different look. This project uses light birch wood, but you can use darker sheets if you prefer a different look. If you need easy dyi gifts for friends, look no further than these brilliantly easy vases.
3. Faux Agate DIY Coasters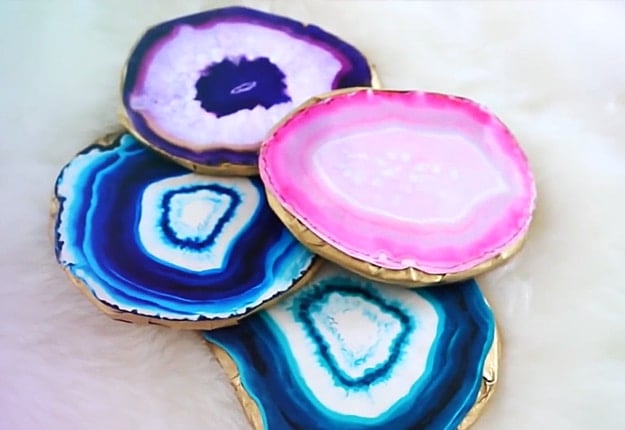 These adorable DIY agate coaster make adorable small birthday gift ideas for her or the fashion-forward him. I like to make these coasters as a gift for teens in college because they make the cutest DIY dorm decor. And cute DIY gifts don't get much easier than this 4 step tutorial for faux agate coasters. I saw them first on Tumblr and had no idea how easy these were to make. Fun craft for teens to make or give, even younger children can make them with supervision and a little help.
4. DIY Marble Painted Votives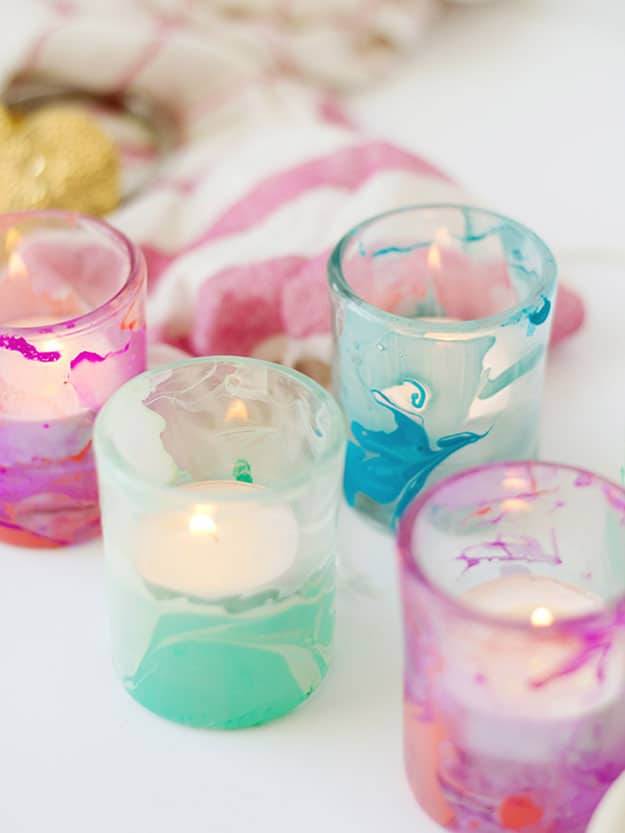 Originally this was a Mothers Day craft Pinterest suggested, but after making a few for my own mother, I realized what cute inexpensive gifts they are. Make these DIY candle votives in an array of colors to match your friends and family's home decor. Easy and quick Christmas gifts, each one unique. Plus, these are as much fun to make as they are to give. Ooooh and Ahhhh over the cool color combinations you can get with these cool marble paint swirl votive candles.
Inexpensive DIY Gifts for Christmas Presents
5. Etched Wooden Cutting Boards

This isn't one of the most easy DIY gifts I've made, but the wood etching turned out beautifully once I got the knack of it! After a couple of these DIY etched cutting boards, making these gifts was a cinch. I ordered a bunch of them from Amazon along with a wood burner and it made Christmas gift-giving simple. Spent a weekend getting super creative with gifts that are special keepsakes, and certainly not one someone else will be giving.
View All These Cheap Christmas Gift Ideas Here Then Check Out the Tutorials
6. DIY Tote Bag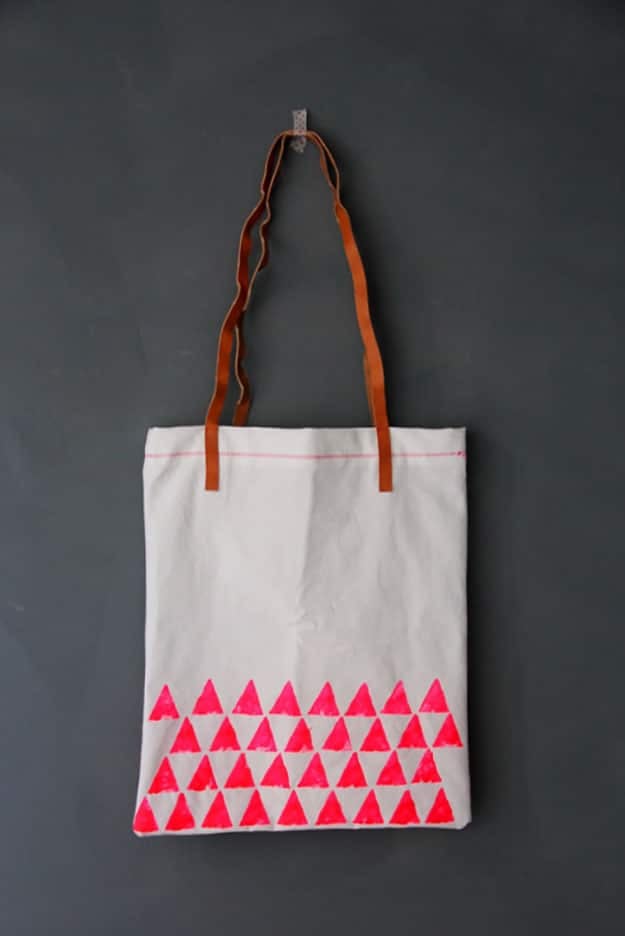 These DIY tote bags are easy gifts to make for friends and sure crowd pleasers. I like give these as the wrapping and part of the gift and add a few small DIY gifts in the bag as well. If you need something inexpensive you can make for your mom, your sister, your neighbor or pretty much anyone, this bag is sure to please. One of my favorite creative homemade gifts, after I made my first one of these, I decided to keep it for myself. Go ahead and plan to make a few of these, they are super to keep on hand as last minute gifts. Lightweight and packable, requiring very little storage space, this is a great present to make ahead. Kids also love helping to make these, and the stamping is totally doable for them. Grandma and Grandpa will love knowing everyone helped with this cool DIY bag.
6. Gold Dipped DIY Jewelry Tray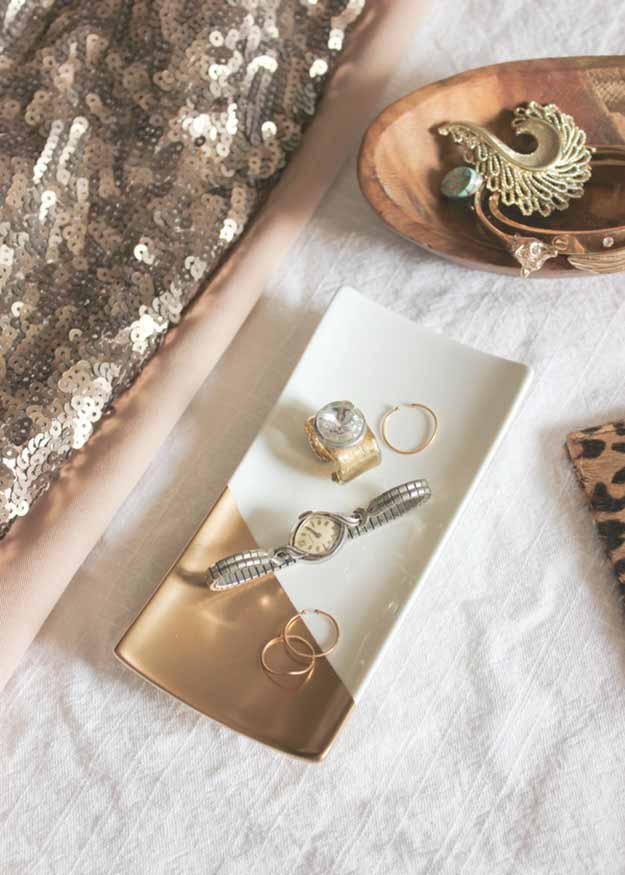 We've all waited until a couple of hours before the party to start thinking of gift ideas. I am the queen of last minute gifts for friends. Which is one of the many reasons I love this DIY project idea. These DIY dish jewelry holders are customizable to any friend's taste. Even if you've never made a homemade gift before, you can make this cool DIY tray, I promise. This DIY idea is inexpensive to make, perfect for beginners, and is sure to be loved by all. Learn how to make this handmade present that is sure to be appreciated for years to come. Follow the step by step tutorial to learn how.
7. DIY Leather Tool Holder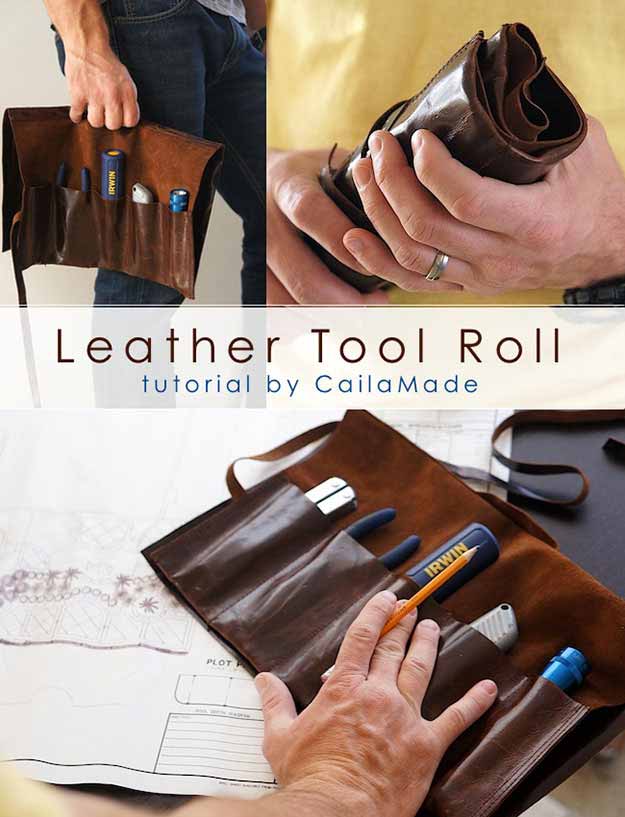 I found this awesome leather tool holder while looking for crafty Father's Day gifts to make this year. Making gifts doesn't have to take up all your time or require expensive supplies which is one thing this easy tutorial proves. This creative craft is a cool gift idea for men, but when I made one for my Mom last year, I do have to admit I think it is her most loved possession now. This cool DIY is also a top seller on Etsy, so if you want to make some extra cash on the side, this is a super idea for crafts to make and sell.
8. No Sew Watercolor DIY Trivet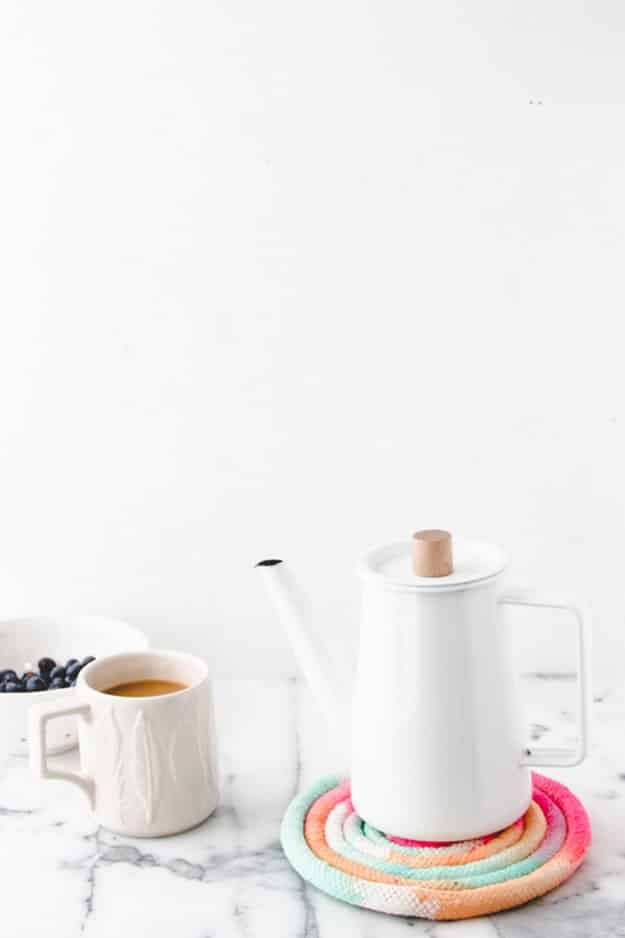 These trivets make cute DIY gifts to give at a housewarming party or as small gifts for friends. This no sew project tutorial is easy to follow and create. If you're not quite ready for sewing projects, this DIY trivet is a perfect introduction for beginners.
9. DIY Chalkboard Cheese Stone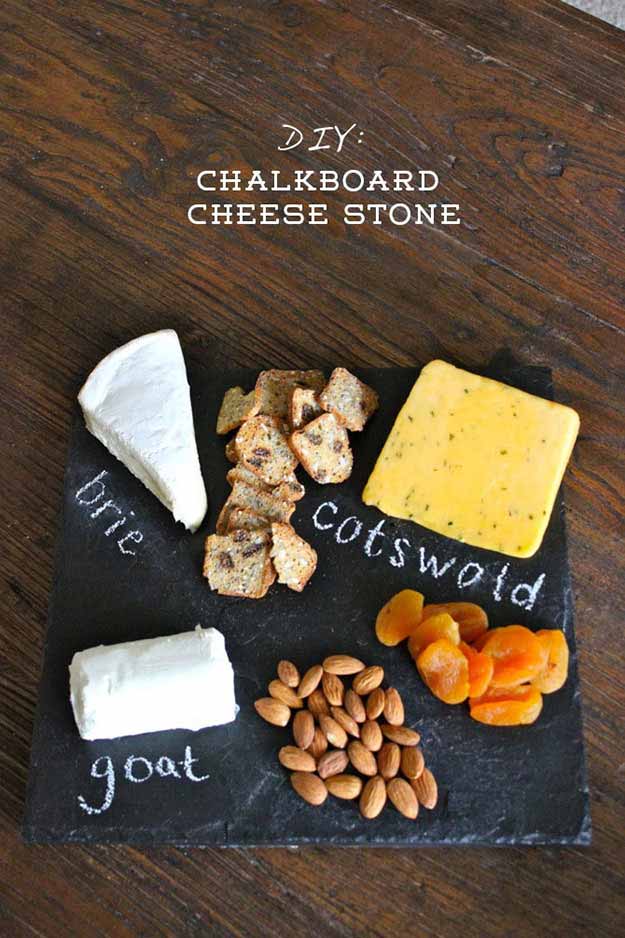 Who doesn't love cheese? These easy DIY gifts are for all cheese lovers who want to display their dairy in a fashionable manner. Even though this fits in the inexpensive DIY gifts category, I've given this to many people who have asked me where I found it. Feel free to give yourself a little pat on the back when that happens or just keep it as your own.
10. Japanese Painted Bowls (Anthropologie Hack!)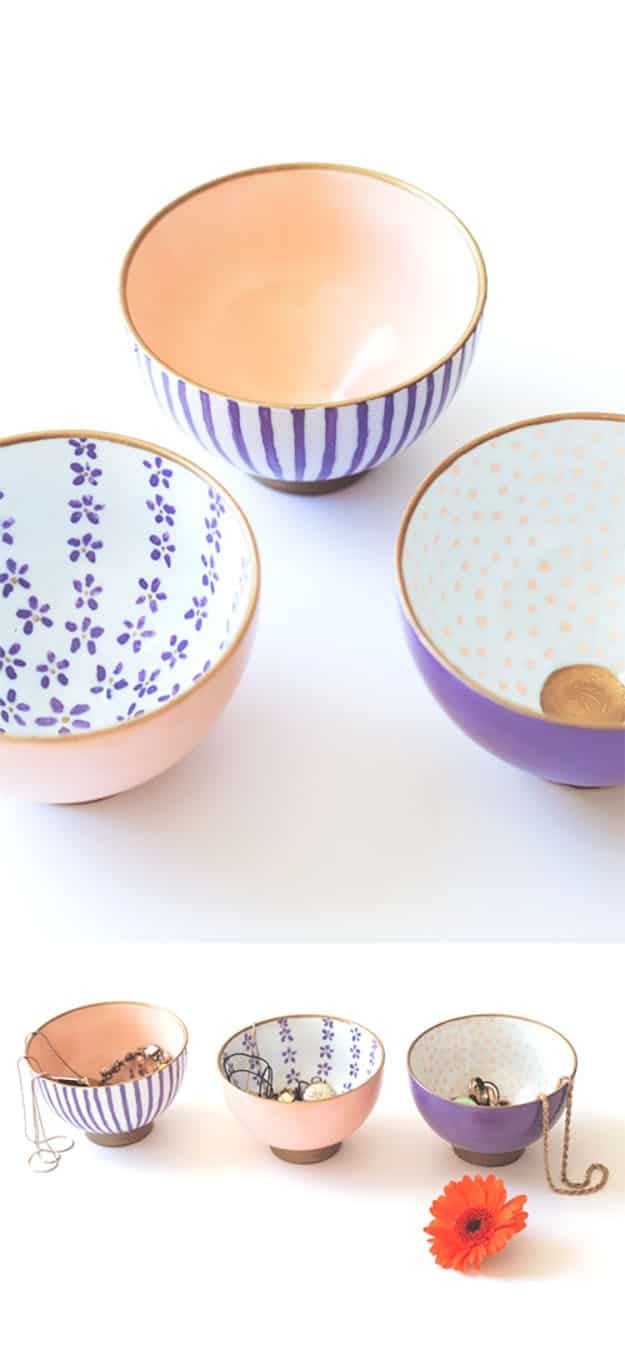 Not only do these Japanese style DIY painted bowls make cool bday gifts for your best girlfriends, but they are also awesome Anthropologie hacks. Since the painting techniques aren't exact, these make great little art projects for beginners. Looking for a DIY gift for someone in particular? Try this handmade present.
11. DIY Leather Passport Holder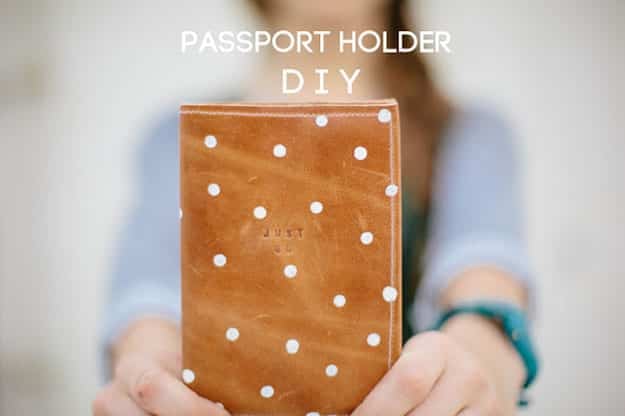 Making gifts for friends on the go is a challenge when they don't stay still long enough to have a lot of possessions they hold on to. That's why I love making this cute DIY passport holder. I'm also a big fan of stamping leather, metal or pretty much any other DIY project – I love to personalize crafts when I can!
12. DIY Marble Tray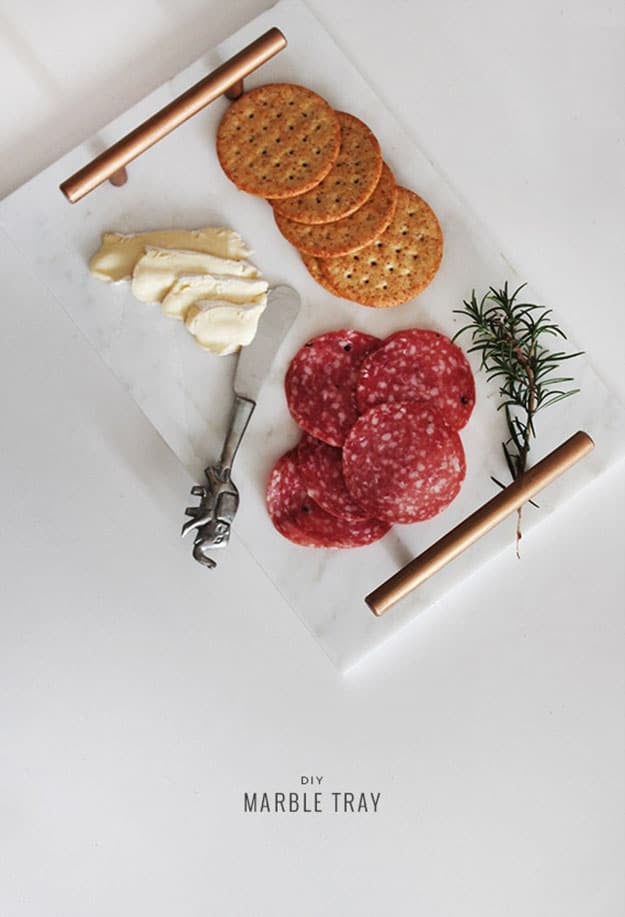 Got a friend or family member who's always the hostess? DIY marble trays are cute inexpensive gifts to give to your favorite dinner entertainers. This homemade decor gets more compliments than just about anything else in my house & my friends who have received them say the same!
13. Gold Frosted Papier Mache Bowls
A Subtle Revelry Have a friend with expensive, eclectic taste? These DIY paper maiche bowls are creative ideas for birthday gifts your friends won't see coming (and are guaranteed not to have). Also, decoupage DIY's are some of my favorites because once you set it you can forget it until a couple hours later.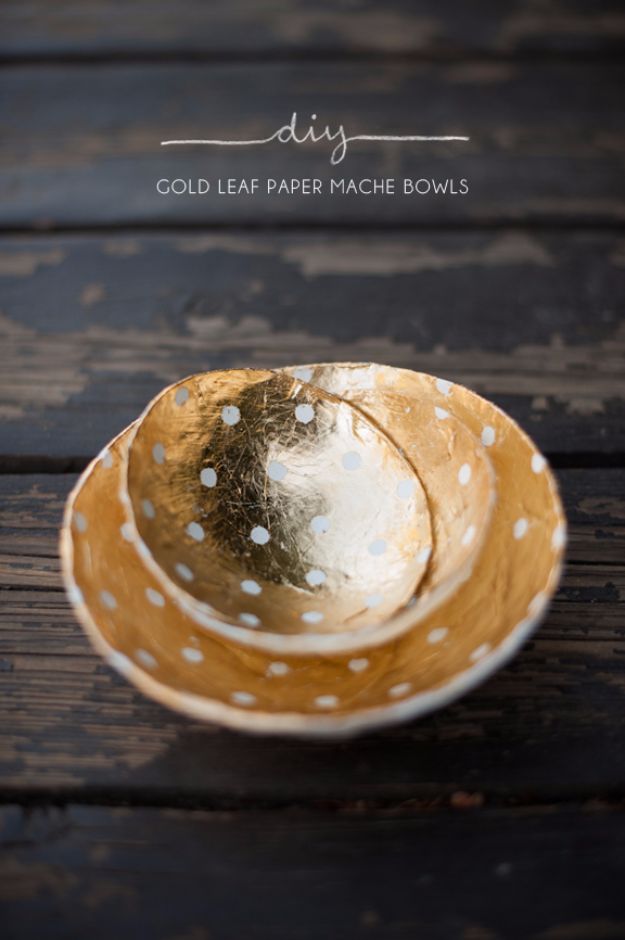 14. DIY Washi Tape Candles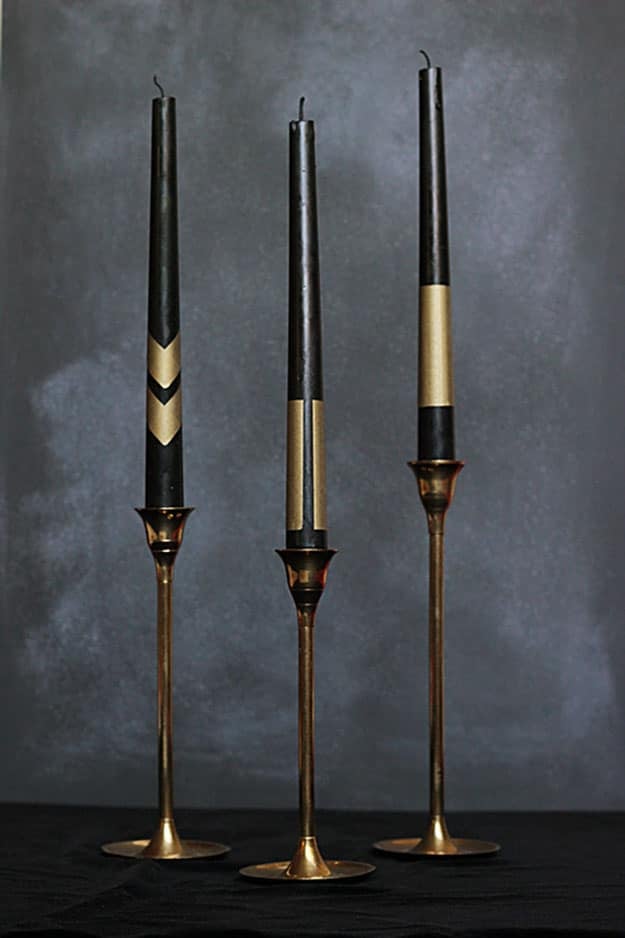 Did I mention when it comes to last minute gifts for friends I'm the worst? I think I said the queen earlier, but making gifts in a matter of minutes has become somewhat of a specialty for me. Friends, believe me when I say it does not get easier than these washi tape candle decor. I keep lots of tapered candlesticks on hand and I always have a large selection of washi tape so I can whip up these cute DIY gifts in a jiffy.
15. No Sew DIY Camera Strap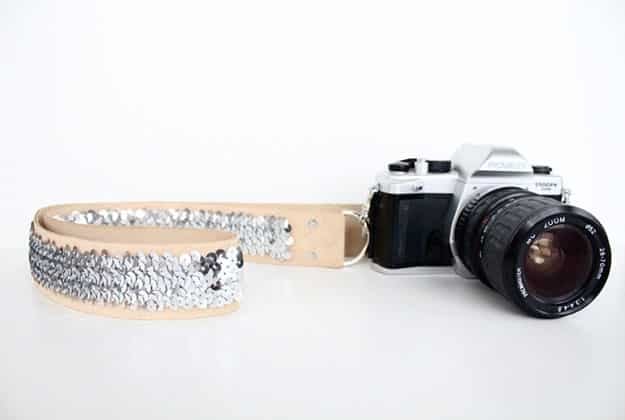 Not ready to tackle Pinterest sewing projects yet? This no sew camera strap tutorial is a no worries DIY project that also makes a cute birthday gift for your photography loving friends. I love the little bits of glam mixed with the leather strap, plus it's easier and less expensive than it looks.
16. Leather & Gold DIY Notebook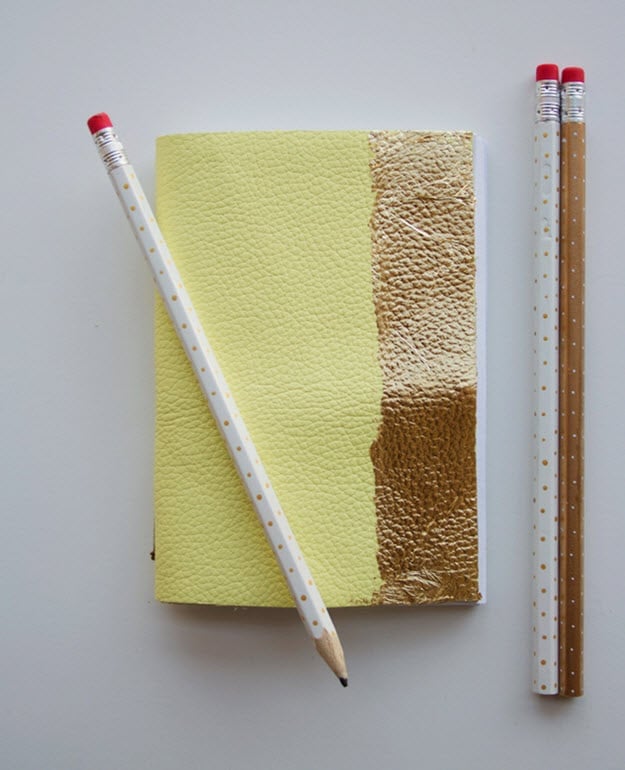 These sweet leather & gold leafed journals make cute DIY gifts to give to your word inclined loved ones. I made this for a friend's daughter who was studying abroad and it was filled front to back by the time she got back. So, I began giving these as graduation gifts and cute inexpensive gifts for teens.
17. Crystal Topped DIY Boxes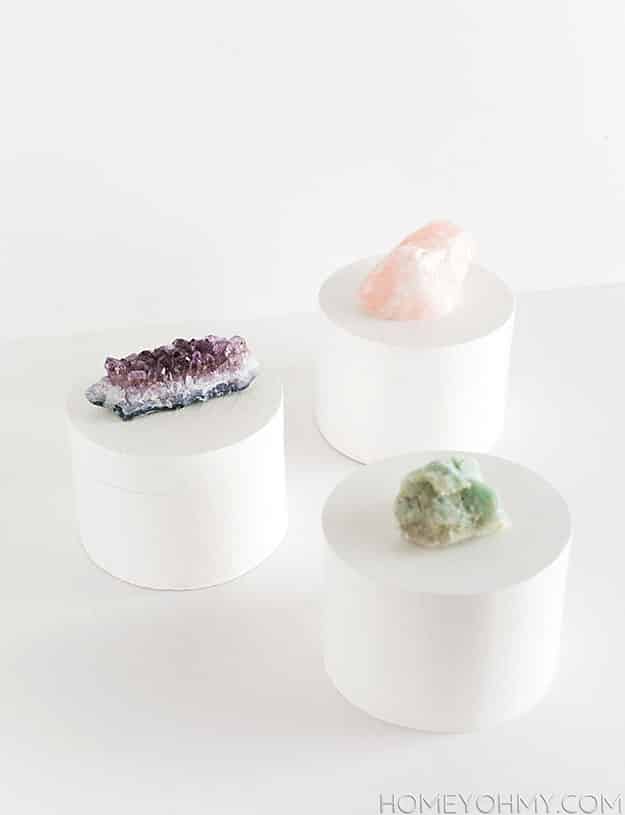 These geode boxes are not only adorable little DIY storage containers, but they're also great easy gifts for friends. I like to make these ahead of time in big batches with all different colors and shapes of crystals on top so I can pick one at a moments notice when I need a last minute gift. I like to put a little DIY jewelry in these as well to make it a bit more special.
18. Marbled Clay DIY Ring Dish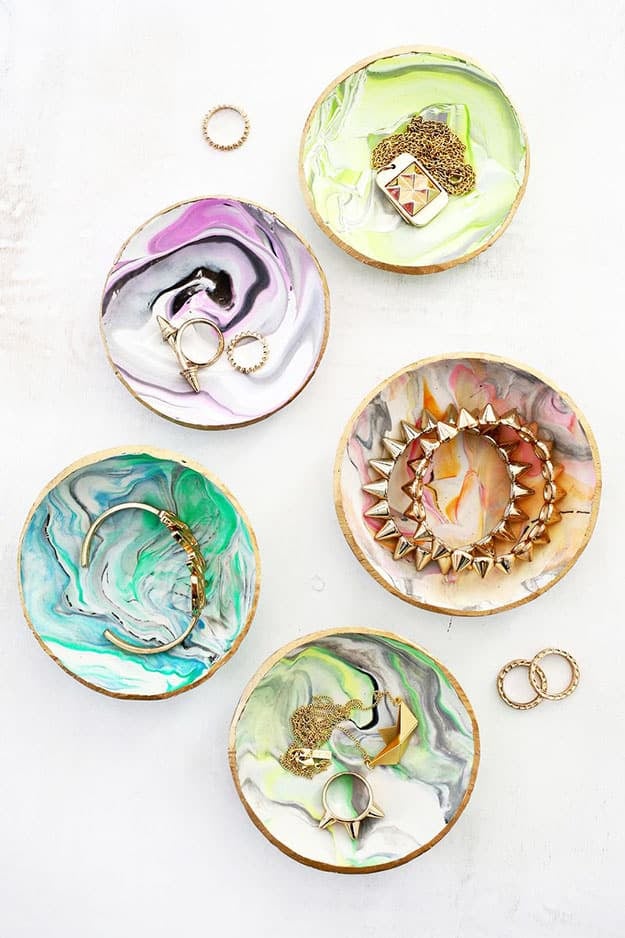 These cute marbled clay bowls make an adorable DIY dish for rings and other small pieces of jewelry. This is another cute birthday gift I like to give with an assortment of DIY jewelry. The gold edge around the bowls makes these cute inexpensive gifts look a little more luxurious.
19. DIY Picnic Basket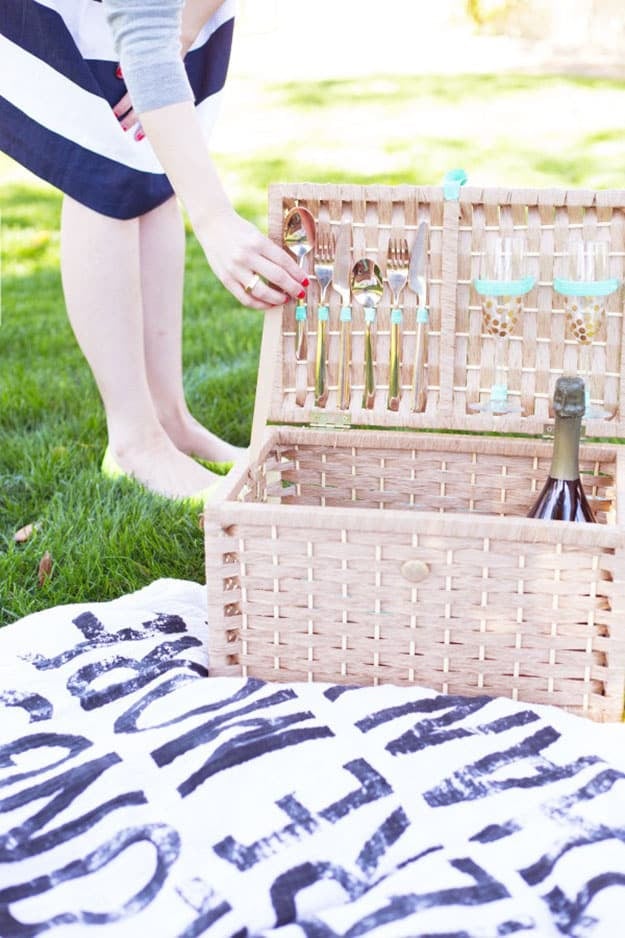 These cute DIY gifts make the best wedding presents I have ever given. Newlyweds know now to expect these picnic baskets filled with adorable jars of homemade jams and dip-dyed cloth napkins. Once you find your basket of choice, the rest is a cinch.
20. Mason Jar DIY Leather Holder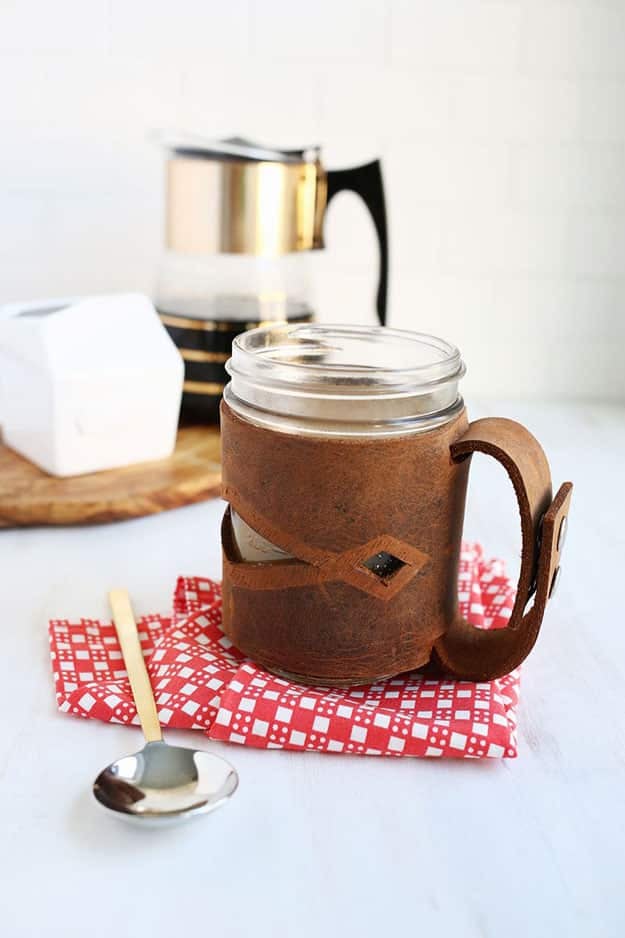 I made this leather mason jar craft as a Father's Day DIY gift and it turned out beautifully. The girls at A Beautiful Mess have one of the top DIY blogs out there, if you ask me, Their projects are always so crafty and unique I always browse their site when looking for creative ideas for birthday gifts.
21. DIY Marbled Bottom Vases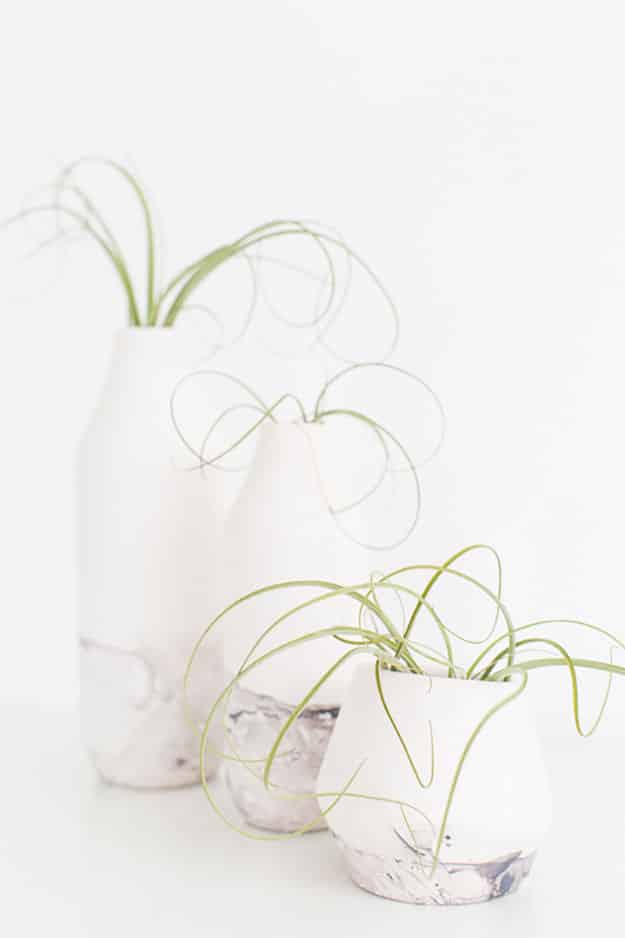 When it comes to cute inexpensive gifts posing as expensive-looking presents, this DIY home decor is the perfect solution. I like to get a couple of different shapes and sizes of vessels when I make these marbled bottom vases.
22. Decorative Copper DIY Planter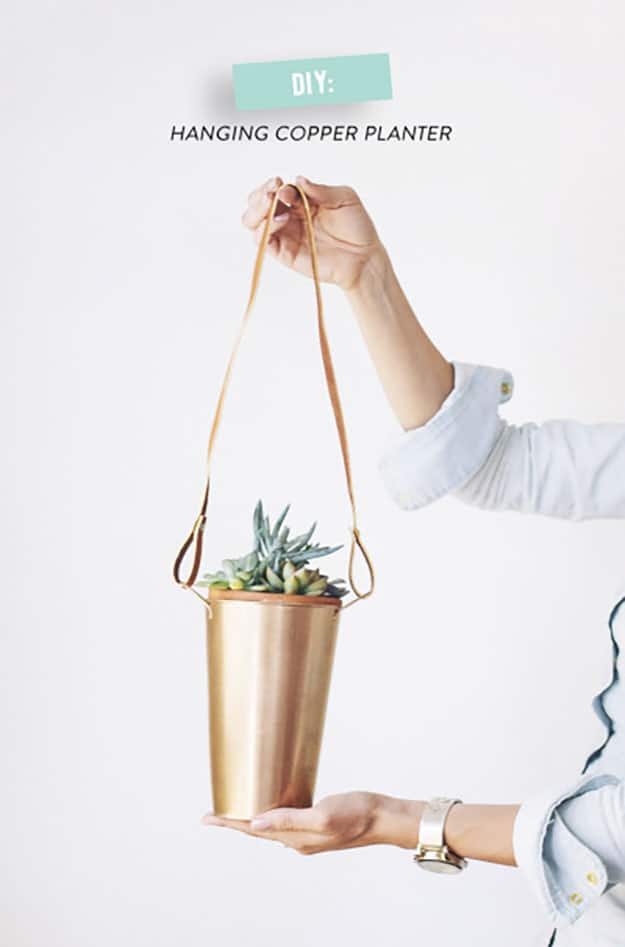 These DIY planters are perfect for friends with either green or black thumbs. Succulents and cacti look just as pretty in these beautiful copper gifts as any other greenery (having a black thumb myself, this is all I keep in my house).
23. DIY Stenciled Pillow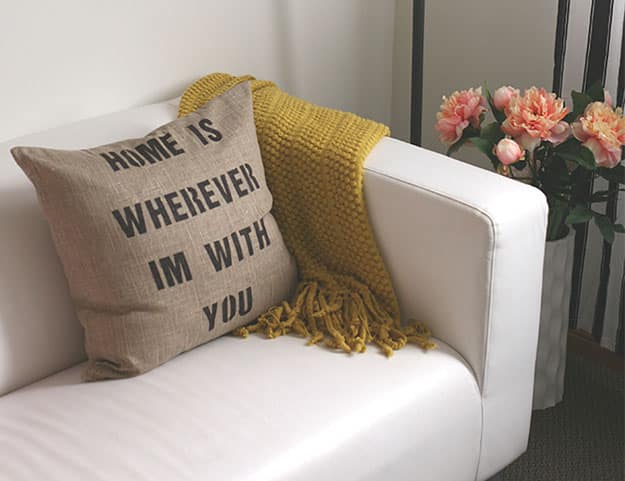 I've done lots of stenciling projects, but this DIY pillow is one of my favorites. It's such a cute birthday gift for friends who you love to quote your favorite movies with or family who you belt out favorite song lyrics with.
24. DIY Marquee Light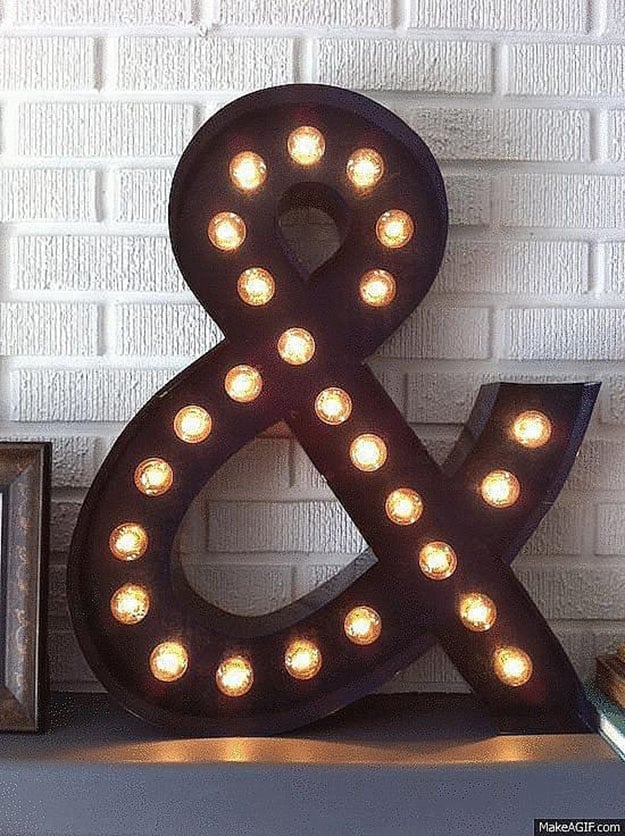 DIY lighting may not be the first thing that comes to mind when thinking of easy gifts to make for friends. This marquee light is not only an easy craft project, but it also makes cute inexpensive gifts to give someone you're still getting to know or for loved ones who are fans of vintage decor.
25. DIY Jewelry Organizer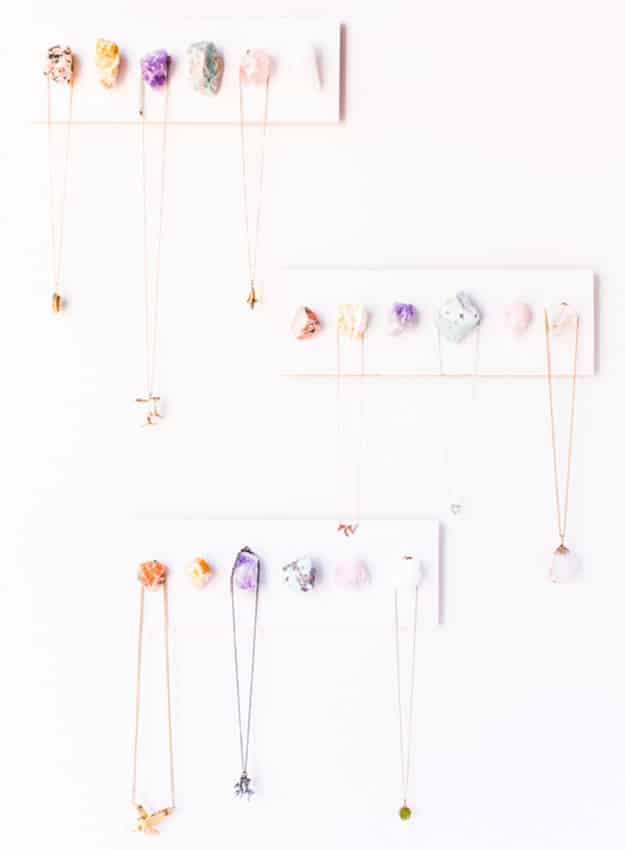 I love to keep geodes and crystals and white paint on hand because (as I've mentioned before) I'm always in the market for last-minute gifts for friends and these supplies always deliver. Sometimes a cute jewelry organizer is even better than a new piece of jewelry. Or you can give both if you feel like being a very generous friend.
26. Lemonade Making Kit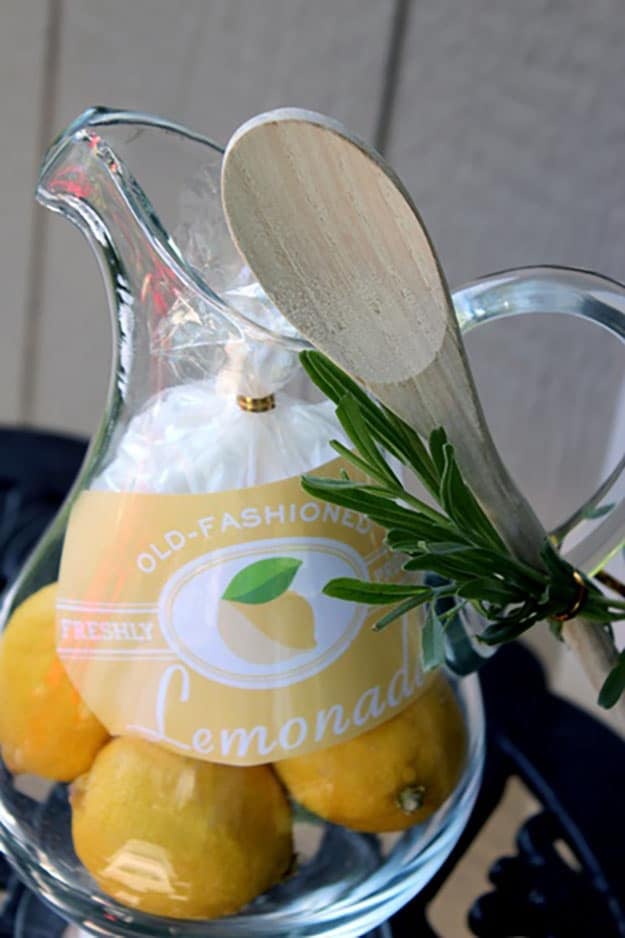 DIY lemonade kits are simple birthday gifts for new friends, adorable hostess gifts, or the perfect DIY Mother's Day gift. Just pick out a pitcher and a spoon that fits your friends taste and fill it with fresh ingredients for delicious homemade lemonade.
27. DIY Necklace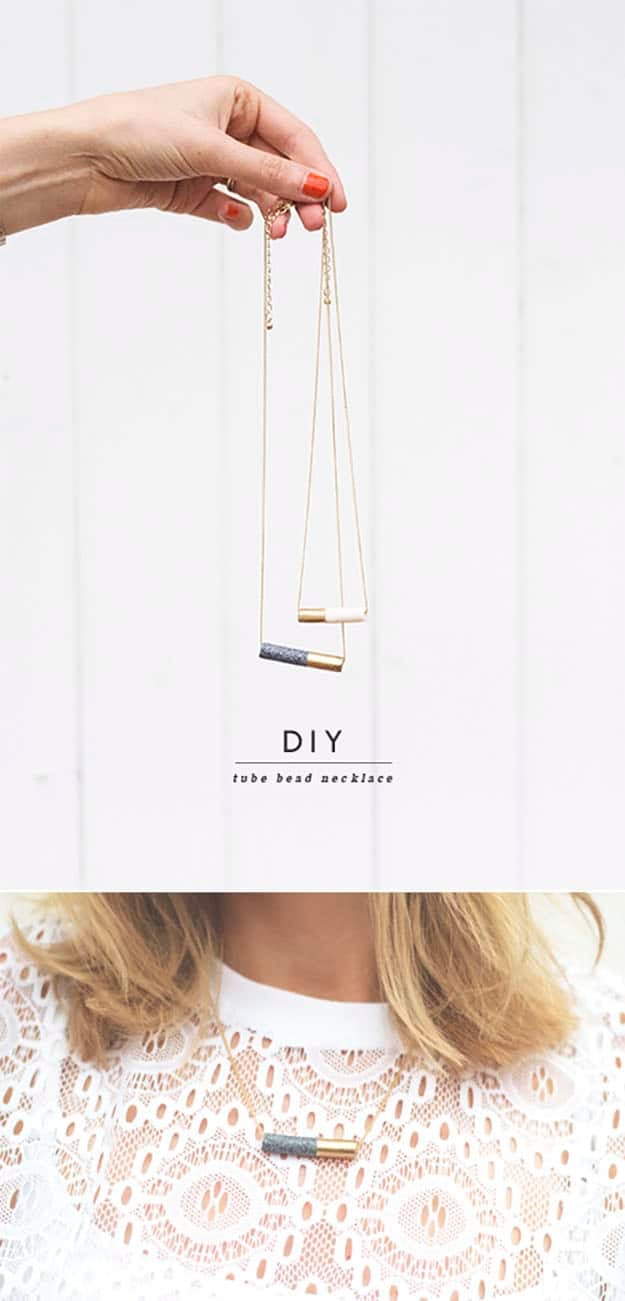 As far as DIY jewelry that translates to almost every taste, this sweet necklace makes an appropriate statement every girl can get behind. This is the perfect DIY necklace to put on the jewelry organizers or keep in the DIY storage boxes listed above.
Want more cool DIY gift ideas?
Check out our new post, 27 MORE Cheap DYI Presents