Cleaning hacks may be the most useful and efficient of all the life hacks I've learned over the years. Since learning some of these cleaning ideas, I've stopped staring at scratches in my worn wooden furniture and turning up my nose at my limescale covered shower. This time I've actually done something about it because these DIY ideas actually work! Cleaning on a budget doesn't mean you have to get the bottom shelf, chemical-ridden cleaners. Learn to make some of your own DIY cleaning products instead with the cleaning product recipes below.
Cleaning Hacks
1. Clean Your Fabric Couch with DIY Natural Cleaners
via Pop Sugar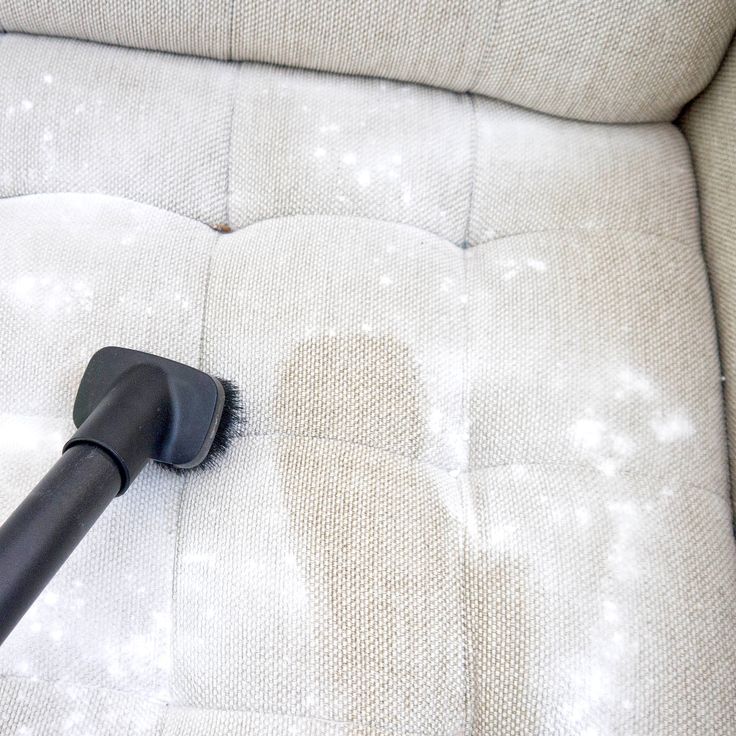 Freshen up your sofa with this DIY natural fabric cleaner recipe and a vacuum. This cleaning idea breathes new life into any of your upholstered furniture.
2. Fix Scratches on Wood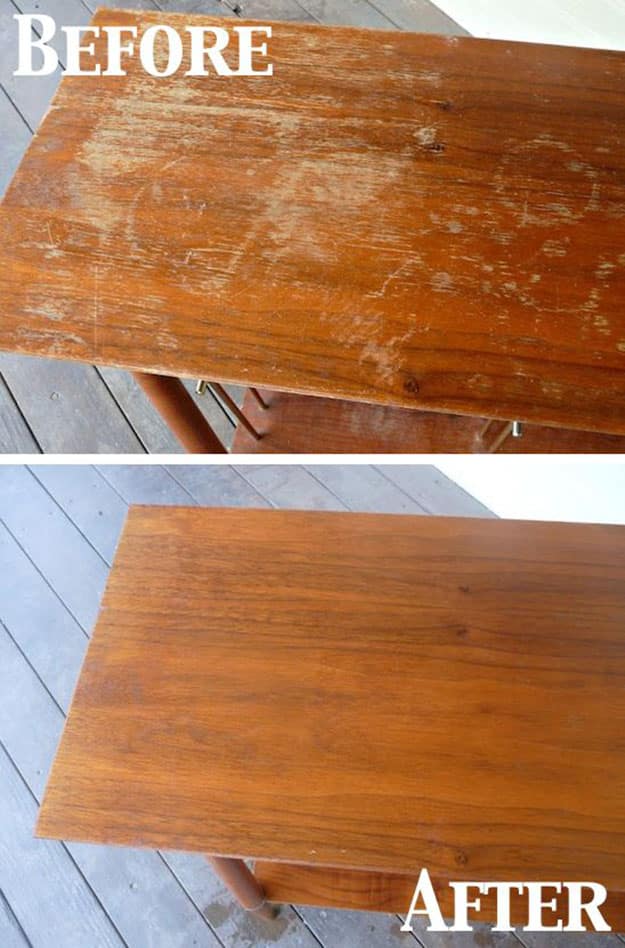 Learning how to fix scratches on wood has been one of the most useful life hacks I've learned. I've saved a treasured antique table from my grandma that had years of wear from making kids crafts and dinners on it's surface as well as saving countless DIY furniture projects as well.
3. Tub Scrubbing Hack
via Mashable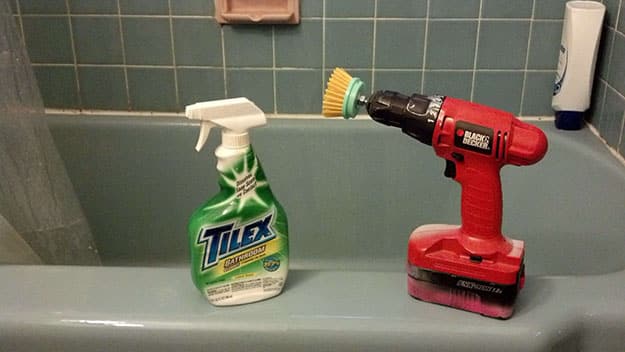 I love making repurposed projects for everything from DIY home decor to fun kids crafts. You can imagine my delight when I saw this cleaning hack involves upcycling a power tool into a scum-eradicating cleaning tool! I can't pass up a good upcycle project. Check out my most recent obsession with wine cork crafts if you don't believe me!
4. Repair Damage to Porcelain
via Mom Outnumbered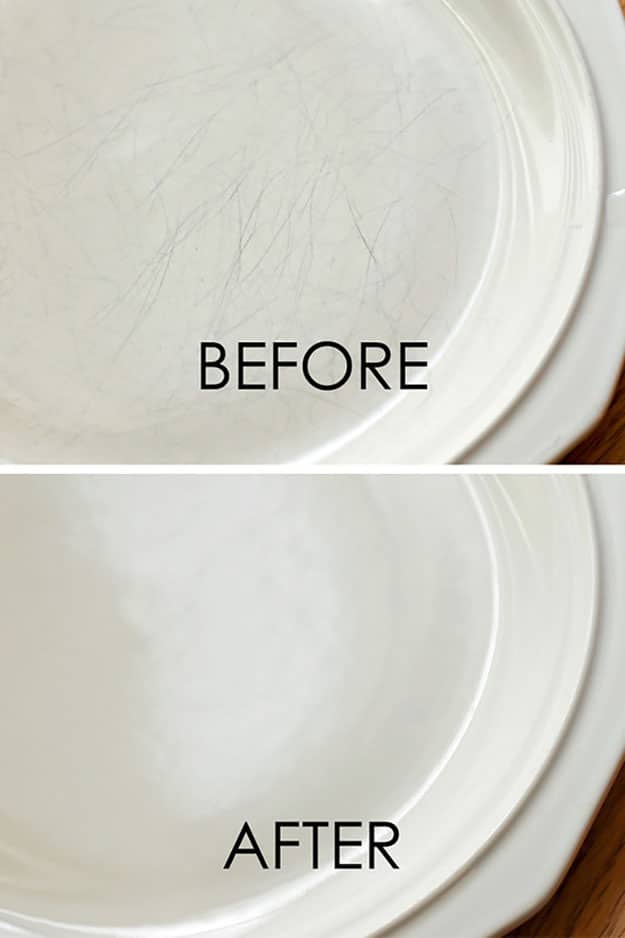 Ok, I'll admit…I'd never even thought to do repair porcelain damage before reading this. Using this magic cleaning hack remedy was way easier than repeatedly (and not so gently) encouraging everyone using the plates not to use the knife too brusquely.
5. How to Get Nail Polish Out
via Baby Center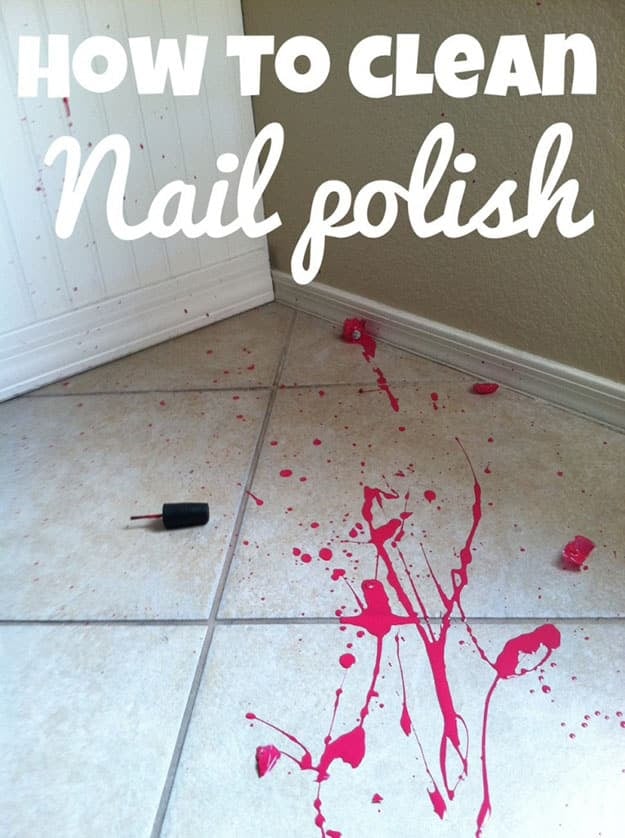 We've all been there…the bottle breaks, your heart sinks…you think "how do I get nail polish out of [insert spilled upon surface here]?" And then panic sets in while you grapple at the paper towels like they're about to take flight. But fear not, this DIY cleaning hack has got you covered. This cleaning tip helped me get nail polish out of tile in no time.
6. 5 Minute Microwave Cleaner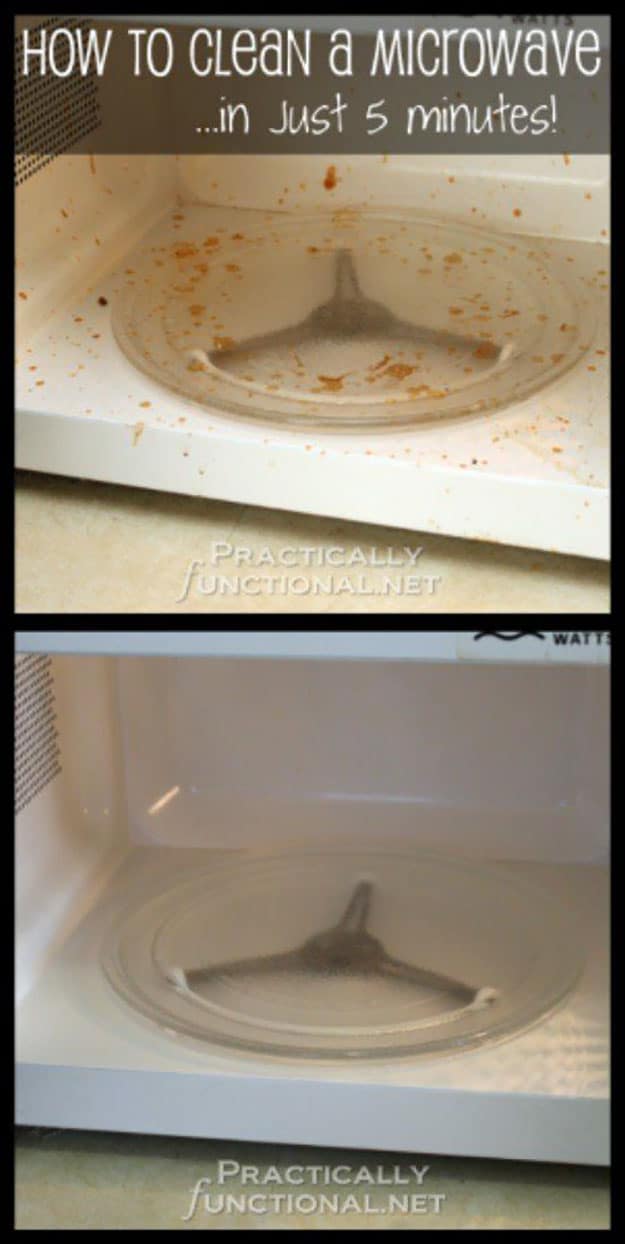 Microwaves are the best…except when they're the worst (and by that I mean, when it's time to clean them.) This easy cleaning tip will have your microwave sparkling in a matter of minutes with little to no effort on your part. My days of microwave scouring and scrubbing are over since learning this easy DIY cleaning hack. And my bet is yours will be too.
7. Clean Your Stovetop Burners in Minutes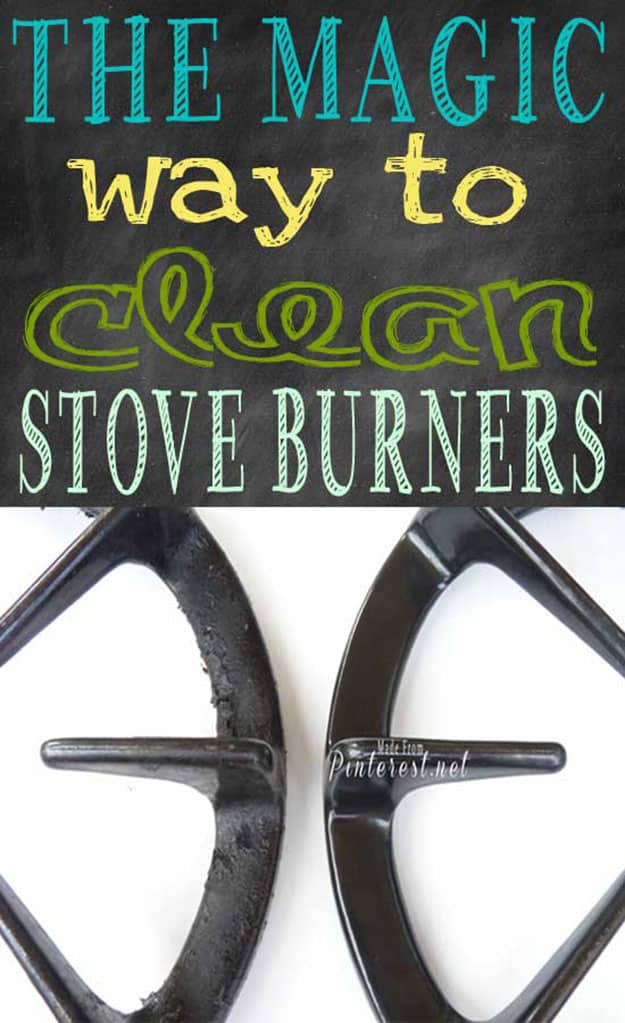 This kitchen cleaning hack has alleviated my kitchen cleaning perfectionism burden drastically. Not only is this a quick cleaning tip that gets rid of grunge minutes before your in-laws get in town, it also makes your stove appear years younger. How's that for a cleaning hack you can get behind?
8. Shower Head Cleaning Hack

Clean your faucets and shower heads in minutes with this easy cleaning hack. Seriously, you just put a bag over it and leave it. Cleaning tips do not get easier than this!
9. DIY Coffee Cleaning Hack
via Creek Line House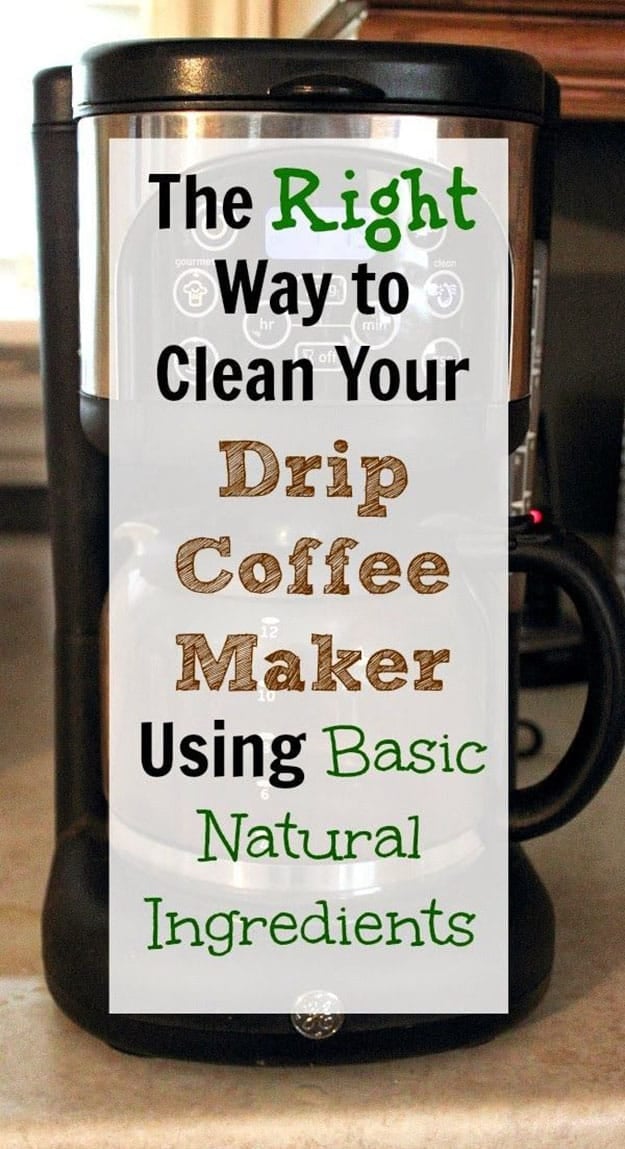 I am so grateful to whoever first came up with a DIY natural cleaner for coffee makers. The first time I ever actually cleaned my coffee maker was after I read about this life hack & cleaning product recipe. It makes all the difference!
10. Make Your Mattress Smell Like New
via Clean My Space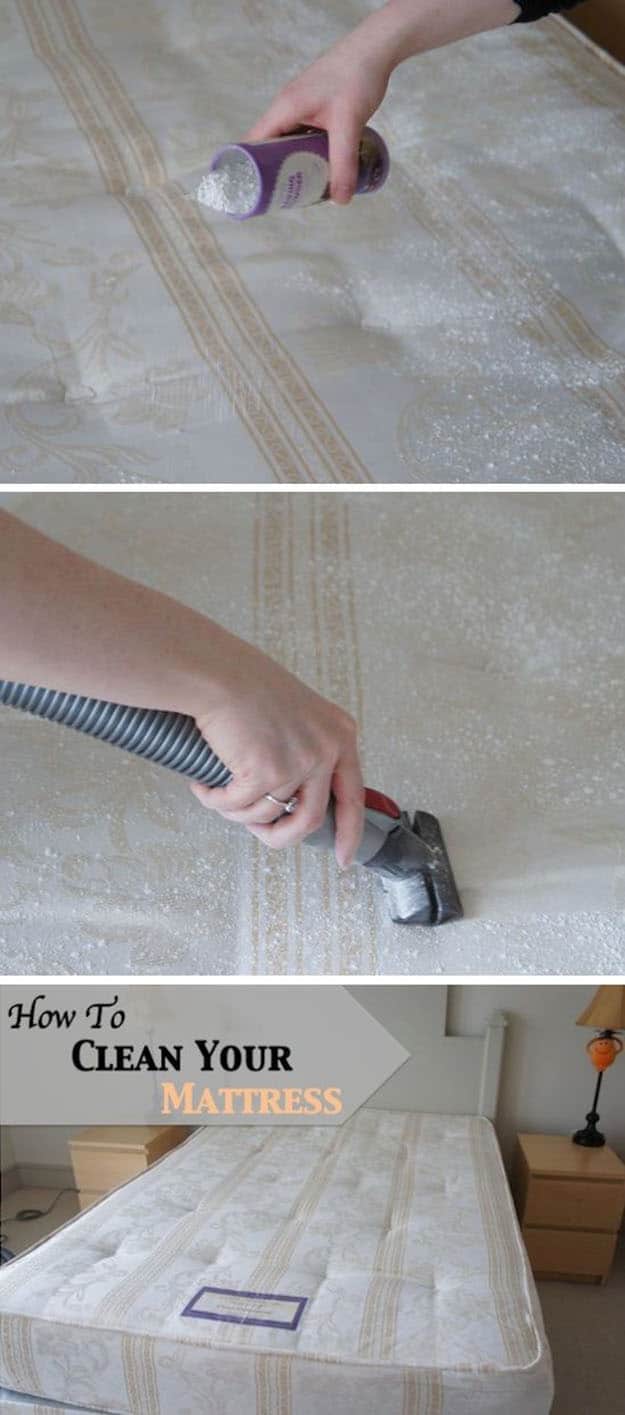 This cleaning hack for mattresses has literally made me sleep better at night. Just a few sprinkles of this easy DIY cleaning product recipe and a couple vacuum swooshes puts the mattress creepy crawly images in my head to bed (pun intended).
11. DIY Washing Machine Cleaning Hack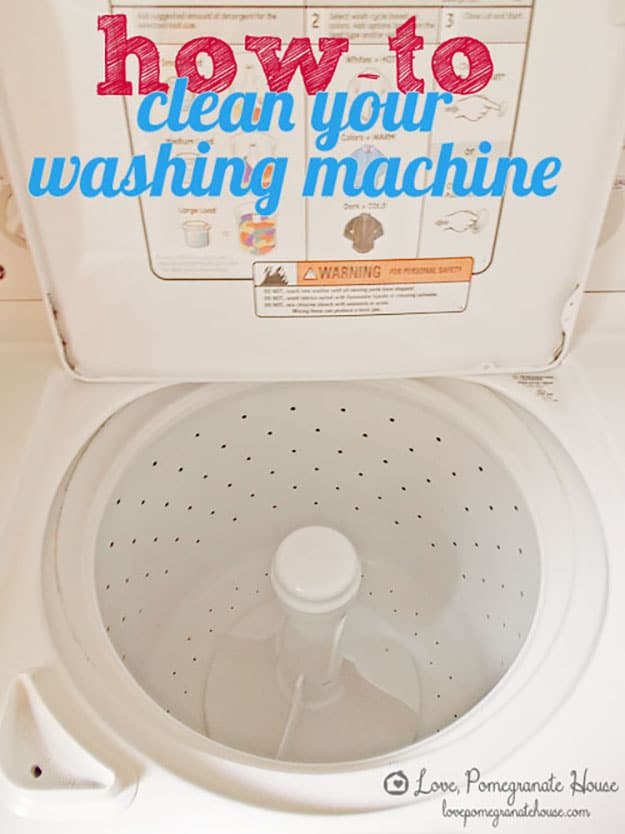 Learning to how to clean your washing machine feels a little bit like learning learning how to paint a paintstick. It seems like it should be second nature to a washing machine to be clean, but this easy cleaning tip and cleaning solution recipe will blow you away with the results.
12. Clean Air Vents with a Rag and A Butter Knife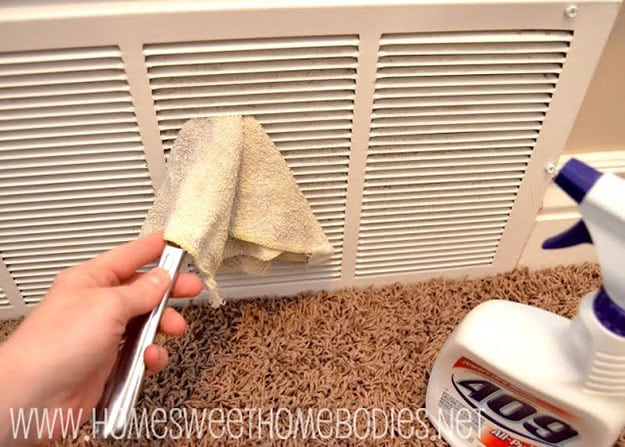 This cleaning tip will have your air vents looking like they were just installed without the painstaking task of cleaning each vent individually. This life hack is another one of my favorite cleaning ideas for the home.
13. DIY Garbage Disposal Cleaning Tablets
via Pop Sugar

Clean your garbage disposal and fill your whole kitchen with a fresh odor with this easy DIY recipe for garbage disposal cleaner. I use this cleaning idea and natural cleaning solution more often than any others in my repertoire.
14. Clean & Sanitize a Cutting Board with A Lemon
via Explosion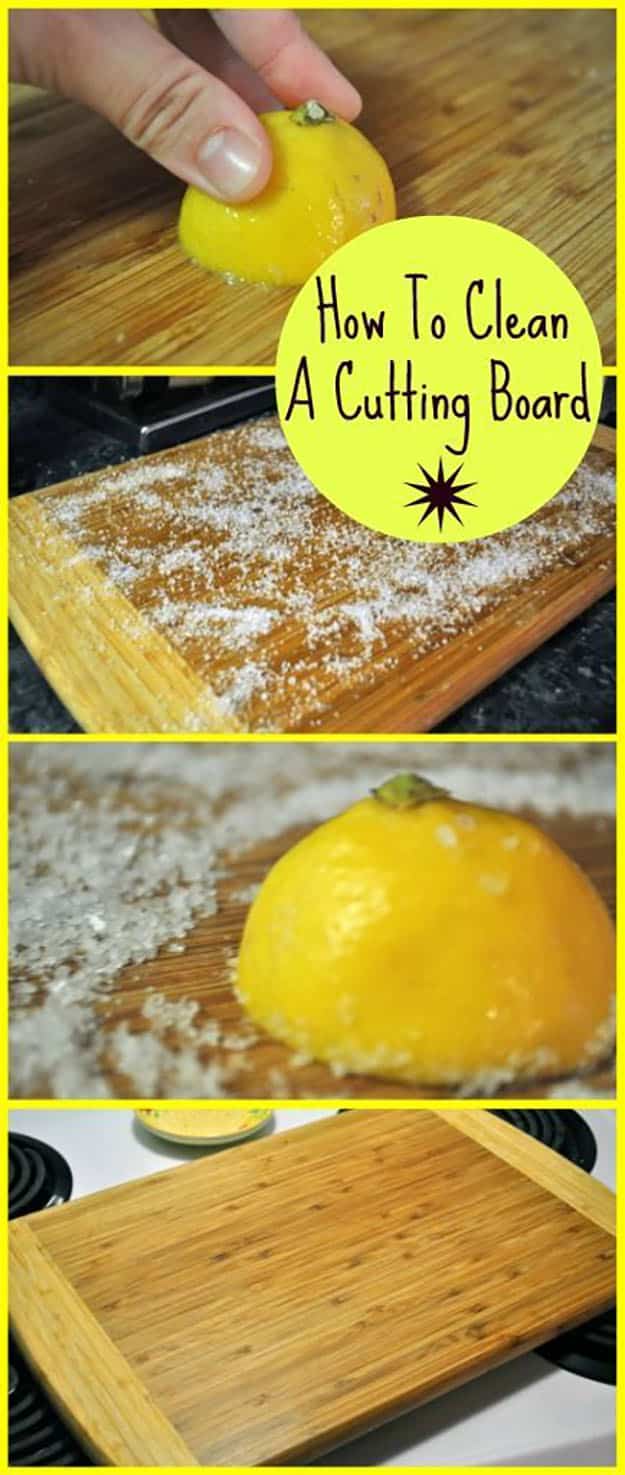 This simple DIY cleaning hack requires only two ingredients and less than a minute of your time. Learning how to clean a wooden cutting board properly is important and should be repeated a couple times monthly to keep your food germ-free.
15. How to Clean an Iron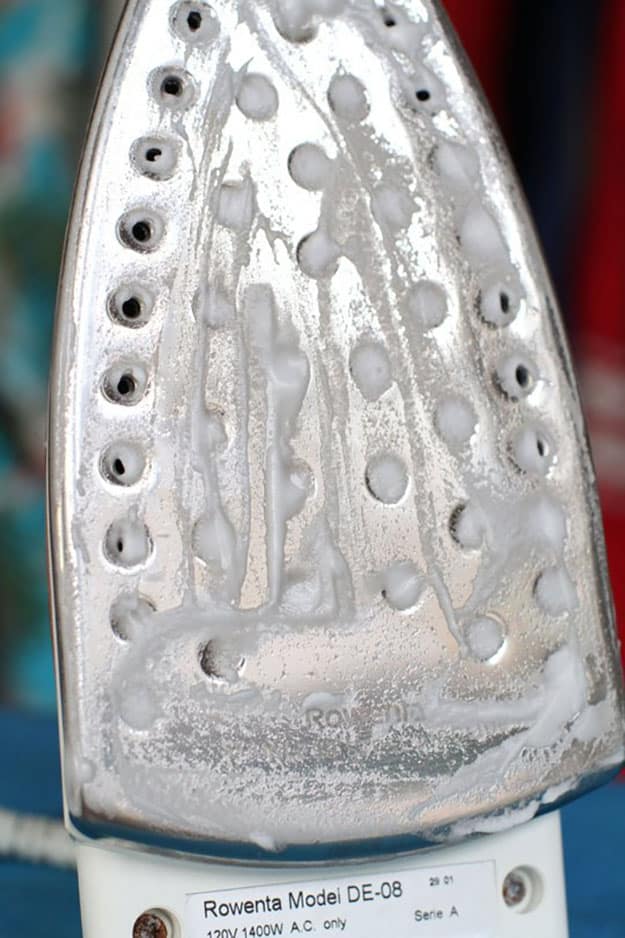 This particular cleaning tip is not only for your iron, but also a great cleaning hack for your clothes to keep from getting all that nasty build-up on them. Use this simple DIY tutorial to clean your iron with ease and keep your clothes grime-free.
16. Clean Your Dishwasher with Kool-Aid
via Real Simple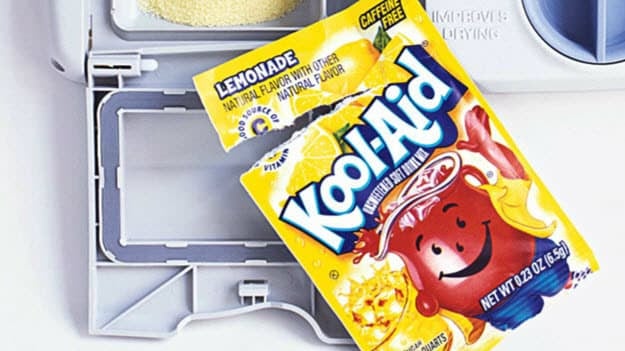 When you were puzzling out how to clean a dishwasher I'm sure lemonade Kool-Aid was not the first thing to pop in your mind. But this cleaning hack is a keeper. The set it and forget it DIY projects and recipes are all my favorites, so it's no wonder that this cleaning idea is at the top of my easy cleaning hacks list (figuratively speaking, of course.)
17. Whiten Yellowed Pillows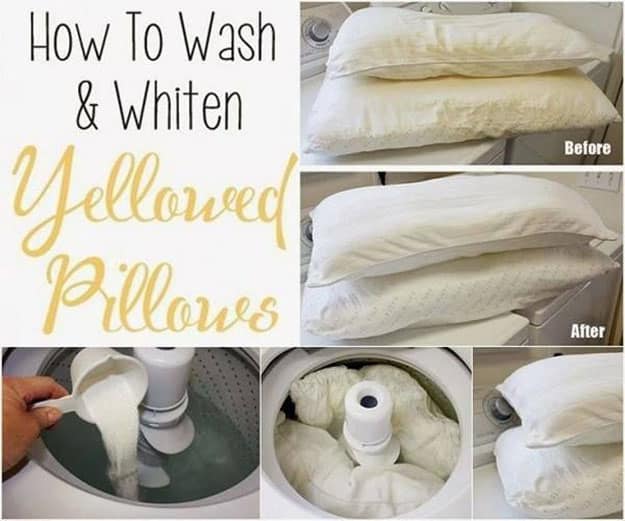 This cleaning tip takes very little effort and is best done before the in-laws come to stay. Learn how to whiten yellowed pillows in one wash cycle. I can't believe I had never even thought to try this cleaning idea before.
Voila! Your whole house should be scrubbed and smelling fresh after using these easy DIY cleaning hacks in your home. I know I missed some good cleaning ideas out there and that you all probably have more that don't even exist on the internet yet. Don't be shy and please share your favorite cleaning tips and tricks, DIY recipes for cleaning solutions, or other great life hacks below!