Looking for some recipe inspiration for your weeknight dinners, take to work lunches and other menu items that have become a little bit boring, because you seem to keep on making the same things? I was, too, and I specifically wanted to find some new and creative ways to use ground beef. Budget friendly and also a family favorite, beef dishes are some of the most popular around my house for a reason. Easy to cook, super versatile and full of flavor, ground beef recipes should be at the top of everyone's list. From Asian inspired rice dishes to party food ideas to casseroles you whole family is sure to ask for more of, we have 50 of the best ground beef recipes around to share with you. Try these at home this weekend, we promise they are going to love them. Whether you need healthy menu options or something that freezes well, you will find the perfect beef recipe here. Casseroles, pasta dishes, rice bowls, gluten-free ground beef ideas and more, all complete with pretty pictures that show you exactly how to make these dishes, you can't go wrong with any of them. Even beginners can pull off most of these easy beef recipes, so not having much experience cooking need not deter you from making these yummy dishes.
Ground Beef Recipes
1. Korean Ground Beef and Rice Bowls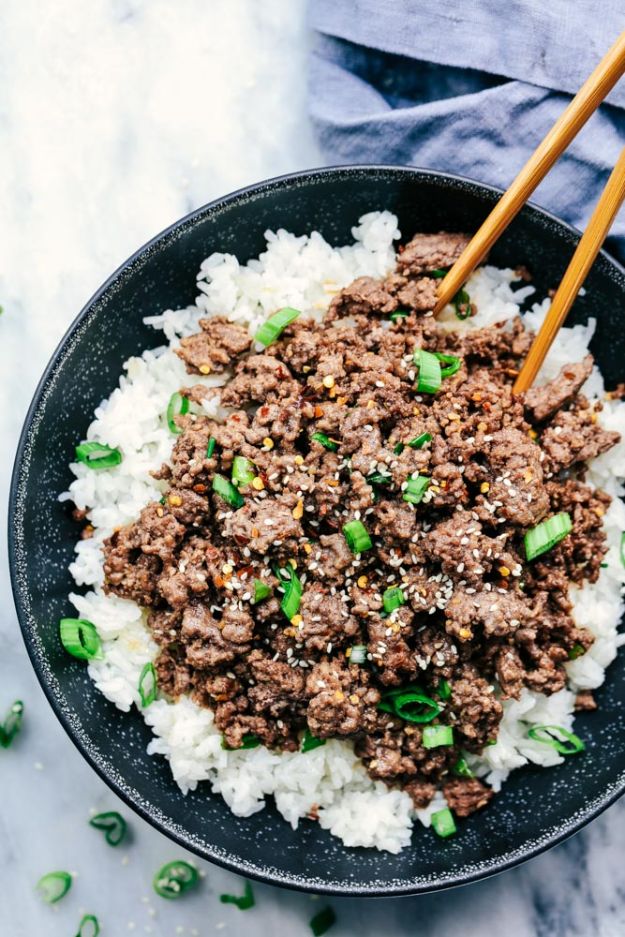 If you are looking for an easy meal with beef that offers something a little different from the basic casserole, try this Korean beef and rice recipe. Rice recipes are some of my favorites, but I usually prepare them with chicken, shrimp or no meat. The aroma alone is worth the effort to make it, and the flavors will have everyone coming back for seconds. Healthy and affordable, this meal idea is sure to fit your budget. Even my young kids love this beef dish, it is not too spicy at all. For an Asian style ground beef recipe that is full of flavor, but a healthy dinner idea, try this Korean beef bowl with rice tonight. Quick dinner idea? You just found it.
Ground Beef Casserole Recipe Idea
2. One-Pot Cheeseburger Macaroni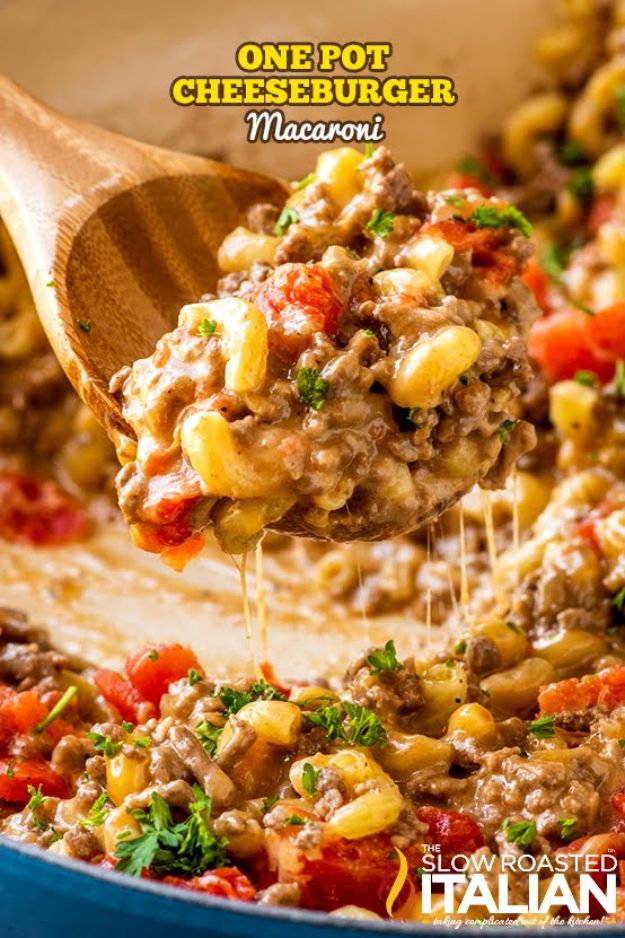 If your family loves traditional ground beef casseroles, this one-pot cheeseburger mac may be the perfect new beef recipe for you. Cheesy, easy and baked all in one pot, this is recipe simplicity at its best. One of the most popular recipes I made recently, my sons have requested I make cheeseburger mac again this weekend. Since it is easy and hardly takes any time to make, I think I shall oblige them! Macaroni noodles never tasted so good! A family dinner recipe that you will want to keep in the "in box." Good casserole recipes and mac and cheese variations are my weeknight staples, so this one ranks at the top of my favorites.
Gluten Free Recipes With Ground Meat
3. Taco Zucchini Boats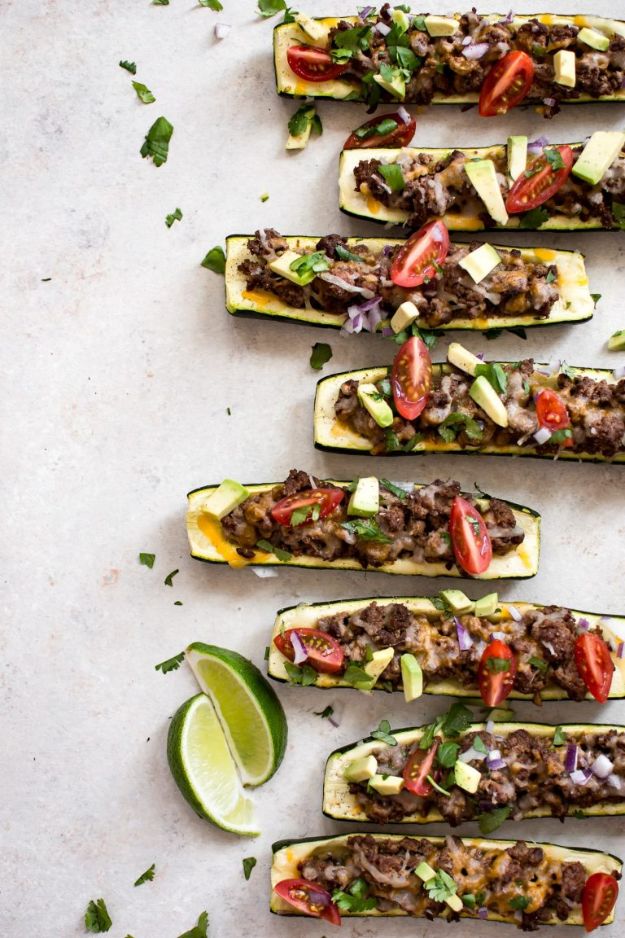 I am gluten free and corn free, but I love tacos!!! That's why I was so super stoked to find this stuffed zucchini taco recipe. These taco stuffed zucchini boats are loaded with tender ground beef that's seasoned to perfection, a blend of Mexican cheeses, and delicious fresh tomatoes, cilantro, red onions, and avocado. The greatest thing is, that everyone loves these whether they are gluten-free or not, they are simply delicious! My kids don't eat vegetables very much, but when I get creative with the veggies, I have more luck. Rebranding sometimes works well, so whether I call bean tamales "bean cake" or their dinner a "taco boat," I do better when they see something on their plate that I've labeled with a family friendly term. This is not boring kid food, mind you. This zucchini and beef recipe idea is so good, I've taken it to pot lucks and served it at dinner parties. Economical, healthy and easy to make, what is not to love about this flavorful gluten free recipe idea for dinner? Serve it with a gluten free dessert and even your gluten loving friends may never realize you switched things up.
4. Ground Beef Stroganoff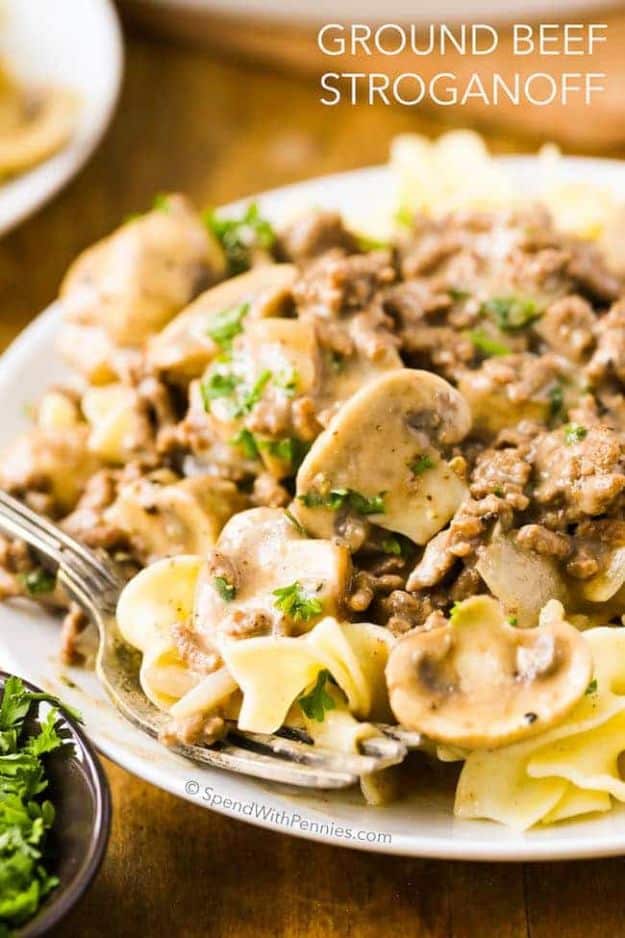 This simple stovetop beef stroganoff recipe is quick and delicious making it the perfect weeknight meal! It has loads of tender mushrooms add tons of flavor, while I most often use white mushrooms, portabello or cremini are a great addition as well. Ground beef stroganoff is one of those comforting meals that is quick and easy to make, plus it can feed your whole family with a short list of ingredients! How about a hearty meal of beef stroganoff in less than 25 minutes? Count me in, this easy weeknight dinner recipe is perfect for busy nights when you don't have much time to cook! Learn how to make beef stroganoff – easy to prepare and perfect for hearty fall dinners or hungry people at the dinner table. My family loves stroganoff, but until I found this easy recipe for pasta noodles and beef, they only got to eat it on special occasions when I had time to make it. With an easy stroganoff recipe like this, we get to enjoy it all the time now.
5. Taco Bake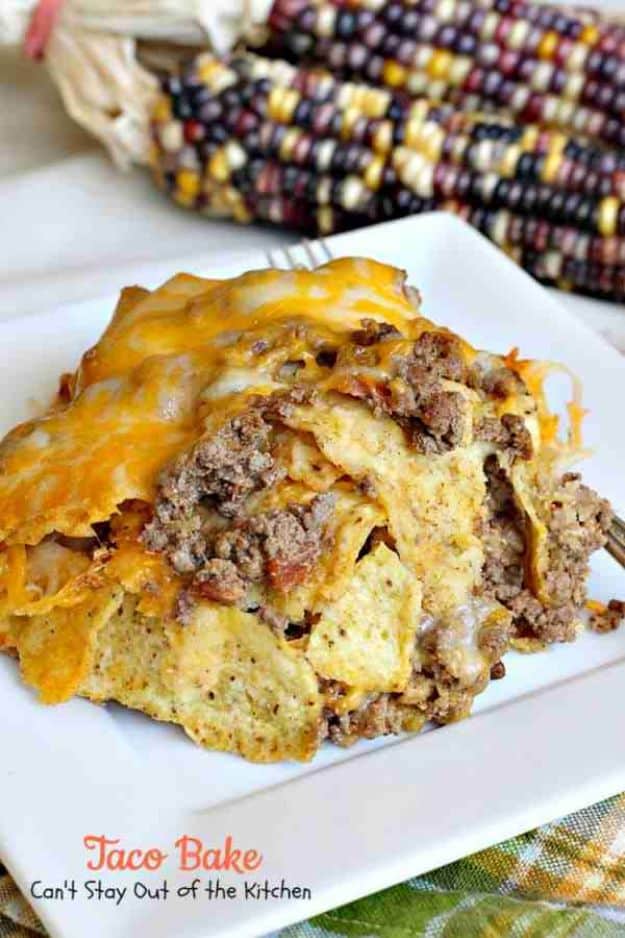 If you need a quick and easy main dish recipe to throw together quickly because you are at ball practices, doctor's appointments, or other venues late in the day, consider having these ingredients on hand and whip up this easy casserole. You can be ready to eat in about an hour! This is a great recipe to teach your kids how to cook, too. It has so few steps and turns out so wonderfully–they will be greatly encouraged in cooking after making this tasty entree for dinner. This only has seven ingredients so it is an easy beef recipe, even for a novice cook! If you or your family love Mexican food recipes, this simple taco bake belongs on the dinner menu.
6. Best Swedish Meatballs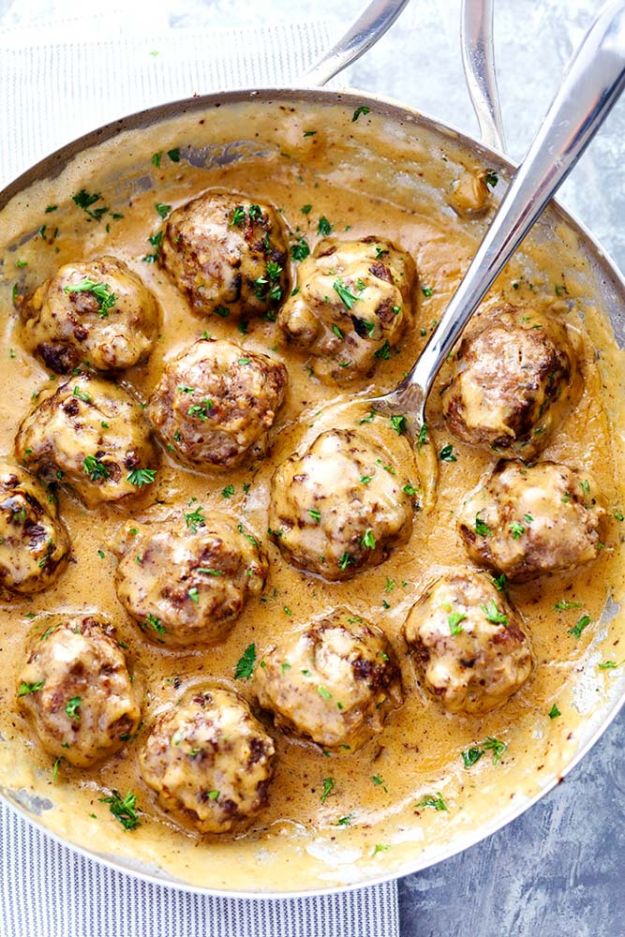 My kid's favorite meal in the whole world is Swedish meatballs. This recipe has a secret ingredient that makes it different though, Wostershire sauce. This meal is ready in just 30 minutes and perfect for feeding a hungry family during the week. We loved serving ours over egg noodles, but it would also be great served over mashed potatoes or rice. It is such a classic recipe and this one I believe is the best! I know that it will become a favorite in your family as well.
One Pot Ground Beef Recipe for Dinner
7. Easy Cheeseburger Gnocchi Skillet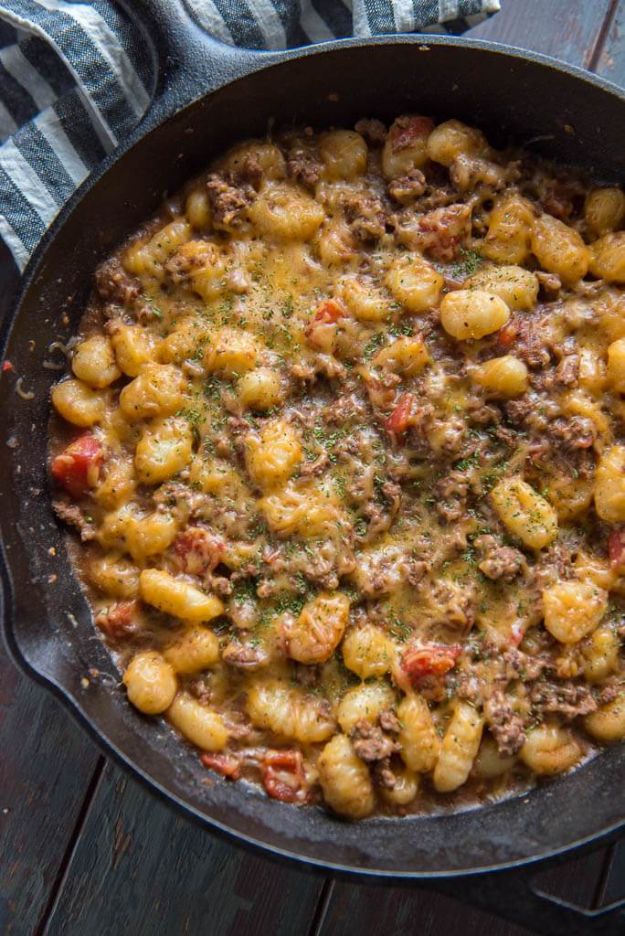 Eating healthy food is important to me, but so is eating good food. I don't believe to live a healthy life means you have to give up the foods you love. That's why I love this Easy Cheeseburger Gnocchi Skillet. A few years ago I had gnocchi for the first time. If you have never heard of it please don't let that stop you from making this recipe. I have a sneaky suspicion you are going to love it! A hearty one pot meal that my friends always request before they come over for dinner.
8. Ground Mongolian Beef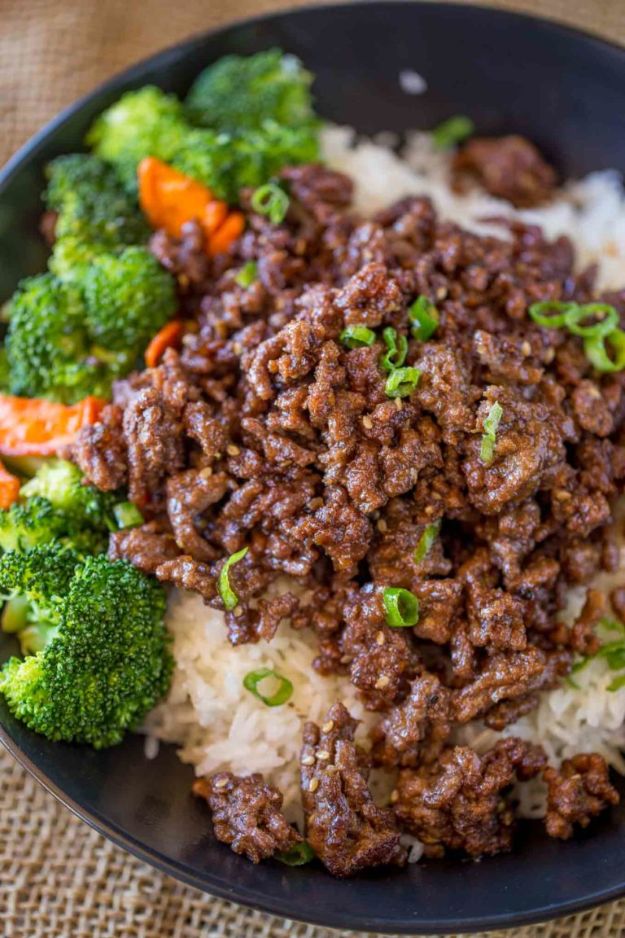 We eat entirely too much take out in our home, so I decided to put my foot down! My husband loves ground Mongolian beef with a sweet and spicy sauce. It is crispy and tender without having to buy steak and it's done in 20 minutes. I can't even begin to tell you how happy everyone is, now that we don't eat takeout anymore, thanks to quick and easy recipes like this. For easy dinner recipe ideas that even beginners can make without fail, try cooking this quick beef idea.
9. Ground Beef Chili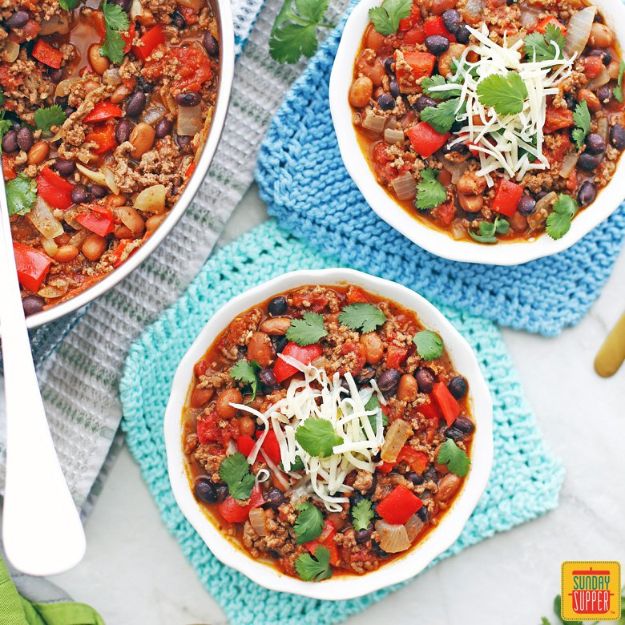 This easy Ground Beef Chili Recipe is delicious. It's a quick, comforting, and filling meal that's perfect to serve the entire family. The recipe is made in one pot. First, the onions, peppers, and garlic are softened with a small amount of beef (or chicken) broth. No need to use oil in this recipe. Then, the ground beef is stirred in and cooked along with the vegetables. The remaining ingredients including the spices, beans, and diced tomatoes are added and simmered on the stove for a short time to allow the flavors to meld and combine together. Enjoy this hearty ground beef chili with toppings of your choice such as low-fat cheese, cilantro, parsley, Greek yogurt, or a low-fat sour cream! For an amazingly easy chili recipe, make this yummy one for supper.
10. Spicy Ground Beef Nachos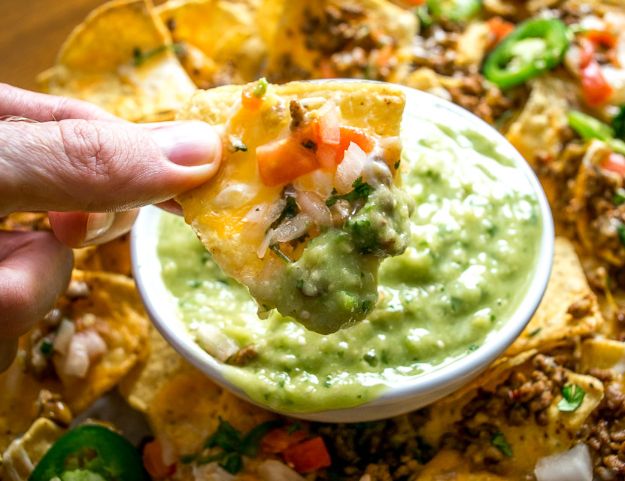 The key to these nachos is to give the beef real flavor before you add all the fixings; then everything else just becomes a bonus because the combo of spicy ground beef, melted cheese, and warm tortilla chips is already off the charts. The chipotle seasoning for ground beef tacos has superhero qualities of its own so we are using a variation of that here today. Chipotles give the ground beef incredible flavor and will instantly have you thinking of other ways you can use it. I serve this as an easy snack to make for parties , as lunch or even the main course for a light evening meal.
11. Greek Burgers With Spinach, Feta and Sun-Dried Tomatoes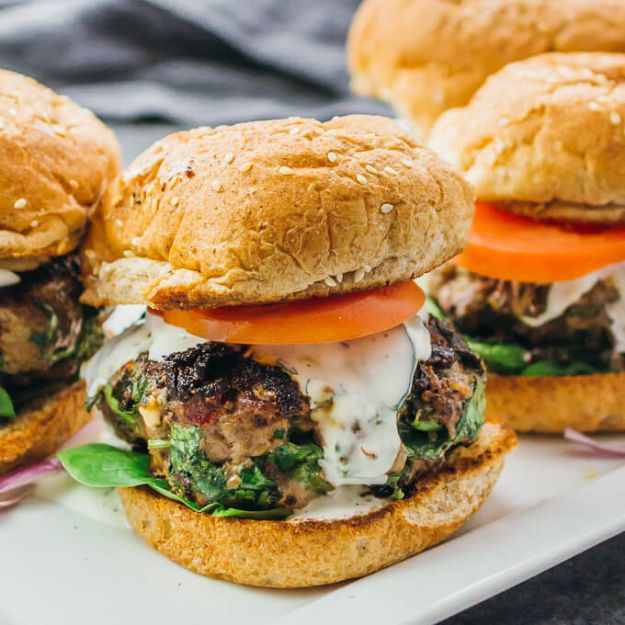 Burger recipes are always a hit at my house but these greek burgers are one of the most requested dinners ever. Once you try them, you will see why. The combination of feta cheese, sundried tomatoes and spinach is so flavorful, I adore this creative twist on burger making. All you need are a few ingredients for this cheap ground beef idea that looks and tastes like it came from an expensive restaurant. Alternate and try this recipe with ground turkey if you like.
12. Chopped Steak with Bacon and Mushroom Gravy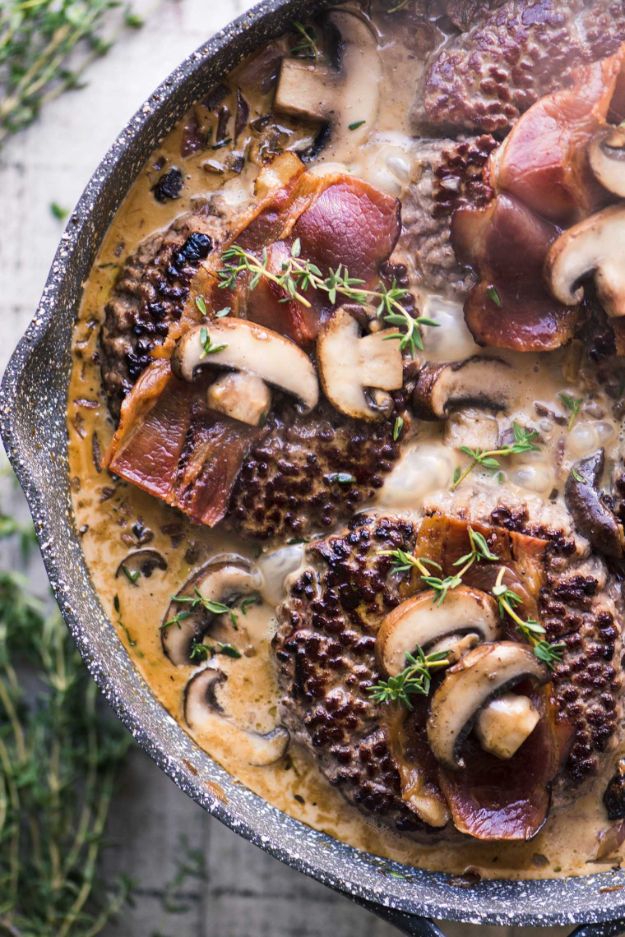 Mmm. Bacon recipes. If you want to impress the next time you cook a beef dish for dinner, think beef and bacon with a side of mushrooms. Mushrooms and beef are like best friends, in my opinion, and they should be served together often. This recipe with ground beef and bacon leaves nothing to be desired, it hits all the flavor points, plus it is simple to make and pretty enough to post on your Instagram or Pinterest.
13. Cheesy Tomato Ground Beef and Rice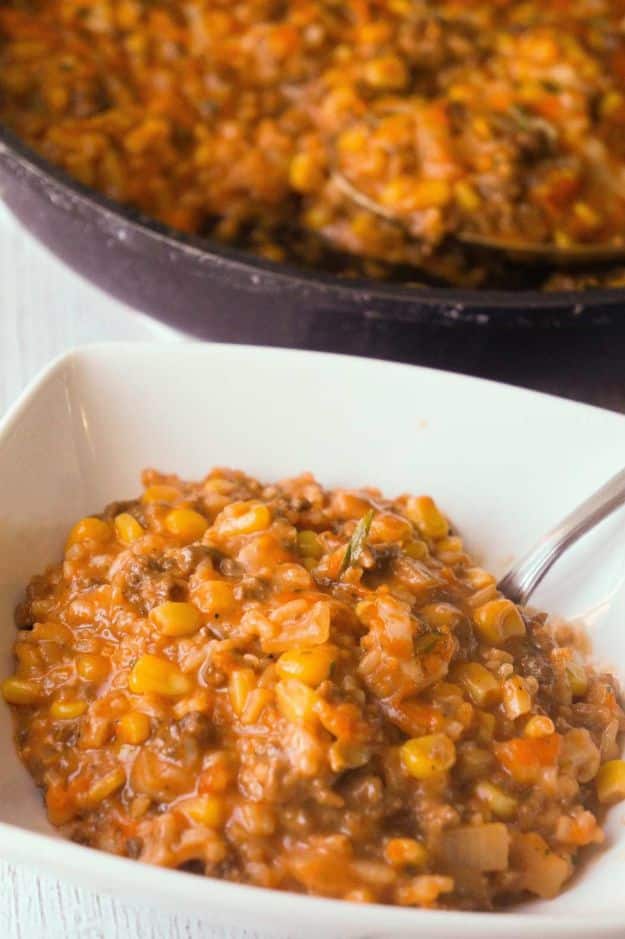 14. Low Carb Mongolian Beef Meatballs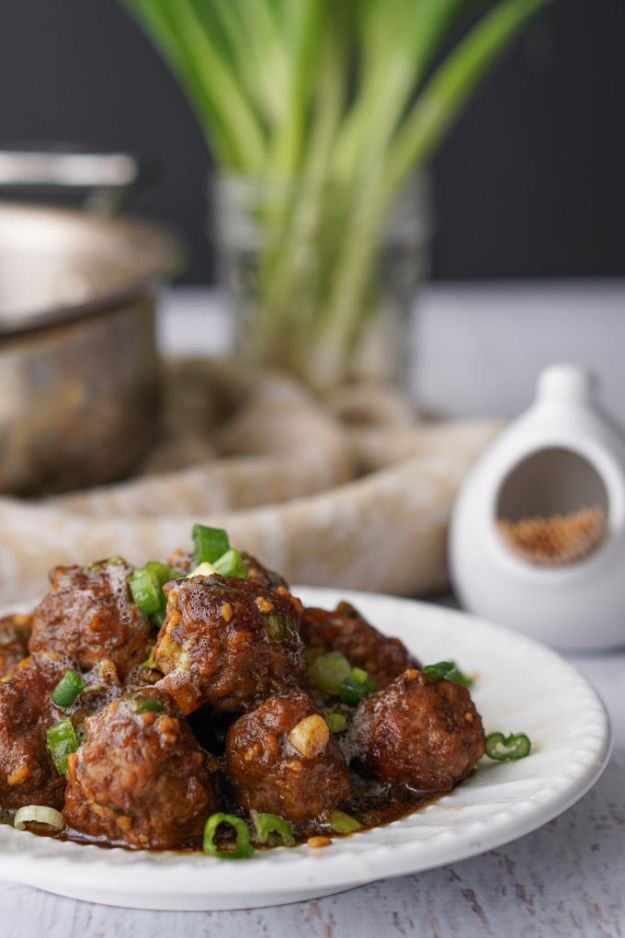 15. Spicy Ground Beef and Butternut Squash