Love pasta? I know so many people have gone low carb these days, but I simply am not one of them. I love my pasta, please never, ever take it away. If you agree, then you will be pleased to see my newest list of mouth-watering recipes, 41 tried and true plates of pasta that may just have you dreaming in Italian. From the best white sauce recipe to sauces in shades of pink, red and green, you are sure to find a new favorite pasta dish here. Many of them fit the bill for an easy and quick weeknight dinner, and we all included healthy low fat versions, vegetarian-friendly finds and some amazing one-pot pastas we think you should try immediately.
Pasta Recipes
1. Light Lemon Garlic Pasta with Salmon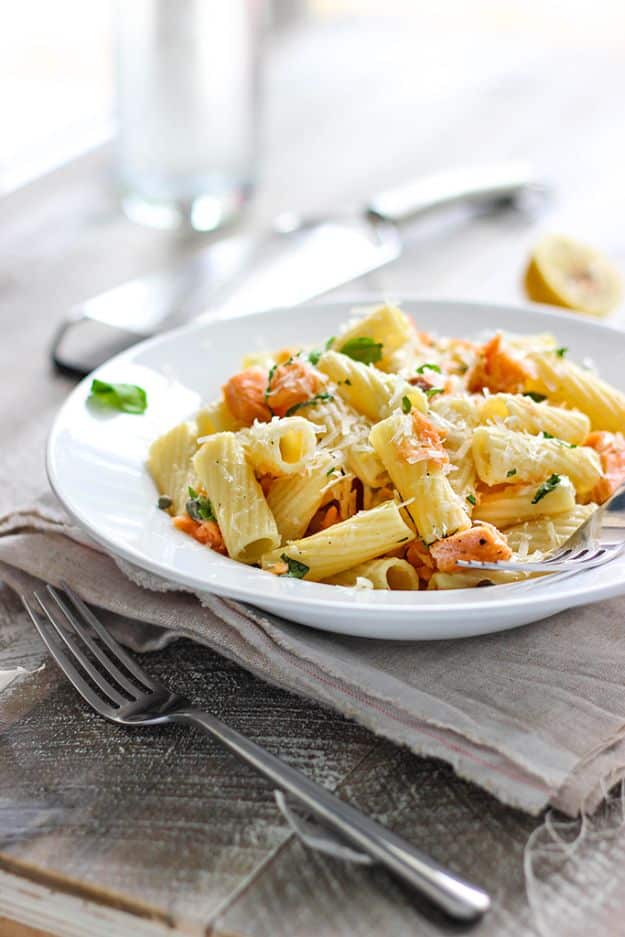 Full of fresh flavors, this Light Lemon Garlic Pasta with Salmon is the perfect summer dish. It is comforting and filling whilst still being fresh and light. With just a few grocery store ingredients you can create such a delicious pasta recipe.
2. Pancetta-and-Brussels Sprouts Linguini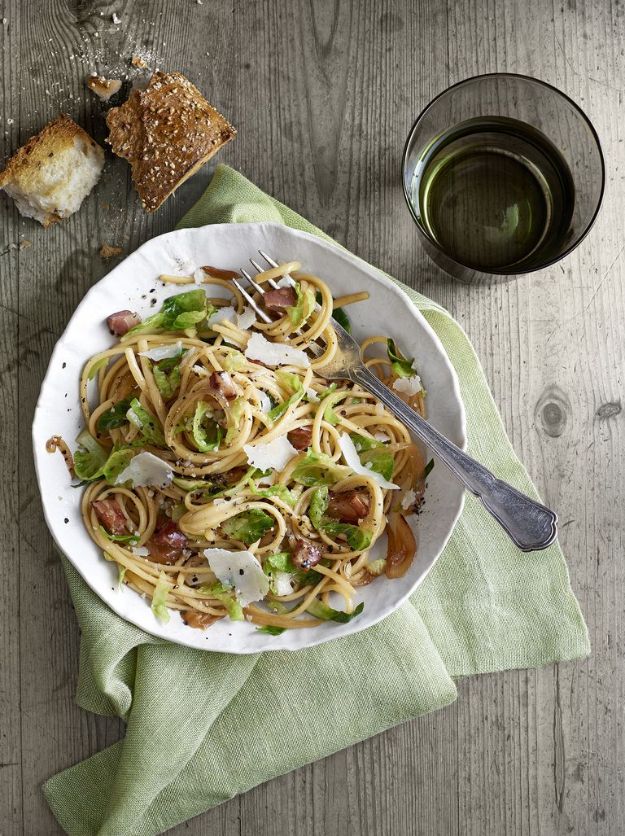 Looking for an easy pasta recipe? This Pancetta-and-Brussels Sprouts Linguini is simply the best. Try this hearty recipe from Country Living and I promise you, this hearty bowl of pasta hits all the right notes.
3. Roasted Poblano Pesto Pasta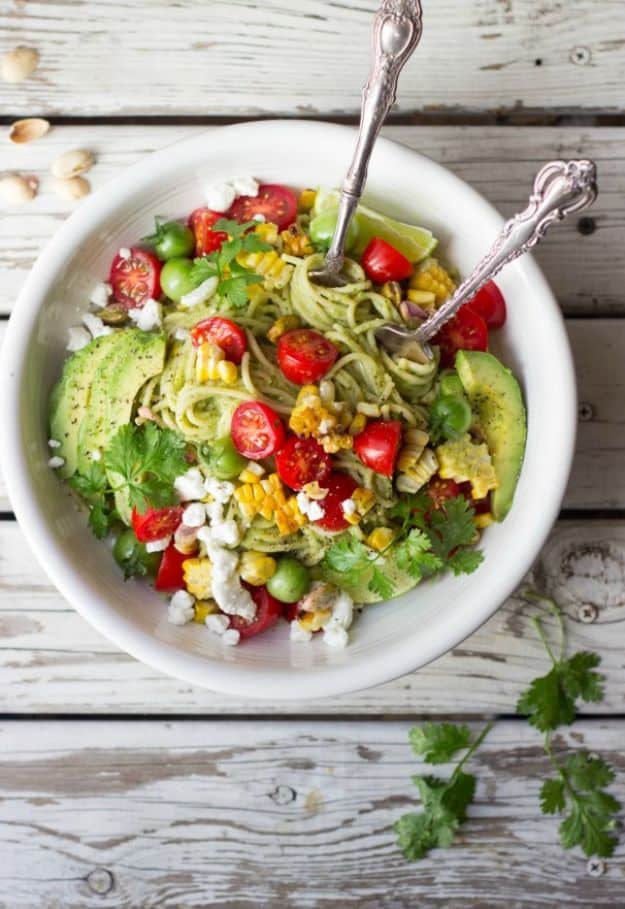 This Roasted Poblano Pesto Pasta is a light take on pesto pasta, perfect for an easy weeknight dinner. Low carb, gluten-free, vegetarian recipe. Definitely a bowl of absolute goodness. It is such a creative (and spicy) take on a traditional recipe.
4. 5-Ingredient Bacon Asparagus Pasta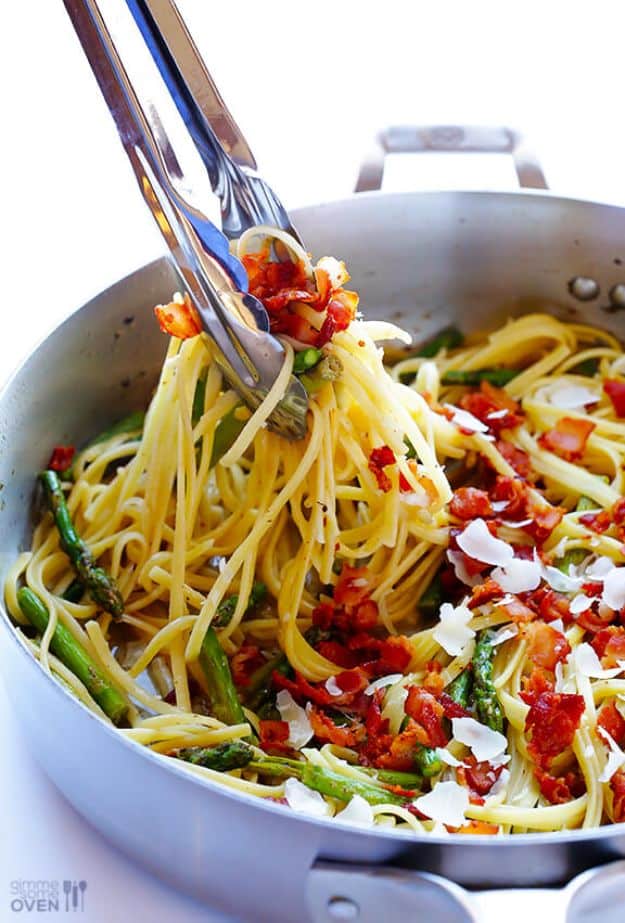 This is seriously one of the easiest and best pasta dishes ever. Why? It is super quick and easy to make. Asparagus is finally in season, and bacon is always in season. It's a good combo. Definitely worth a try and I wouldn't have any qualms with testing this recipe over and over again.
5. One Pot Garlic Parmesan Pasta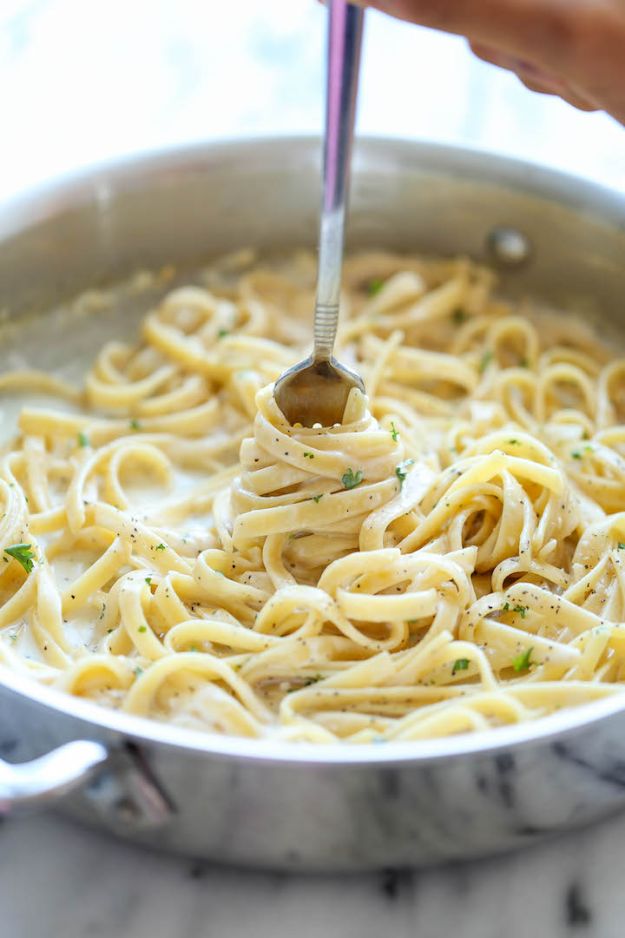 Need a simple one-pot pasta for a weeknight win? This One Pot Garlic Parmesan Pasta is fast, flavorful and endlessly customizable. Go up or down on garlic to suit your taste. Creamy and delicious, everybody will surely fall in love with this recipe. A quick cheese pasta recipe with garlic, simple but divine. Serve with some grilled chicken or fish for an impressive dinner that does not require lots of work or time.
6. Chicken and Arugula Cacio e Pepe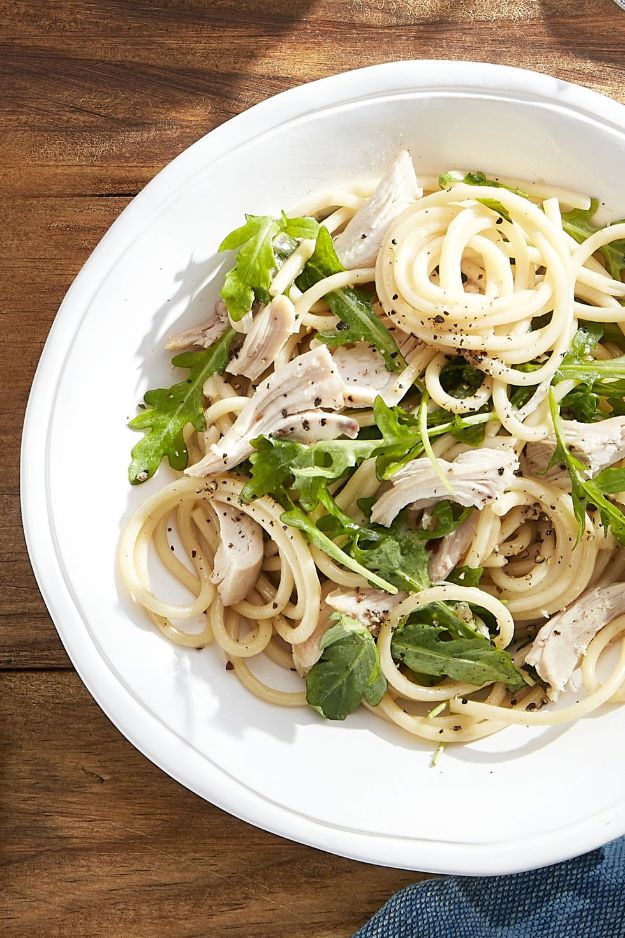 Amp up your pasta game with this Chicken and Arugula Cacio e Pepe from Country Living. Cacio e Pepe is a super simple classic Italian pasta dish that gets its name from two star ingredients: cheese and pepper. This dish packs quite a punch in the flavor department. One of the best chicken pasta recipes I've tried, this one is a keeper. Even the kids love eating this for dinner.
7. Smoked Sausage Cajun Alfredo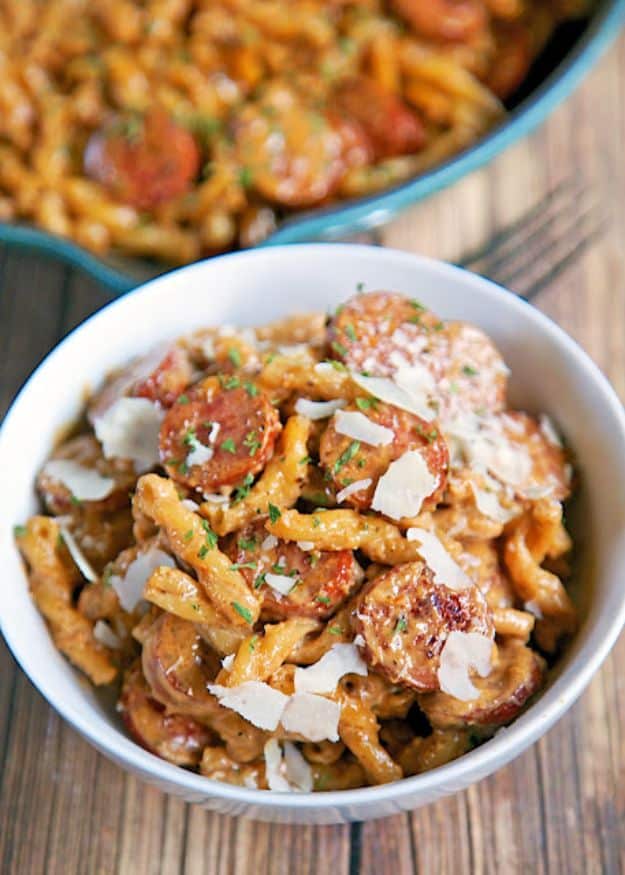 Ready in about 15 minutes, this Smoked Sausage Cajun Alfredo is dinner in a dash. It tasted amazing I actually made it two nights in a row. A keeper for sure, this is my new go-to pasta recipe! Go ahead and try it for yourself.
8. Baked Tortellini With Three Sauces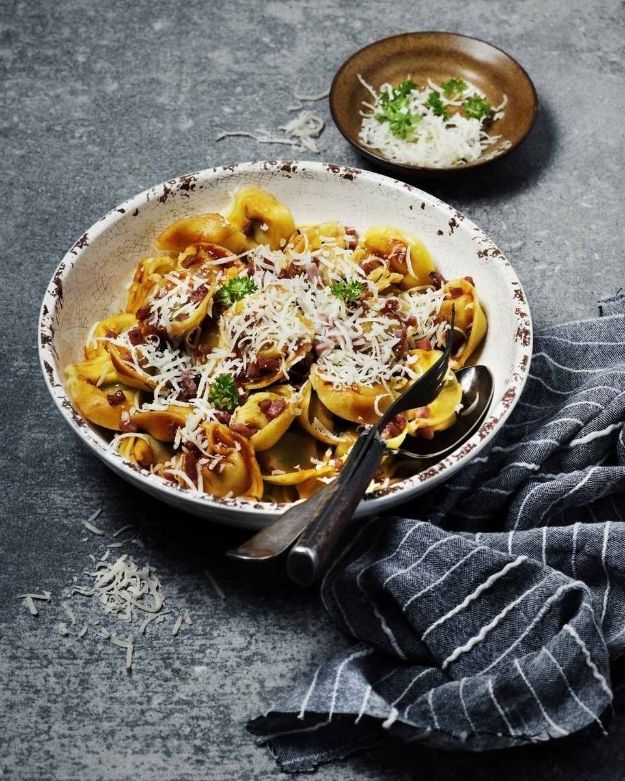 Looking for a very easy and rich pasta recipe that tastes like you spent hours in the kitchen? Well, look no further! This Baked Tortellini With Three Sauces is sure to blow you away. It is a recipe your family is going to love and you're going to love how incredibly easy and fast it is to make.
9. Linguine Squarcierella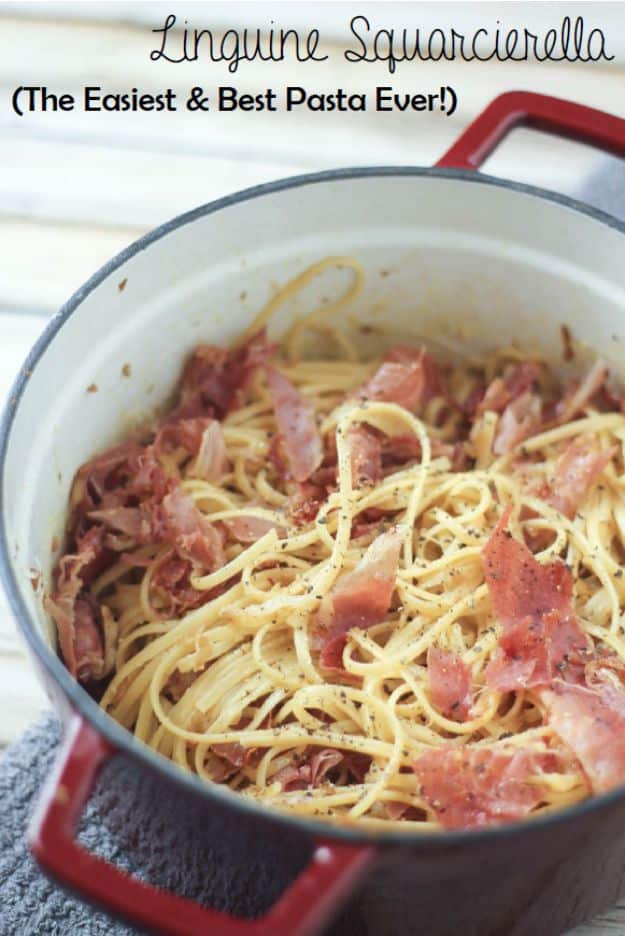 Linguine Squarcierella – a.k.a. the best pasta ever! Once you learn this easy recipe it will become your go-to meal for busy weeknights. Discover this pasta goodness with this easy recipe from The Wanderlust Kitchen.
10. One Pot Pizza Pasta Bake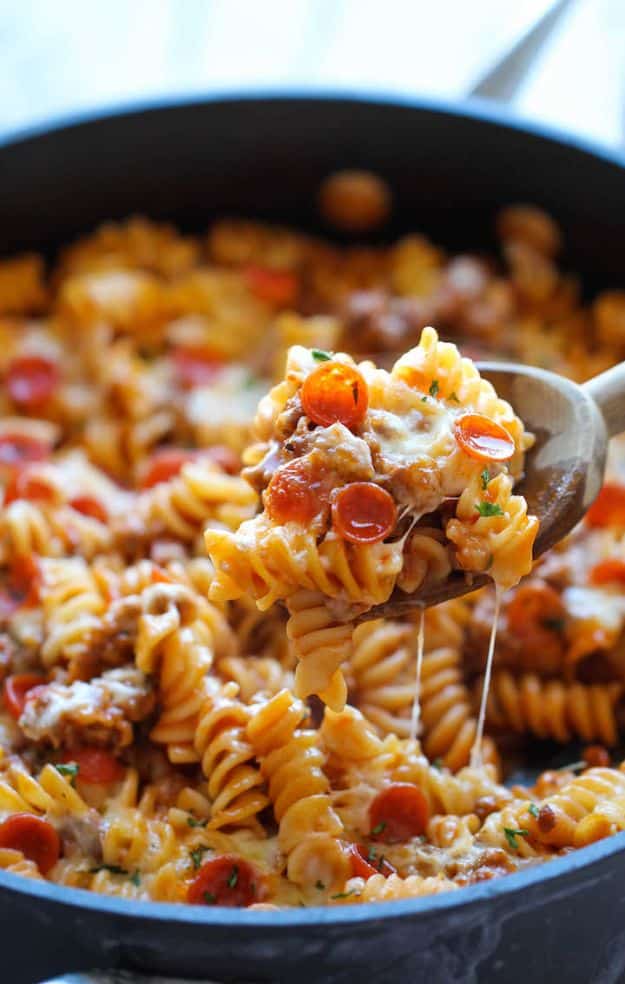 One Pan Pizza Pasta Casserole is an easy family-friendly, crowd-pleasing recipe that combines two favorites into one for a fast weeknight. I love pizza! I also love pasta. So combining the two into one excellent one-pot meal is a win-win!
11. 3-Ingredient Creamy Tomato Angel Hair Pasta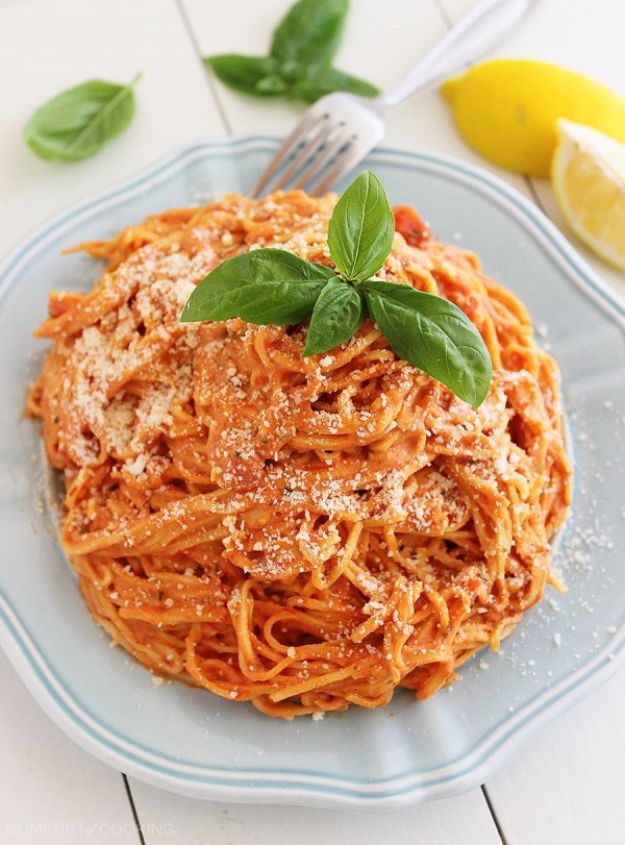 12. One Pot Penne Pasta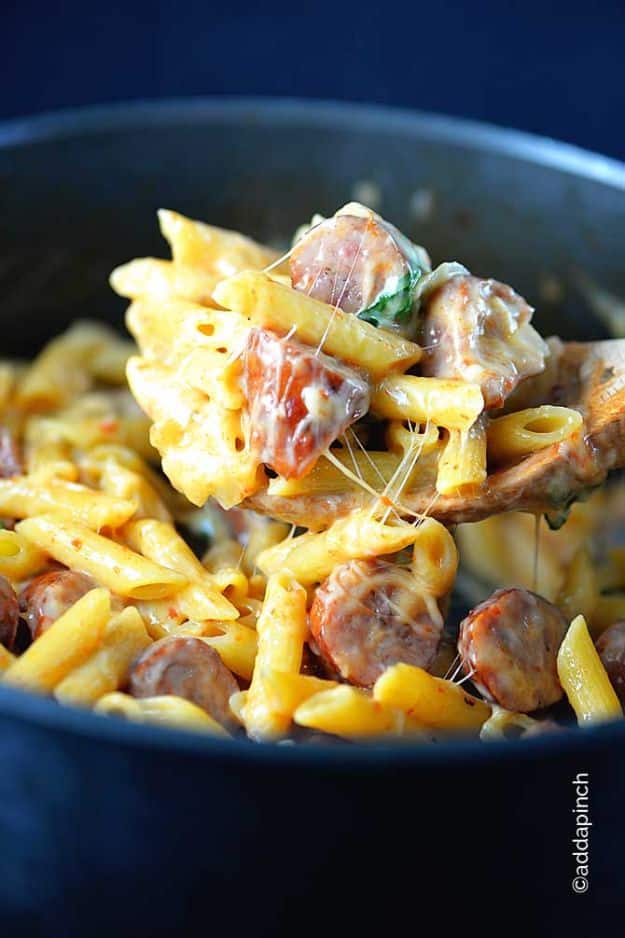 13. Orecchiette Pasta with Chicken Sausage and Broccoli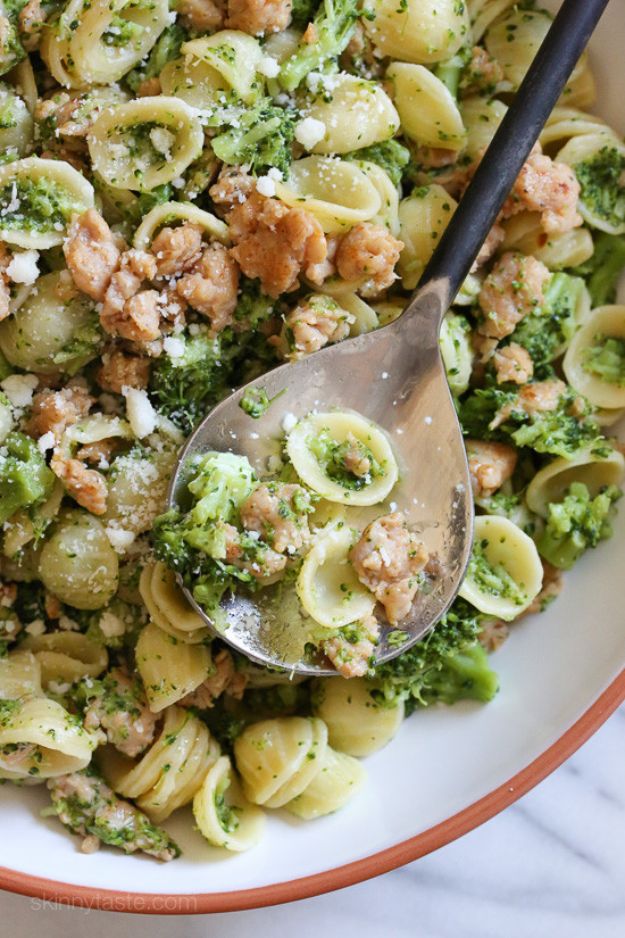 14. Mushroom Pasta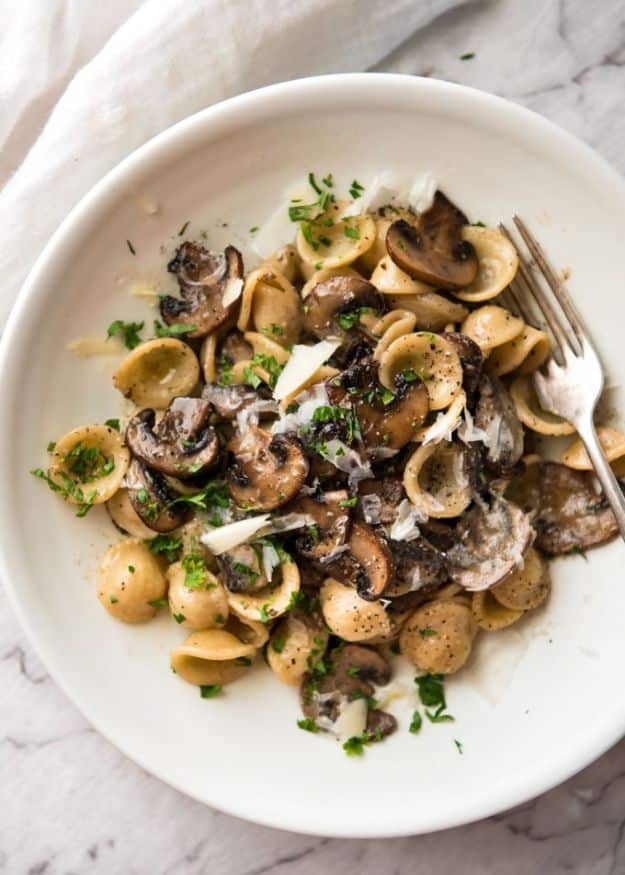 15. Lemon Garlic Parmesan Shrimp Pasta