Love to quilt gifts for just about everyone you can think of? So do we, and we are always looking for creative quilted gift ideas for family and friends. Especially with Christmas right around the corner, it is time to start thinking DIY gift giving. Whether you need something for mom or dad, neighbors, co-workers or friends at church, you will love these step by step tutorials for some of the best gifts around. Easy ideas that will not take a lot of time, many of these quilting projects can be made in a few hours. From covers for phones and accessories to cute pin cushion to kitchen accents and decor, we think you will want to start making these this weekend!
Sewing Project Ideas – Quilted Gifts
1. DIY Quilted Frog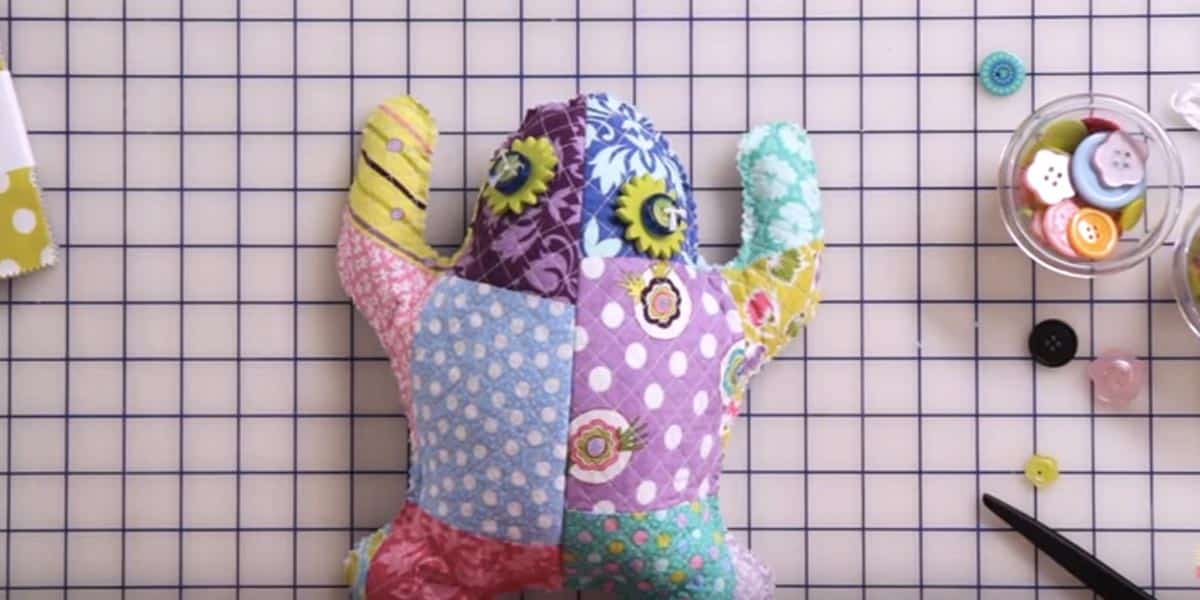 Children go through tons of clothes super quickly with inevitably a few items that will end up meaning more than the others because of how you remember your little one looking in it, or because something monumental happened while they were wearing them. Therefore, if you're into recycling and DIY ideas, this cute little DIY frog will show you that you can turn your children's clothing into toys they will love. Watch how the ladies from Fat Quarter make these adorable frogs in their step by step tutorial.
2. Quilted Pocket Camera Cover
Scattered Thoughts of A Crafty Mom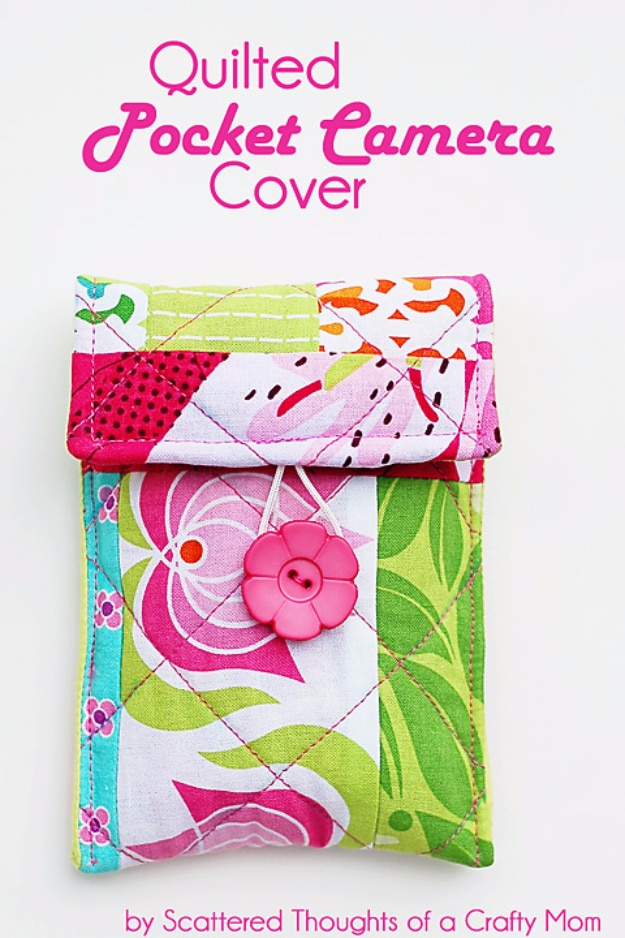 What a beautiful project! I love the fabric and the tutorial is awesome. I also have a red camera and I'm going do that with a similar fabric. Would be perfect for circular knitting needles in project bag. This little camera cover is exactly what I needed to help protect my camera.
3. Photo Quilt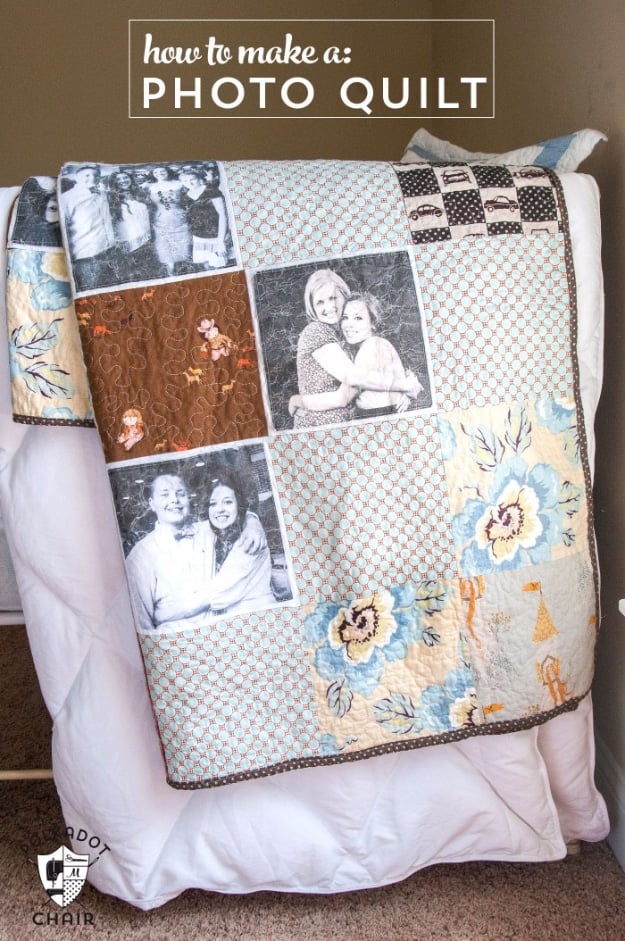 Photo memory quilts are wonderful gifts and make great keepsakes. They all look cool draped over a couch and will keep you warm on cold nights. I liked the idea of a quilt with photos of their family back home on it, to keep them warm if they get homesick while away. I've always wanted to make one of these and I am glad I found this awesome DIY project tutorial from Polka Dot Chair.
4. Easy Pocket Potholder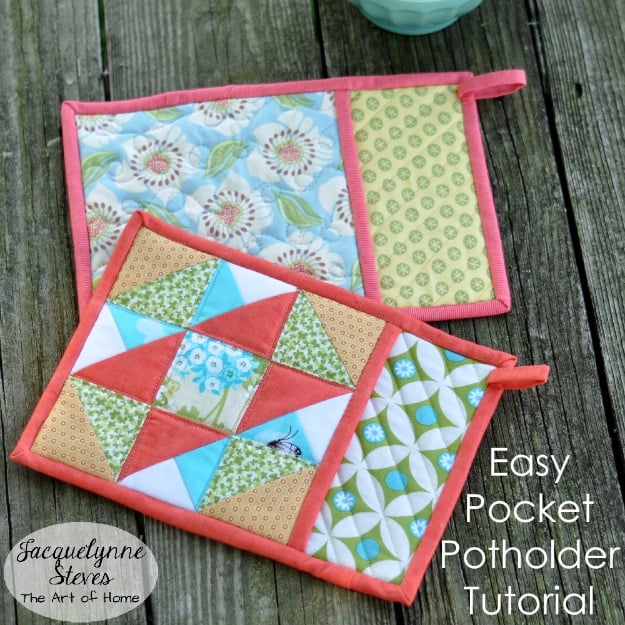 Potholders are fun, quick to make, and they are a really nice little gift. You can make someone a super-cute and useful gift in no time at all, plus they're great for using your scraps. Here is a different pocket potholder tutorial for you. This one is nice and big and it has a pocket, so you can fit your hand inside and easily grip hot-stuff.
5. Contemporary Table Runner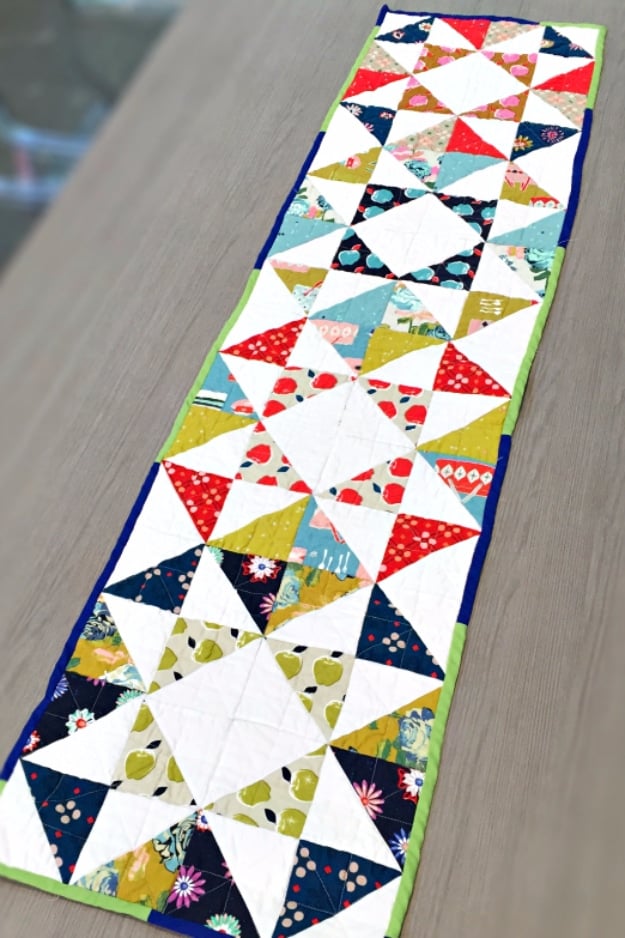 Wow, this table runner looks so elegant and beautiful! I have stacks of half square triangles sewn in a would-be project for my mother. Perhaps I'll take a few of them and whip up a table runner for her as a Christmas present. On top of that, they can be utilized as a covering for a dresser, as a bed runner, or even as a covering for the back of a couch.