Looking for some fun outdoor craft ideas for kids to make at home this summer? We were, too, so we decided to share our list of the best DIY ideas for kids to make outside with you. From cool DIY games like Yahtzee and bowling, to water activities, to DIY painting crafts, we have fun ideas for children that will save you from summer boredom and "What can I do?" Easy and creative do it yourself projects that are amazingly fun and best done outdoors. I especially love the DIY game ideas- have fun and entertain your children while both making and playing with them. Enjoy the nice weather and play with these this summer crafts for kids this weekend!
1. DIY Mason Jar Fairy Lights
This fun kids craft idea definitely has a WOW factor. Easy to make, and simple and safe enough for kids to be able to work on themselves, this creative DIY project idea lets you create fairy jars that glow in as many colors as you can find in glow in the dark paint. These DIY lights use only a few things for supplies – mason jars or other repurposed jars and glow in the dark paint. Check out the step by step tutorial and video to see exactly how to make this fun outdoor crafts for kids.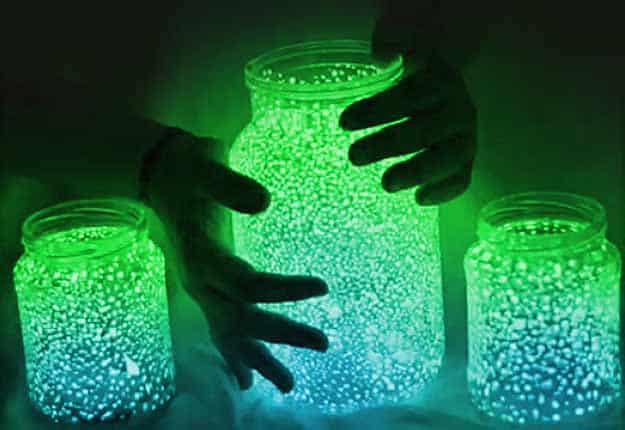 2. DIY Recycled Bottle bowling
Umm… This is adorable. My favorite kids crafts ideas are ones that require me to do no shopping or even hunting for DIY project supplies. With some leftover soda bottles, an old tennis ball and some acrylic paint, you can create this cool DIY bowling game for an easy outdoor idea for your kids this summer. This one is simple enough for the kids to make themselves, which makes this project idea even better.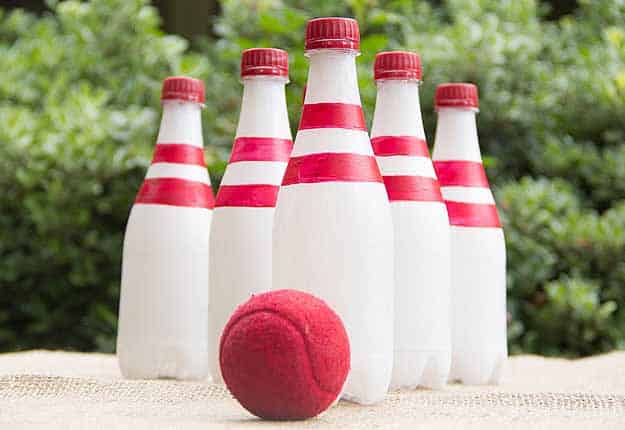 3. How to Make a Kite
Kites are one of my favorite tried and true craft projects for kids. Although the standard diamond kite is a classic for a reason ( it remains one of the coolest DIYs around for children) you can also make homemade kits in all sorts of shapes, colors and sizes. As long as you are mindful of the aerodynamics, lots of cool kits shapes can be created. Thankfully, Pinterest can help you out with that. I looked on Pinterest with my kids last weekend for some cool kites, and I think we have over 40 on our bucket list of kites we want to make.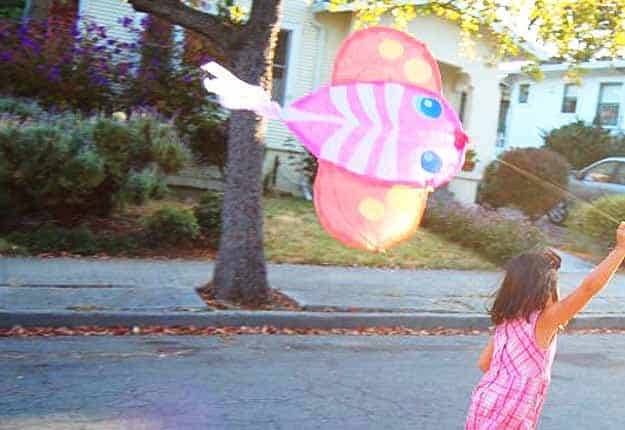 4. $5 DIY Yard Yahtzee
Looking for cheap DIY crafts ideas for kids to make? Try this one. This project costs less than $5 for supplies and is also a cute DIY painting project your kids can help out with. You just need some wooden cubes and colorful paint, then let the creativity begin.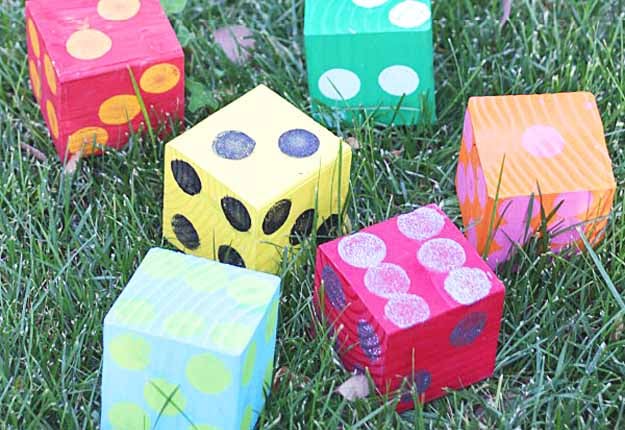 5. DIY Sponge and Duct Tape Bath Boats
I have to admit, that as many DIYs as I have made, it never occurred to me to make boats out of sponges, nor did I think of making water toys out of duct tape.Popsicle sticks, check. Sponges, check, Duct tape, check. Kudos to the folks at the Craft Train for coming up with this super cute kids craft idea that can be used in the bath, pool, lake or fountain. As you probably know, duct tape now comes in about 500 different colors, so the creative possibilities for decorating these flags is endless.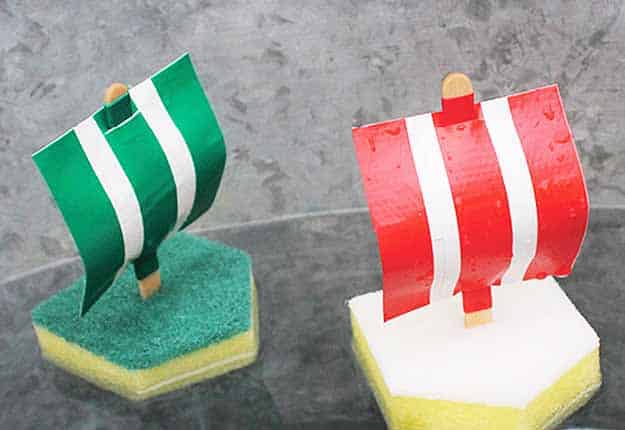 6. DIY Spray Chalk
Looking for a cool use for broken chalk plus a fun and easy kids craft idea? Whoever came up with this idea should win an award, as should anyone who comes up with cool crafts ideas using broken crayons. This nifty and quick DIY idea for kids uses chalk, and any old broken chalk will do just fine! Find some empty spray bottles, add some chalk and cornstarch, and you will have washable chalk spray paint in no time at all.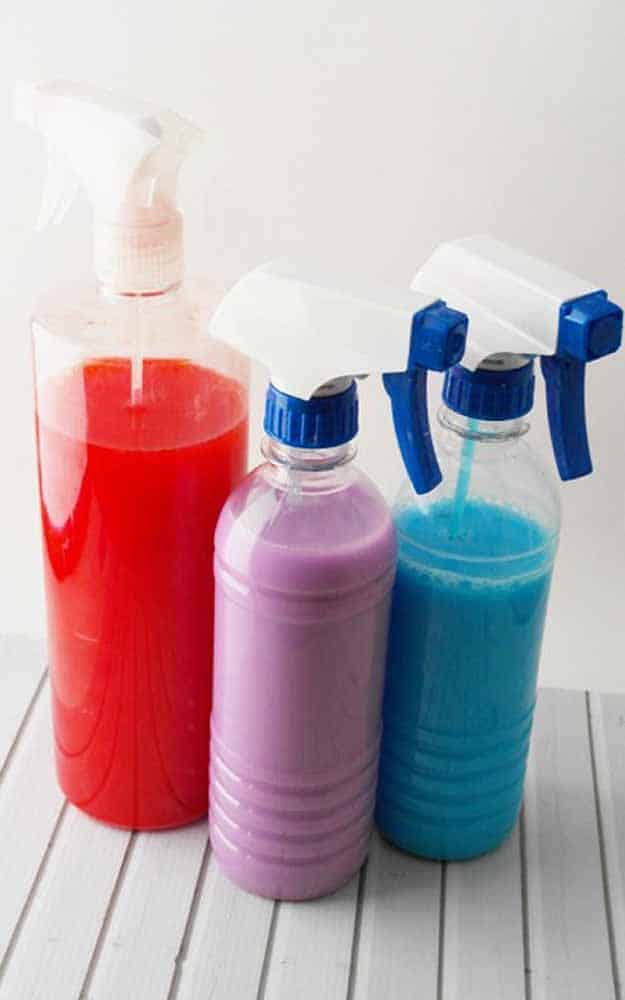 7. DIY Water Wall
Looking for an easy and cheap water activity to entertain your kids? This DIY water wall is sure to offer hours of playtime and entertainment. Once you build it, your kids can make the water wall "work" all by themselves. All you need is an assortment of plastic bottles, some screws, a drill and a wall to which you can attach this fun outdoor kids project. You will also need a nearby water source, since the fun here involves adding water to the wall over and over and over and over and over and over…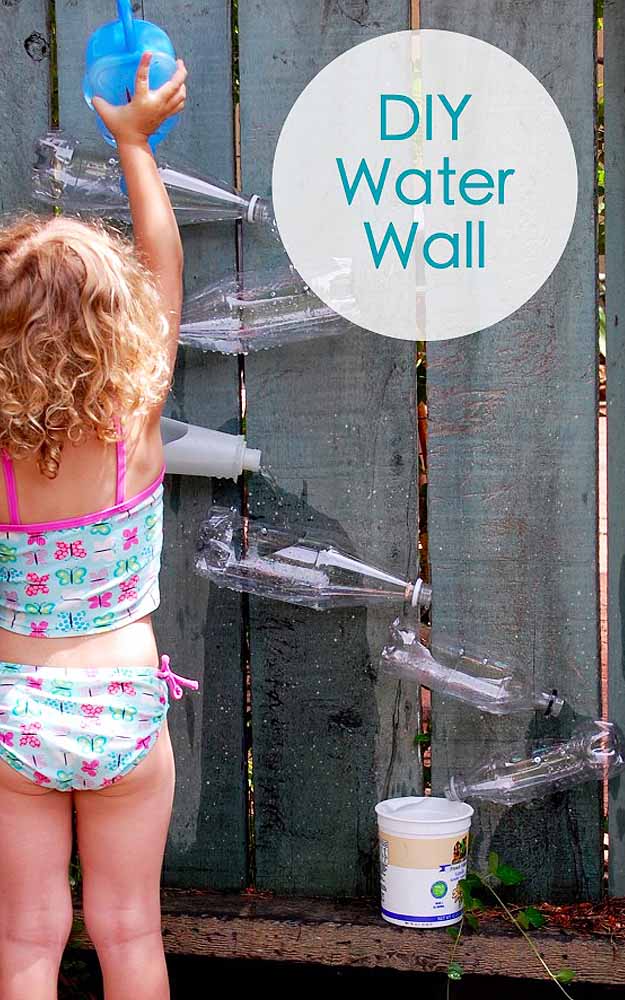 8. How to Make Sponge Balls
Fun, Fun, Fun. The possibilities for these are infinite. This summer kids craft beats water balloons any day since you don't have to fill a bunch of balloons for a one time use. There also will be no broken balloons to pick up when play time is over. While one or two of these sponge balls can offer plenty of entertainment for your child, lots of them are even better. Think tag, catch, and fun games you can make up to play, and you can also use these to clean up after other outdoor DIY activities, like cleaning chalk off the sidewalk.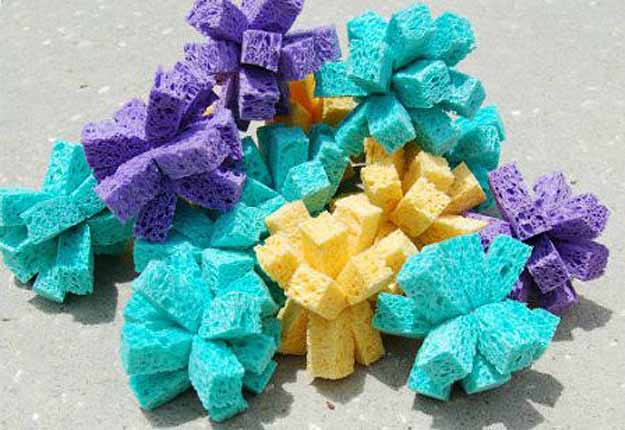 9. DIY Summer Snowball Fight with Fluffy Stuff
We all want a break from the summer every now and again. This 'fluffy stuff' as my kids have taken to calling it, molds together to create snowball look-a-like's and provides hours of fun. If your kid is a Frozen fan, this is the perfect party idea to not only keep with the theme no matter what the weather. After dodging and throwing snowballs for a couple of hours, your kids and their guests will have burned all the energy from their cake right up.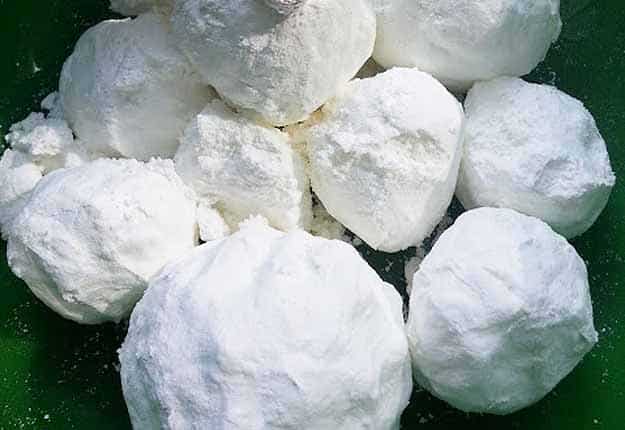 10. How to Make Rainbow Bubble Snakes
Ok, I thought these were a cute little DIY idea that my kids would like…little did I know they would go crazy for them. These bubble snakes are so easy to make and they provide endless hours of entertainment for pennies. I call that a win-win. Combine all the joy of strands of bubbles with a rainbow of color and your kids will run happily around the backyard for hours.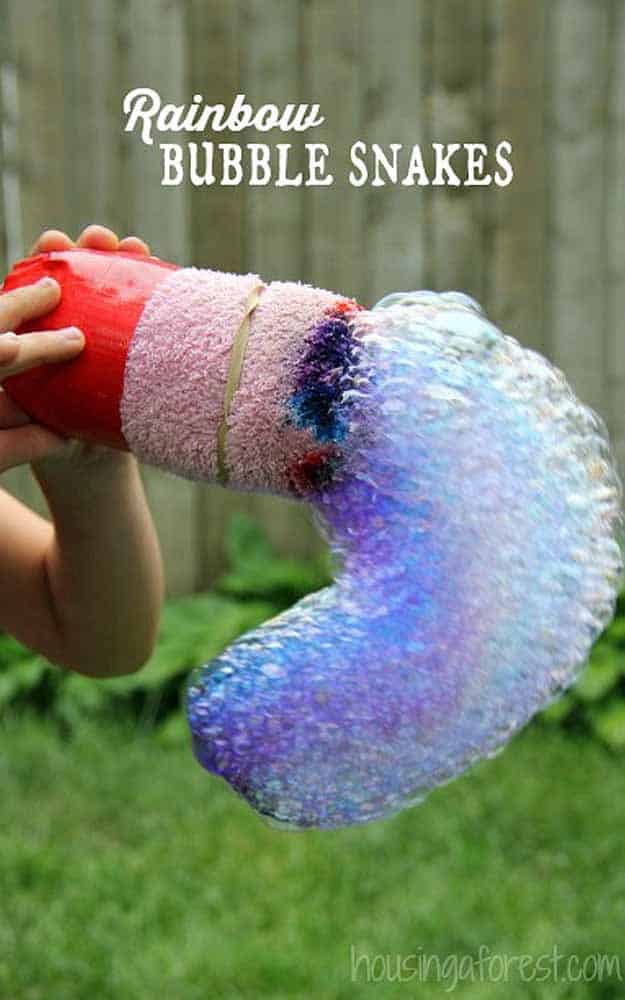 11. How to Make Popped Bubble Art
This is one of those crazy art projects I used to look at and think "no way," but as an outdoor craft, the cleanup is minimal, making it not so crazy. Summer kids crafts like these can get rowdy pretty quickly. My little ones made these cute art projects for a while until they discovered they could also splash color on each other. Word for the wise, dress them in old clothes and roll with the punches. They did finish their art eventually, and we all enjoyed the project so much, we used it as one of the DIY party activities for a birthday party a couple weeks later.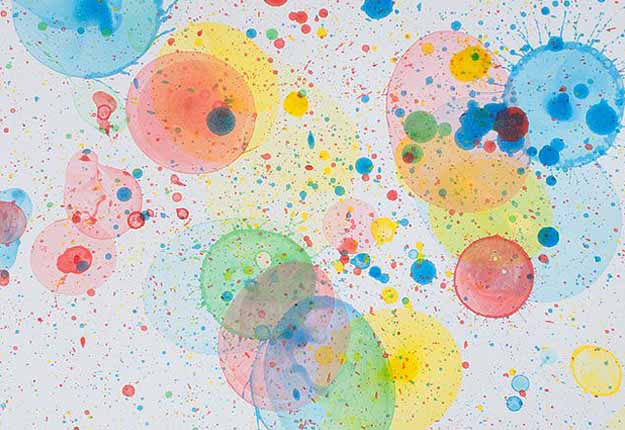 12. DIY Backyard Horseshoe Game
This was one of the most perfect summer project ideas for my teens to make. These backyard project ideas make great DIY gifts for friends, and fun outdoor activities for kids and adults alike. Plus, the craft supplies list could not be shorter or more affordable. My teens love making these for their friends and personalizing them with their favorite colors.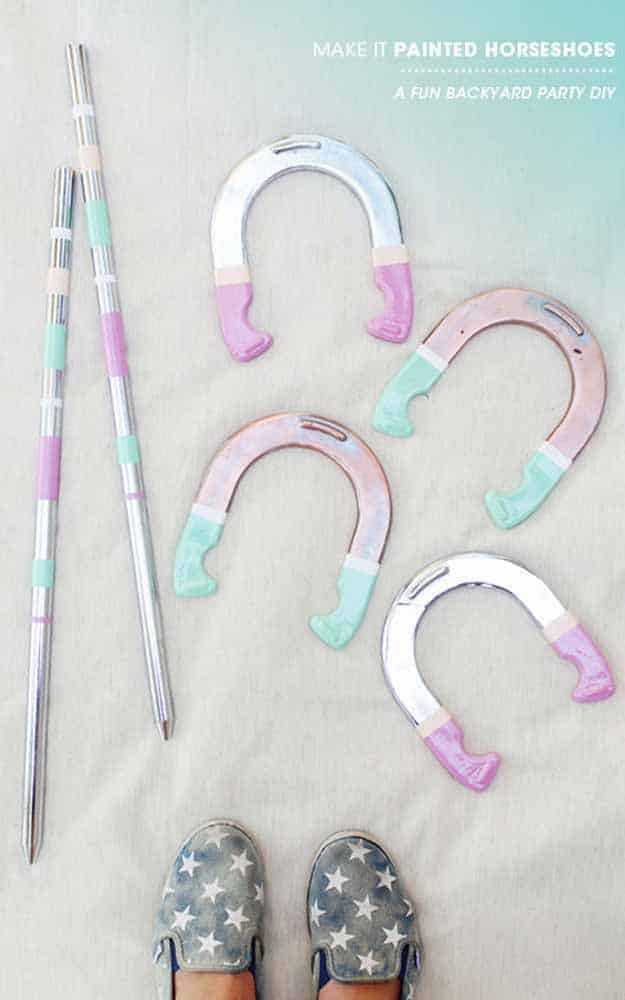 13. DIY Ring Toss Game
Summer kids crafts can also transform into fun outdoor activities that kids can enjoy long after the DIY project is complete. This DIY ring toss game makes good use of the recycling pile and just that last little bit of paint you have from your latest DIY endeavors. My kids love playing with this craft both indoors and outdoors.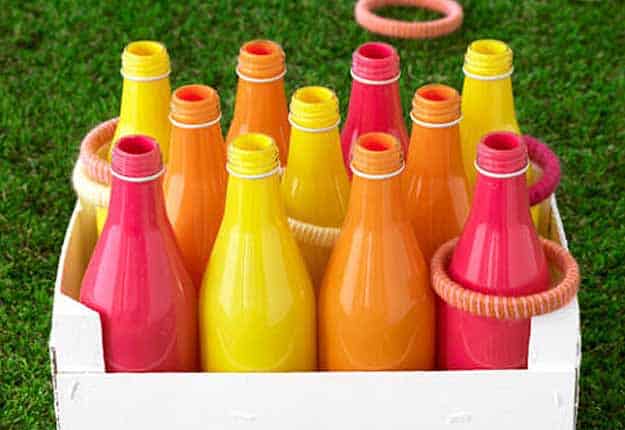 14. How to Make a Can Wind Chime
There aren't many summer crafts preschool kids can make, so when I saw this DIY project I was smitten. We dug a couple of cans out of the recycling and got to painting. As far as outdoor kids crafts go, there are few that I've been able to keep completely outdoors. My little one loves to hear the clinking and clanking of his handiwork when it's windy outside.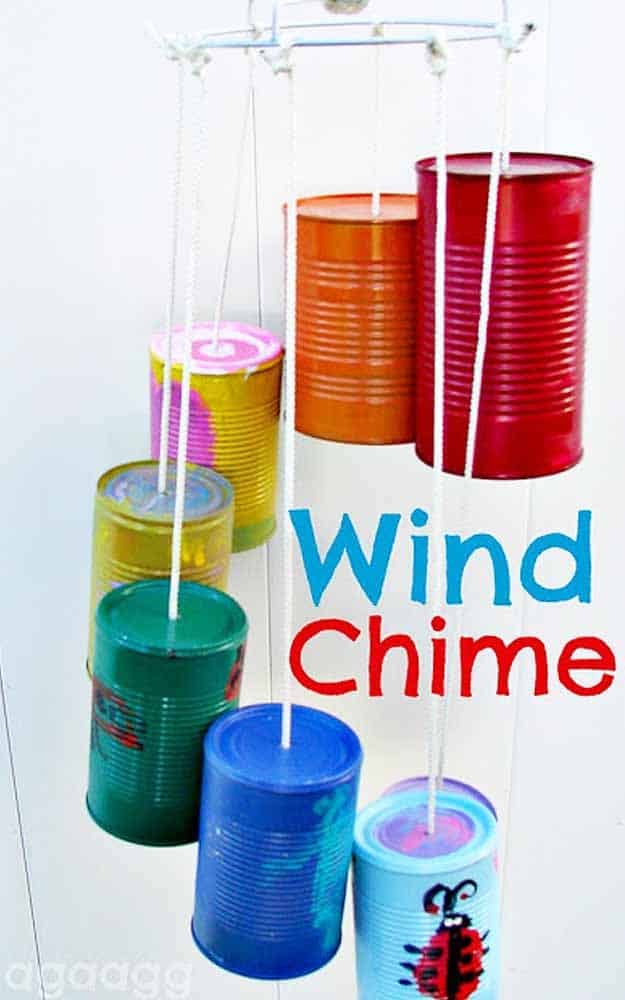 15. DIY Rainbow Sidewalk Chalk Paint
This outdoor craft has a strict outdoors policy attached to it. Since my kids drag this sidewalk chalk paint out at least three times a week, this summer kids craft pays for itself again and again. This chalk paint inspire cool kids art projects that don't take up all the room on the fridge or don't need to be taped up on the wall.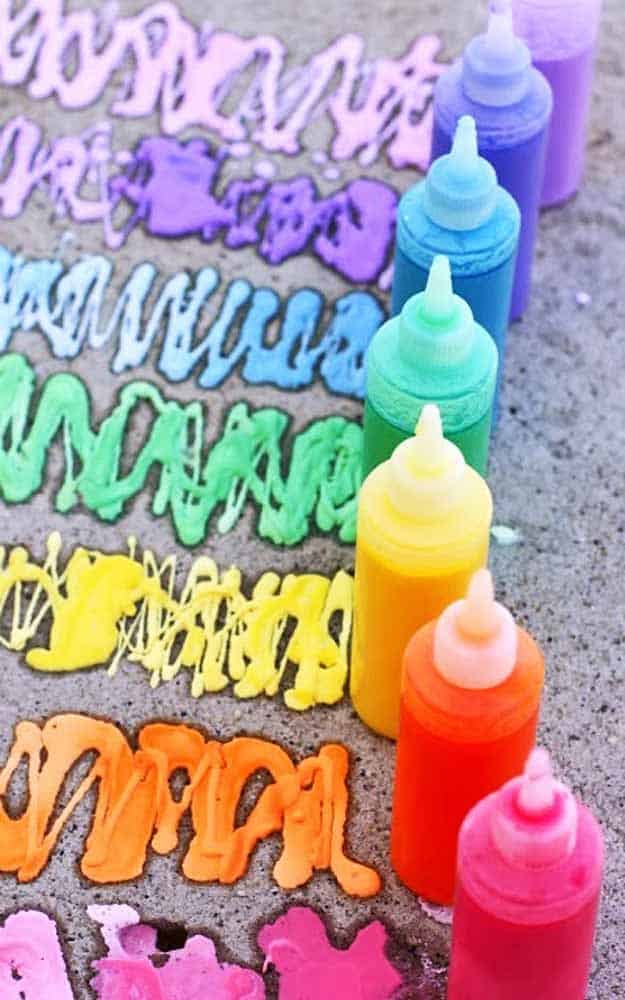 16. How to Make Colored Water Ballons
This is a cute and easy water activity that bumps the water balloon game up a notch. My kids wore white over their swimsuits while they played with these multi-colored water balloons and loved the "tie-dye" like look it made their clothes have at the end. Water activities for kids also make awesome DIY party ideas.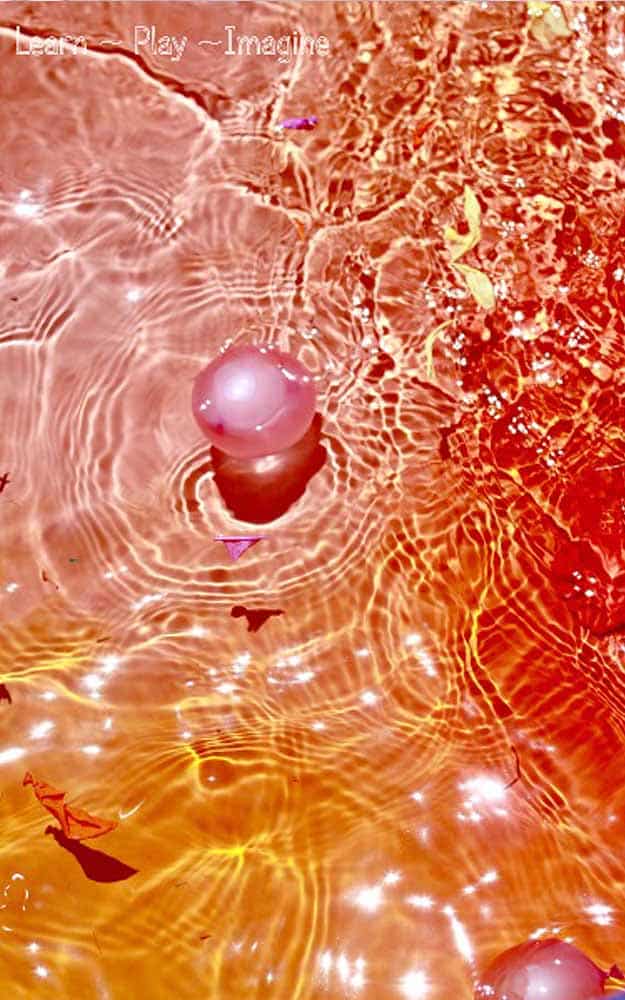 17. How to Make Coffee Can Stilts
This kids craft requires a bit of adult supervision depending on your kids balance. Make sure you pick cans sturdy enough to support your children's weight . We've made that mistake and that ended in a boo-boo and a band-aid. With the right equipment, these stilts are not only fun crafts to make with kids because they require very little time and focus, but they also provide an outdoor activity at no cost to you!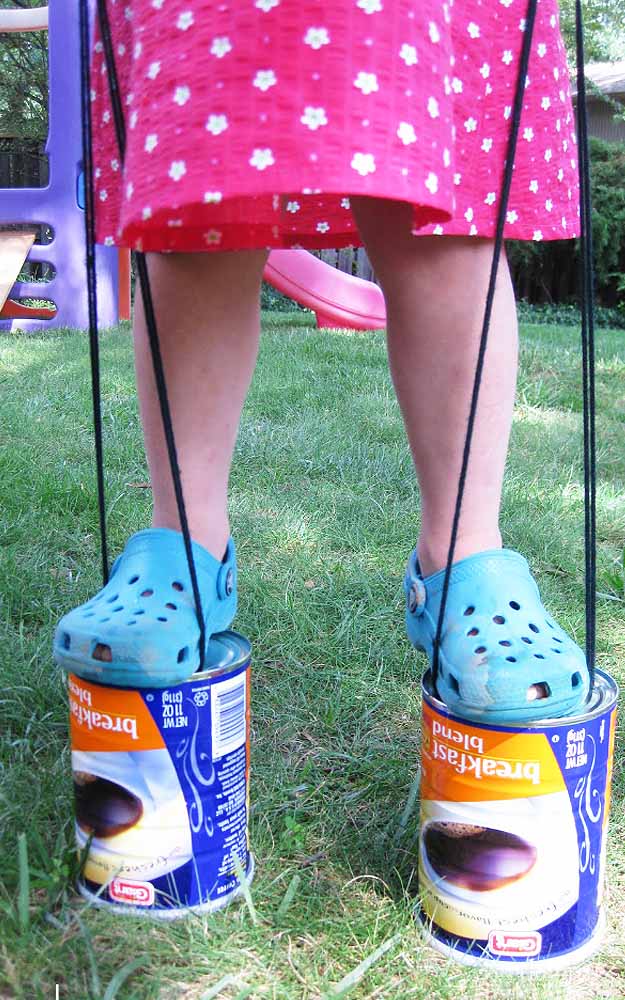 18. DIY Colored Powder Fight
This easy summer craft idea for kids provides an awesome outdoor activity teens and kids of all ages will enjoy. We saw a Holi celebration (Indian festival celebrating spring with colored powders) and my kids were begging to join. I looked up this easy DIY recipe and we had our own color powder fight in our backyard. It's not your average summer activity, but my kids had equal amounts of fun making this fun kids craft and throwing it all over each other and the yard.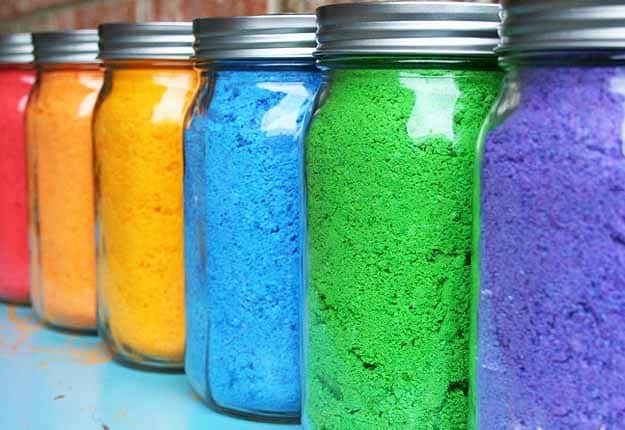 19. How to Make a Garden Rock Caterpillar
Make your garden a little more adorable with this harmless critter. This is one of those outdoor kids crafts you can hide in the back garden if you're not feeling like displaying fun projects front and center. My little ones love summer kids crafts that they can improve upon year after year as they get more confident with their art skills. We have a rock caterpillar that's been painted, striped, polka dotted, and patterned many times over.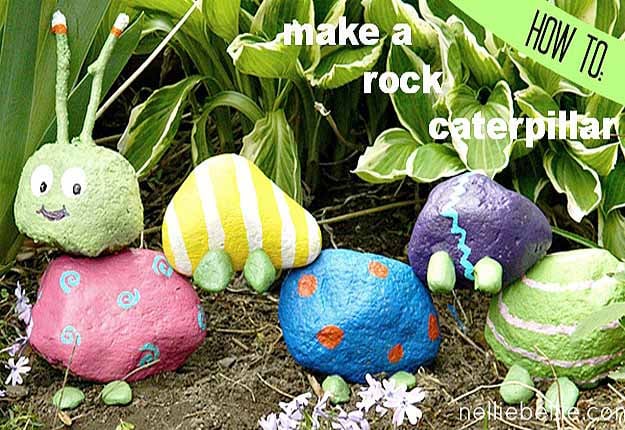 20. DIY Sprinkler Fun
This is another water activity that requires only a little recycling and a couple of minutes to make this fun craft for kids. I know you may be thinking "why not just buy a sprinkler"…trust me, I thought the same thing until I gave into my kids begging. They got so creative with their patterns for these DIY sprinklers that no one sprinkler sprays the same.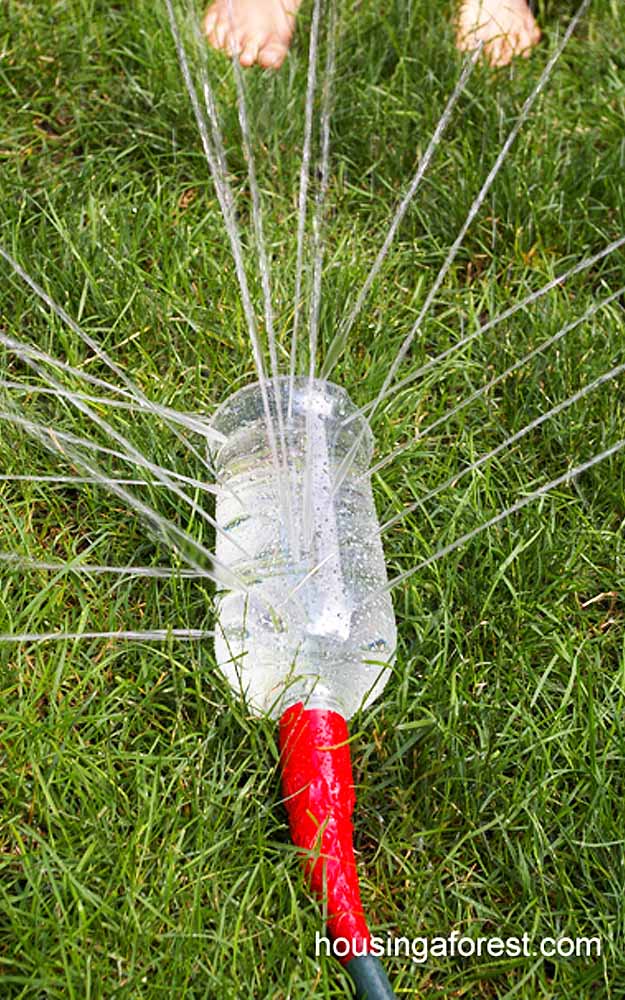 21. How to Make a Sticky Sand Dough
As a mother, the thought of actually creating sand seems counter-intuitive but this summer kids projectis a hit. The sand stays outside of course, and the fact that it sticks to itself keeps this kids craft outdoors where it belongs making one happy mama's mood match that of her children.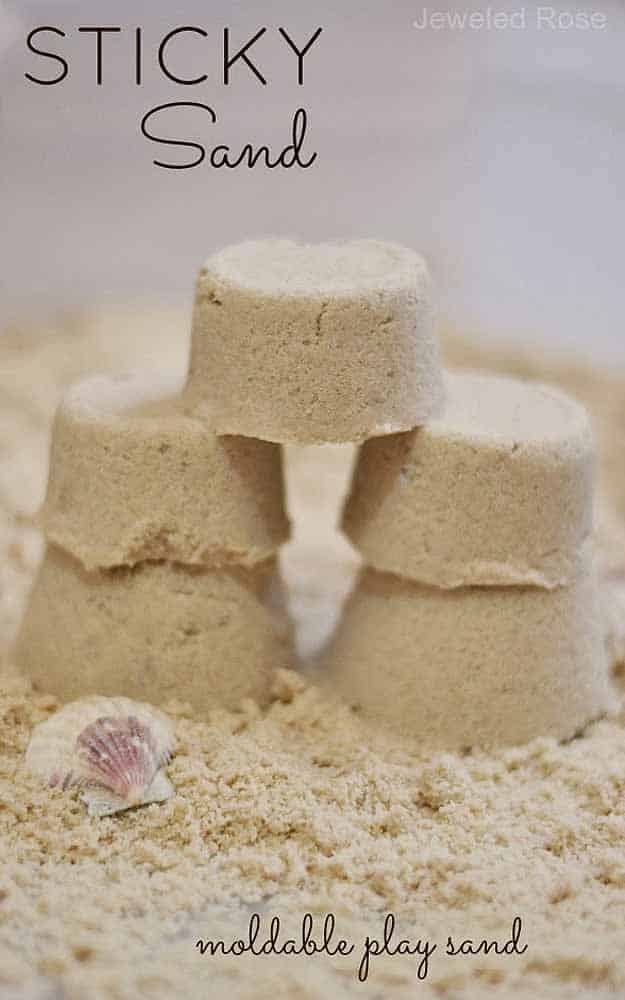 22. How to make Glow in the Dark Bubbles
My kids ogled these glow in the dark bubbles and we made this recipe for a glow in the dark party they attended and it was a huge hit. This is a fun craft for kids and teens both to enjoy. I recommend only using this recipe outdoors so you don't have to run around chasing bubbles away from every piece of furniture and carpeting in your home.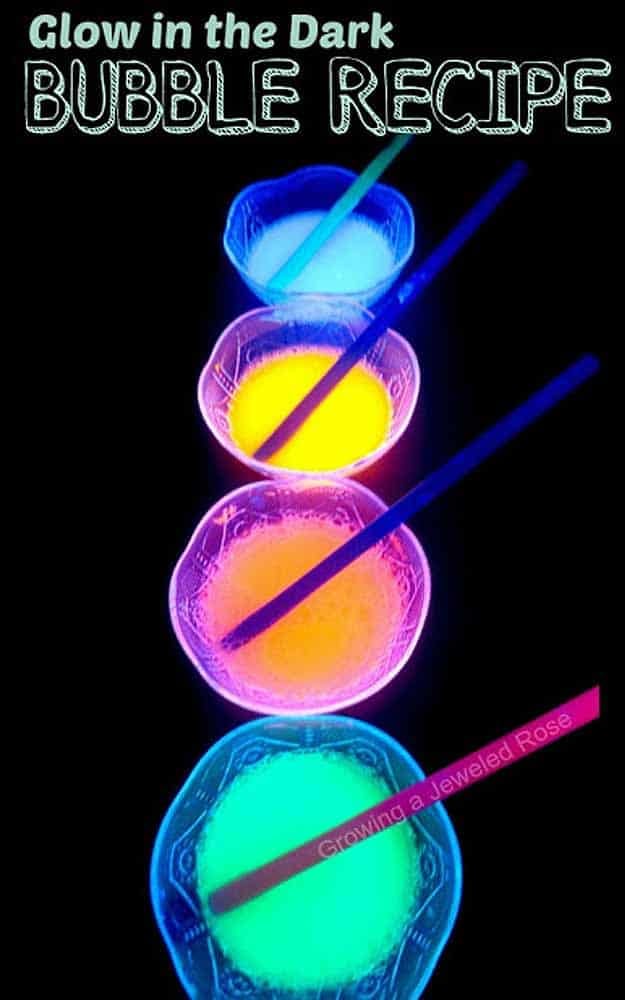 23. DIY Bird Feeders
This is another one of those summer projects that's not only best made outside, but it only works if it stays outside. You don't need lots of artistic ability or hours of summer art lessons to make these DIY bird feeders. These cute, easy craft ideas a reasonable art project for the less artistically inclined (like myself). Plus, you can make bird watching an outdoor activity for kids to log all the comings and goings of birds, or you can observe from the comfort of your home depending on where you hang them.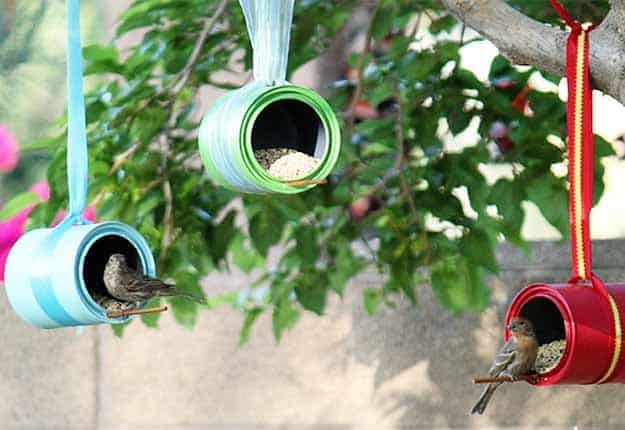 These DIY easy projects are awesome kids crafts for the outdoors. Making these upcycling projects for my little ones to enjoy in the backyard was one of the best things we did for summertime entertainment.
If you like these outdoors crafts, try your hand at these DIY ideas as well: