Need some inexpensive home decor that adds a cool factor to any room? Perhaps you need a last-minute DIY gift for the person who has everything? Either way, this DIY idea could be the very thing you've been looking for. Turn empty liquor bottles into glowing ambient lights, you can even make a set of colored ones that will look great as decorations in the upcoming holiday season and festivities. This tutorial shows you how to make a corded light that does not require batteries, so it can be a permanent addition to your decor. However, you can also pick up similar tiny battery powered fairy lights at the dollar store, too, so you could make something much like this without all the drilling and effort. You just need to find the kind that does not have a huge battery pack or switch since it needs to fit inside your bottle. Either way, this idea is a cheap craft to make, and if you go with the battery-powered lights, it will be super easy, too. Simply empty for the bottle, add lights, don't glue the top on in case you want to replace your lights. Come to think of it, even a couple of glow sticks might achieve a nice effect if you really want your bottles to light up with little effort. I have a few left over from Halloween and just might be trying that "project" tonight after happy hour ends 😉
Personally, I think these look best if you make a set. Of course, you should choose your favorite liquors for the project since the bottle needs to be empty before you make your light. What better way to spend a weekend than making sure that bottle is empty and crafting, right? We have lots of lists of DIY gift ideas to make for Christmas, so really you could dedicate the entire weekend to making sure you don't have to buy a ton of gifts this year. Plus, people always seem to love things I make for them so much more than anything I could possibly buy. Well, maybe not anything, but that Ferrari is a little out of my price range, dear.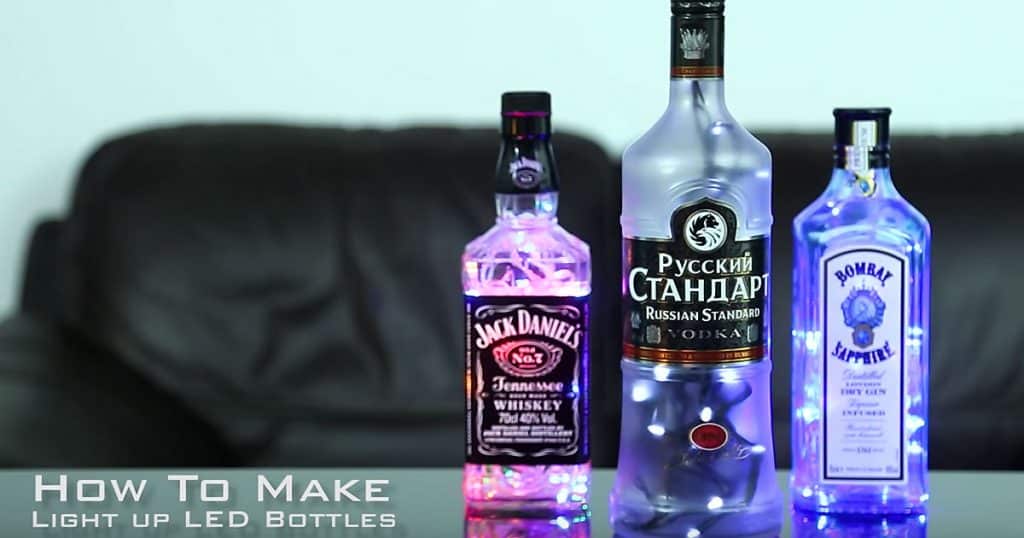 Learn how to make a light from a liquor bottle by watching the video below.
To Make This DIY Bottle Light:
Supplies needed for each light:
Empty liquor bottle
Rubber grommet
LED fairy light string in the color of choice
Drill with a small circular glass bit
Glue Gun
DIY Liquor Bottle Lights