There are so many gorgeous fall decorations you can find in stores, but let's be honest, most of them are not cheap. Just like the faux pumpkin wreath from Pottery Barn, which cost $89. Would you spend that much on one item? I bet you wouldn't, so here's a DIY dupe for you that would cost you less money but looks exactly the same.
TikToker jaymuneediy shared a clip showing how she made this Pottery Barn pumpkin wreath dupe using Dollar Tree items.
She started by gathering all the materials she needed from Dollar Tree. The first thing she got was the big wreath form from the floral section. Next is the pumpkins. You can choose those pumpkins with clips, but she preferred the one from the Dollar Tree Plus section which is called the flocked pumpkin garland. These are bigger so you don't need a lot for this project. Next, she went to the crafter's square section and got wooden clothespins.
Now, it's time to make this pumpkin garland. She first removed the twine from the pumpkins. Do it carefully, as you don't want to damage them. She added hot glue to the bottom and attached one clothespin. Once dry, she clipped it to the center wire. She repeated the same process with the other pumpkins until she covered the whole center wire.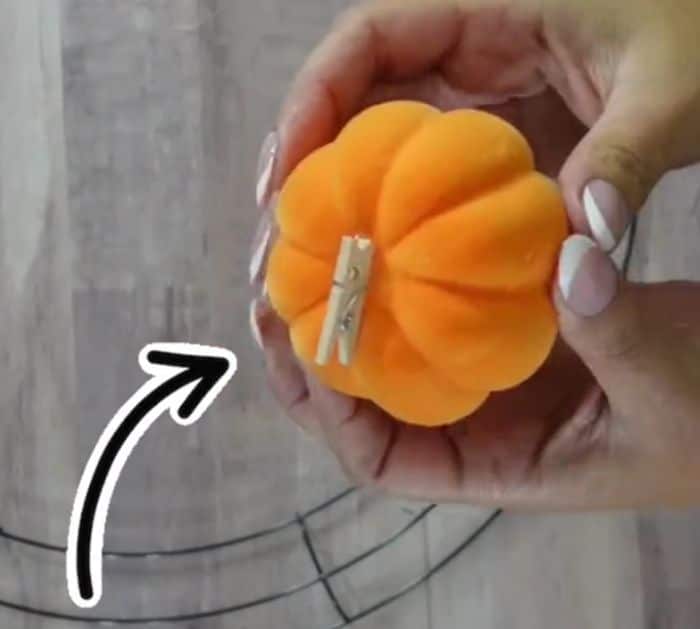 Next thing to do is fill the inside wire, but instead of gluing the clothespin to the middle center, she glued it to one of the crevices so it's easier to clip on. They'll move around a little bit, but once the wreath is full, they'll stop moving.
For the outside wire, she hot glue the pumpkins in place. If there are some white spots after you remove the twine from the pumpkins, you can fix them by painting them with regular paint. That's all you need to do and it's ready to hang! How easy is that? It looks exactly the same but way cheaper.