Looking for some fun things for kids to do at home? Sometimes, the simplest ideas are best, and paint is a tried and true favorite of kids and parents for a reason. However, why stick with basic paint when you can make all sorts of fabulous homemade paints? From a recipe for fizzy ice chalk, to smoothies and other fun foods you can paint with, to foamy scented paint, you are sure to find an idea your children will love.
DIY Paint Recipes for Kids
1. Sidewalk Ice Chalk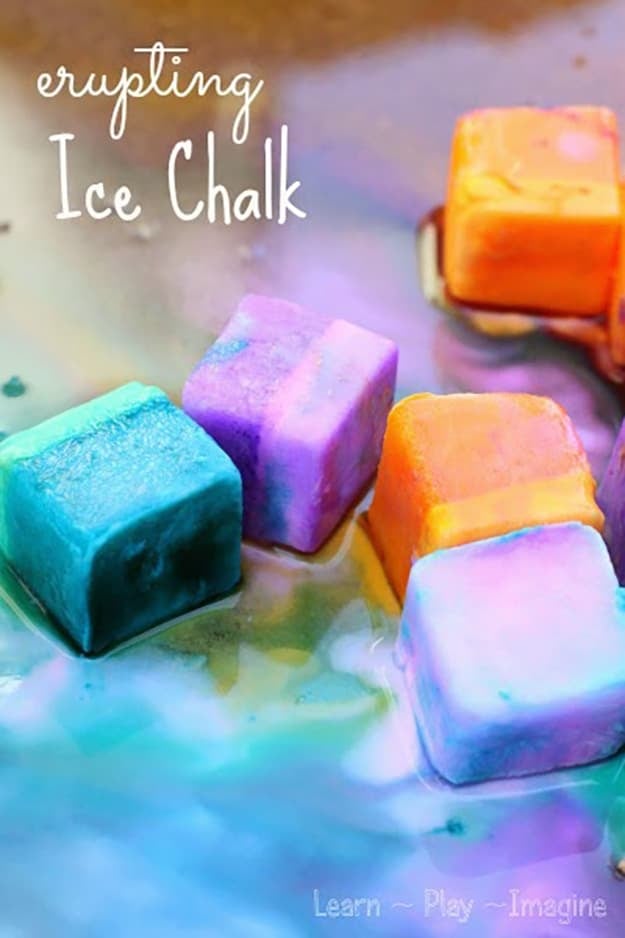 This looks like a whole lot of fun! The erupting ice chalk is totally the bomb. What's more fun than homemade paint? Homemade paint that erupts! All you need are some corn starch, baking soda, water, liquid water color paint, ice cube trays, vinegar and squeezy bottles and you're all set. On top of that, it's a great bonding activity with your kids.
2. Edible and Delicious Cool Whip Paint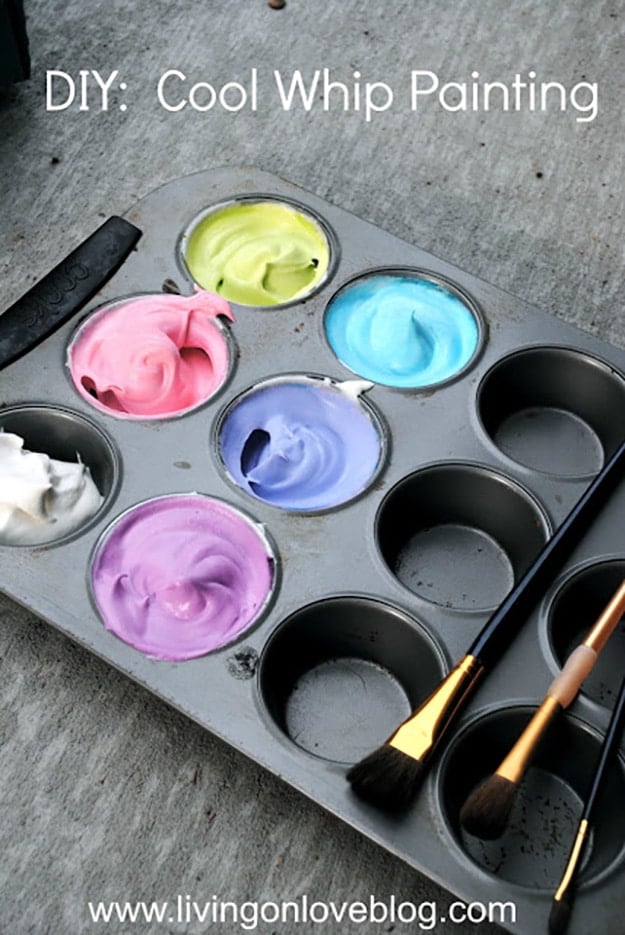 What a cool whip paint recipe! This would be safe, kids' could put it be their mouths' and it would be safe. I am in love with this recipe – easy to make and fun for your kids to create their own artwork! Best of all this is safe for babies and toddlers too because it is safe to eat. Simply mix sugar, corn starch and water together in a saucepan. Stirring with a whisk, heat mixture over medium heat. Once it begins to thicken, remove from heat. You can simply add water if the mixture is too thick.
3. DIY Sparkle Paint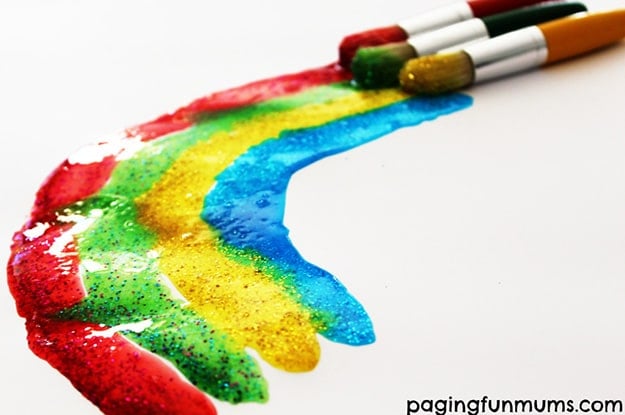 If you are this sparkle lover or if you live with one, then maybe it's time to take that affection to the next level with sparkle paint! A simple, inexpensive DIY glitter wall paint tutorial to make walls that sparkle-literally! These three ingredients are all you need to make colorful sparkle paint to make a rainbow – bubble bath, glitter and some food coloring.
4. Magical Scented DIY Foam Paint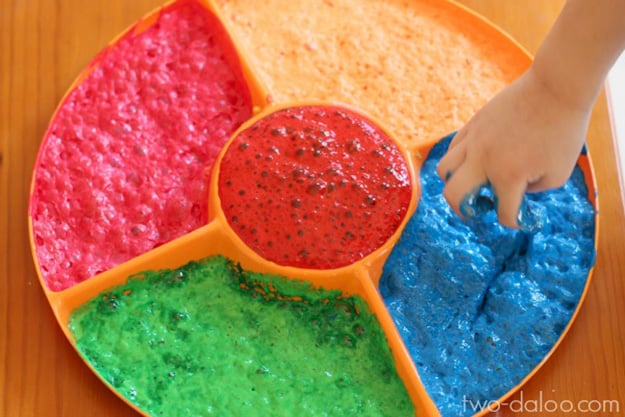 Save money and make homemade paints for Kids at home. Painting activities for kids are open ended and beg for creativity and imagination. Create magic scented foaming paint with just two ingredients for a fun sensory activity with your kids. This recipe for scented paint feels like a cheat, as it's so easy to make!
How to Make Kid Safe Paint
5. Glossy DIY Skittles Paint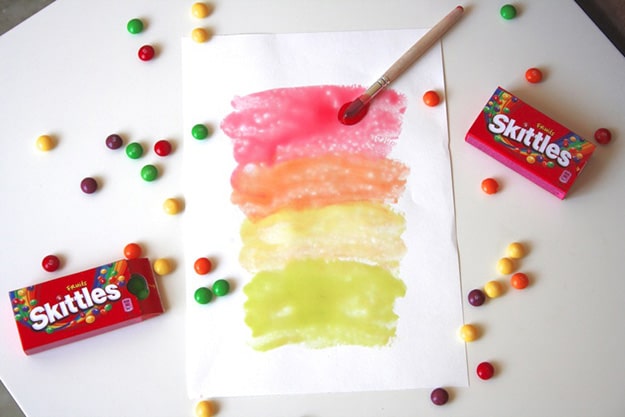 All those extra Skittles can turn into a surprisingly bright DIY watercolor paint. Half the fun is just making the paint, but the glossy, bright finish makes for a cool and fun activity. Skittles paint is easy to make and produces a glossy paint that kids will surely love. Make scented watercolors at home with these simple DIY Skittles Candy Paint for Mama Papa Bubba.
6. Easy Homemade Doodle Paint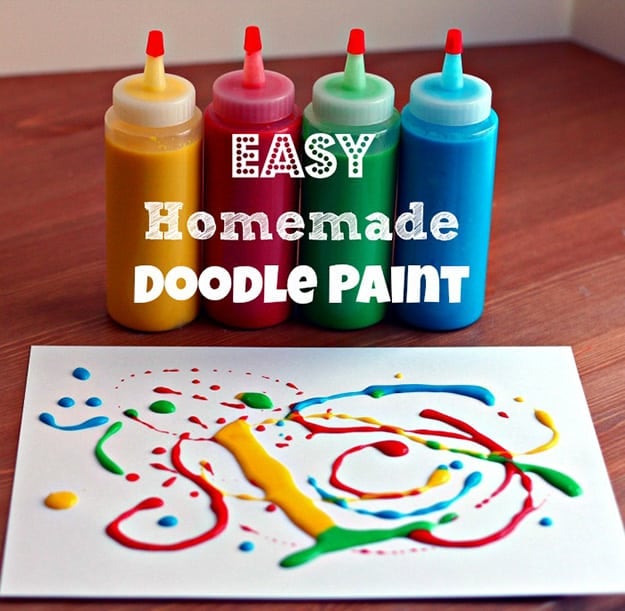 Here is a super simple and incredibly FUN paint recipe the kids will love. Save money by making your own colorful homemade doodle paint! Not only is this Doodle paint super fun for kids, but it could not be easier for parents to clean up after. Even better, it is technically edible paint, so even your littlest ones can experiment. Grab the full details from Family Friendly Frugality.
Homemade Paint Recipes for Children
7. Exploding Glow in the Dark Paint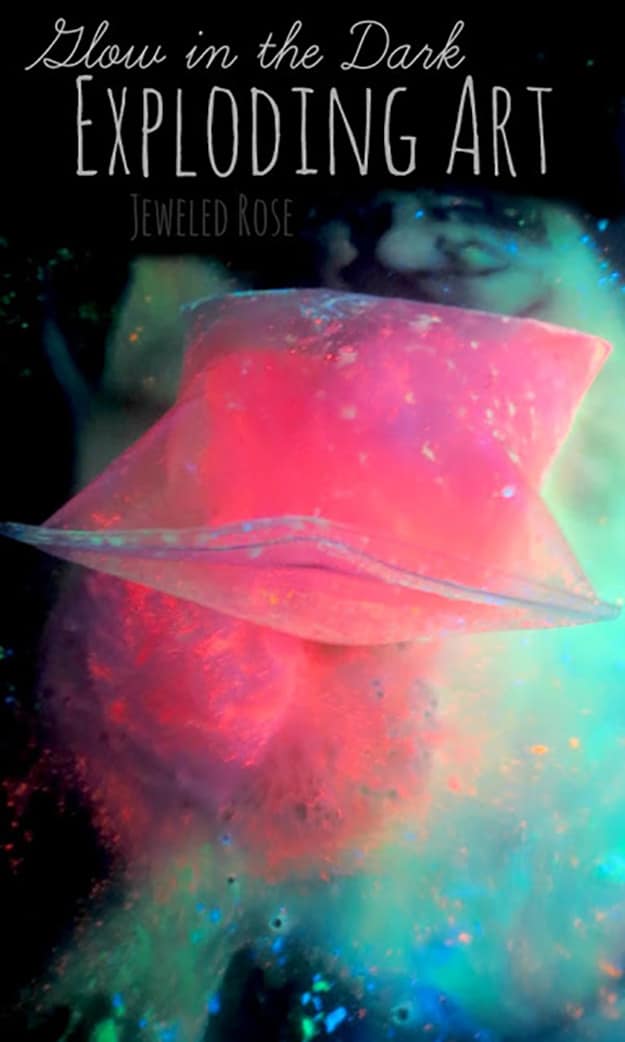 An awesome non-toxic glow in the dark paint recipe perfect for kids' crafts. Easy to make with simple supplies, dries quickly & glows with blacklight. Light up the night with these awesome glow in the dark exploding paint.
8. DIY Puffy Sand Paint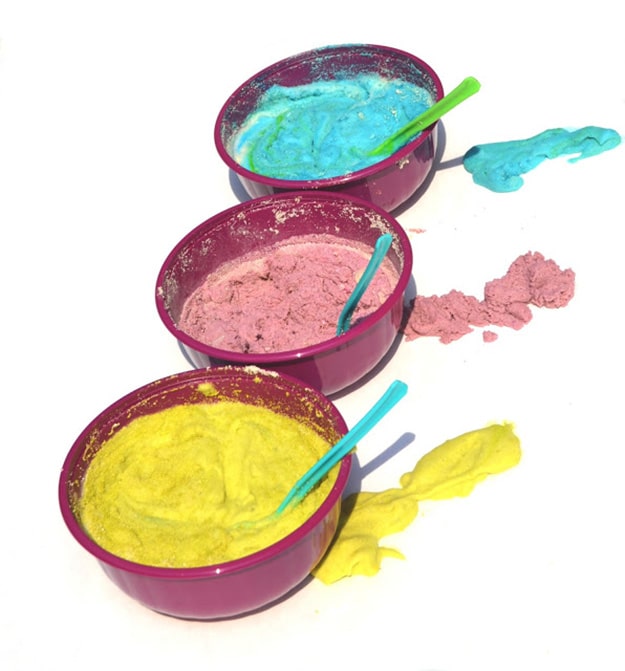 Make homemade puffy paint with 3 kitchen ingredients! All you have to do is mix them together and you have got a puffy sand paint. Once the puffy sand paint is good and mixed kids can simply explore the texture for some fabulous sensory play. The paint has such a fun texture. It is squishy and foamy but also grainy and sandy.
9. Edible Paint for Babies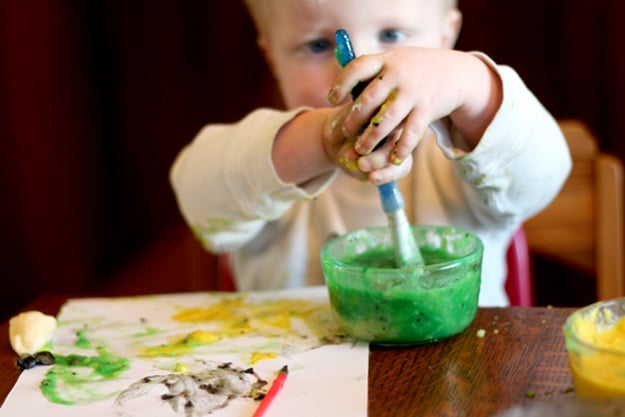 What kid doesn't love finger paint? I love letting my kids paint and get messy, I really do think it is such an important part of their development and emerging confidence. Make some quick edible paint for babies to explore. Painting for babies is a great sensory experience for them. Great for babies and grown-ups and every age in between, this homemade edible paint is velvety smooth and made with only fruity ingredients.
10. Easy Homemade Frozen Smoothie Paints for Kids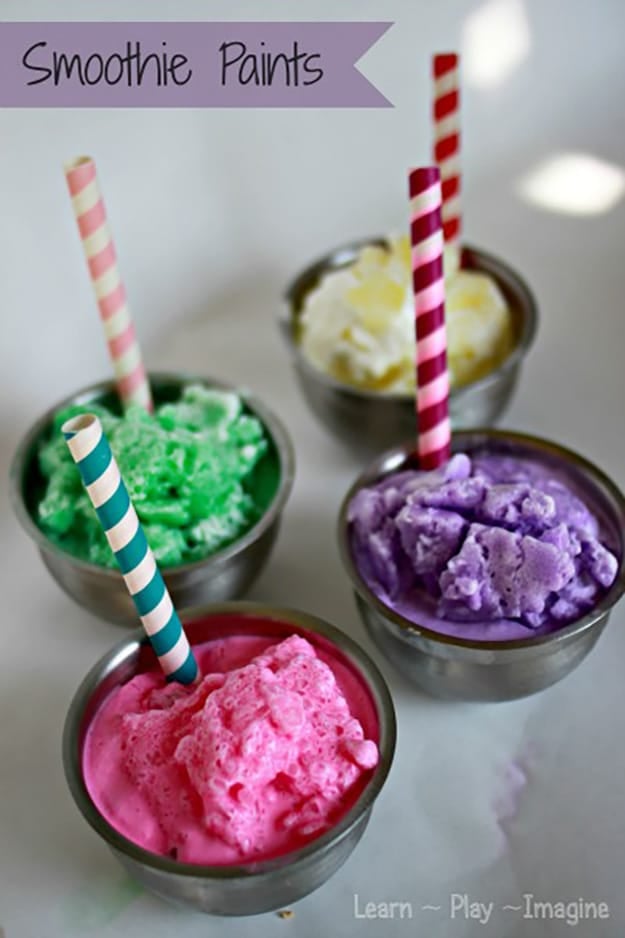 Frozen paint is perfect for summer fun, and this recipe for play is perfect for a hot day. With only 3 ingredients, this Easy Homemade Frozen Smoothie Paint is super simple to make. The stuff looks so awesome! And the photos make it look any more delicious! Love the whole thing – the colors, the texture, and the straw "paintbrushes!
11. Easy DIY Puffy Paint for Kids

12. DIY Bath Paints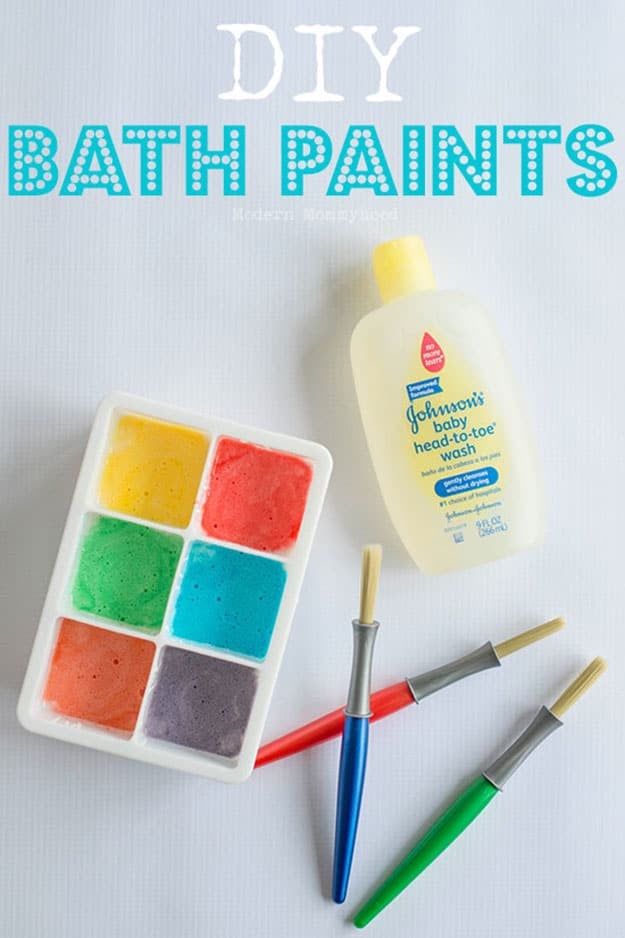 13. Homemade Finger Paints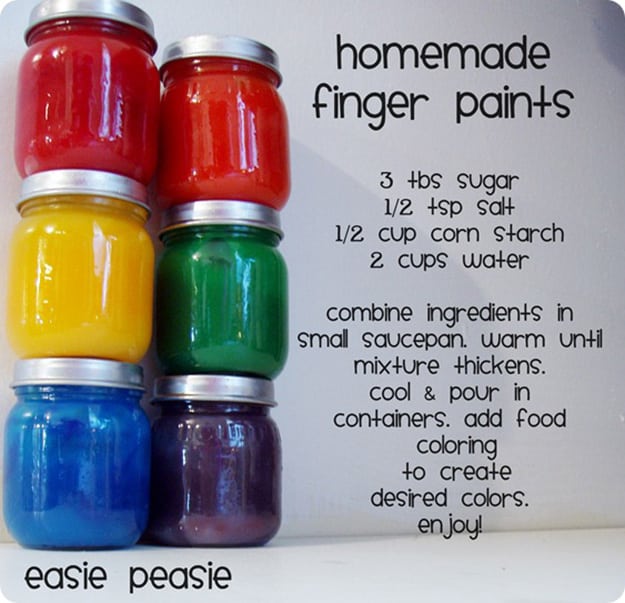 14. Easy DIY Sidewalk Chalk Paint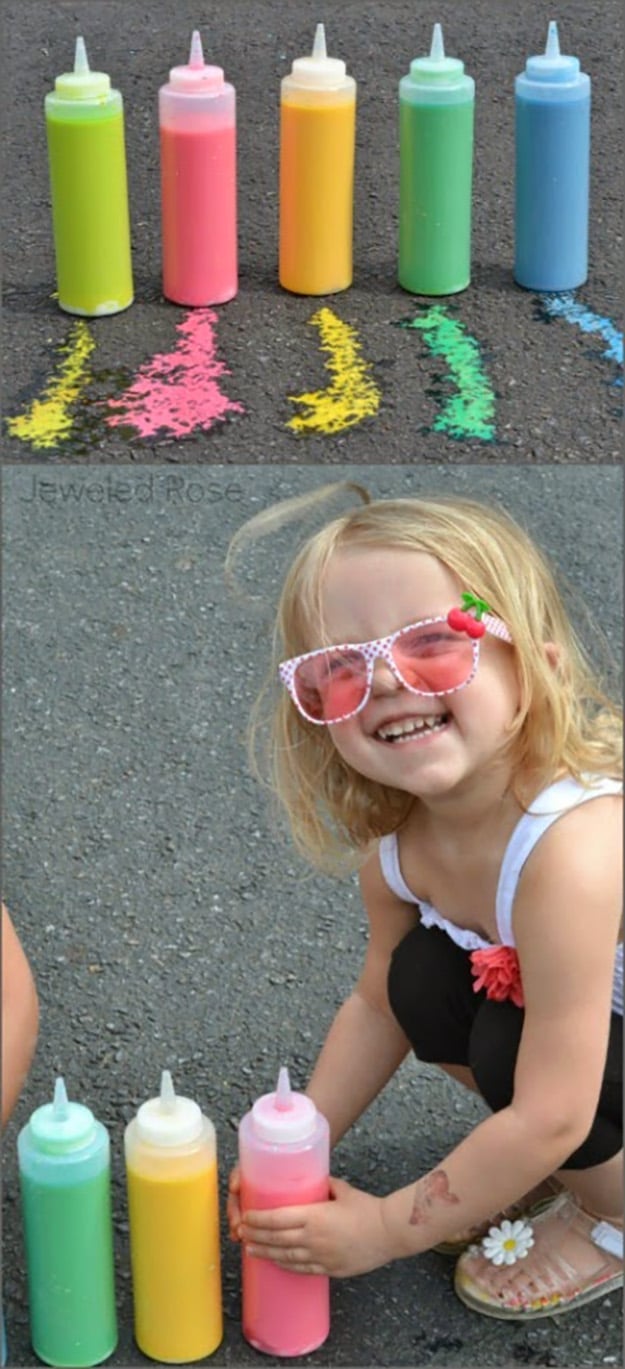 15. Microwave DIY Puffy Paint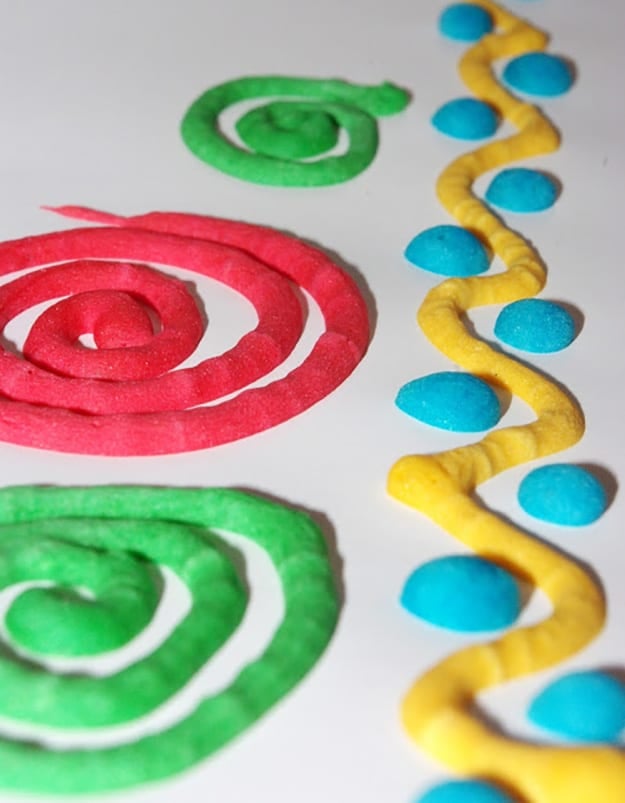 16. Homemade Powder Paint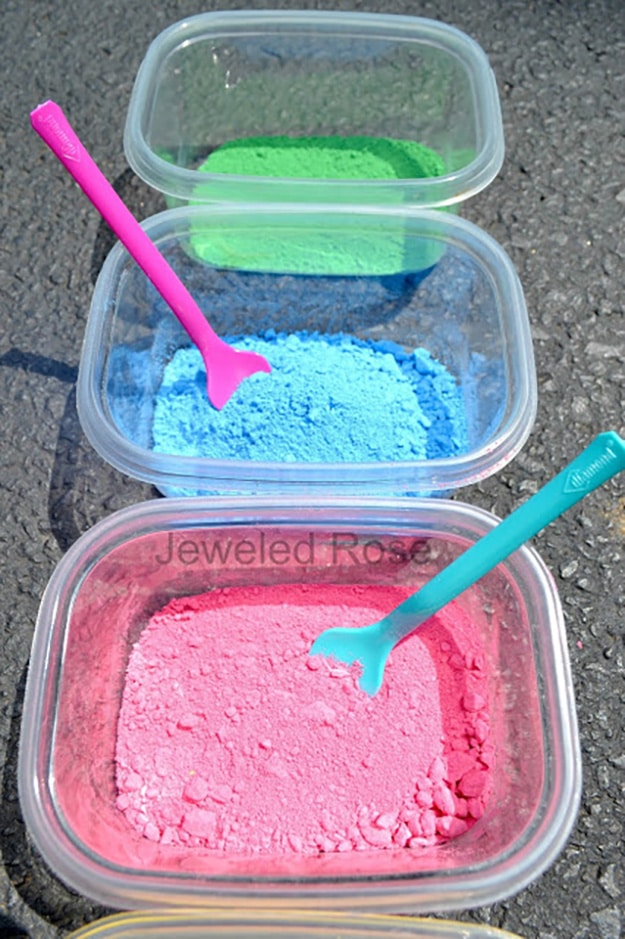 17. DIY Face Paints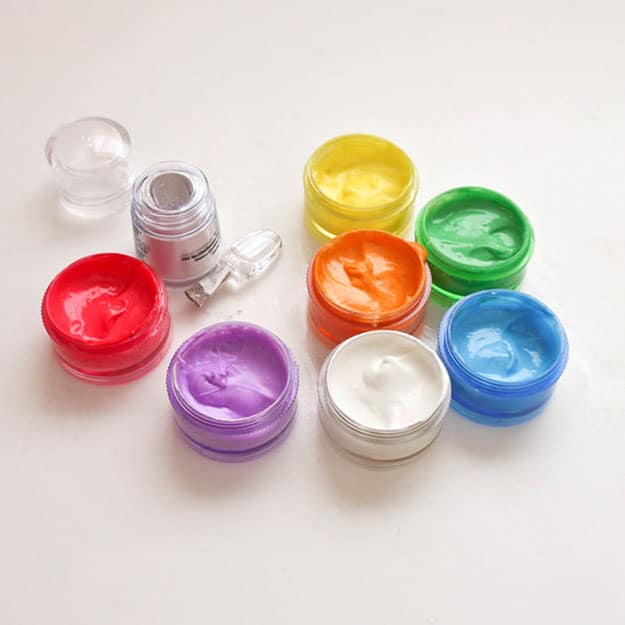 18. Mud Paint Recipe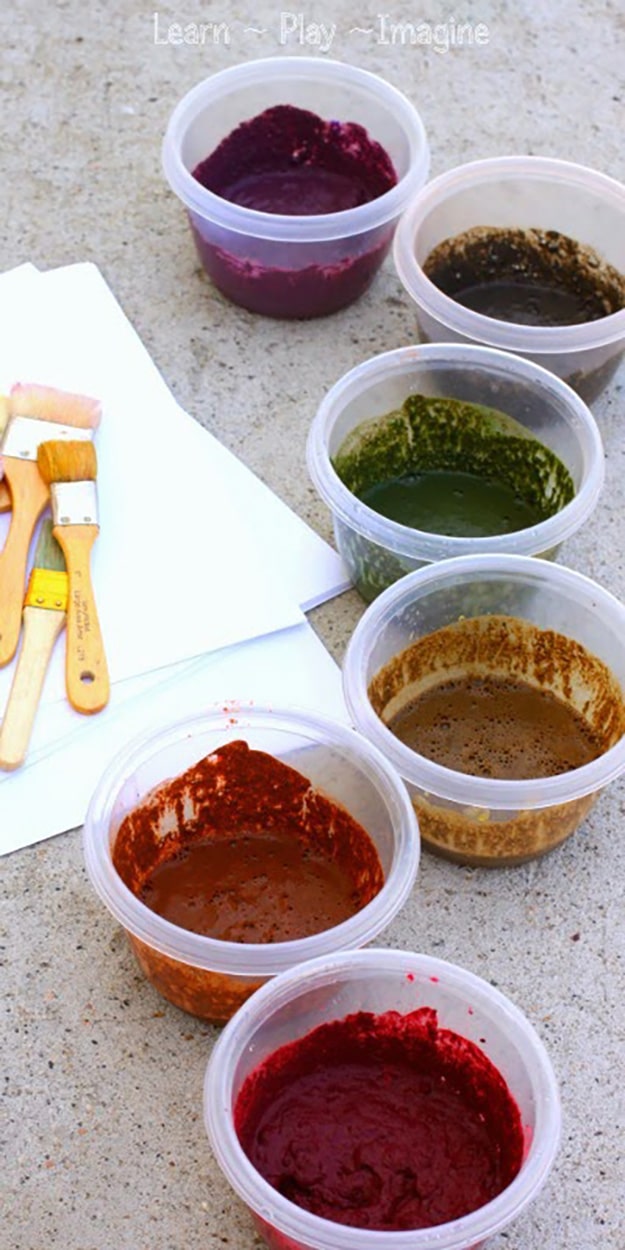 19. DIY Paint from Flour and Salt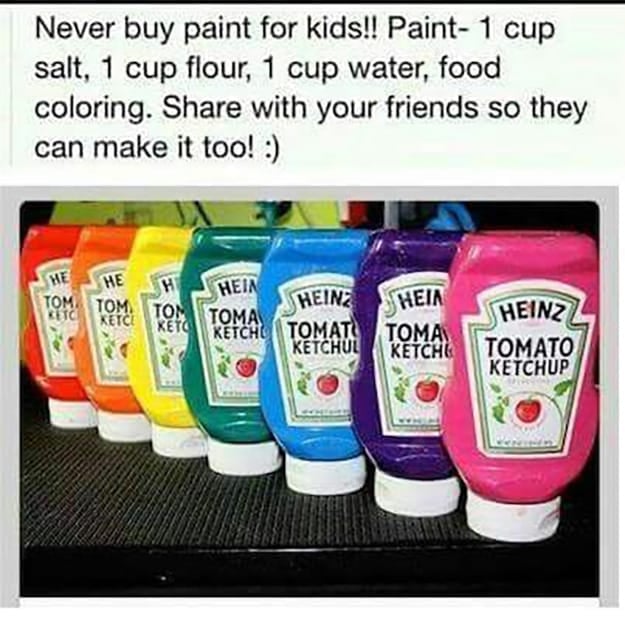 20. Scented DIY Chalk Paint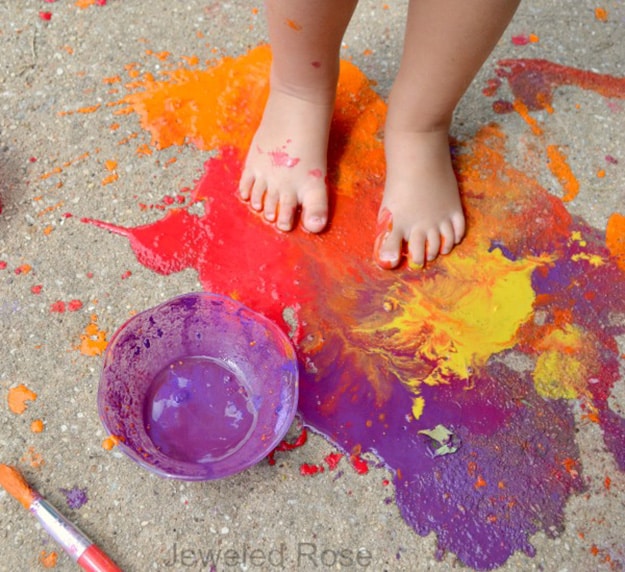 21. Homemade Liquid Watercolor Paints