As many of you already know, I am kind of a party fanatic so these DIY frozen balloons that act as substitutes for big and expensive bags of ice are right up my alley. Oh, did I mention that they're also one of the most adorable and easy DIY party ideas out there? Thank you, Pinterest craft suggestions for not failing me! They work so much better and last so much longer than lots of loose pieces of ice because they freeze all the way through. Plus the clean up is totally fun – who doesn't love a good old-fashioned water balloon fight?! Just make sure the balloons are completely thawed before you throw them, otherwise it smarts when they hit you (you'll thank me for that tip later)!
You can make these frozen balloons in any assortment of colors, so this project is totally customizable no matter what you're celebrating. I've made these to match baby shower decorations, Elsa or Frozen-themed birthday parties, and I made them in my daughter's school colors for her graduation party. It's rare that I find a DIY party decoration that doubles as something useful instead of being purely ornamental so I tend to make these frozen water balloons a lot. Even if we just have a few neighbors over for a BBQ or we're having a small get together with family, I like to make these in a rainbow of colors to keep drinks cool and add a touch of something special to the day.
DIY Frozen Water Balloons Tutorial
Enough chatter about why they're so wonderful, let's get to making these easy DIY frozen balloons already.
Step One:
Place the lip of the balloon completely around the nozzle of your faucet. Hold it very tightly in place and fill it slowly.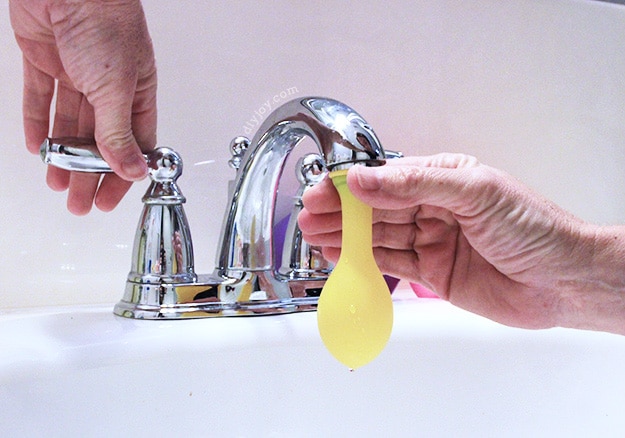 IMPORTANT: Do not overfill the balloon or water will go everywhere when you remove it from the faucet.
Step Two:
Carefully tie the end of the balloon in a knot. This is another reason to leave plenty of room left in the balloon.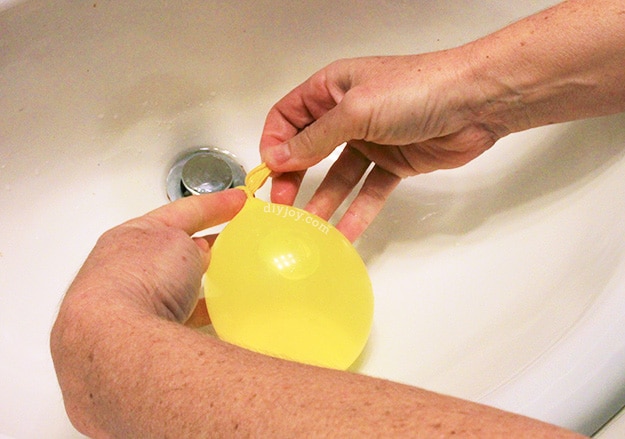 Step Three:
Place balloons in the freezer. Feel free to stack them on top of each other or lay them flat if you're nervous. The smaller you make your balloons the less time they take to freeze.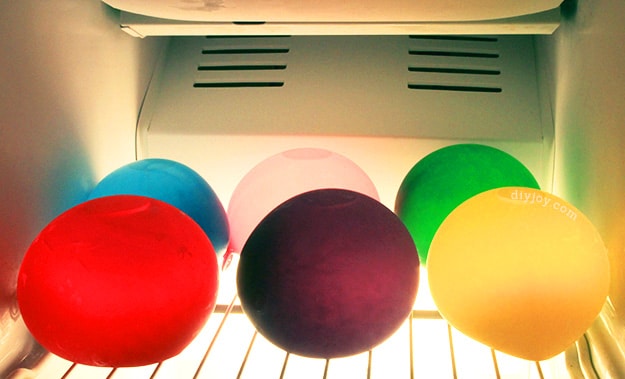 Step Four:
Fill up your drink tub with all the party drinks and frozen balloons you can fit in it!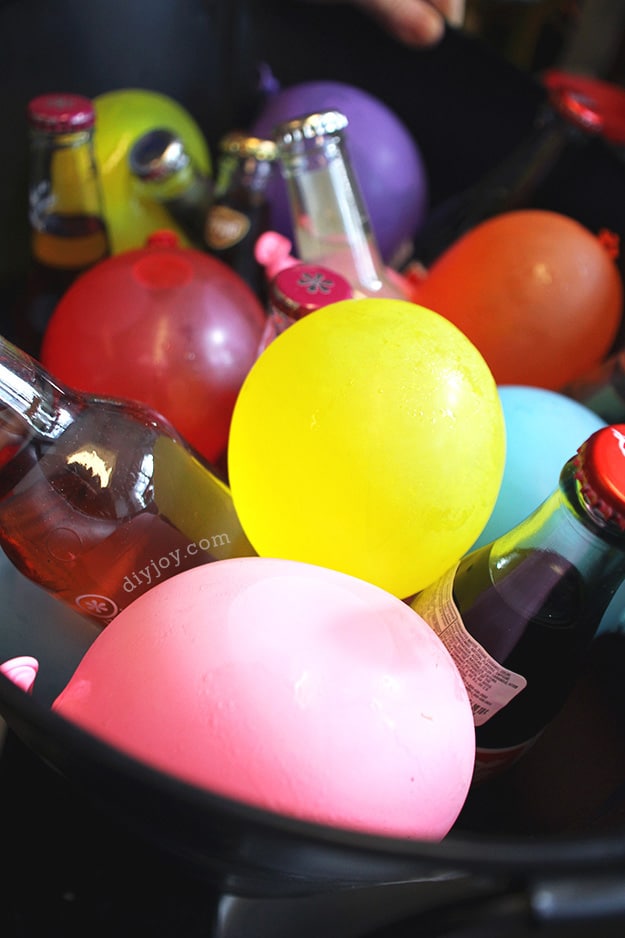 We accidentally broke one of the water balloons when shooting this tutorial and it was so cool we had to share the picture!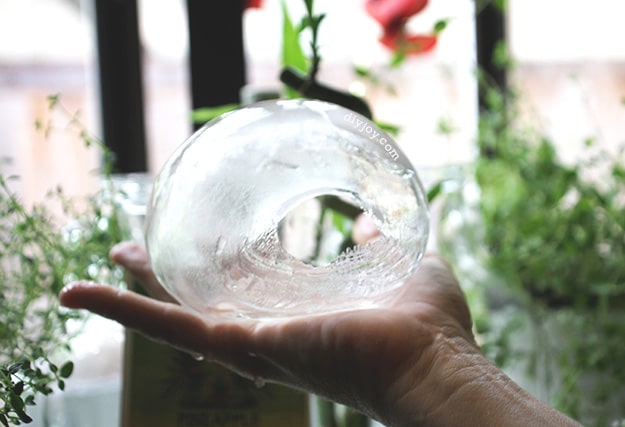 As you can see, it wasn't frozen all the way through yet so the ice formed this amazing, delicate shell that looks like a miniature igloo. My kids of course wanted to keep it to play with, so they had a blast whipping up a world of imagination that revolved around their mini "ice cave" until it melted. So cool!
Love this idea? Pin it to save and share on Pinterest