One of my favorite DIY past times is so underrated by so many. Not sure how more people don't have a love for paper crafts. How about you? If you don't know by now how so many things there are that you can make from a simple piece of paper, you are about to learn. When you don't feel like getting out a ton of supplies or making something super complicated, paper can be your new crafting best friend. I keep a good supply of pretty papers on hand just for this purpose, in fact. I love making cards, envelopes, wall art and 3d creations of all shapes and sizes. People love receiving these as gifts, too. There is something about knowing that item was made from only paper and by you, something quite thoughtful and charming. Get your scissors and ruler out, maybe a little bit of paper glue, and start making some of the most lovely DIY paper crafts ever. 40 of them for you to choose from, so happy crafting!
Best Paper Crafts
1. DIY Geometric Bowls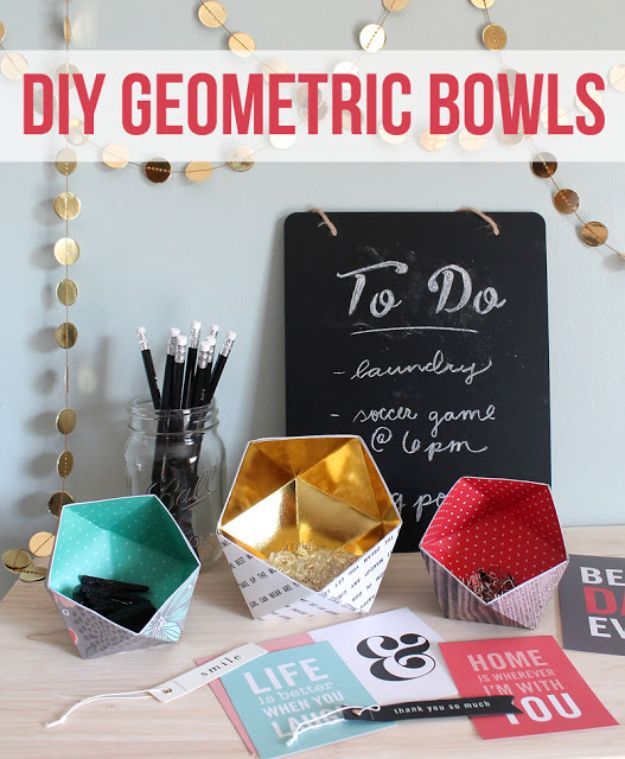 I have been wanting to learn origami and these DIY Geometric Bowls are just the perfect beginner paper craft to learn the skill. Such a super cute "catch-all " solution to all my knick-knacks. You will never get lost with the template printed and look at how pretty they turned out.
2. DIY Pocket Fan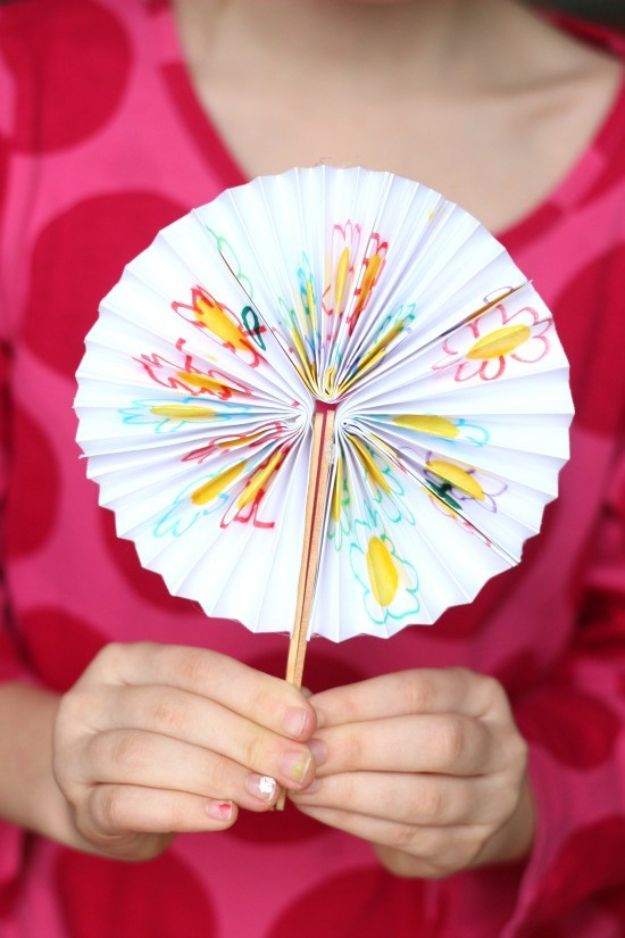 Looking for a fun paper craft idea to make with your kids? This DIY Pocket Fan is seriously the cutest thing ever! It's such a great idea and it folds perfectly to store in a pocket on a hot day. You and your kid will have tons of fun decorating them so go ahead and try it now.
3. Crepe Paper Wisteria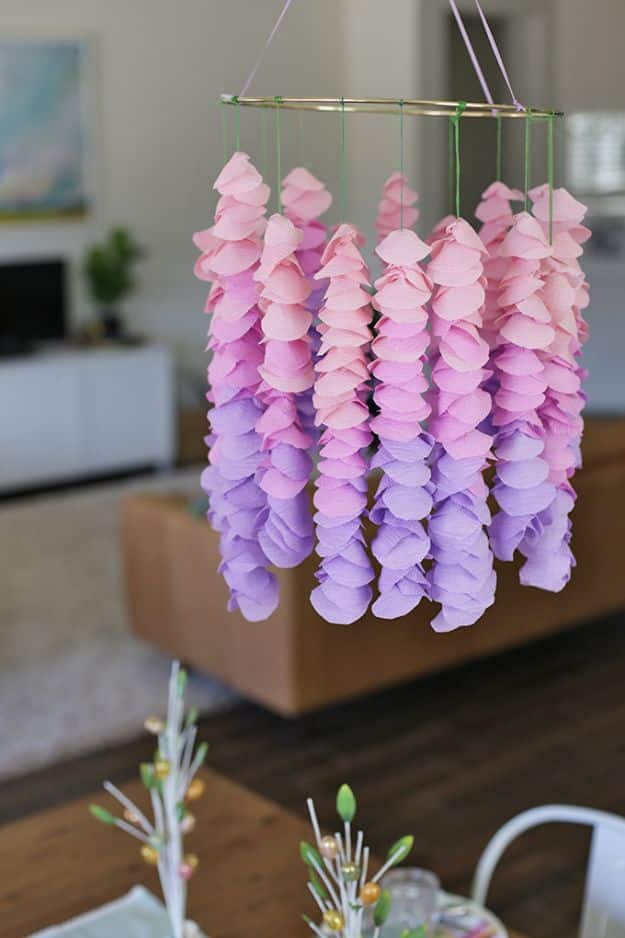 Now, this Crepe Paper Wisteria might look a little complicated but I promise you, it's not. The tutorial from One Lovely Life is so easy to follow. It's absolutely stunning and beautiful. It will make for a pretty wedding decor or just hang it in a nursery room. Super excited to get this started!
4. DIY Window Treatment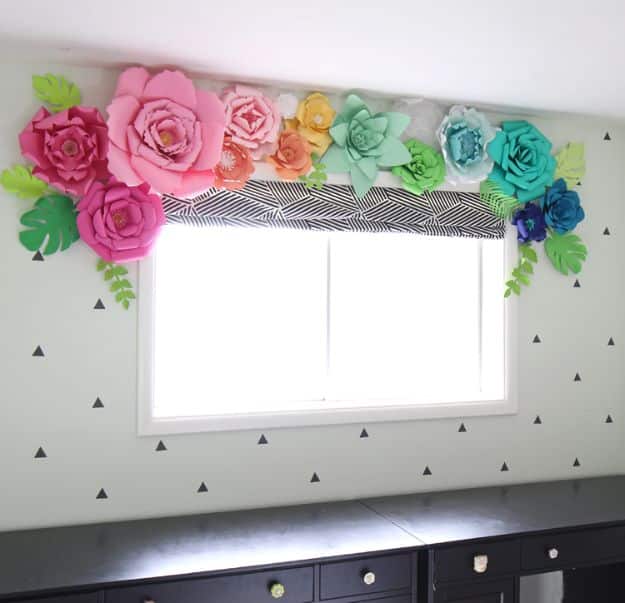 I've been wanting to do this exact thing for so long in my craft room but could not just find the perfect instructions. Luckily, I found a really good tutorial from The Craft Patch Blog. Basically, you just cut out the petals, fold them together at the base where the slit is, then glue the petals onto a circle. Make a small, medium and large set, then glue them together. Tada! You got the perfect window treatment!
5. Fruity Paper Medallions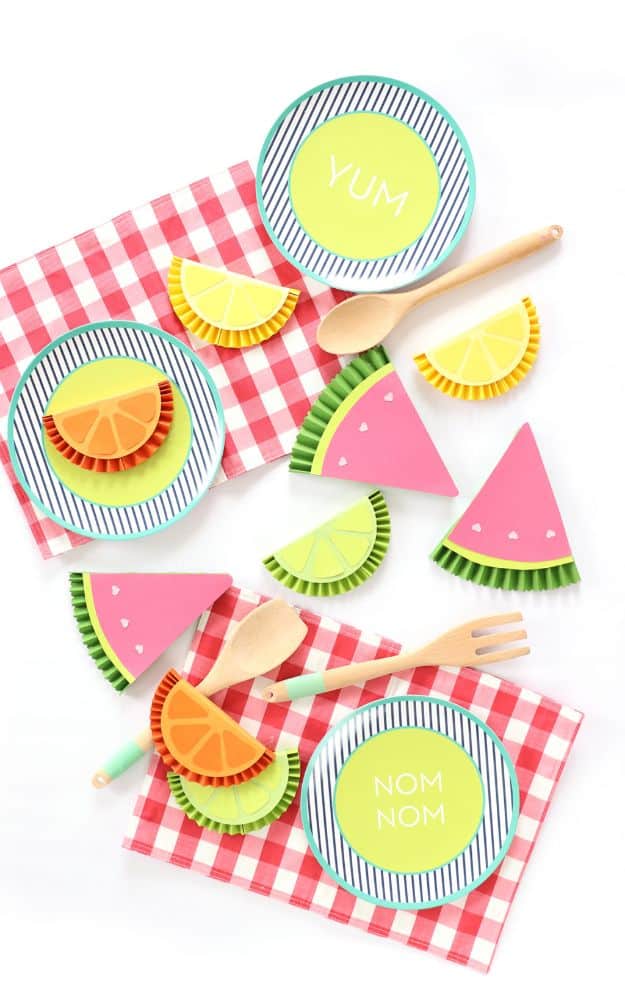 Sprinkle these Fruit Paper Medallions to up the brightness of your summer party! These cute little decorations are super cute and portable, making for good party favor fillers as well. And they're super easy to make too. Can't wait to start on this genius craft idea.
6. DIY Paper Gift Bows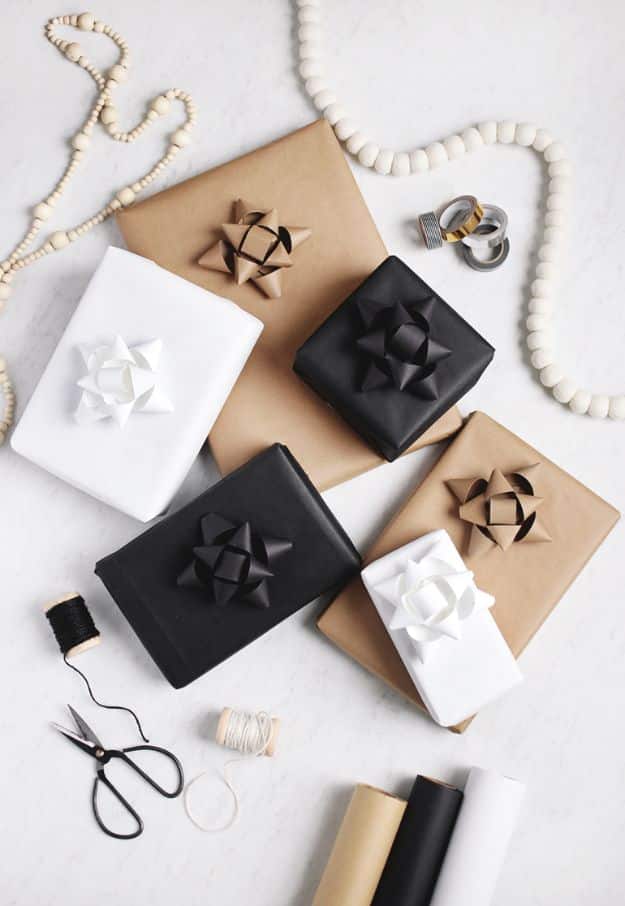 Oh wow, these paper bows are looking amazingly gorgeous! And wouldn't it be nice to have these paper bows all year round? Being the minimalist type, I really find the monochromatic theme as something so classy and elegant, hence this DIY appeals to me a lot.
7. Paper Succulent Centerpiece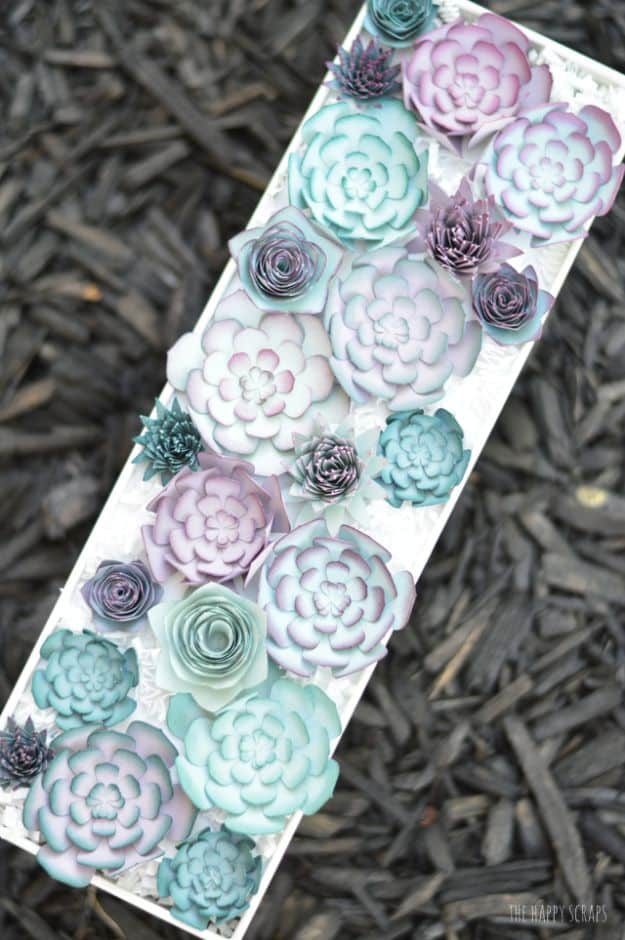 These succulents are seriously amazing! I really liked the color gradient that they used and the way it turned out is simply fascinating. I would really love to do something like this as a centerpiece for when I am entertaining or it can work as pretty table decor.
8. Paper Floral Crown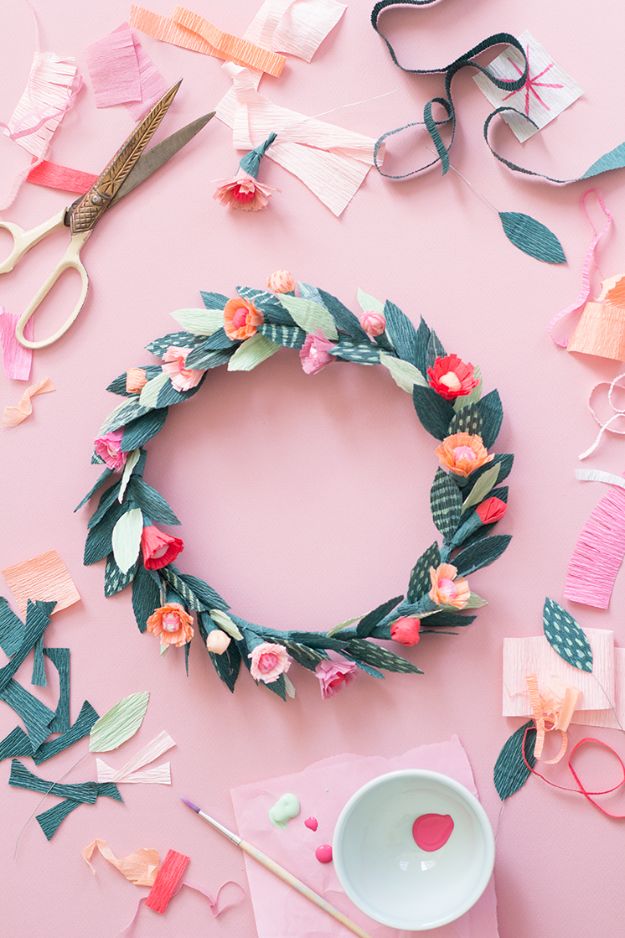 What better way to celebrate springtime than this floral crown? On top of that, flower crowns are a breathtaking addition to any look, whether you're headed down the aisle or to Coachella. I think this a trend that will never end so I might as well learn how to do one.
9. Paper Cocktails Umbrella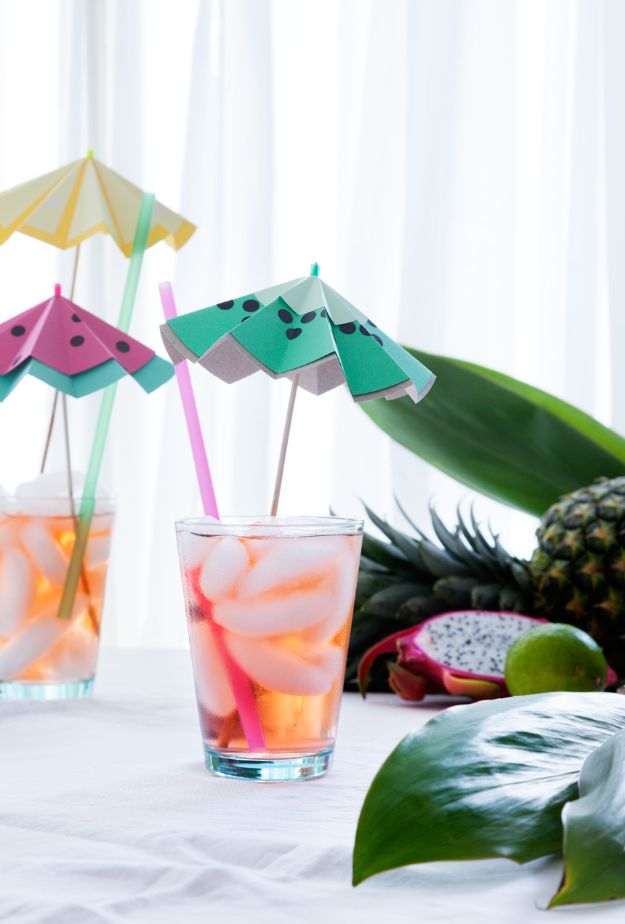 Bring the tropical theme to any drink with this Paper Cocktails Umbrella. Paper drink umbrellas are easy enough to come by in party stores, but the subtle touch of handmade versions can go a long way in making a party special. They only take a few minutes each to make, and this version is easy to adapt to the colors and motifs of your party.
10. DIY Paper Geode Garland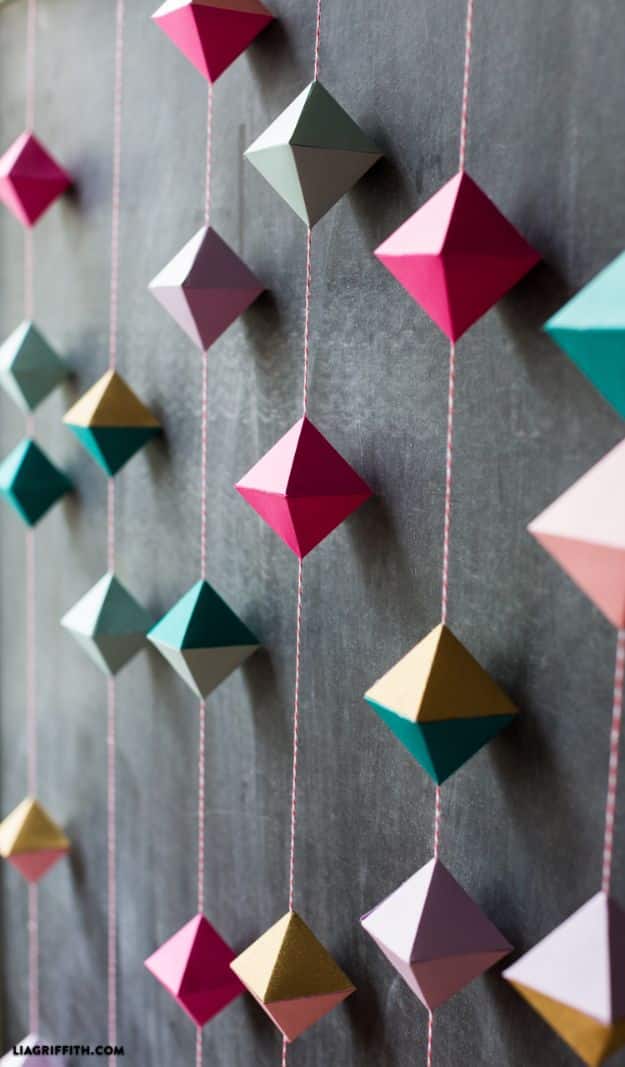 Need a perfect embellishment for any occasion? Look no further since Lia Griffith got you covered with this DIY Paper Geode Garland. Not only a party decor, but it can also make for marvelous home decor too. With some hot glue, craft paper, and templates from the site, you can start making your own. Give it a whirl because I will certainly do.