Want a sitting area in your backyard where you can relax and enjoy your morning cup of coffee? Make this outdoor concrete and wood bench by HomeMadeModern! It's a simple project that you can build at home with just simple tools.
Materials:
3 pieces of 8-foot-long 4x6s
Quikrete 5000
2x4s
2x6s
laminate wood
wood blocks
gravel
Note: you can also use plywood
Instructions:
Step 1:
Make wall panels using your 2x4s and 2x6s, it should be a bit smaller than the width of 3 pieces of 4×6, then screw them together into boxes. Make two pieces of boxes with the same size. See the photo below for reference. Use 2x6s to make notches in the concrete to accommodate wood beams.
Step 2:
Screw a piece of laminate board at the bottom to keep the concrete coming out.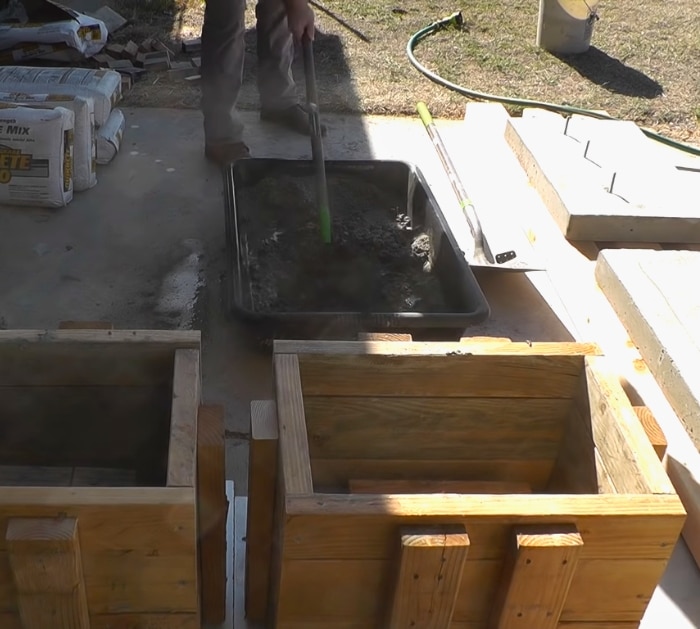 Step 3:
Dug two holes (consider the space between them), pack down the earth, and line the bottom with gravel. Spread the gravel and thump it to even them out.
Step 4:
Cast the base in the proper location as it can be really heavy to lift. Mix the Quikrete 5000 with water in a large mixing tray and shovel it into the mold. After filling the mold with about 8″ of concrete, add wood blocks to help keep the weight down. After that, fill out the forms the rest of the way. Once done, let the concrete dry for about 3 days.
Step 5:
After 3 days, unscrew the wall panels and pull them. If the middle 2x6s are tightly in place, use a circular saw to cut some grooves to loosen it up.
Step 6:
Line the two blocks and drop in one of the 4×6 to check if it's leveled. Add more gravel and move them around if needed.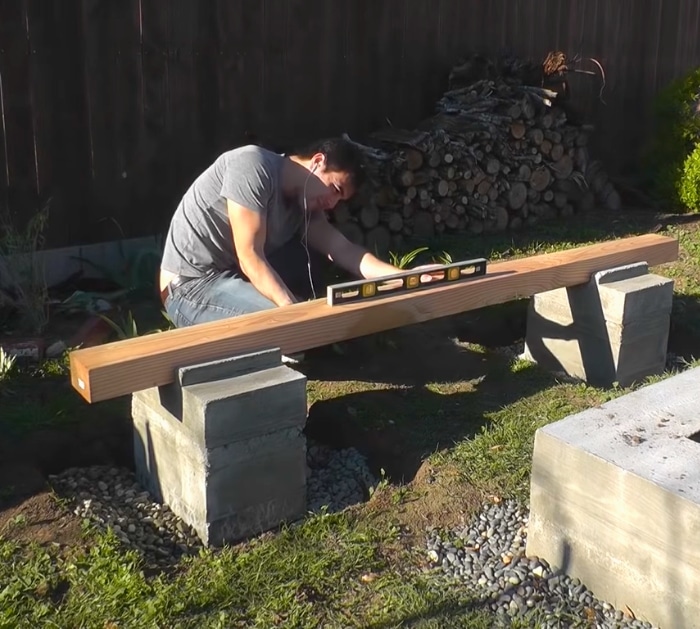 Step 7:
Place the 4x6s and sand them lightly. Cut a notch with your circular saw on both ends and then recess in a piece of a 2×2. After cutting a bunch of grooves, use a hammer and chisel to knock out the chips of wood. Drill the 2x2s in place.
How to Make an Outdoor Concrete and Wood Bench