Looking for some easy, quick costume ideas for Halloween? These last-minute costume ideas are so cool you may not even want to wait until the day before Halloween to make or wear them. Creative ideas make some of the best costumes ever – try these tutorials to make these fun outfits at home. The very best part about these last-minute Halloween costumes is that they are almost all made with materials everyone has lying around the house. From bags of balloons to post it notes, our team of DIY gurus have no limits on the endless creative potential in ordinary things we take for granted in our everyday life.
Think you are ready now for that big Halloween party you are throwing or going to? If you still need some more cool ideas for DIY Halloween costumes, so you have the perfect attire to match that amazing decor, we have you covered. Don't forget to check out some cool Halloween makeup ideas to go with or as your costume, either. If you need an awesome costume idea for you and your special person, boyfriend or girlfriend, we have some incredible ideas for DIY costumes for couples. For your Halloween decor, don't skimp on this. Check out our inexpensive DIY Halloween party decor ideas for those on a budget and these quick and easy Halloween decor ideas for those pressed for time. Happy Halloween!
Last Minute Halloween Costumes
1. Jelly Bellies Costume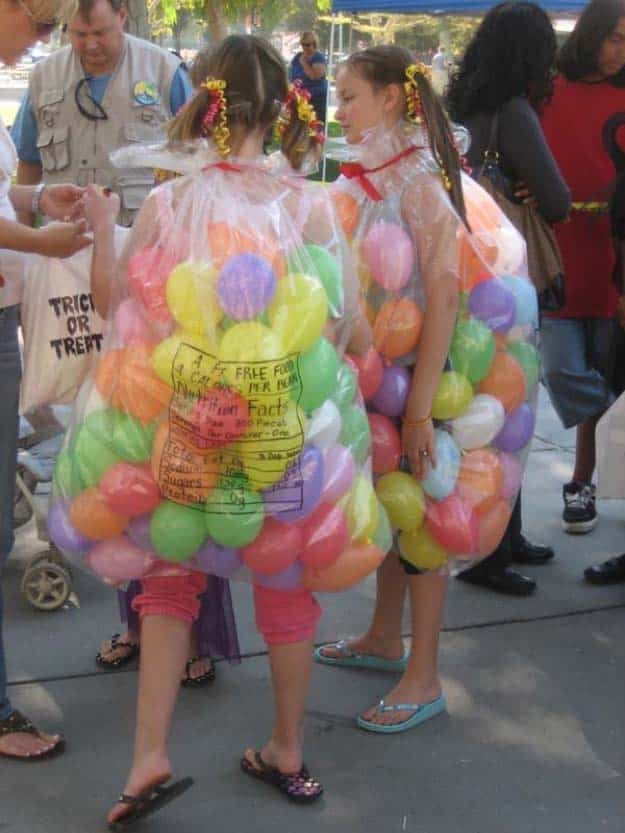 My daughter and her best friend needed a last minute costume and we did not even have time to go to the craft store. The girls were really getting very discouraged and just when we were about to give up, I had a bolt from the blue. I had some clear trash bags and we wrote our nutrition facts on the side with a sharpie. We then blew up a bunch of multi-colored balloons left over from Bubba's birthday party a couple of months ago. We cut leg holes in the bottom of the bag and put our girls inside and stuffed the bags with the balloons. Twenty-five minutes max to make this and the girls got first place in the couples costume category. Best of all Halloween was a smashing success and it didn't cost a dime, an easy costume that is so cute it just may win the best costume contest.
2. Bulletin Board Costume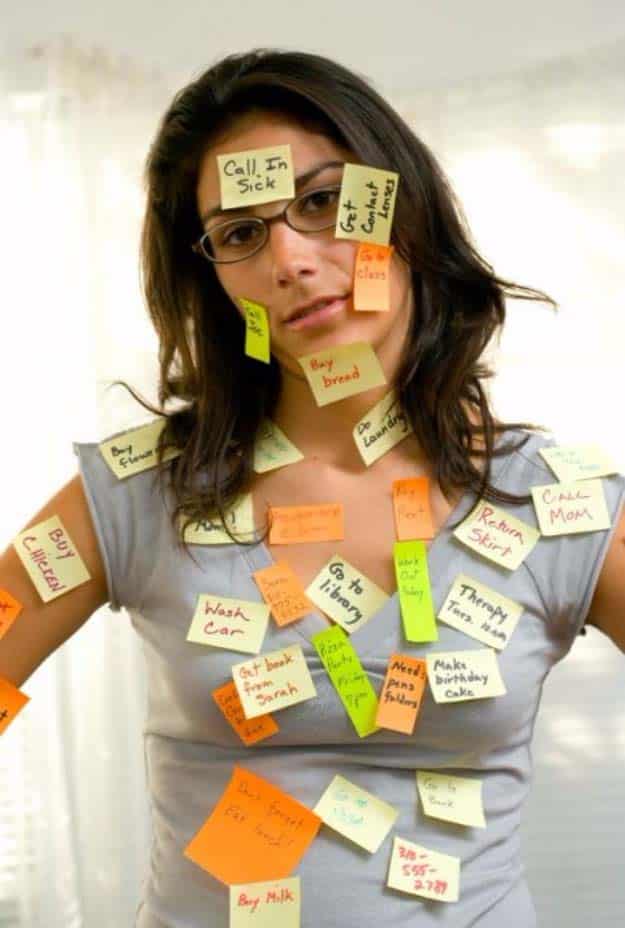 Do you ever just want to let it all hang out and be yourself? Not bothered with glamming it up, not in the mood for hamming it up? Do you just want to tell them all, "Look, I have stuff to do, I'm lucky to be here at all". It's really easy to take that idea to complete tongue in cheek level by writing a bunch of post-it notes with all your chores, tasks and errands and sticking them all over yourself. This hilarious Halloween costume idea made my friends laugh for a year and it made me ease up on worrying about my to-do list excessively. I saw that my nervousness about accomplishment could be a source of immense entertainment and as a direct result, I got more done.
3. Lego Costume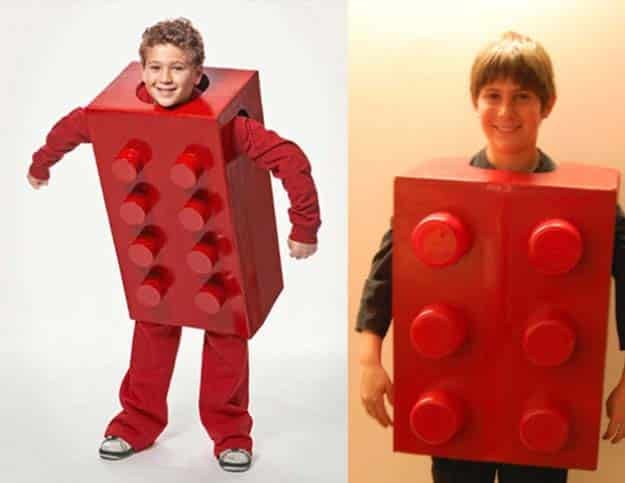 My nephew was at our house when my kids decided to have an impromptu pre-Halloween costume party. He loves Lego so I had seen this Lego piece costume idea in Country Living. I let my nephew make it himself out of a couple of cardboard boxes and we glued our joins on, cut arm and neck opening, and spray painted it with some old Krylon I had in the garage from an old Christmas project. He was so cute I got some lovely photos for his Mom and Dad.
4. Google Maps Costume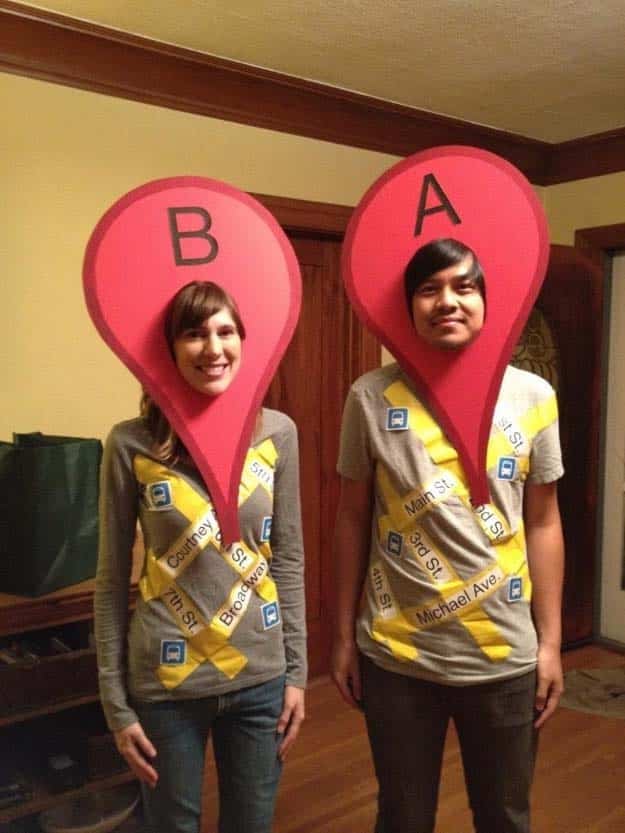 My boyfriend and I always get lost, whether it's driving in town traveling out of town, traveling out of town or on the hike and bike trail. Google Maps is our best friend when we travel anywhere outside our home. When I saw this Halloween Costume idea on Pinterest, I knew instantly it was for us, we laughed the entire time we put these costumes together. We got a red poster board and yellow duct tape at Michael's and wrote our favorite street names on them. He was A and I was B, we have never had a more romantic Halloween. A quick idea when you need DIY Halloween costume ideas for men, couples or a group of friends, this fun and easy cotume is sure to get some laughs at the party.
5. Runaway Bride Costume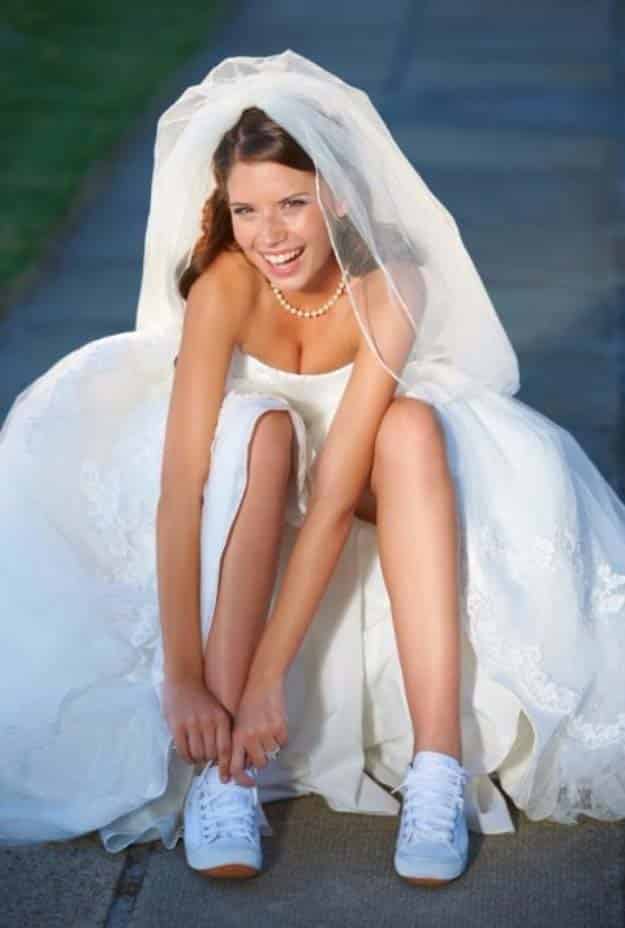 If you are a girl who likes to change her mind and doesn't bow down to anyone's wishes the runaway bride Halloween costume is perfect for you. You can find an old wedding dress at your local thrift store and just make a little tulle veil and the very last thing you will need is a good pair of sneakers to make your quick exit from whatever alter you encounter this spooky Halloween night. A pretty costume idea for women, you get to wear the look of a beautiful bride while wearing this funny Halloween costume idea. Borrow a friend's old dress, rent one or pick one up in a thrift store and you have an almost instant costume.
6. Thunder and Lightning Costume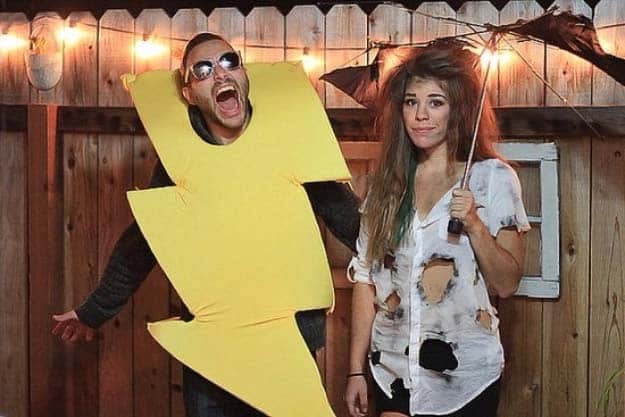 My boyfriend and I are just one of those couples who seems to have an explosive time wherever we go. I saw this Halloween costume idea on Pinterest that summed up our relationship so well, lightening and the aftermath. We went to a Halloween costume party at our favorite club and everyone who knew us was truly thunderstruck and loved our ingenuity.
7. DIY Minion Halloween Costume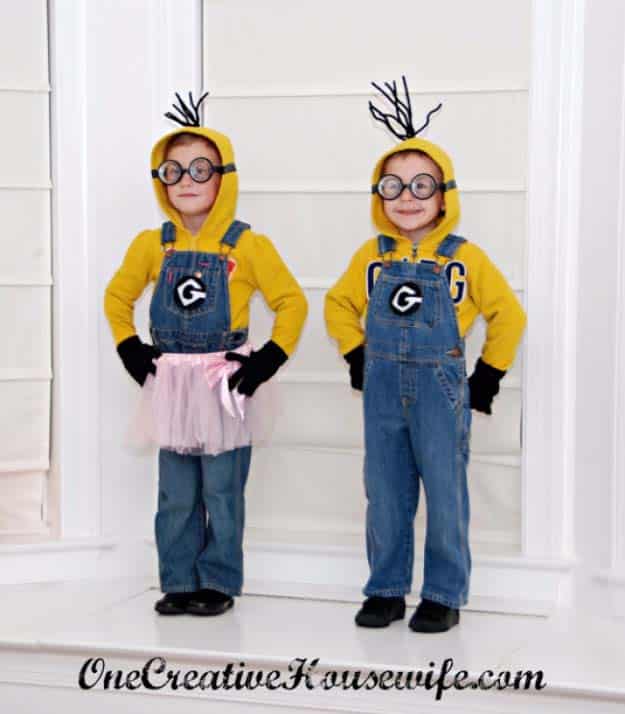 My twins Beryl and Daryl are in love with the minions, there's nothing they wanted more than to be minions for their school Halloween party. So we did some quick thinking and got out their Osh Kosh overalls and yellow hoodies. We managed to find the minion glasses at a local costume shop and added pipe cleaners to the top of their heads. beryl and Daryl were so cute they really stole the show this Halloween and stole everyone's heart too.
8. Hunger Games Costume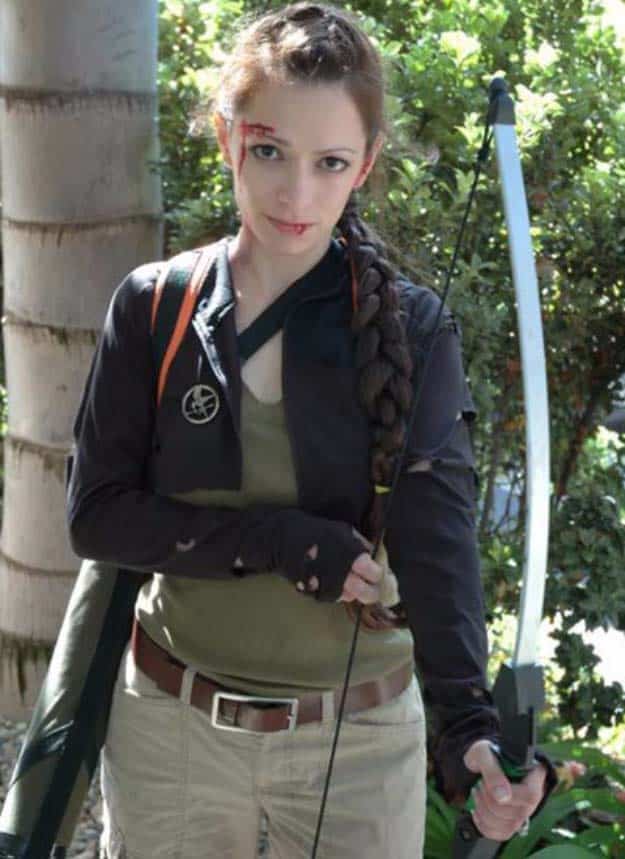 The Hunger Games theme is so fun for kids and teens on Halloween and it's also super easy and comfortable for a nights trick or treating. You can use an ordinary hoodie that you crop and get a bow and arrow from Amazon or at a local costume shop. Sprinkle a little fake blood here and there to let everyone know you can rough and tumble and be the warrior of your neighborhood this Halloween. All those ghouls and goblins will need someone looking after them, they will be looking to you for strength and guidance. A cool idea for DIY Halloween costumes for teen girls, but also adults, this DIY warrier idea is sure to get compliments during trick or treating.
9. DIY Instagram Halloween Costume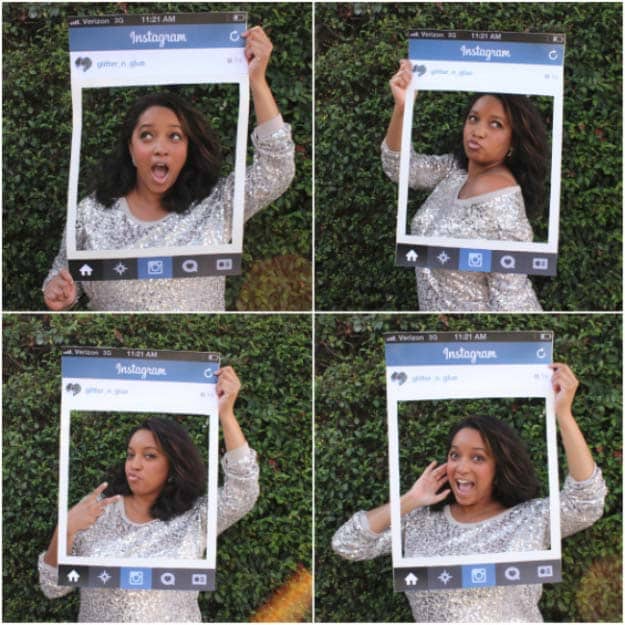 When you do not want to wear a Halloween costume, but you want to look like you tried what can you do? Try the Instagram frame costume it's a darling idea and it looks so cute in photos, but after you've made your entrance you can put is on the table and only retrieve it if you have to take some group photos. The absolutely greatest part of this is that everyone can borrow it to take photos of themselves. The Instagram frame really is a winner and simple to make, everyone loves it and no one can accuse you of not participating.
10. Peter Pan Shadow Costume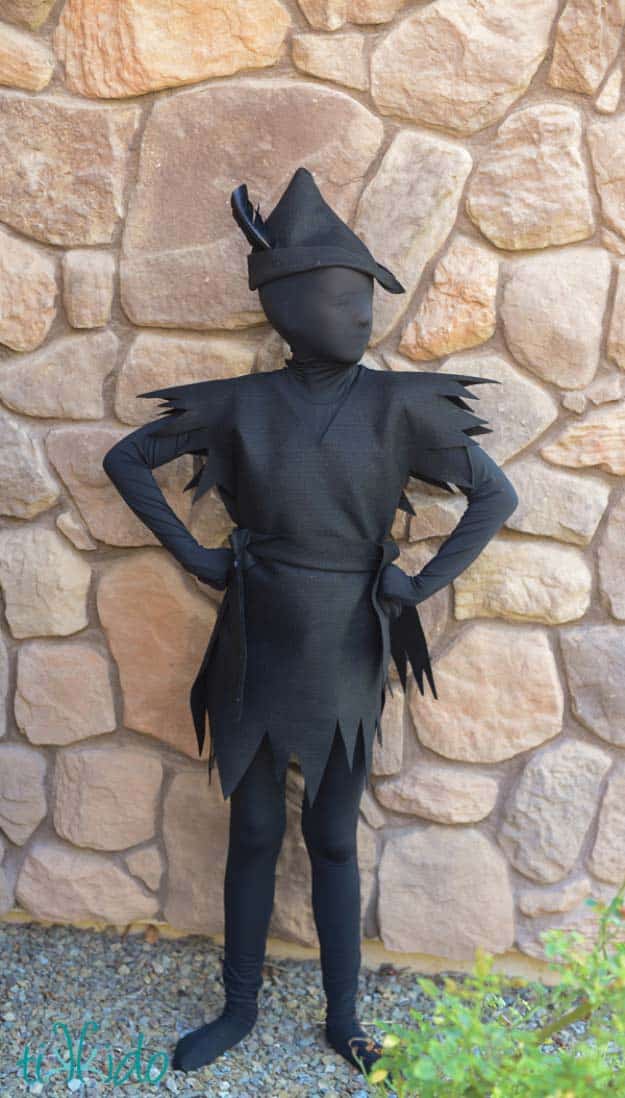 Say happy Halloween with a Peter Pan costume. This instructional link can be used for a regular Peter Pan or a really spooky shadow Peter Pan. The shadow Peter Pan just requires a morph suit, which is really comfortable I'm told. I got some felt and fabric glue from Michael's craft store, cut this out and glued it together in 30 minutes. It was the most simple, most rewarding DIY Halloween costume I've ever made, my daughter loved it. If you want a DIY costume idea that is a little spooky while not being scary, try this fun shadow costume.