Woolen projects are so fun and easy to make. There are a lot of methods that you can choose from, but I love using the fork method the most. It's much easier and you don't have to go through all the trouble just to find one because every household has a fork. This adorable craft is made by Aachees World on YouTube.
Materials:
Woolen yarn
Fork
4 pieces Small beads
1 piece Large bead
Embroidery needle
Directions:
Step 1
Classify the fork's part being the most left side of the fork as the 1st point, followed by the 2nd, 3rd, and 4th. The holes in between each of those points are called the left, center, and right slots. Start by holding the end of the yarn at the back of the fork's neck, then pull it up and over to the left slot of the 1st point, then from the back bring it to the front through the left slot, then pull it over the 2nd and 3rd point, and insert to the right slot. Then from the back of the right slot, pull it over the 4th point and over to the left slot, and over the 1st point, repeat the process until you've reached the end tip of the fork.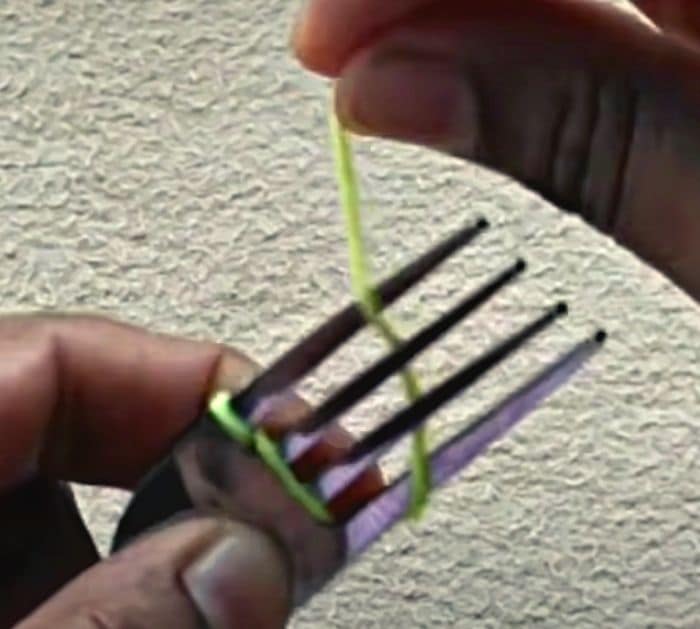 Step 2
Once you've reached the end, insert the end of the yarn to the needle, then from the back insert the needle under the bottom of the center slot. Pull the yarn over the top part of the center slot, then pull and insert under the bottom again, pull it the front then insert 4 small beads onto the yarn, before pulling upwards then under the slot for the last time. Pull the yarn and insert it under the loop where the beads are, then insert under the bottom, pull it at the back then insert through the loop at the back, then tie a knot at the ends of the yarn and cut the excess.
Step 3
Remove the yarn from the fork gently, then make a total of 5 pieces. Then join the petals together by inserting a yarn through the bottom of each petal, pulling it tightly, and making a knot at the end, to lock them in place. Make sure you don't pull it too much that the petals are twisted, if it does get twisted, simply adjust the petals so they're placed properly. Then insert and sew a large bead at the center of the flower.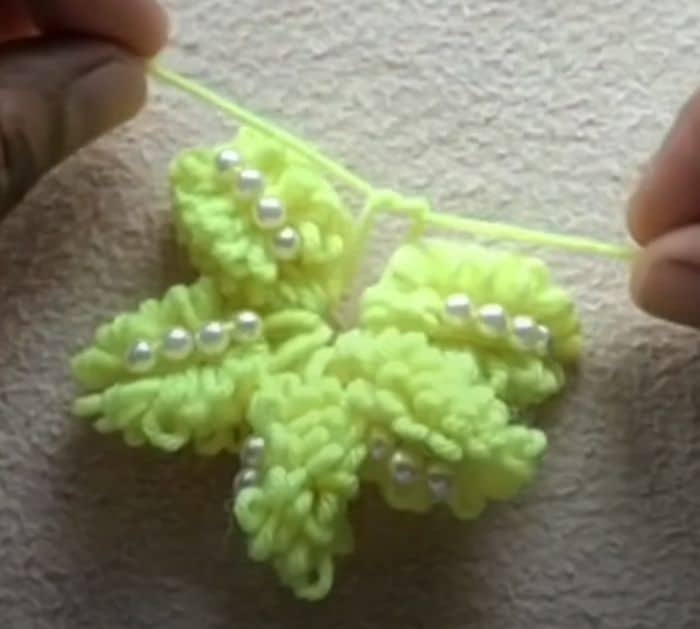 *All these images are credited to Aachees World via YouTube. Give his channel a visit and subscribe for more!
How To Make A Woolen Flower Using A Fork