A few weeks ago, my mom asked me to throw out some of our old chairs as she purchased new ones, but I was hesitant because although the old chairs were worn out, they were still sturdy and in my opinion, too lovely to go to waste. So, what I did was come up with or find inspiration, an idea that I can use to repurpose those old chairs and try to turn them into something new! While browsing through numerous tutorials, I found this project by AnOregonCottage on YouTube which encouraged me to build a bench out of 2 similar chairs. The steps were pretty easy and simple but I would still need a hand to make things easier and the results nicer, that's why I asked the expert of our house, my Dad. Everything went well and according to plan, and now my Mom is asking us to turn the rest of our old chairs into benches!
Materials:
Cushion
2 old chairs
2 long wood pieces
Short wood pieces
Wood screws
Wood glue
Drill
Directions:
Find two chairs that are similar to each other and have the same height, then remove the front legs and the seats, and set them aside. Next, make a rectangle box to the desired length, then attach the box in between the chair, and secure them in place with screws. Install two long wood pieces on each side of the chair's legs, then attach two short pieces of wood on each end of the long pieces to make a rectangle frame, and add more short pieces across the rectangle making sure they are spaced evenly. Fill the holes with wood filler, then let them dry completely, and sand them until smooth. Now, make the plywood seat top, then attach them to the seat, and place a cushion on top.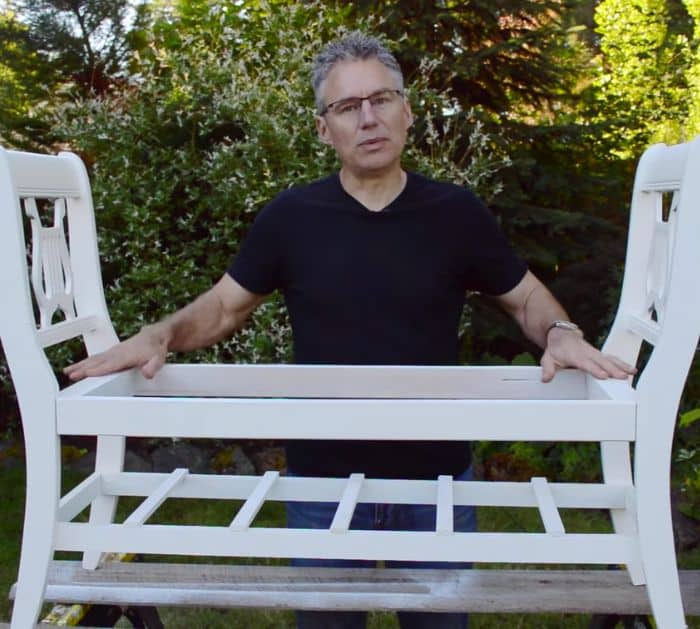 *All image credit belongs to AnOregonCottage via YouTube. Follow and subscribe to her channel for more!
How to Transform 2 Old Chairs Into 1 DIY Bench