These clever and super cute gift box ideas by IDEA on YouTube are so simple and easy to do. Plus, this is also inexpensive and quite quick to make, so if you're planning a giveaway of some sort, this is the perfect container to use, especially if you need a lot. Check this DIY project out and pick the best option that you think is interesting and doable for you.
Materials:
Plastic bottles
Scissors, cutter, or X-Acto knife
Hot glue gun and glue sticks
A small piece of wood
Colored paper
Felt paper
Pencil
Directions:
Plastic gift container #1
Cut a large plastic bottle in half, then cut several slits halfway the length of the bottom part of the plastic, and curve the ends. Insert treats or whatever small gifts you want inside the plastic bottle, then fold the flaps down the center to cover the treats, and wrap a ribbon around securely.
Plastic gift container #2
Get 2 small plastic bottles, then cut the bottom part about 2 to 3 inches high, and insert one inside the other to make them a single piece. Cut a leaf shape from the leftover plastic making sure it's curved, then cut a small piece of wood that resembles a stem of an apple, and attach the leaf as well as the wood on top of the gift container.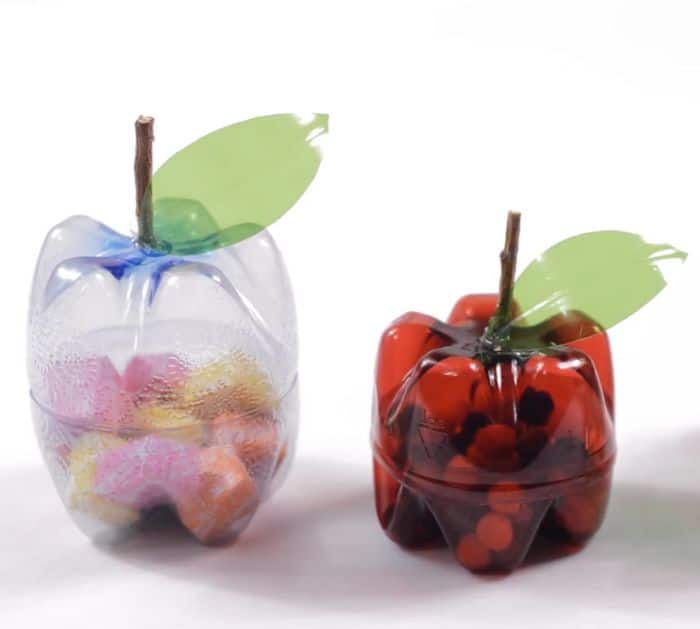 Plastic gift container #3
Cut the top part of a plastic bottle, then cut slits about ½ inch before reaching the bottom, they should be 1 inch thick each, and curve the edges slightly. Cut a simple flower shape and background leaf from the colored papers, then cut an octagon at the center, and cut the felt into the same size as the octagon, this will be the center of the flower. Assemble and adhere them together with hot glue, then once you've inserted treats inside the container, gather the flaps at the center and insert the flower piece to serve as a lock.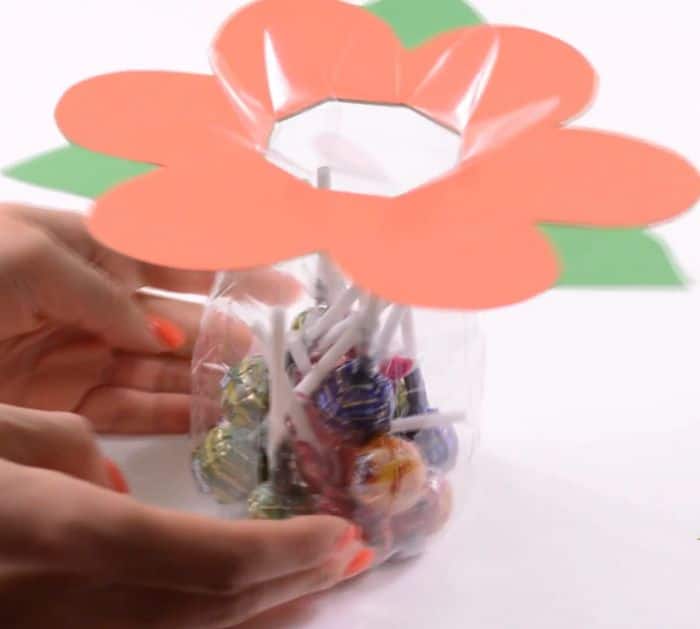 *These amazing images are all credited to IDEA via YouTube. Check her other content and follow for more!
3 Cute DIY Gift Box Made Out Of Plastic Bottles