Image credit: Patti J. Good via YouTube
This super adorable fall-themed gnome by Patti J. Good on YouTube is made out of pinecones and a few materials that you can easily find in the nearest Dollar store! It is super easy and simple to make that you can just let your creativity take over and have some fun.
Materials:
Fleece
Small fall leaves
Approx. 2″ terra cotta pot
Medium-sized pinecone
Mini pinecones
Jute string
Small bell
Floral foam
Jean material
Small bell
Craft foam
Scissors
Hot glue gun and glue sticks
Directions:
Step 1
Cut a jean material into 5×10 inches, then hem up one side, and secure it with hot glue. Next, trace the bottom of the terra cotta pot on a fleece fabric, then cut it out, and adhere it to the bottom of the pot using hot glue. Wrap the jean around the body of the pot hemmed side down, then carefully hot glue only the top of the flower pot, and tuck the excess inside the pot securing it with hot glue. Tie a piece of jute around the pot several times, then tie a knot, and cut the excess leaving two long tails. Cut the floral foam and insert it into the pot, then set it aside. Measure the pine cone, then cut the folded fleece starting from the opposite lower corner of the fold, and curve it all the way to the folded top corner. Seal the hat on the sides using hot glue, then cuff the bottom securing it with hot glue as well before turning it right side out, and poke the corners gently.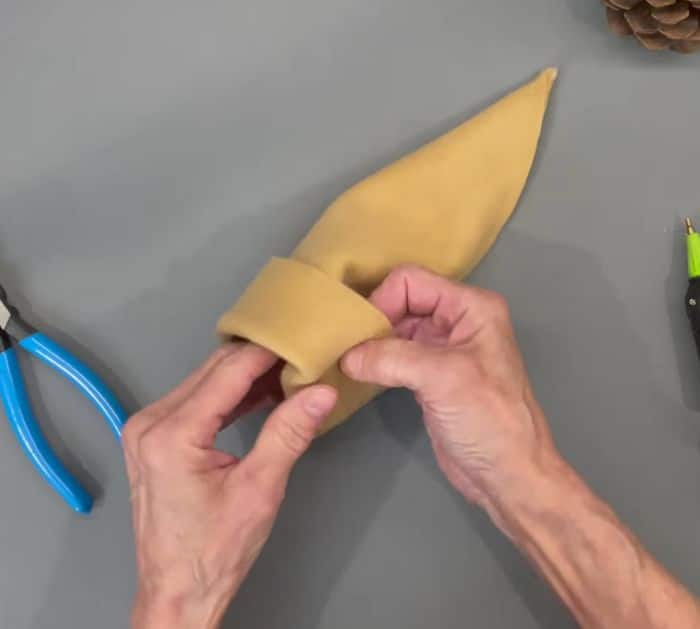 Step 2
Fold the cuff one more time and secure it with hot glue, then set it aside. Now, cut a beard shape onto a 2.5×3 inches craft foam, then glue the leaves all over the foam, and glue it on the pine cone. You can place the hat on the pine cone to find out where to put the beard, then once you've adhered to the beard, put the hat back on pulling it as far as you can, and glue the nose at the center and slightly underneath the hat. Tie a piece of jute at the top part of the hat and make a bow, then glue a bell on top, and bend the top part of the hat over a bit. Decorate the hat with more leaves, then attach the arms and feet to complete the gnome.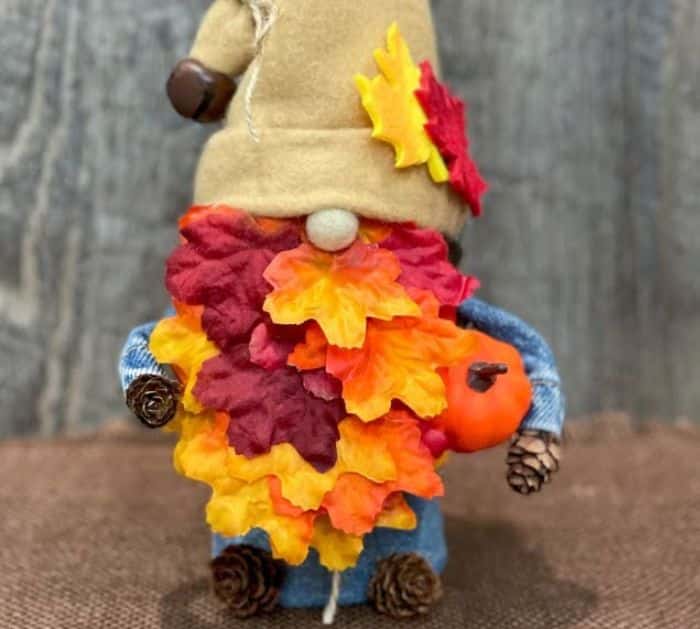 *These amazing images are all credited to Patti J. Good via YouTube. Check her other content and follow for more!
Easy No-Sew DIY Fall Pinecone Gnome Tutorial