Looking to find some new ideas for healthy meals, aka add some variety to your diet which seems to have consisted lately of one too many naked chicken breasts? When I first started making an effort to prepare only healthy recipes, but budget-friendly ones, the chicken breast became my go-to food staple. However, without a lot of creativity, that chicken gets really boring, really fast. I finally decided to put together a big list of easy and healthy chicken recipes to have on hand for meal prep, dinner planning and last minute trip to the grocery store, a list of tried and true favorites I knew I could make and please most everyone. If you are also looking for some easy, healthy chicken recipes, this is the list for you, too. From healthy versions of some favorite dishes like chicken marsala, chicken piccata, fajitas, orange chicken, sesame chicken and even a low fat stroganoff, you will not be disappointed with this wide variety of selections. In fact, I don't recommend looking at this list of you are hungry, the photos will have you drooling. These ideas are quick and easy, too. Perfect for weeknight suppers and meals when you don't have hours to prep ingredients. I made the crockpot barbecue chicken on a Monday morning before work and had awesome food to eat all week. My go to lunch favorite right now is the chicken avocado salad. With 50 recipe ideas to choose from, you will never again have to eat a plain old chicken breast again.
Easy Healthy Chicken Recipes
1. Fajita Chicken Kebabs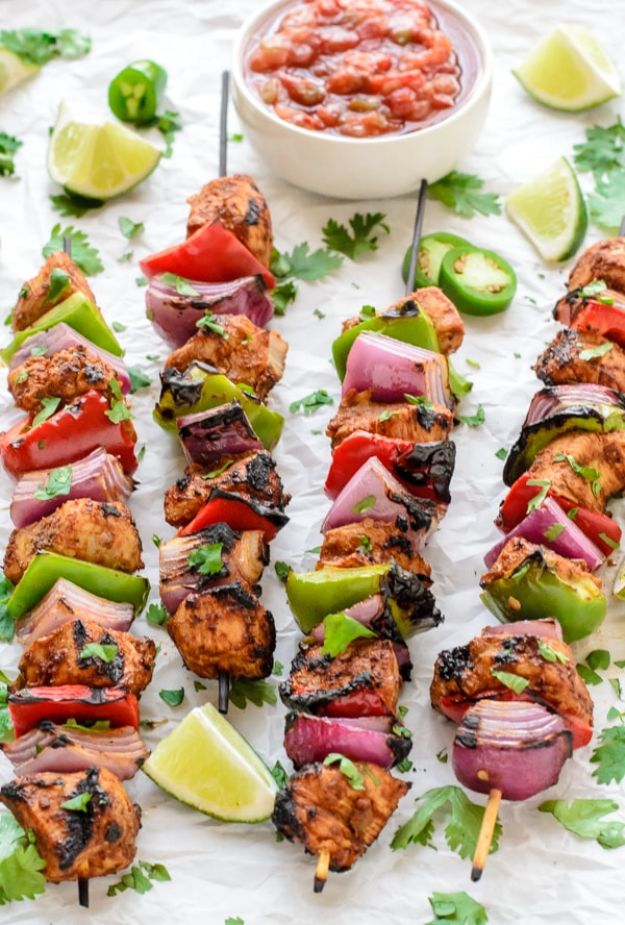 You know what is funny about this one? Until I saw this chicken fajita kebab, it never occurred to me to make fajitas on a skewer so I could grill them. All I have to say about that is "Wow." Maybe, thanks, too. One of my favorite fajita marinades, this one is tangy and spicy at the same time, super quick and easy to make. Serve with a side of borracho beans and some tortillas for a fast meal your family is sure to love. Grilling is so fun as well, and let me tell you, I am all for equal opportunity behind the coals. Whether by design or default, whenever I attend a backyard barbecue, it always seems to be the men who rush to the grill and the women who handle the accompanying sides/desserts. So realizing this, I was beginning to feel a grill-shaped void in my cooking repertoire. After all, why shouldn't I be able to hold a spatula and master the flame? Move over boys—I'm armed with Fajita Chicken Kebabs, and I'm ready to take over the tongs.
2. Healthy Sesame Chicken Skillet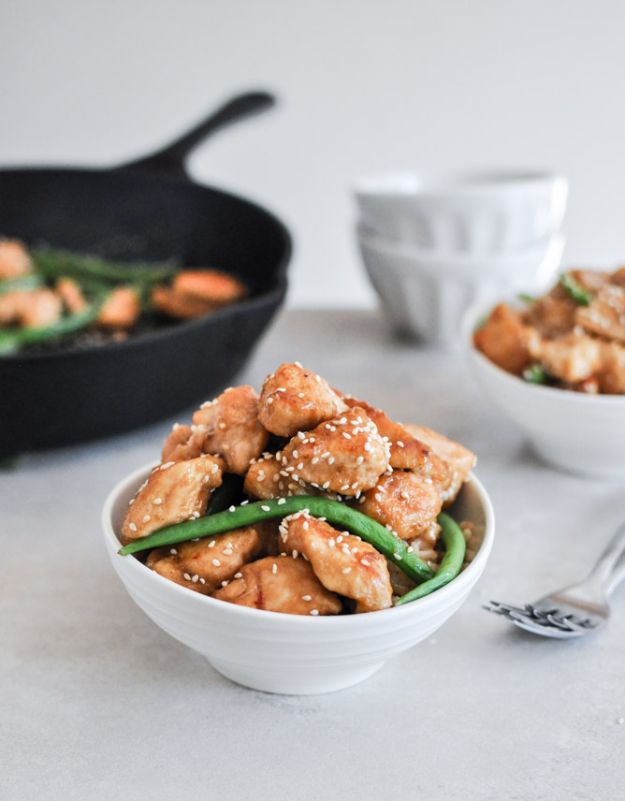 In the mood for a little Asian flair? This low-fat version of sesame chicken can be whipped up quickly in your skillet. Simple and delicious, this chicken recipe is a winner. I eat a lot of takeout usually, but I'm quitting that and trying these nice little-balanced dinners, like this Asian chicken, that's a little sticky and sweet and covered in sesame seeds because of OMG, I love them. And before we know it, I'll be on the way to self-sufficiency and good health!
3. Butternut Squash Green Chile Chicken Soup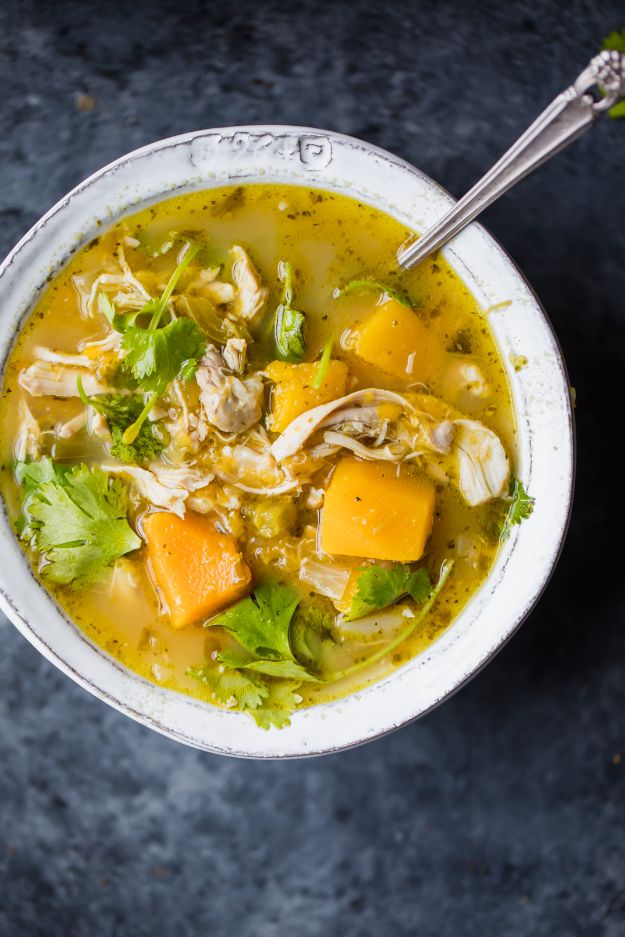 Green chile and butternut squash together? You bet! This amazing chicken soup recipe is hearty and flavorful, a fall favorite at my house, but by no means limited to the fall menu. Try this healthy, easy option when you are looking for a quick soup idea that won't have you cheating on your diet.
4. Healthy Chicken Fajita Rice Bowls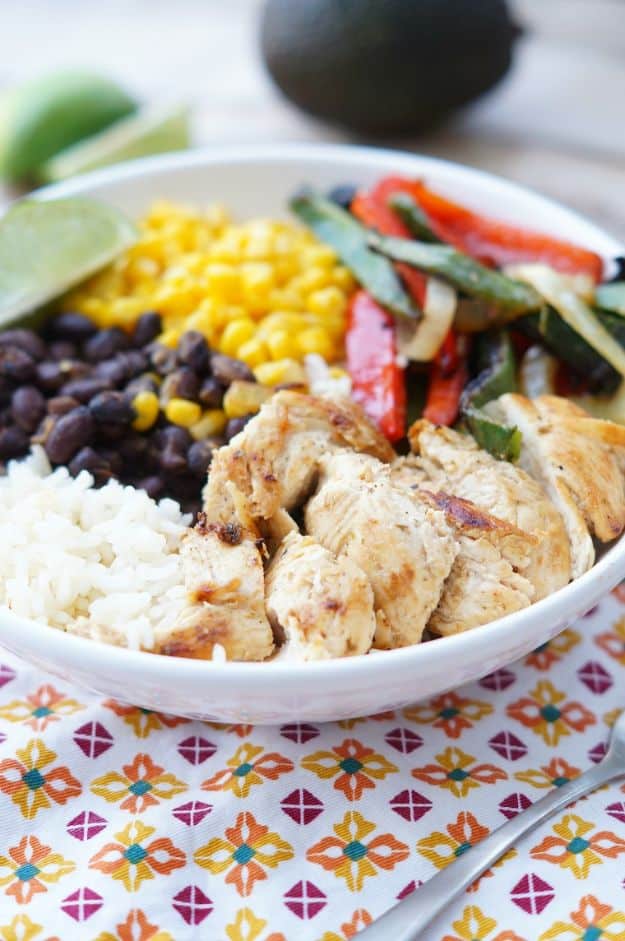 A bed of rice covered in fajita seasoned chicken, peppers and onions, served with beans and corn. These Healthy Chicken Fajita Bowls are a healthy and delicious dinner that your whole family will love! We've got lots of healthy chicken recipes on the site, but these Chicken Fajita Rice Bowls are by far the favorite!
5. Rainbow Thai Chicken Salad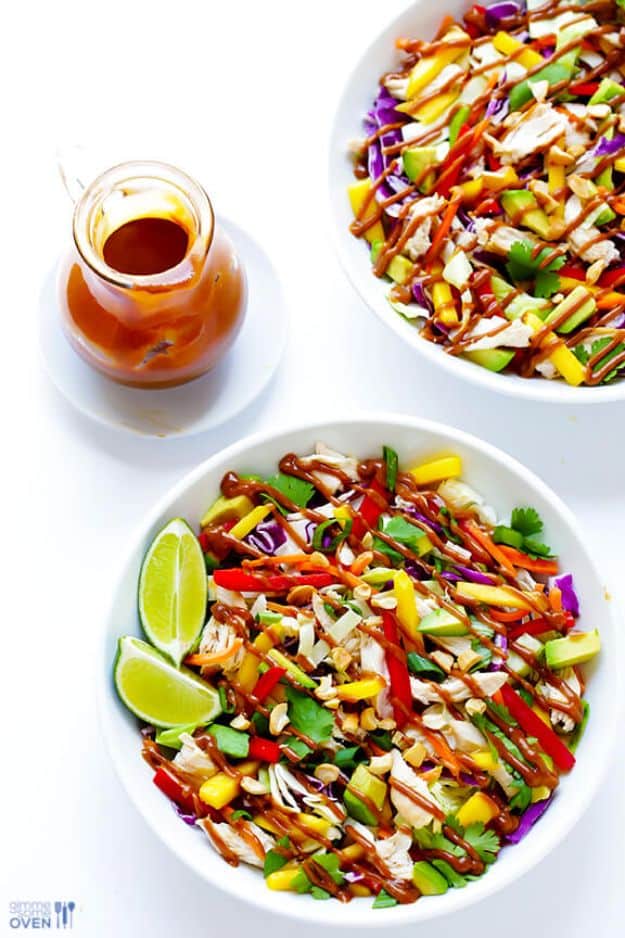 I have been a Thai chicken salad lover for years, with Panera's version actually being one of my faves. But whenever I make it at home, I love seeing how many different colors — or, ingredients — I can cram into it to make it all the prettier and tastier. This is a quick and easy meal in a bowl for two people, it's so fresh and crisp tasting with a wonderful exotic flair.
6. Lemon Garlic Chicken and Rice One-Pan Skillet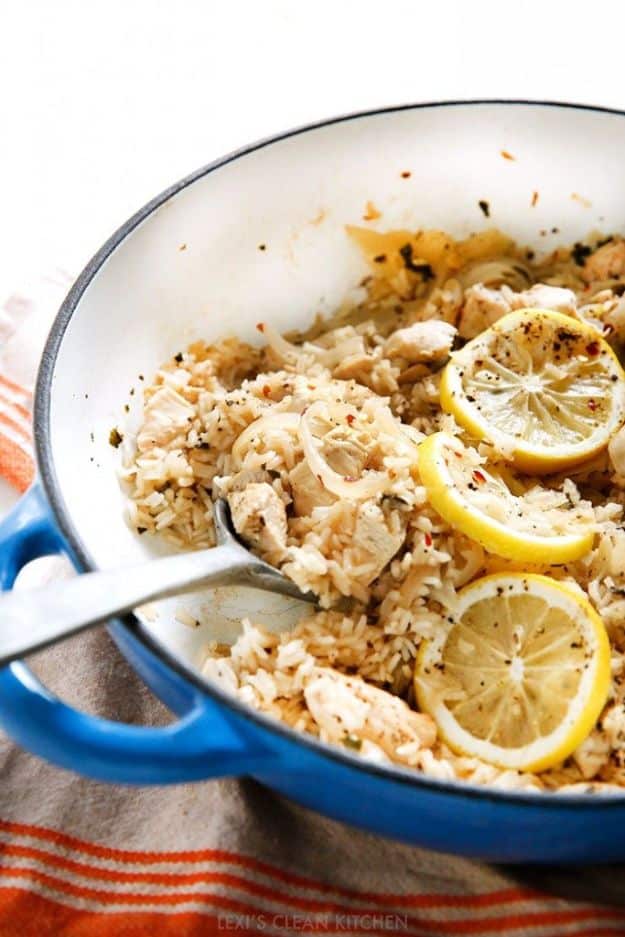 This curried shakshuka, a healthy one-pan dish with poached eggs in a flavorful tomato sauce, comes together quickly and can be served any time of the day! I made some the other night for my neighbor and he loved it. These one skillet casserole meals are quick and easy, plus there is a very limited amount of prepping and cleaning, truly a win, win! 😉
7. Healthy Sweet and Sour Chicken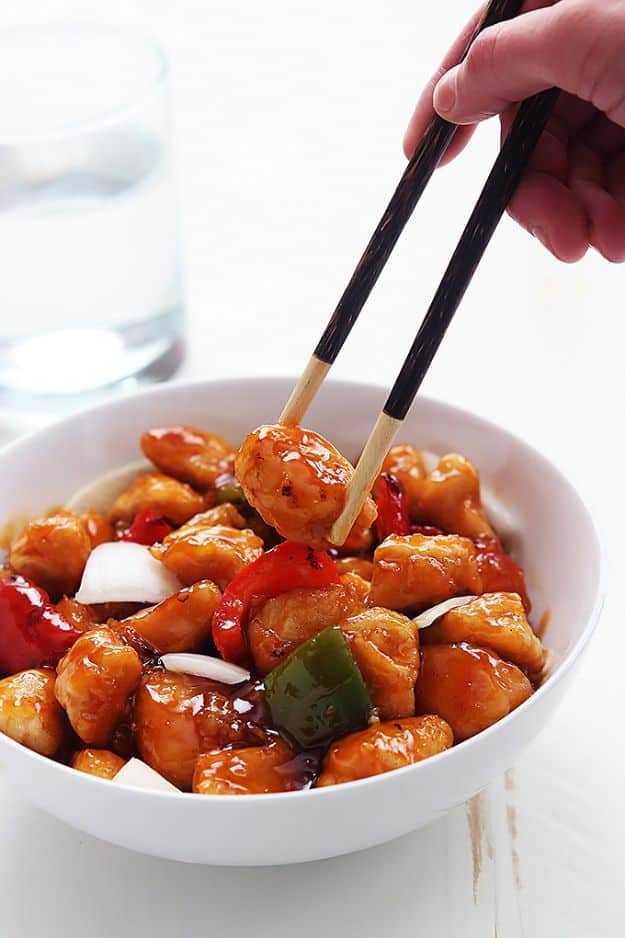 I just made this and so glad I did – this is the best recipe I've ever used! If you're looking for a good sweet and sour recipe, look no further, was so yummy I may have eaten too much! I also substituted half the sugar for raw honey to make it stickier and a bit healthier.
8. Chicken Shawarma Quinoa Bowls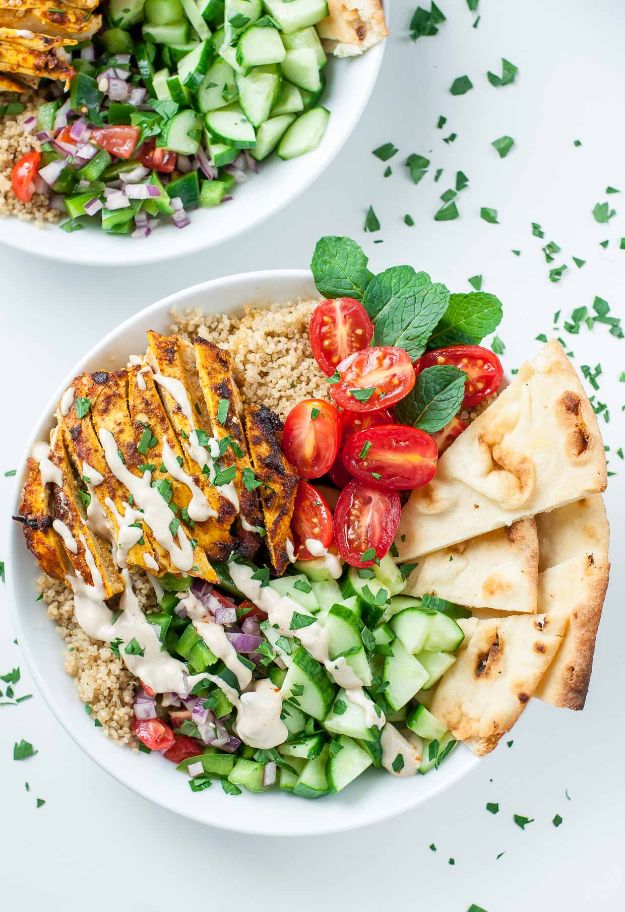 Guys, my love affair with this Middle Eastern-inspired dish is epic. There's a little Lebanese/Mediterranean restaurant out in town that is so fantastic, it's connected to a run-down gas station in a questionable part of town and it's so delicious their Shawarma is 110% worth the 45 min drive. Since I don't get out there as often as I'd like, I needed a copycat version to whip up at home. That's what like half the recipes on my blog are at this rate, eh? Restaurant copycats for the military mama who is always freaking moving. I love it. You love it. (I hope!) Let's keep this tradition alive, shall we?
9. Lemon Basil Chicken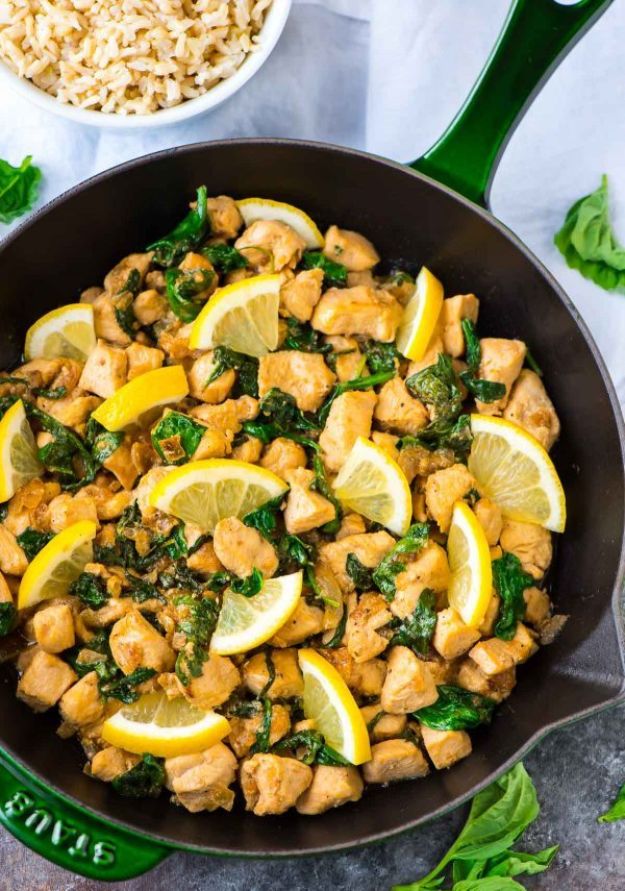 My husband and I just bought a new house and because we've been dedicating the majority of our free time toward the house, I've been appreciating quick and easy dinners like this Lemon Basil Chicken even more so than usual. Chunks of juicy chicken stir-fried with garlic, fresh lemon, and basil, this recipe requires hardly 5 minutes of prep and can be on your plate in 20 minutes!
10. Chicken and Red Plum Salad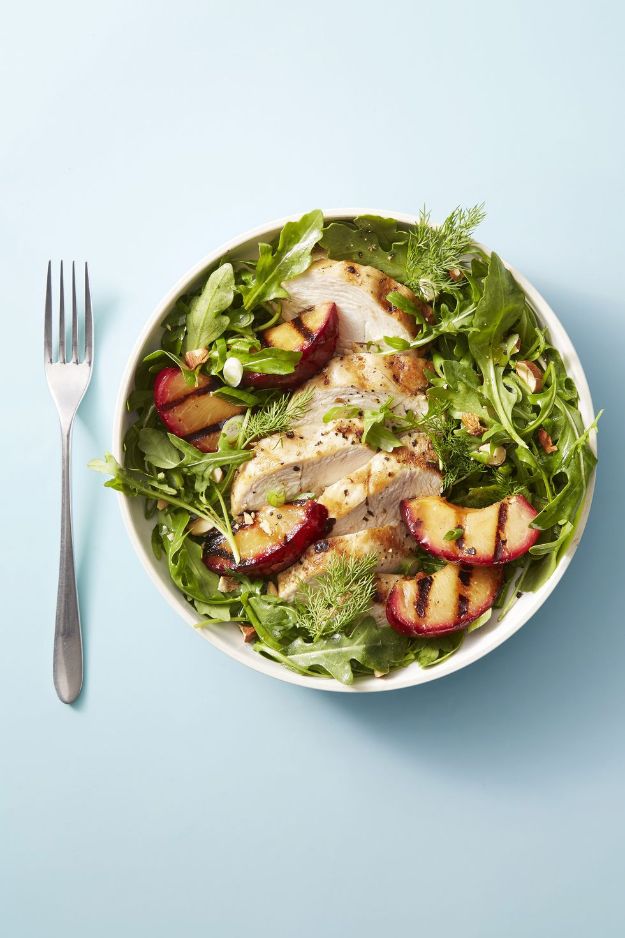 Salads are perfect for a lovely dinner for 2. This grilled chicken salad is so amazing, the best I've ever had! Charred plums make this nutty salad a summer standout. I made it for my boyfriend the other night and got to show off my expert grilling skills.
11. Baked Honey Mustard Chicken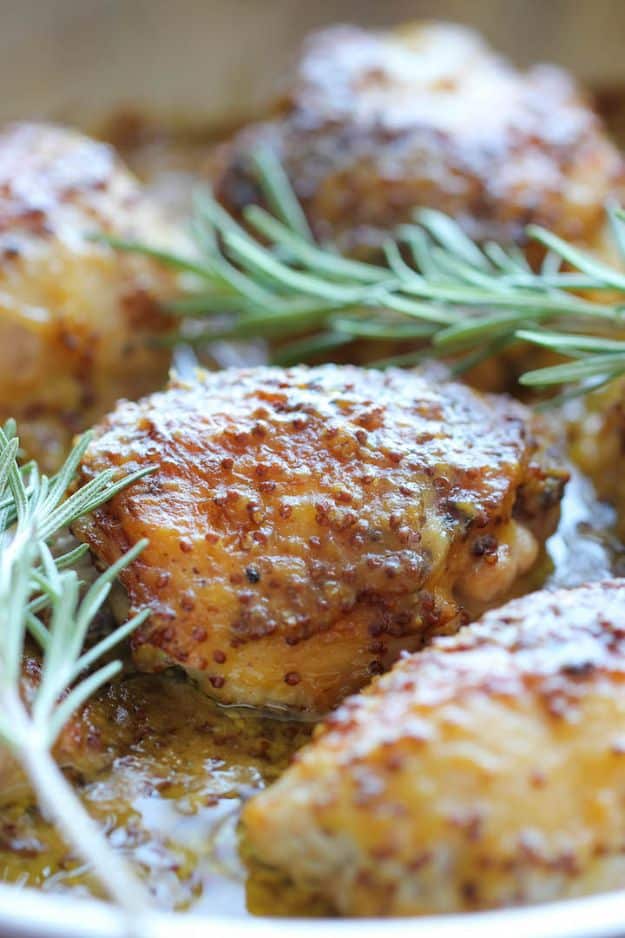 12. Healthy Chicken Chickpea Chopped Salad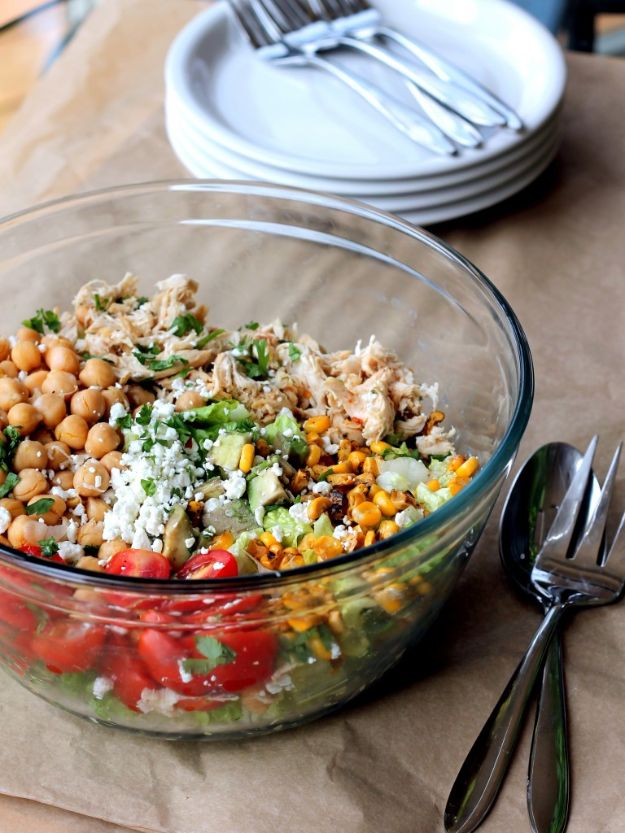 13. One Pan Balsamic Chicken and Veggies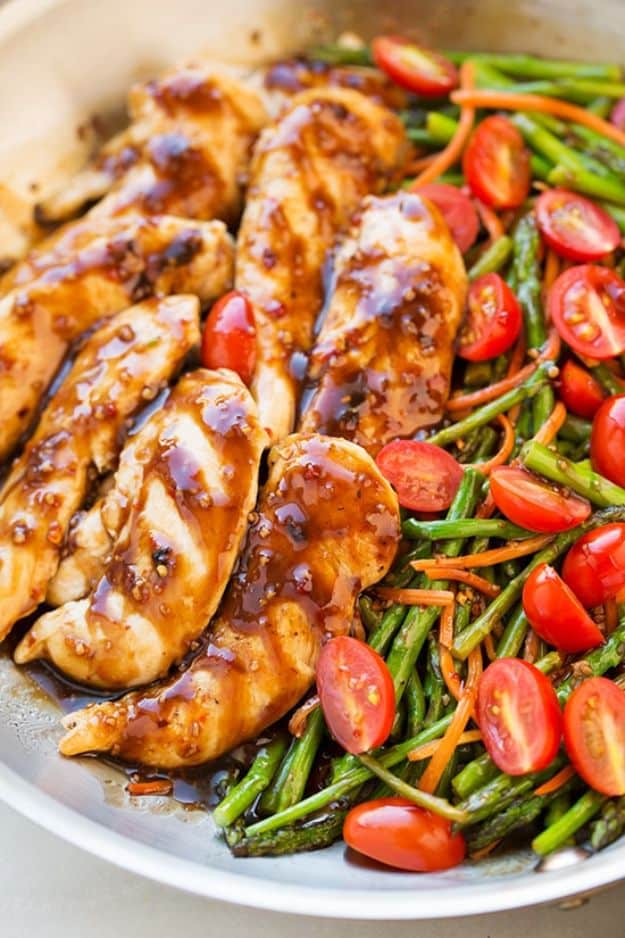 14. Chicken Marsala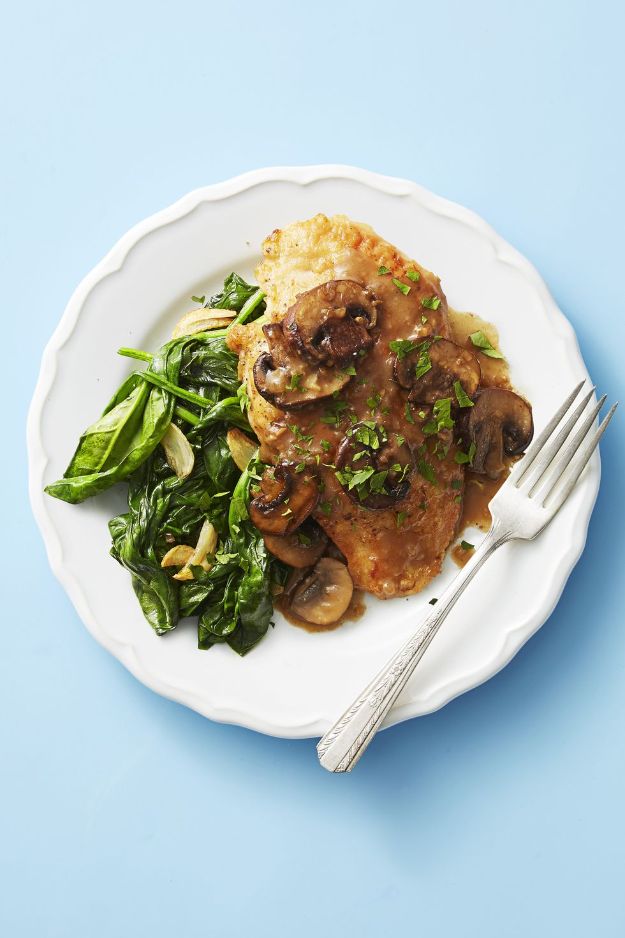 15. Healthy Chicken Ramen Bowl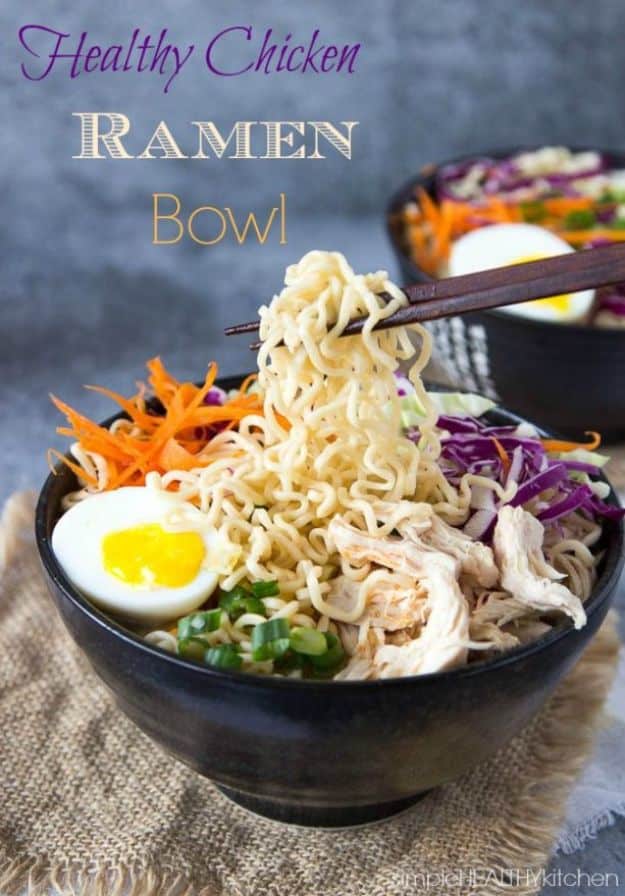 16. Basil-Feta Sauce Chicken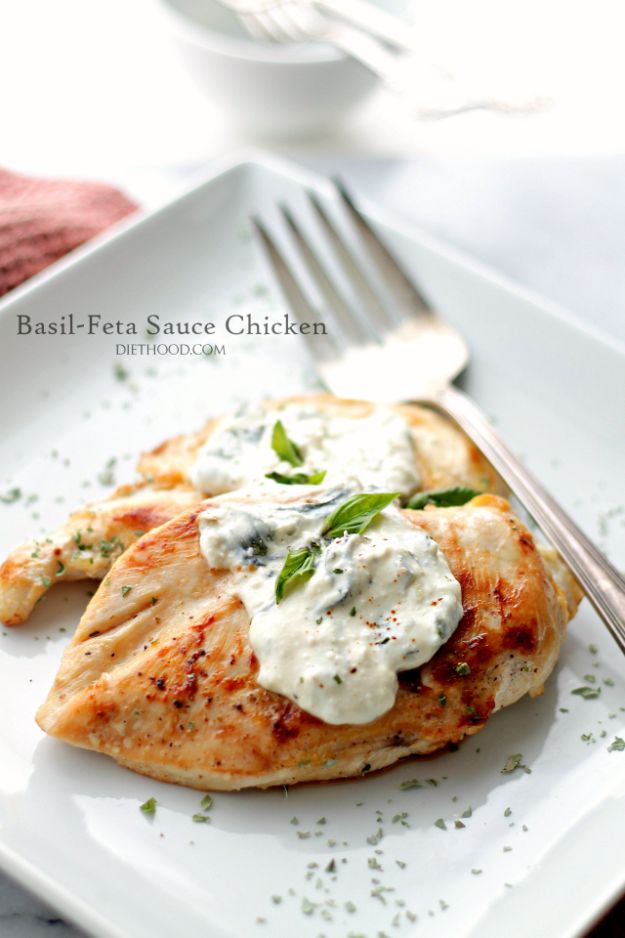 17. Easy Lemon Garlic Chicken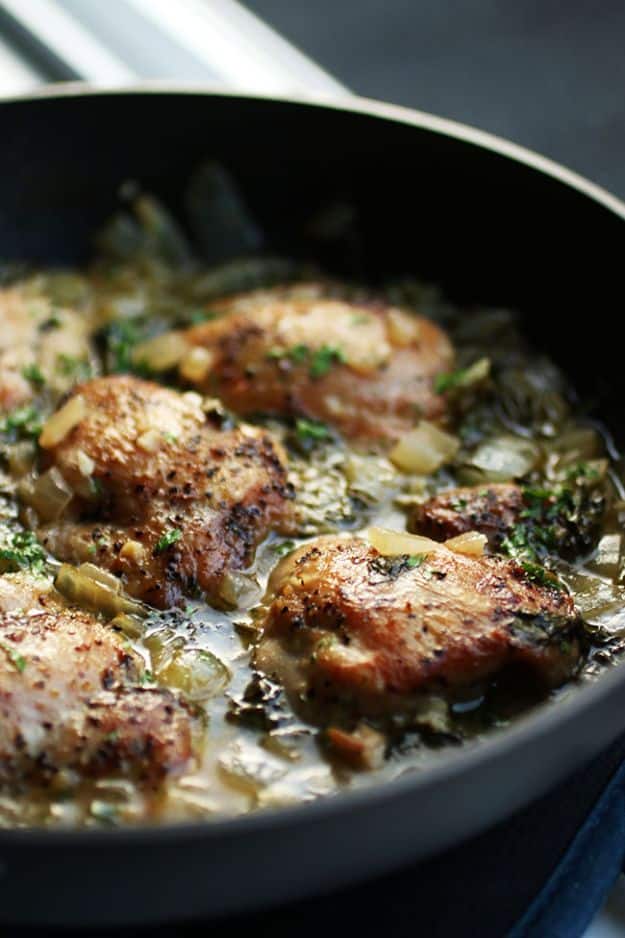 18. Healthy Sriracha Shredded Chicken Tacos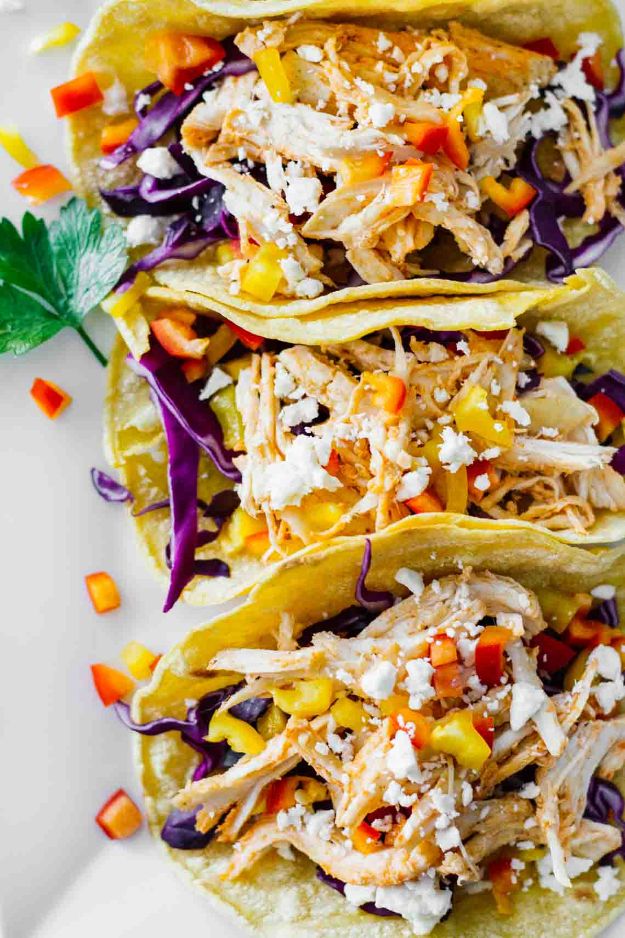 19. Citrus Chicken Quinoa Salad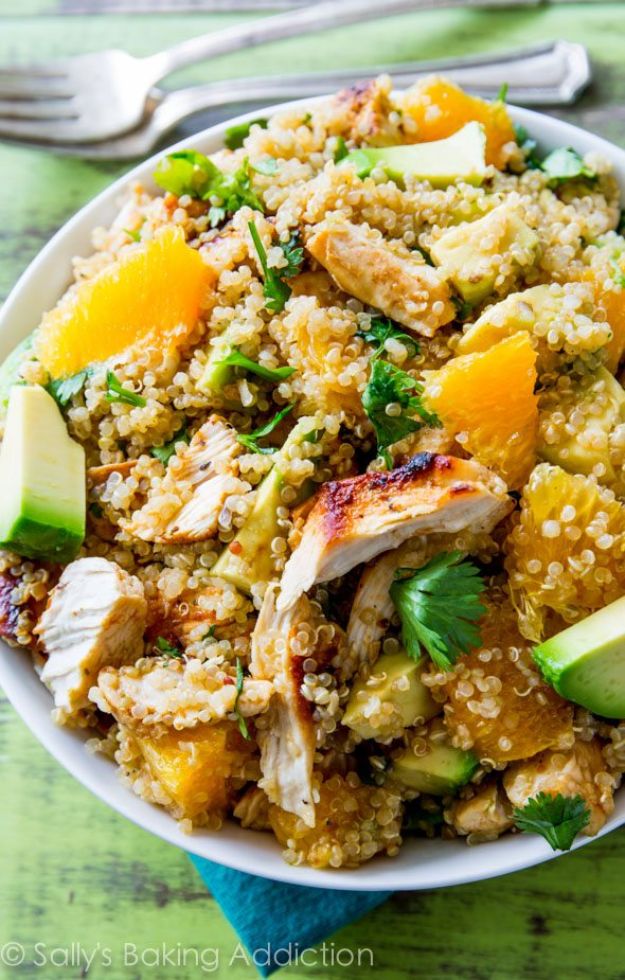 20. Healthy Chicken, Cucumber, Tomato and Avocado Salad