This beautiful project idea by Good Work Max on YouTube looks expensive and high-end at first glance, you won't even know that this is DIY unless you were told so. This lampshade is made out of matchsticks and wooden skewers, plus, it will only take a couple of minutes to finish this project, and even faster if someone lends you a hand. Try it out now and be amazed by the gorgeous project!
Materials:
A large tape, used, for the base
Matchsticks
Skewers
Tape
Marking pen
Hot glue gun and glue sticks
Scissors
Aluminum foil
Directions:
Step 1
Get a large piece of tape that is only about half an inch thick, then mark the sides with lines that are about 2 to 3 skewers apart as shown in the video, and then wrap a piece of tape around the base loosely. Insert the matchsticks into the wrapped tape lining them up with the markings, and make sure that the red part of the matchsticks is about an inch away from the edge of the tape.
Step 2
Adjust the matchsticks, then dab hot glue all around the matchsticks to adhere them to the body of the tape, and then gently remove the tape that's wrapped around them. Now, insert the skewers in between the matchsticks hot gluing them as you go, then make sure that the inner and outer edges are properly aligned, and the pointed edges should be outward.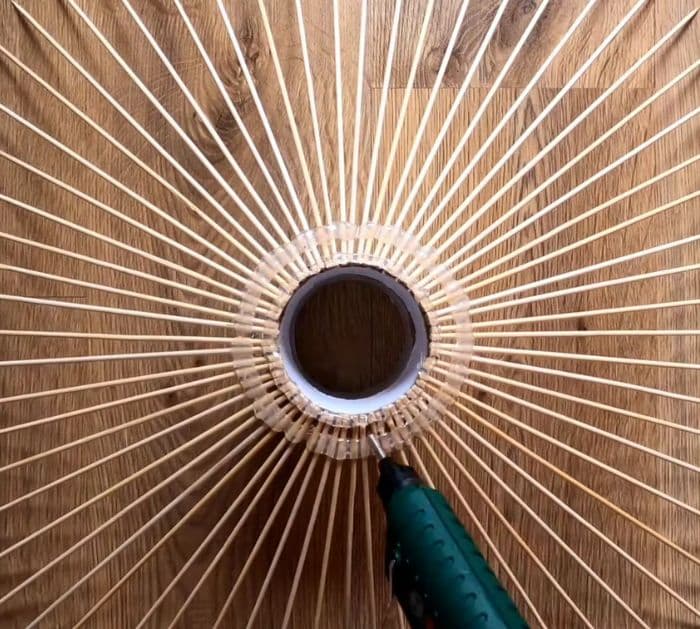 Step 3
Add more hot glue around the center letting it drip down until the hot glue is about an inch wide from the center, then let it dry completely, flip it over, and apple hot glue around the center as well to make it more sturdy. Next, piece together the stopper and center frame of the lamp shade, then roll a piece of foil and insert it into the ends of each tip of the skewers making sure to add hot glue as well. Insert the lamp shade, then place the stopper, and put the light bulb back into place.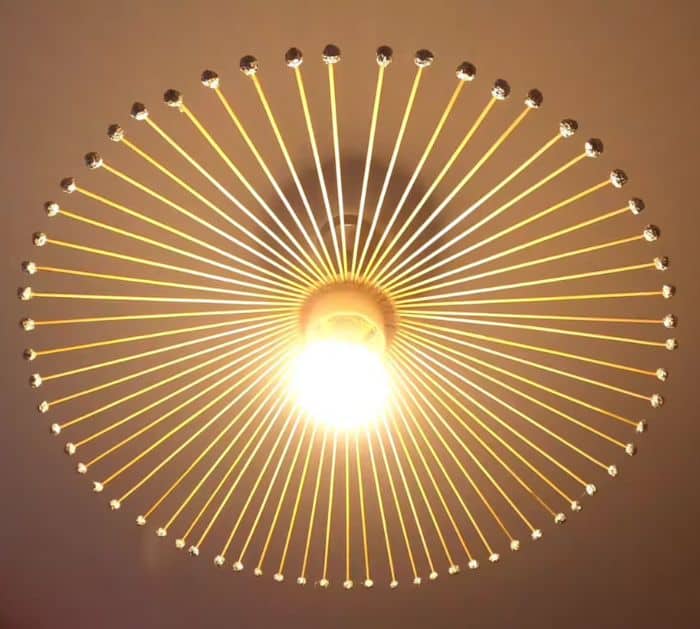 *All image credit belongs to Good Work Max via YouTube. Follow and subscribe to his channel for more!
Easy Faux High-End DIY Wooden Skewers Lampshade Tutorial