Christmas means bright colored lights, candy canes, decorated trees, and of course, presents. I just love everything about this holiday. So, for my next sewing projects, I decided to make these easy Christmas pot holders from fabric scraps by Рукодельные вещи on Youtube. I had so much fun making these beautiful designs that I made tons of them. I'll use some for my home and the others as gifts. Want to learn the step-by-step instructions for these pot holders? Watch the video below.
Materials:
fabric scraps
old towel
pencil
round object
decorative cord
Instructions:
Step 1:
Cut two squares from your fabric scraps. You can use different patterns. The size depends on how big you want your pot holder to be. Set the other square aside. Then cut a smaller square and place it on top of one of the bigger squares near the bottom edge, right side facing up.
Step 2:
Get your round object and trace it on the smaller square. Sew the circle, then carefully cut the center of it. Make sure to leave a small seam allowance. Fold the smaller square inside, then press with an iron.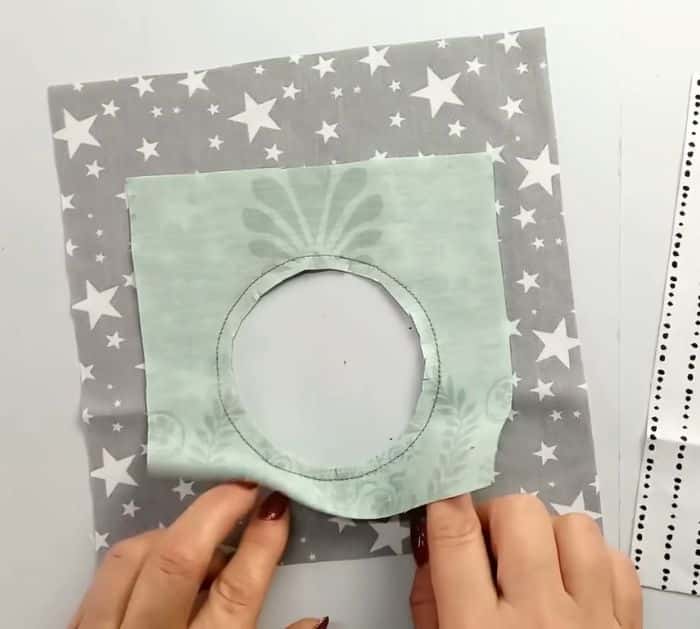 Step 3:
Cut the towel the same size as the bigger square. Next, sew a decorative on top of the cutout circle for the string.
Step 4:
Place the backing square fabric on top of the square towel, then place the front square right side down. Sew on the edges, and trim off excess fabrics and corners.
Step 5:
Flip it right side out and set it aside. From different fabric scraps, cut some small strips. Arrange them to make a block overlapping each other, then sew them together. The size should be big enough for the circle.
Step 6:
Place it inside the circle and sew. After that, place a hanging loop on the top middle then top stitch the edges. For the Christmas tree pot holder, you can just print a pattern and use it as a guide. Do the same process with the Christmas ball.
For the last Christmas tree pot holder, watch the video below for the instructions.
Easy Christmas Pot Holders From Fabric Scraps