We all know how difficult it is to have limited space. I don't know about you, but I don't like it when I see a lot of things on the counter or table. It makes the room look messy and unorganized. The best thing that we can do is find smart and cheap hacks that work well with different household items. Luckily, I have discovered one of the greatest storage trick videos. You'll love these clever dollar tree towel bar organizing hacks from ChicOnTheCheap on youtube. She has tons of tips on how to use this one specific item. Usually, you use this just for the towels, but don't you know you can put it behind the cabinet and create more storage space for different things? Watch the video to learn the different ways.
1. For cleaning supplies
Don't have enough space to put your cleaning sprays? How about you use the towel bar to hang your cleaning supplies that have spray nozzles.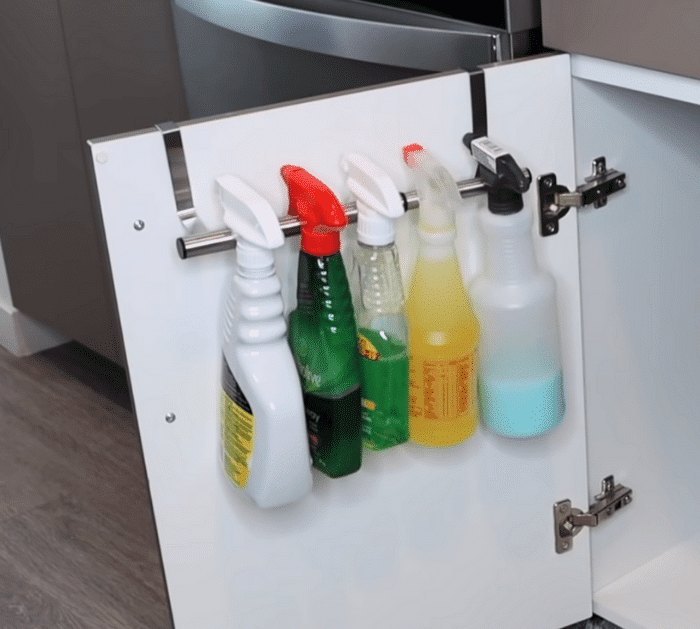 2. For cooking utensils
If you don't want the cooking utensils, small pans, or tools displayed in your kitchen, try this hack. Grab some book rings and use them to hook your cooking utensils or pans that have holes for easy access.
3. For coffee mugs, office supplies, or baskets
For these items, use s hooks. Store your coffee mugs easily, or if you need extra space for office supplies like tape or scissors, it works well too! You can also hook some little dollar tree baskets for more storage space.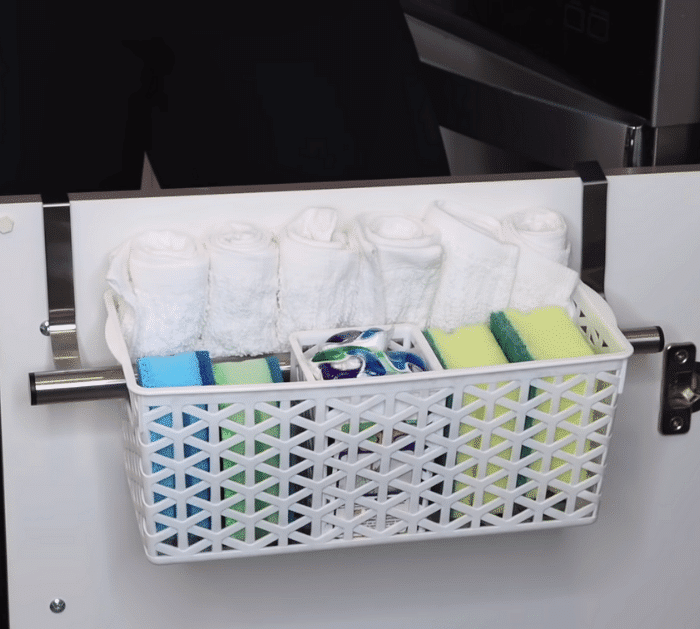 4. For items that don't have holes on the top
When you need some storage for items like skin care products that don't have holes on the top, you can use binder clips. Using the book rings, hook the binder clips to the towel bar.
5. For foil sheets, wax papers, food wrap, or anything stored in a rectangular box
In the kitchen section of the dollar tree, look for dish racks. All you have to do is slide the top part under the towel bar. You can now insert the boxes. This is a clever idea so you can easily reach these boxes out.
6. For sunglasses or pieces of jewelry
Get a sink mat in the dollar tree to use with the towel bar. You just slid it over the top two hooks of the towel bar, and it would hang down – perfect for sunglasses and other pieces of jewelry.
7. For trash cans
If you don't want any trash cans out in the open in your kitchen or bathroom, then this is the perfect solution. Using a shower ring and a plastic bag, you can now have a hidden trash can tucked away.
8. For different medium-sized items
In the teaching section of the dollar tree, you can find the over-the-chair storage bags. Slide it on the towel bar, and it can hold different stuff.
9. For little items
Get a hanging organizer tray and use book rings to attach them to the towel bars. This is perfect for storing and holding little items as it has different sections.
10. For towels with other items
Stack two towel bars in the bottom of the one hooked up. You can use the lower bar for towels and the second one for cleaning sprays.
One Dollar Towel Bar Organizing Hacks