This is definitely the most interesting Halloween decor that you can make at home. How adorable is this piece? It's the perfect decoration if you love getting a spa and soaking in a tub! I'm pretty sure your friends will have a good laugh when they see this in your place.
Tiktoker Jennlynnscott shared how she made this Dollar Tree skeleton bath candle at home for this Halloween.
Dollar Tree Skeleton Bath Candle
Jenn started by gathering all the things she needed – hot glue, super glue, scissors, a towel, candles with glasses, skeletons from Dollar Tree, dried petal flowers, and a bowl. First, she placed the glass candles in a pot over low heat to melt the candles. While waiting for the candles to melt, she cut off the legs from two skeletons, added super glue to the spine, and attached them to the bowl. She spread the arms of one skeleton around the edge of the bowl and the other one relaxed down.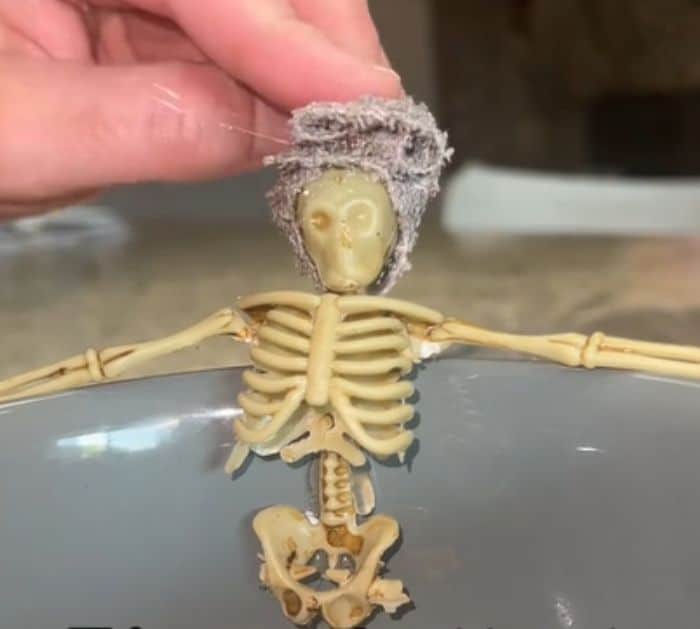 Time to get them ready for a soothing hot wax bath. She cut a small piece of rectangle from the towel and added three dots of hot glue to one long side. Jenn then glued the center of the towel with the glue to the back of the head of the skeleton and then wrapped the sides. After that, she twisted the top part of the towel and glued it down. She repeated it for the other skeleton.
Once the candles were melted, she removed the wicks and hot glued them into the tub. She made sure that they were placed far apart from the skeletons. To hold the wicks in place, she used some skewers. She then poured the melted wax into the tub. Just before it was fully set, she sprinkled dried flower petals to set the mood. Lastly, she cut the excess wick.