Want your bathroom to feel luxurious? Make these dollar tree high-end DIY bathroom decor by ChicOnTheCheap on Youtube. You can find these items online, but they can be expensive and sometimes overpriced, so why not just recreate them for just a few dollars? These tutorials are so easy to make. If you want the free label, go over her Youtube video. Read on to learn how to make these gorgeous bathroom items.
1. Clear organizer for cotton
Materials:
clear organizer with a lid (box-shaped) or clear jar with a lid
clear marbles
hot glue
white spray paint or any color you like (optional)
tray (for the clear jars)
Instructions:
Put a small amount of hot glue on the middle of the lid and place the marble. Paint the lids with white spray paint and let them dry. If you are going to use clear jars, paint the tray white. Set aside and let it dry. Once dry, place the jars on the tray.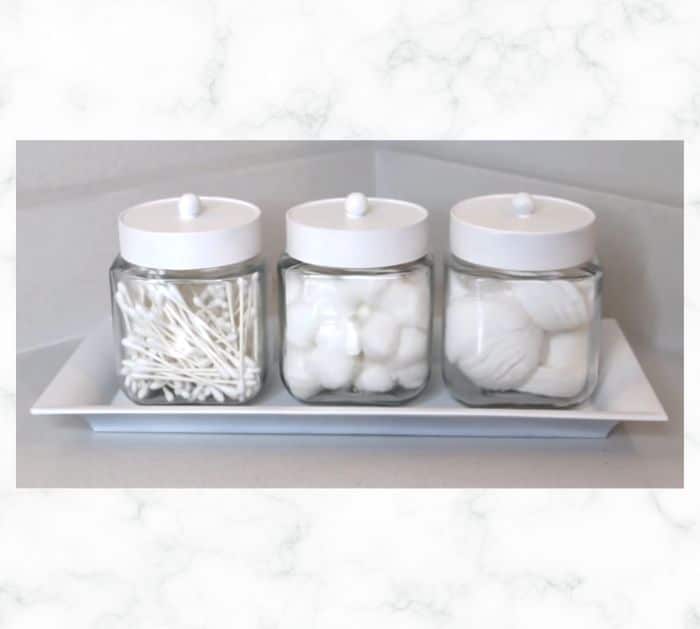 2. Travel bottles
Materials:
travel bottles
sticker label (better to use waterproof sticker)
clear packing tape (if printed on paper, not on sticker paper)
mod podge (if printed on paper, not on sticker paper)
Instructions:
Cut the label. Put mod podge on the back of the label and glue it to the bottle. Cover with clear packaging tape to make it waterproof.
3. Soap Dispenser
Materials:
dolomite liquid soap dispenser
label (you can print them on a waterproof sticker paper for longer use)
clear packaging tape (if the label is printed on paper)
Instructions:
Cut the label and attach it to the soap dispenser using clear packaging tape.
4. Minimalist tray
Materials:
stove burner cover
hot glue
clear marble
white spray paint
Instructions:
Flip the cover upside down, then attach 3 marbles on the circumference of the cover evenly spaced out using hot glue. Paint with white spray paint and let it dry.
5. Hand soap using dollar tree products
Materials:
dollar tree hand soap with pump and refill soap without pump (buy the products where the pump fits perfectly on the refill soap)
label
clear packaging tape
Instructions:
Place the pump on the refill soap bottle. Then place the label using clear packaging tape.
6. Foaming soap dispenser
Materials:
foaming hand sanitizer from the dollar tree
blower or hair dryer
Instructions:
Using a hair dryer, heat the label, then remove it from the bottle.
7. Elegant glass candleholder
Materials:
small fluted glass holder from the dollar tree
tall glass hurricanes
pillar candles
Instructions:
Place the small fluted glass inside the tall glass hurricane, then put the pillar candle inside.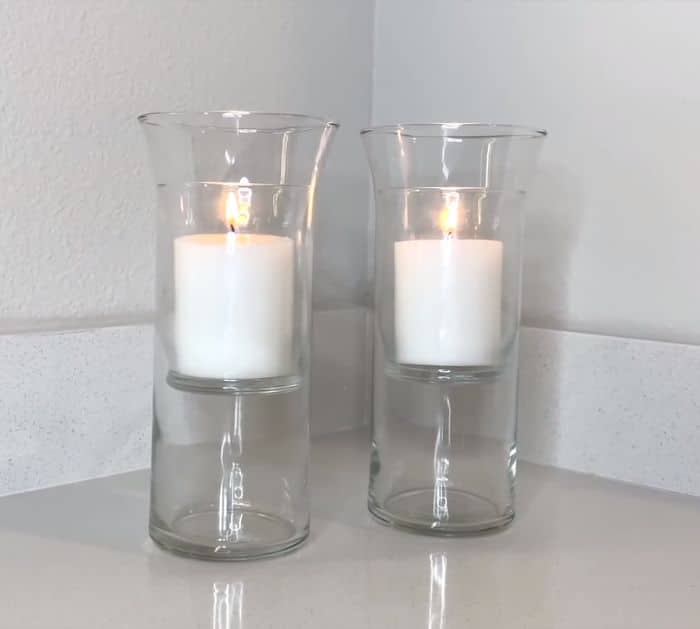 8. Tissue bins
Materials:
Instructions:
Place your tissue papers inside this bin to neatly store them.
Dollar Tree High-End DIY Bathroom Decor