Are you looking for a weekend project to do with your friends? Try making this DIY wind chime from Sustain My Craft Habit on YouTube. For this project, you will only need a mason jar and some glass beads from Dollar Tree. It's super easy to make, and the finished project is so pretty! I've already made a couple of these and hung them on our porch. It looks so stunning, especially if there's some sunlight hitting on it.
I also like that it's an inexpensive project, and you could even sell this at your local craft fair. Try making this today and see for yourself. Watch the video tutorial below to learn the step by step instructions.
Materials:
floral wires
glass beads
mason jar
scissors
Directions:
Step 1
To start, cut six floral wires into 20″ long pieces. After this, secure one large glass bead on each end of the floral wires. Now, continue adding glass beads to the floral wire until you have about 10″ to 12″ long, then secure the last bead in place to keep the beads from falling off. Repeat this until you have six pieces of glass bead strands. (Tip: Use various colors and sizes to make the wind chime look pretty). After this, cut three floral wires to 14″ short pieces, and just repeat the process by threading them with smaller beads. (This will be the hanger of your wind chime).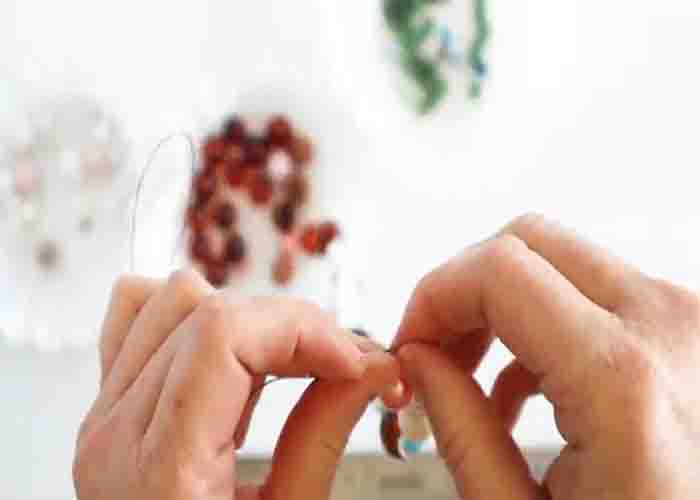 Step 2
Next, cut a heavier wire to 18″ long. Starting with the hang, hook them around the heavier wire, spacing them evenly, then in between those, add two of the longer strands. After this, gather them together and wrap the heavy wire twice around the neck of your mason jar. Twist to secure. Next, space the bead strands evenly around the jar, then secure each strand in place. After this, gather together the tails of the shorter strands, and thread them through one large bead. Wrap those tails to create a loop, then secure it. Finally, secure the longer strands of beads with a piece of wire together. Fill the jar with pebbles, flowers, or even lights, it's up to you (optional). Hung it on your porch or door.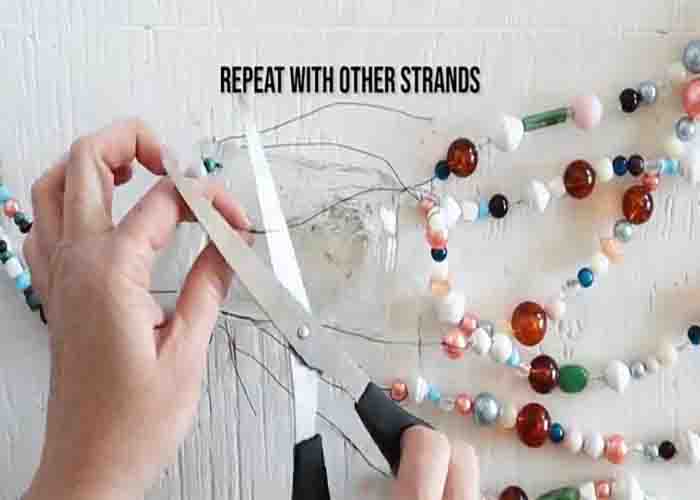 DIY Wind Chime with Glass Beads