Isn't this DIY swan-shaped cement pot beautiful? It would be a nice addition to your garden! You only need a few old fabrics or towels, cement, and wire to make this project by Skillful Construction. Read on or watch the video below for full instructions.
Materials:
old fabric
pencil or marker
cement
scissors
small bucket
old paint container or any small round can
old plastic bowl
string
PVC pipe
old towel
wire
paint
Instructions:
Step 1:
Fold the fabric two times in half to make a small rectangle. Draw a curve from one corner to the opposite corner to make a quarter circle. Cut the first 3 layers following the line. Set aside.
Step 2:
Make cement paste by combining cement and water – it should be runny. Soak the cut fabric in water then into the cement paste.
Step 3:
Place the bucket right side down to your workspace, then place the round container on top. Tape it so it won't fall. Place the plastic bowl right side down on top, then cover it with plastic.
Step 4:
Squeeze the fabric and place it on the bowl just like in the photo below. Fix the folds. Next, tie the end with a string, then tie the other end to a higher object. Insert a PVC pipe on the front, then cut two small holes on each side of the towel covering it. Let it dry completely.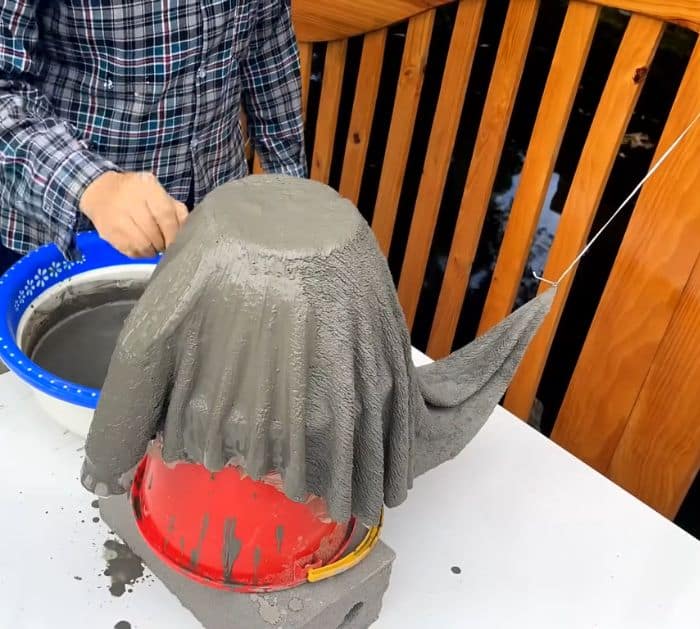 Step 5:
Brush the fabric with cement paste.
Step 6:
Place a small bowl right side down on the top, then cover the sides with a strip of towel soaked in the cement paste. Let it dry completely.
Step 7:
Remove it from the bucket and bowl.
Step 8:
Form a wire into the head and neck of the swan, then cover it with fabric soaked in cement paste. Insert a wire into the holes of the body of the swan and attach the head.
Step 9:
Make a thick cement paste and cover the head until you no longer see the folds. Let it dry completely. Once dry, apply the cement paste again until the surface becomes smooth.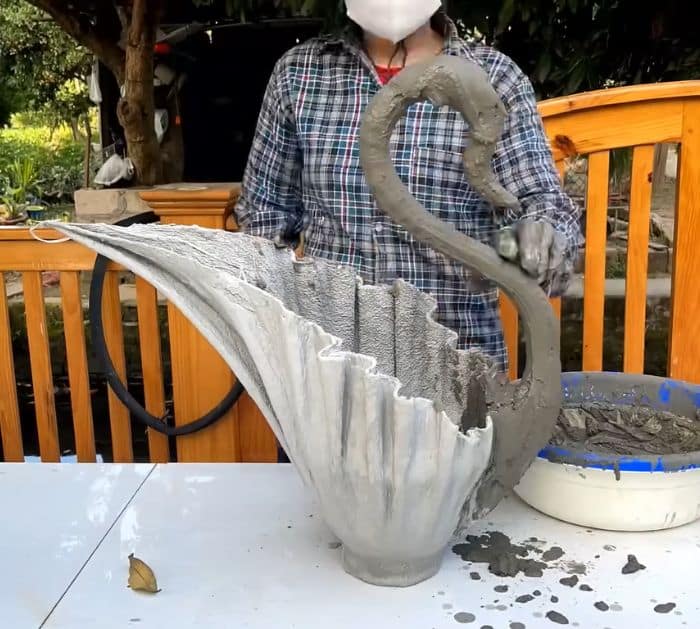 Step 10:
Sand some parts to make it even smoother, then paint the swan white. Add the last details by painting the beak and eye.
Swan-Shaped Cement Pot Using Old Fabric