Decorating your Christmas tree and realizing you do not have quite enough ornaments to make it amazing? This year, instead of buying more plastic balls at the store to cover those bare spots, make some handmade keepsake ornaments that you and your family are sure to cherish for years. All of these projects come with easy to follow step by step tutorials so you know exactly how to make them. From rustic DIY ornaments to easy crafts for kids to make to modern, bright and shiny creations, you are sure to find some cool homemade ornaments here that your tree needs for the holidays.
DIY Christmas Ornaments
1. DIY Snow Covered Pinecones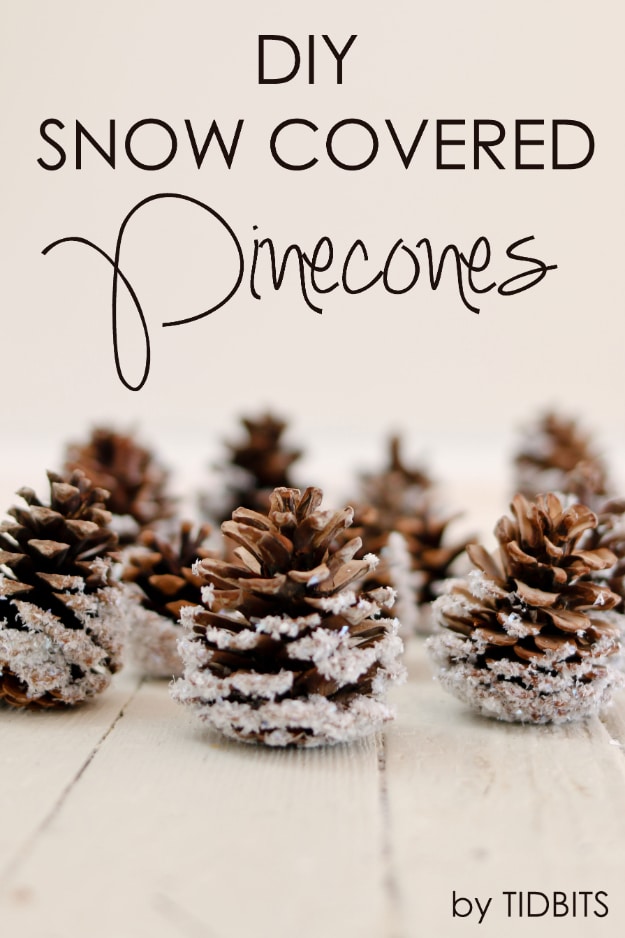 My kids recently had a snow day so we decided to have our own DIY snow day inside our warm home. We made DIY Snow covered pinecones- an easy and beautiful way to add that flocked look to pinecones for wreaths and ornaments and for other Christmas and Winter decor like filling a bowl and adding to a mantel or tablescape. It was so simple because my neighbor had brought me a bag of pinecones from her property in East Texas. I just baked the pinecones first to get rid of any creatures that might be lurking and we used Elmers and fake snow from Michael's. Our Christmas decor looks amazing and everyone got to take part in this DIY group activity.
2. Christmas Countdown Chalkboard Ornament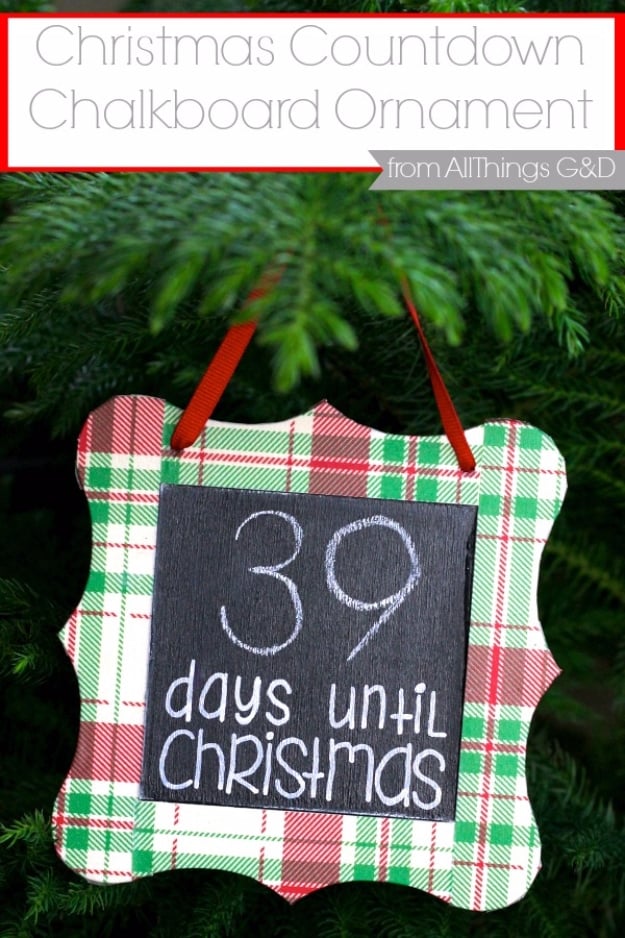 The kids have been asking how many days there are until Christmas, so I thought it'd be fun to make a little DIY Christmas countdown chalkboard ornament! I got a small frame from Michael's craft store and painted the inside with chalkboard paint, then used a plaid duct tape to do the surround. Now the kids change the date with each passing day until the big time is here. It helps their counting skills as well, this makes an excellent DIY school project as well.
3. Jingle Bells Christmas Ornaments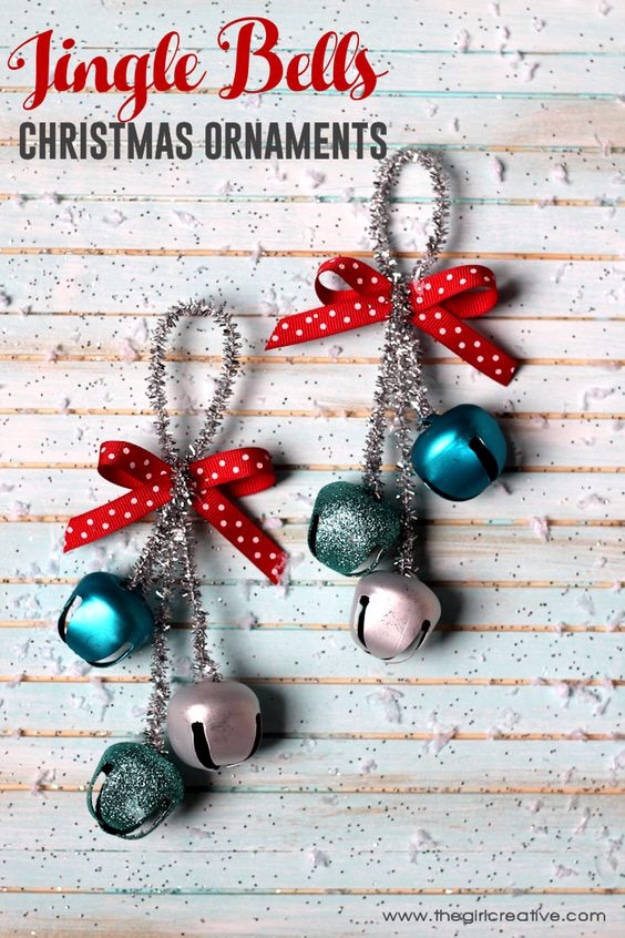 If you are looking for DIY Christmas ornaments for younger children to make, this is the project for you. This idea was actually inspired by a Christmas ornament that was given to my sister when we were still in high school. She had a friend who would make their circle of friends a handmade Christmas ornament each year. Every year it would be something different and one year it was a jingle bells Christmas ornament. I've always wanted to make one and would you believe it's taken me over 20 years to get to it!
4. Scrap Ribbon Tree Ornaments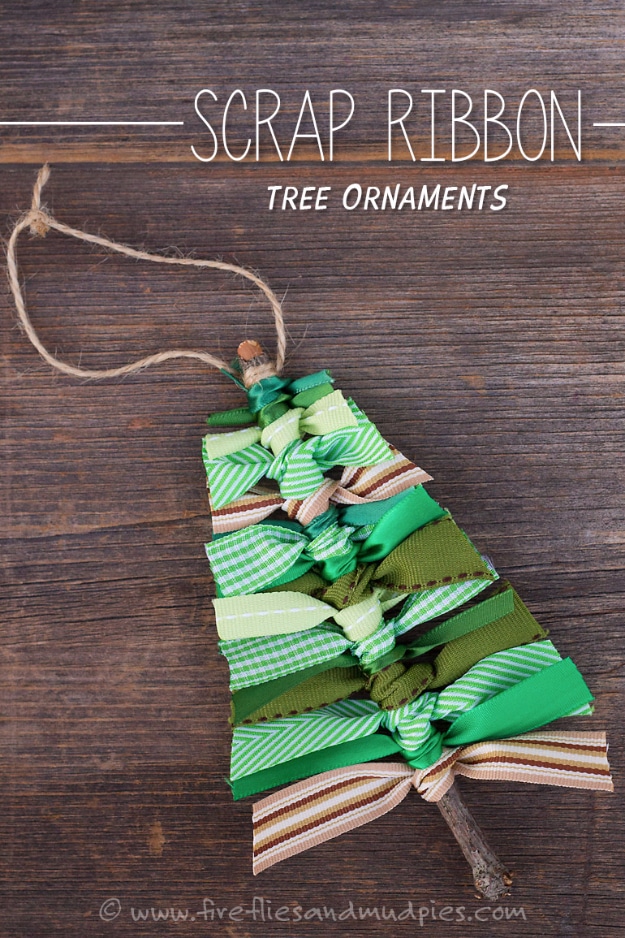 This is an excellent craft for children's project time, but crafters of all ages will enjoy making a primitive scrap ribbon DIY Christmas tree ornament to gift or keep this holiday season. learn how to use shades of green and brown scrap ribbon to emulate the welcoming branches of a Christmas tree.
5. Easy Fabric Balls Christmas Ornaments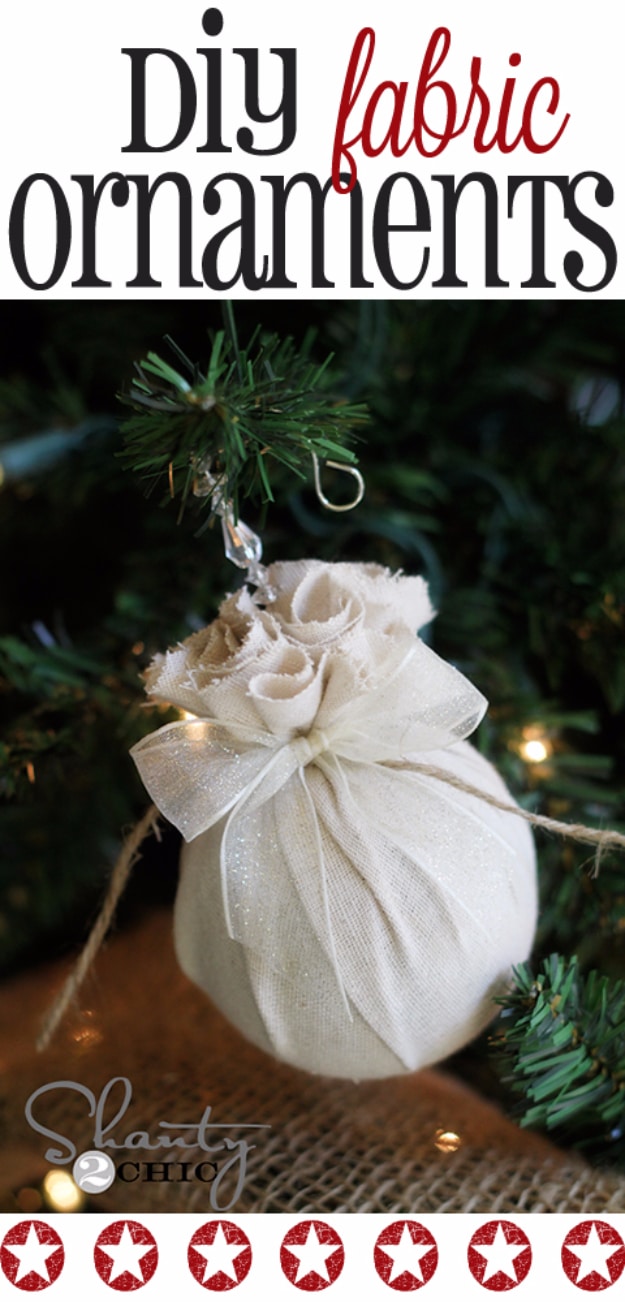 I am getting geared up for Christmas, and this is a super simple tutorial on making fabric covered balls. These all started with a big box of old ornaments I was planning on sending to Goodwill… Then I had an epiphany! I had tons of sewing scraps and some very bored children, so we got to work making our DIY Christmas dreams come true. We made enough to decorate my daughter's tree in her homeroom class. Just make sure the kids are using safety scissors and they will be content for hours.
6. DIY Wood Slice String Art Ornament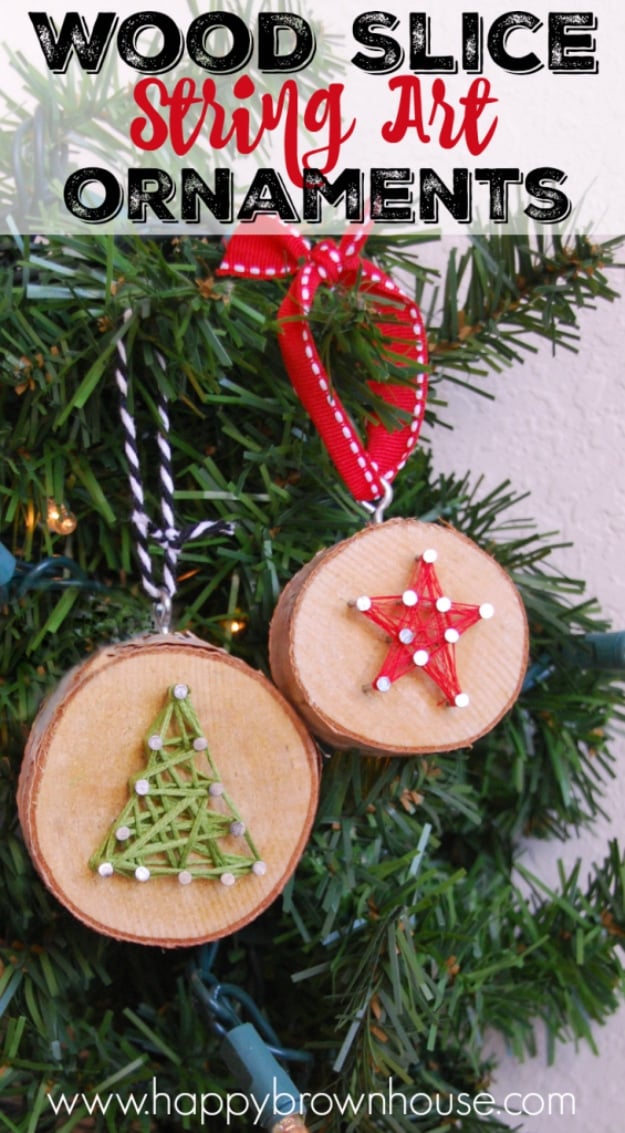 This is my favorite Christmas ornament we've made so far this year! I'm so excited about this DIY Christmas ornament project, my kids love it. Not only did we make a gorgeous and simple DIY Wood Slice String Art Ornament inspired by a children's book, but we got in some great fine motor skills practicing while making it! Who knew a kid's Christmas ornament idea could do so much at one time?
7. DIY Wood Slice Christmas Ornaments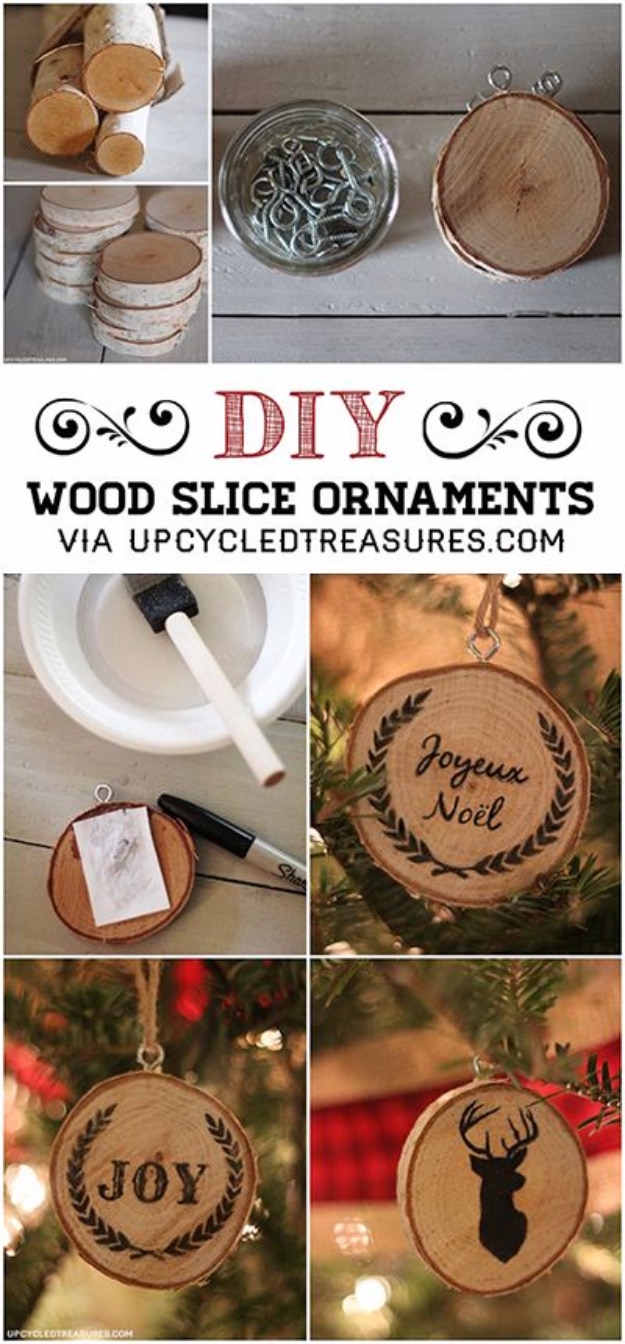 For this DIY Christmas ornament project, I used some leftover slices from our other many DIY craft projects, and then some birch logs I bought with a coupon at Michael's a couple weeks ago. Of course, you could slice up some branches or logs you already have on hand, or even purchase the pre-sliced wood slices. Let your imagination run wild with the ink stamping, anything goes.
8. No Sew Fabric Christmas Ornament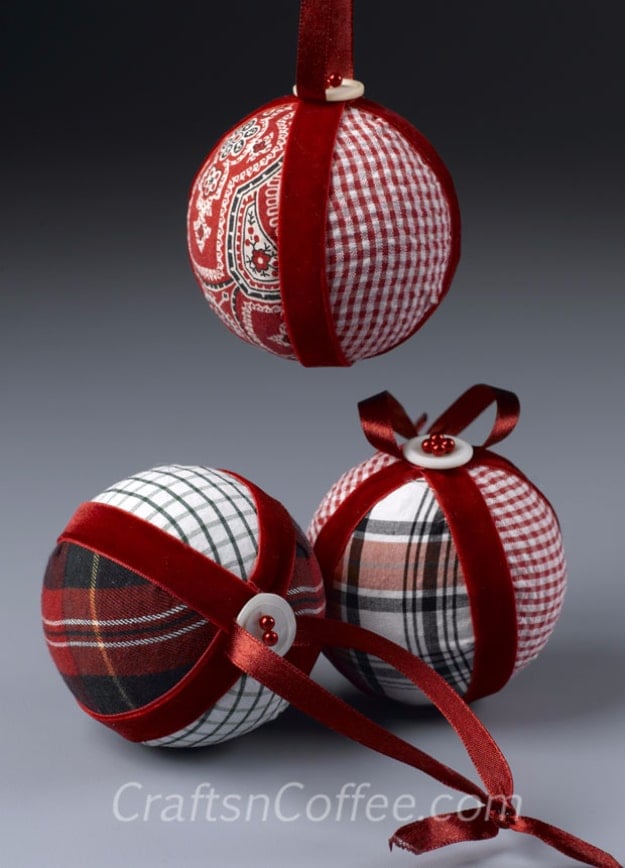 When I was young, our house was on a Christmas parade of homes hosted by the Jr. League. The Jr. League women made the most stunning DIY ornaments and many were just like this simple no sew tutorial. This is so easy you can fill up a tree in a couple of hours.
9. Cinnamon Star Ornaments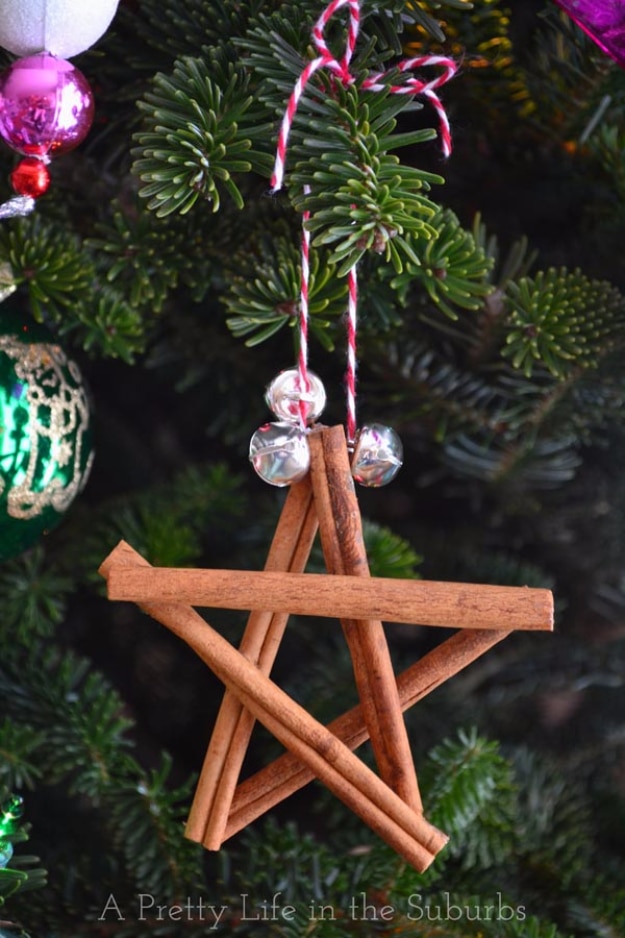 This weekend we decorated our home with DIY Christmas ornaments. The tree is up, the mantel is decorated, the banisters are wrapped and the Christmas music is playing! How much do I love this time of year?! While we were decorating our tree, I had a thought about making some type of ornament with cinnamon. I've been seeing a lot of cinnamon dough ornaments around and thought they would smell so nice! But I didn't feel like tackling a big craft project with all the stuff we were busy doing already. Then I remembered that I had some packages of cinnamon sticks around and decided to try to make something with them. So I made stars.
10. Rustic Twig Arrow Ornaments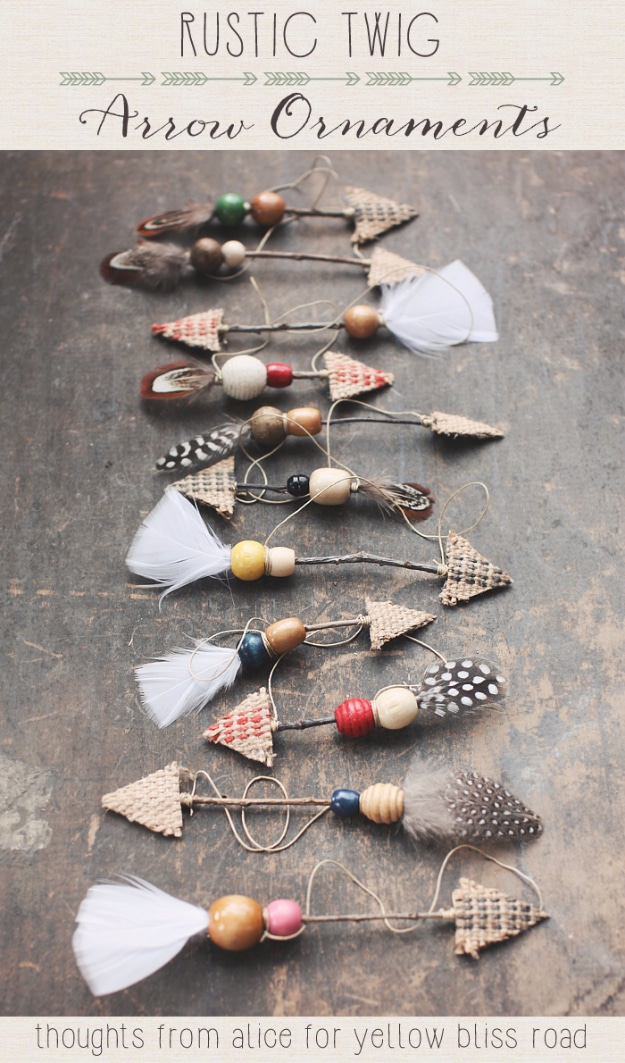 I love the DIY BoHo look, and I am back today with another easy and creative DIY Christmas ornament craft to rave about, especially if you love arrows and are looking to make your own ornaments this year. These twig arrow ornaments are a good mix of rustic and bohemian styles and would make for great conversation pieces on any Christmas tree. They were super simple to make and look fabulous in my BoHo apartment.
11. Rustic Wooden Sled Ornament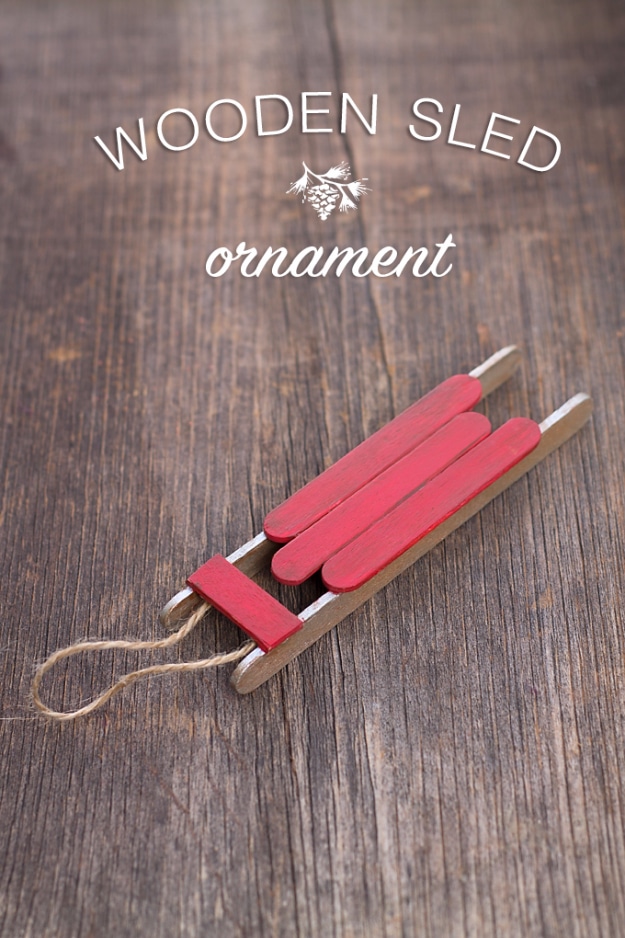 12. Mason Jar Lid Ornaments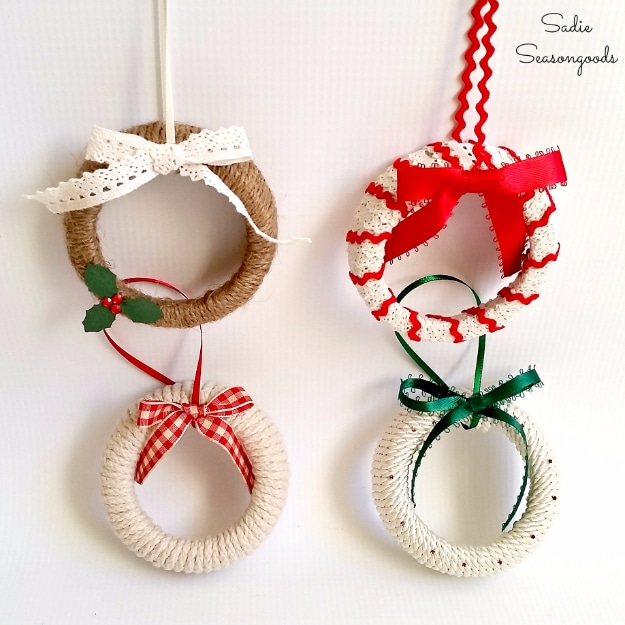 13. Jingle Bell Pinecone Ornament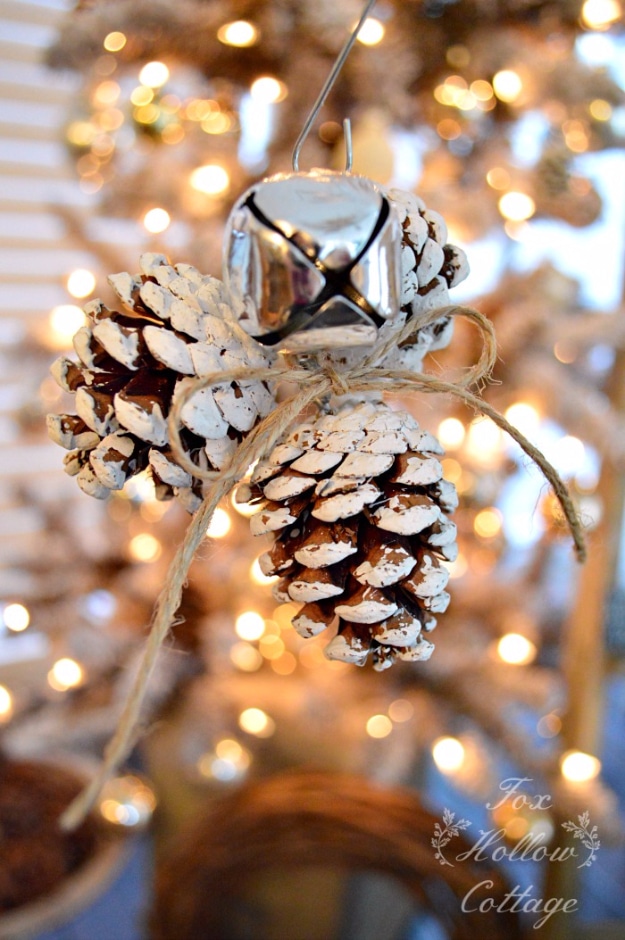 14. DIY Monogrammed Large Wood Ornament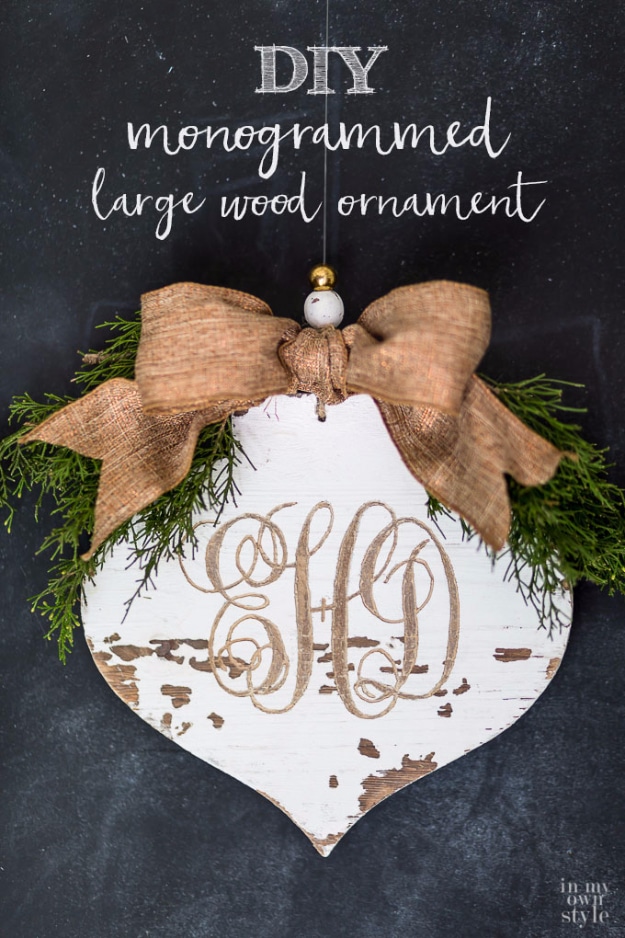 15. Homemade Wood Scrap Photo Ornaments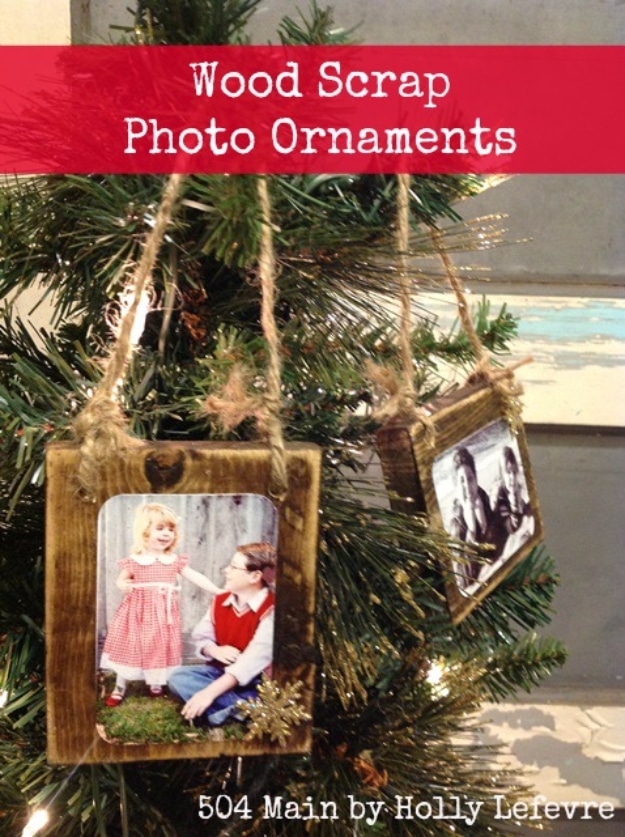 16. Stamped Burlap Ornaments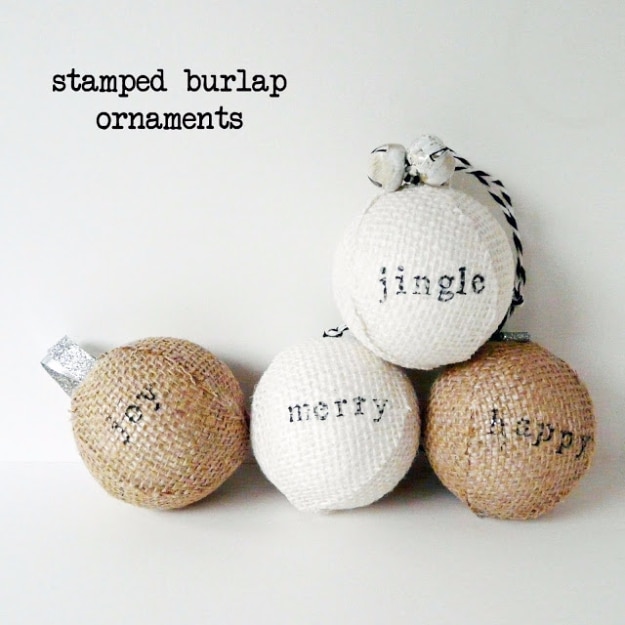 17. Twine Ball Ornaments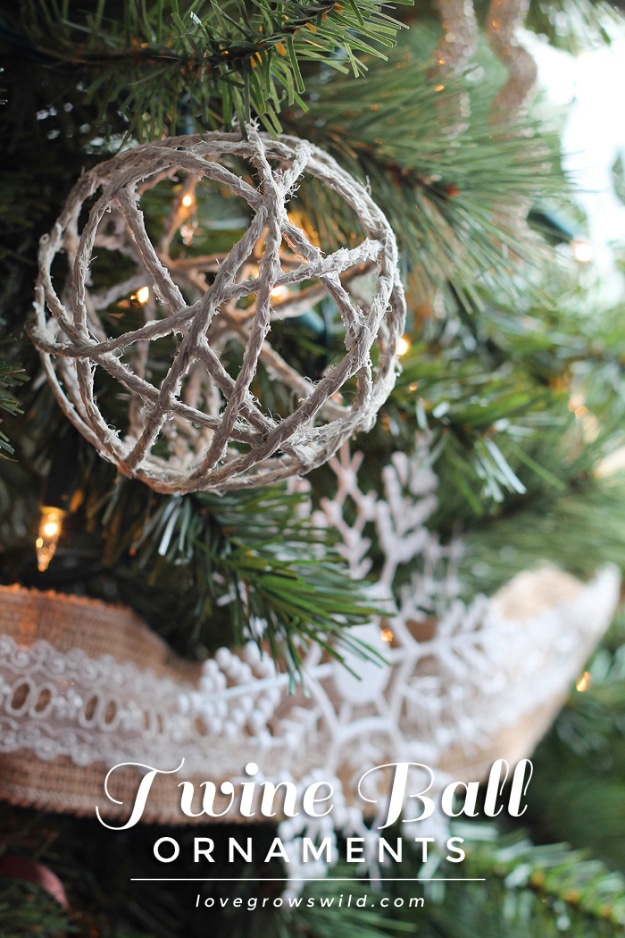 18. DIY Family Rustic Monogram Christmas Ornament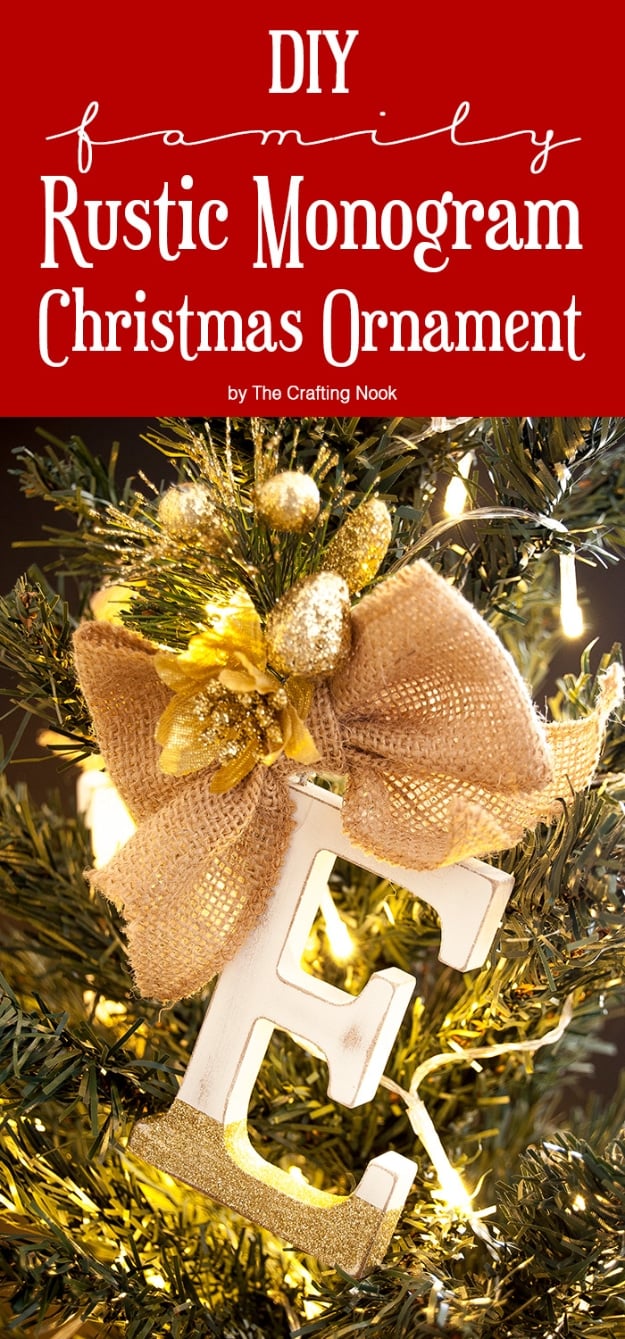 19. Mini Pinecone Kissing Ball Ornament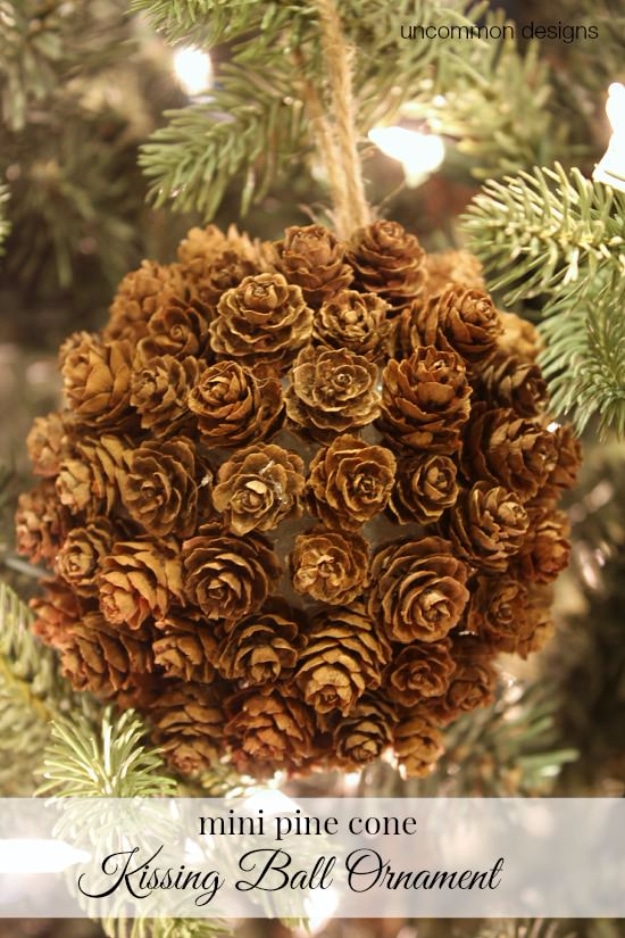 20. DIY Rustic Twig Star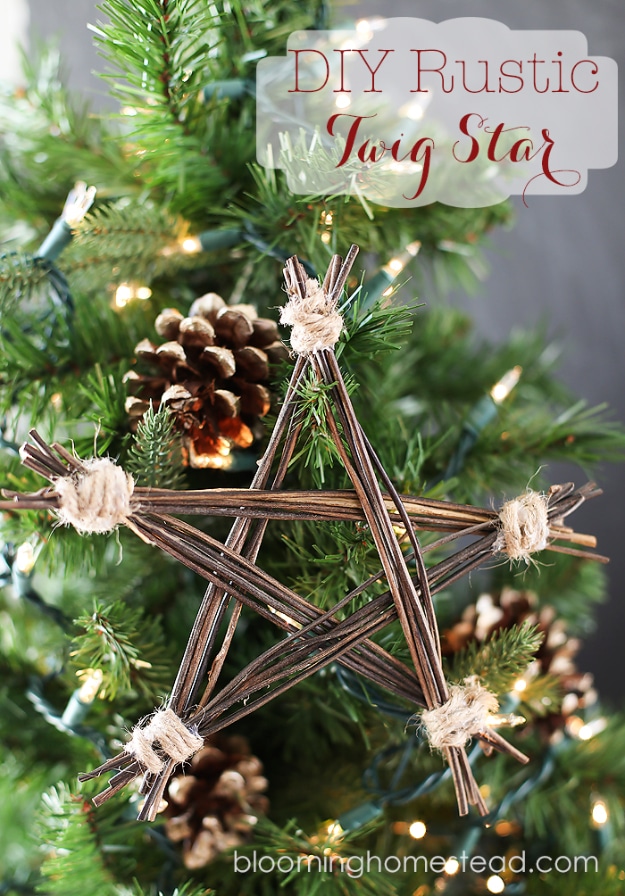 21. Easy Jute Ornament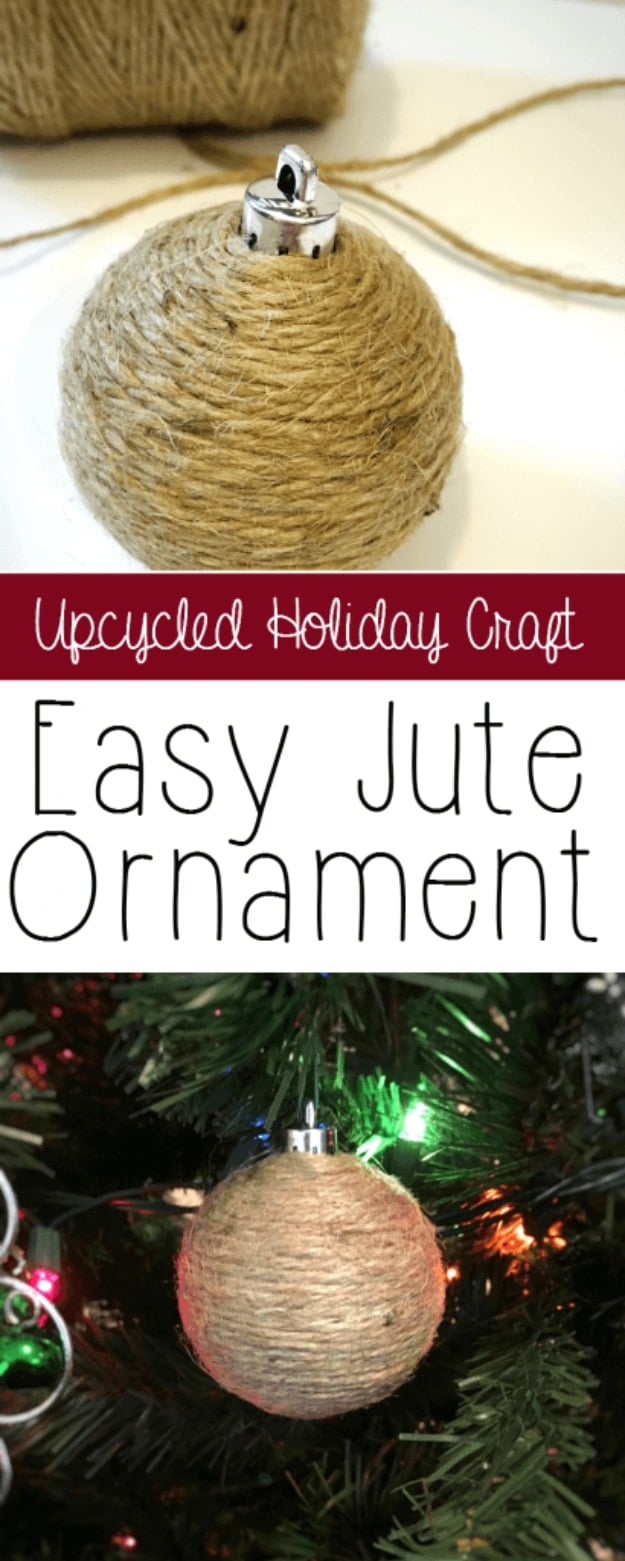 22. Wire Angel Ornament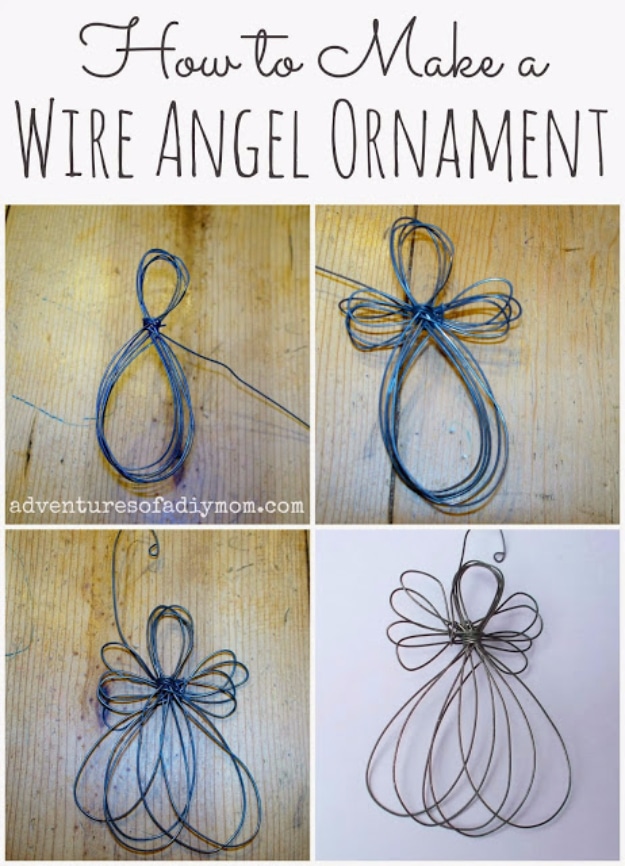 23. Rustic Twig Snowflake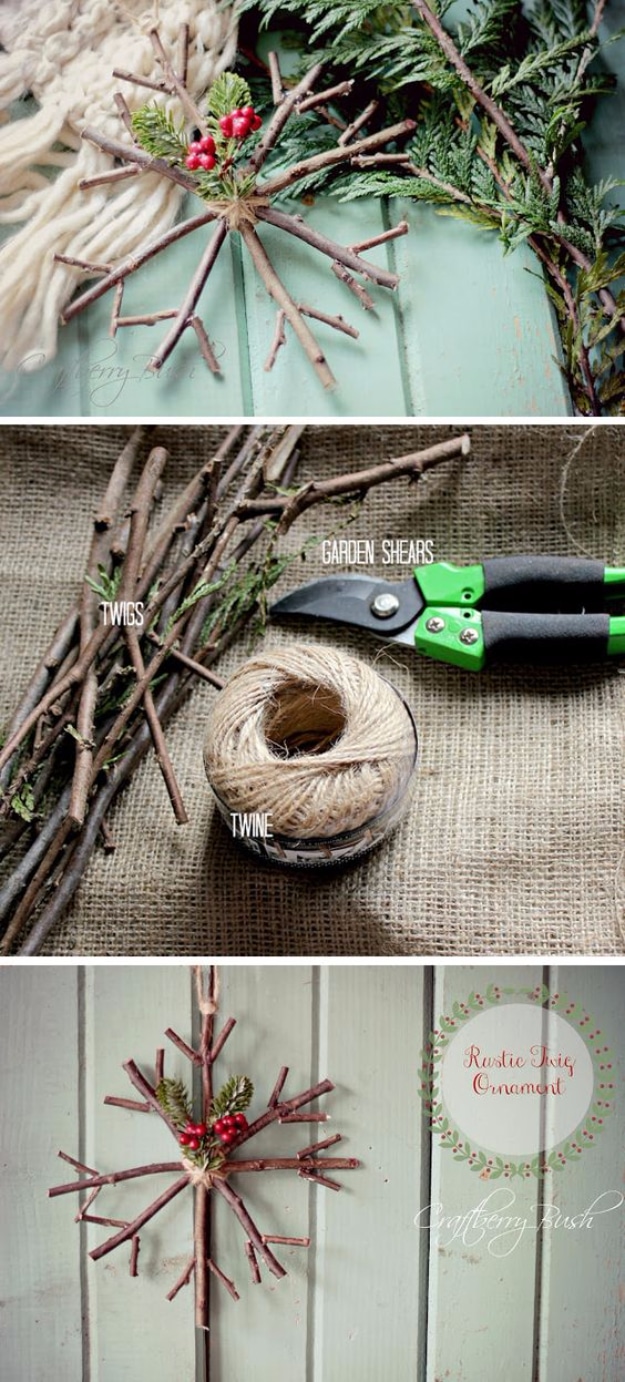 24. Rustic Wooden Nativity Ornament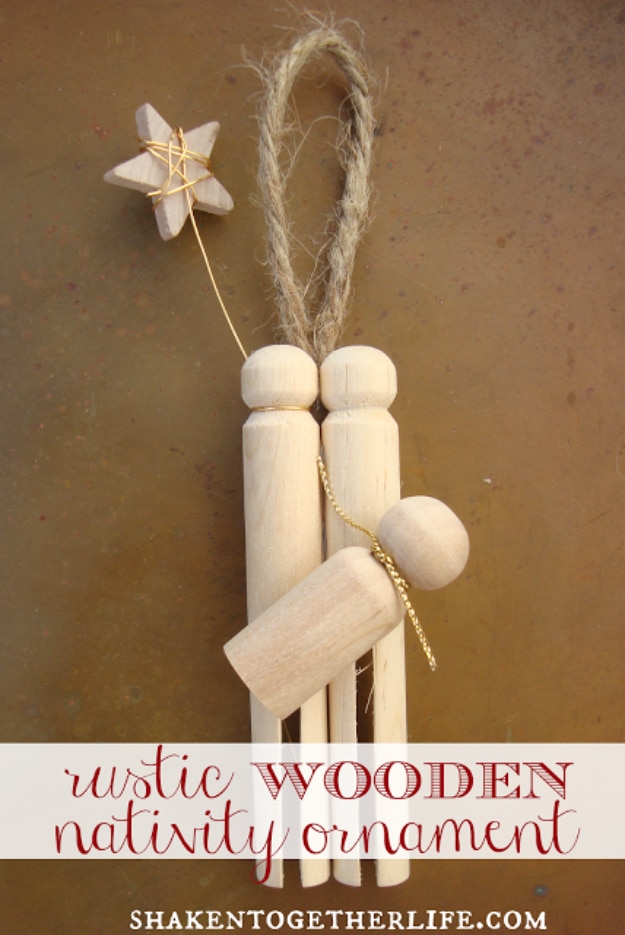 25. Painted Rattan Ornaments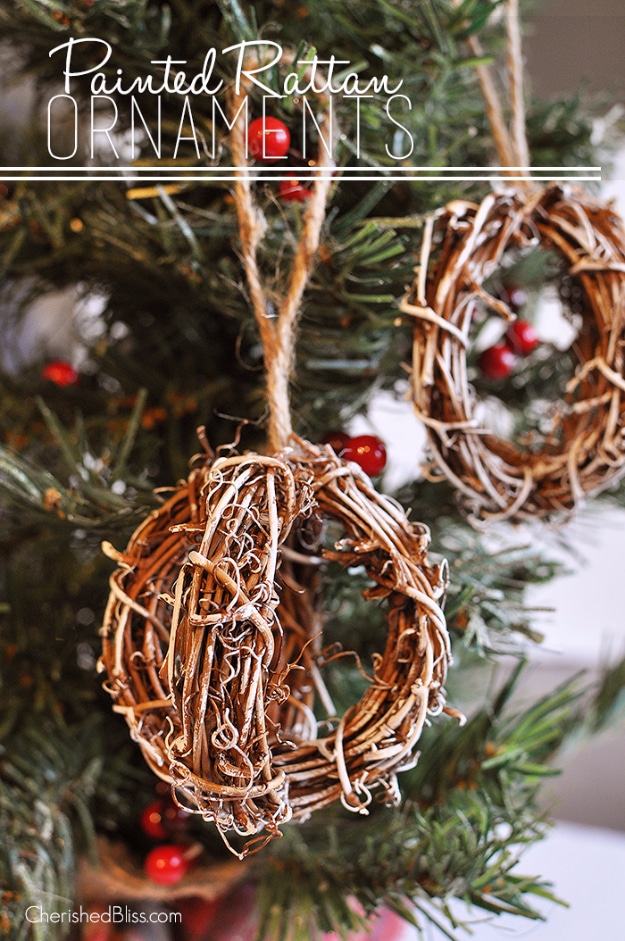 26. Popsicle Stick Star Christmas Ornaments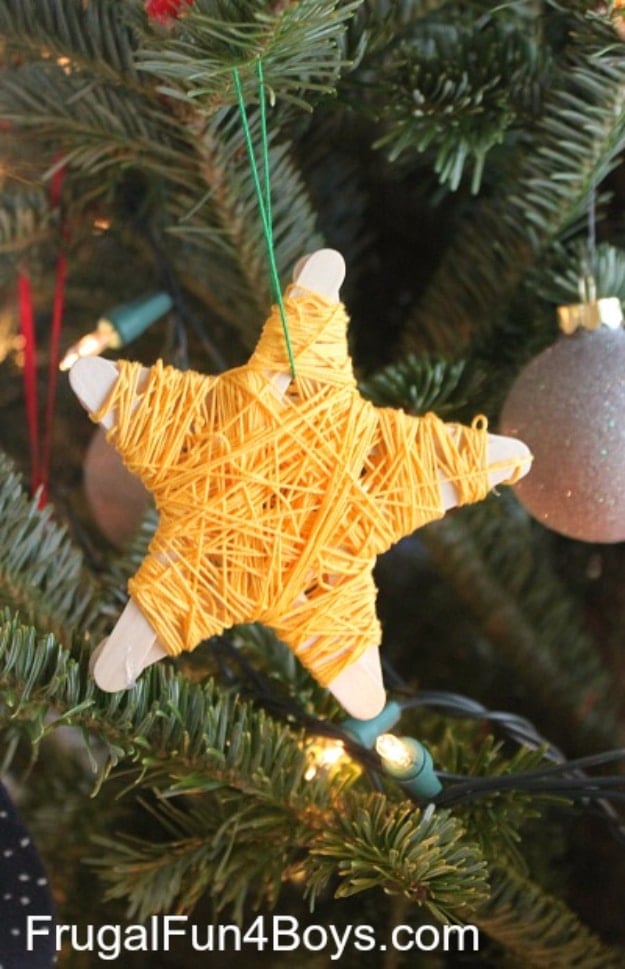 27. Chalkboard Paint Ornament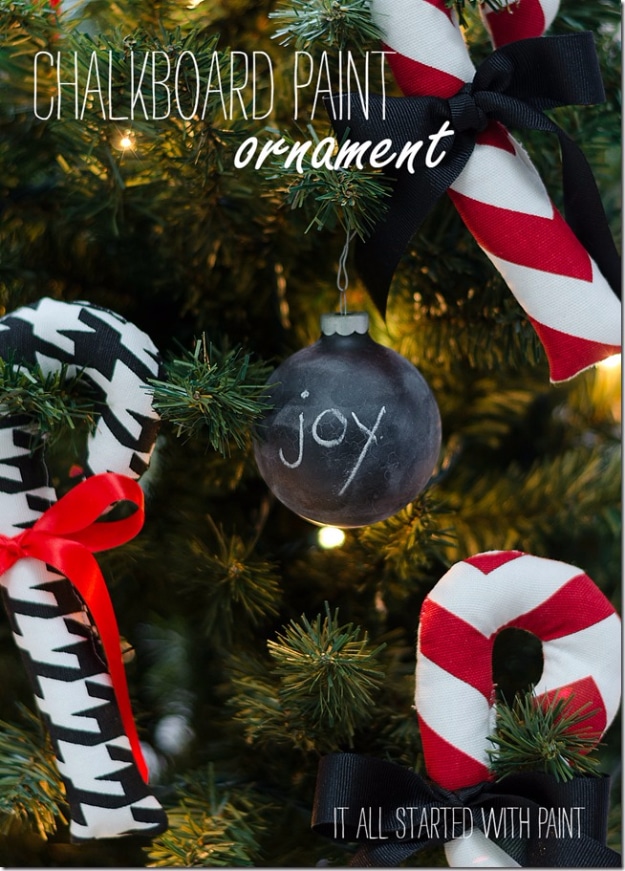 28. Burlap And Plaid Christmas Ornament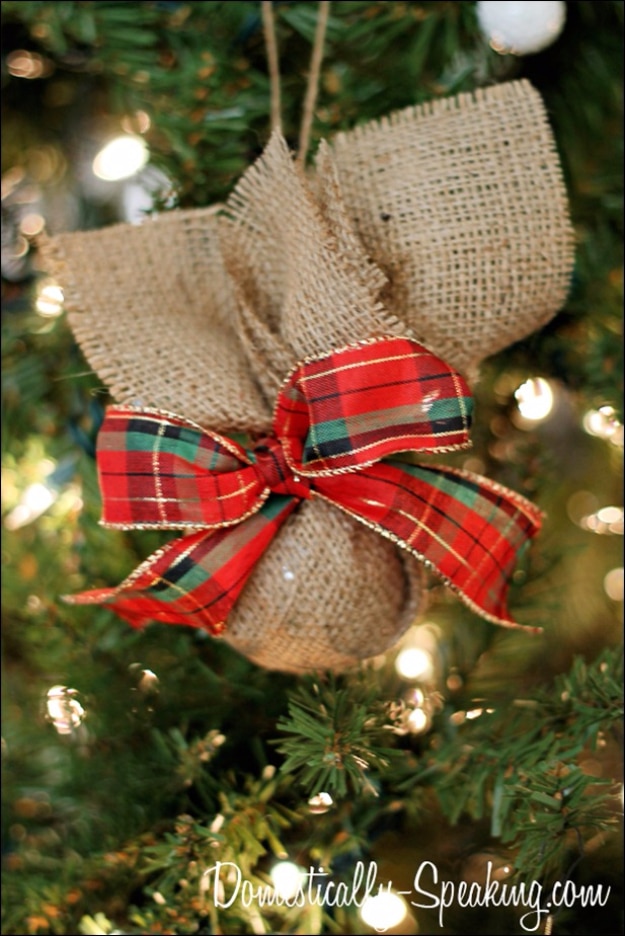 29. DIY Pearl Christmas Ornaments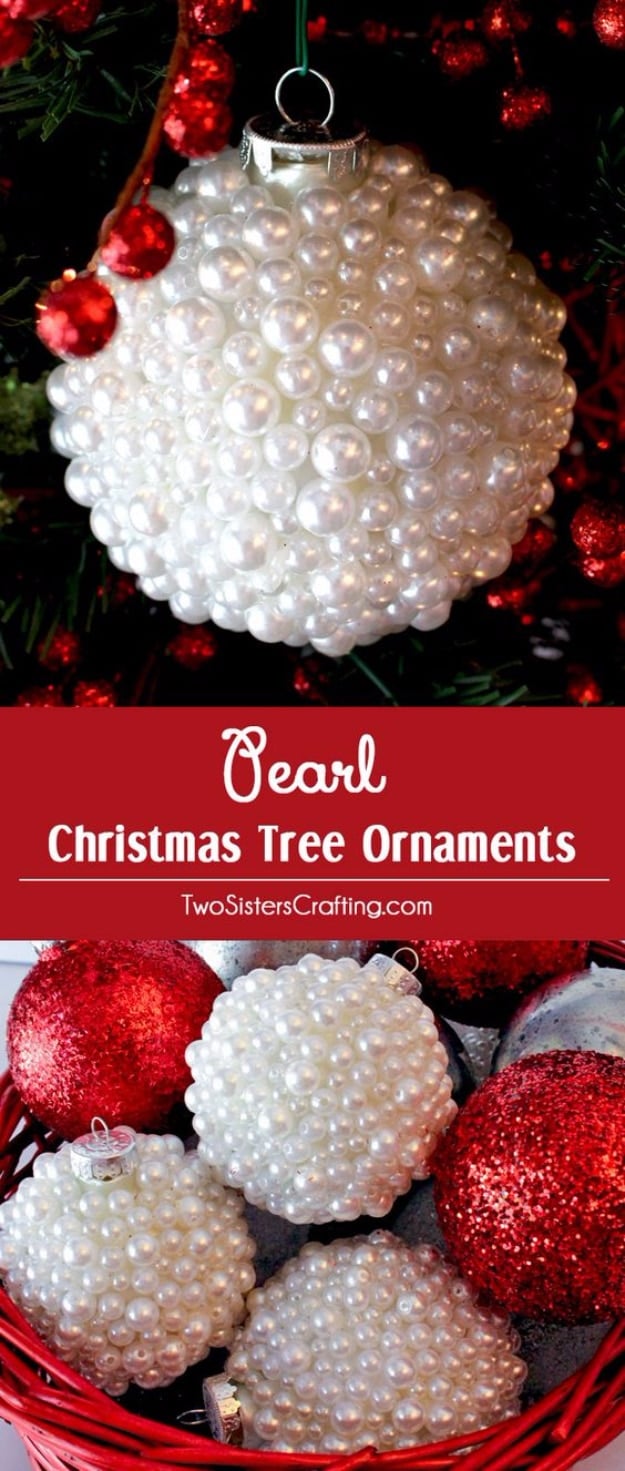 30. Pom Poms And Pinecones Christmas Ornaments

31. Mercury Glass Ornament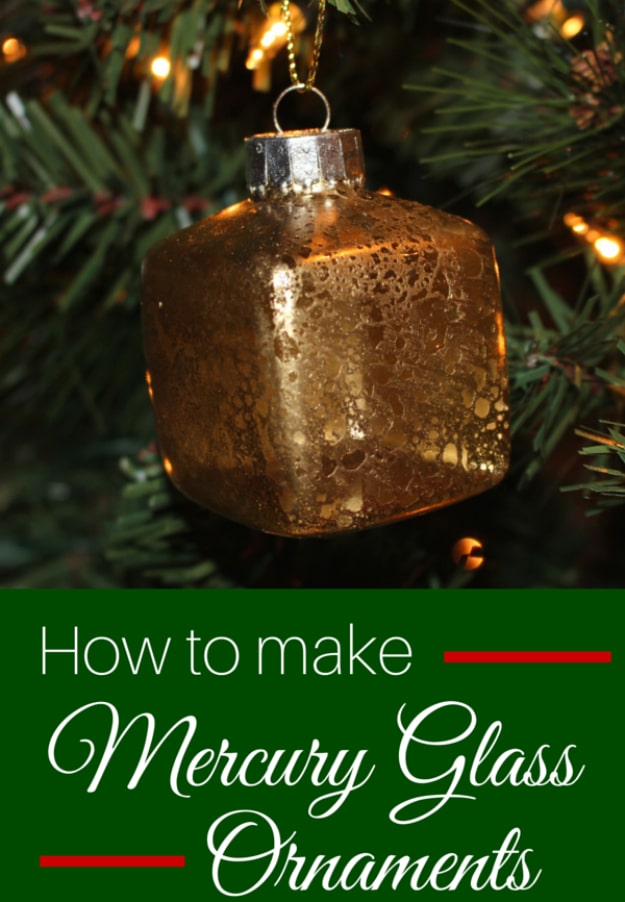 32. Miniature Winter Hat Tree Ornament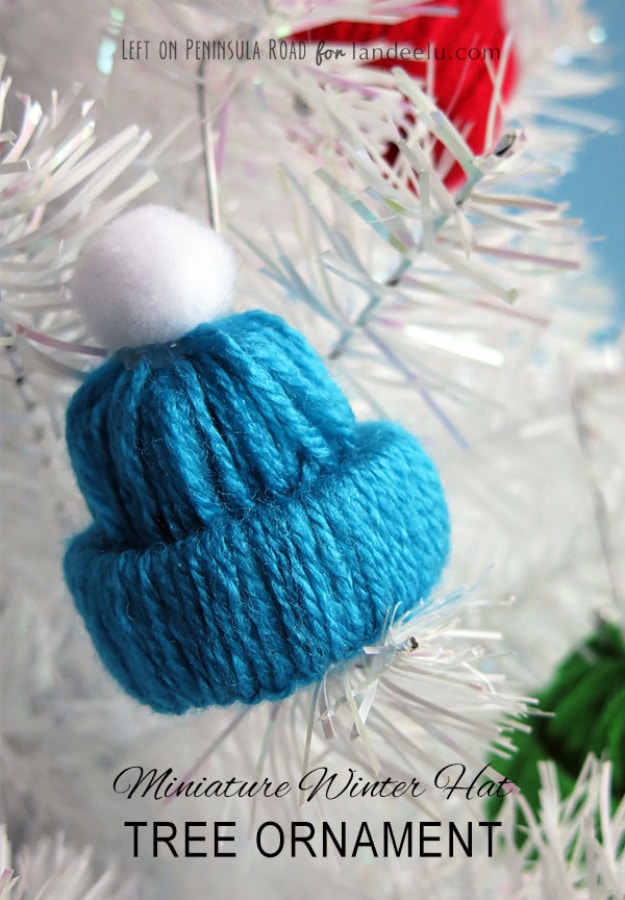 33. Easy Decoupage Santa's Sleigh Map Ornament