Need a new mason jar craft project to try this weekend perhaps a brilliant DIY gift idea? No matter what the occasion, mason jar vases are simply some of the most brilliant craft ideas, ever! Inexpensive, creative and oh so lovely, mason jars are the perfect way to add a unique touch to your next floral arrangement or table centerpiece. I made a few different versions of these last month and can not tell you how many compliments I received on them. Plus, they just make me smile when I look at them. From rustic to modern, distressed to glittered, these step by step tutorials for mason jar vases will have you thinking of what you can do with your jars next.
DIY Mason Jar Vases
1. Chevron Pallet Mounted Hanging Mason Jar Vase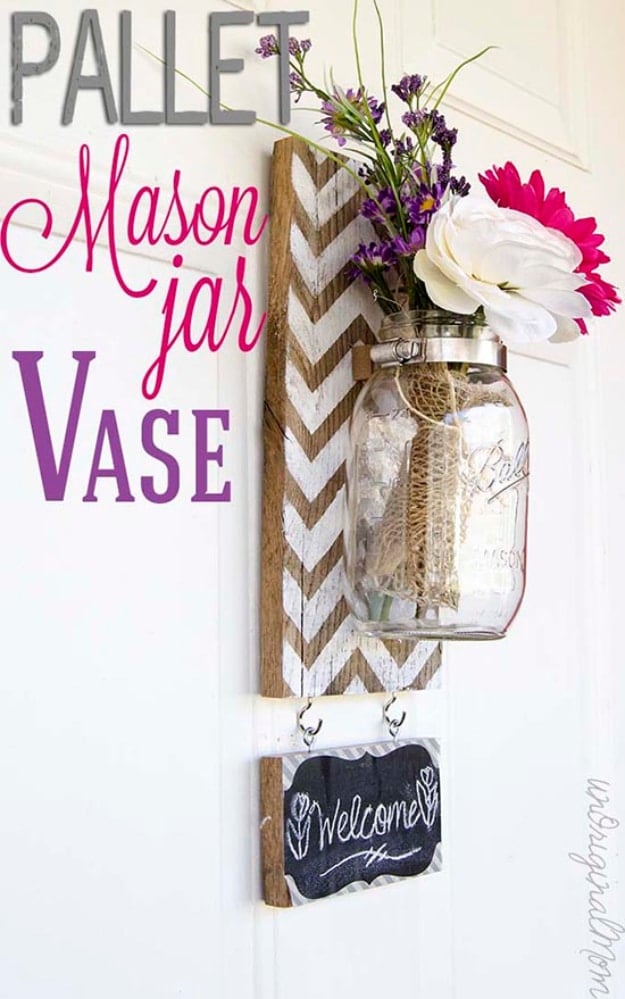 Whatever your decor style, farmhouse, rustic or Boho a hanging Mason jar vase will look fabulous. Especially with this pallet mason jar vase by Unoriginal Mom. It is super trendy and can be used as an alternative to a wreath. Hang it by the door or make it a porch decor. It'll give your house a dreamy vibe.
2. Mason Jar Picture Frame Vase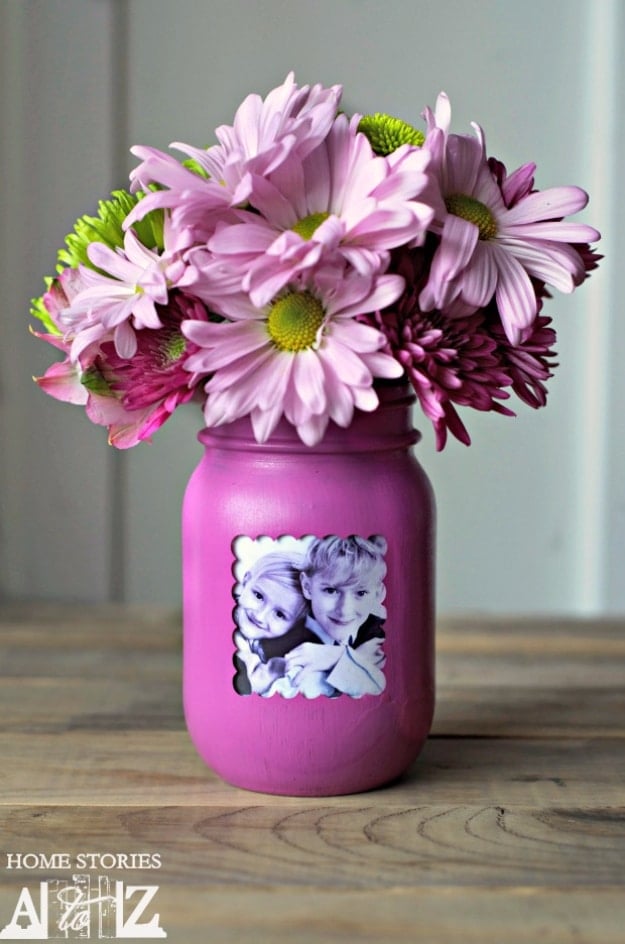 If you're looking for a fantastic gift for mother's day, this Mason Jar Picture Frame Vase would be a perfect gift to her special day. It's so simple to make that even kids can do it. Such a cute idea! Definitely adding this to my weekend craft projects.
3. Ombre Painted Mason Jar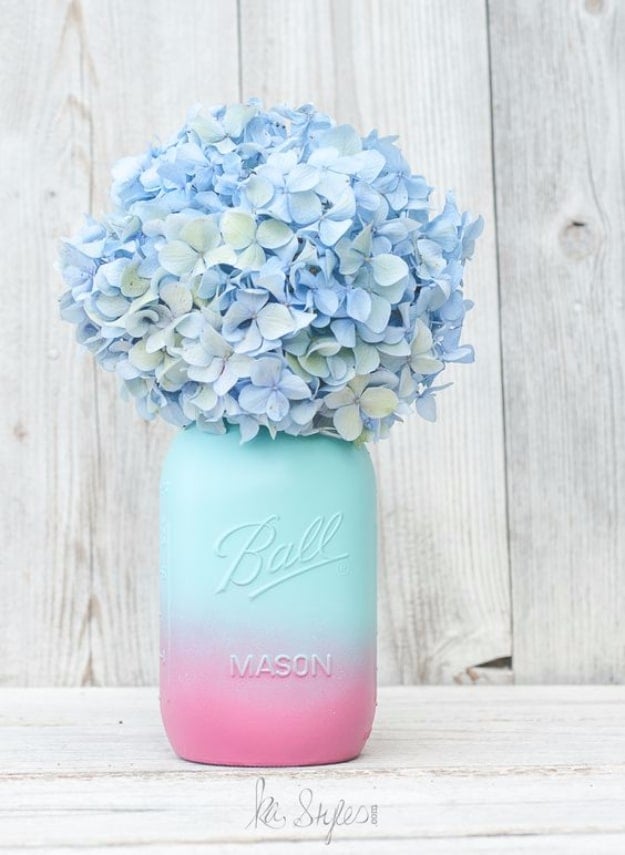 I am in love with this Ombre Painted Mason Jar! I want to try them for sure. Spray paint is definitely your best friend when it comes to this type of craft. And the hydrangeas look perfect in this super gorgeous creation. Read on the full tutorial from Ka Styles to learn how to make your own cute mason jar vase.
4. DIY Gold Mason Jar Flower Vases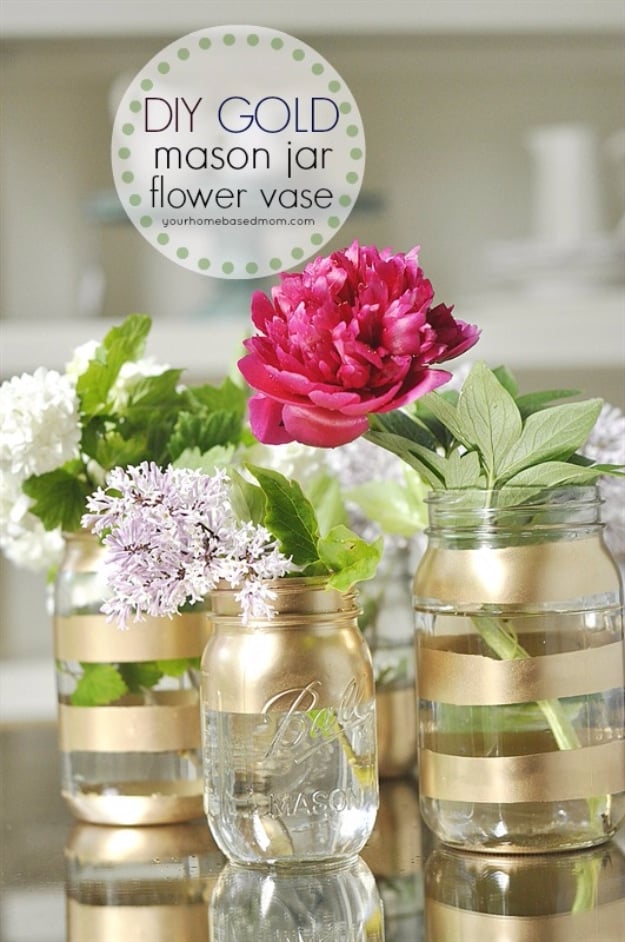 Are you fond of filling the house with fresh flowers, especially in the Spring and Summer when you can just go out into the garden and cut them? And wouldn't it be perfect to have a simple and elegant vase to hold them? This DIY Gold Mason Jar Flower Vases is the perfect solution for that. Look at how pretty they turned out with the gold spray paint. Definitely worth a try.
5. Embellished Mason Jar Vase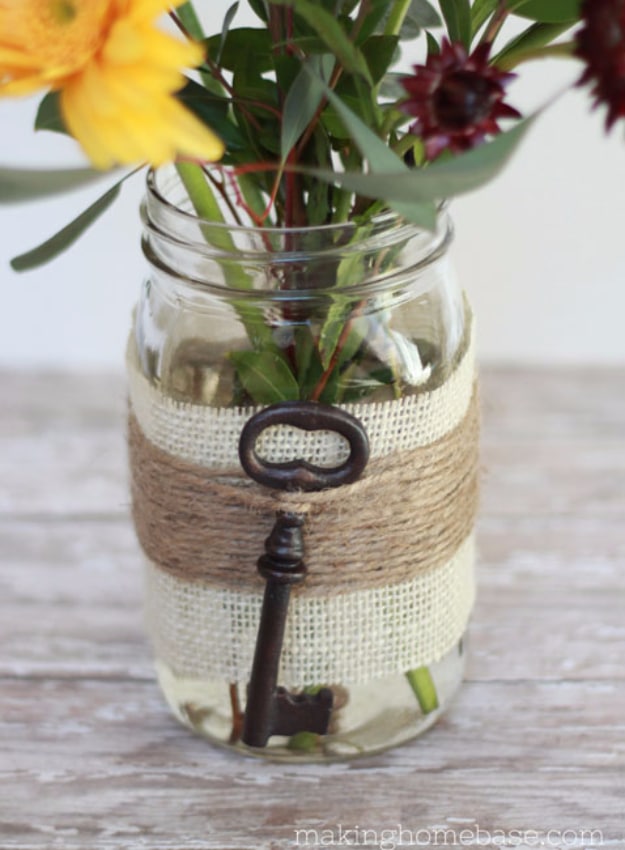 Dress up a plain mason jar and whip up this Embellished Mason Jar Vase. You probably have all the materials in the craft room just laying around. Plus this vase is so versatile and I just love the jute and skeleton key in the middle. It feels so vintage and rustic which I really adore in a home decor.
6. Painted Mason Jar With Daisies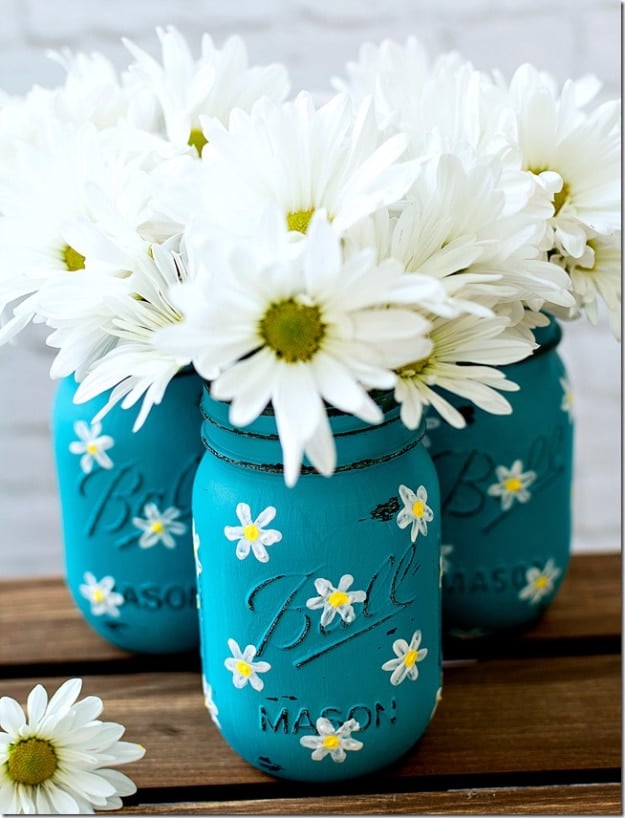 These jars are so beautiful! I always have a soft spot for anything distressed and this DIY project is just perfect. The cute little daisies bring a fresh summer vibe. Can't wait to try it!
7. DIY Rustic Mason Jar Sconce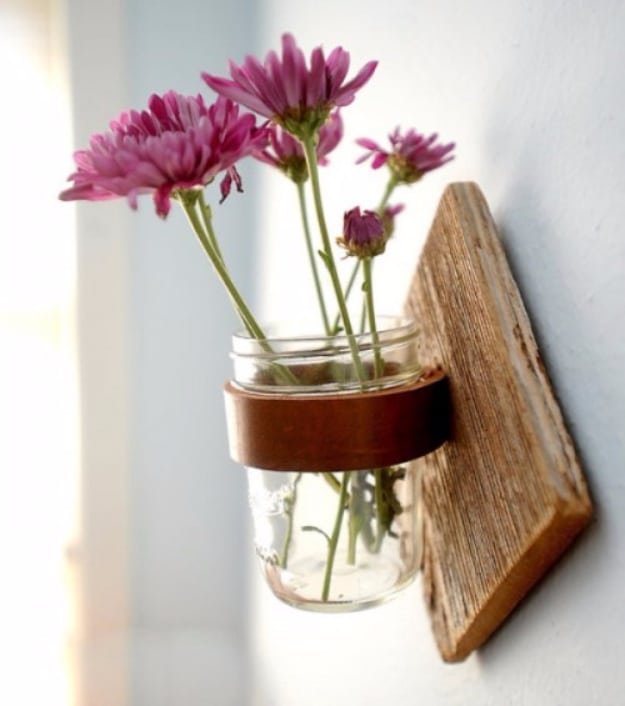 Why waste your money on expensive wall sconces when you can DIY your own? This DIY Mason jar vase will add the perfect touch of shabby chic to your home decor. With a few small pieces of wood and some smaller mason jars, you will be all set to build a wonderful wall sconce in half the price.
8. Gilded Gold Mason Jar Vase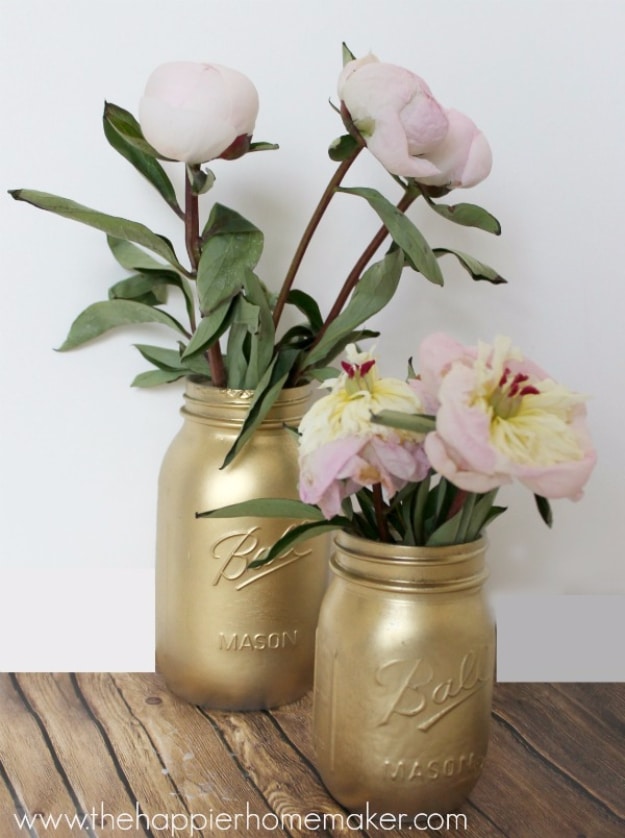 Give your room a nice touch of glam with this Gilded Gold Mason Jar Vase. You can make them in less than a hour or so and the result will be absolutely gorgeous! I would say this is a perfect addition to a rustic theme that I am going for in the kitchen.
9. Easy Striped Mason Jar Tutorial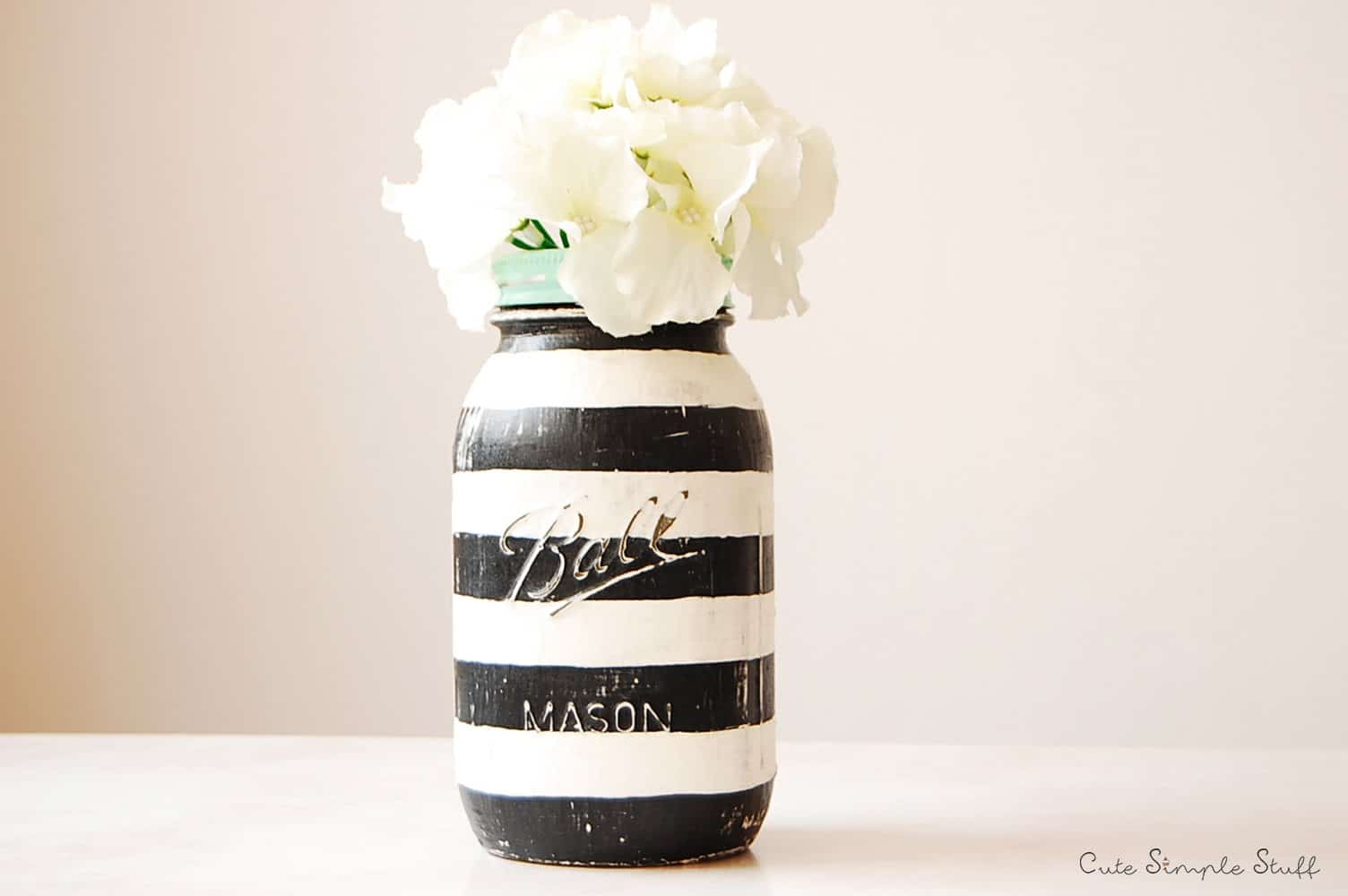 Looking for a stunning mason jar idea? Well this one is stunning and looks great anywhere! Stripes go with anything! The black and white stripes gives me so many awesome ideas. I can see this striped jar sitting next to a bright colored painting with reds, blues and yellow! How eye catching would that be?
10. Monogrammed Mason Jar Vase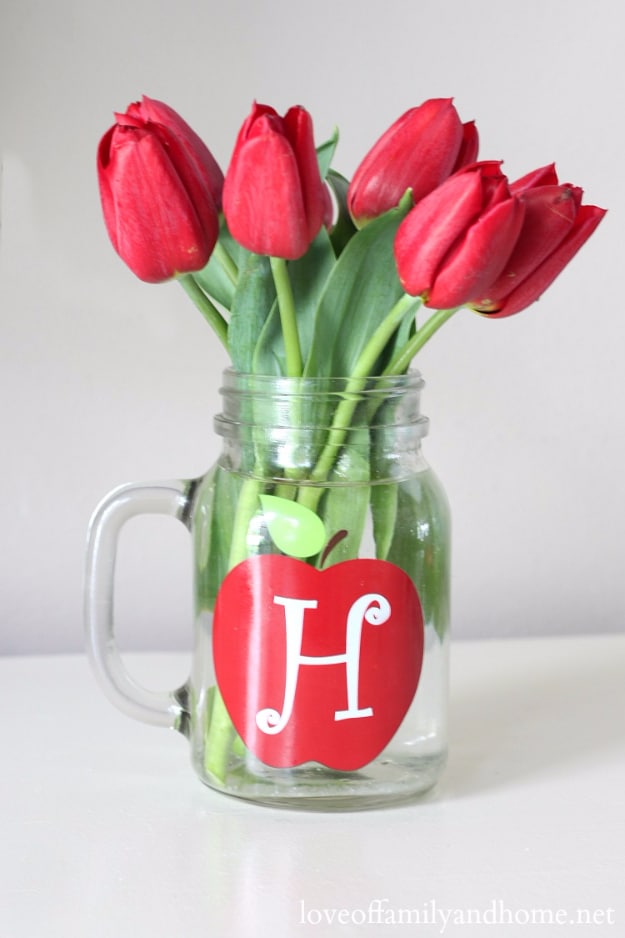 I just love how cute this monogrammed mason jar vase turned out! It would be perfect as a teacher's gift or a mother's day gift, don't you think? It would be a great place to store pencils, pens, markers, etc. The possibilities are endless so go ahead and make one today.