Who doesn't love lemons? This DIY lemon towel hanger by Moth Art is a beautiful and useful piece for your kitchen or bathroom! Watch the video below for full instructions.
Materials:
CD disk
balloons
fabric
chenille wire
wire
2 rings in two sizes
green ribbon
crepe paper
0.5-inch bead
fiberfill
adhesive
Instructions:
Step 1:
Cut a strip of green crepe paper then wrap it around the chenille wire. Make two knots on one end, then cut the excess. Repeat to make 3 more.
Step 2:
Get the balloon and cut the straight part. Insert the bead on the bottom then fill it with fiberfill. Make three more. Next, get the green wires and stitch them to each lemon.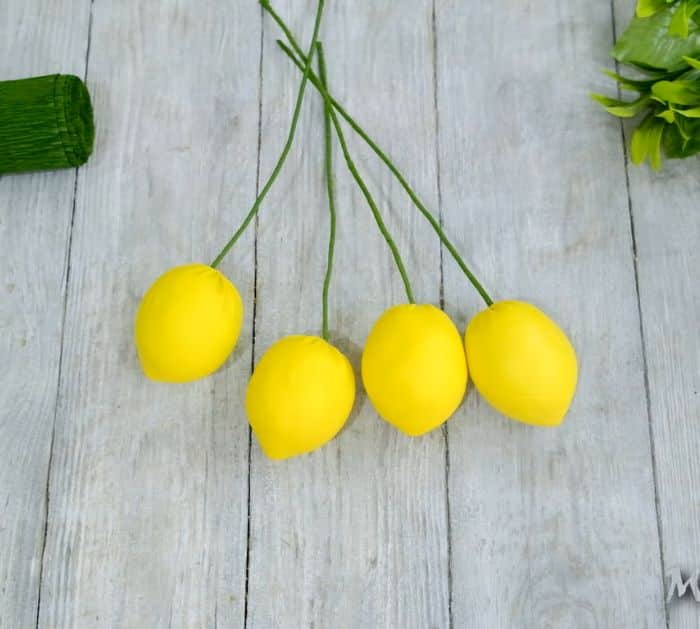 Step 3:
Take a piece of wire and cover it with green crepe paper. Cut a ribbon measuring 5.12 in by 1.6 in. Fold it in half, then stick an adhesive from the middle to the edge. Attach the wire to the middle of the adhesive lengthwise, then fold the ribbon. Fold it again in half then cut it into a leaf. Heat the edges to curve them a little bit. Repeat and make 8 more.
Step 4:
Wrap 3 stems together with a strip of crepe paper. Bend the two leaves. Repeat with the remaining leaves.
Step 5:
Cut a 9-inch diameter circle from the fabric. Cut another circle the same size as the disk on the paper. Then glue it on the disk. Stitch around the edges of the big fabric, then insert the disk, pull the thread, and make a knot to secure it in place.
Step 6:
Wrap the two rings with green ribbon.
Step 7:
Fold the green ribbon in three lengthwise, then glue it. Attach the small ring on one end, then glue it on the disk. Next, glue the bigger ring on the other end.
Step 8:
Glue the leaves and lemons at the center, then cut excess wires.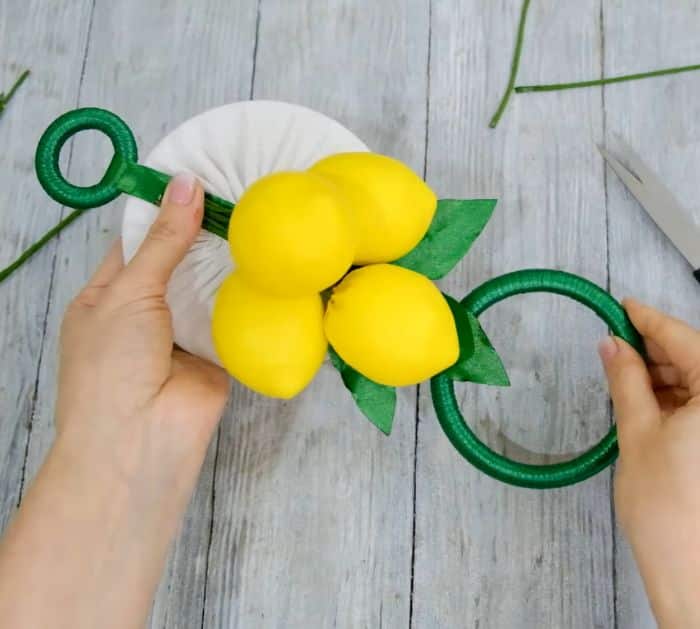 Step 9:
Make a bow from a gingham fabric, then glue it on the stems.
DIY Lemon Towel Hanger