Does your kitchen need a serious overhaul? I thought I needed a complete remodel on mine, too, but my budget simply precluded doing any major home improvement projects. After spending far too many hours on Pinterest looking for projects I did not have the money for, I found some more doable things in the name of kitchen makeover ideas that worked perfectly for what I needed. Cheap but showy projects that truly allow you to feel your kitchen got a makeover, these tutorials show you exactly how to creatively get some awesome new looks in your dining room and kitchen areas. From new DIY countertop ideas to paint techniques to backsplashes and tile, you will find some cool ideas to add to your weekend project list.
DIY Kitchen Makeover Ideas
1. Paint Cabinets Without Sanding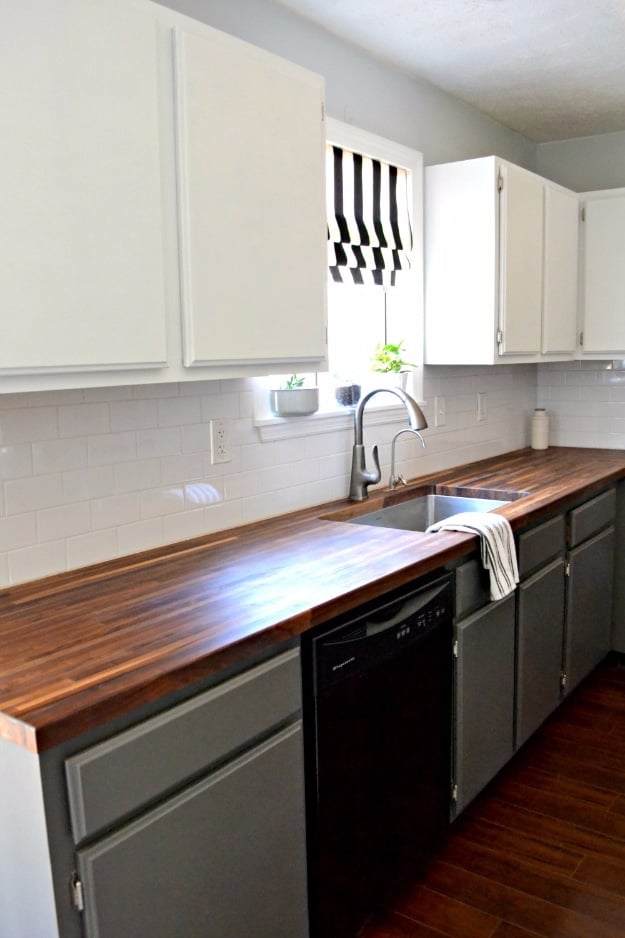 You can paint your cabinets without sanding them! Get effective results with primer and paint and a little help from Ugly Duckling House. I definitely enjoyed this post. I am planning on doing my cupboards soon too so I'm looking for any hints. Really helpful tips!
2. Install A Backsplash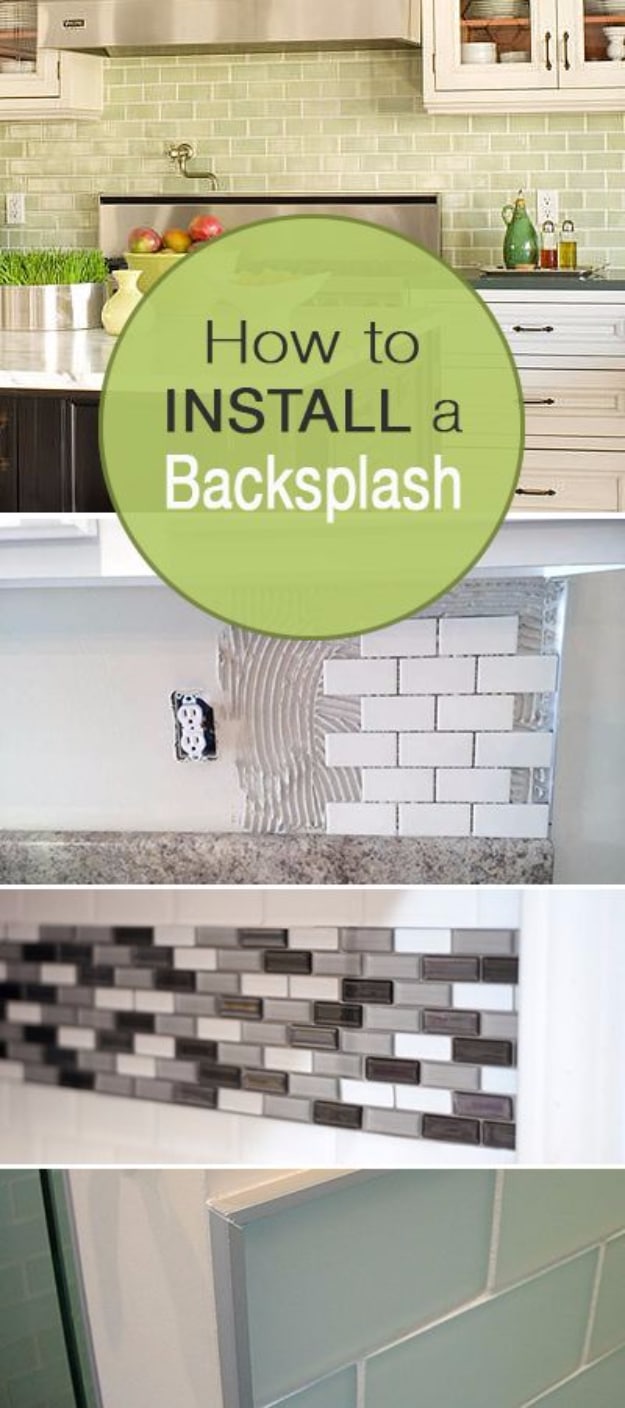 Add life to your kitchen with a tile backsplash. There are many options, including mosaics on mesh backing for easy installation. There are so many options these days, from glass mosaics, to classic subway tiles, to peel and stick versions anyone can do. Save hundreds of dollars by doing it on your own and by following along with the complete tutorial from The Budget Decorator.
3. DIY Overlay Concrete Countertops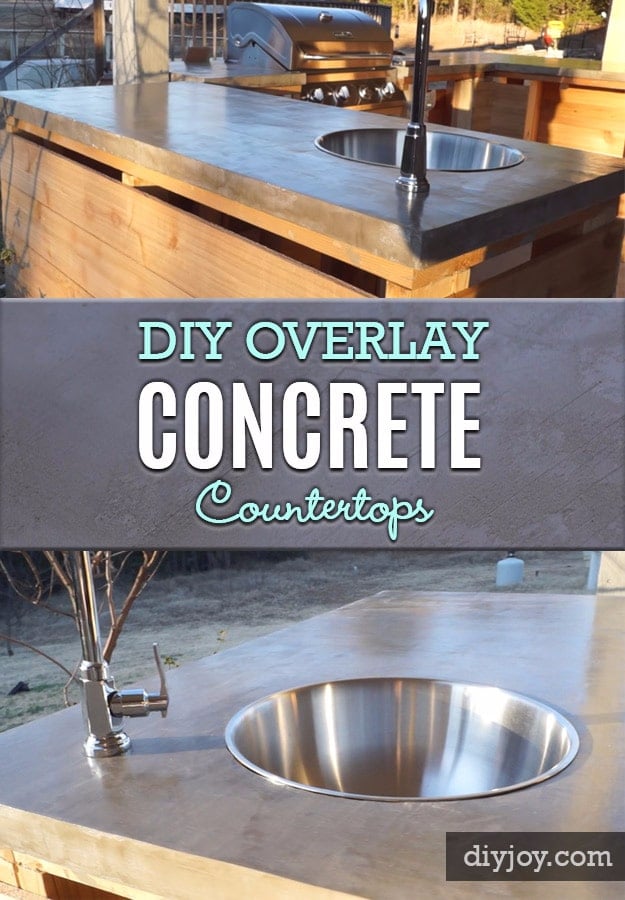 I love the overlay technique which allows you not to have to deal with large amounts of poured concrete, too. The thought of that just frightened me to much to even try! However, you too will learn that is not necessary. Check out this awesome step by step Youtube video tutorial and learn how to make concrete countertops like a pro!
4. DIY Planked Peninsula With Corbels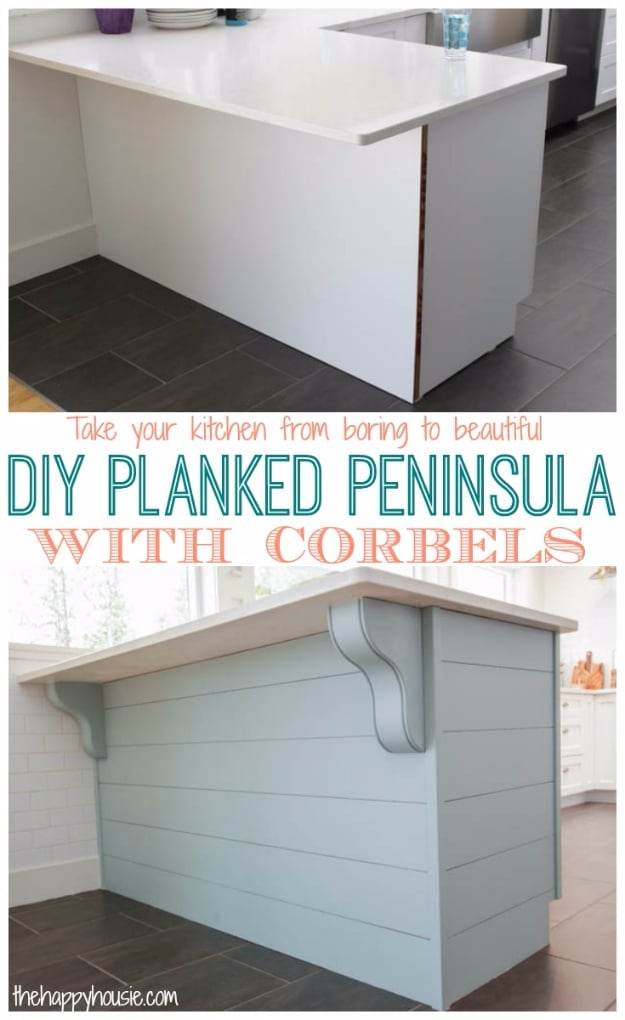 What a fabulous project, it certainly looks great! I specifically adore the color and I think this would look great when I eventually get round to painting the cupboards in our utility room. Loving the way it turned out. Thanks to this inspiring post from The Happie Housie Porch.
6. DIY Butcher Block Countertops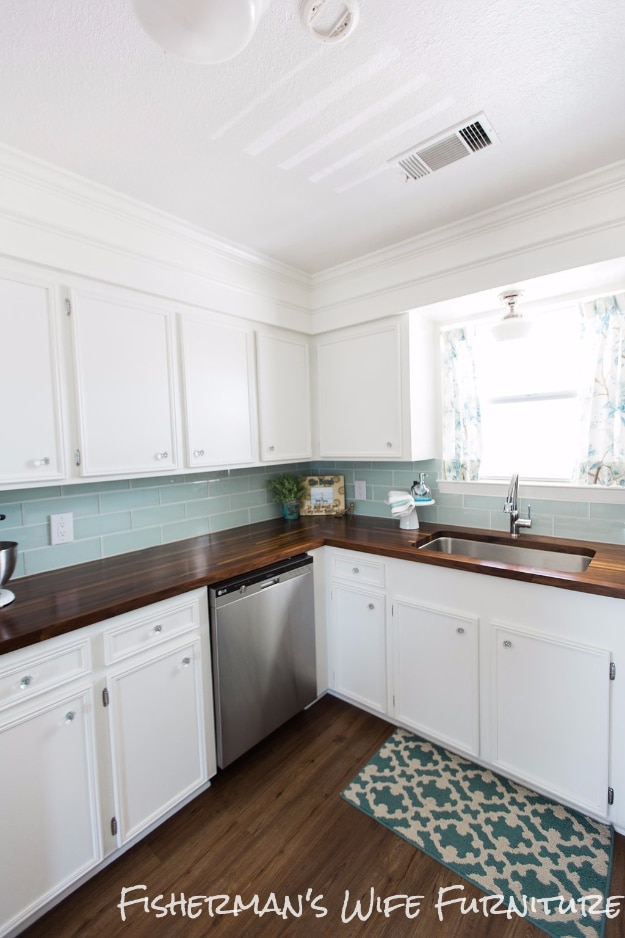 Love the look of butcher block countertops? Check out this super easy step-by-step tutorial on how to make & install a butcher block counter in your home. These DIY wood countertops are super inexpensive but look insanely expensive! Plus they're durable and easy to do yourself. Just follow along with the complete instructions from Brian and Kaylor.
7. DIY Wooden Vent Hood

Install a vented range hood and build a decorative wood hood over the range. I have been waiting for the instructions on this project. I absolutely love this project and plan on doing this in my new home. My new home is still under construction and I wanted my range hood wood wrapped so this is the perfect DIY project for me.
8. Gray And White Kitchen Makeover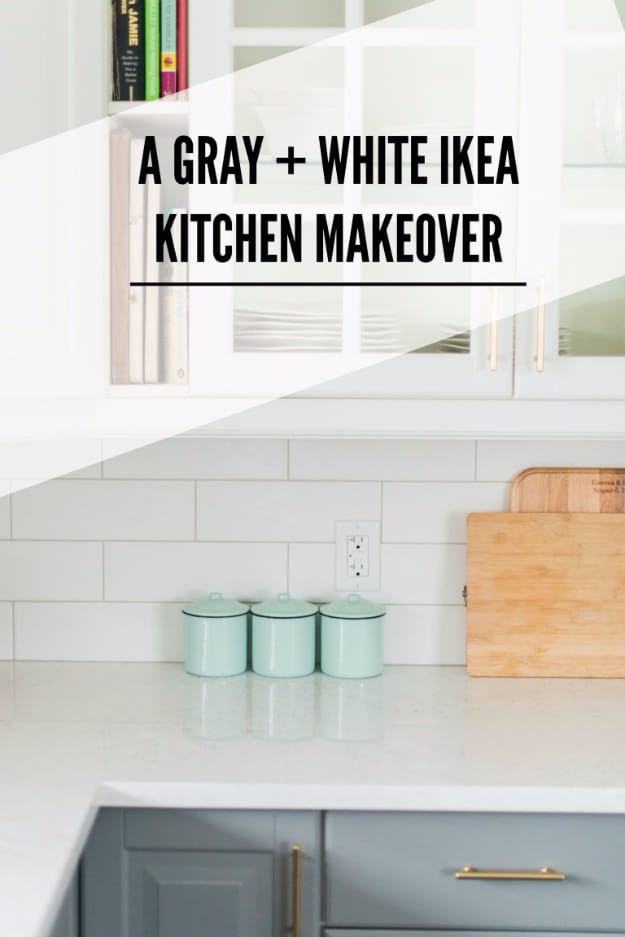 A gray and white kitchen with a classic and timeless look. Me and my husband are keen DIYers but when doing an entire house like this all at once and with the kitchen being a pretty major priority to get done in order to be able to move back in to a space, we didn't truly DIY too much of this room. I really like this inspiration.
9. DIY Shaker Style Cabinets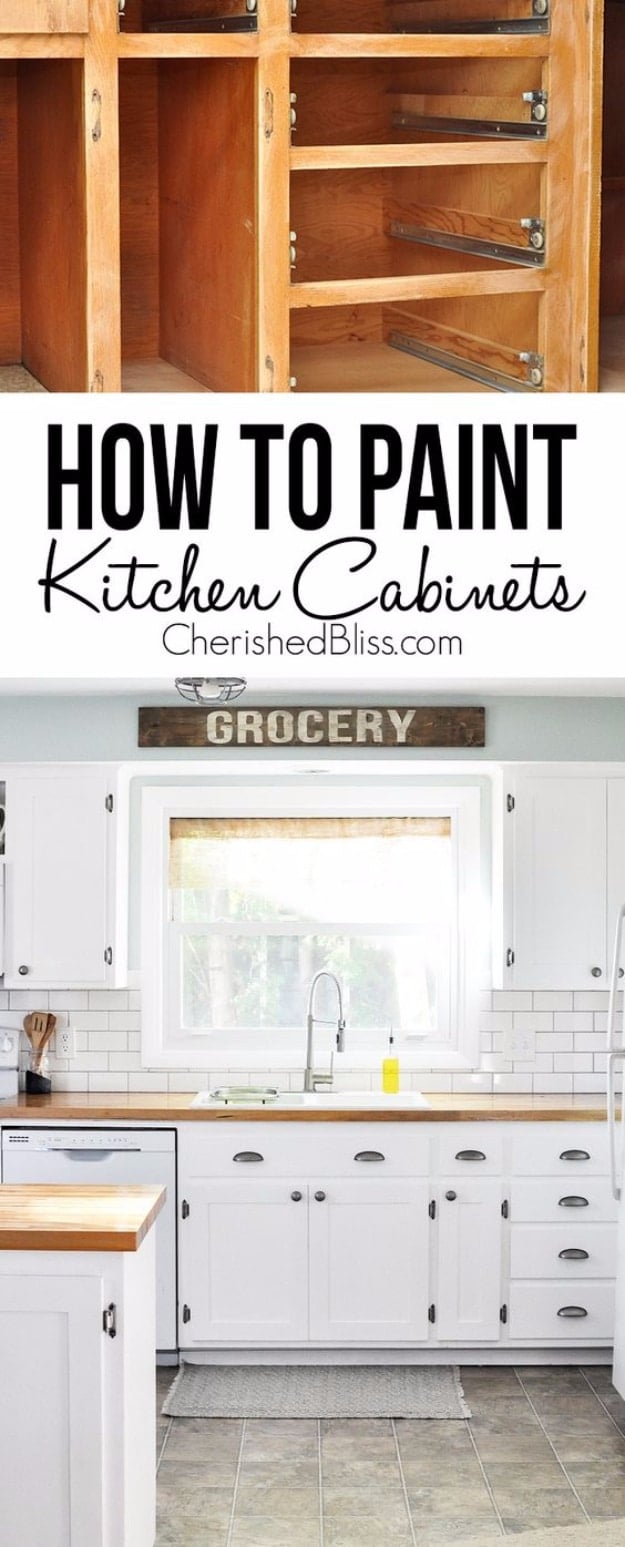 Don't buy new cabinet doors! Learn how to update your old cabinets to a new shaker style in less than a weekend for under $20 with a beginner's skill level. DIY your kitchen with this budget-friendly makeover. Update your kitchen with this simple but stylish DIY shaker cabinet door. This easy tutorial walks you through the whole process.
10. DIY Kitchen Renovation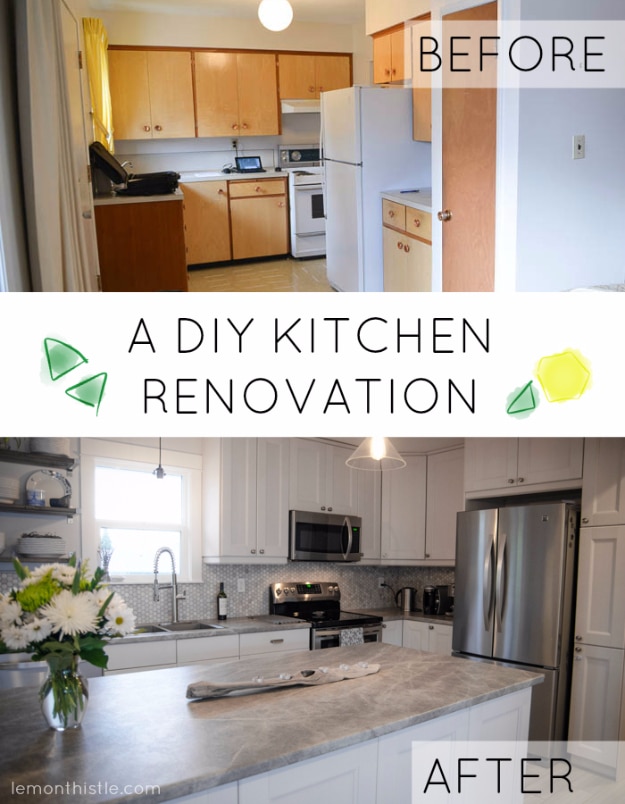 This is absolutely gorgeous! I can't believe the countertops aren't stone. They look so good, and those light fixtures were a great find! We are finally starting our kitchen reno this week. We are keeping our existing cabinets, so it won't be as major as this. This makes me so excited though! The before and after is unbelievable!
11. Farmhouse Kitchen On A Budget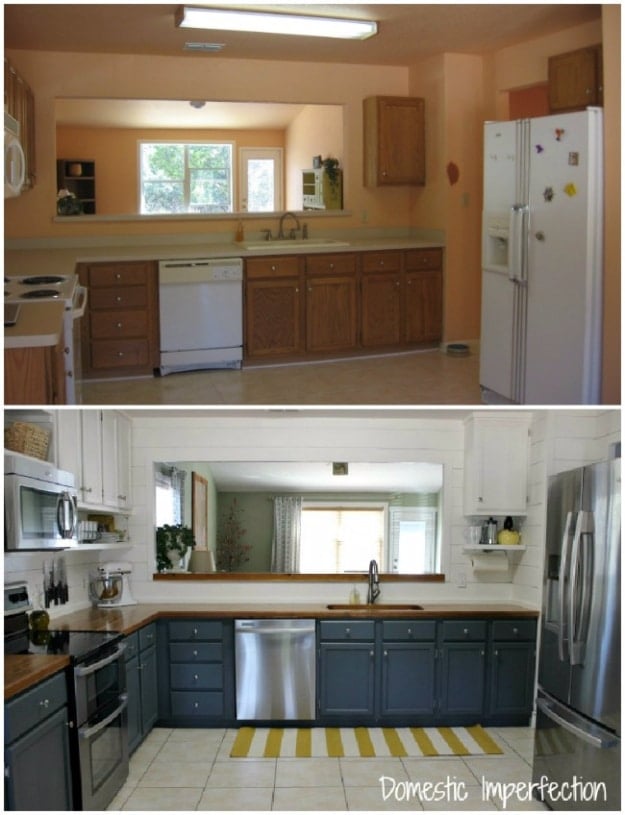 12. Inexpensive Kitchen Cabinet Makeover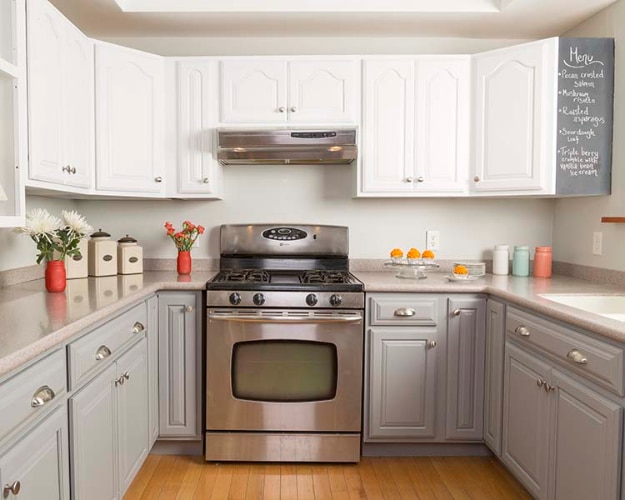 13. Kitchen Cabinet Refacing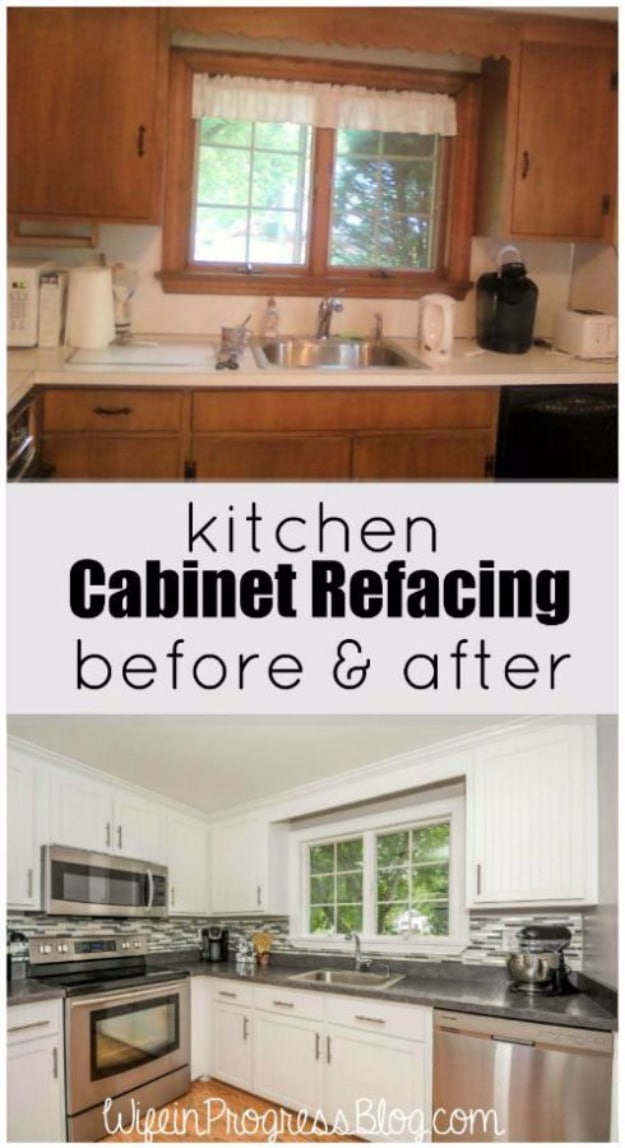 14. Add Cabinet Molding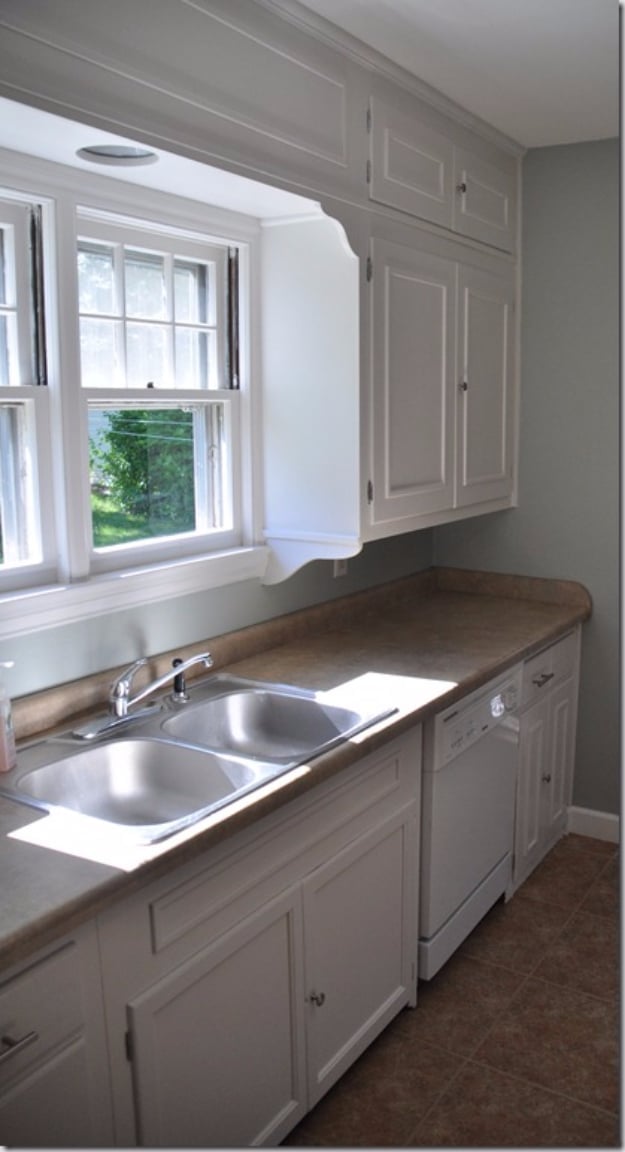 15. Range Hood Makeover

16. DIY Pot Rack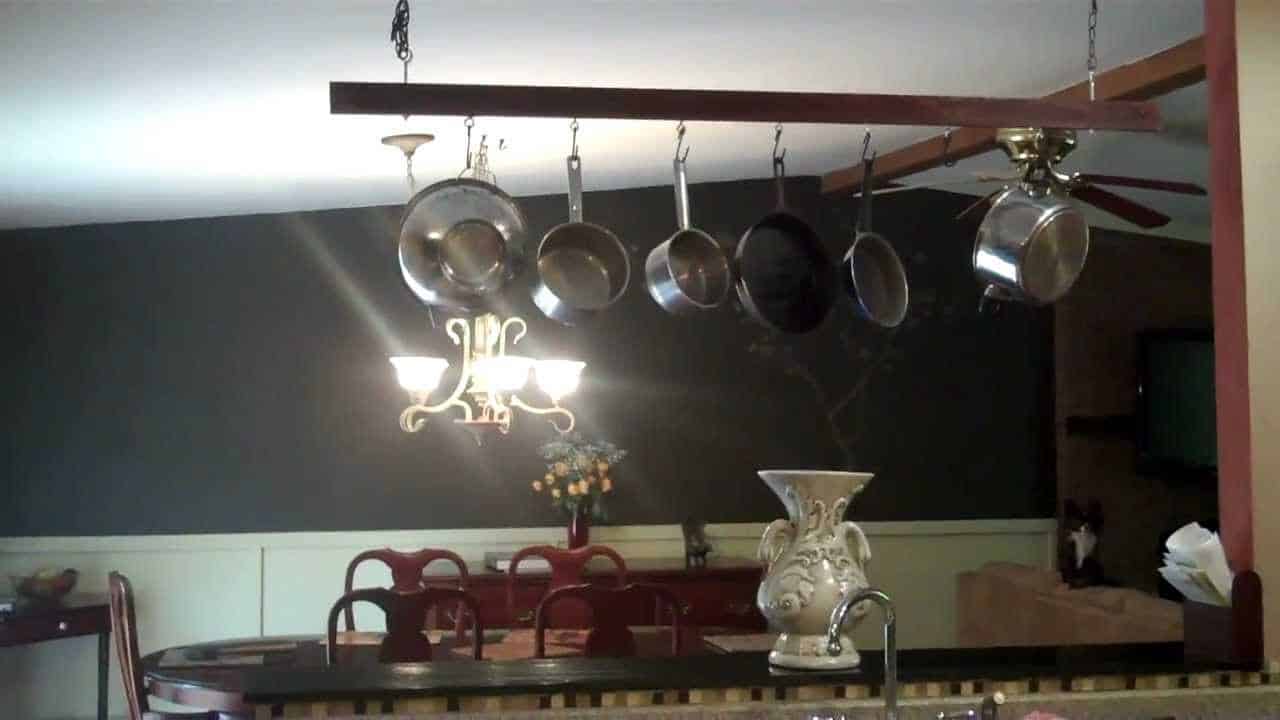 17. $120 Kitchen Cabinet Makeover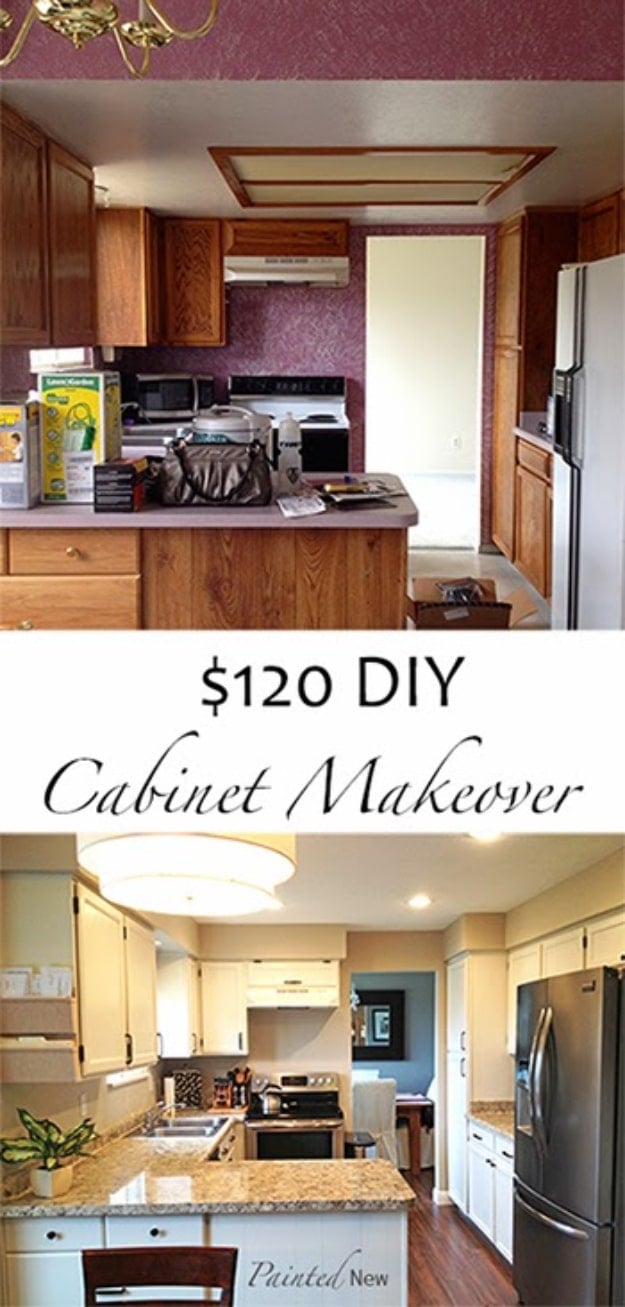 18. Awesome Kitchen Reveal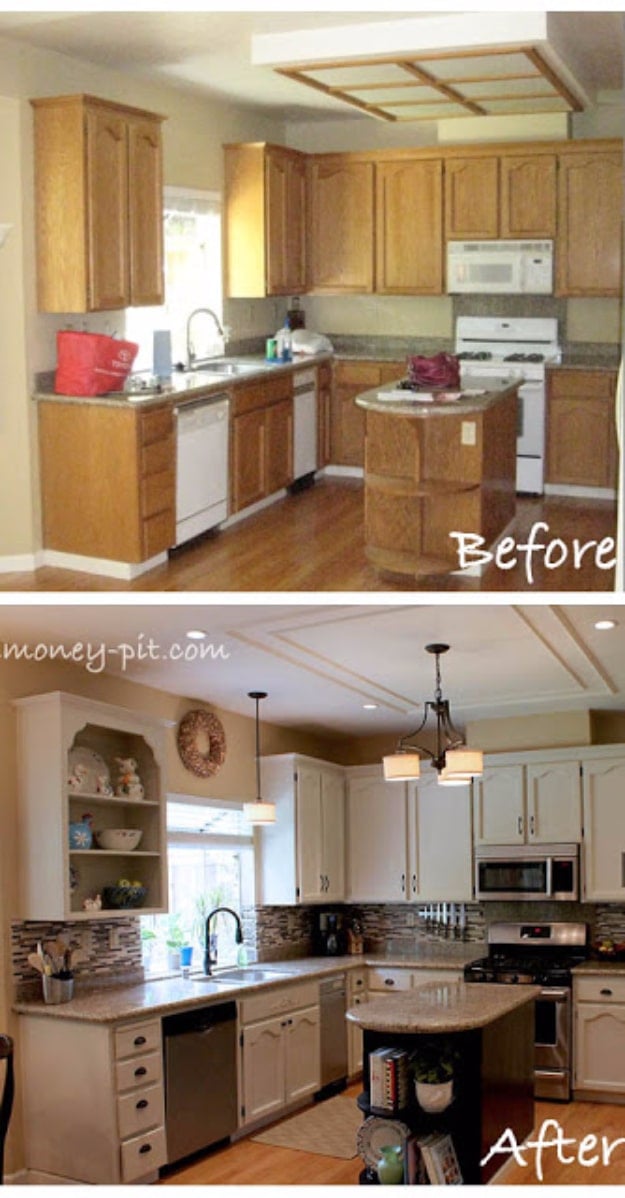 19. Gray Themed Kitchen Makeover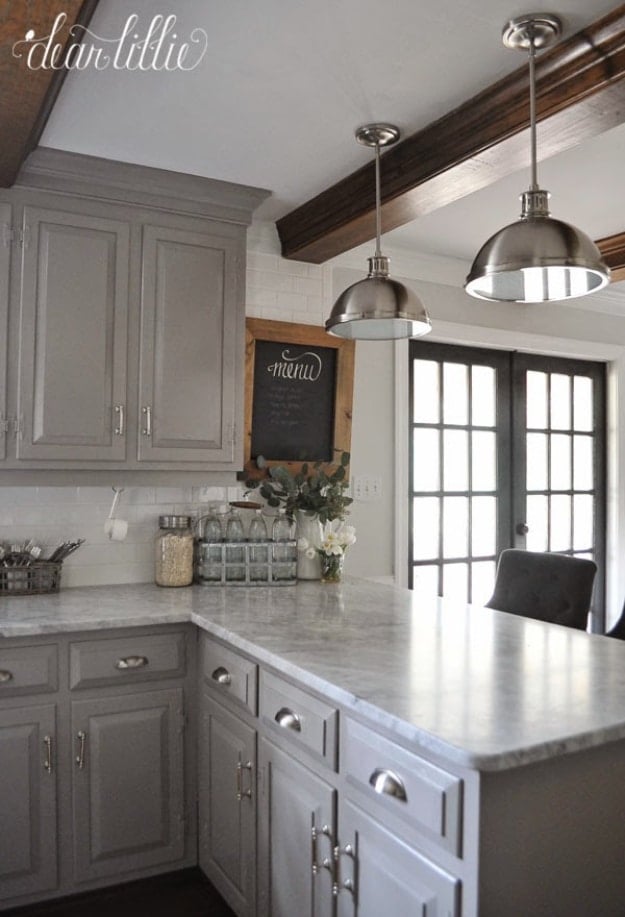 20. Chippy Farmhouse Style Buffet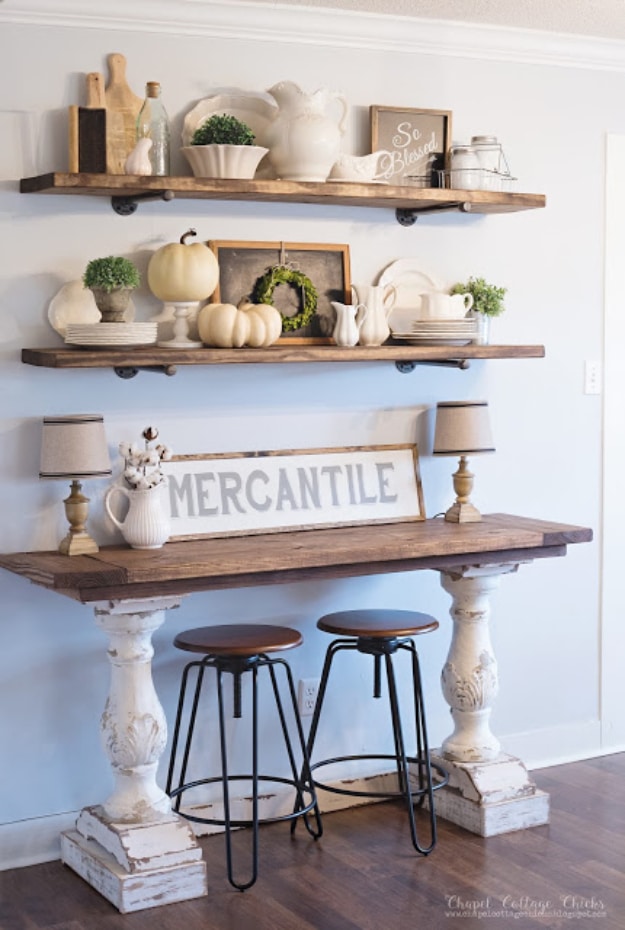 21. DIY Cast In Place White Concrete Countertops

22. DIY Feather Finish Concrete Countertops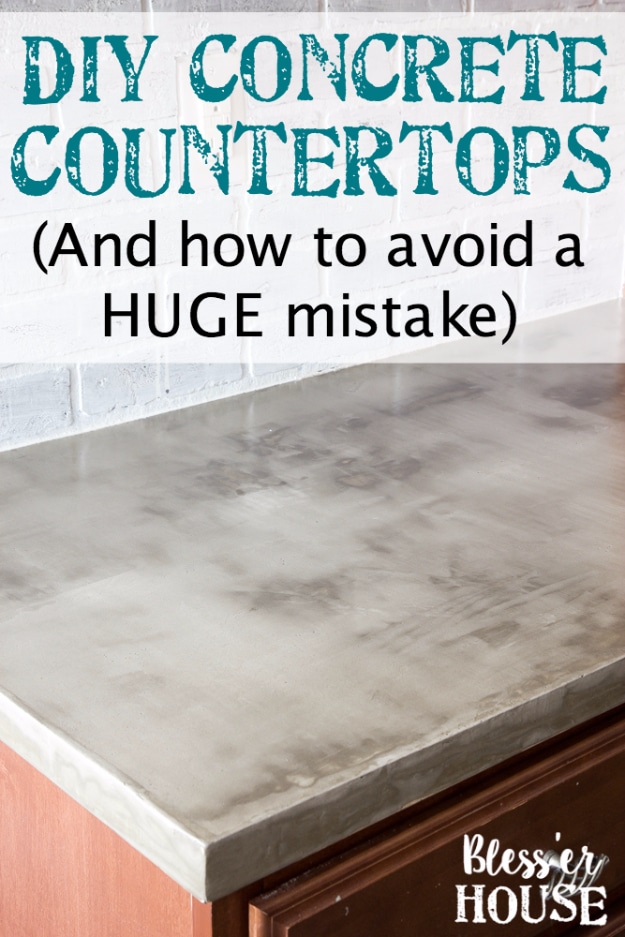 23. Paint Laminate Kitchen Countertops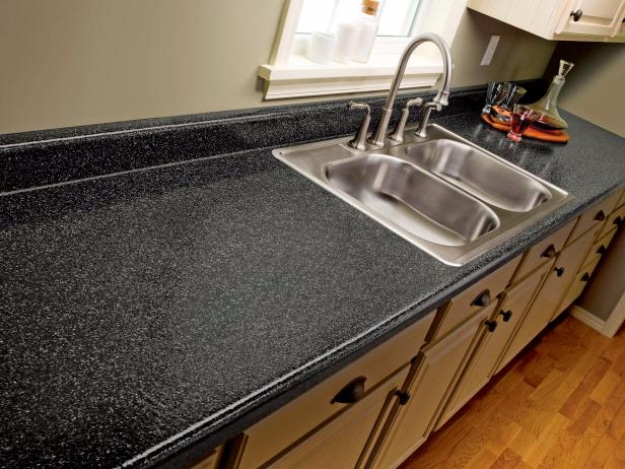 24. DIY Marble Countertop Using Laminate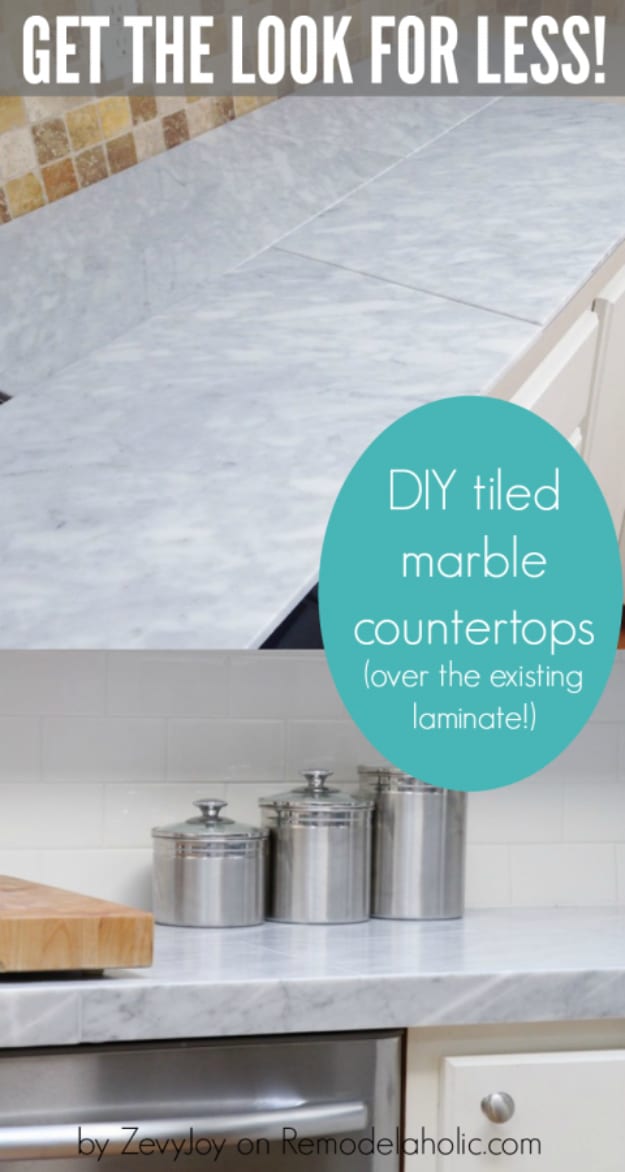 25. DIY Belart Style Clock And Cozy Kitchen Snack Bar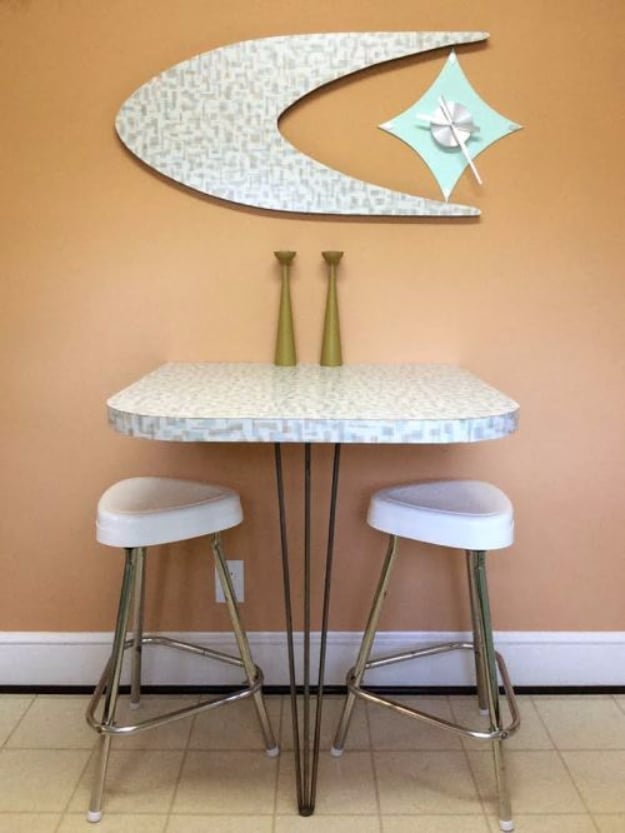 26. Ikea Hack Rustic Bar Galvanized Metal Top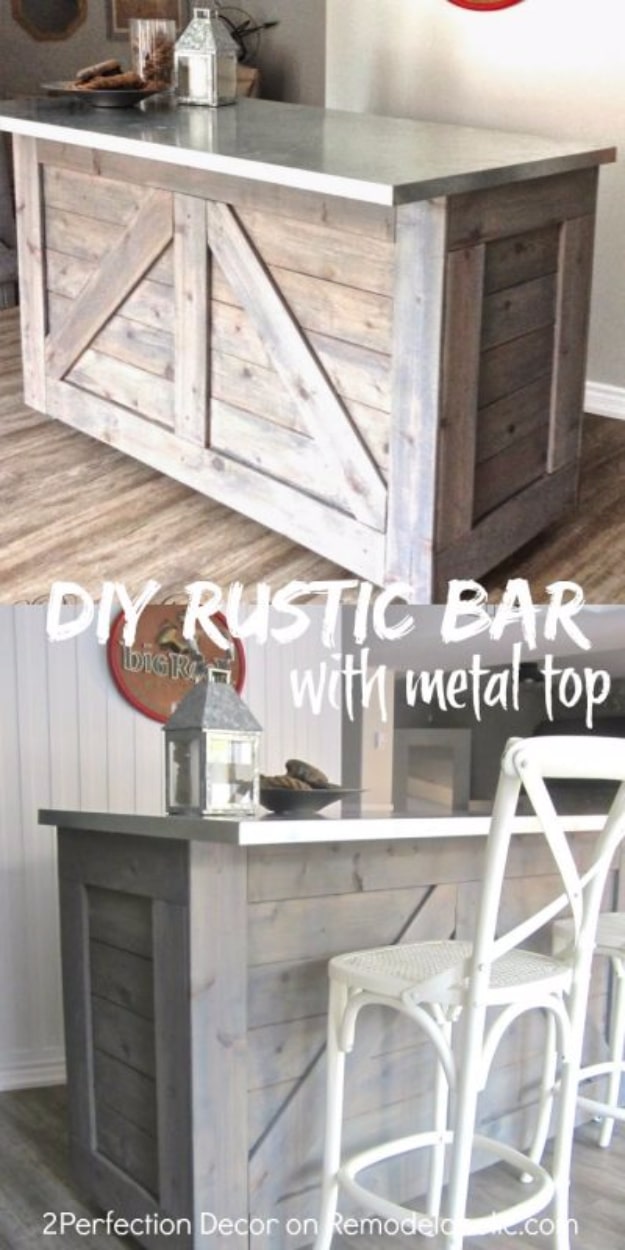 27. Oak Kitchen Makeover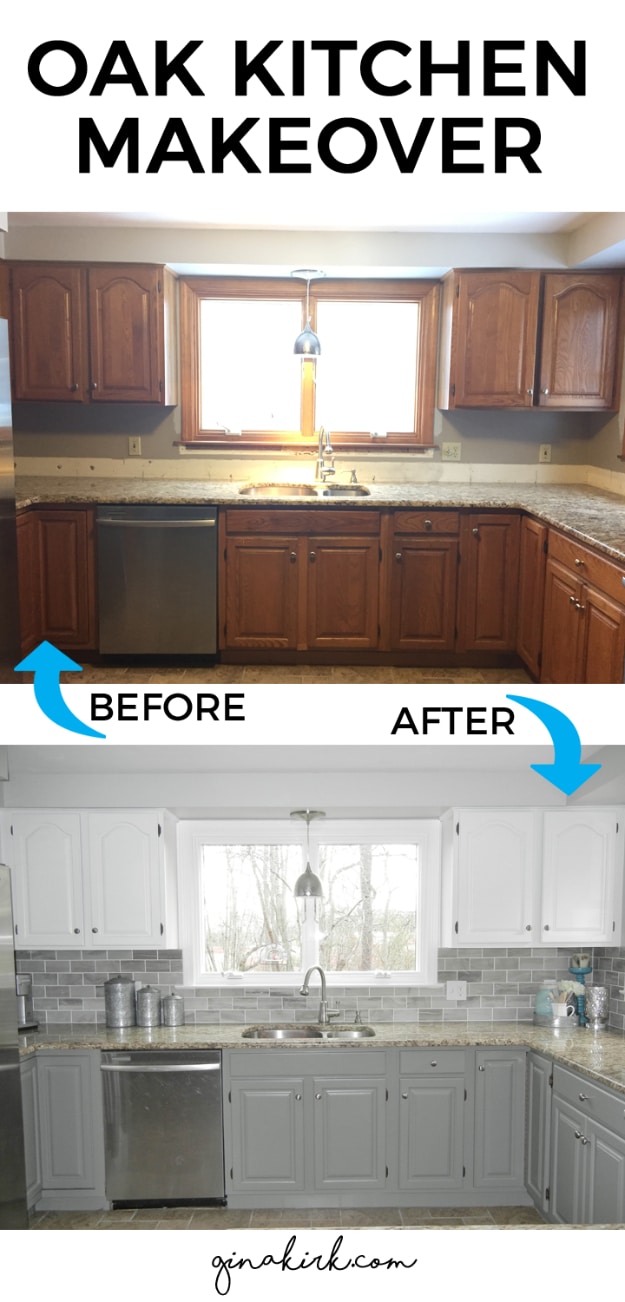 28. Build A Trash Bin With A Butcher Block Countertop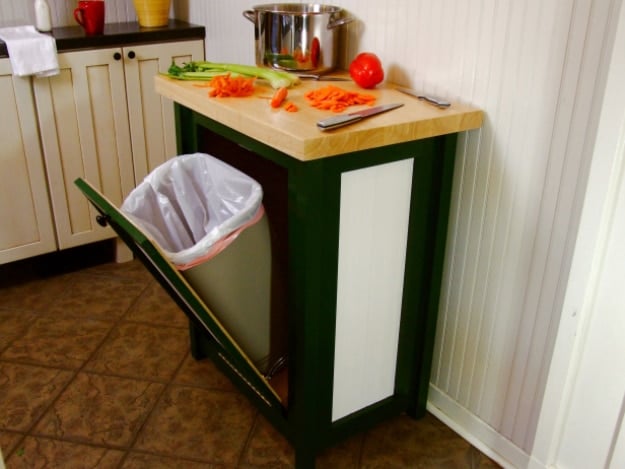 29. Kitchen Remodel With Granite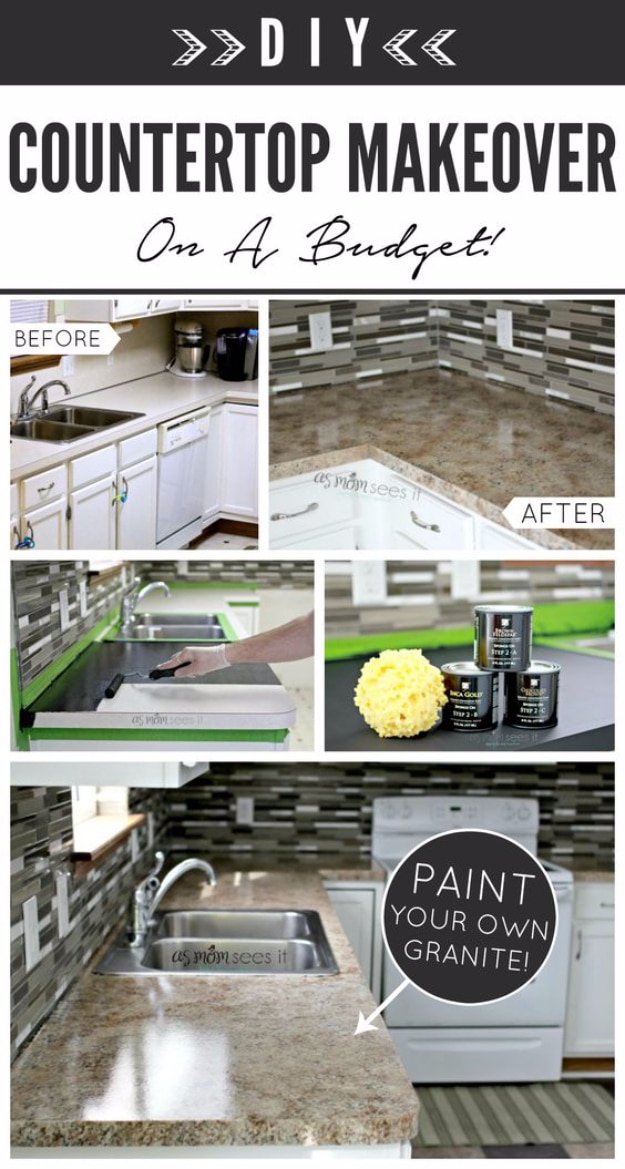 30. DIY Open Shelf Kitchen Island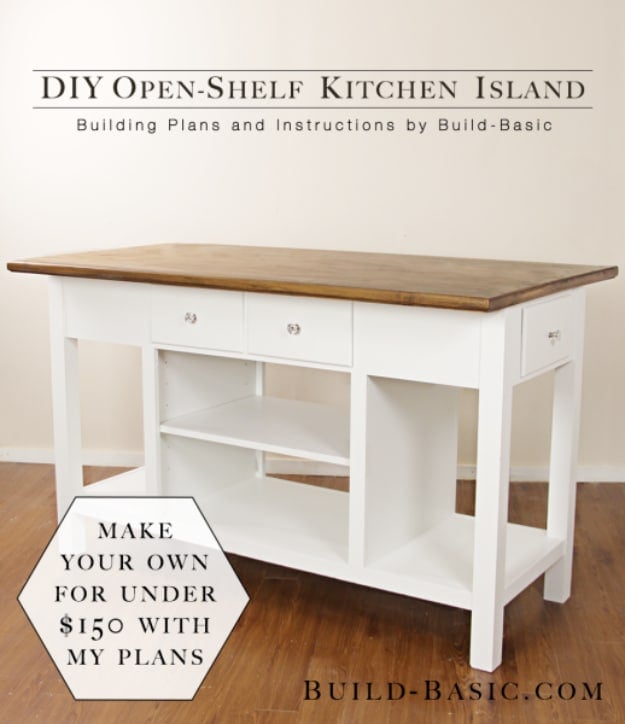 31. DIY Kitchen Island With Trash Storage

32. Industrial Look Kitchen Island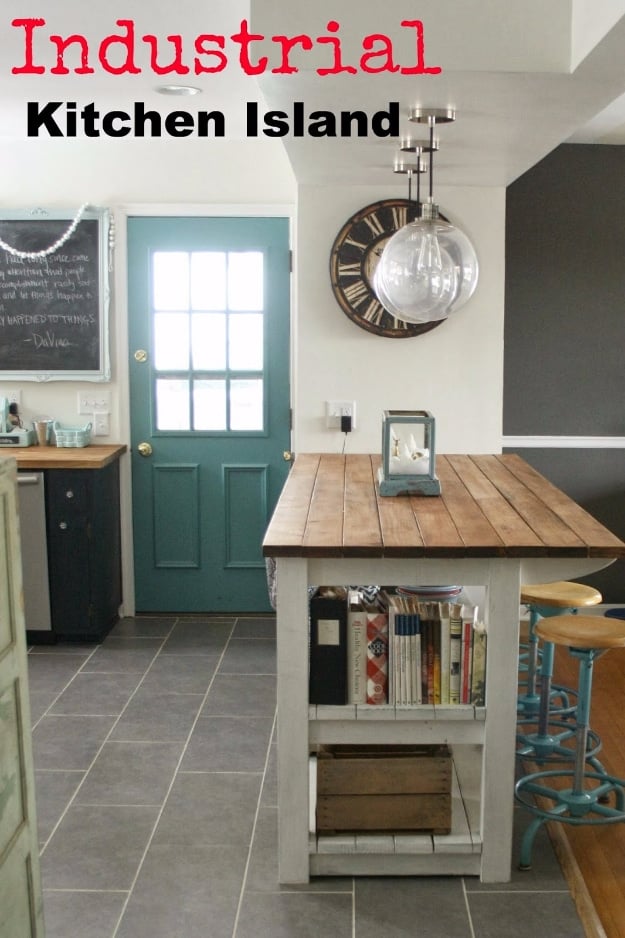 33. DIY Kitchen Island Cart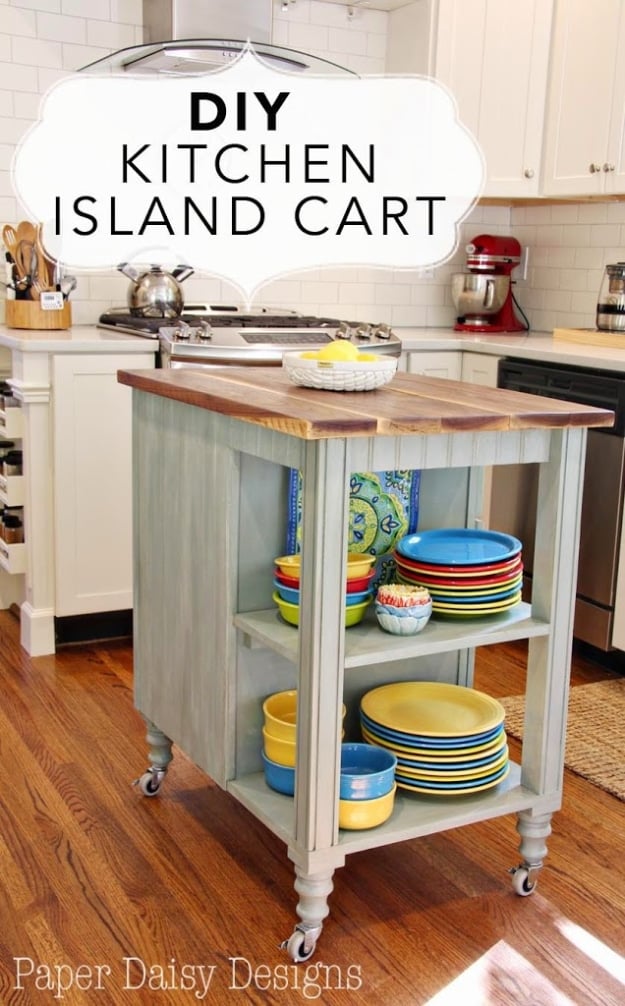 34. Kitchen Island Transformation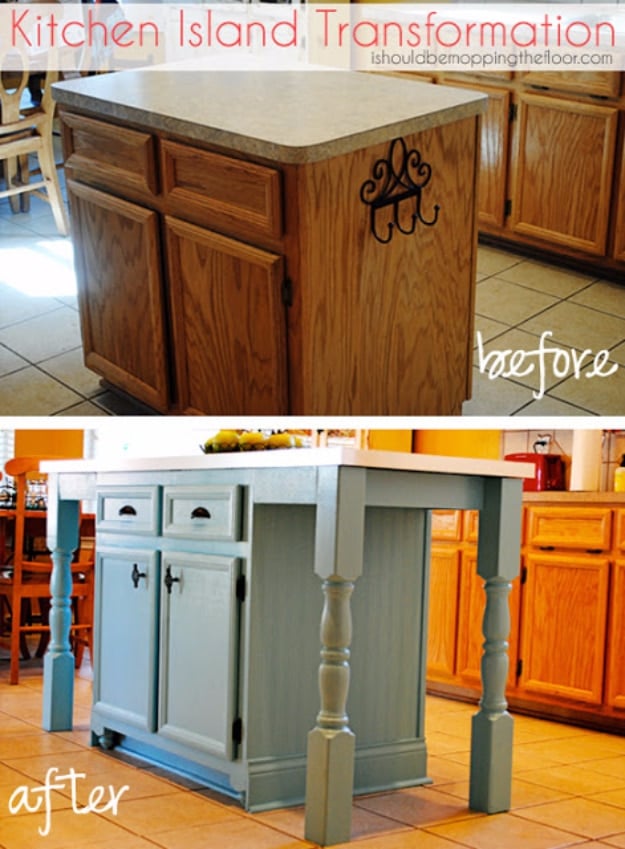 35. Kitchen Island With Built In Microwave Storage Shelf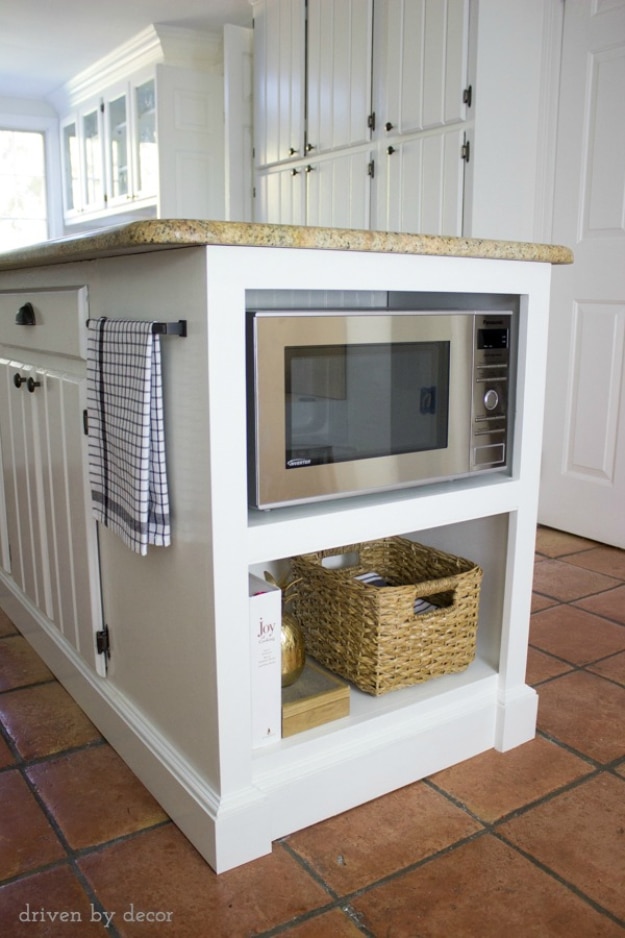 36. DIY Kitchen Island From Dresser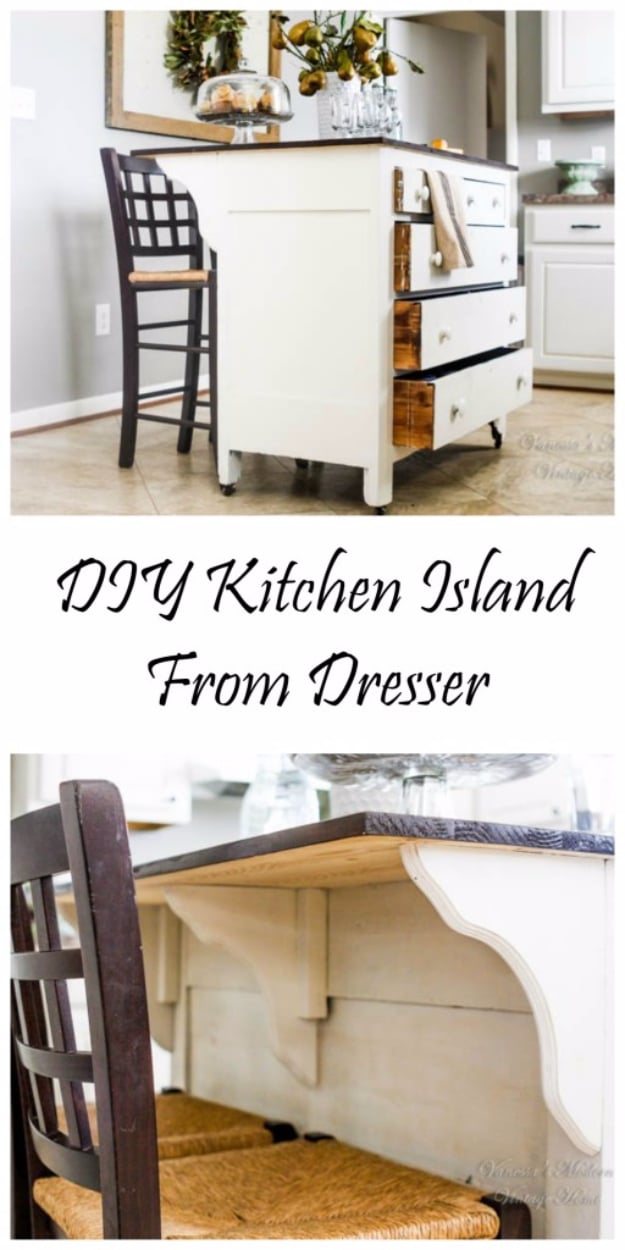 37. Repurposed Wash Tub To Kitchen Island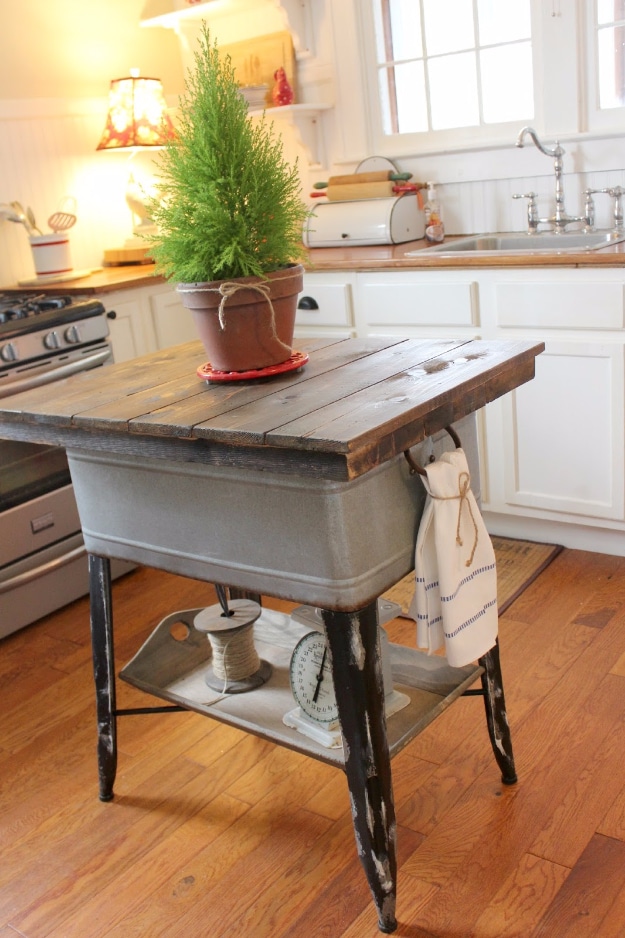 38. Staining And Waterproofing A Wood Countertop