They say first impressions are everything and I have come to learn that this is true. Knowing this, I make sure that the front of my house and entry way always have so cool things in them, lovely pieces which speak of my personality and style. From farmhouse decor and rustic ideas to more modern furnishings, this list of DIYs for your entry way is sure to inspire you to get busy making some new decor for your front entrance. Check out the step by step tutorials to learn how to make some awesome and impressive first impressions.
1. DIY Door Hall Tree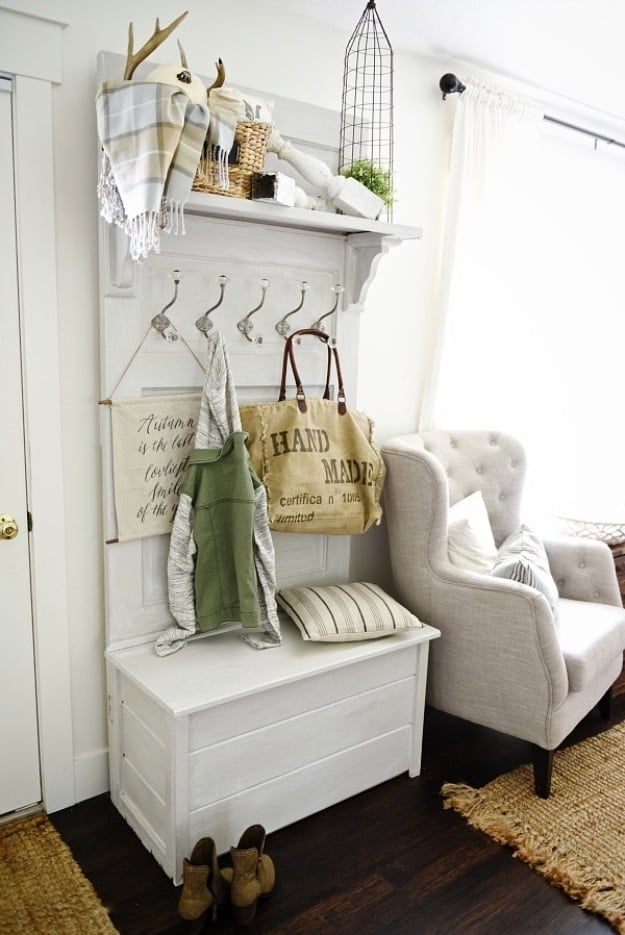 What a fantastic look! Bringing the plants into the design really finishes this off. The styling is spot on and I just love the fact that you could store shoes and hide them in this DIY Door Hall Tree from Liz Marie Blog. This DIY hall tree is budget friendly and easy to build. It's perfect for small space organization, and of course, entryways. It's a fun and doable project so just follow the step-by-step tutorial and gather materials that I bet you already have in the household.
2. Entryway Gallery Wall With Shutterfly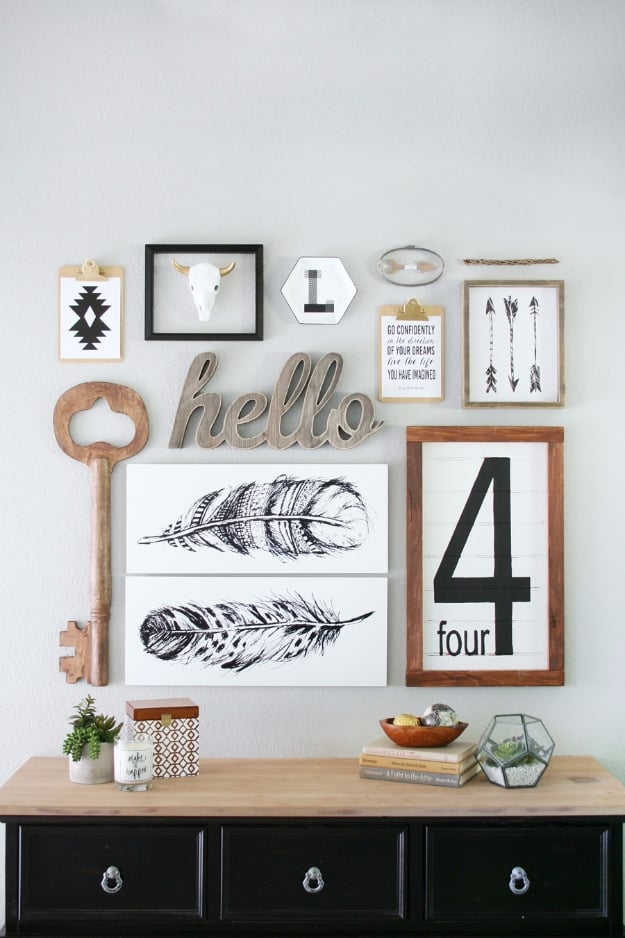 Elevate your entryway with this gallery wall idea from The Crafted Sparrow. There are so many gorgeous aspects to this gallery way and entryway setup! I love love love all these ideas and will definitely be checking out Shutterfly for creating some personalized decor coming up. Can't wait to design and print some things of my own now. The feather prints are too awesome and indeed, this gallery wall is a showstopper!
3. DIY Irish Blessing Sign And Entryway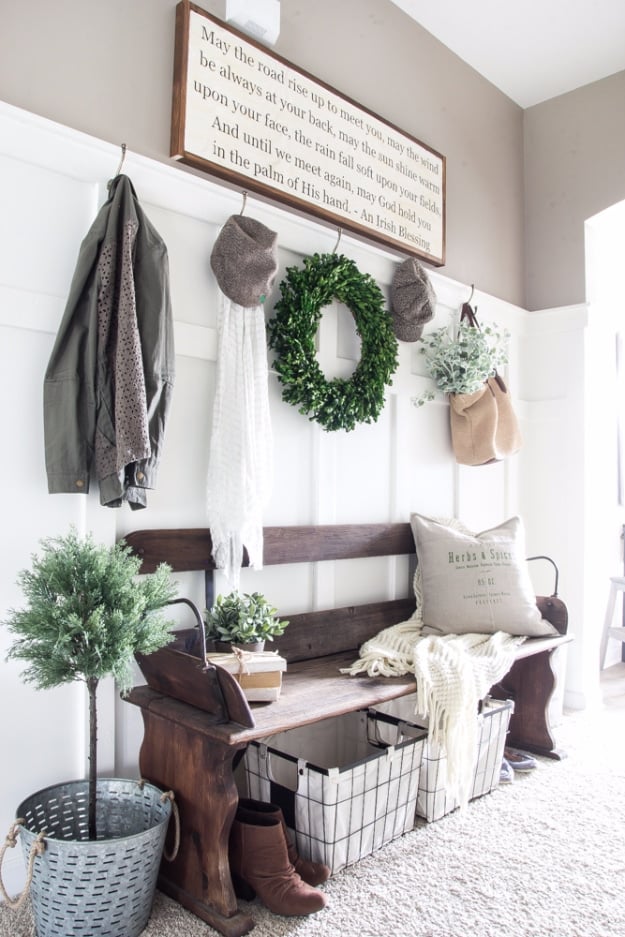 Make your entryway look a little bit cheerful by making this DIY Irish Blessing Sign from Blesser House. I can say that the hallway is drool worthy. I love all the big quote signs and was always wondering how I could get one-never did I think I could make it. What I love about it the most is the fact that it looks so inviting yet it is also functional. What a beautiful home.
4. Entryway Song Lyric Sign DIY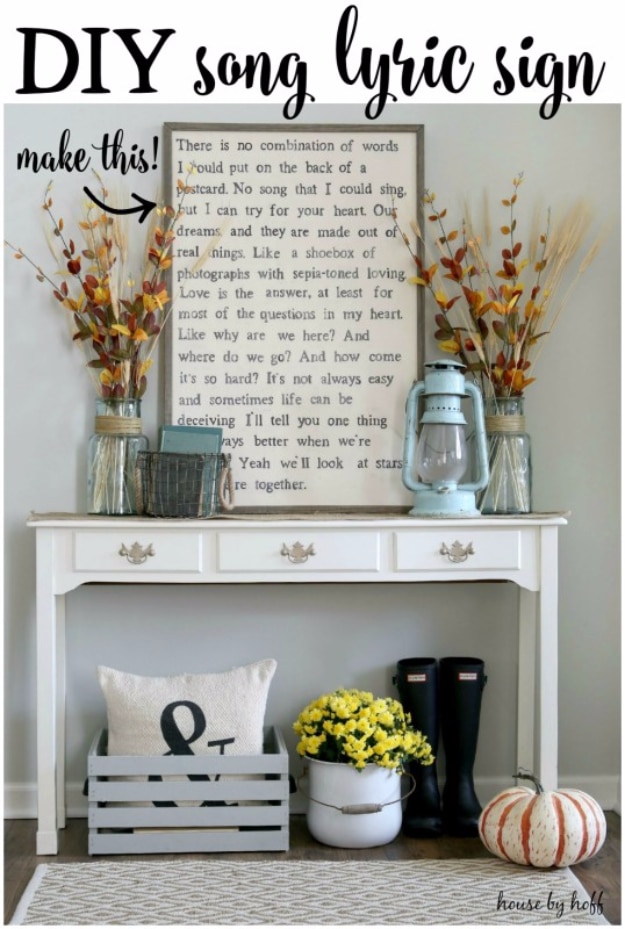 If you are looking to personalize your favorite song then this DIY Song Lyric Sign will show you how to do that! It's creative and makes a great entryway décor. Create a DIY rustic wooden song lyric sign from your choice of lyrics. Step by step tutorial showing how to make a personalized lyric sign is available from House by Hoff. I have been wanting to do something like this with a few quotes and one or two songs to out around my home. I like the simple look of the letters. I will be doing this for sure.
5. Hack A Farmhouse Entryway Table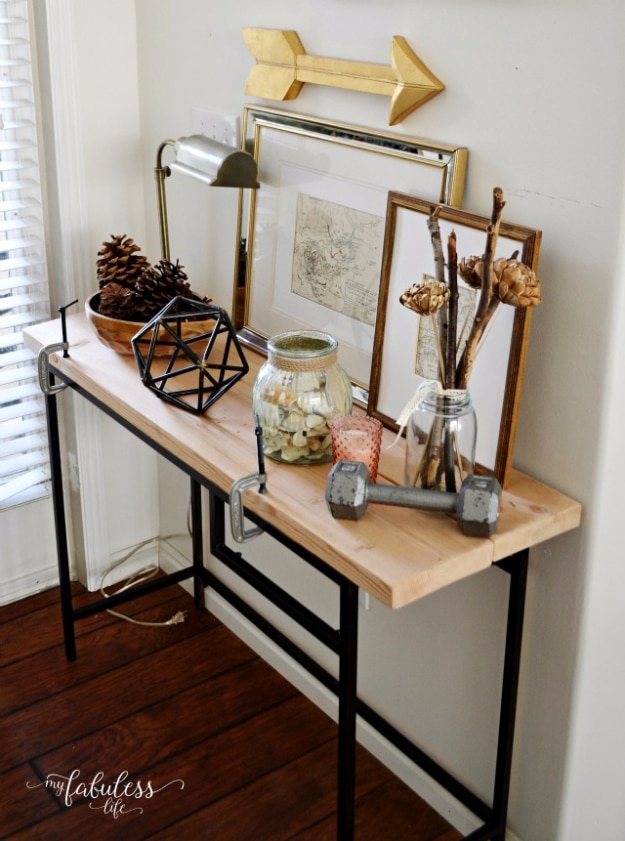 What an awesome hack! I just love the rustic wood top. It looks so great and so much better than the original! I say go for painting the doors and those blanks. It's going to make the whole entry pop. Now I want to buy that IKEA desk but will have to have it shipped, no IKEA where we live. Probably good thing or I'd be broke all the time, too much good stuff there.
6. Vintage Theater Seat Entryway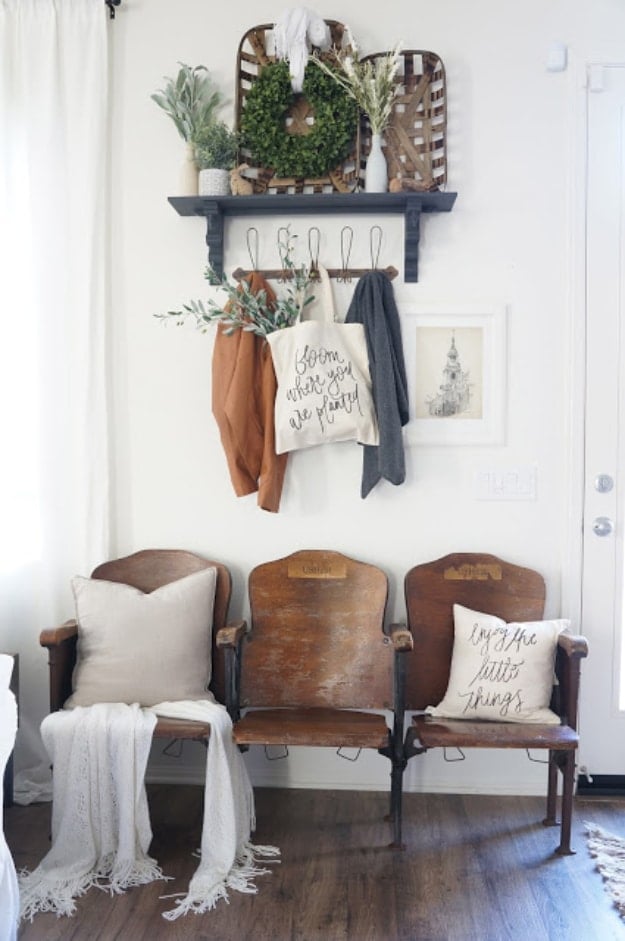 Okay, now this is a brilliant idea! It's so creative. I can't resist an old chair + love a re-do! These are one of my favorite how-tos. This Vintage Theater Seat Entryway is a perfect welcome to greet your visitors. It also gives your entryway a unique and charming look. Such a restful and relaxed atmosphere!
7. Floating Copper Shoe Rack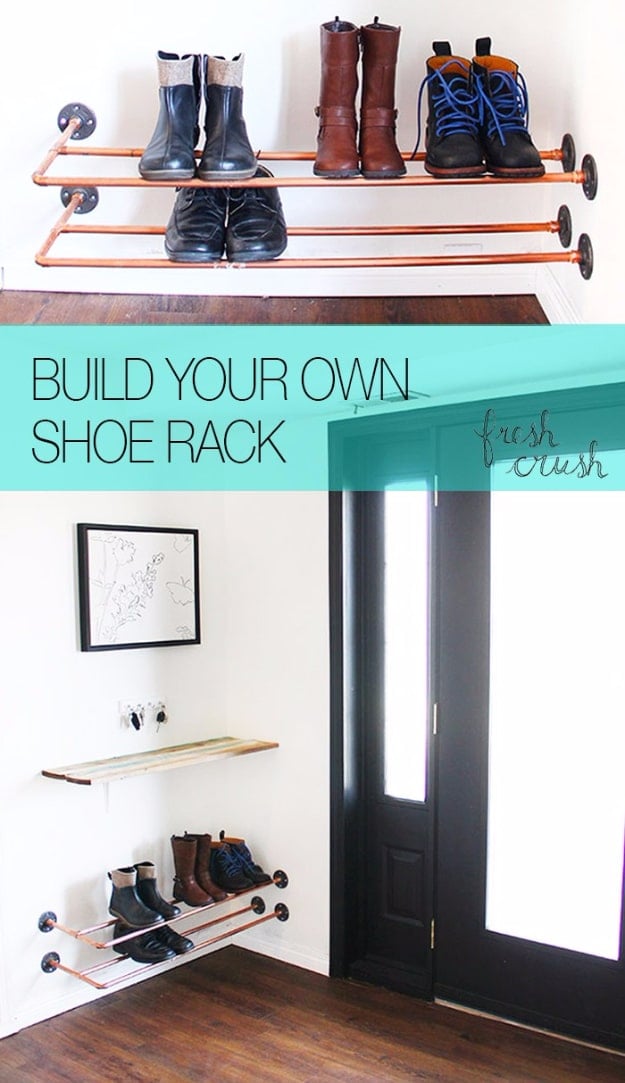 I searched Pinterest for a cool floating shoe rack that I could DIY and I definitely found the perfect one! This Floating Copper Shoe Rack is not just functional but also a feast for the eyes in your entryway. What a total inspiration. This is so clever and beautiful!
8. Entryway Pallets and Crates Organizer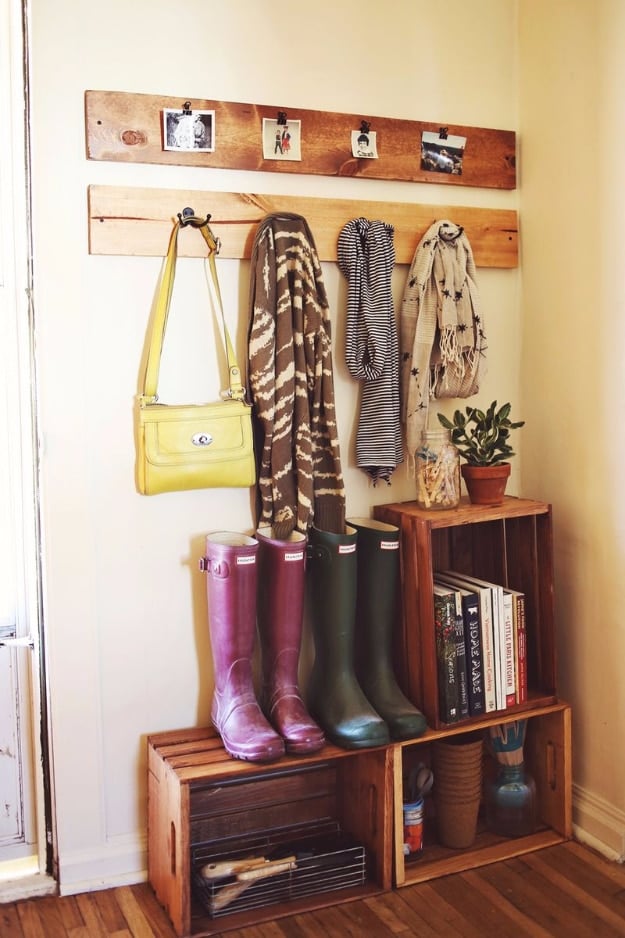 I'm in love with those wooden crates/boxes!! Lovely idea and cute photos to make you smile every day. So functional and looks really effortlessly stylish. I like the boots lined up, so cute! We keep all of my son's toddler shoes and boots in a crate by the door too. The clips for photos is such a nice personal touch! Love the mudroom. How inventive!
9. Repurposed Shutters Entryway Wall Decor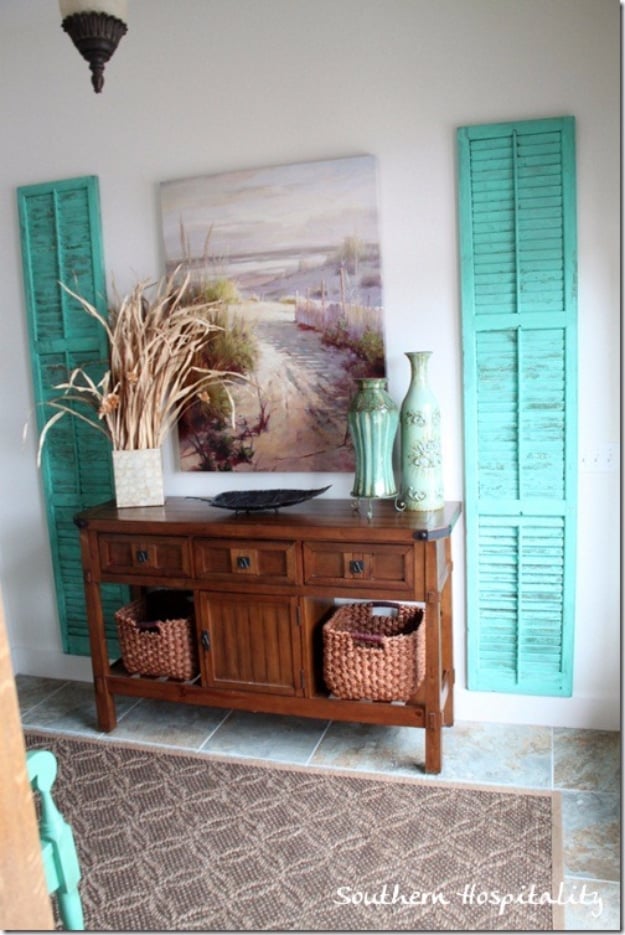 Repurposed shutters give this entryway a shabby chic look. What a cozy and inviting farmhouse entryway decorating idea. Inside the door is a nicely decorated foyer and it just screams beach, doesn't it? I just might have to borrow this shutter idea. Love this DIY idea from Southern Hospitality Blog.
10. Repurposed China Hutch Top Into Coat Rack Shelf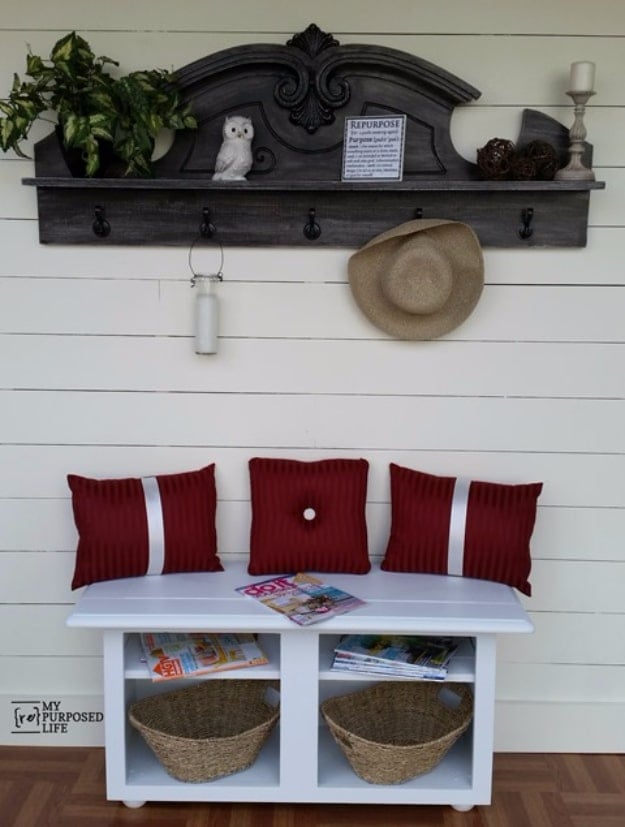 I love the finished product. I have a pediment that has been collecting dust out in my shop for a couple of years now. This DIY has definitely given me inspiration. I really love the way this turned out. It's really pretty and totally functional too. The top of the headboard is totally eye catching, the finish is lovely, and the hooks are perfect!