Looking for some cool gift ideas you can make for your boyfriend, husband, brother or Dad? When it comes to awesome DIY gifts for men, things are not always considered so cool by guys. Some of the things I saw suggested on Pinterest? Please, he would laugh for an hour if I even thought about giving him one of those. Whether you are looking for a handmade keepsake to give your special guy, a handy gift idea to help him with his DIY endeavors or something quick and easy to let him know how much you think of him, we have the perfect DIY gift idea for guys here. From grill tools to wallets, gifts in a jar to fun mancave decor ideas, there is truly a little something for everyone. Don't let Christmas or his birthday sneak up on you this year before you get a chance to make one of these cool, manly DIY gifts.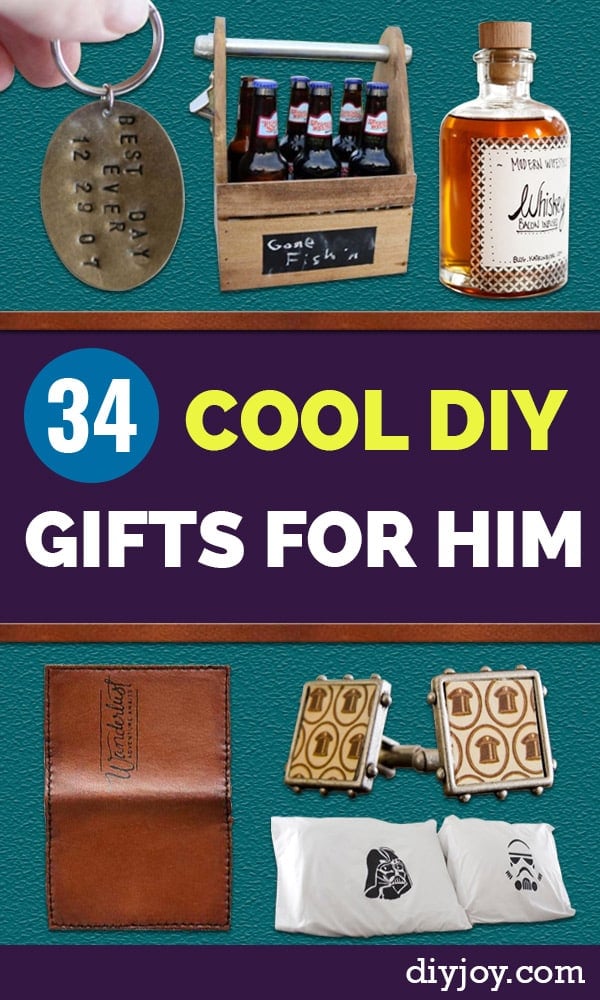 DIY Gifts for Men
1. Leather-Wrapped Grill Utensils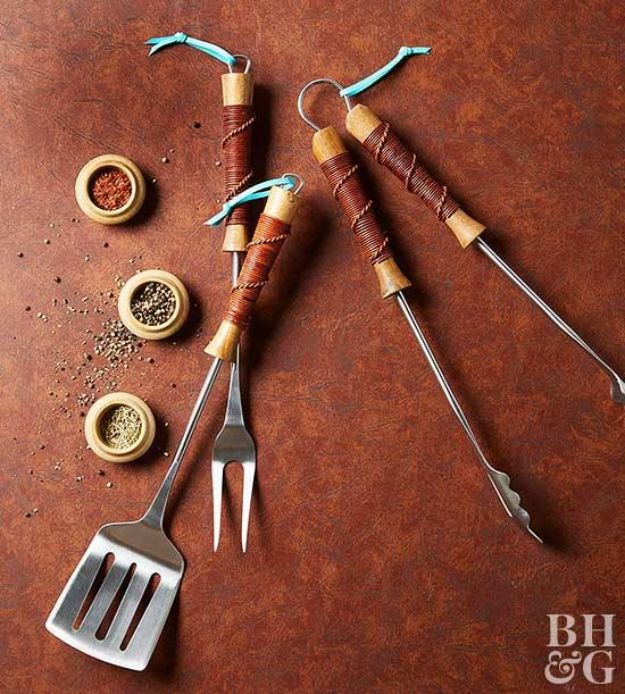 If he loves spending time outdoors manning the grill, he needs these stylish and super functional grill tools. DIY your way into his heart by making these, they make the perfect DIY Christmas gift idea for guys, and we promise he will love opening them, as well as using them.
Easy String Art Projects
If you can hammer nails and twist string, this just may be the project to give to your guy. Print your choice of graphics or use these for inspiration. String art is super popular right now, and no artistic talent is required to make it. Plus, this craft idea is fun to make. Get creative with your colors and art on these.
Be sure to follow us on Facebook for more cool craft videos. Click on the video above to see our profile.
2. Bacon Infused Whiskey

Mmm. Bacon. What man does not love bacon and whiskey. When you combine the two for him with the special handcrafted spirit, he is sure to be in love. Easy to make, this one of a kind DIY gift idea for guys is sure to impress him. I love making these for Christmas gifts for all of the special men in my life, but I think my husband loves this one most of all. This is now a standard expectation of a stocking stuffer for him, but it is fun to make, and I use my brush lettering skills on the tags, making them all creative and different.
3. Tiny Travel Album In A Box

Love to travel with him and have lots of special memories from trips you've taken together? What better way to make a thoughtful gift for him than to have it include those cherished travel pics, all of the Instagram shots and photographs you love are printed and permanently displayed in a keepsake photo album. Love this DIY gift idea for husband, boyfriend or even Dad. All guys are sure to appreciate that you made this for them. One of my favorite DIY gifts ideas for Men Pinterest has ever served up to me, I've now made three of these for special guys in my life.
4. Beer Brownies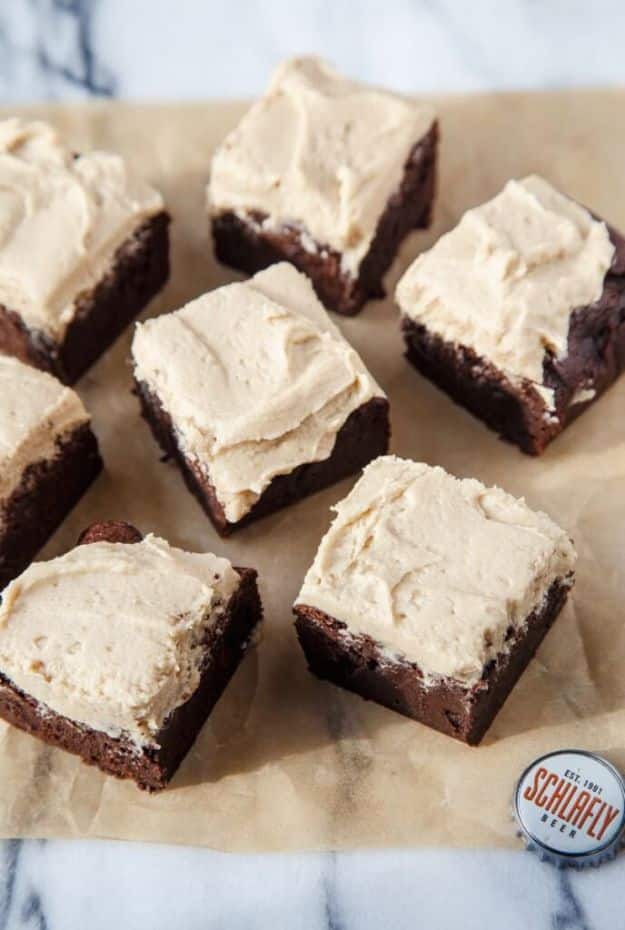 There is no day that has to be special for you to whip up a batch of these homemade beer brownies for him. I love making these to say I am sorry or "just because" These brownies may sound weird, but you just have to trust me and try them. Box them up in cute wrapping and give them to him as a surprise gift, perhaps with a 6 pack of his favorite beer.
5. Cuff Links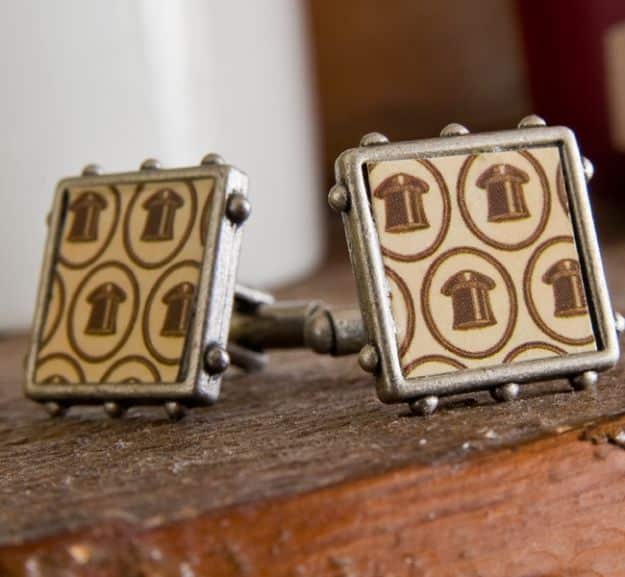 I just love French cuffs and cuff links, and every year, I give my husband a new set of cuff links. The last few years, I've decided to make DIY cuff links so they would be an even more special Christmas gift, and this is my favorite pair to make, complete with a step by step tutorial. If you are looking for a creative, thoughtful handmade gift idea for him, I highly recommend this project.
6. Leather Bag into a DIY Passport Cover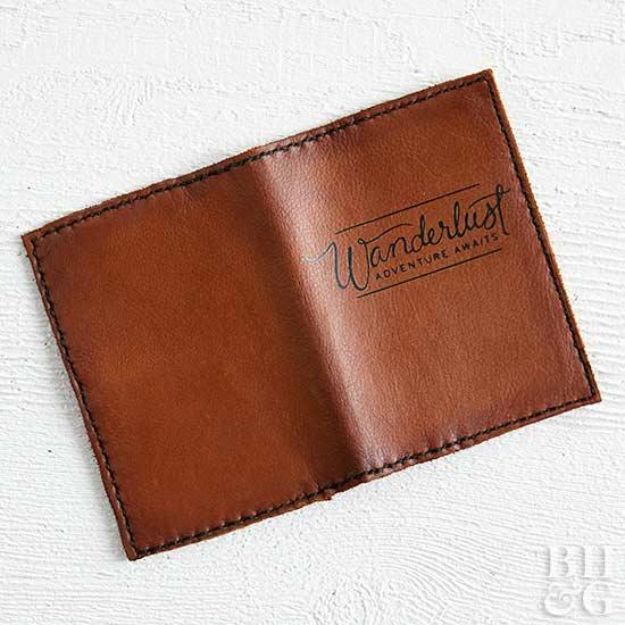 For all the travelers with Wanderlust, there really can't be too many travel-related gifts, in my opinion. Leather crafts are a super cool thing to make for guys, and I've had much fun learning how to craft with leather, too. Make this passport holder as a DIY gift for him and learn how to hand stitch a leather cover, a skill which comes in handy later, as you can also make belts, journal covers, keychains and business card holders by just cutting and sewing DIY leather crafts.
7. Surprise Treat Tray

When thinking of anniversary or Valentine's gift ideas for him, some of the most thoughtful things you can give him actually are not expensive and certainly don't have to cost a lot of money. Surprise your boyfriend or husband with this sweetheart tray complete with champagne and chocolate-covered strawberries. He can't help but love this – and you.
8. Easy DIY Sports Blanket

Here's a DIY gift idea for men that love sports, an easy DIY sports blanket he can use at home or even take to cold outdoor sporting events.
9. Bay Rum Aftershave

Learn how to make aftershave that smells amazing and has a cute handmade tag you decorated. Every morning when he uses it, he will think of you, plus it smells really great, so you can enjoy this gift for himt, too.
10. Picture Bookmark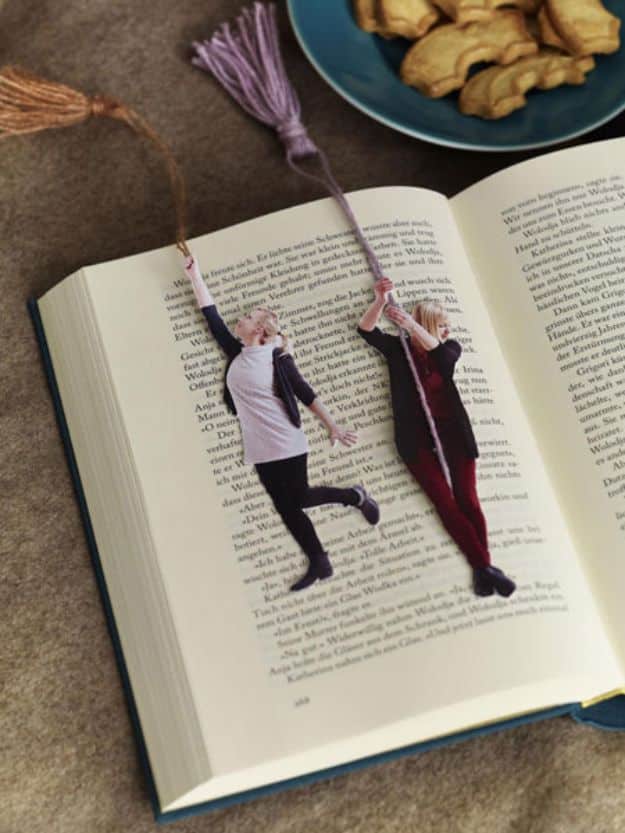 Need a cheap DIY gift for him that is cute and thoughtful? I simply adore these cute handmade photo bookmarks, especially if he is a reader. Give this to Dad for Christmas, husband for his birthday, boyfriend for Valentine's Day or your brother any time you want to annoy and entertain him 😉
11. DIY Tiny Message Photo in a Bottle

This message in a bottle idea is probably the cutest and easiest way ever to give your significant other. It's super easy, cheap and takes only a couple of minutes. So, if you want to surprise your boyfriend, your best friend, your neighbor or your dog on Valentine's Day with something self-made – this is the perfect gift.