Need some cool DIY gift ideas for Dad? Sometimes our fathers are the most difficult people to shop for, even though they are some of the most special people around. Why not make something for your Dad this year instead of looking around in stores for hours and coming up empty handed? Your father is sure to appreciate something you made for him more than anything you could buy, anyway. Check out these cool step by step tutorials for quick and easy Christmas gifts on a budget and arts and crafts ideas your Dad will cherish forever. From travel bags, to gift sets and kits, you are sure to find something both you and your father will love. Whether you are looking for some awesome DIY Christmas gifts for Dad or a handmade birthday gift idea for your father, perhaps just something you can make to show him how much you love him, these manly crafts are sure to please.
DIY Gifts For Dad
1. Dad's Travel Bag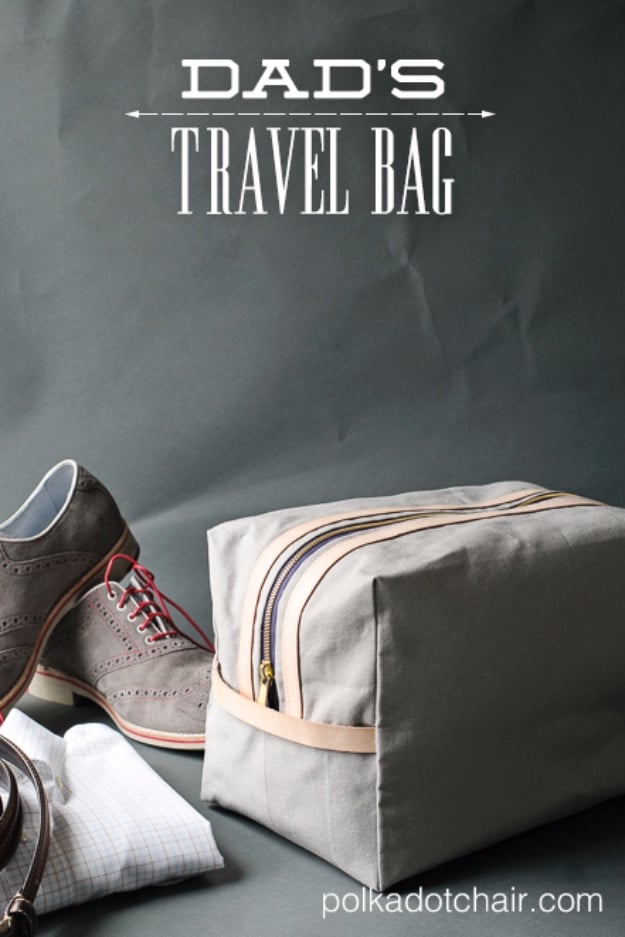 I made this top DIY zip toiletry holder for my husband on Fathers Day. He goes to the gym during his lunch hour and needed something to freshen up with. I chose a cotton faux chamois style fabric with a leather trim, that I always have in abundance here because leather spells love in my book. Hubby loved it, but this DIY project does require intermediate level sewing skill for the zipper installation, but once you get it down you'll be popping them out like hot cakes.
2. Handstamped Handkerchief DIY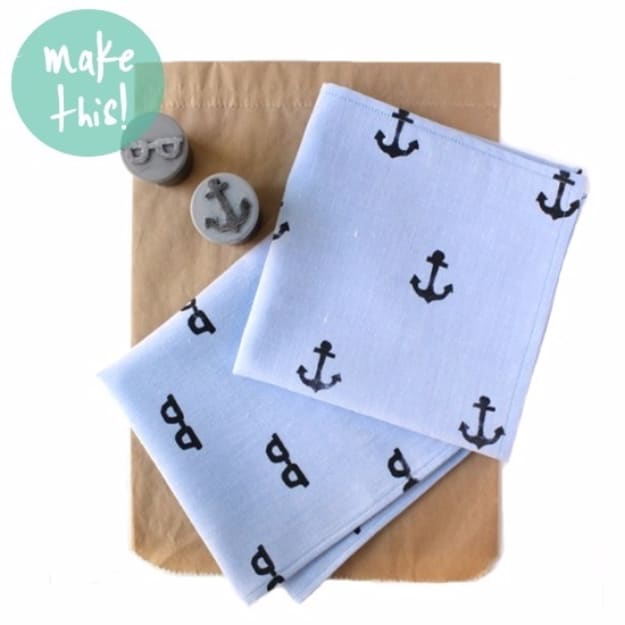 I wanted to include the kids on a DIY craft graphic Hand Stamped Handkerchief for their Dad on Father's Day. Easy enough to bust out as a last minute DIY Father's Day gift (wink wink!) and simple enough for even the youngest of crafters to help. Dads always love handmade gifts, especially when they also have elements of practicality. All you need is some handkerchiefs, ink and a stamp, so let's get stamping! You can try to align your images, or just go for it freestyle. Letting some of your images bleed off the edge will make it look like the fabric was printed professionally.
3. DIY Leather Cord Roll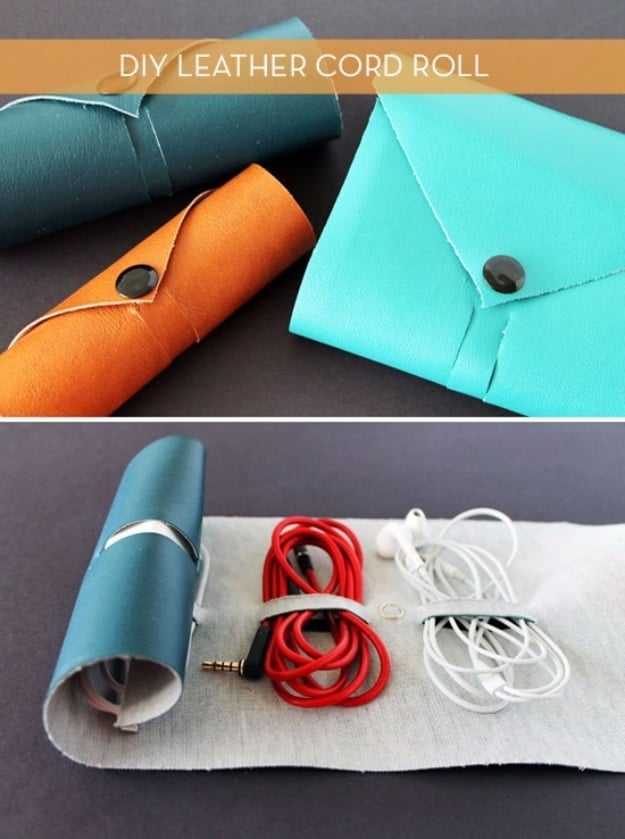 My son and I wanted to get Dad the perfect gift for Father's Day can be easy creative and fun when you set your inner DIY creativity free. One thing most men need help with is organization. Get a headstart on your dad's present by making this crazy simple leather project to help him keep things in order! This leather chord roll can be created in an afternoon and is automatically fancy because of what it's made of. The clean lines make it appropriate for men and your dad will appreciate the thought!
4. DIY Necktie Zip Pouch
I made two of these this year for Father's Day gifts, one for my father-in-law and another for my Dad. They both loved these awesome handmade bags that are created from the ties of your choice. Creative DIY gifting at its best. I found a bag of men's ties at Savers and remembered this fantastic DIY gift idea I saw on Pinterest. The sewing instructions were super easy to follow, its a fantastic little DIY project for the novice hobby sewing person or the well-versed seamstress.
5. Golf Towel Tutorial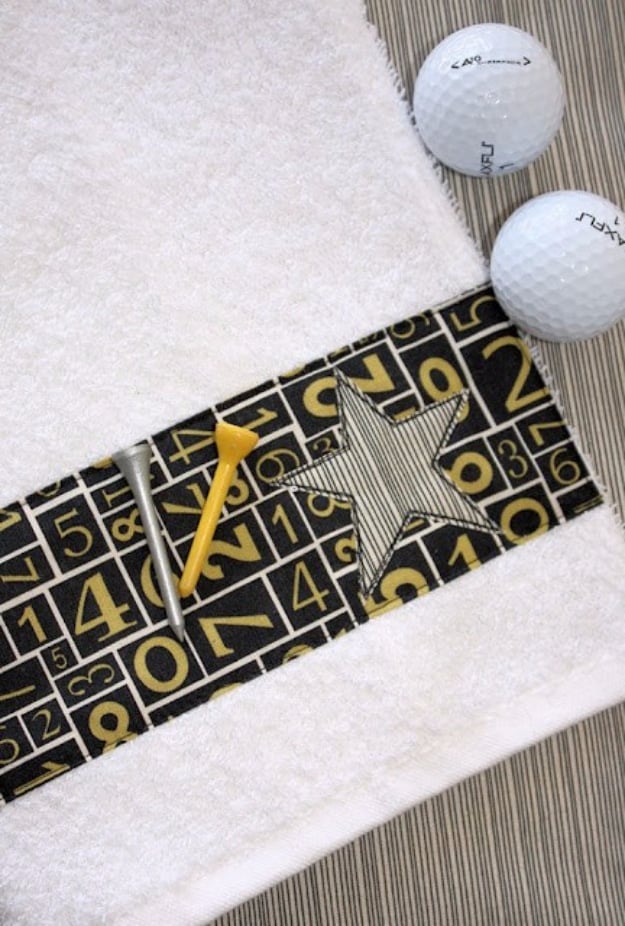 My daughter wanted to make a DIY craft project for her Dad for Father's Day. Her Dad is a keen golfer and plays a couple of times per week. Golf accessories are always a great gift idea for him and as we know they will be put to good use! If you are looking for a gift idea for your Dad for Father's Day, this is a fun project idea. There is a great range of fabric prints suitable for men available now. She used prints with a numbered scoreboard theme.
6. DIY Leather Mason Jar Mug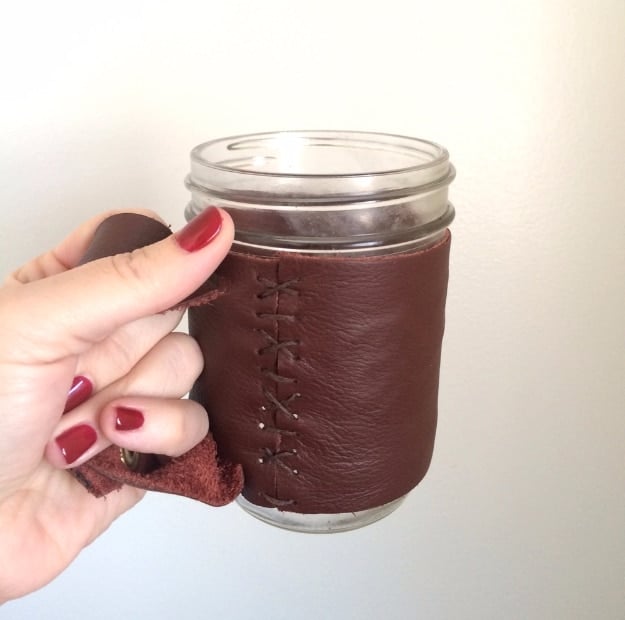 We have a cute local coffee shop in downtown Austin. They serve coffee out of felt wrapped jars instead of cups. I needed a Fathers Day gift for my coffee loving Uncle so I thought "Hey let's make these DIY leather cups at home but instead of felt, let's use leather." We already had a few random thrifted mason jars at home already. I found some scrap pieces of leather and began crafting our own version. My Uncle loved it, and said he will treasure bit always.
7. Wooden Phone Amplifier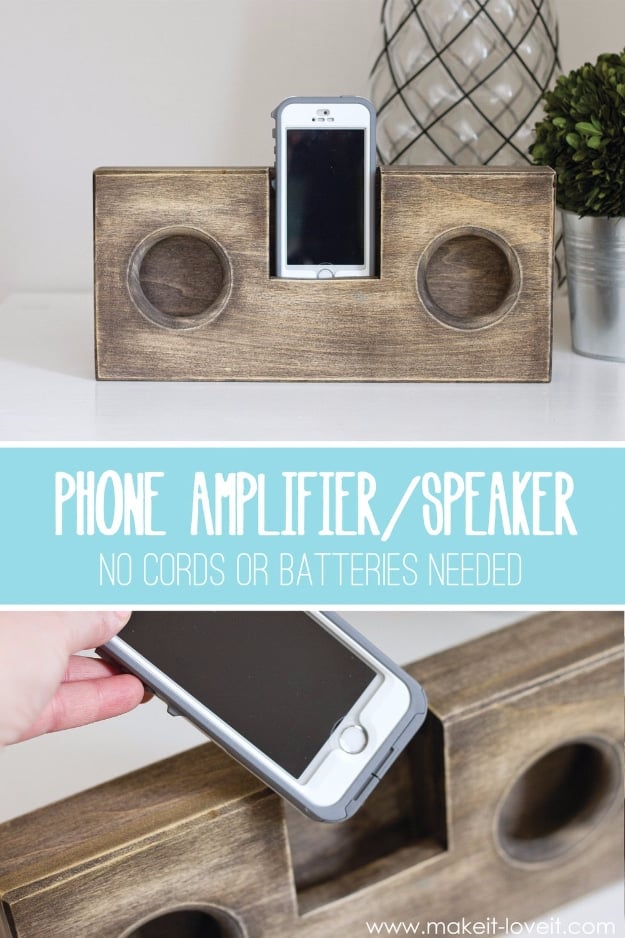 My Husband and I listen to music all the time in this house. Most of our music is on our phones, so we can easily turn on something to listen to driving in the car, while doing dishes, when we're outside playing while showering or getting ready, etc. However, even though the sound on our phones is pretty good, It's not really loud enough. We have a Bluetooth speaker in the kitchen that works great, but sometimes it's a pain to haul around to different rooms, the garage, outside, etc. Instead of buying a Bluetooth speaker for every location in our entire house, we made a really inexpensive alternative, that also blends in with your decor.
8. Easy DIY Race Medal Holder Display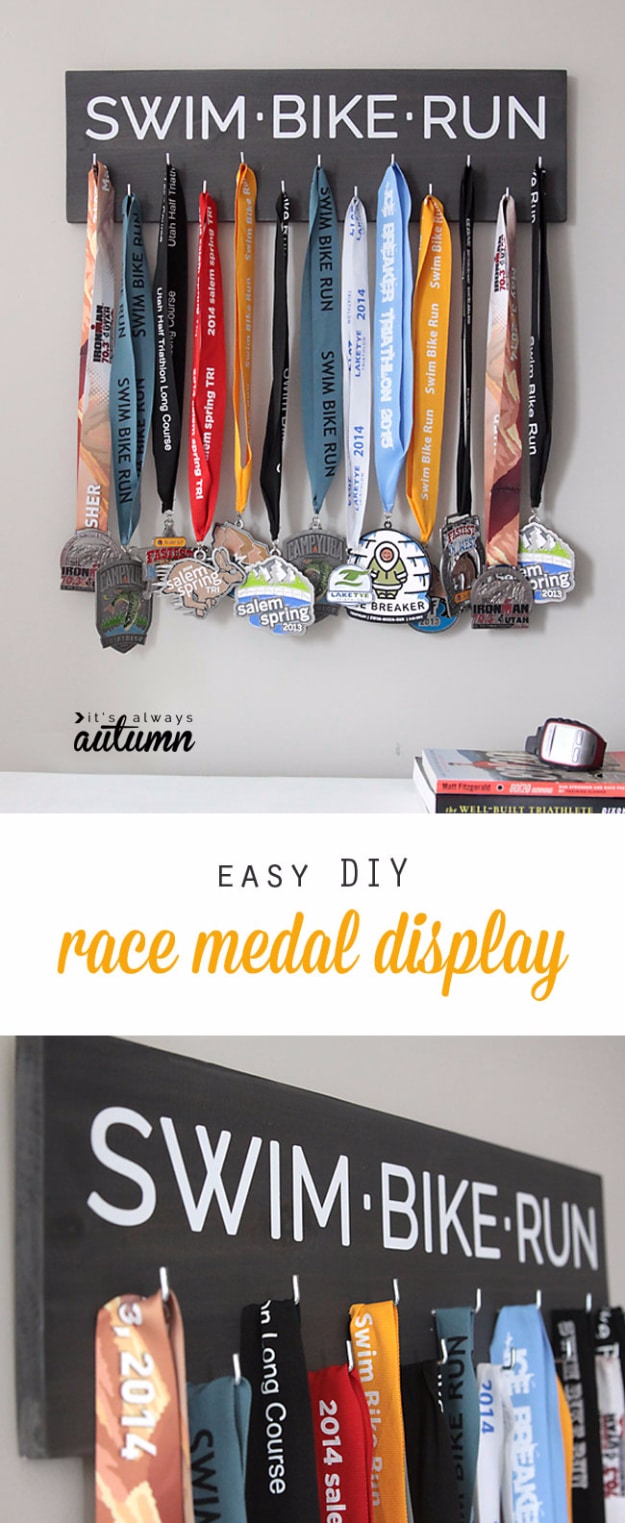 My Cousin competes in triathlons and was in need of a Fathers Day present. He puts in hours of training each week and collects race medals that started piling up in his drawer. I've been so impressed with his continued work and improvement that I really wanted to get him some sort of race medal display for our 16th anniversary last month, but I couldn't find any that I really liked. Most of the ones on Amazon were pretty pricey ($60) and didn't seem like they'd even fit that many medals. So I decided to make one instead, and for an early father's day present, I gave him this race medal display. It was really simple and he loved it.
9. Baggo Game Set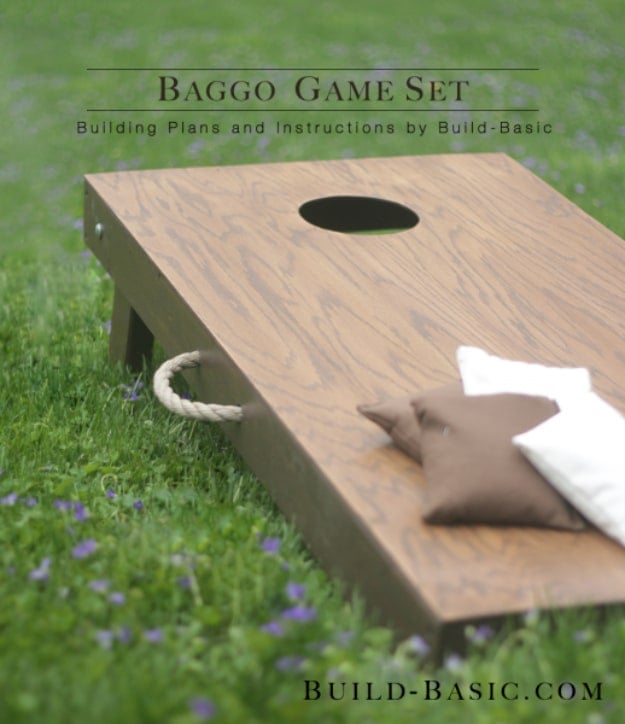 I made my Husband this DIY game project for Fathers DayIf you're from the Midwest like me, Baggo (aka Cornhole) is a staple at every family gathering, tailgate party, and any other outdoor gathering you can think of. The parts are easy to assembly, and the swing-out legs make it easy to stow away or take on the road. If you're planning an upscale gathering, stain the deck boards a classic dark color like ours, or stencil in your favorite logo for game day. At 24×48 inches, our board is "competition size", but the deck can easily be scaled down or the 2×4 frame swapped for 2x3s to make the assembly lighter on the go.
10. Leather Card Holder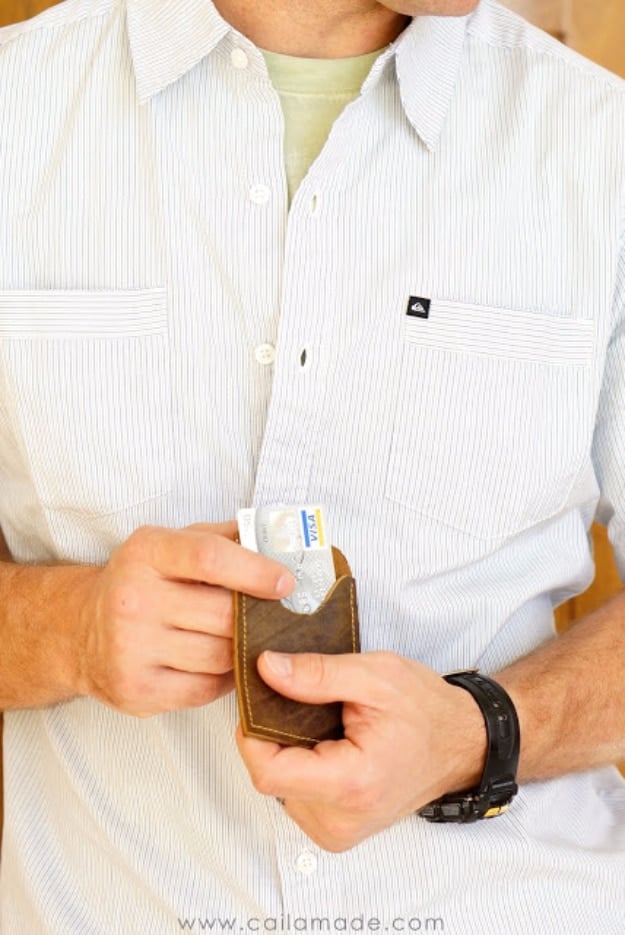 If you can cut a square out of a scrap of leather then you can make this DIY project. I made them for all the men in my family for Fathers Day, and they all loved them. I sewed them all on a machine but you can use Leather Weld from Tandy Leather, It will do just fine. For an extra decorative appeal, you can top stitch over the glue by hand.
11. Reversible Biking Hat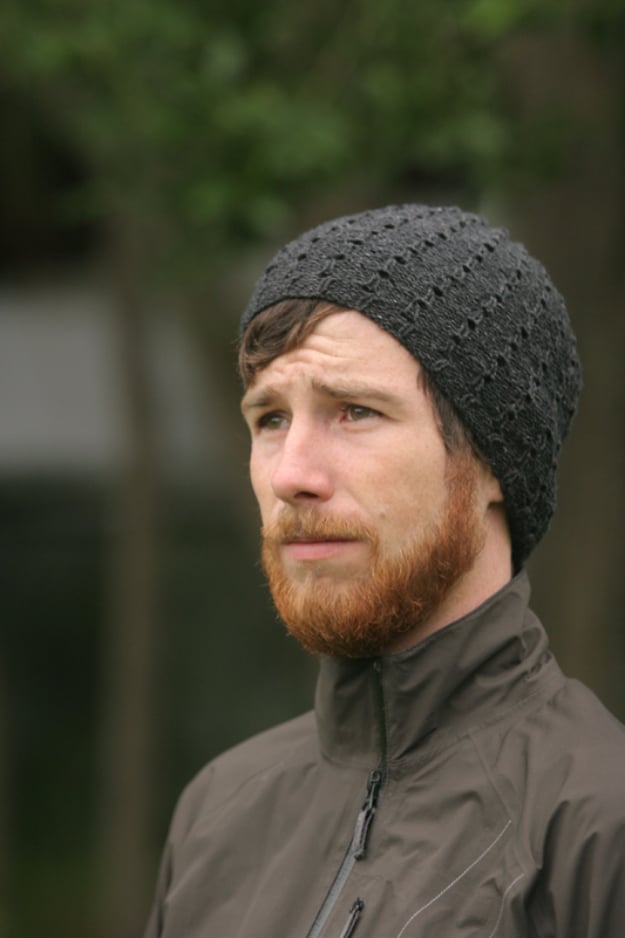 12. DIY Bacon Candles

13. Dad's Toolbox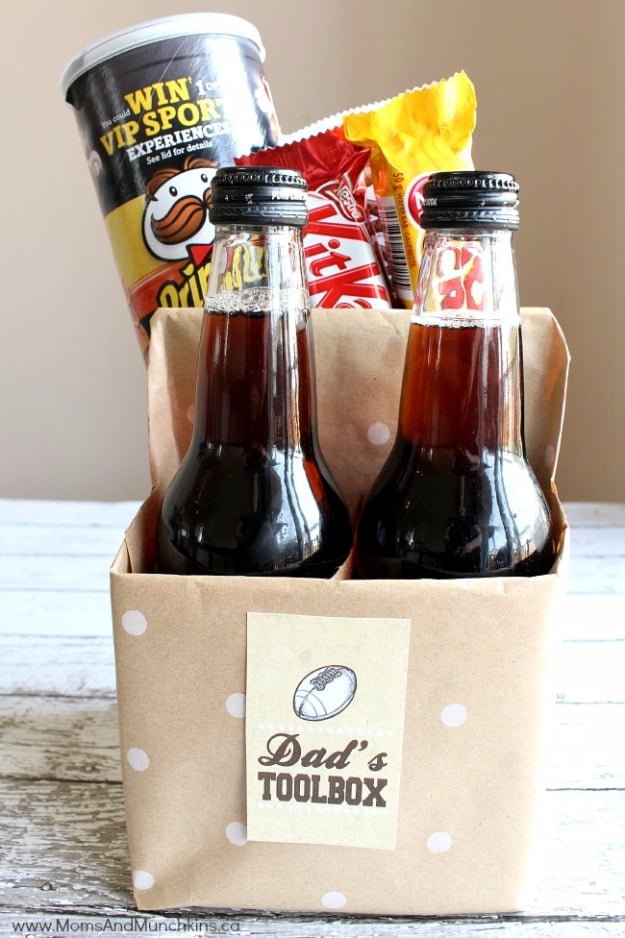 14. Mini Pool Table in a Tin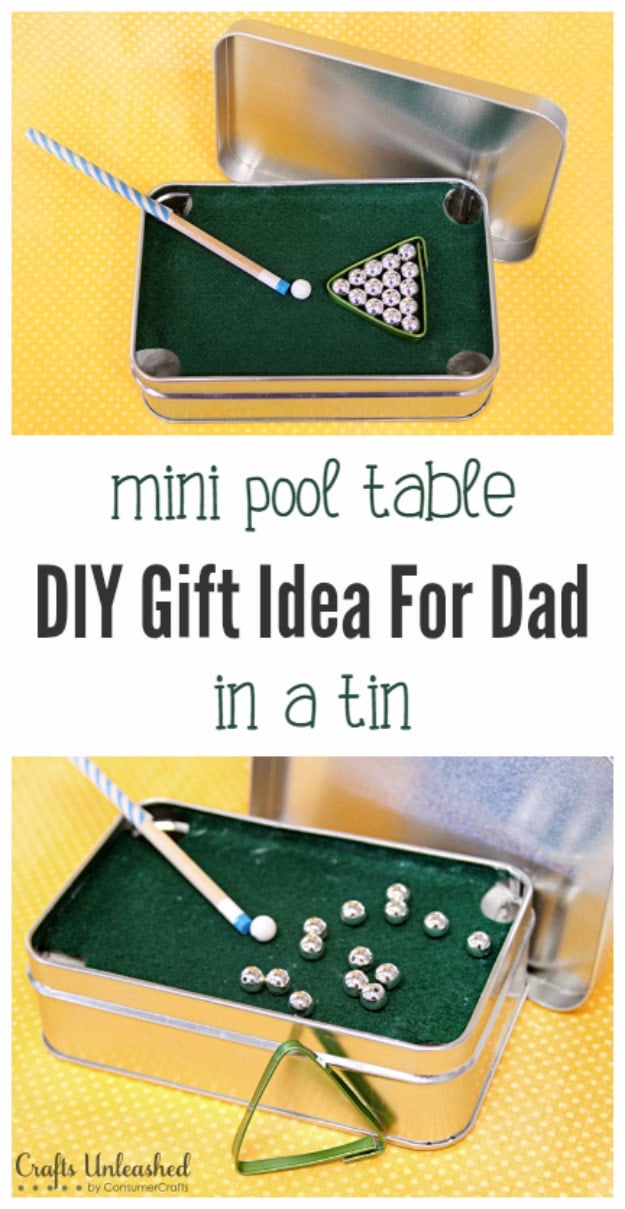 15. Monogrammed Leather Dopp Kit Tutorial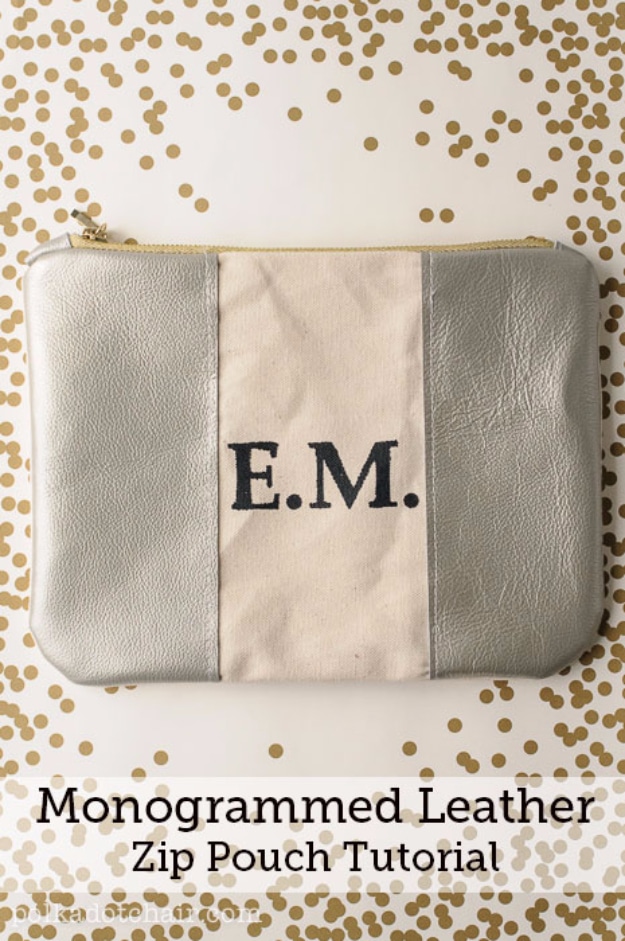 16. Sharpie Mug For Dad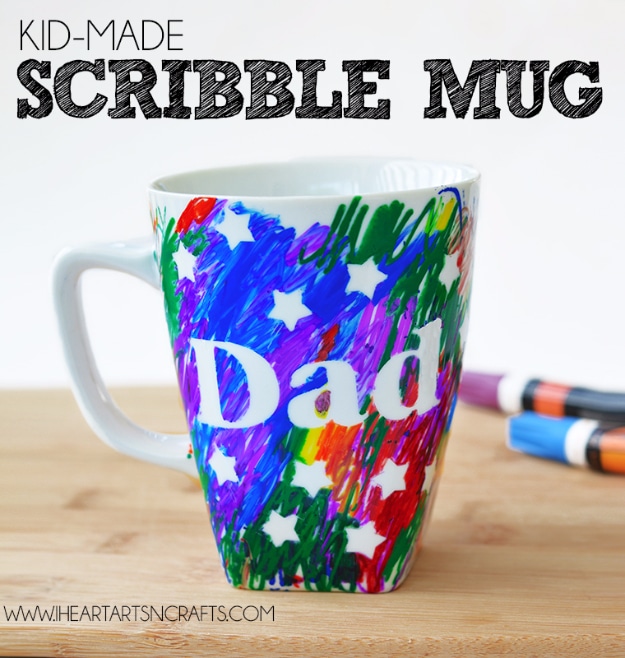 17. Rustic Frame For Dad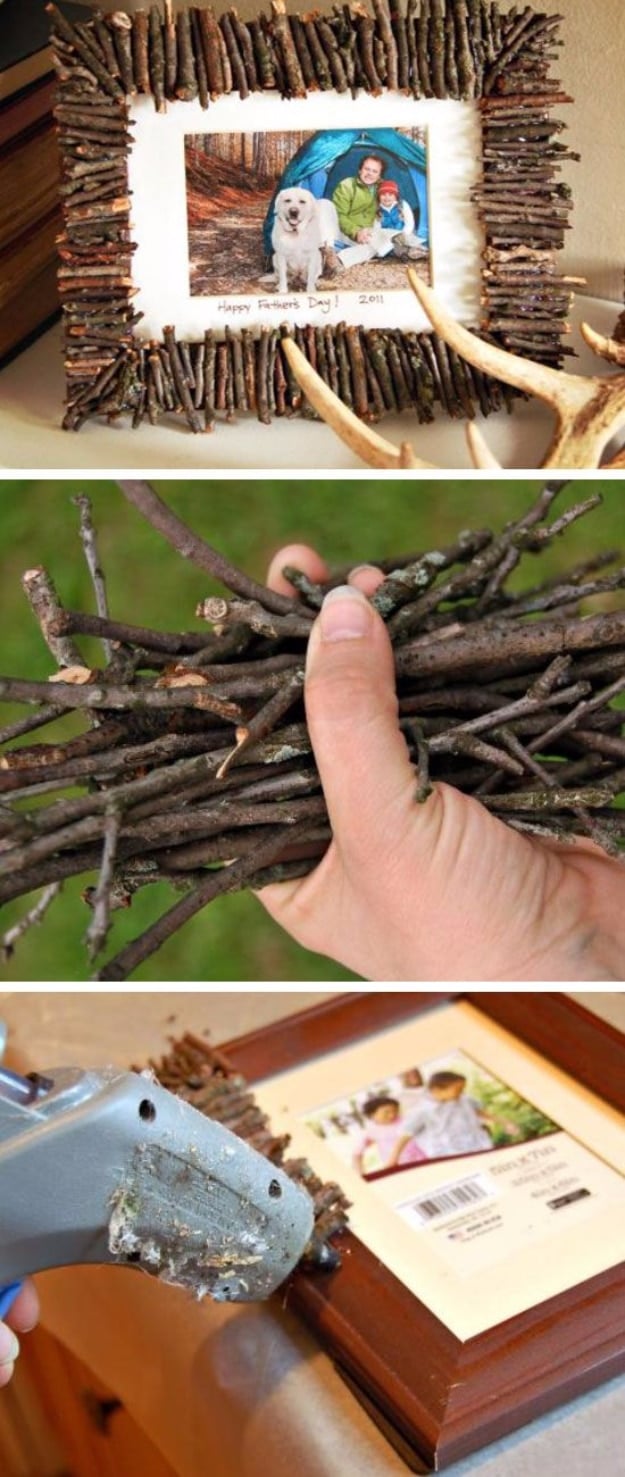 18. Leather Mason Jar Sleeve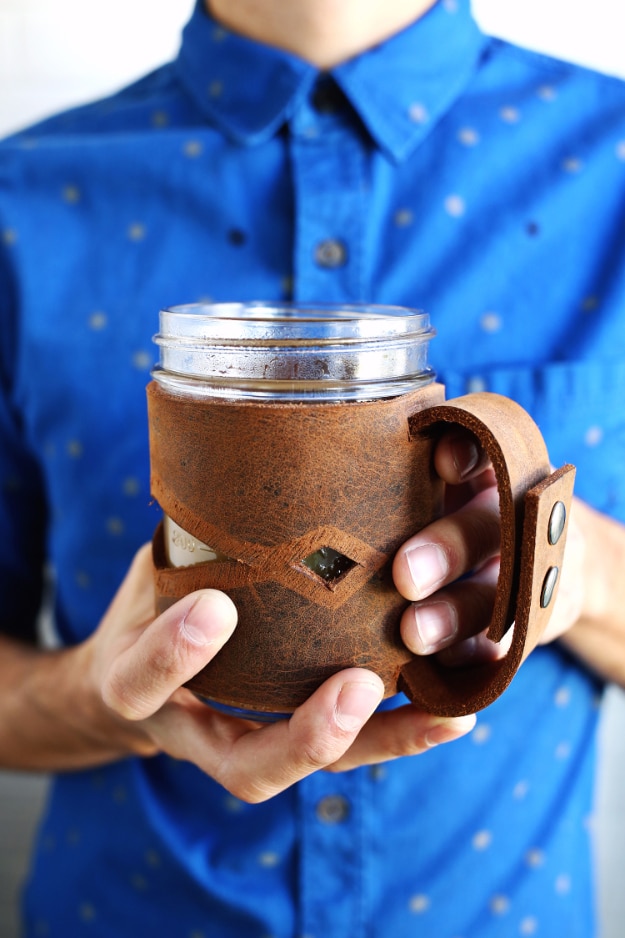 19. Personalized Photo Bookmarks For Dad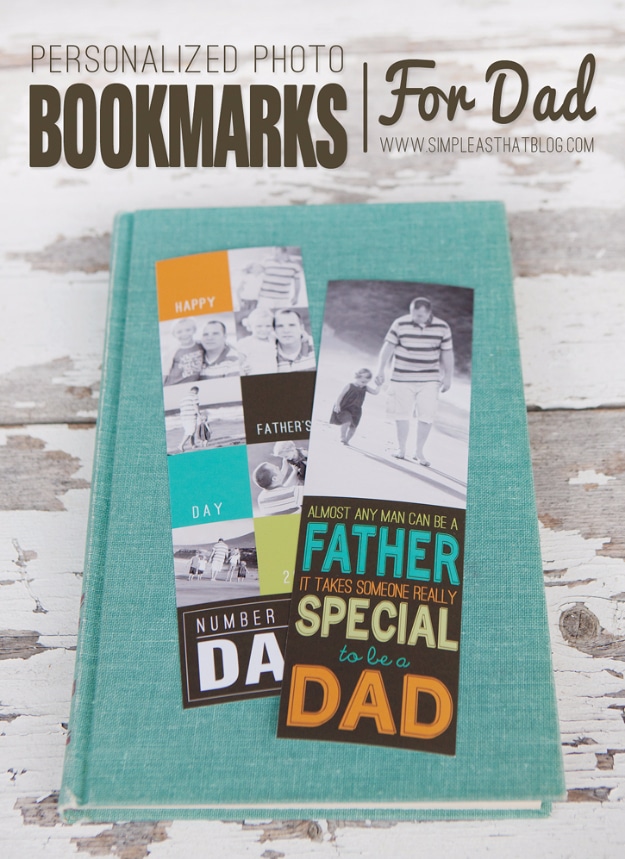 20. Photo Frame Stand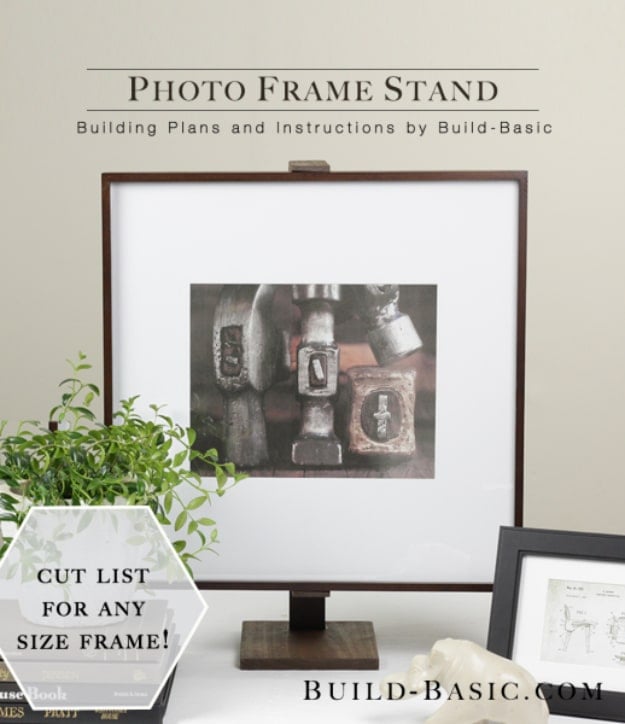 21. Bow Tie For Dad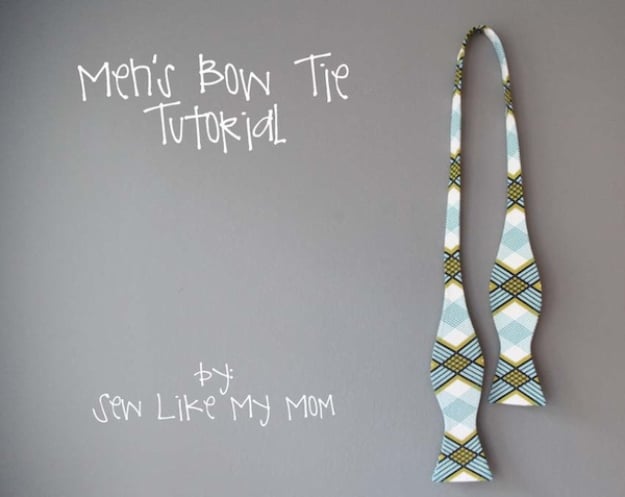 22. Golf Club Headcovers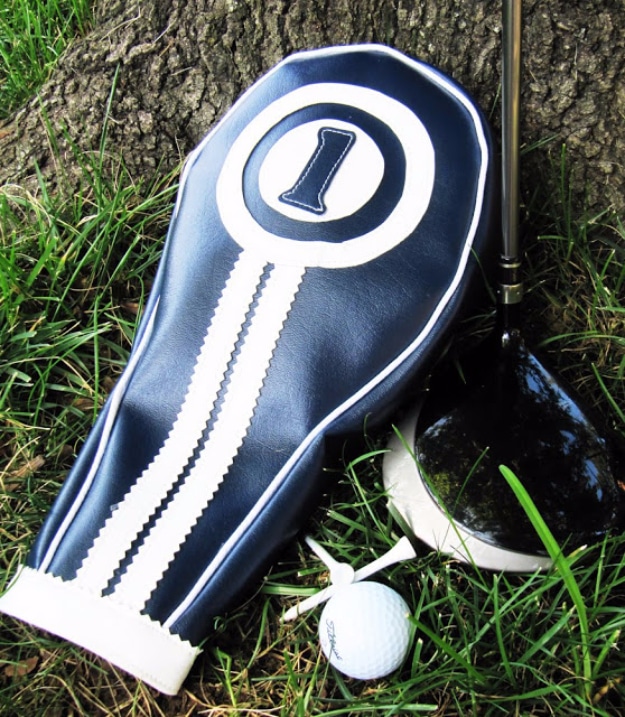 23. Lego Cuff Links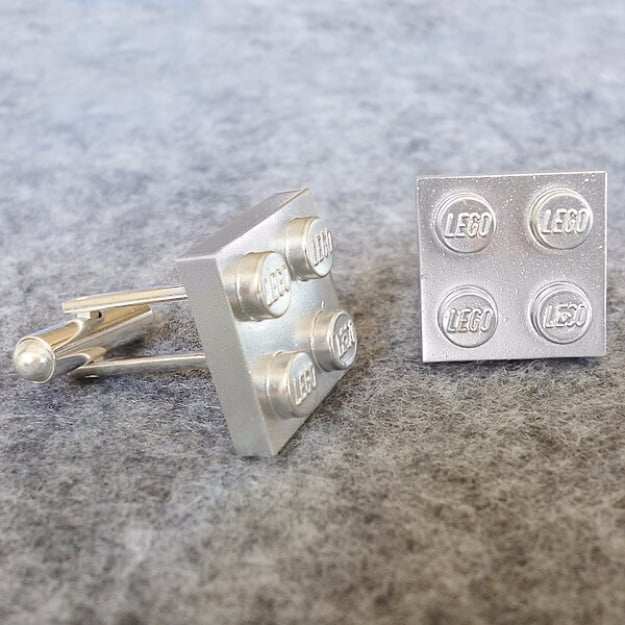 24. DIY Manly Man Apron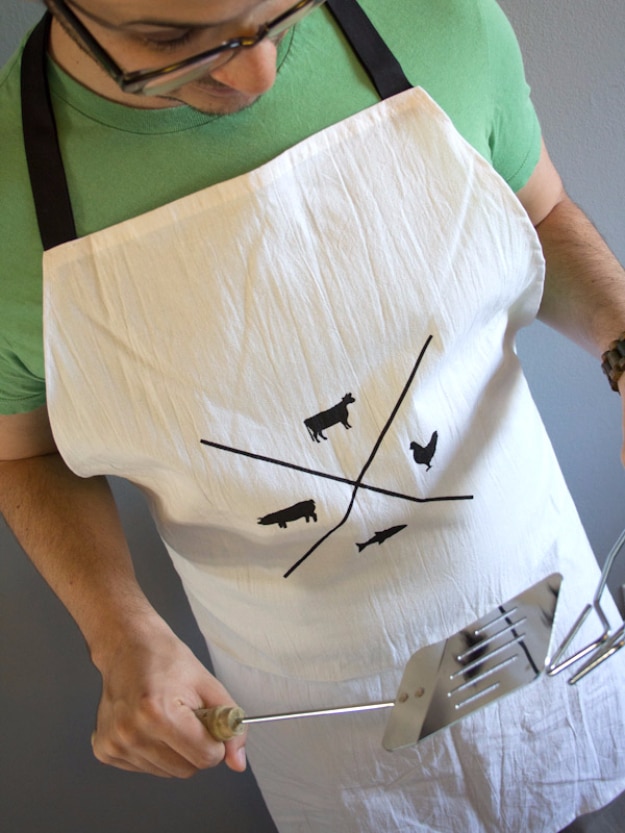 25. Lego Key Organizer
26. T-Shirt Quilt For Dad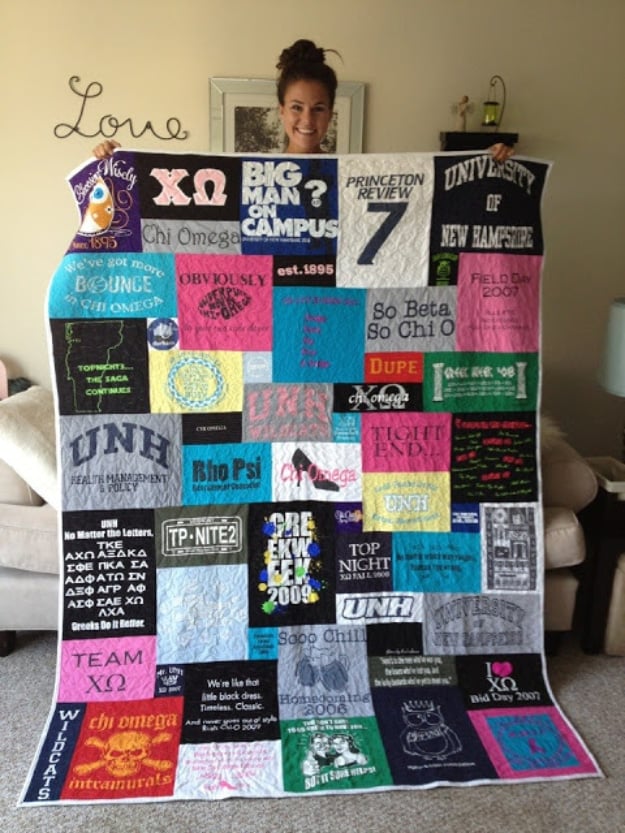 27. DIY Wooden Bungee Organizer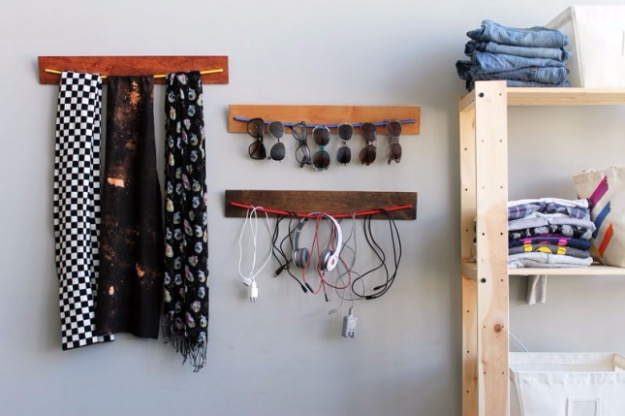 28. Wooden Beer Totes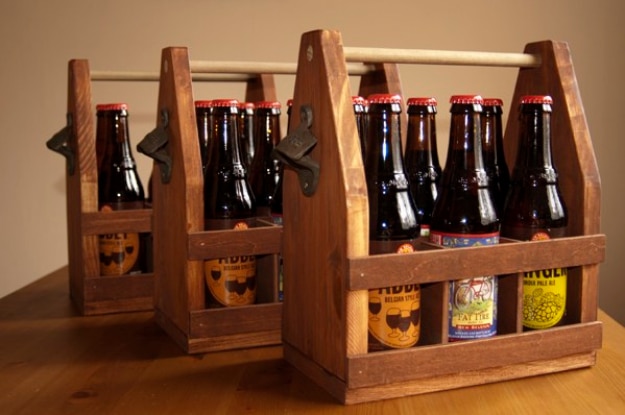 29. Swiss Army Key Ring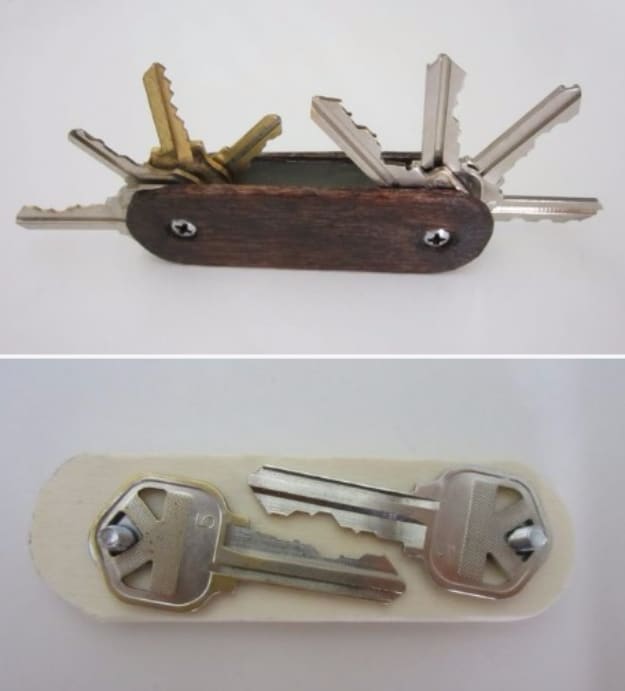 30. Homemade Fishing Rod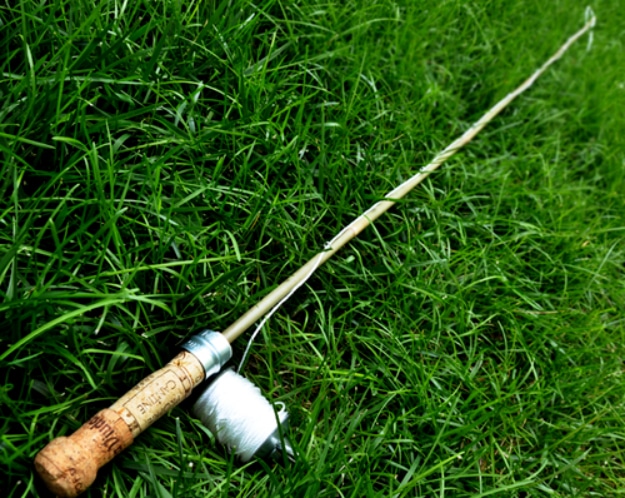 31. Laptop Riser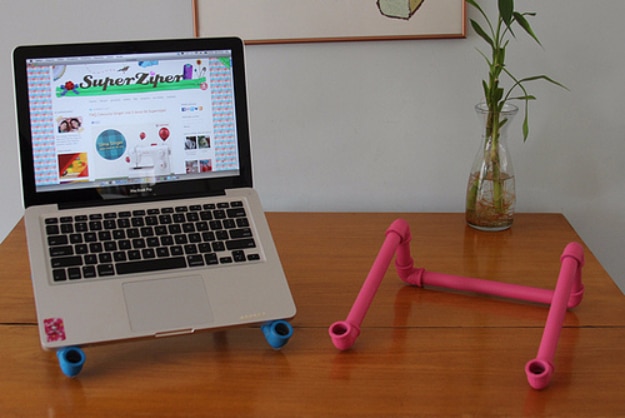 32. Simple Leather Tablet Case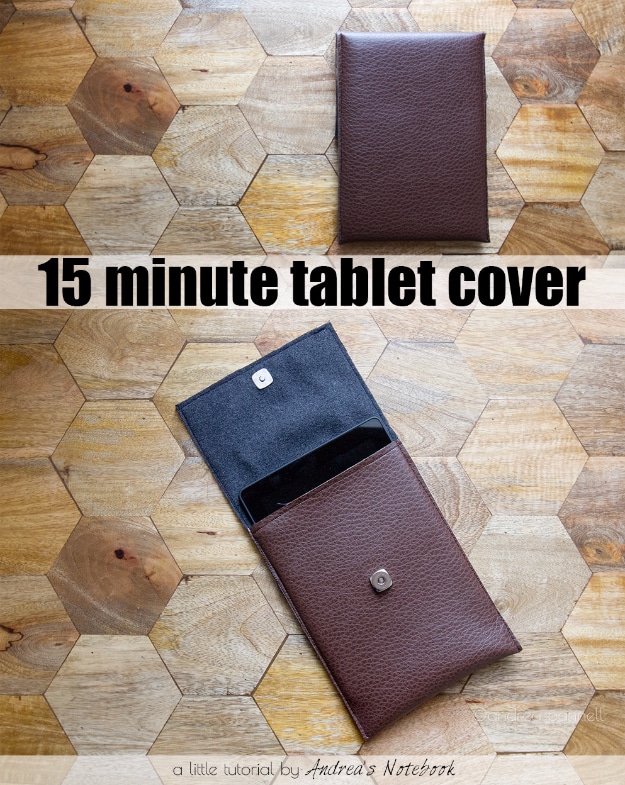 33. Favorite Team Neckties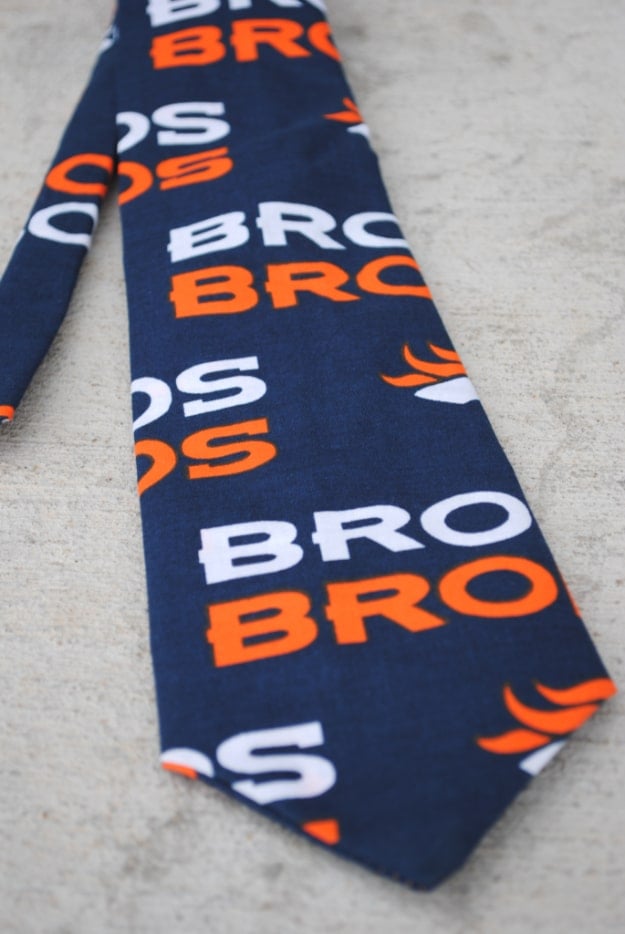 34. Bucket Tote For Dad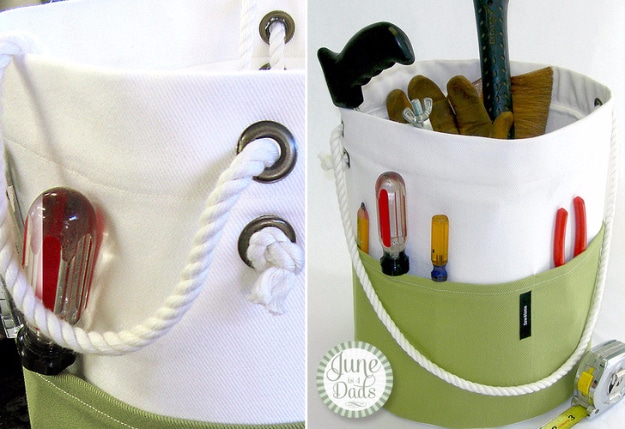 35. DIY Silhouette Mug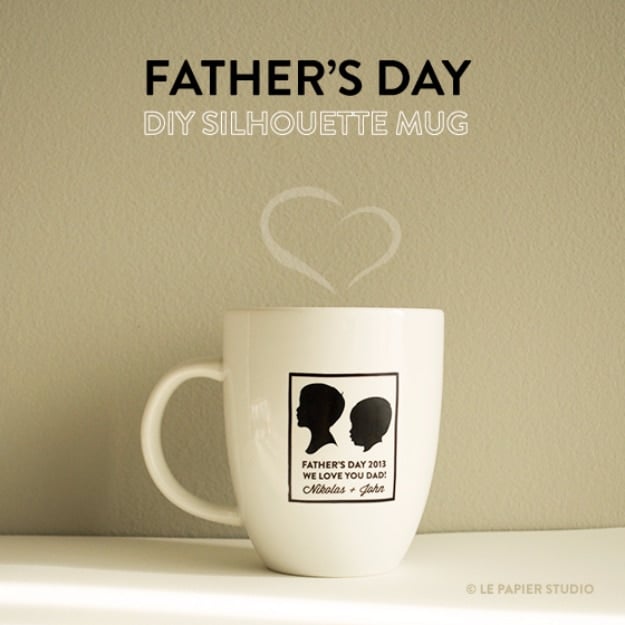 36. DIY Bottle Opener

37. Upcycled Nuts And Bolts Craft