Springtime is my favorite time of year, and one of the many reasons is for that amazingly cute decor, which includes Easter. There is just something about getting to decorate with eggs, bunnies and pastel colors that will always satisfy my inner child. Easter and spring decor is so happy and festive, I just can't have enough of it in my home. A special time for family get togethers, Easter decor can include things for the kids, yard and door decor, and lovely vintage ideas for the table and mantel. Whether you are looking to make some keepsake heirloom pieces, or you need a quick and easy Easter centerpiece idea for the dinner table, these cute ideas will have you crafting some fabulous Easter crafts in no time. From crafty projects with everything from carrots, to bunnies, to flowers and eggs, the ideas are insanely adorable and, many of them fun for all to help make. Once you finish decorating, be sure to plan that Easter dinner with these recipes and get busy with some of our favorite Easter egg decorating ideas.
DIY Easter Decor Ideas
1. Easter Egg Wreath

Here is an inexpensive idea for an Easter wreath that is fun to make, even the kids can help. Learn how to make yarn wrapped eggs then create a colorful wreath for the front door with this step by step tutorial from one of our favorite bloggers at Wine and Glue. Visit the site for complete instructions and more cool ideas to make for the home.
2. DIY Eggshell Tealight Candle Centerpiece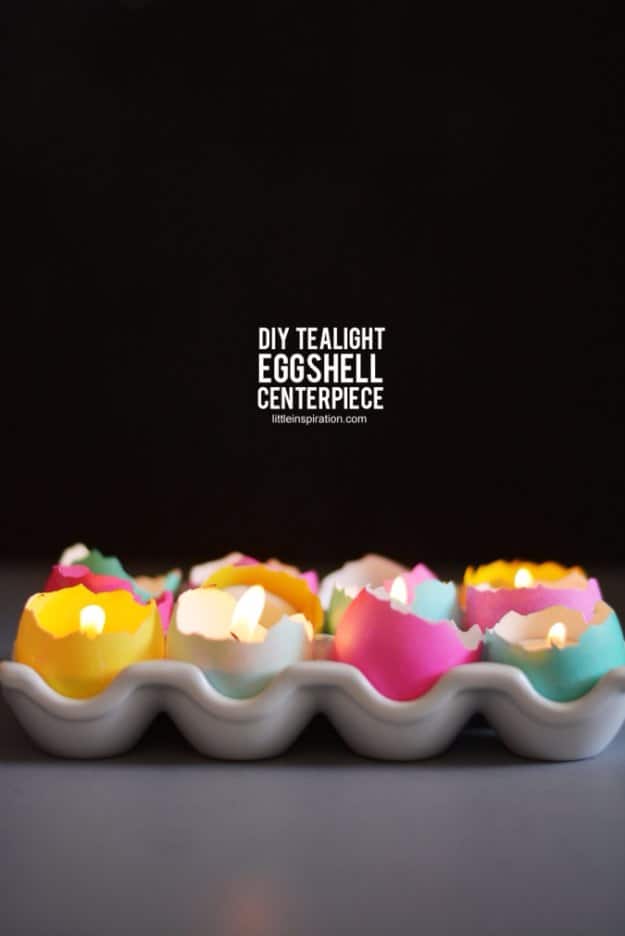 Easter eggs make some of our favorite ideas for DIY Easter decor, as the colors are just so lovely. Intricate hand painted eggs are lovely but you need not be an artist to make creative home decor for Easter. Learn how to make this broken egg centerpiece with tea lights. This is an easy project for beginners, one pretty much guaranteed not to be a Pinterest fail. Pretty sure this one is even Instagram and Pinterest worthy. All you need is some food coloring, eggs and candles. Learn how to make one for your Easter table or mantle today.
3. Rainbow and Bunny Peeps Wreath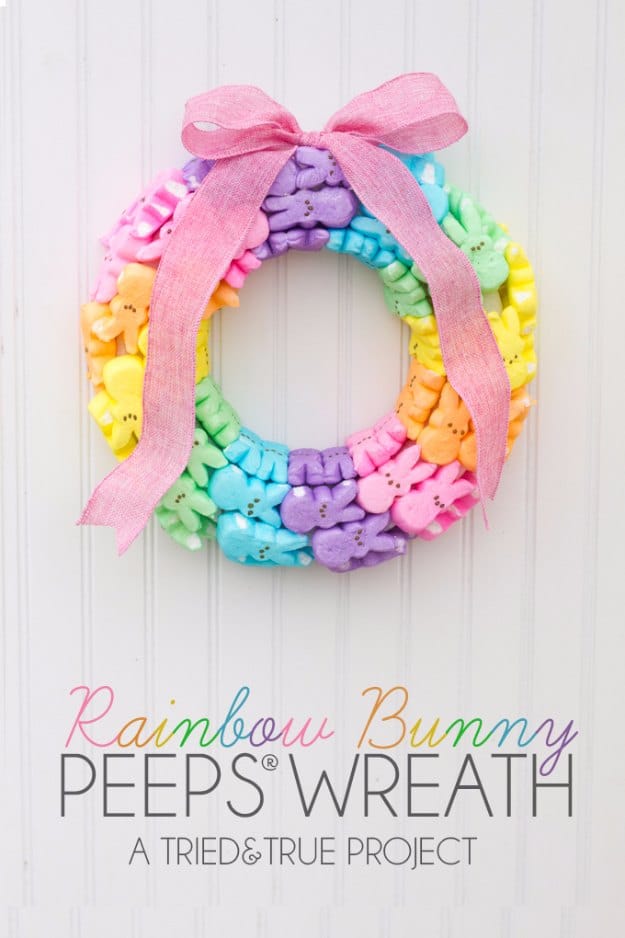 OK, so I love eating Peeps. I know this sentiment is not shared by all, my kids included. However, marshmallow Easter Peeps remain part of our family tradition, now in this creative pastel wreath made with every color of Peeps we can find. Learn how to make this Peeps wreath with a rainbow of bunnies for your door at Easter.
4. Easter Mason Jars Craft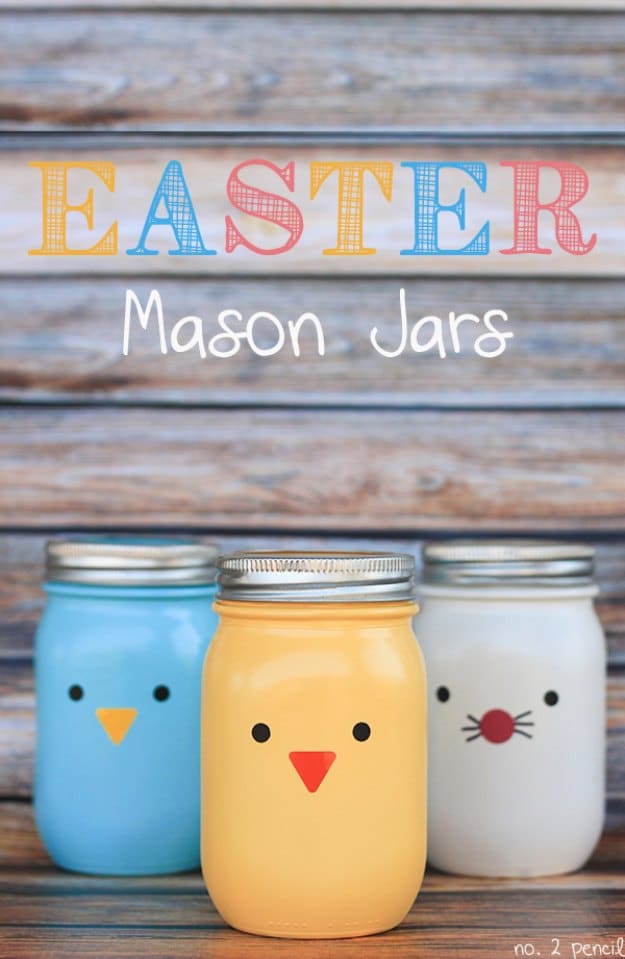 Here is an simple idea for an Easter craft using mason jars that is easy but turns out super cute. Quick and with little effort or artistic talent required, the bunny and chick mason jars will make a cute centerpiece, mantle decoration or even a DIY gift that can be made from the dollar store. All you need is some paint and a few jars, then follow this step by step how to.
5. Flowered Egg Topiary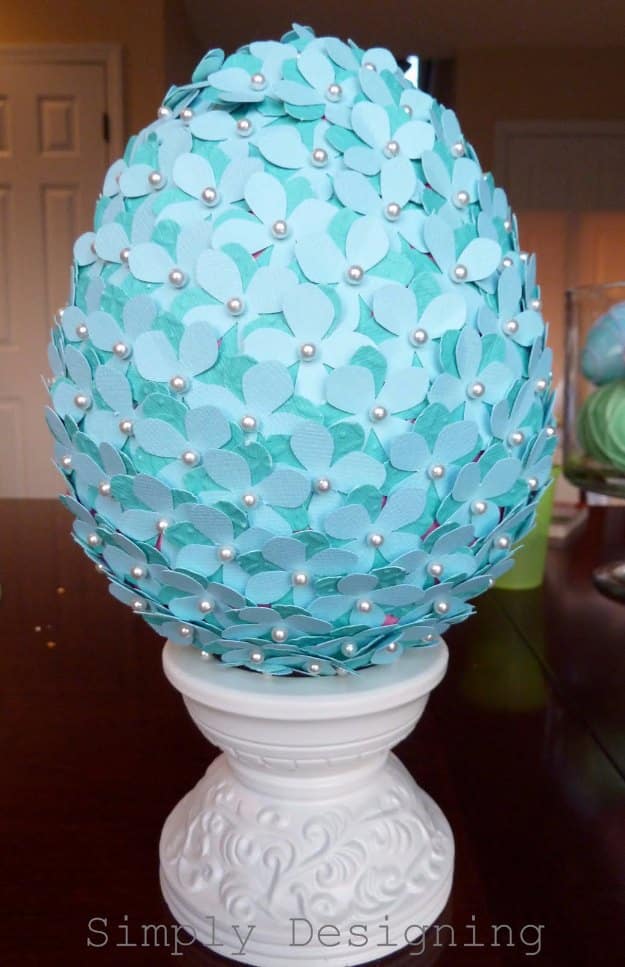 Paper crafts like this can be so rewarding to make. If you want to make a cheap but impressive display for Easter that can be reused next year, this paper flower topiary could be your next DIY project. Learn how to make one for your house with these easy to follow instructions. Happy Easter!
6. DIY Paper Flower & Easter Egg Garland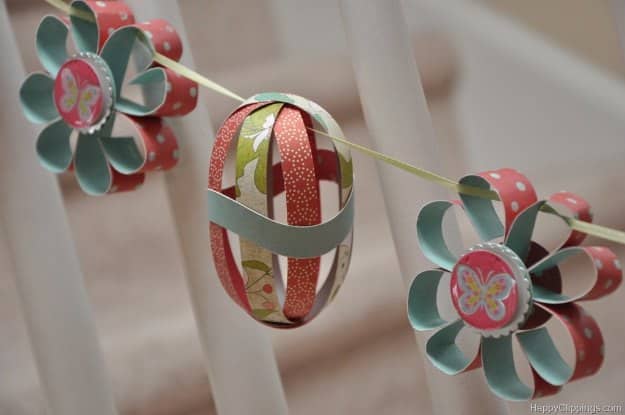 Garlands like this are one of my favorite things to make when it comes springtime. I get to use all of my pretty pastel scrapbook papers I've been saving and actually have the perfect excuse to get to go to Michael's or the craft store and buy even more. Learn how to make a garland for Easter with eggs and flowers with this DIY tutorial by Happy Clippings.
7. Cut out Paper Napkins Easter Egg Decor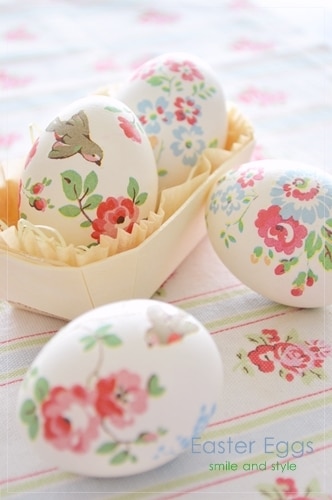 No Easter decor should be without Decoupage eggs like these. Made with cutout paper napkins, they all turn out like different miniature works of art. Pick up supplies at Dollar tree for this inexpensive idea that can be fun for the whole family.
8. Giant Chalkboard Eggs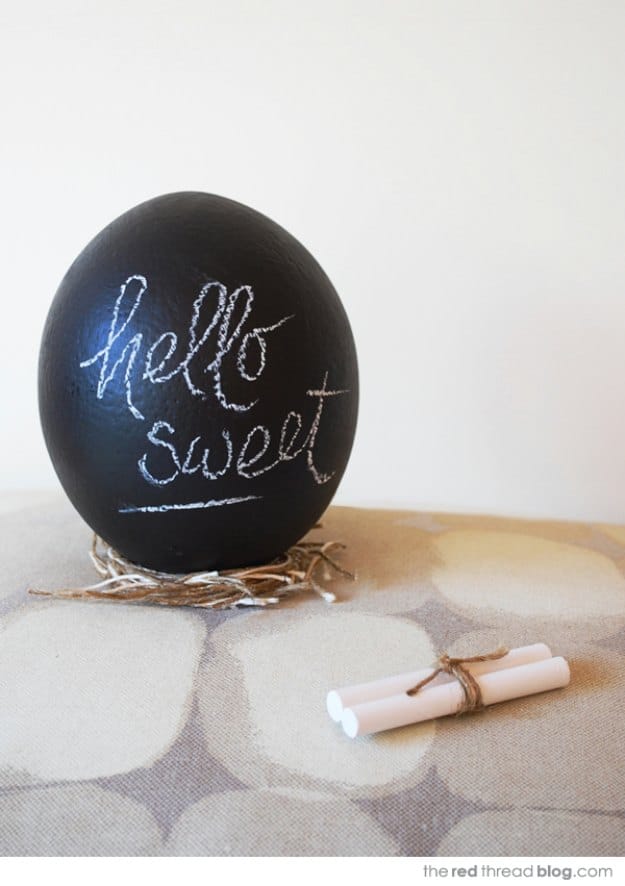 Here is a simple giant Easter egg decorating idea that can change every day with a new message. Learn how to make an Easter egg chalkboard for fun Easter messages.
9. DIY Easter Egg Button Craft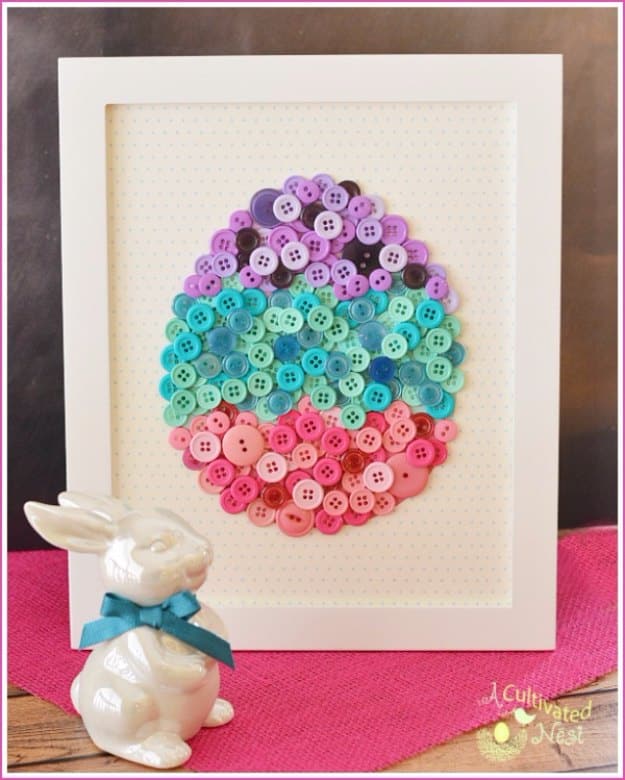 If you love to sew or just collect cute buttons and have some to spare, learn how to make this Easter wall art idea that can be enjoyed for many years to come. Button crafts are truly some of the most enjoyable things I've ever made. Although I love painting and more elaborate craft ideas, too, there is something nice about those relaxing projects that don't require tons of concentration and thought. This is one of them, and the end result is pretty much guaranteed to be super cute. Learn how to make this Easter craft idea with buttons to add to your DIY spring decor.
10. Easy Burlap Easter Bunnies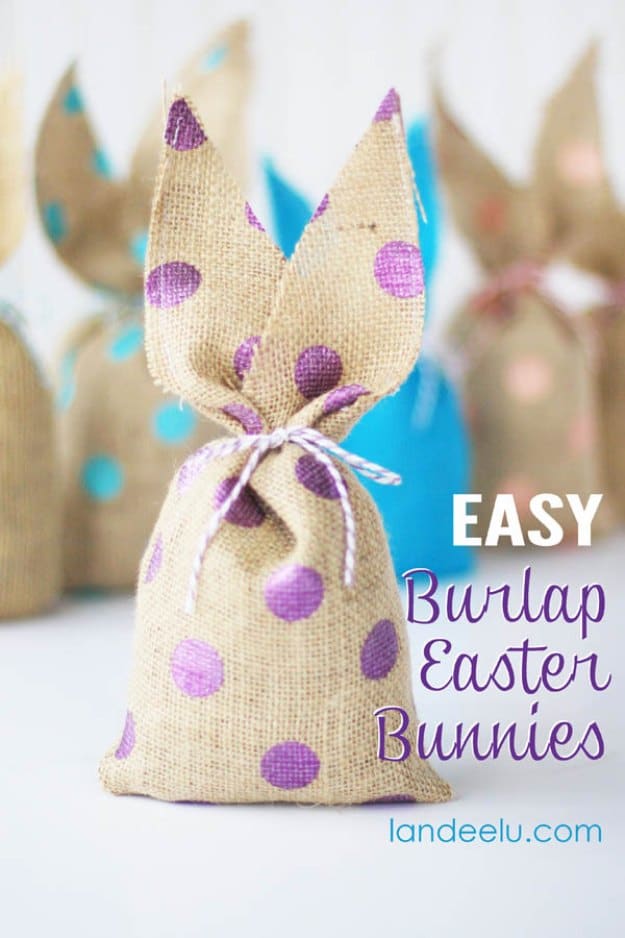 Pretty Easter crafts need not be expensive or diffuclt to make. These polkadot bunny treat bags are made from burlap and make a nice presentation for a small DIY gift but can look equally cute on the table to accent that all white farmhouse decor or most any style of decorating. Learn how to make these DIY Easter bunnies with complete step by step instructions for landeelu.com.
11. Paper Easter Wreath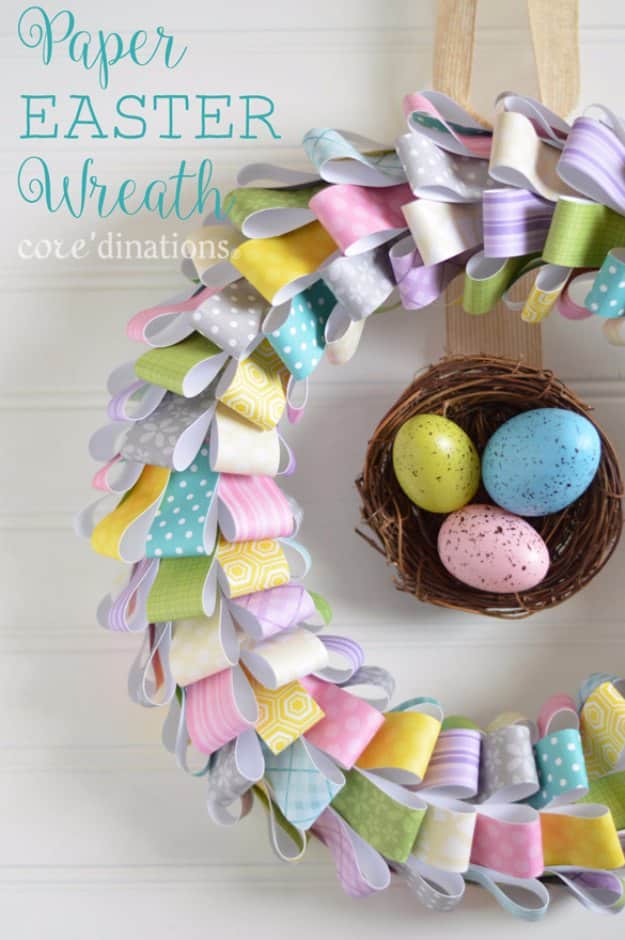 Here is a DIY Easter wreath idea that just couldn't be any cuter. Made from lots of different colors and patterns of spring scrapbook paper, you get to use those favorites to decorate the door. Learn how to make this lovely Easter decor idea for your front door or hang one on the kitchen wall so you can admire it every day.
12. Recycled DIY Easter Basket Decor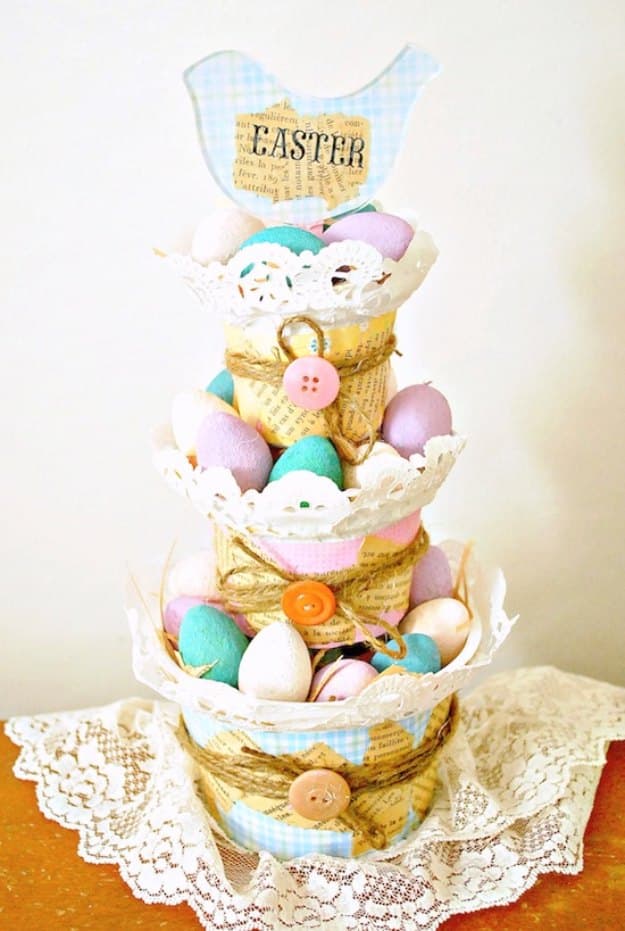 13. Simple Dollar Store Nest Wreath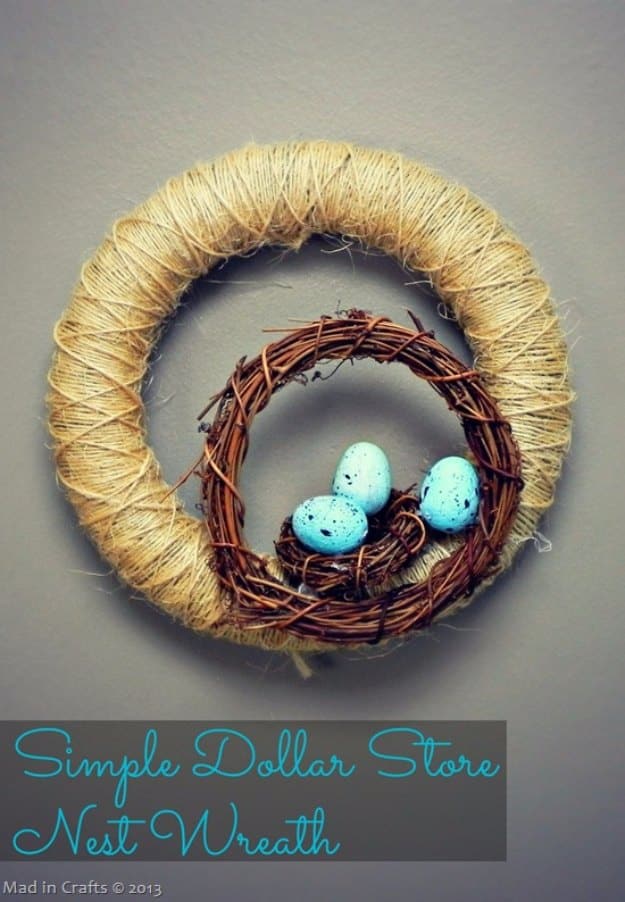 14. Easter Bunny Canvas Art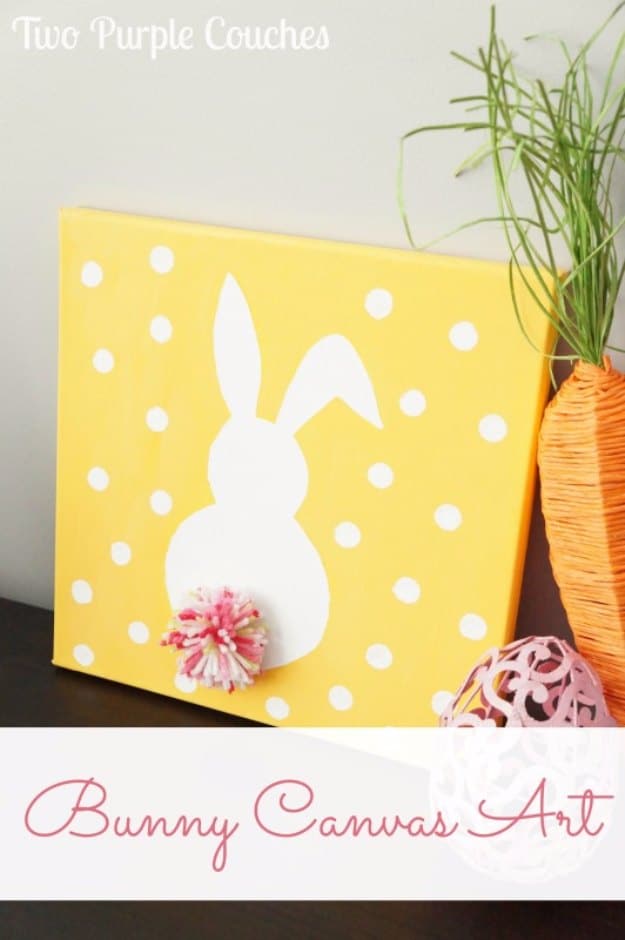 15. Cotton Tail Bunny DIY Garland