I have found the cutest DIY Christmas tree decor, and it's made by Super Idea on Youtube! It's so beautiful – covered with acorns, sprigs, and toys. This even has doors and windows, making it look like a tiny Christmas home. Most of the items used in this project are inexpensive – you can even recycle materials you have at home. It's super easy to make and is surely a fun craft.
Materials:
magazine
Styrofoam
sackcloth
jute rope
jute twine
hot glue
Christmas toys
berries
sprigs of a Christmas tree
acorns
wooden ice cream sticks
thick paper
2 small pieces of empty scotch tape rolls in different sizes
yellow cardboard
lace
bead
Instructions:
Step 1:
Cut a small circle from the styrofoam for the base of the Christmas tree. Cover it with sackcloth on all sides. Next, wrap the jute rope around the sides of the foam.
Step 2:
Get the small scotch tapes and wrap the jute twine around until fully covered. Measure the inner diameter of the circles and cut 2 pieces of sticks with that size for both. Glue them to make a cross on both of the circles.
Step 3:
Cut two small laces and glue them on the yellow cardboard to make an inverted V. Next, glue the bigger circle on top and cut. Do the same for the smaller circle.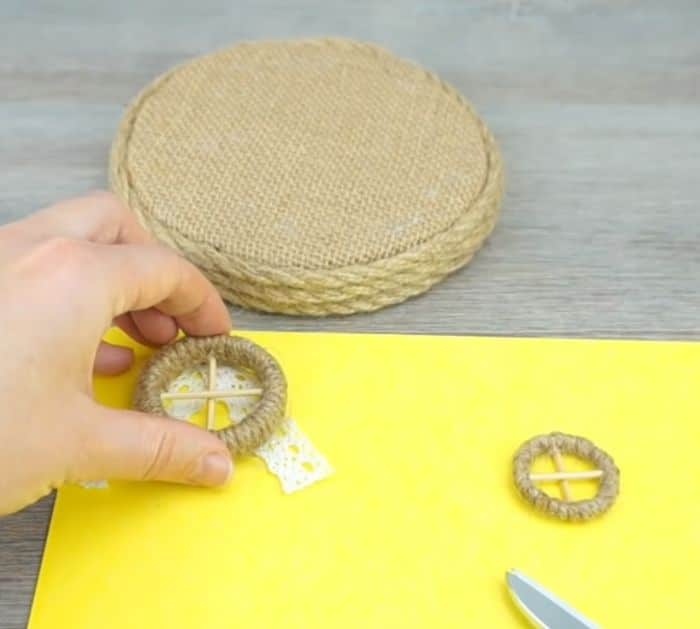 Step 4:
Glue six pieces of wooden ice cream sticks on the yellow cardboard, then draw a curve on the top part of it for the door. Cut it out using sharp scissors. Next, place two ice cream sticks on the upper and bottom parts horizontally. Cut the excess, and glue a small bead for the door knob.
Step 5:
Roll a big thick piece of paper to make a cone then glue it. Fill with crumpled magazine paper inside, and glue styrofoam on the base of the cone. Glue the cone on top of the base.
Step 6:
Glue the door and the windows. After that, wrap jute twine around the top of the cone.
Step 7:
Start gluing acorns, Christmas toys, sprigs, and berries on the cone filling all the empty spaces.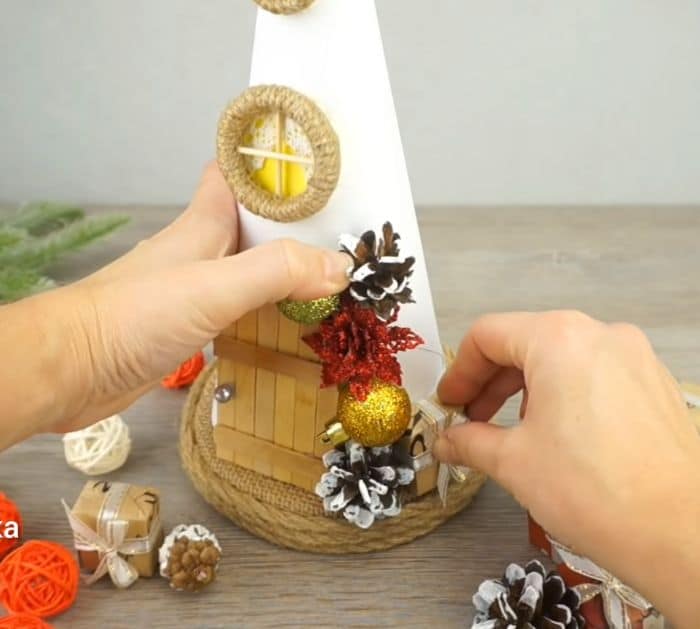 Christmas Tree Decor DIY