Thinking about making some cool DIY Christmas presents or homemade birthday gifts for kids? Good idea! After all, so many of today's toys are not quite made the way they used to be. Plus, a homemade toy or DIY children's gift is so much more special. Make something original, unique and sure to be enjoyed by all. Parents absolutely love it when people take the time to make something for their little darlings, so if you have some gifts to buy for friend's kids, nieces, nephews and/or grandchildren, why not consider making them this year?
DIY Christmas Gifts for Kids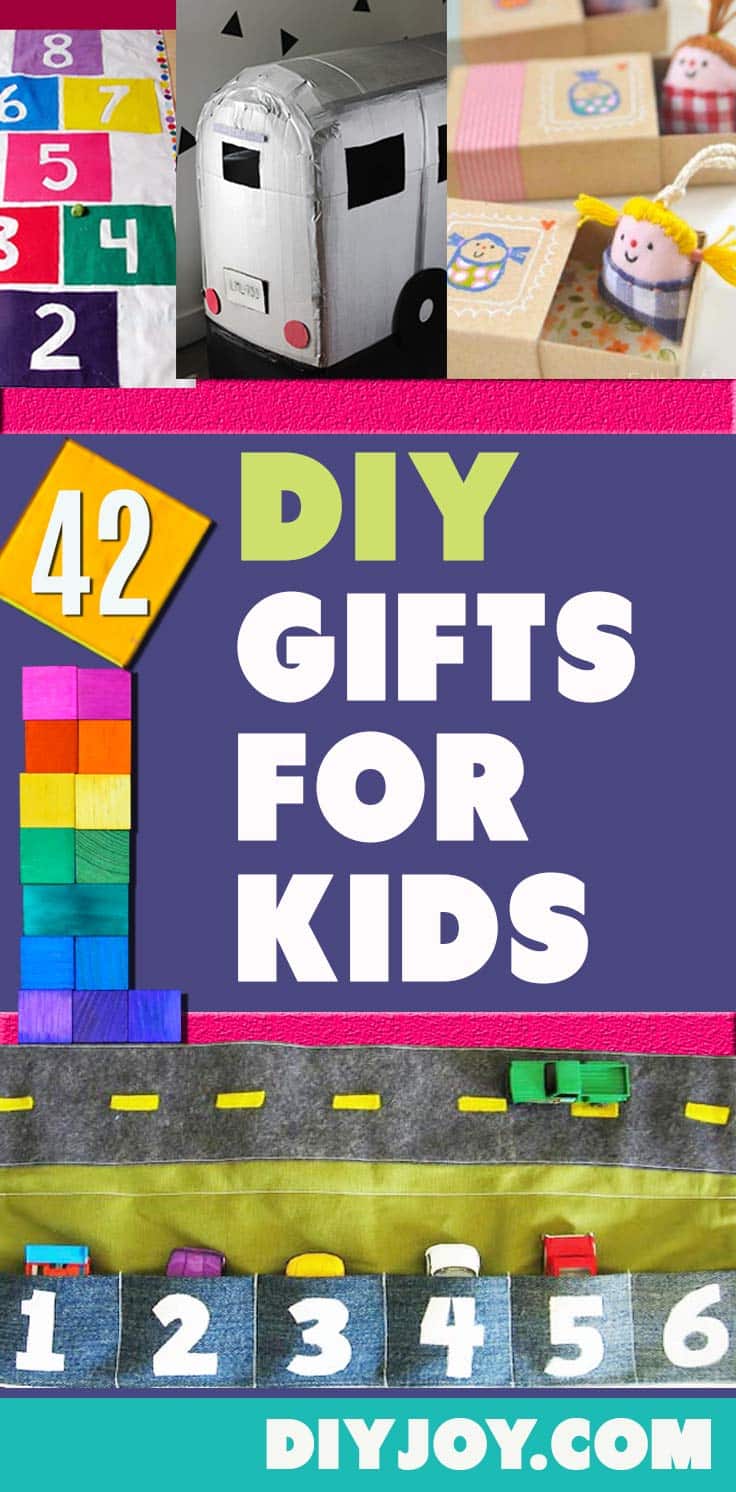 1. Kiddie Workbench

I think this may be the cutest DIY idea for kids Christmas presents that I've ever seen. This cool little workbench is adorable, but also easy and inexpensive. I made one of these for my nephew's birthday gift last year and both he and his father enjoy having him be able to work right next to Dad in the garage. They sent me a picture of the workbench right next to his Dad's workbench with my little darling boy standing there with his little leather tool belt I made him last year and you would not believe how unbelievably cute it was! By using an upcycled old end table, some pegboard, and your inner creative genius that we all possess, you can make this awesome DIY workbench for kids in about an hour.
2. Glittered Lace Crown

Do you have a little lady in waiting? Make your little princess's dream come true with this super sparkly DIY glitter crown that can be made in any color she fancies. Try a purple on like this, pink, blue, gold or one of each. Perfect birthday party favor idea for girls and dress up gift we love to give for birthdays, these crowns are quick DIYs both you and your child will have fun making. We made some for my Daughter's Birthday and all the little princesses got to embellish their own crown, it was a terrific group craft. An easy homemade gift idea for girls, make a few of these to wrap up for inexpensive but adorable DIY Christmas gifts.
3. Cozy Car Caddy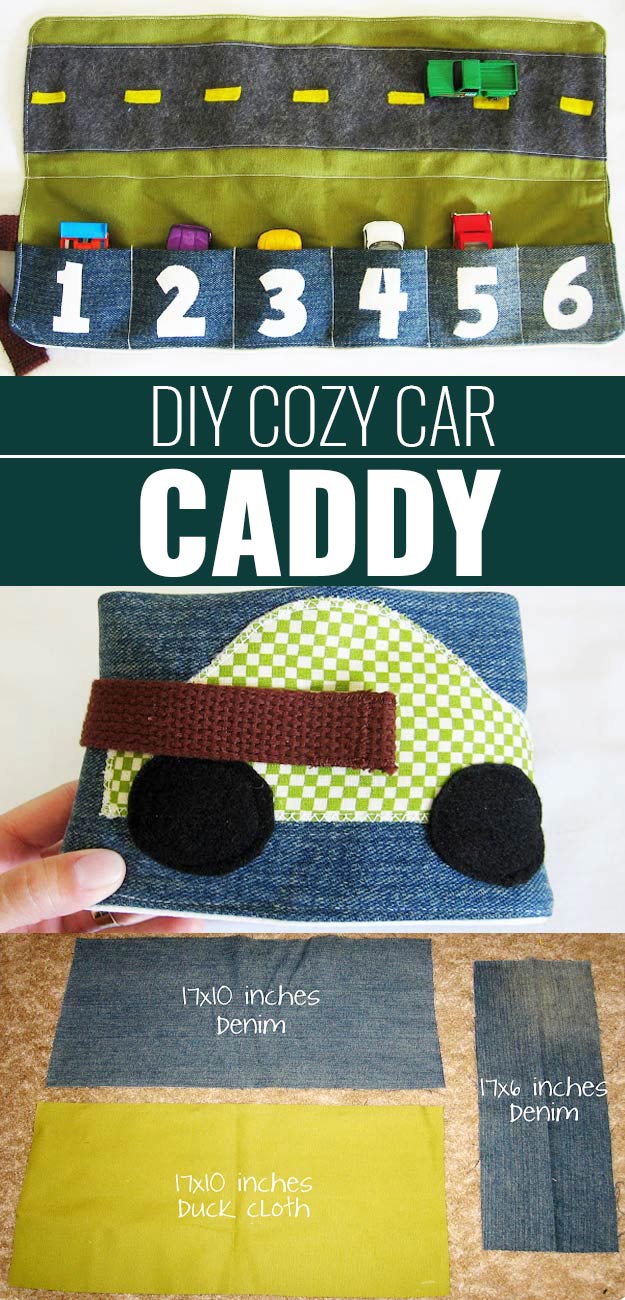 DIY kids gifts are just SO incredibly cute, and this one does not fail to have me say awwww…. So colorful, so practical and so adorably handmade, this DIY car caddy is a quick sewing project idea for boys (or girls) Pockets for storing cars are numbered, so kids can learn to count along with having a nice organized place to put away toys. I used them as gifts for a group of children I needed last minute inexpensive Christmas gifts and the kids loved them.
4. CD Shelf Doll House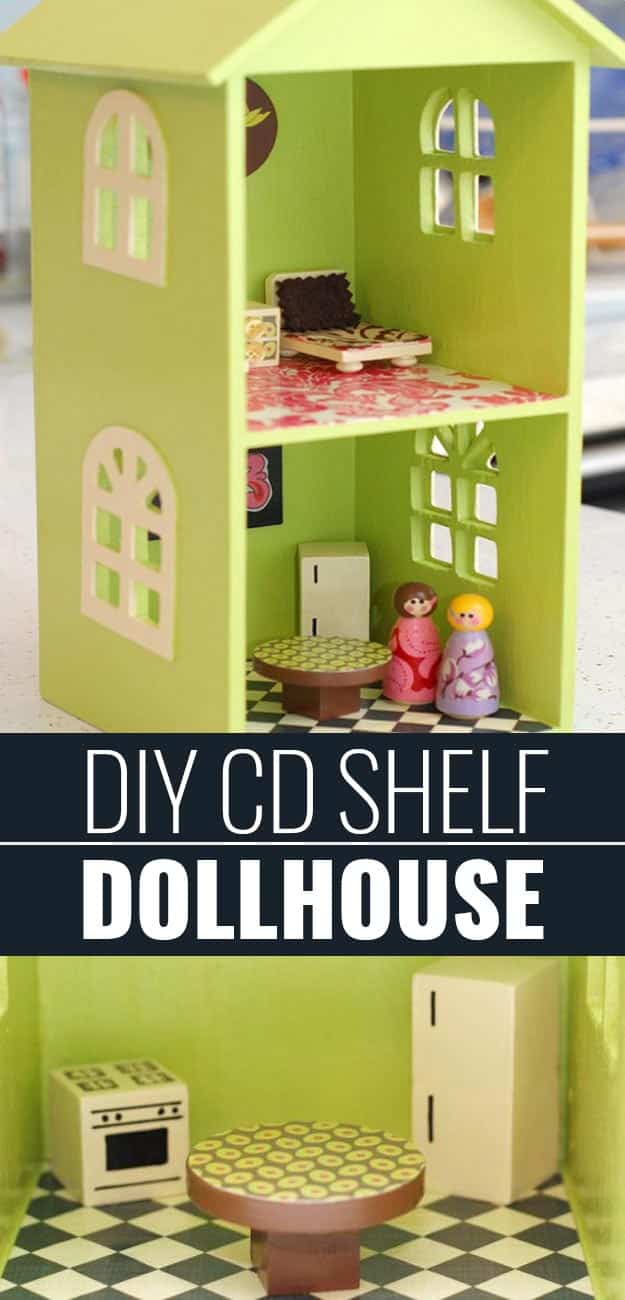 I have always remembered the dollhouse my father made for me as a little girl and thought how nice it would be to do the same for my daughter. However, I am afraid I don't have the amount of time it takes to make an elaborate dollhouse as he did, nor do I have the woodworking skills to do so. However, when I saw this fun and easy DIY idea for a homemade dollhouse made from a CD shelf, I rethought this. I can do this one! (and I did) Half the fun of making a dollhouse is decorating it inside with little tiny furniture, appliances, and people. If you are a crafter like me and need a cool but easy dollhouse to put your handmade little accessories in, here's the one.
Looking for cool DIY gift ideas for your friends and family, too?
Be sure to check out The Ultimate DIY Christmas Gifts list which includes:
DIY Present Ideas for Men
Awesome DIY Gift Ideas Mom and Dad Will Love
31 Best DIY Gift Ideas for Her
27 Expensive Looking Inexpensive DIY Gifts
27 MORE Expensive Looking Inexpensive DIY Gifts
Gifts to Make For Kids
100 Handmade Gifts For Under $5
5. DIY Kids Chalkboard Town

One Mom might see a pile of scrap wood, but this Mom sees FREE toys! DIY is a way of life around here, my kids are used to playing in the garage. My youngest son is constantly creating and building projects using our scrap wood. So with a little help from chalkboard paint, the scraps from our new deck became this chalkboard town that my Son drew himself, talk about rewarding!
6. Hopscotch Mat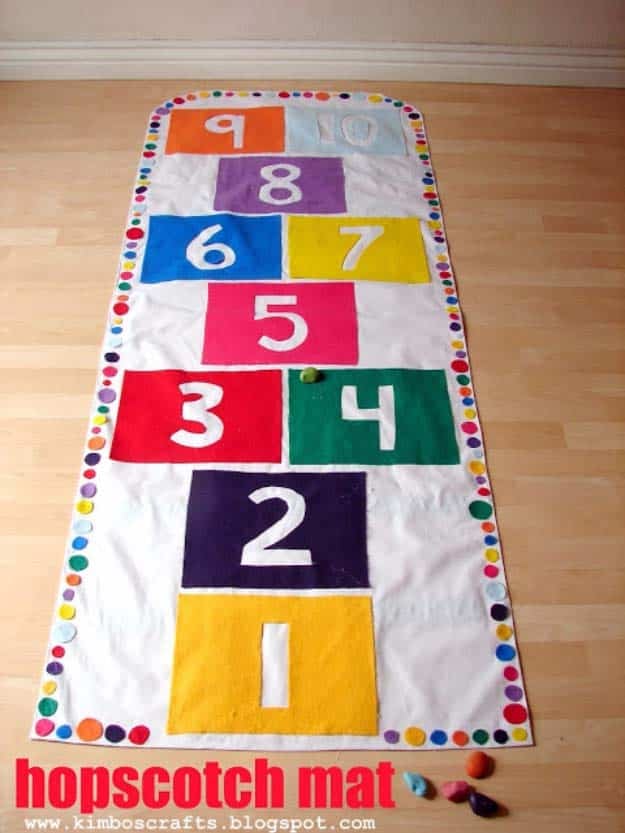 On rainy cold days indoor games are a must, my kids had 3 snow days this year already and they don't like TV much so this indoor hopscotch mat was the perfect solution to our Winter woes. I found some cheap canvas material and felt at Joann's fabric store and used my 50% off coupon, which made this DIY project so affordable. The children were non-TV occupied for hours on end while the Winter weather howled on in the background.
7. Printable Dominos Activity for Kids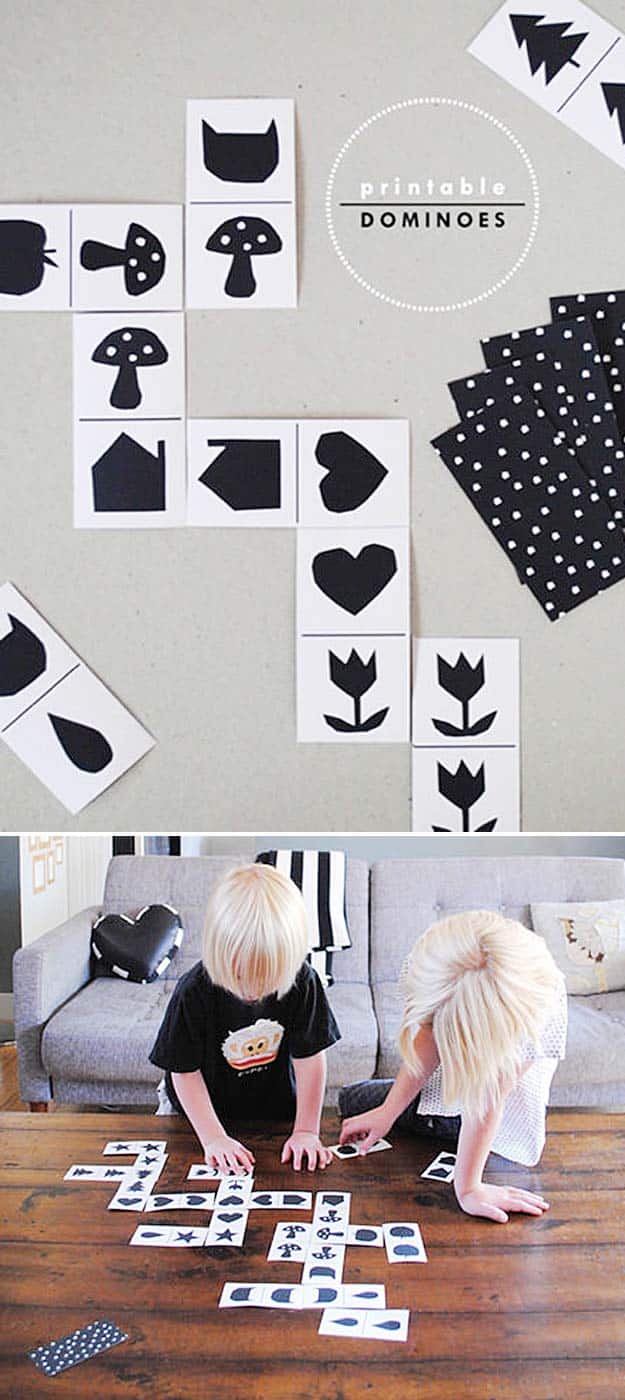 If you have a printer this is an excellent DIY craft gaming project you can make your for kids to play all year round. You use little rectangle cards larger than real dominoes and put shapes in the domino cards so they can be matched up as in the regular game. The dominos make an excellent teacher's aid as well.
8. How to Build a Puppet Theater

My children and I attended a puppet show in England last Summer and they were mesmerized. I realized this was a very cool thing we were missing Stateside. One day while reminiscing about Punch and Judy and Lambchops, we decided to just make our own. Dad cut the wood for us and we attached some black paper to the front, then my daughter found an old Halloween costume which made lovely theater curtains. The kids are now writing the plays, learning to ad-lib like the pros and its standing room only in the playroom.
9. DIY Snake Tie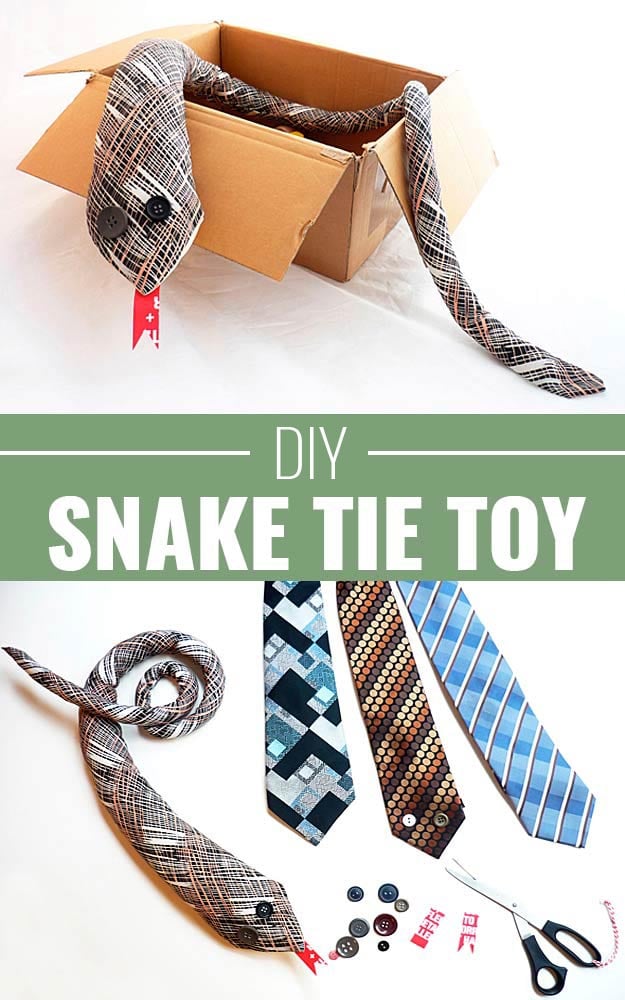 I made a bunch of these this year for Christmas gifts and everyone loved these awesome handmade snakes that are created from ties. Creative DIY gifting at its best. I found a bag of men's ties at Savers and remembered this fantastic DIY gift idea I saw on Pinterest. The sewing instructions were super easy to follow, its a fantastic little DIY project for the novice hobby sewing person or the well-versed seamstress. You cannot find an easier cuter DIY gift for kids.
10. Crayon Monster Art Tote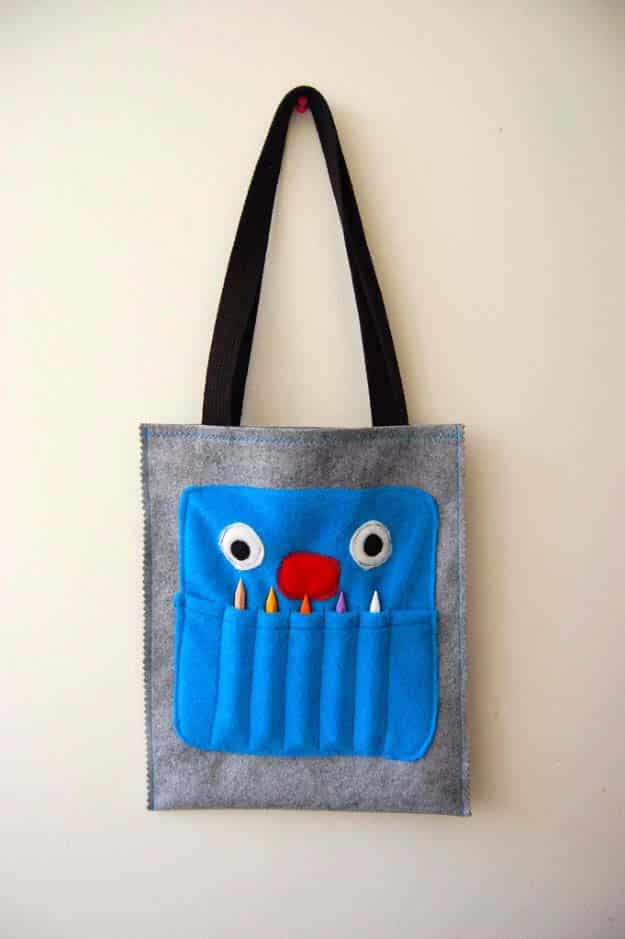 This is a simple lovely DIY craft for the little ones on your Christmas list. I got some felt from Michael's craft store and followed the simple instructions in the link. I added some colored pecils to the finished project and they looked amazing. This will definitely be something I will make again and again.