Love decorating for Christmas? If you are looking to make some of the best holiday decor around, think DIY Christmas decorations this year. Perfect for anyone on a budget and trying to save money or those in search of unique decorations that don't look like everyone else's, these cool homemade Christmas centerpieces, tabletop ideas, mantle decor projects and other creative crafts all belong in your home during this holiday season. If you don't have much money, try out the dollar store crafts, which can really be made for only a few dollars.
DIY Christmas Decorations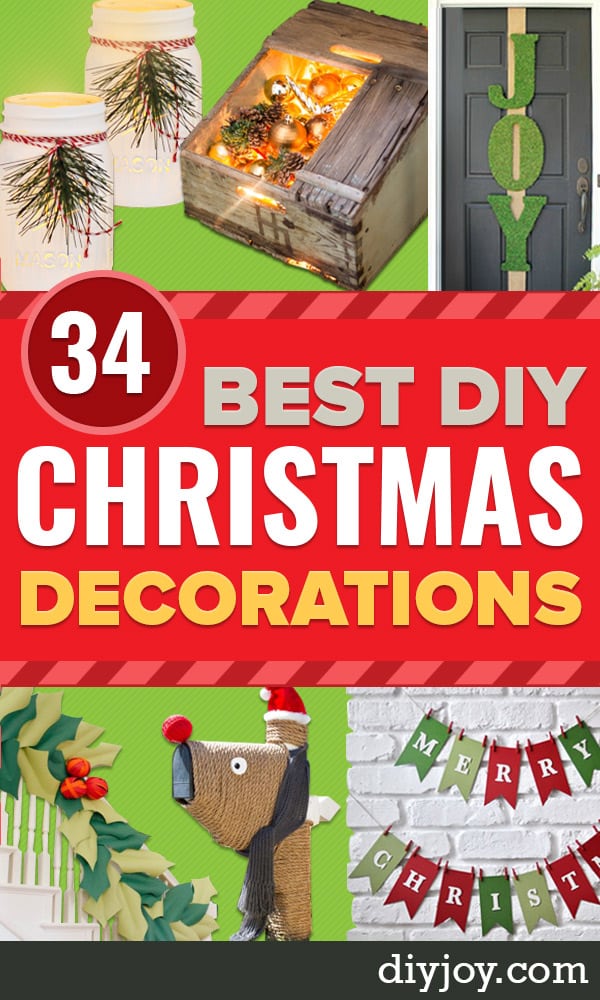 1. Pinecone Garland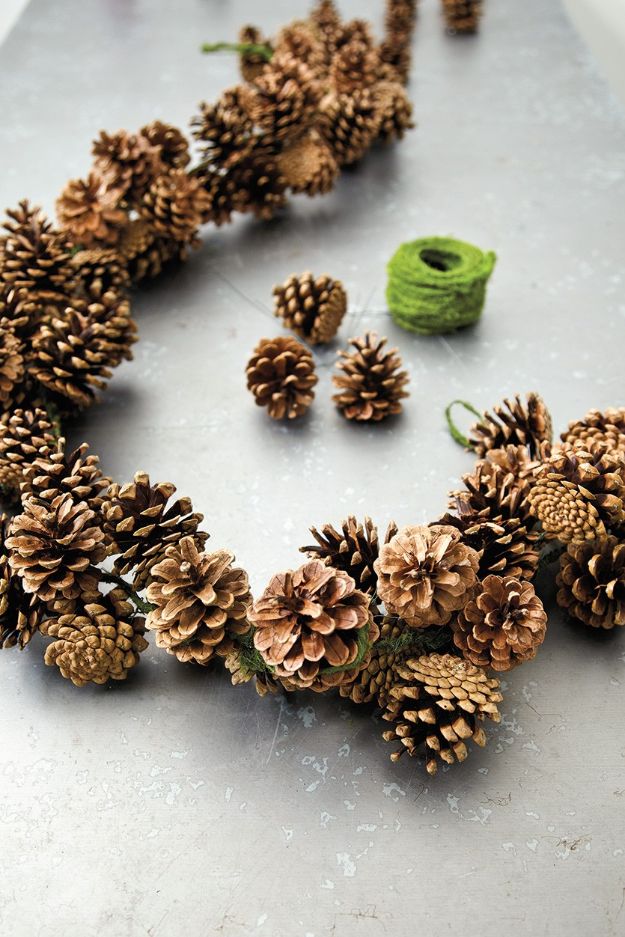 This pinecone garland looks great on stair rails, decorating the holiday mantle or wrapped around a chair. Plenty of other places in your home to put these, too! An easy Christmas craft idea made with pinecones, this looks great with most all decor. Add red velvet bows or white, any color to match your decor.
2. Winter Wonderland Evergreen Trees DIY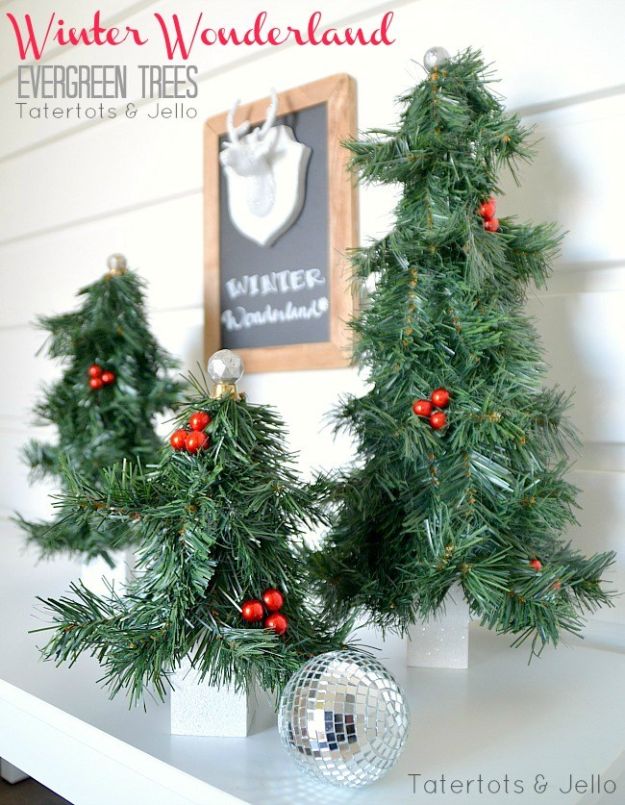 Little tiny Christmas trees are one of the best things to decorate with during the holidays. These cute mantle decor ideas would also look great on your holiday dining table, and I think you could probably add some little ornaments if you wanted to. My best friend has all white farmhouse decor, so she adds lots of green to her home during the holidays, and this idea is one of the best Christmas decorating ideas she has tried.
Easy Christmas Decor Ideas
3. DIY Ribbon Star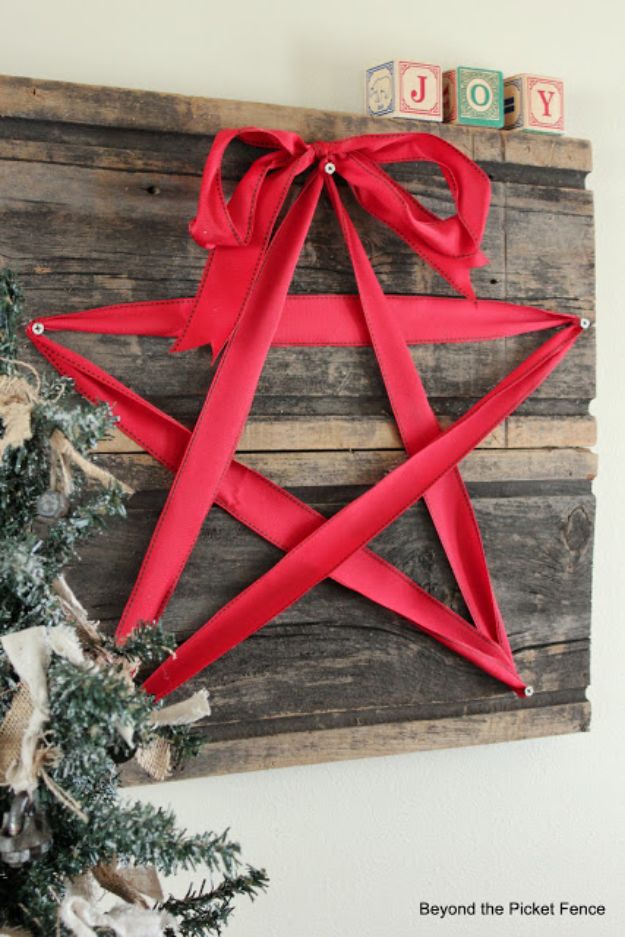 For a festive holiday craft to add to rustic farmhouse decor, learn how to make this holiday decoration, a DIY ribbon star. Celebrate the Christmas season with this easy rustic craft idea that should not take long to make.

4. Festive & Frugal Christmas Porch Decor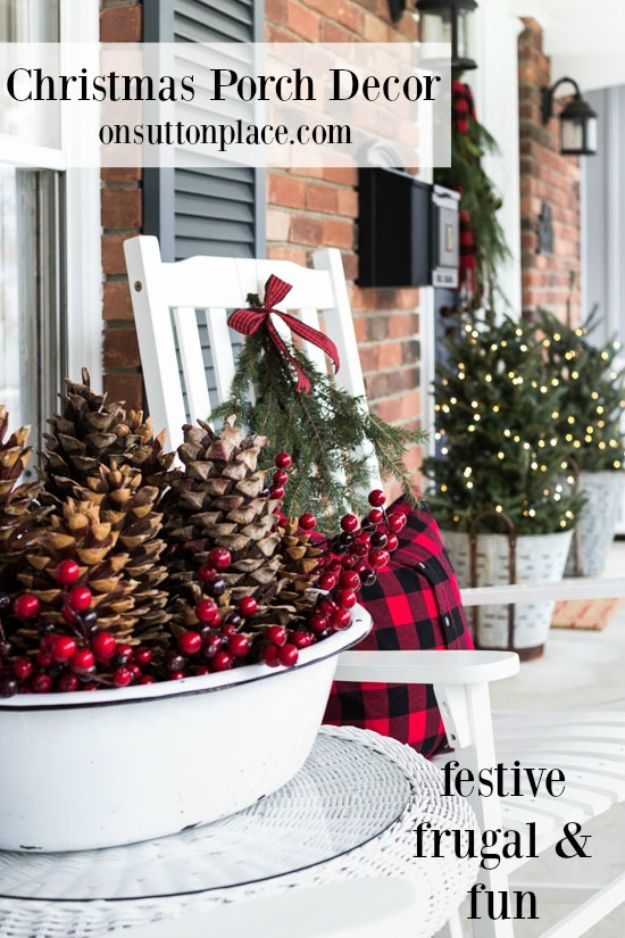 For a creative Christmas porch decor idea, look no further than these pinecone baskets. A simple DIY idea for holiday decorating outdoors.
DIY Christmas Decor Ideas
5. DIY Snow Globe Jars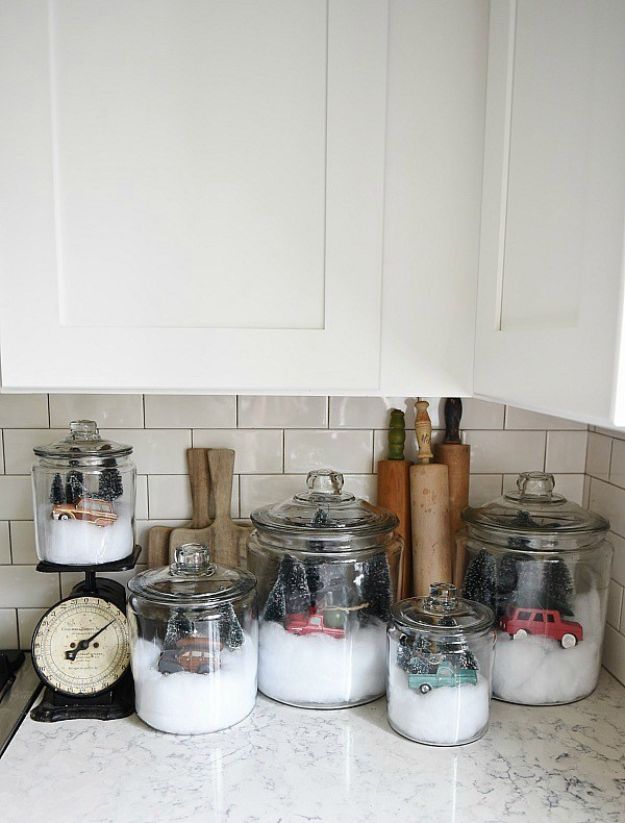 Make a glittery Mason Jar Snow Globe for Christmas this year! This little Christmas craft is a great way to bring holiday cheer to your home in a big way quickly, easily, & for little money if you use what you already have. This would also be one of those DIY projects you can involve the kids on which is a fun way to hang out together while decorating the house for Christmas.
6. Reindeer Mailbox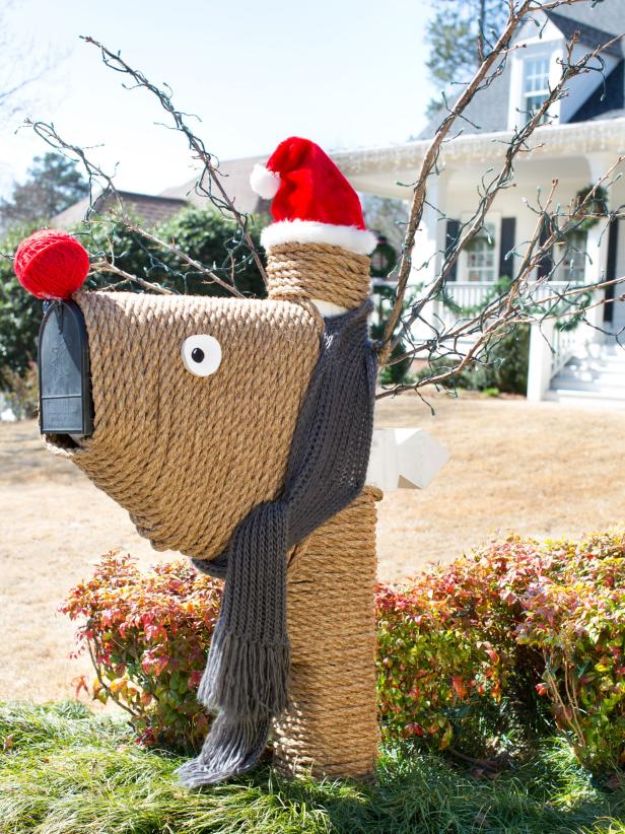 Turn your mailbox into a rustic rope-covered reindeer with this easy, step-by-step tutorial. Give your mailbox a festive holiday makeover and make a playful curbside statement during the holidays. For finishing touches, add festive embellishments, like a red Santa Claus hat or knitted scarf, to give the reindeer a more playful look. During the day and night, your mailbox will be a showstopper.
7. Rustic Twig Christmas Ornaments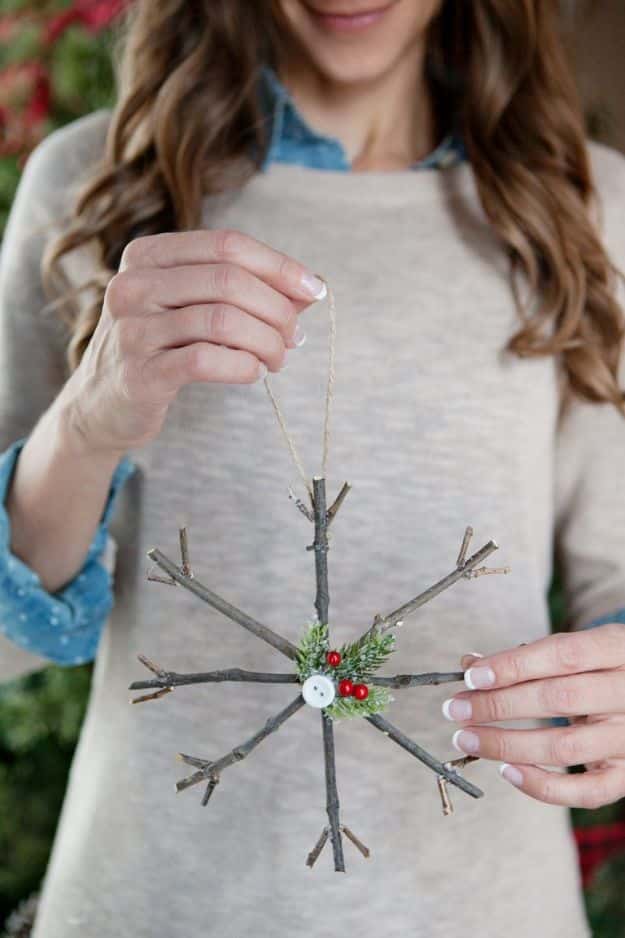 These ornaments really are very simple to make. They're great to get the kids involved with too! Head out on a short nature walk to collect stick and then make these ornaments together. When creating an outdoor themed Christmas tree, what else can you do but bring some elements from nature indoors! Right? So take inspiration from nature and get started with this creative DIY tutorial from Simple As That Blog.
8. DIY Evergreen Christmas Centerpiece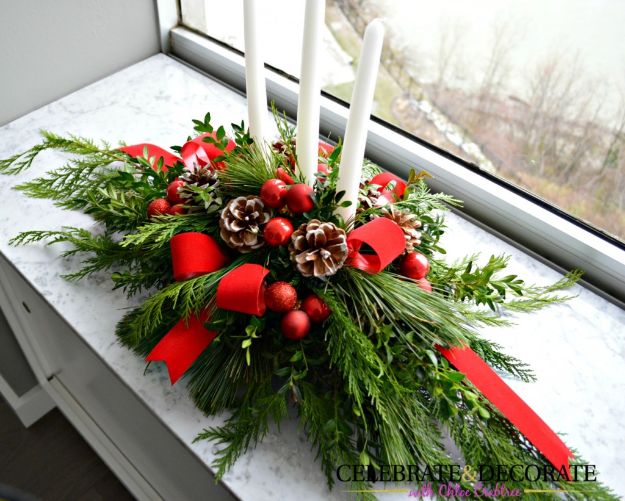 Are you looking for a beautiful centerpiece for your Christmas table? This DIY Evergreen Christmas Centerpiece arrangement is designed to last if you keep it watered so you can enjoy it throughout the holiday season. Should you want, you could switch out the pinecones or ornaments for different holiday picks. You could even add fresh flowers. The best part is that the entire arrangement only costs $18. What a value for your money!
9. DIY Boxed Lights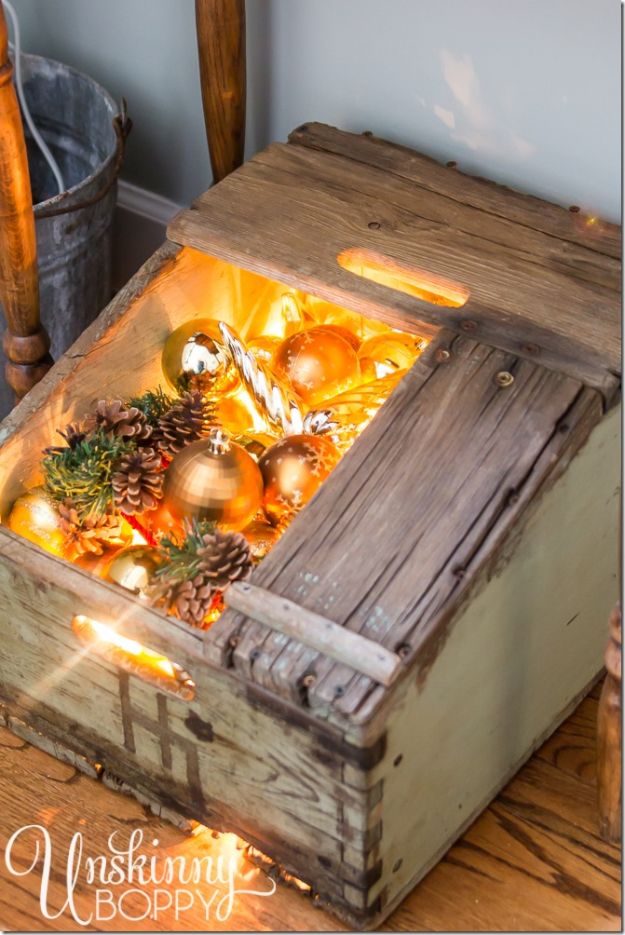 Fill up that rustic box with ornaments, pinecones and Christmas lights for a quick and simple Christmas decorating idea. Take inspiration from this creative post from Unskinny Boppy and you'll have an unconventional Christmas decoration that will be the envy of all. What a tastefully done junk vignette!
10. Moss Joy Letters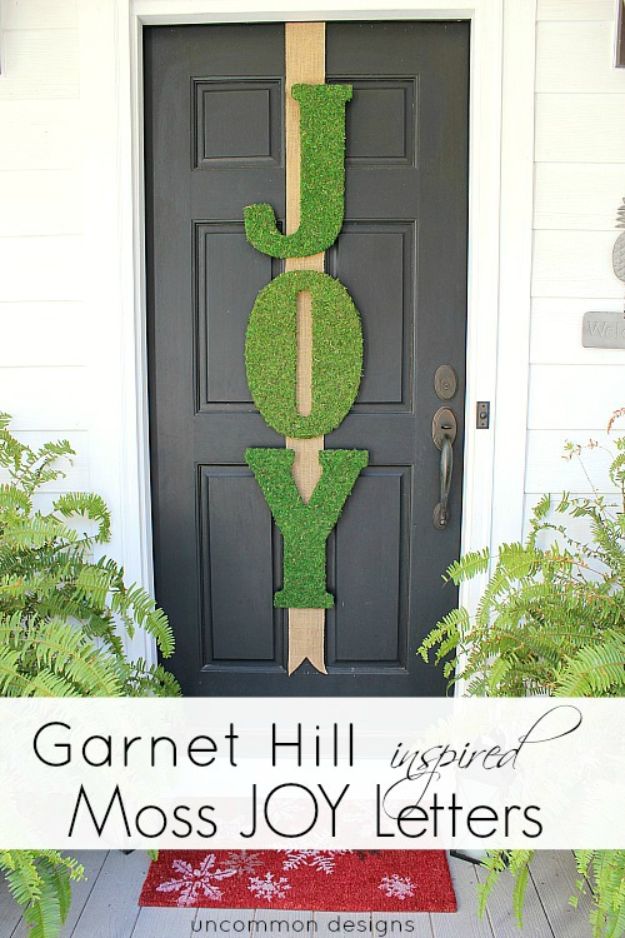 I absolutely love these. I love anything moss, and what better way say Christmas than having it hanging on you front door. They make me feel joyful just looking at them. I will definitely be making these this week. But premade mossy items are always so pricey. So glad to see an affordable DIY version.